Super Stock Siren
2 years ago Racing
Female drag racers are nothing new. Lady racers have been laying rubber on the drag strip for as long as men, and yet their numbers are still lopsided based on the numerous males who race in the NHRA Professional and Sportsman ranks weekend in and weekend out.
In the 1960s and into the 1970s, Dodge and Plymouth took the lead in diversity and proudly sponsored female Super Stock racers like Shirley Shahan and Judy Lilly. These two ladies were not just a novelty act, they wielded their mighty 426 HEMI® V8 engine-powered machines against the guys and put them on the trailer while being victorious and claiming many championships along the way. These fast ladies were trailblazers in an era when many still thought that a woman's place was at home and in the kitchen, not working on a racecar, travelling across the country in a Dodge Ramp Truck, and competing over 25 weekends a year. Shahan and Lilly may have paved the way for a new generation of Mopar® female racers that have the same drive and passion to drive fast and win events, but the accomplishments they racked up over five decades have not gone unnoticed today.
When 30-year-old Kayla Mozeris gets behind the wheel of her 1993 Super Stock Dodge Daytona, she knows she's carrying on that tradition of serious hardcore Mopar female racers. Kayla has already won two NHRA National Events, including taking the Super Stock crown at last year's Dodge Mile-High Nationals at Bandimere Raceway in Denver.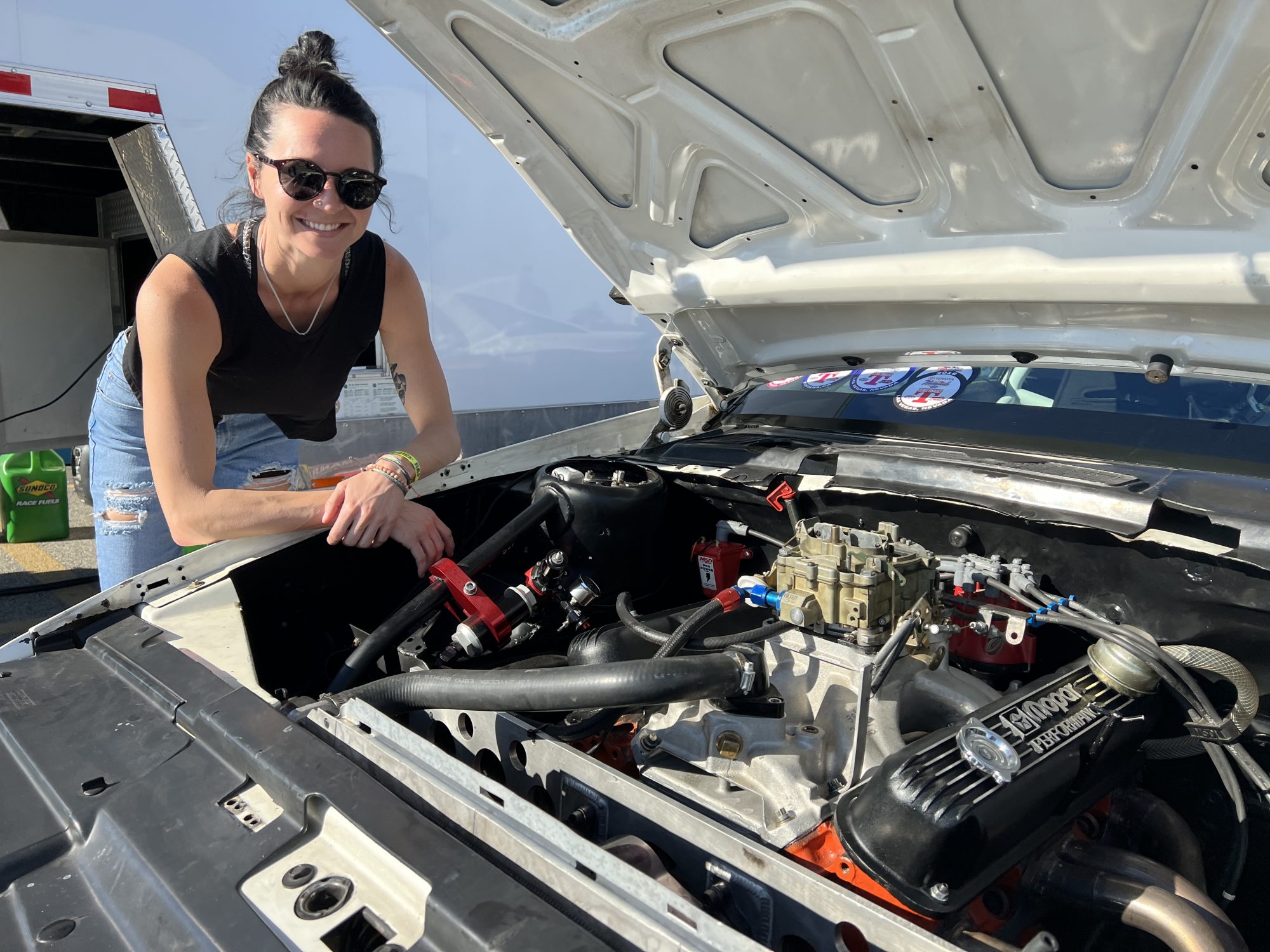 "It's pretty indescribable sometimes and I'm very fortunate is what it comes down to," said Kayla. "People have run these races their whole life and never win, but I've been lucky. I have a great crew that includes my dad, who's a great guy and my mentor. All my crew guys bring so much positive energy to the team, but the person who inspires me the most is my dad. He's been racing for over 20 years and despite his friends telling him he should quit and do something else, he's never given up on racing."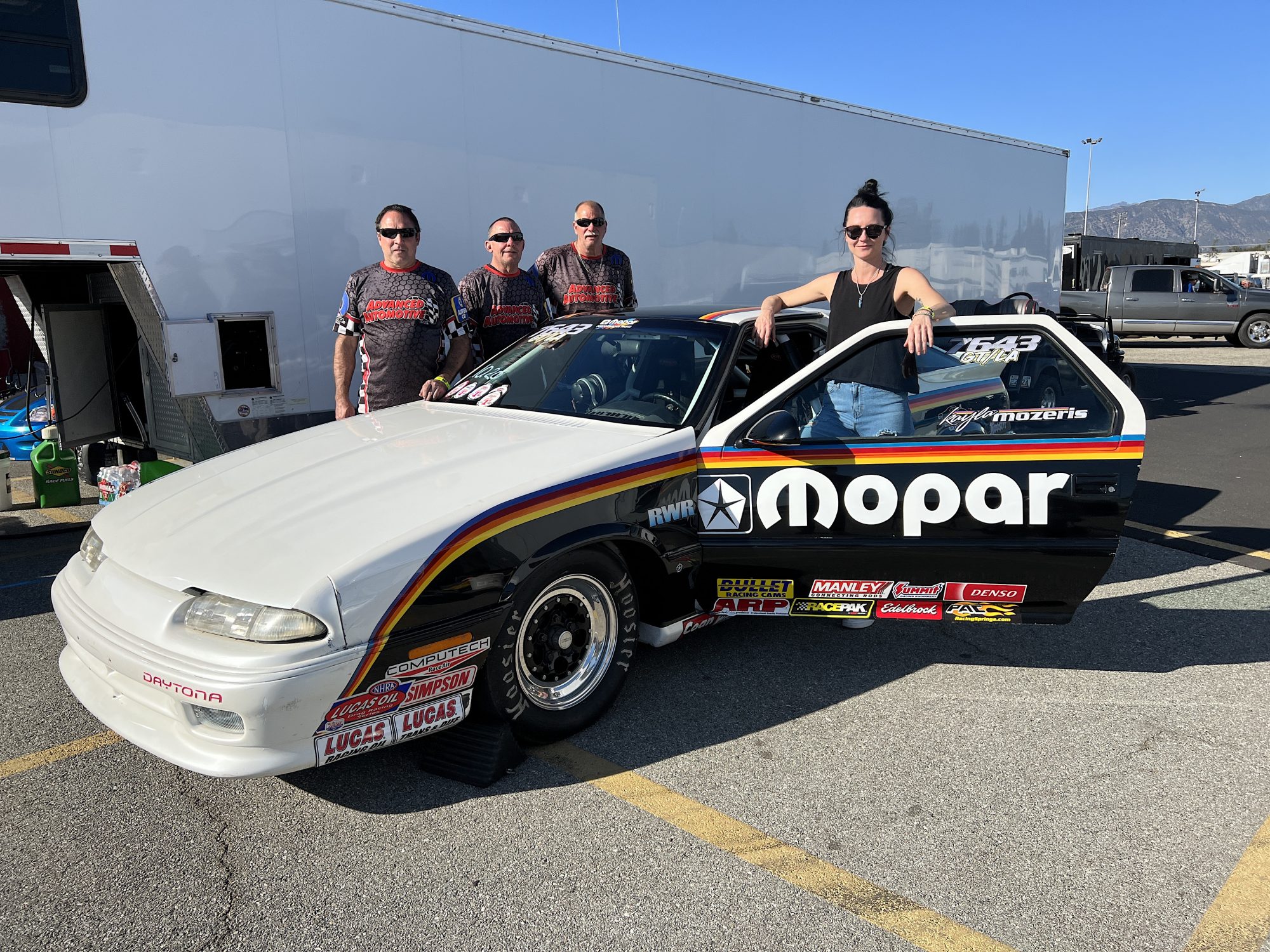 At a young age, Kayla picked up her father's "can-do" attitude and passion for racing. She bugged her dad for years, reiterating that she wanted to go drag racing, and at the age of 11, she began racing Junior Dragster. Here, she learned the important basics of staging, cutting a good light and how to dial-in a racecar. By the age of 21, Kayla was a seasoned driver and won her first-ever NHRA National Event, the 2013 SummitRacing.com Nationals in Las Vegas. Driving for Jim Hughes, Kayla took his car all the way for a Stock Eliminator victory. This was all it took for Kayla and her dad to start looking to find her a racecar of her own and make a major investment. Kayla worked more hours as a service advisor at her father's automotive repair business in Phoenix and also began helping out on his small block Mopar-powered Competition Eliminator Dragster. With her strong work ethic and natural ability to cut a great light, Kayla was ready to get her own ride, so she and her father began the search for a fast door-slammer.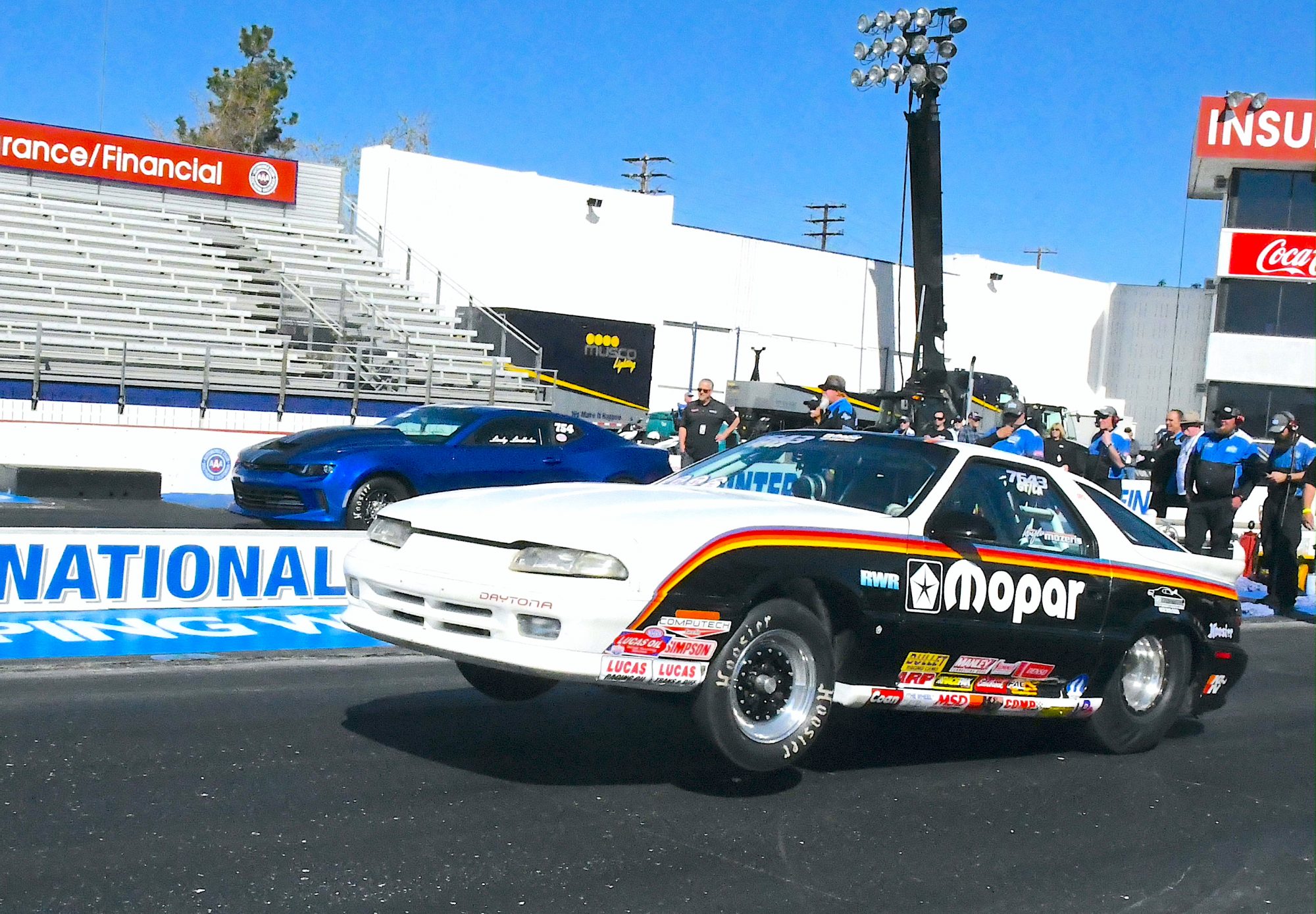 Through Kayla's father's engine builder, they heard that longtime Mopar Sportsman Racer Wes Leopold was selling his 1993 Dodge Daytona Super Stocker. This racecar has some unique history, as it was given to Wes back in 1991 direct from Mopar Performance along with a three-year contract to race the car. Leopold "back-halfed" the car and converted it to rear-wheel-drive for the GT class. During the years Leopold campaigned the Daytona, Mopar sent him body trim parts to update it to 1993 specs. What was great about this class and body combination, NHRA allows the use of any "corporate engine" so a variety of Mopar small and big block engine combinations have filled the engine bay. It's one of the reasons Kayla and her dad decided to buy and haul it from Pennsylvania to Arizona. After getting used to the TransBrake, and testing the car, Kayla took to the Daytona like a fish to water when they got home and began running NHRA National and Divisional races. With a blueprinted "smogger" 318-cubic-inch small block V8 being fed a steady diet of high-octane fuel and air through its Quadrajet four-barrel carburetor (yes, some Mopar small block car and truck engines in the late 1980s came equipped from the factory with Q-Jet carbs), the Daytona falls into the GT/LA and runs well under the 11.05 ET index.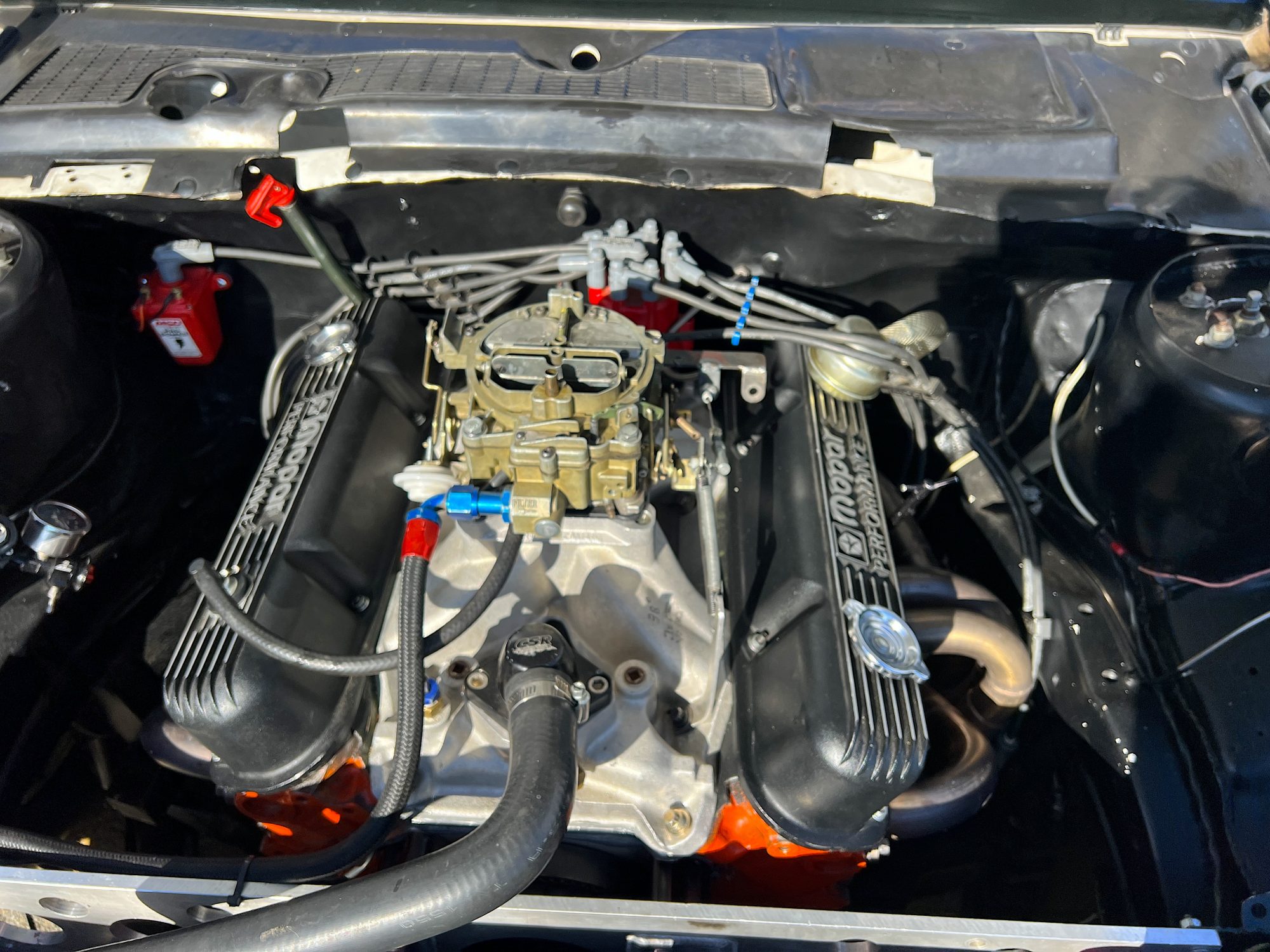 Now with a major win under her belt with the Daytona, Kayla will be a serious player among the NHRA Super Stock competitors this season. When asked if being a woman competing in a sport that's still predominately male has any prejudices, she had this to say. "About 15 to 16 years ago, I used to get attitude from the men I'd race against, but that's mostly changed now as there are more women drag racing. Now, fellow male racers are more progressive and accepting."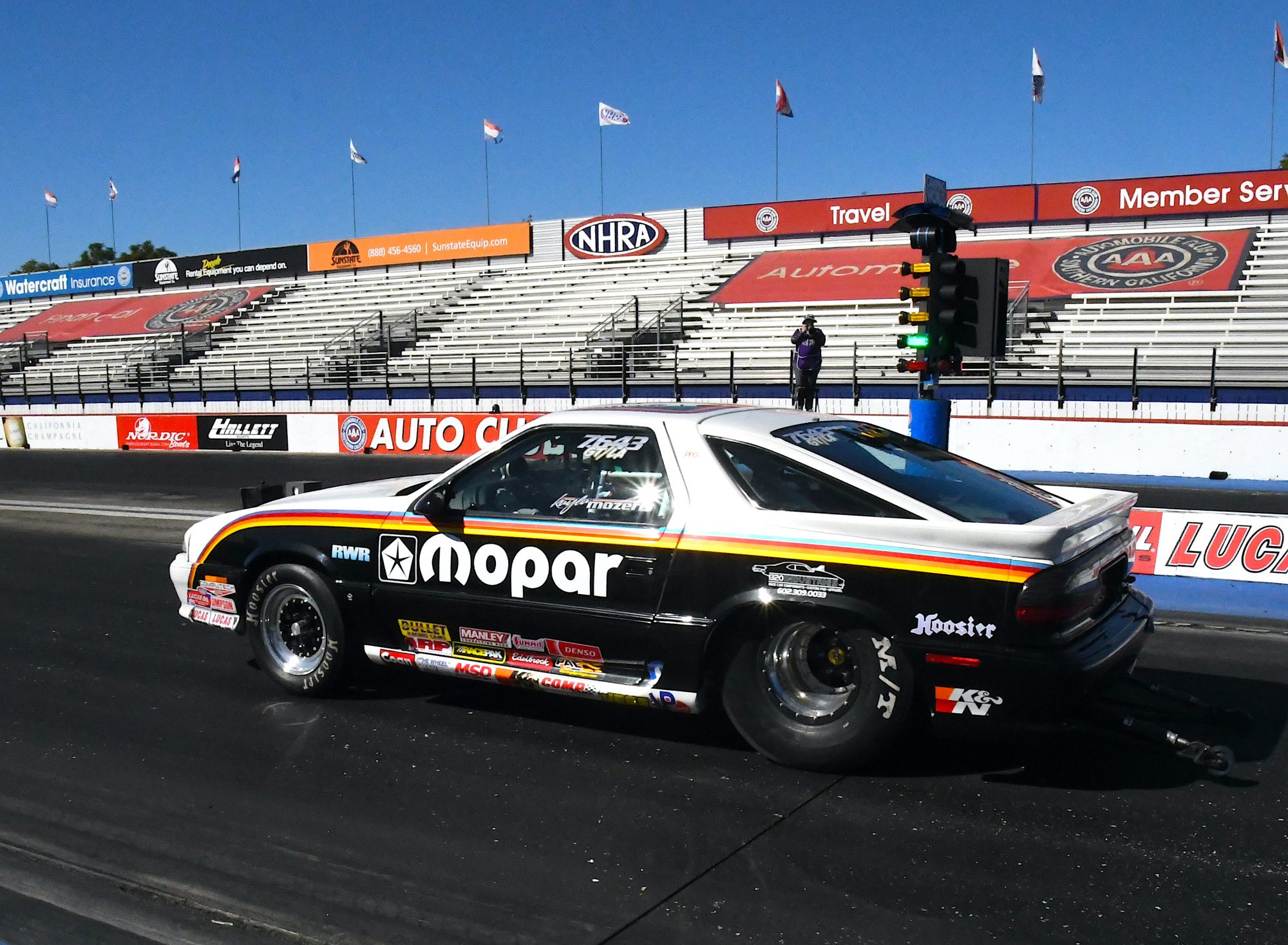 While some NHRA Sportsman racers have future aspirations to move up to the Pro ranks, Kayla's content to stay on the grassroots side of the pits. She enjoys the Sportsman classes and might go from Super Stock up to Competition Eliminator. But for now, she's satisfied with carrying on the tradition of fast females driving fast Mopar vehicles and winning races.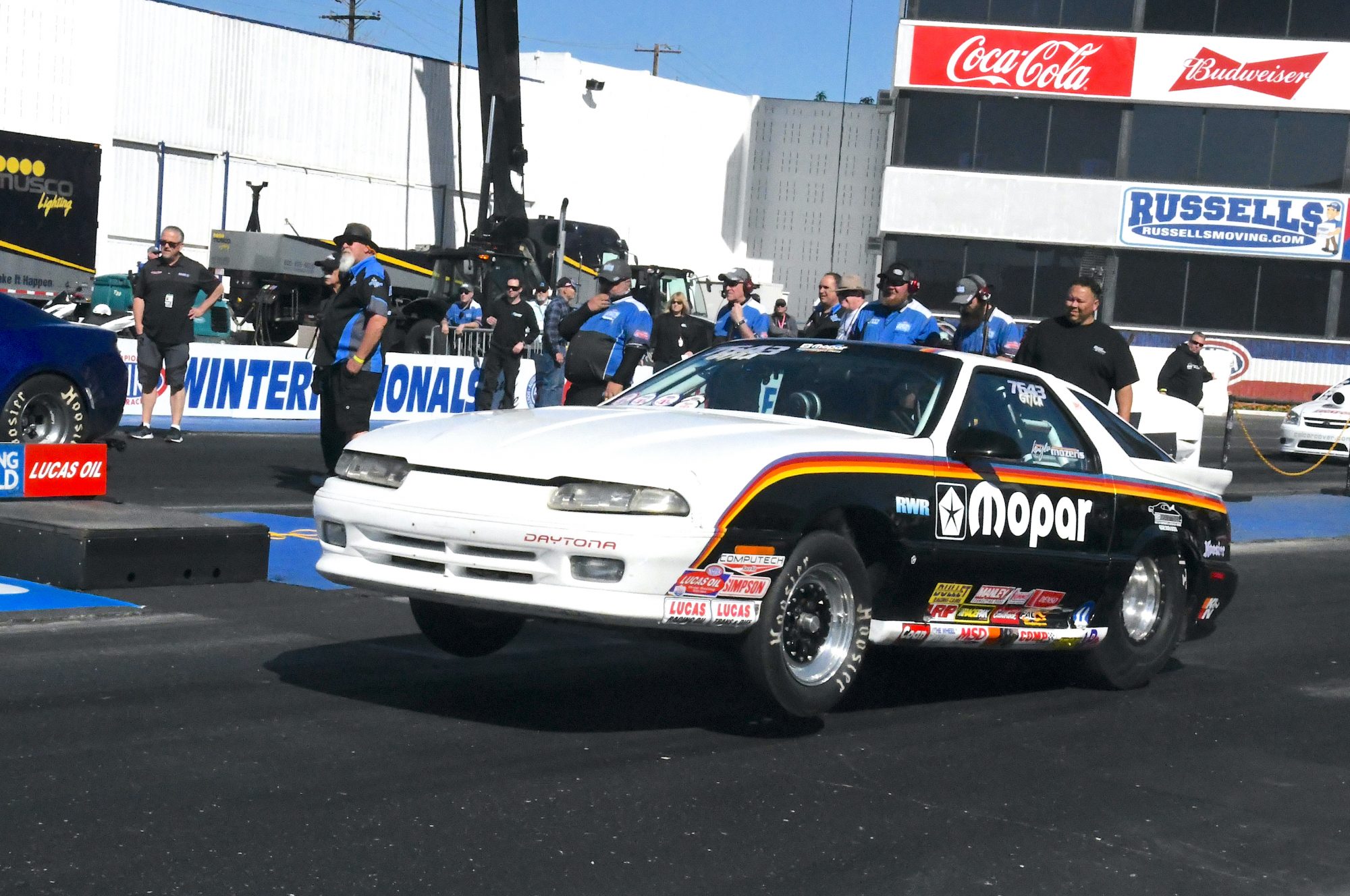 Comments
Comments
Previous