On the Drag Strip to Victory: Circle K NHRA Four-Wide Nationals Preview
7 months ago Racing
Coming off a TSR team win in Houston with Matt Hagan's second Funny Car victory of the season, the drivers are headed to the Circle K NHRA Four-Wide Nationals in Concord, North Carolina, with their sights set on another Wally Trophy.
We are about one-quarter through the NHRA Camping World Drag Racing Series and several drivers are sitting in great positions to remain contenders for the championship, making each point earned throughout the season crucial! Here's what the drivers had to say after the NHRA SpringNationals in Baytown, Texas, in preparation for the next race.
Top Fuel:
Leah Pruett, Dodge Power Brokers Top Fuel Dragster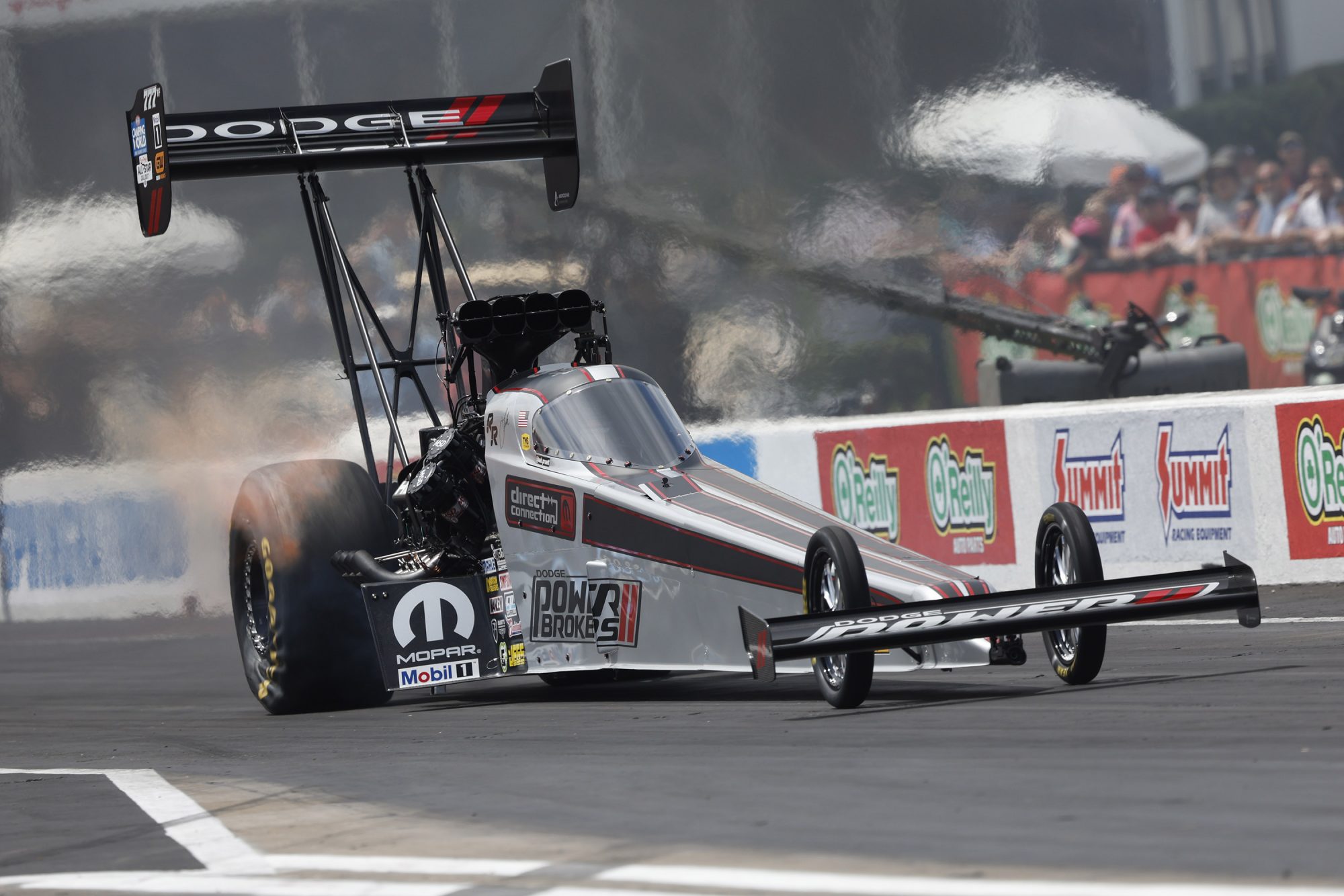 "Overall, we feel this has been a very generous weekend in the form of information that this team is accruing in order to find our window of performance. It was great to qualify seventh because there is a super tight field. We are just a couple of hundredths (of a second) behind.
"Our challenge right now is that we backed the car up to where we thought it would get down the racetrack and it smoked in a very prime zone. I did not do a platinum job of pedaling the car. I have been working really hard on my reaction times and that is a huge win to be able to leave before Shawn (Langdon). In all of my 10 years of racing in Top Fuel, I have never been in a pedal situation like that where I pedaled it, smoked it and Shawn was ahead of me. However, I see myself at about half-track gaining on him and I am trying to look at the distance of the finish line and how much I am gaining on him. In my calculation process, he had gotten back ahead of me, but he wasn't on a full pull. I couldn't see that his parachute was out. It was a very weird anomaly of what happened to him in his lane. For me, I couldn't get myself to pedal the car again at half-track and regain traction because it looked to me that I could already be gaining on him.
"It is a testament to our Dodge Mopar® parts that stayed together during the run. While it didn't put the win lights on, between our performance and our team's visit with NASA and their engineers, we feel very inspired seeing all of their technology and that will help our team dig a little deeper. Everyone's head is held very high. We get to go back to four-wide racing in just a couple of days and I am excited about that. We have a hot rod and I can't wait to put it back on the track."
FUNNY CAR:
Matt Hagan, Dodge Power Brokers Charger SRT® Hellcat Funny Car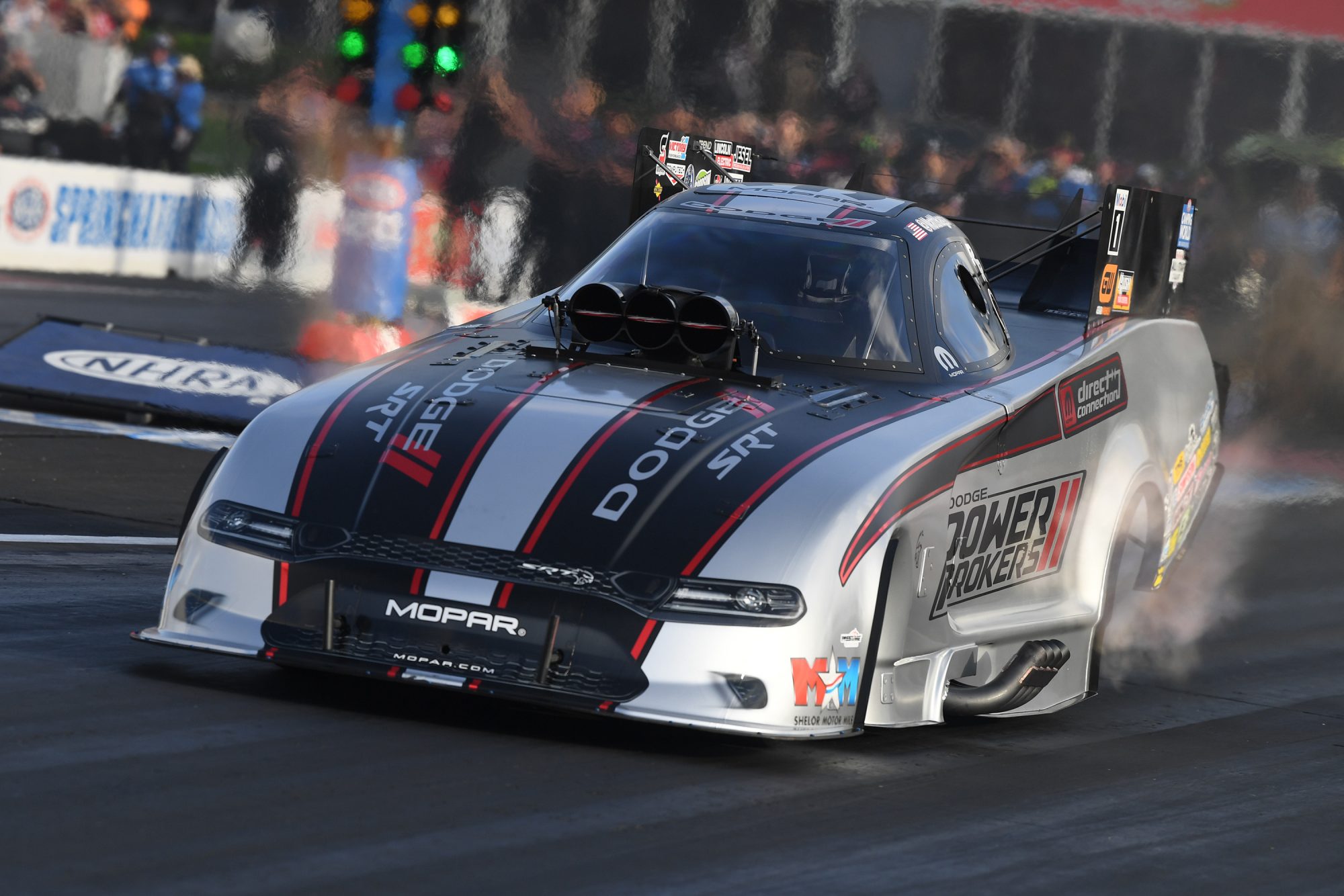 "First of all, Bob and (driver) Bobby Bode are doing a great job. That kid is doing a great job driving and I am super proud of him. We need youngsters like that coming up in the sport. I hated to rain on his parade for his birthday weekend. That is drag racing though. I am here to do a job and to win.
"It was so special for Dickie Venables (crew chief) to have his whole family here for the win, following his dad's passing at the end of last year. Dick Venables is a huge part of Dickie and what he has been able to accomplish in his career. It's so special for Dickie to have that inspiration from his dad. This race means so much to me because I won my first race here in 2010. I got in on a pedal job and won on a pedal job. To close it out at Houston Raceway Park with a win and honor Dickie and his dad means a lot. It is a sad, sad thing, but we are going to end [the weekend] on a really good note. To be able to give Dickie and his family the trophy this weekend is massive. Dickie means so much to me and it's so cool because racing is his life.
"To be able to come out of here with a win is huge. I'm excited that our Dodge Power Brokers car is running well. We're the points leader and we've been to the final in four out of five races. We are making a statement this year. We got through a lot of heavy-hitters today and there were no easy runs. All in all, it's a really great weekend."
Cruz Pedregon, Pedregon Racing Snap-on® Tools Dodge Charger SRT Hellcat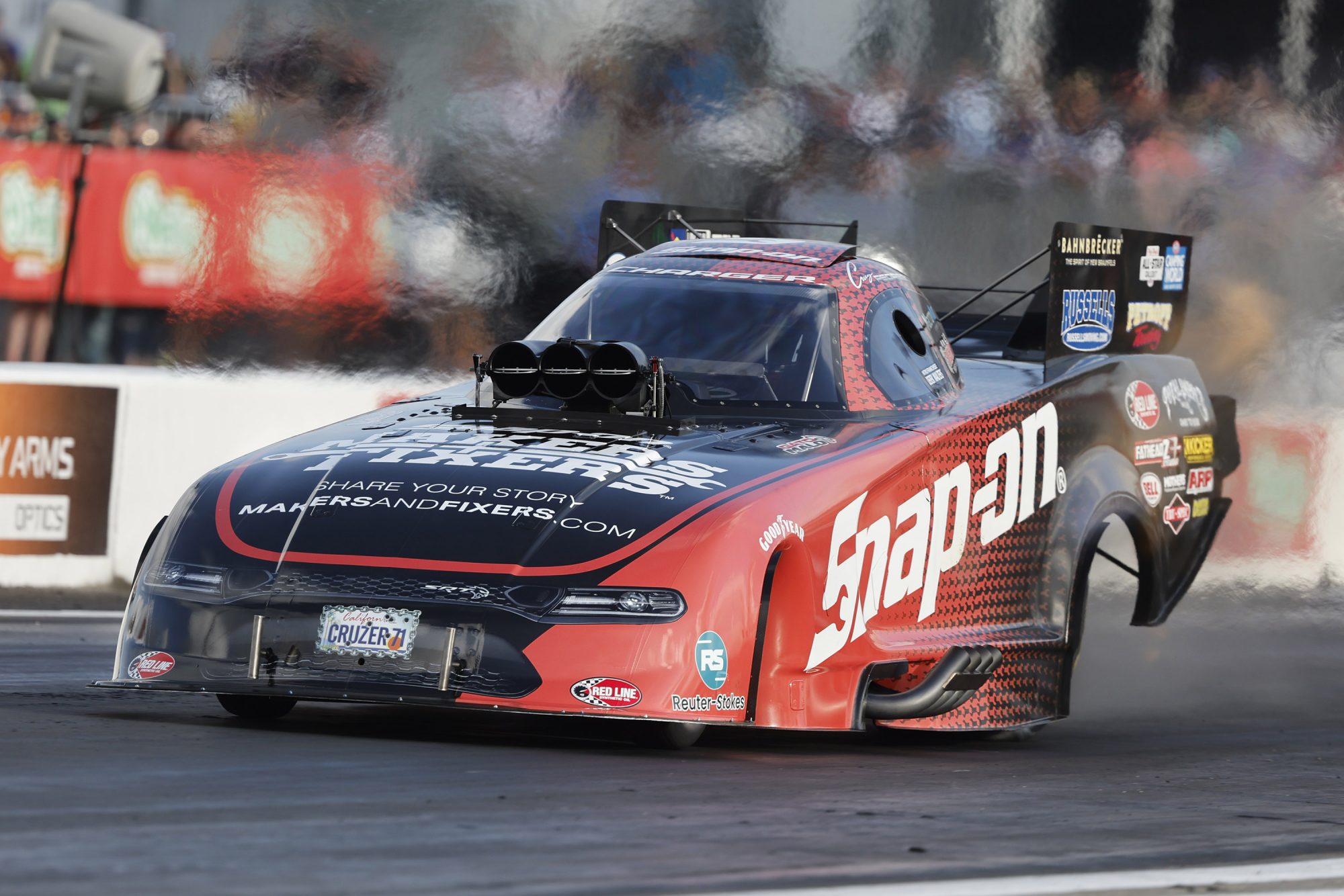 "The fifth race of the 2022 season has been solid for the Snap-on Tools Dodge Charger SRT Hellcat and our nitro Funny Car team. We're still in fourth in points and we're hanging right in there. We went to the quarterfinals today, which was a strong effort. Obviously, we would have liked more, but we lost a little momentum there with the clutch not working like it was supposed to. We lost some half-track speed and our opponent, Bobby Bode, just went out there and made a nice run. We were low E.T. in the first round with a 3.92, which was the best of the class, but then we fell off more than we had anticipated.
"We have qualified top five consistently. Our Hellcat is fast, it's consistent, but we just need to get a little race luck and make our own luck, but it was still a good race today. Can't hang our heads. We're fourth in points, and we've always said we're a top five car and we're proven it after five events. Now we're going into Charlotte for four-wide racing. It's still my favorite format. I love the four-wide racing."
NHRA CHAMPIONSHIP POINTS STANDINGS:
Following the NHRA SpringNationals at Houston Raceway Park
FUNNY CAR (season wins in parentheses)
1. Matt Hagan (Dodge Charger SRT Hellcat): 507 (2)
2. Robert Hight: 447 (2)
3. Ron Capps (Dodge Charger SRT Hellcat): 420 (1)
4. Cruz Pedregon (Dodge Charger SRT Hellcat): 282
5. John Force: 249
6. Alexis DeJoria: 241
6. J.R. Todd: 241
8. Chad Green: 237
9. Bob Tasca III: 229
10. Tim Wilkerson: 217
TOP FUEL (season wins in parentheses)
1. Brittany Force: 420 (2)
2. Steve Torrence: 388
3. Justin Ashley: 367 (1)
4. Mike Salinas: 349 (1)
5. Clay Millican: 281
6. Austin Prock: 253
7. Tony Schumacher: 227
8. Josh Hart: 220
9. Doug Kalitta: 206
10. Antron Brown: 198
13. Leah Pruett (Dodge Power Brokers): 171
Comments
Comments