Durango SRT® Hellcat: The Jack of All Trades
2 years ago Reviews
I have a bold assumption to make and one that may raise a lot of eyebrows. Just hear me out, ok? The Dodge Durango SRT® Hellcat is the BEST Hellcat to date. There I said it. You must be thinking I have lost my mind. But here is why.
To start, you must ask yourself why someone picks a vehicle to begin with. I think you can split it up into a few basic general reasons. You have people that purchase a vehicle simply as a means of transportation. These people view their car as just a big metal machine that gets them where they need to go and they wash them twice a year in an automatic car wash or with the foam brush at the manual car wash. The next type of person purchases their vehicle for function. A couple with a handful of kids might purchase a minivan, a farmer might purchase a 3500 Dually to tow cattle to the market, a single bachelor might purchase a motorcycle to save on fuel costs, and there are people that purchase a vehicle specifically for job purposes. The fun type of person picks their vehicle for thrills. Regardless of it being straight line acceleration, road course, off-road, luxury amenities or any other type of excitement you can get from a vehicle, they are purchasing theirs to fulfill a specific desire they want in a vehicle.
Unless you are very well-off financially, most people must pick their vehicle based on only ONE of those functions. Most individuals, statistically speaking, don't have the luxury of purchasing five or six vehicles so that they can have a vehicle for each specific need. The Dodge Challenger SRT Hellcat/Redeye/Demon/Super Stock is an amazing performance machine. However, if you have three kids and need to tow your landscaping equipment to work each day, and can only pick one vehicle, you probably would be forced to pick something else. Maybe you show horses, so you have to own a big tow vehicle to haul your stallions around, and you are also a speed junky, the tow rig probably isn't fulfilling your need for speed.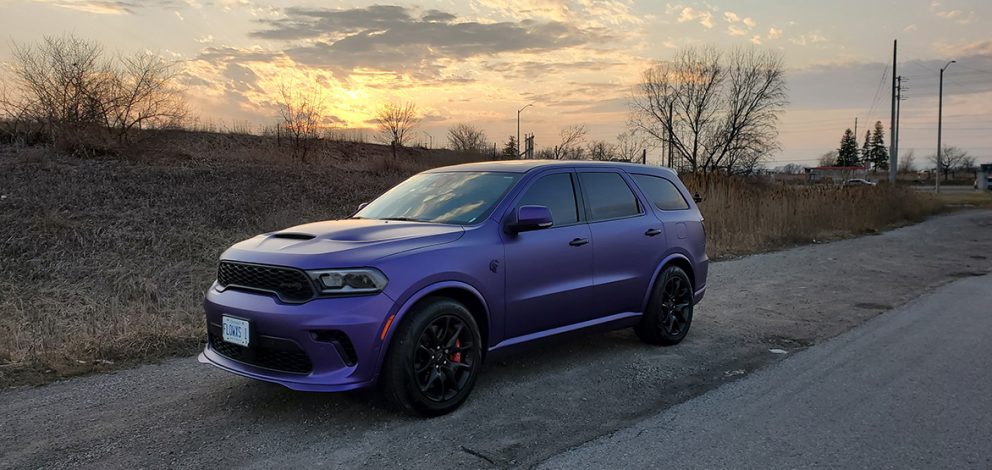 The Dodge Charger SRT Hellcat was, until recently, the most "practical" high-performance vehicle Dodge has released to date. With over 700 horsepower, blistering speed, amazing performance on the track, strip, and street, four doors and seating for five. It could be your daily driver to commute to work, with large trunk space for your grocery runs and respectable fuel economy, and you could head to the track on the weekends and dominate your friends that have questionable taste in auto brands. Overall, the car was pretty darn versatile with incredible performance. What if you had to tow? What if you need some cargo area for work? While it was very practical and versatile, at the end of the day it IS a car and can only do so much.
Enter Durango. Dodge released the Durango SRT 392 back in 2018. It was indeed a big leap for the Durango and SUV segment. Prior to the SRT 392 being released, the largest motor available was the 5.7L HEMI® with 375 horsepower. Respectable for sure, but some of us are too obnoxious to settle for 375 HP. Packed with 485 HP, AWD and towing capability, it had a lot of hype. But there sat, even still, a smaller group of insane horsepower junkies, that have been living off 6.2L Supercharged HEMI engine power in the SRT Hellcat lineup for years, not satisfied enough with what the Durango 392 brought to the table.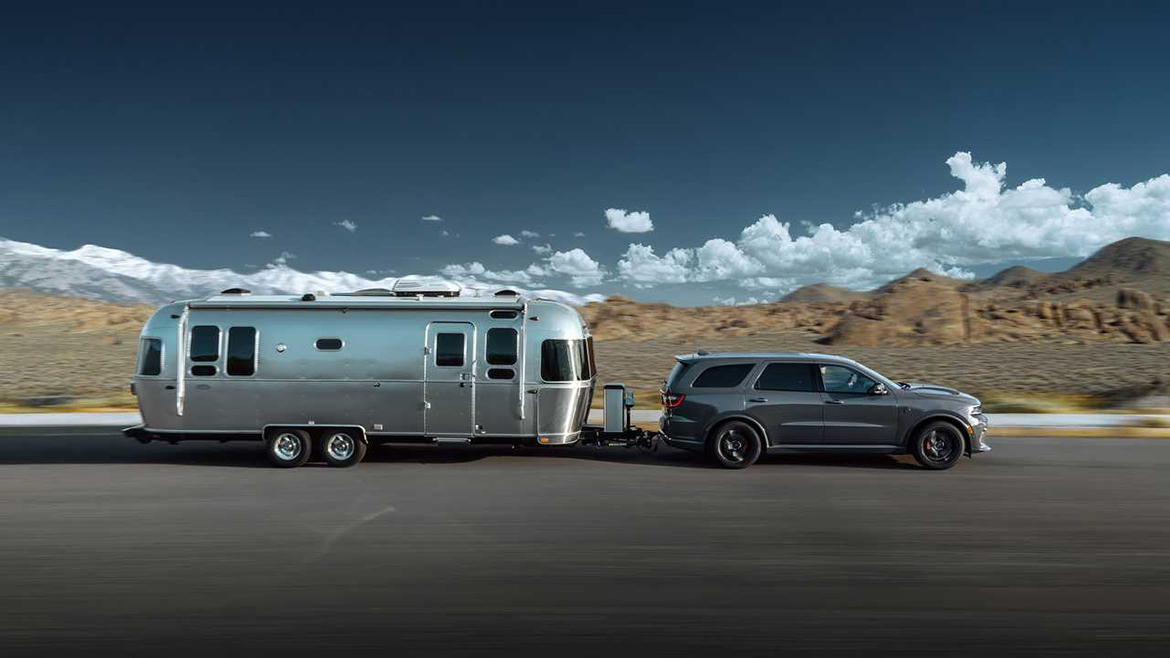 Enter Durango SRT Hellcat. It can tow almost 9,000 lbs, not too far off from a V8 Ram 1500, packs 710 HP for the speed junkies, can seat three rows for the moms or dads in the group, has all-wheel-drive for the snow-living northern folk, and has a completely new luxurious interior design for those who like the fancy things in life. The Durango SRT Hellcat is the Swiss army knife of performance vehicles.
Does it have the highest towing capacity of any vehicle on the road? No, that would be something like a 6500 Chassis Cab. Is it the fastest vehicle on the market? No, that would be something like the $3-million-dollar Bugatti. Is it the best handling vehicle on the market? No, that would be something like a $200,000 Viper ACR. Is it the most luxurious vehicle on the market? No, that would be a $200,000 Bentley. Does it have the most seating capacity? No, that would be something like a school bus. Now for the BIG "BUT." While it may not be the "best" at any of those categories, it is the only vehicle that is "GREAT" at all of them. The Swiss army knife itself doesn't bolster the best and biggest and sharpest knife blade in existence. But does a Rambo knife also have a Phillips head screwdriver, scissors, toothpick, saw blade, magnifying glass and can opener in it? Which would you rather have in your pocket if you get stranded in the jungle? If you can only own ONE vehicle, which would you rather have: the best at one thing or amazing at lots of things?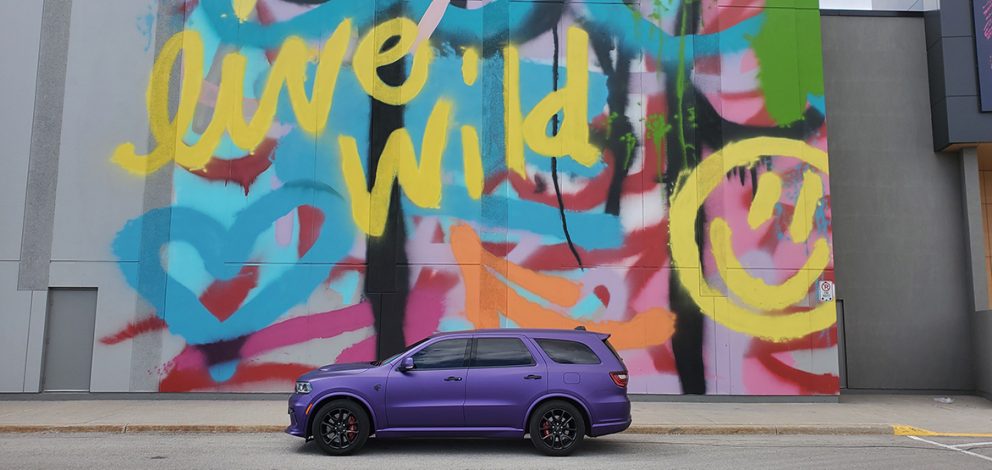 There is no other SUV on the market that can come close to matching the performance of the Durango SRT Hellcat. There is no other SRT Hellcat on the market that can come close to matching the CAPABILITIES of the Durango SRT Hellcat. It is the vehicle that exists so we can have our cake, our ice cream and eat both too. It is the only vehicle on the market with over 700 HP, towing capacity to rival most 1500 size trucks, three-row seating, AWD, and enough tech and leather to impress Tony Stark.
Meet Mark Schietzbach from Brampton, Ontario, Canada. His family has owned/operated J&W Electric Co. since the mid-'70s. Mark spends most of his time running the operation, but what good boss doesn't get his hands dirty? Mark is a Dodge fan like the rest of us and needed a vehicle that served more of a function for his job, more so than fun. Carrying tools and equipment around in a pickup truck was the right answer for him. In 2014, Mark opted for a Durango Citadel to be his work vehicle. His greed for horsepower kicked in, which led him through an RT and then an SRT 392 in just a few years. Well, along comes the Durango SRT Hellcat. What person in their right mind WOULDN'T turn their Durango SRT Hellcat into a work truck?! Mark outfitted the rear cargo area of his Durango to serve as tool and material storage for the occasional emergency jaunts he must make for work. I asked Mark what he thought of the car so far. "It is fantastic and THE best work truck I've ever owned," says the man from our family above the border.
I've already mentioned why I purchased my Durango SRT Hellcat. Towing was a big box that needed to be checked for me. I traded in my Ram 3500 Dually for my Durango. Crazy, right? Well, not as crazy as you think. My towing needs are basic. I own a 30-foot travel trailer that we take the family camping with. It falls well within the limits of what the car can handle. I also needed something to tow my Dodge SRT Demon to the track with. On a lightweight flatbed trailer, the Durango is completely capable of fulfilling this need. On top of that, we are a family of five. Two of the kiddos are in car seats/booster seats, so putting three kids in a rear bench seat with two being in booster seats made for a cramped ride with lots of arguing. The icing on the cake is the 710-horsepower that I can exercise on the track and have as much fun as I did racing my Charger SRT Hellcat, albeit slightly slower due to weight. Off the line, the Durango is completely brutal with the AWD and instant torque from the powerplant. I had the opportunity to throw a Durango SRT around the track at (then) Bondurant (now) Radford. I had zero doubts prior to getting in, that there was no way this tall bulky SUV wasn't going to have a rollover on the first curve. I didn't die. It didn't roll over. While it's not as nimble as a Dodge Viper, I was blown away by how far you can actually push this machine. 2,000 miles in so far on my Durango SRT Hellcat and it has not disappointed one bit.
Several owners on social media have started building their Durango SRT Hellcat to hit the track. While the few that I know of are still in the early testing phases, we hope to hear from them in short order and cover some of their racing journey in their new Durango SRT Hellcats. I have also followed along with a handful of additional owners that are working on building a show vehicle out of their Durango. With the Durango SRT Hellcat only being out a few months now, we are anxious waiting to see what owners do with them. By far the most versatile and capable SRT Hellcat to date! Daily drive? Yep! Towing? Yep! Racing? Yep! Show car? Yep! It CAN, and IS doing it all, among new owners!
Comments
Comments