"Hellrango": Beastly Towing
12 months ago Reviews
Here at DodgeGarage, we have covered the gamut on the 2021 Dodge Durango SRT® Hellcat – from the first official announcement of the absurd 710HP, 3-row, all-wheel-drive monster, through ordering and taking delivery, and a variety of owner stories showcasing just how versatile of a machine it is. In case you missed any of those articles, I would first question what kind of friend you are, and then supply you with a list of those to catch up on and prove you worthy of being my friend.
Cat Out of Hell
"Hellrango": Ordering the Beast
"Hellrango": Taking Delivery
Durango SRT Hellcat: The Jack of all Trades
Mom Missile Hellcat
Ordering for this ridiculous automobile opened just over 1 year ago in November of 2020. We are here a year later after all of us got our grubby hands on one and started sticking fingers and parts where they don't belong. We have seen everything you can imagine already with the Durango SRT Hellcat – from wild wraps to full drag setups built only for speed, to being outfitted as a work vehicle, and yes, people are ACTUALLY towing with them.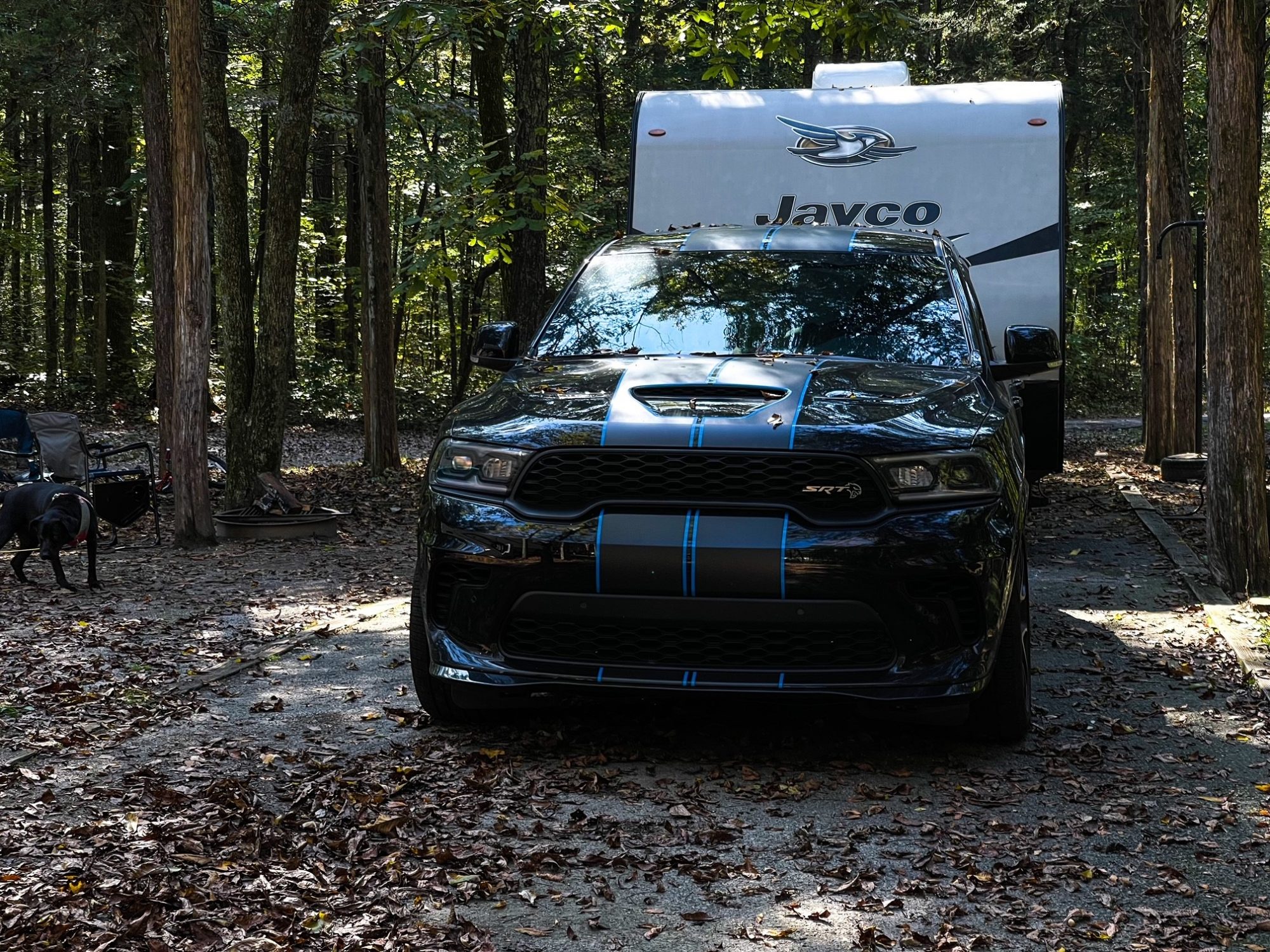 If you followed along since the start, you would know that the Dodge Durango SRT Hellcat has some serious towing power, AND that capability was one of the determining factors in me deciding to purchase one. Afterall, Dodge DID promote the new King of SUVs with a photoshoot of the Durango SRT Hellcat towing the all-new Drag Pak Challenger. The question you and others might be asking is, "Who would use one of these to tow? Surely it doesn't tow as great as they claim!" Well, you should be ashamed, for starters, and then you should listen up.
The official tow rating of the 2021 Durango SRT Hellcat is 8,700 pounds. But does it tow all that weight well? Just because it "can" do it, does not always mean it will excel at it. For comparison, there are only two other SUVs on the market with equal or greater tow ratings. One competitor comes in at an equal 8,700 lbs and another with an impressive 9,300 lbs when outfitted with an optional heavy-duty tow package. The problem is that neither features a fire-breathing supercharged V8 cranking out over 700 horsepower. Neither features standard full-time all-wheel drive. Neither shakes the ground and blisters on-lookers' ear drums as it passes by. Neither of them will run the ¼-mile in the low 11-second range. Neither looks NEARLY as mean, menacing and aggressive as the Durango SRT Hellcat. And frankly, neither are remotely "cool".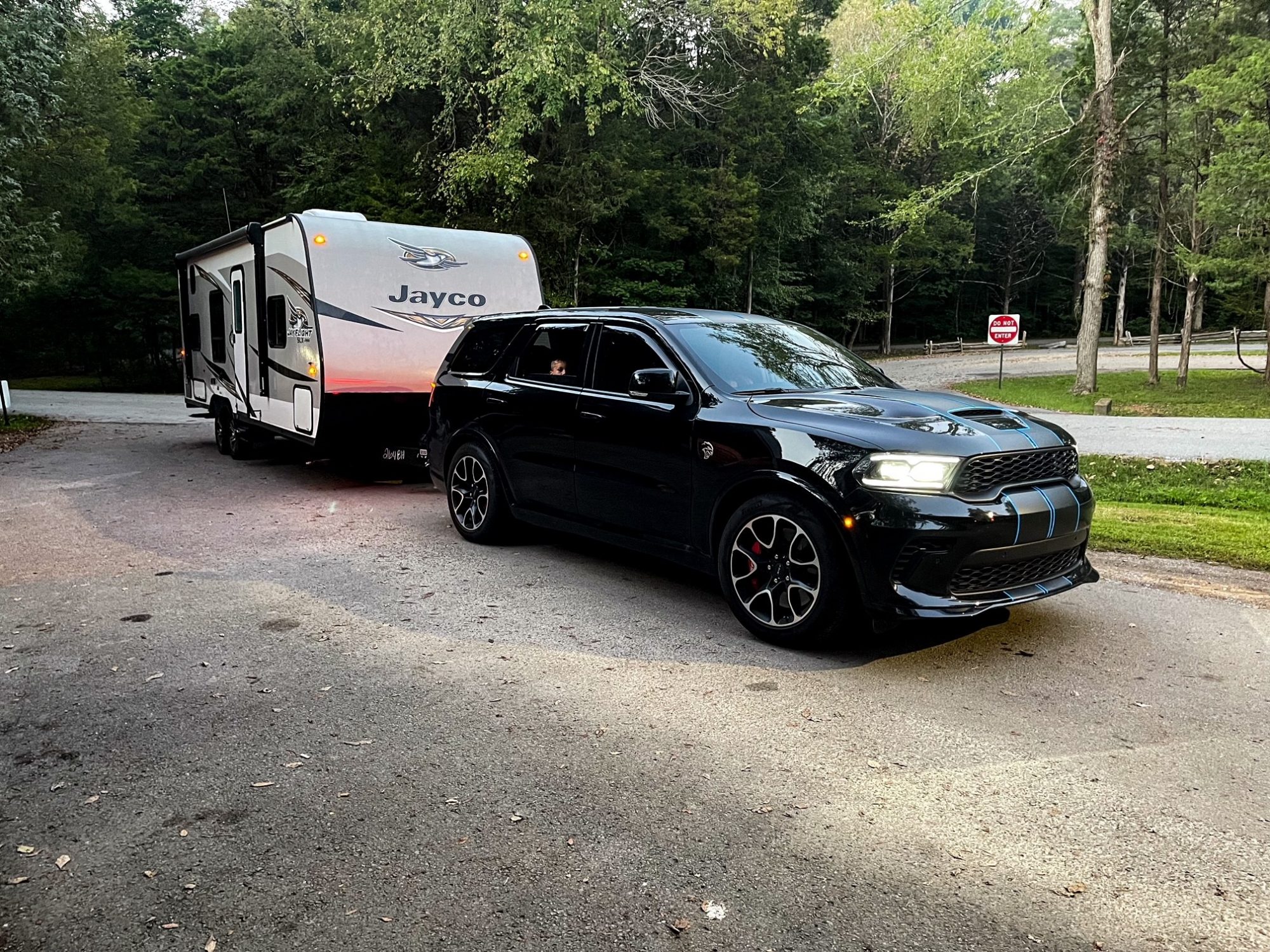 I have a racecar and I like to take it to the track. This means I need to be able to tow. I have a 30-foot travel trailer/camper that the family takes out between spring and fall. This also means I need to be able to tow. Outside of those two towing necessities, I don't need much more capacity. When the Durango SRT Hellcat was announced, I knew I wanted it. In order to get my hands on one, I would have to trade in my 2019 Ram 3500 Dually for it. I had to be certain it could handle not only getting my racecar to the track, but also my camper to the campsite of choice for the weekend. I won't lie, I was a little fearful of how WELL this little SUV could tow a 30-foot camper even though it was within the weight limits stated by Dodge. Again, just because it CAN tow it, doesn't always mean it will do it well.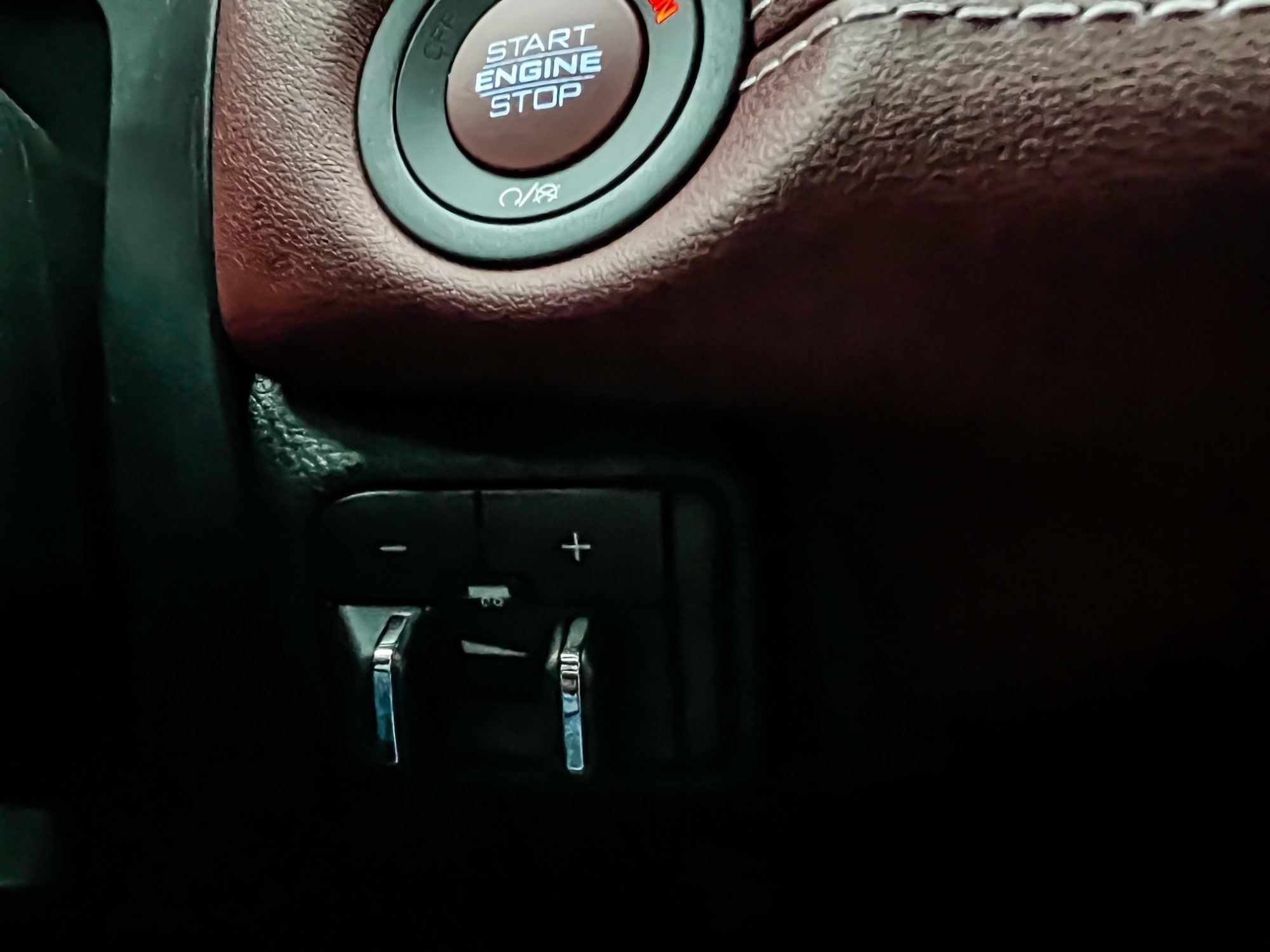 When I ordered my Durango SRT Hellcat, I checked the box for the Tow Package. The factory Tow Package includes a factory-installed hitch receiver, trailer wiring integrated into the rear bumper, as well as a trailer brake switch on the dash with the digital displays programmed to display the various towing functions. It all makes for a clean and seamless integration.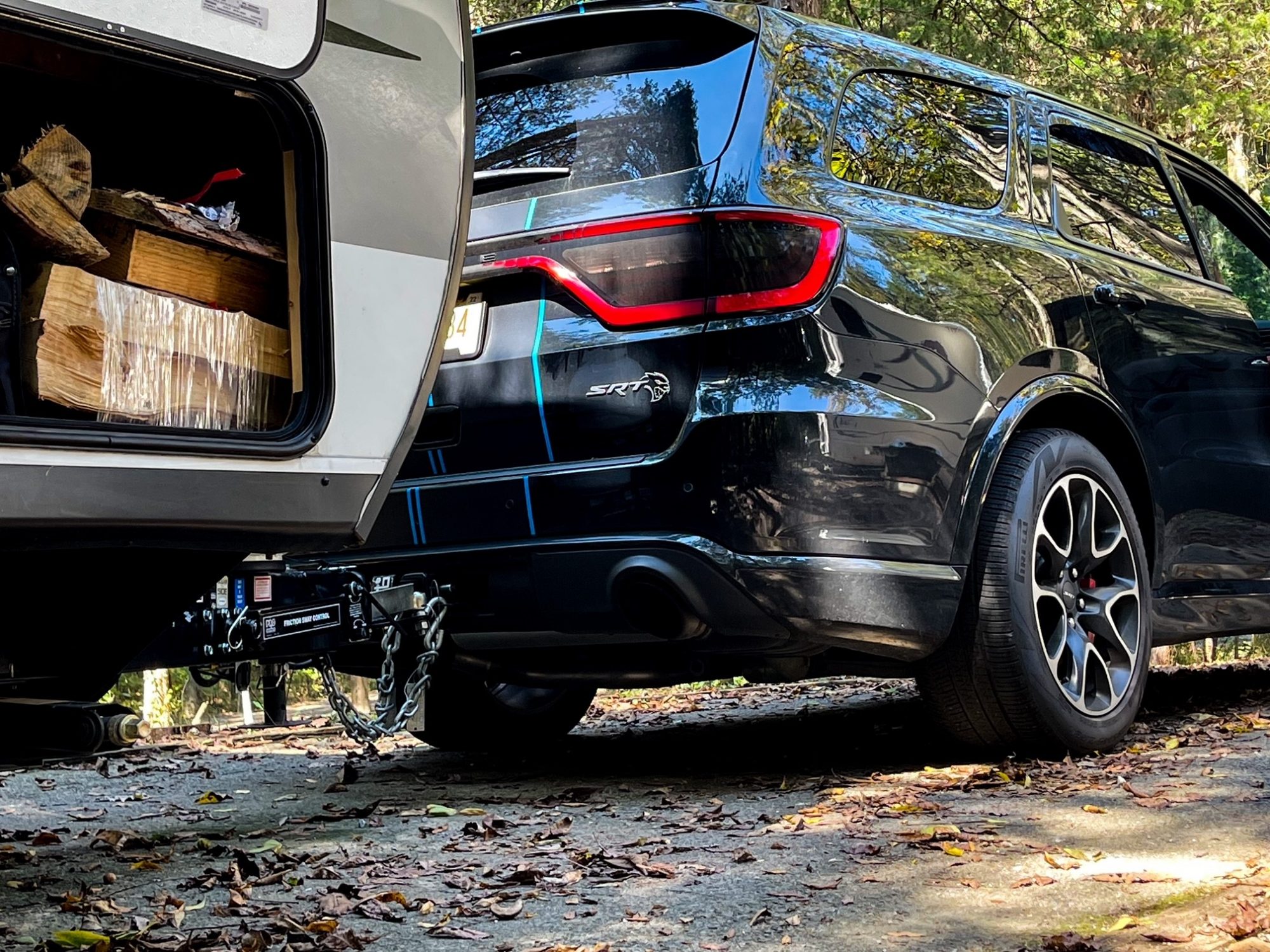 Some quick specs on our trailer for purposes of this article. We are hauling a 2019 Jayco travel trailer with a curb weight of 4500 lbs. I figure we have about another 1,000 lbs of "junk" loaded up with it. You know, 5 bicycles, food and drinks for 2 adults and 3 kids (3 kids consume the same as 8 adults), camping supplies like grills, tables, chairs and even a kayak! It's a standard bumper pull trailer with dual axles. The gross vehicle rating is 6,000 lbs, but I don't think we have it maxed out, although we may be close. You will find 2 adults, 3 kids and an obnoxious Black Lab loaded up in the cab on the Durango for these trips.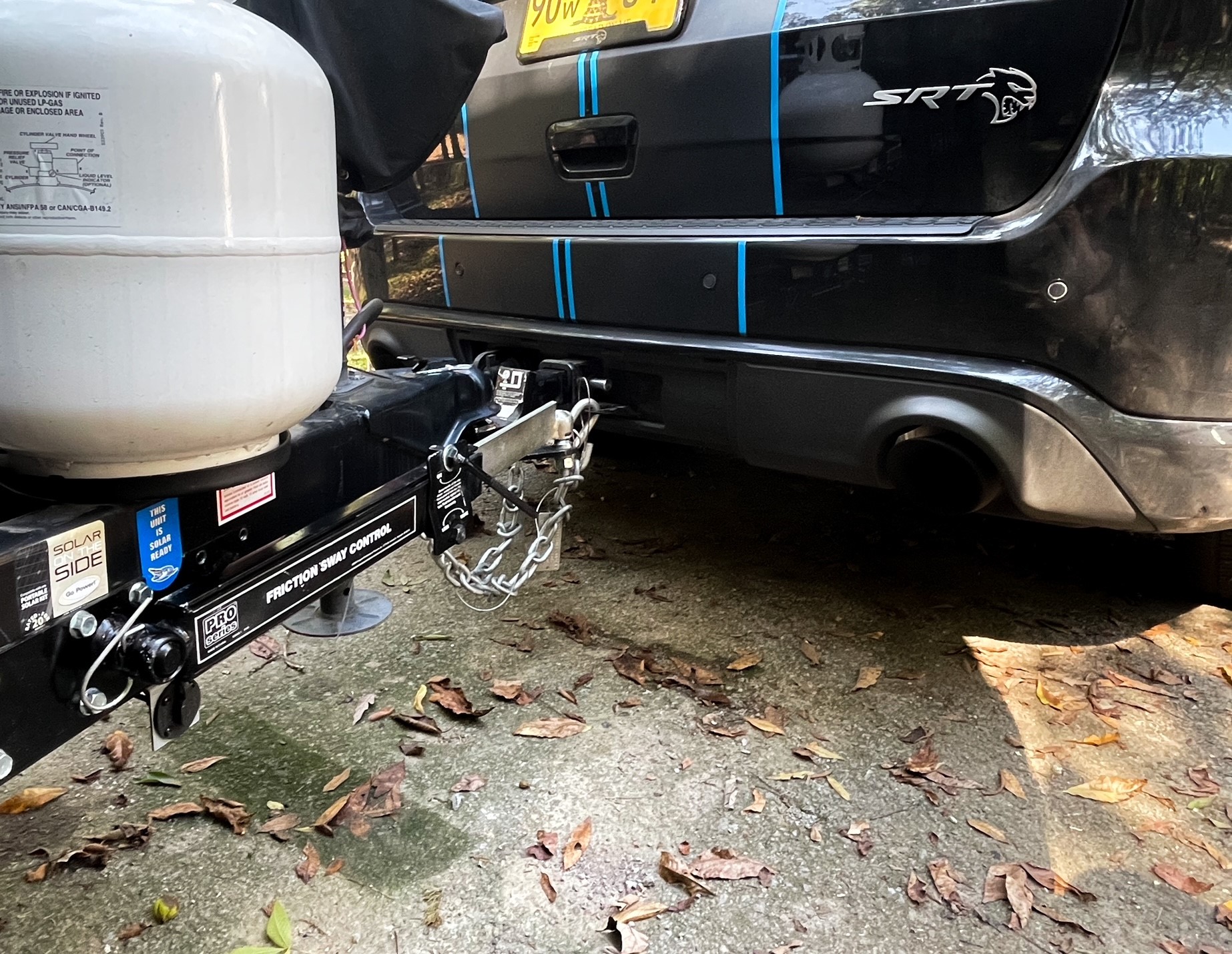 Even with just your basic "bumper pull" trailer/hitch combo, the Durango performed flawless. The suspension holds its place with minimal squatting. Any squat you may encounter can be adjusted by installing a weight distribution hitch on your trailer and receiver. I wanted to see how she did all-natural, so I kept it simple and just used the sway control attachment that came with our camper.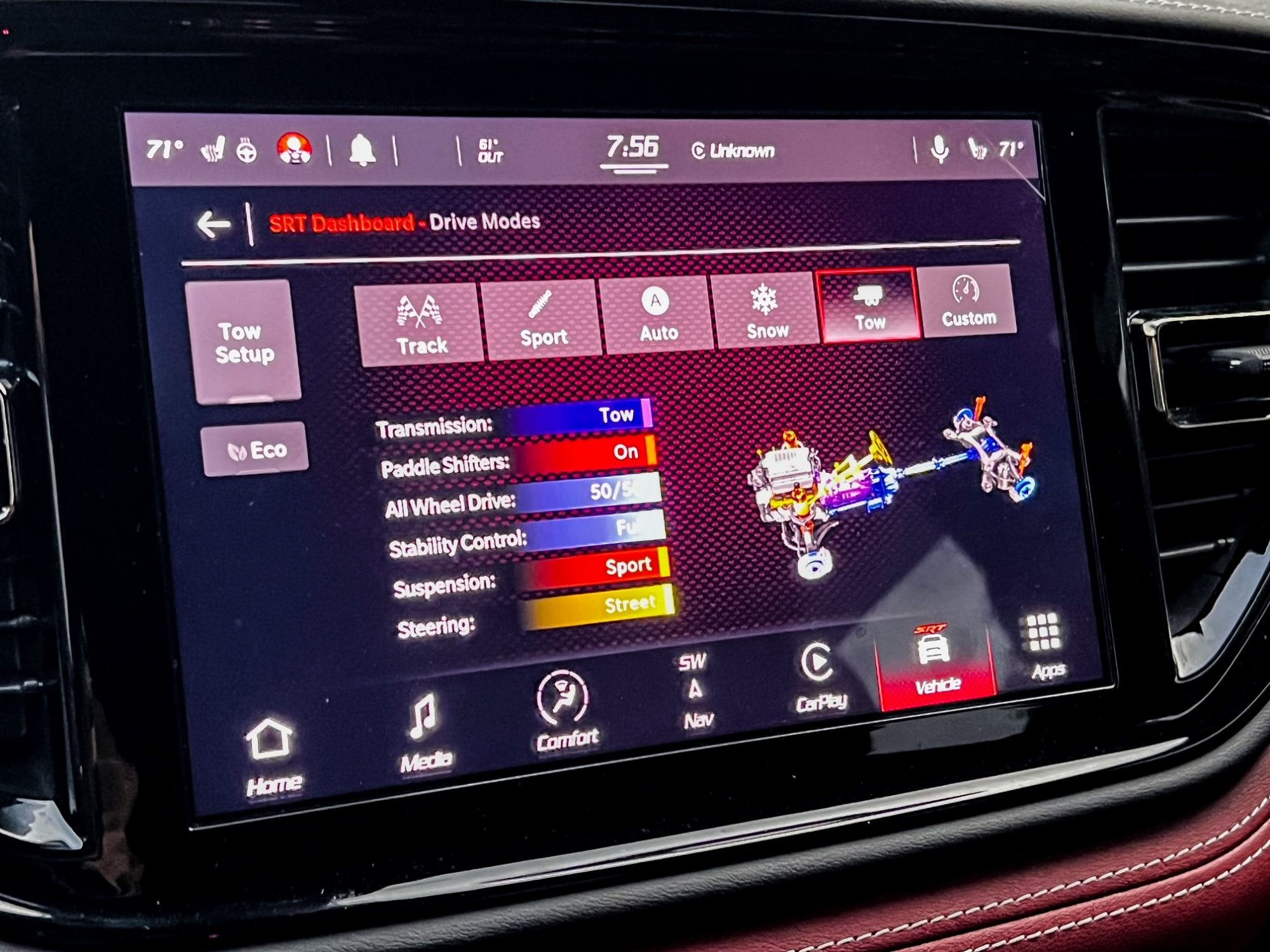 The Durango SRT Hellcat features a TOWING driving mode you can select via the SRT menu, right next to TRACK mode (that in itself is humorous to me). Tow mode is preset from the factory to adjust steering, suspension and transmission shift logic to settings that make sense for towing. One click of a button and the entire vehicle is set with the ideal settings for towing. You can also set the trailer brake rate via the trailer brake switches mounted on the dash. This lets you fine tune each trailer you hook up, so you get the optimal trailer braking no matter what you tow. The switch set also features a momentary squeeze button to manually control the trailer brakes or even lock them up like an E-Brake. All the guesswork is gone. It is almost too easy to tow with this bad boy.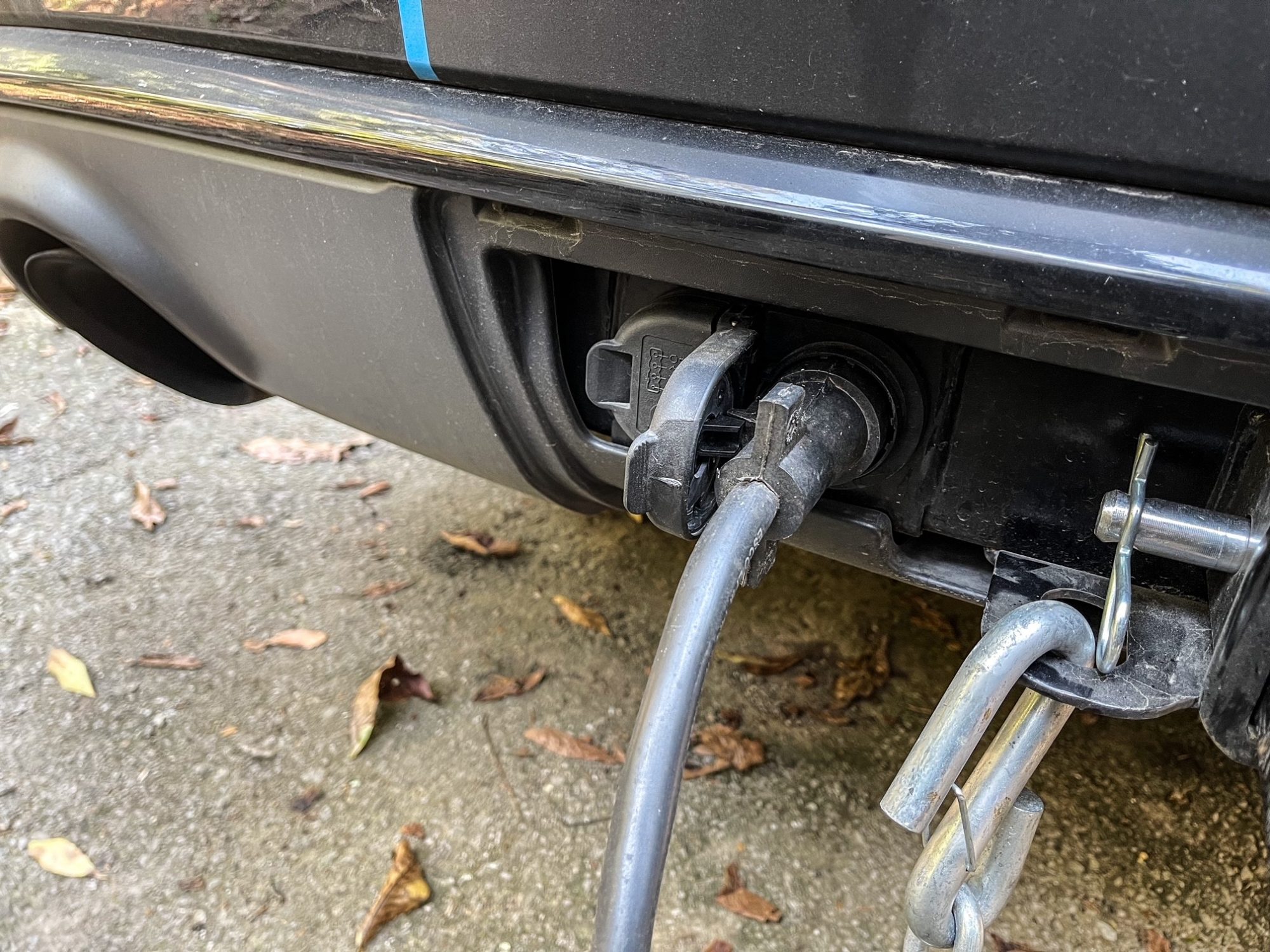 The factory install hitch receiver is cleverly tucked away behind a panel on the rear bumper. It requires no tools and roughly 10 seconds to remove or reinstall. It's the little details like this that make this guy happy.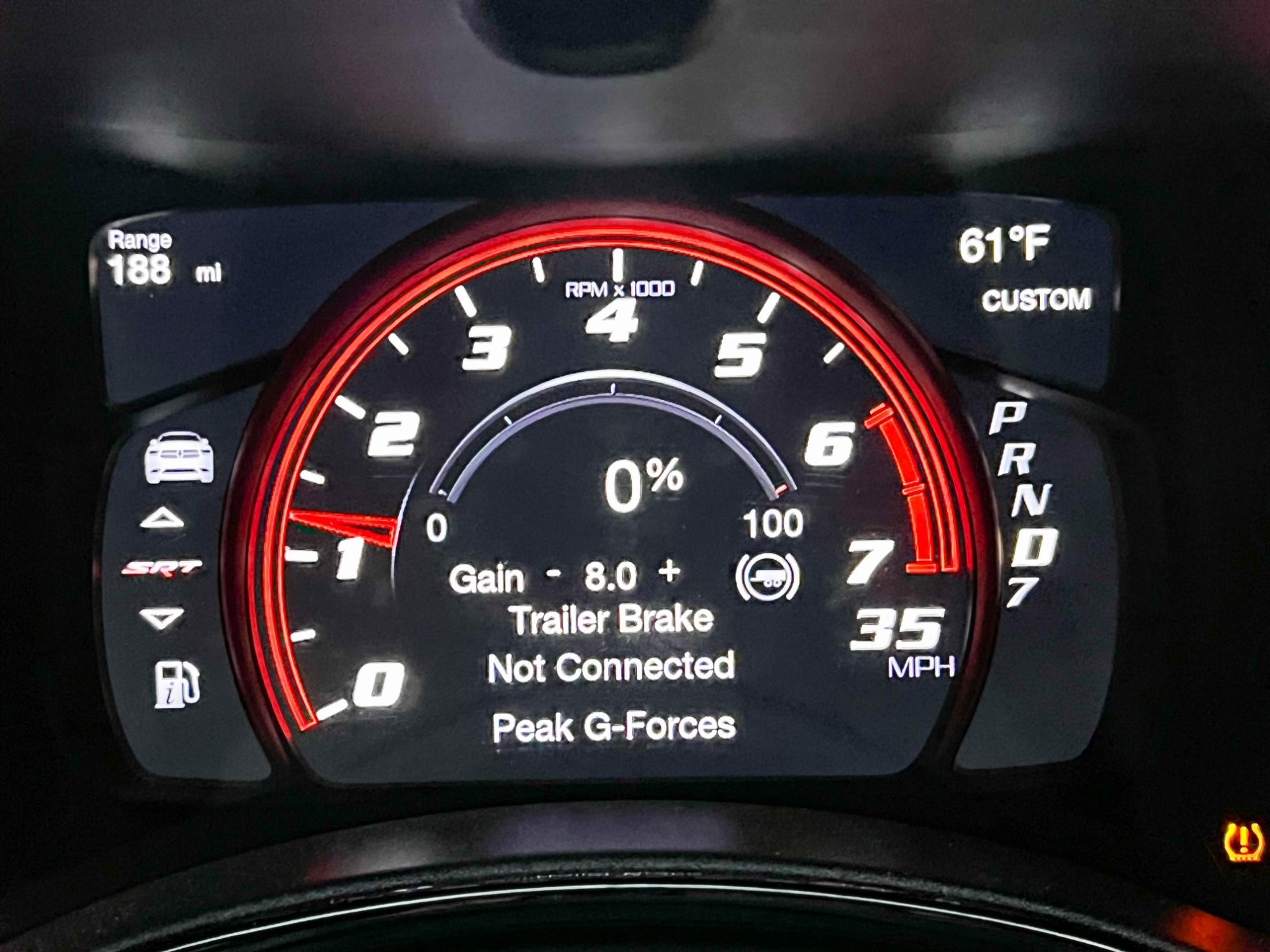 Power? Well, what do you think? More horsepower and torque than any other SUV on the market. Of course, it has enough power to tow, dork! There is definitely no shortage of power while towing with the Durango SRT Hellcat. Accelerating, passing and inclines are all a breeze. The 6.2L supercharged HEMI® engine doesn't even flinch. Beautiful and smooth shifts accompany the engine through my favorite transmission of all time: the ZF 8HP95 8-speed automatic transmission.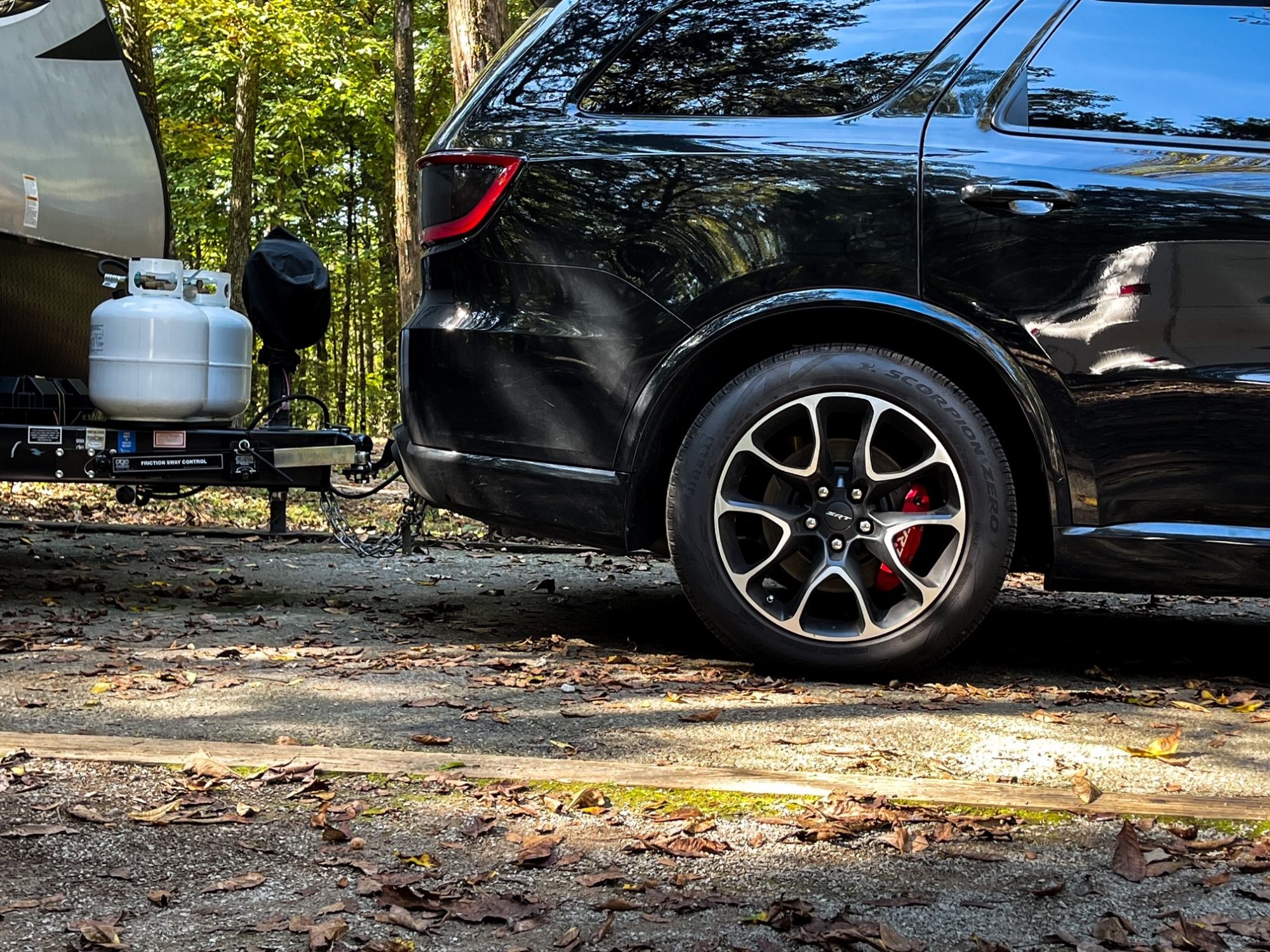 Braking? Come on, have you seen the brakes on this thing? This thing is sporting 6-piston Brembo brakes on the front with almost 14" disc rotors. That's insane. The factory brake setup coupled with a trailer brake on your trailer make for effortless braking with minimal brake fade. Aside from not having a "Jake Brake" (exhaust brake found in many diesel trucks), the Durango SRT Hellcat brakes as gracefully as my Ram 3500.
Fuel economy? Let's just talk man to man for a second with a real heart to heart full of honesty. There aren't many vehicles that exist anywhere that get amazing fuel economy with towing. The heavy-duty passenger trucks with a hefty diesel engine often have a more impressive fuel economy due to design and function. On this particular trip, I managed to hold an average fuel economy of 12 mpg! Granted, we weren't going through mountains and canyons or anything too extreme. But this is still a respectable number that I am totally happy with. It definitely performed better here than I would have guessed. What seemed to work best for me was putting the car in Tow mode, and then once we were on the interstate, switch back over to Street mode for the main portions of interstate cruising.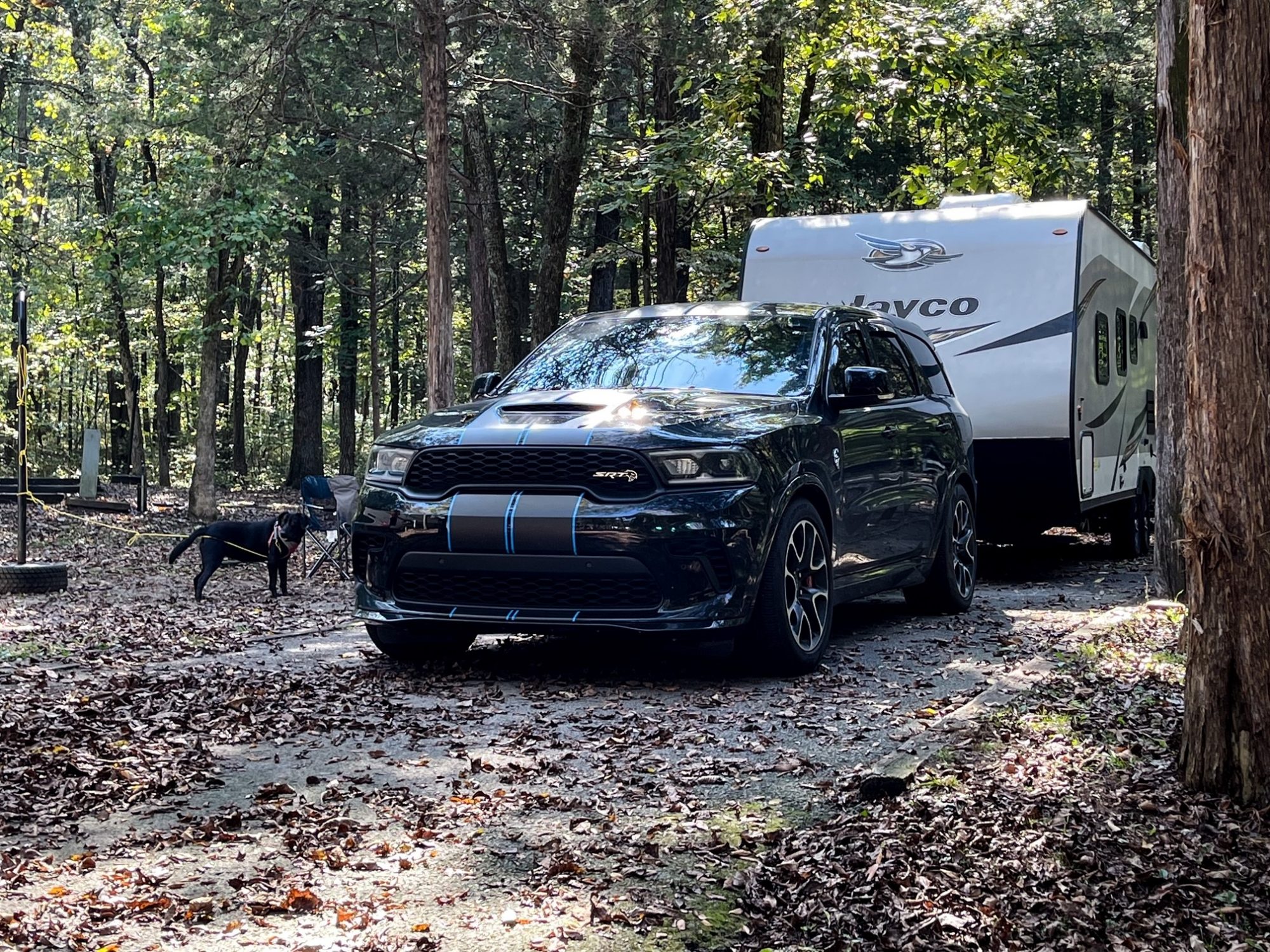 Handling? On this trip, we ran through some intense downpours during the drive. With the full-time all-wheel-drive system, I felt confident and at ease. Despite being such a large trailer without a weight distribution hitch, the car stayed very stable, even at 70 mph. I was slightly worried that just due to the size of the trailer versus the size of the Durango that I would get some push and pull and really feel the trailer behind me. She held steady. We experienced no sway, no feeling of being pushed or pulled by the trailer, and steering was as solid as when no trailer is hooked up at all.
Cool factor? No need to go too deep here, but name one person on the road that is towing something and is looking cooler doing it than me in my Durango SRT Hellcat. I won't believe you anyways. Tell me another vehicle that you can also cram your 3 kids, significant other, massive dog and all your luggage into and look this good. What other vehicle can you tow 8,700 lbs and stop by the drag strip on your way out for some high-octane drag racing? I'll be waiting for your reply.
Comments
Comments