203 MPH and Top Speed yet to Be Reached
6 years ago Showcase
Laurelle Balog just made the world's fastest top speed run in a Dodge Challenger SRT® Demon.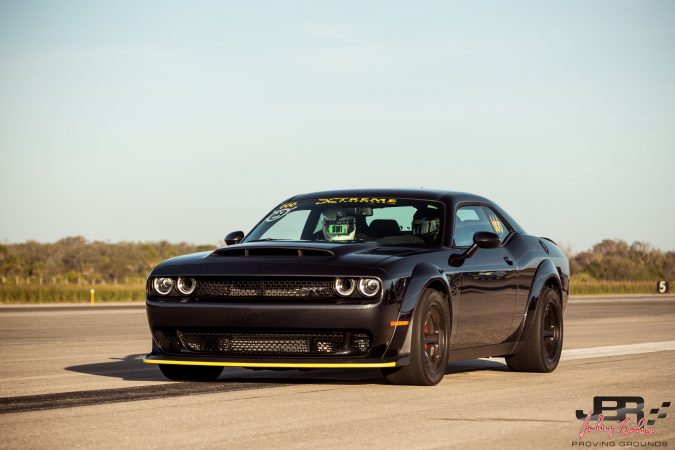 It's pretty impressive when you can make a casual shakedown run in a car and set a speed record, but that's just what Laurelle Balog and Wayne Garner did in early February 2018, at the Johnny Bohmer Proving Grounds in Florida. Laurelle and Wayne took a stock 2018 Dodge Challenger SRT Demon on a 2.3-mile top speed run and hit 203 mph, the fastest speed yet achieved by the purpose-built, street-legal drag car. Pretty impressive, but Dodge Garage sat down with Laurelle to find out more, and she says they are just getting started. We haven't seen top speed yet.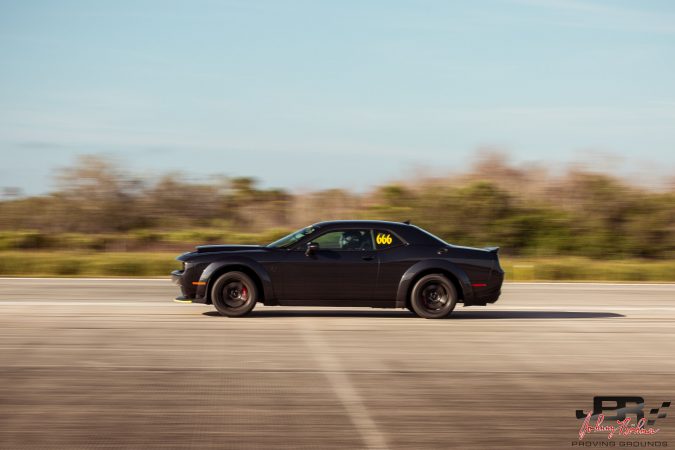 Dodge Garage: Have you always been a car-person?
Laurelle Balog: I was a tomboy growing up. I would turn wrenches on motorcycles with my brothers, I took all the automotive classes in high school. When Wayne and I started dating, he taught me to drive a manual transmission in his 427 Corvette and I got a taste for speed. It's been pedal to the metal ever since.
DG: When did you develop an interest in racing, and in Dodge performance cars?
Laurelle Balog: Track interest started with the Dodge Viper. We bought a 1996 GTS, joined the club, went to Sebring and I started tracking it. I was just hooked. We met Ralph Gilles, and around 2012, he sort of hinted that something big was coming, so when the 2013 model came out, I bought one.
DG: How did track driving turn into top speed runs?
Laurelle Balog: Our friend Johnny Bohmer owns a proving ground, a place for aero testing, and I took the 2013 Viper to 172 mph on my first time out. After that, I was always sure I could go faster. Wayne ordered the SRT Demon, and we decided to take it out.
DG: What did you do to prepare the car for a top speed run?
Laurelle Balog: We got the crate and did the PCM. The Nitto tires are not rated for speeds more than 168 mph, and we didn't want them to come apart on us, so for the first pass, we tried a Hoosier tire. It started walking all over on me so I got out of it. It was pulling, but the suspension and tire just couldn't take it. We had a friend with a Hellcat there, and so we borrowed his front wheels for a run with the Pirellis on the front and the Hoosiers on the back but that was ugly. The car's nannies were not happy about the different size tires, so finally I said, "Let's just put the Hellcat tires on it."
DG: What were the settings for that run?
Laurelle Balog: We had 100 octane in it, so the 840 tune, in Drag Mode, all traction management off. No nannies, no launch control, no handling assist.
DG: Any weight reduction? Did you take the seat out?
Laurelle Balog: (laughs) Not at all! I had Wayne in the passenger seat. This was really just a test run. If I wanted top speed I would kick Wayne out.
DG: Talk us through the run.
Laurelle Balog: I took off slow and if I got into it, it would shake. So I went in and out of the throttle for the first section. I hadn't moved my seat up enough, so I was just on the pedal with the tip of my toe, but I was afraid to scoot up because I didn't want to slip off the throttle. The suspension in Drag Mode is very soft, so it walks a bit, but I stayed in it. Like I said, the speed stopped at 198 so when I got back to the start, everyone was jumping and yelling and I didn't know why. Then they said the official International Mile Racing Association (IMRA) timing showed 203 mph.
DG: Is there more in it?
Laurelle Balog: It wasn't even close! It had all the seats in it, two people, I wasn't even on it and it was still pulling. I think it will do 225 mph easily.
DG: So, what's next?
Laurelle Balog: We're making custom rims that will fit a Viper 345 tire, and we are going to try the wide-body Hellcat wheels and tires when we can get a set. I know we can go faster and, hey, it's insured, it's under warranty, it was built for this, why wouldn't we do it? You know, as a kid, I was always the one who would skateboard off the church roof. My motto is, "Faster, faster, until the thrill of speed overcomes the fear of death."
Watch Laurelle Break The Record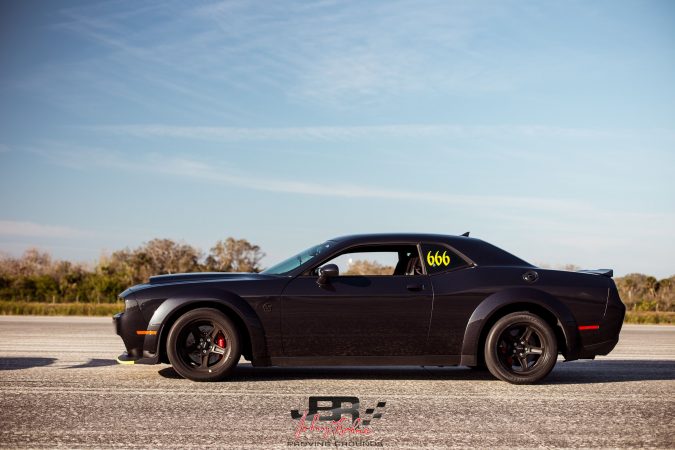 By Elana Scherr
Photos by Johnny Bohmer
Comments
Comments