Caging the SRT® Demon
4 years ago Showcase
Now that the Dodge Challenger SRT® Demon has been released into the wild, all eyes are on that special breed of new owners who have already decided that stock just wasn't fast enough. SRTMush comes to mind, as nearly every week he posts videos of record-breaking runs in his quest to push the Demon to its limits. With other owners and shop cars chasing his tail, this battle has just begun, and we're all in for quite a show this season.
While it may appear that big shops and YouTube stars are the only people unleashing the power of these new machines, you might be surprised to hear that there are SRT Demons out there quietly stalking their prey as they prepare to hit the track. One car that comes to mind is Larry and Chris McLanahan's Go Mango Dodge SRT Demon.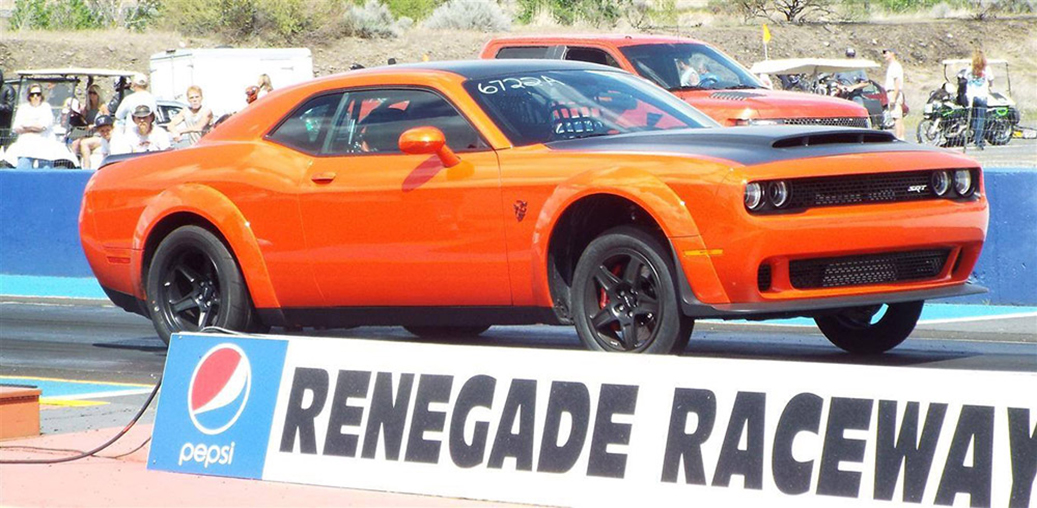 Let me introduce you to the world's first SRT Demon with a fully certified 8.50 roll cage. This car landed at the dealership on March 8, 2018, and the fabricator was there to accept delivery. That's right, the first butt to hit the seat was that of the roll cage fabricator, Forest Fincher, who drove the car directly to his shop. After a short maiden voyage, and now with a whopping 18 miles on the car, Forest popped the windshield out and began stripping the interior. What came next was a work of art. The chromoly bars flow perfectly around the contours of the brand-new interior, and they are all joined together with the kind of quality welds that most of us only see in pictures. After two weeks of what had to be nerve-racking work inside of a rare, mint condition specimen, the cage was complete and the SRT Demon was ready to finally meet its new owners.
Larry and Chris wasted no time getting the roll cage certified by NHRA and then it was off to the races! These two are at the track regularly and aren't afraid to put hard miles on their cars. In our high elevation and poor air conditions, Chris was able to accomplish multiple mid-10-second runs right out of the gate, even while struggling to learn the transbrake and launch procedure.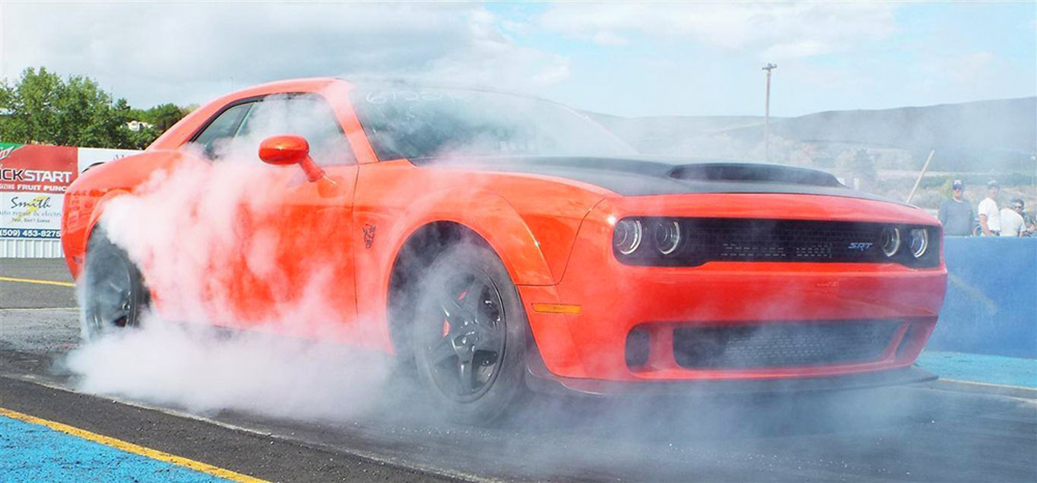 While talking to the pair about future plans for their SRT Demon, I got the sense that they are like most of us drag racers. We usually have plans for a few mods here and there, but eventually things get out of hand and the modifications start piling up. To start things off, they plan to go with catless mid pipes, a pulley swap and a custom tune. Couple this combo with some race fuel and we're sure to see some decent numbers from this car very soon. We'll keep an eye on their new progress and report back with updates on the world's first caged SRT Demon.
About Larry and Chris McLanahan:
At the track, you'll usually see Chris in her Challenger Hellcat, aptly named The Flying Pig. This nine-second Hellcat is quite the runner, so it too has a full roll cage installed. Larry likes to go a little faster than most, so he usually brings one of his Cobra Jet Mustangs when I see them at the track. Along with their impressive lineup of track machines, there are several other notable cars in their stable. We'll skip over the list of Ferraris, Shelbys, the GT40, and multiple other Charger and Challenger Hellcats for now, and mention the one car that really grabbed my attention, the HEMI® Car. Larry has a gorgeous 1969 Roadrunner with a 426 HEMI and only 44K miles. This black beauty with silver interior is a showstopper and begs for its very own feature to remind us of our roots. So having said that, check back soon to catch a glimpse of this rare piece of history as Larry tells us all about it in an upcoming story.
Roll Cage By: Forest Fincher Fabrication www.forestfincherfab.com
By Jesse Rose @boostedscatpack
Comments
Comments