Fall Color Tour
5 years ago Showcase
There aren't really any drastic season changes in Southern California. When I lived there, I remember enjoying Thanksgiving at a friend's house in shorts and flip-flops and winter lasted about 2 weeks in December/January where maybe it rained. As much as I loved living in Orange County, I did miss fall and winter. Back in school, college friends from the southwest corner of the country were completely blown away by the show Michigan trees put on when the weather started to cool.
There are people who travel from all over the world to take vacations in Northern Michigan purely to experience the wild transformation of the tree's leaves from green and light yellow to bright purple, orange and red. And for us "Michiganders", it's just something you do, you go "up north" for the scenery. It's kind of like the movie Annihilation (an awesome sci-fi flick staring Natalie Portman). When you cross over from the evergreens to the vibrant sugar maples, basswoods and birches, you've entered the "Shimmer".
Car enthusiasts like making this trip because A) it provides a unique backdrop for pics and B) the roads make for a fun drive! The Tunnel of Trees on M-119 between Harbor Springs and Cross Village, MI is a common destination of winding, narrow roads along the woods of the northern edge of Little Traverse Bay. Clubs like Detroit Area Modern Mopar make it an annual event.
The trick is to time the trip right. Too early, and the trees are still green. Time it too late and the leaves have turned brown and have fallen to the ground, exposing the trees' bare branches as winter approaches. Darla and I had already pushed the trip back a week; family was in from out of town and summer was clinging on longer than usual, but even waiting and heading up in the 2nd weekend of October proved to be a bit premature. The good news is, that gives you time to read this and still catch the show!
With an IndiGo Charger SRT® Hellcat as our ride, Darla and I left Detroit Friday night and made the 4 hour trip to Cedar, a town just northwest of Traverse City. The drive was a little creepy toward the end as we were listening to the true crime "Up and Vanished" podcast while navigating the dark back roads into the forest, where our AirBnB destination sat.
It was a modern farmhouse designed by the owner's son and built by the owners/proprietors. We stayed in an apartment that was part of the place, built specifically for family and travelers to use, complete with a separate entrance. The craftsmanship was admirable and the design was sleek and contemporary. We slept under a skylight/window that, even open, kept us dry from overnight rains. Darla heard a pack of coyotes howling from what seemed like right outside our door. I slept through it.
The next morning, located in beautiful Leelanau countryside, our AirBnB was a gentleman's farm with goats (one named Darla, much to Darla's delight), chickens and a cow named Maggie. We were provided with fresh cream, yogurt, goat cheese, homemade berry jam and some banana bread. So good. As we packed up, Darla remarked at how the IndiGo SRT Hellcat really popped against the drizzly skies and faded woods.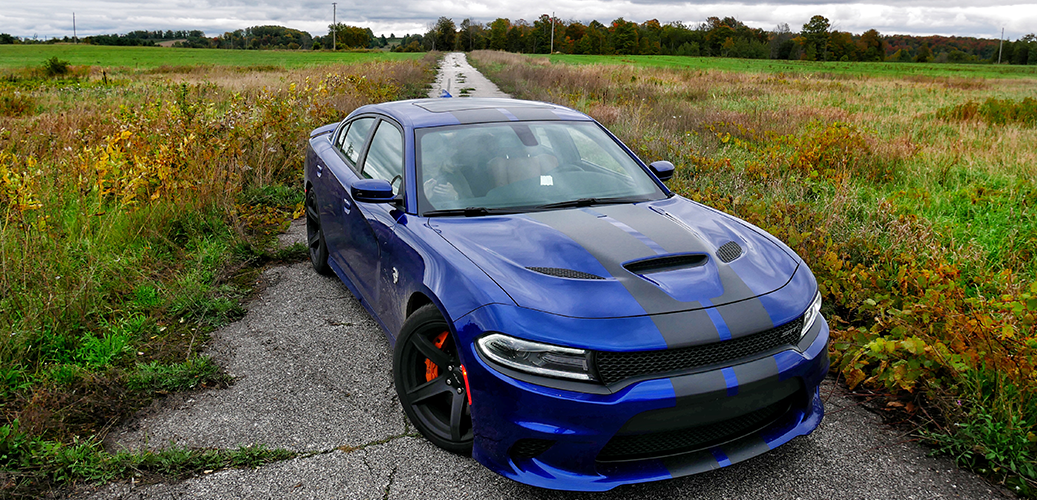 We drove into Traverse City for breakfast/brunch at Patisserie Amie before heading northeast from Grand Traverse Bay to Little Traverse way. The roads were a bit damp still but I had a surprising amount of grip. I checked the tires and sure enough they were the Pirelli Zero Nero all-seasons.
Off of US-31, we passed a road that looked abandoned. There was a neat old barn and a boarded up, very creepy, farmhouse. We turned around to investigate. Yeah, it ended up being a ghost road that stretched out into a field and ended. It made for some pretty cool shots, especially with the ever present threatening skies.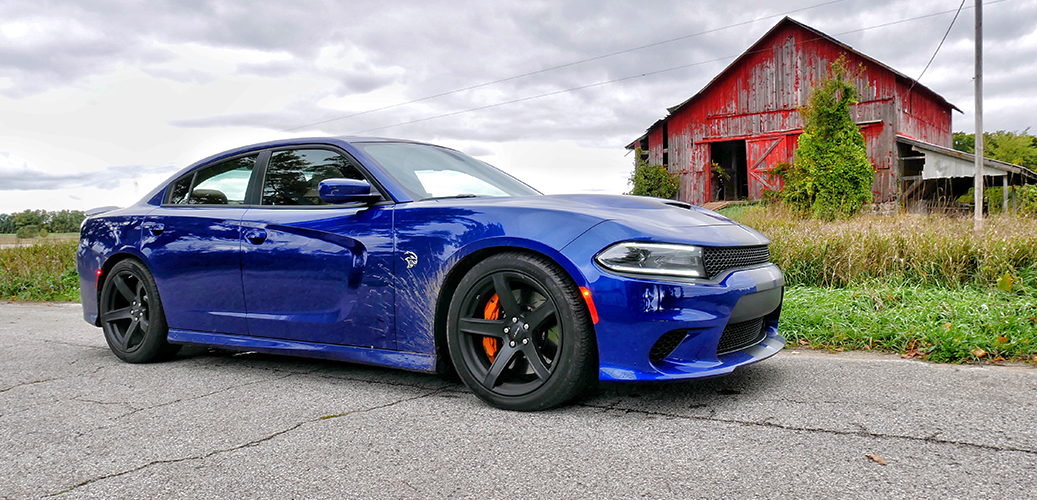 We also took a quick detour down a little traveled, but not abandoned road that wiggled down toward the water. The wind picked up and the bay was choppy, but it's always brain-clearing. I walked out on a small, brushy peninsula that jutted out into the bay and marveled at the clarity of the water. Michigan has a lot of underrated coastline and beaches. Walking along them gives me the same awestruck feeling as walking along the Pacific Ocean. The trees close to the shore were still pretty green, but nonetheless it's a gorgeous cruise from Traverse City up to Petoskey and we took our time. It was late by the time we checked into the Inn at Bay Harbor.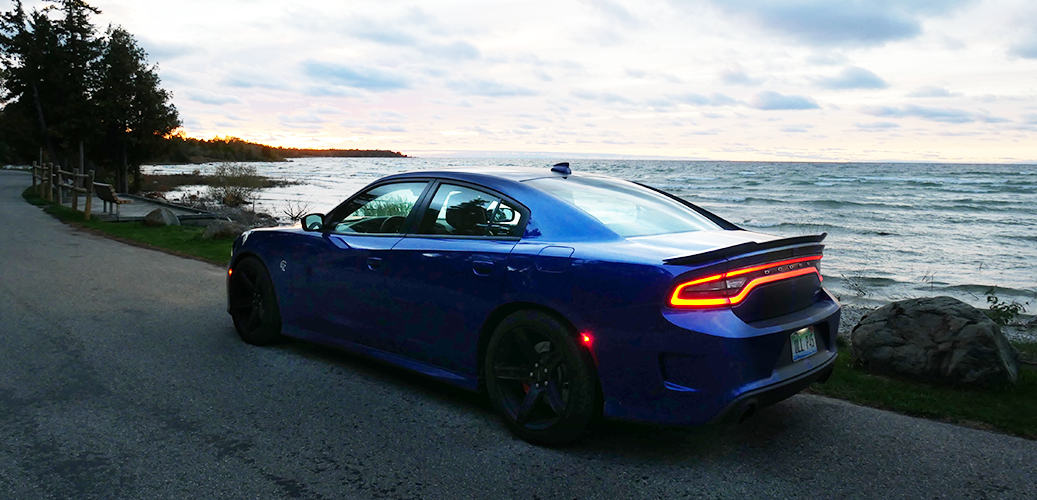 On Sunday morning we roared up to M-119 for the Tunnel of Trees. I imagine on a weekday the drive is a lot of fun, but on this day we were always behind one Sunday driver or another. That section of asphalt, however, brings back memories of the Pacific Coast Highway from LA to San Francisco. It rolls up and down, following Lake Michigan's shoreline closely. We took a couple of side roads so I could appease my right foot, but finished the route. Some leaves were turning, but not many were in full kaleidoscope mode.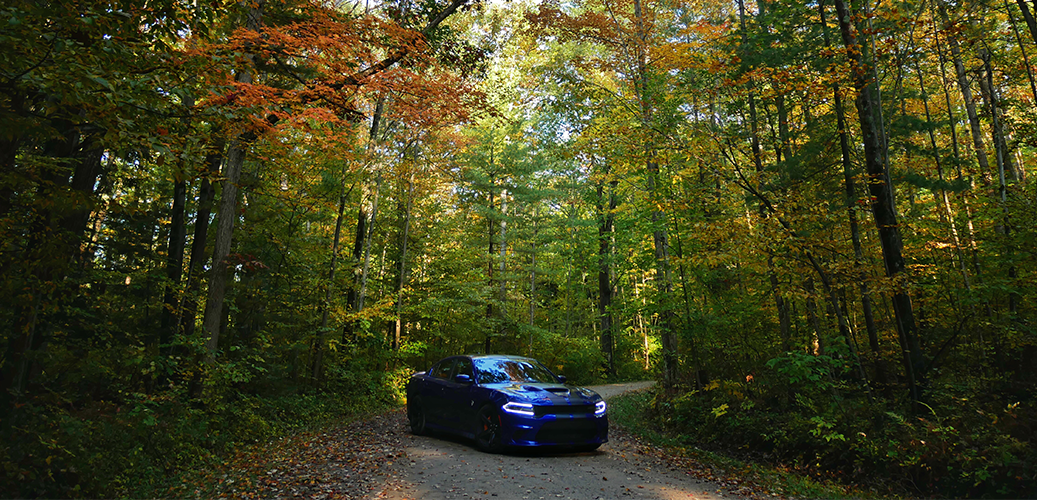 AirBnB has really opened up, providing so many interesting places to stay. Our next stop was a tiny house tucked away on a small lavender farm. It was just minutes from downtown Petoskey, yet far enough away to feel completely relaxed in the country. After running into town for supplies, we tucked the Hellcat in for the night between a couple of pine trees and enjoyed walking a trail through some of the farm's land as a few sprinkles fell and dusk settled in. Darla was enjoying the fresh country air. Then I did what I do best: start a fire.
We went old school by making dinner and dessert over the open fire pit; grilled cheese and s'mores. My s'mores were put together in three different ways: a marshmallow between two fudge striped cookies, a marshmallow with a Reese's Peanut Butter Cup between two cinnamon graham crackers, and a marshmallow with a chunk of caramel-filled milk chocolate between cinnamon graham crackers. All delicious! I did not lose any weight this weekend.
The tiny house was fun. The shower was made from corrugated steel and the bathroom had a composting toilet. There was a "full" kitchen with a loft above with a bed. The roof was just a foot or two from our heads with windows on either side. That night it rained and it was incredibly peaceful. It really was a pretty perfect day but we really hadn't witnessed much color yet.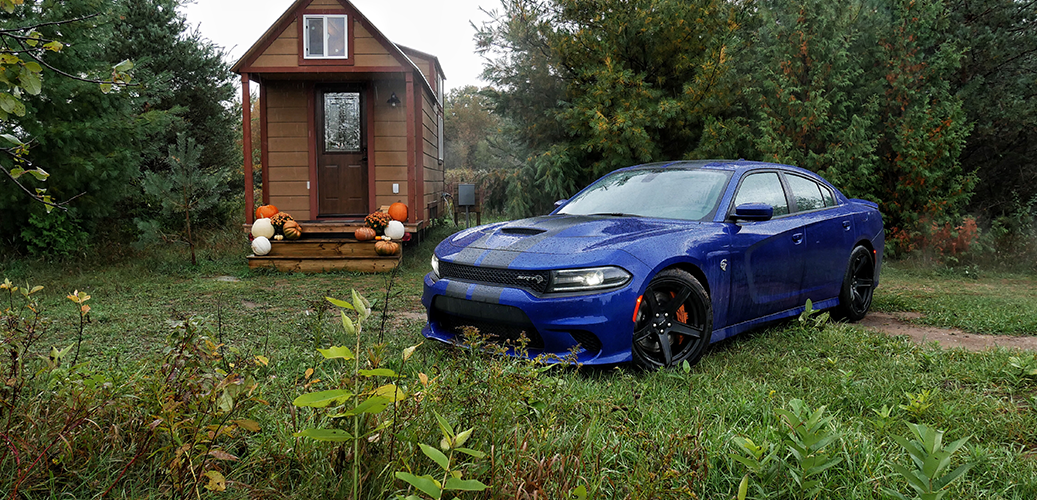 The next morning we slept in, took our time enjoying breakfast in the tiny kitchen, then packed up and headed inland toward Gaylord. Rumor was that the trees were strutting their stuff. On our way out of Petoskey we pulled the Charger into an unbuilt housing tract. It had new pavement and man was there a view! It sat above Little Traverse Bay, and despite a wet, dreary morning the site was breathtaking.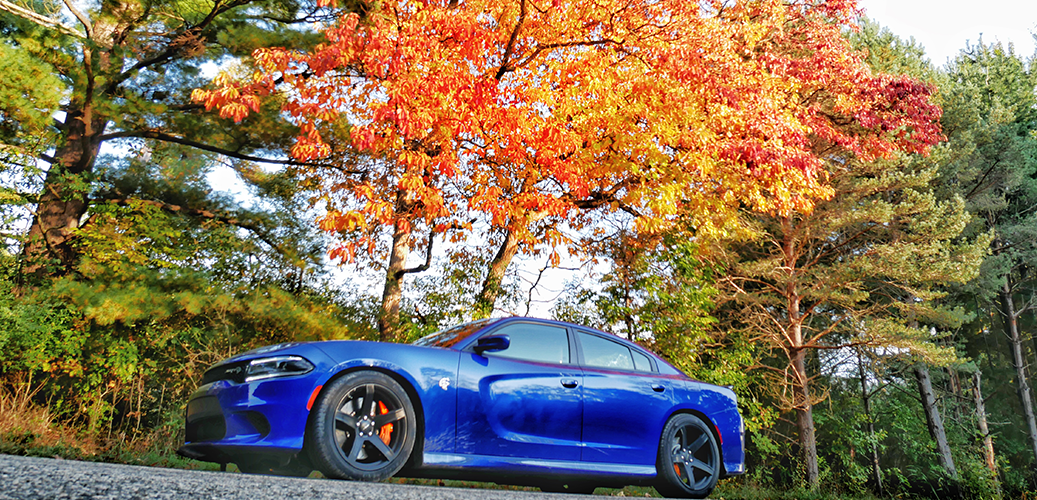 Onto Gaylord. It was a Monday morning so traffic was light, making for a relaxing run. Even after 3 years of driving SRT Hellcats, it amazes me how docile it can be when desired. The Charger especially, as it's a smoother ride and the exhaust noise is tempered a bit. Obviously the 707hp is still there when needed, but when it's not? It's still a nice ride.
In Gaylord the colors were muted. We did duck down a few side roads into the forest and captured what we could. I think you'll still enjoy the pics! But due to a very warm summer, all the peak times were moved back a couple of weeks. But really, that's good news for you. There's still time to hop in your Dodge, head north and experience it for yourself!
Comments
Comments