Speed Demon
5 years ago Showcase
What do you get when two friends get together with the goal to crush records and break out of the mold? In my circle of cohorts, you usually get some valiant attempts with heart and passion, followed by mostly tears, blood, let down, cursing and an empty wallet.
This, however, is not the path followed by Dave Salvaggio and Jim Kazmarcik; founders of SpeedKore.
With family roots in the automotive industry dating back to 1919, with IndyCar and midget racing all the way through engineering and formation of Salvaggio Auto Design in 2000, there was just too much in the bloodline for Dave to stick to the cookie-cutter model of automotive engineering and customization. Dave and Jim founded SpeedKore in 2015 with some lofty goals and guidelines driving the ship. Refusing to be just another "speedshop" or run-of-the-mill "performance group", the two decided from the get-go to set themselves apart by building the baddest machines on the planet using a scalable model with the latest and greatest technology. Avoiding off-the-shelf parts and using cutting-edge engineering, design, and manufacturing techniques and equipment, the company quickly made waves with their first build, the "Tantrum Charger". A big focal point of SpeedKore is carbon fiber, something used in moderation by many builders, but very little have the skills or technology to build a complete car from this amazing material. The builds must have timeless design and – most of all – be purpose built; able to perform as good as or better than it looks.
Why the Dodge Challenger SRT® Demon?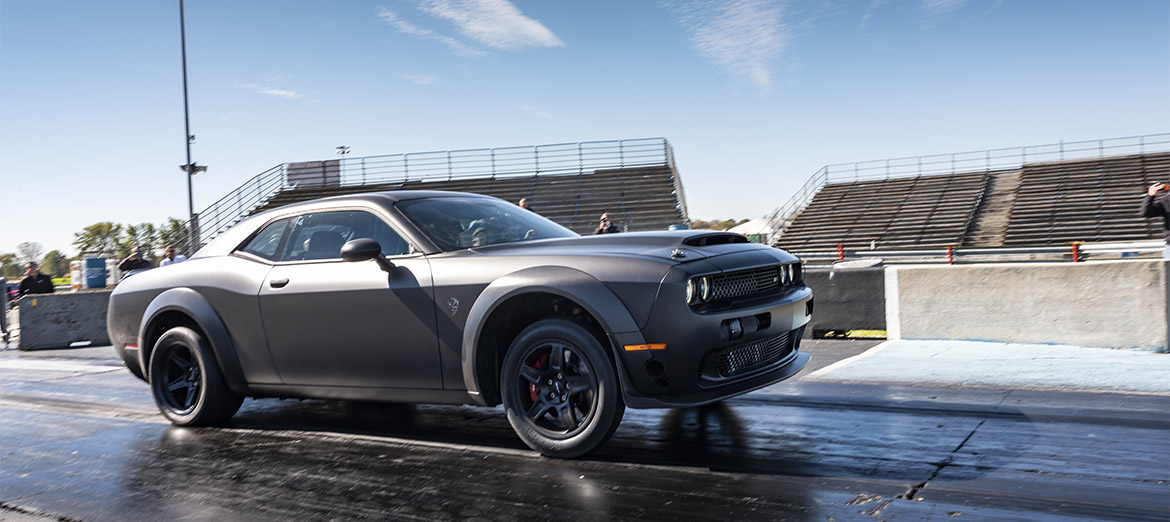 SpeedKore introduced their Dodge Challenger SRT Demon concept at the 2017 SEMA show, just a few short months after the car was officially announced. Generally speaking, the early bird gets the worm, at least that's how the saying goes. So jumping on the SRT Demon so early definitely helped pack an effective punch in getting the SpeedKore name out there. As we all know, the SRT Demon came straight off the assembly line with plenty of industry records and firsts, with the most commonly recited accolades being the world's quickest production car and the highest horsepower production V8 ever made in automotive history. So what the heck? We know Dodge would have made it quicker, faster, more powerful if it weren't for things like government regulations, EPA, liability, legalities, bean counters and the like. Fortunately for SpeedKore, they are not limited by those same hurdles. According to Dave, the SRT Demon is such an amazing foundation and platform to start from, it made perfect sense to set out and make this already ridiculous car even more ridiculous.
According to Dave, the plan from the inception was to build the quickest Dodge SRT Demon out and break any and all records. With a few major catches; it had to be street legal and street-able, and still maintain its daily driving qualities and capabilities. In other words, it needed to also be capable of being taken on road trips, grocery store runs, sit in traffic and any other practical purpose anyone would use their automobile for. There is more than one way to skin a cat, and SpeedKore definitely took a unique approach to proving this. While there are a few major ways in which you can make a car perform better at the drag strip, the most common way is to tack on as much raw horsepower as the car can handle. The other common aid in making that 1,320 feet rip by faster is by some simple weight reduction. For most of us, weight reduction comes in the form of simple tasks like removing seats, removing some carpet and trunk trim and, when possible, swapping in some lightweight components from the aftermarket (if any exist). You are often limited to how much weight you can reduce as most modern cars don't have an extraordinary amount of useless parts that can just be tossed in the closet. With the SRT Hellcat and SRT Demon platform, most racers increase power by replacing the stock supercharger with a large displacement supercharger or by modifying the stock one to make more boost. Those two methods are the quickest route to packing more ponies.
SpeedKore's approach? Pulling out carpet and seats is pretty basic. So they opted to build a complete body for the vehicle out of carbon fiber. Every fender, door, bumper, lid, trim and piece of the exterior that could be made into carbon fiber was swapped out for the lighter and stronger material. This is something very few can do, and even less would even try. Slapping on a larger supercharger? Meh, that's not exciting enough! So SpeedKore partnered up with Gearhead Fabrications and DiabloSport to develop a platform-first custom twin turbo setup in lieu of running any supercharger at all. This is by no means an easy feat. SpeedKore had to design and manufacturer an intake manifold from scratch to replace the factory supercharger (remember the part about using cutting-edge technology?). The combination netted the car almost 1,300 horsepower to the wheels, making it the highest horsepower SRT Demon on record at the time of completion. Dropping roughly 400 lbs from the beautiful carbon fiber replacement body panels and nearly doubling the horsepower should definitely put the car in a prime spot to shatter any records. Surprisingly enough (and a testament to the foundation Dodge created), the car still utilizes most of the OEM components, such as the stock and unmodified 8-speed transmission, rear differential, stock engine internals and heads, and even the stock production wheels.
Time to Make Some Noise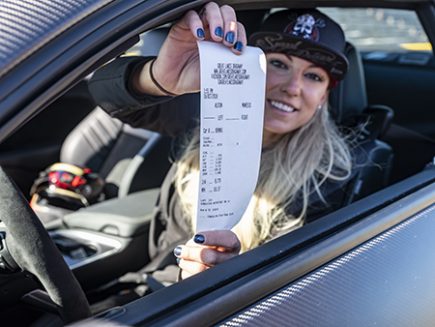 So the car is done. The crew at SpeedKore has what they believe to be a record-breaking machine sitting in their shop. There is just one problem: Who the heck is going to drive this monster? Few people are as experienced with the Dodge SRT Demon as Leah Pritchett. For those that do not know, the NHRA-dominating race queen was heavily involved in a large portion of the track testing of the SRT Demon while it was in development. There may not be a better fit for the job than Leah. She is familiar with the car, she has the skill, she is fast and she is fearless. Naturally, SpeedKore sought out Leah to pilot the car to really put it to the test. After all, having a bull like this in your pen is no use if you don't know how to ride it. The big debut was set to take place at Great Lakes Dragaway, relatively local to SpeedKore. Great Lakes Dragaway is a fair representation of tracks across America. It closely resembles what most people have access to. While testing the car on the most state-of-the-art, best prepped, fastest track in the country sounds great on paper, the idea of anyone being able to take this car to any track and get similar results has much more appeal.
"Our original goal was to run an 8.6," explains Dave. Just a week prior, the first modified SRT Demon cracked into the 8-second realm with an 8.99 at Virginia Motorsports Park. The pressure was definitely on.
Just Send it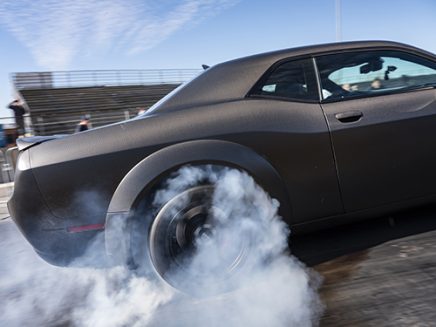 The day arrived. After much blood, sweat and tears, would the results mirror those of my cockamamie ideas?
With the track picked, the car complete and the ultimate driver on site, SpeedKore set out first thing on Oct 16th to see how vicious their monster was. With a high in the mid-50s for the day, the air was right, but keeping the track warm and ideally prepped was a moving target. With a gaggle of cameras and drones buzzing about, Leah hopped into the car ready to see if the car could handle her. The twin turbo beast definitely produces an intimidating array of sounds as Leah holds it at the beams, gradually building up RPMs in anticipation of launching off the rocket. The first run of the day, Leah reeled in an 8.81 @ 162.6 mph run. SRT Demon record…broken!
Like any group of gearheads, just breaking the record by a tenth of a second isn't enough. And remember, they have a goal of 8.6.
Leah straps in ready to give it another go. Like the previous run, she fearlessly shoots down the track, this time pulling off an 8.77 @ 161 mph. SRT Demon record… broken again.
Still eager for more, the team kept pushing, trying to get that 8.6 that they all had on their mind. Unfortunately, the aftermarket driveshaft gave out on the next run, breaking off from the transmission, putting an end to the party. But it's all good. y'all! History was made. Records were broken (twice). A vision had come to life. After months of grinding and building and testing and coordinating, the project was a complete success.
I have spent months myself trying to get my SRT Demon into the 8s and I personally know how much of a challenge it is. And in the world of drag racing, an 8.7 pass is a big leap from an 8.9 pass. The amount of performance needed to make that seemingly small step from a 9.0 or 8.9 down to an 8.6 or 8.7 is mind blowing.
I have a feeling we will be seeing SpeedKore breaking the record even further in the very near future. If you happen to make it out to SEMA 2018, you can see this record-setting SRT Demon, as well as several other ground-breaking SpeedKore builds at the show this year. It is definitely worth making your way through the chaos to track down their cars, you won't be disappointed.
Comments
Comments
Previous