For The Love of Cars
4 years ago Showcase
There are plenty of nostalgic sights and sounds at NHRA races, from classic muscle cars to octogenarian racers. Guys like Mike Wagner have a plan to make sure both young and old drag racing fans continue to enjoy a little blast from the past.
Wagner, of Lapeer, Michigan, campaigns a pair of Mopar Drag Pak Dodge Challengers that pay major props to dominant Mopar branded vehicles of yesteryear, including the legendary "Motown Missile" and the "Ramchargers" car.
"People love the cars," says Wagner, a 54-year-old sportsman racer who has always loved Mopar Branded Vehicles. "We get great comments about how we made them tributes to the old cars. The younger generation of NHRA fans are not into the old muscle cars, but they get it if they're with their dads."
Wagner started sportsman racing 20 years ago in a big block B1-head powered Super Comp dragster that he ran for 5-6 years. He moved on to a Top Dragster with a "different" motor that ran 6.90s at 197 on gas after that.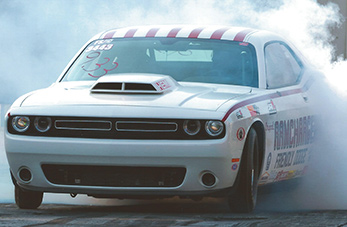 But Wagner has always been a Mopar guy, from the time he got his first Mopar, a 1970 Challenger 440 Six Pack car that he still has today. He then proceeded to collect two '68 HEMI engine Plymouth Road Runners, a mostly unmodified '68 Super Stock lightweight Dart with a 426 HEMI engine, a 4-speed, a Buddy Baker NASCAR car and a Roy Hill Pro Stock Duster. He still has them all, 13 cars in total!
On the racing circuit, he was always lured back to Mopar.
"I had some racing partners and we had built a 2008 Ford Cobra Jet sponsored by Roush," Wagner explained. "Since I was a Mopar guy, I heard about the Drag Pak Challenger program that was about to begin. Through work, I got a Challenger body from the assembly plant in Canada. I got what's called a TTO, a tool tryout car; it's like a pilot car. They were the holy grail of Mopar Branded vehicles back in the day. I knew I had to have one."
At that time, there were barely any early production 2009 Challengers being tested on the local streets.
"I managed to get the body and a pilot vehicle headed for the scrapper during the bankruptcy time," says Wagner. "I was able to take all the parts from the interior and all the extra parts and returned the body to them as they asked. Then I began building the first super stock Drag Pak car."
That car became the Motown Missile tribute car. The Motown Missile Super Stocker started with a 6.1L Gen III HEMI engine and would run a second under the index. Wagner has since added new front and rear fascias to make it a 2015 model, and installed a 426 Gen III HEMI engine that now terrorizes the Factory Super Stock class of FSS/D.
Next came the Ramchargers tribute car, Drag Pak car #39 built by Roush for Mopar; and it is a factory-built Drag Pak car. "It came as a 5.7L 4-speed car," says Wagner. "When ordered, they came with a Viper transmission and a motor that had been dyno'd, and that was it. No rear end, wiring was in a box. That's how they came."
In its Ramchargers paint scheme, the Drag Pak car runs Factory Stock, FS/D, featuring the new 392 HEMI engine. "That car was the first to run that engine combo and might be the only one like it in NHRA competition," said Wagner. It has been a number one qualifier at an NHRA event.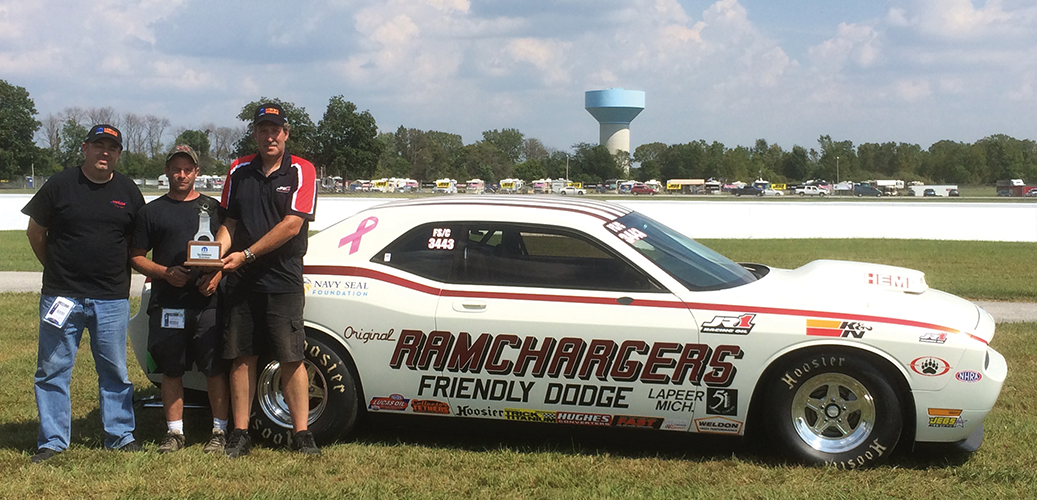 Where does Wagner go from here? He's already working on his next tribute, a factory shootout car for the new fast class that features the paint of the legendary Gratiot Auto Supply.
"I got permission from Angelo Giampetroni, a longtime employee of Gratiot Auto Supply and eventual co-owner. He has even autographed the car," says Wagner. "It is a supercharged 354 cubic inch Gen III HEMI engine. That's 354 inches like the old days."
It's clear Wagner intends to keep the memories alive for classic Mopar fans. And he does it for all the right reasons. It's not a business for Wagner, it's a passion.
"The reason we did it is for the love of the cars," says Wagner. "It's a tribute to the guys and the way they used to do it. Factory-sponsors and all that. Things are different now, but we loved those cars from that era."
Keep an eye out for Wagner and his tribute cars at a track near you.
Comments
Comments