The Jolly Fast Man
4 years ago Showcase
It was a perfect winter evening; the tree was decorated, gifts wrapped, Hootie & The Blowfish's version of "The Christmas Song" was on…then my son asked THE question every parent fears…"Dad, how does Santa make it all around the world in one night?"
Well son, you see, he's…ummm…The Jolly FAST Man.
Apparently I'm not the only car enthusiast who's had to explain that to his child as you've no doubt seen the commercial showing Santa and his new HEMI® powered sleigh! So what's the story behind that machine and the videos that go with it? I got on the phone and called up some friends to get the backstory…specifically, Mike Alexander of famed custom car shop Metalcrafters, and also Cristy Lee who played Mrs. Claus in the videos.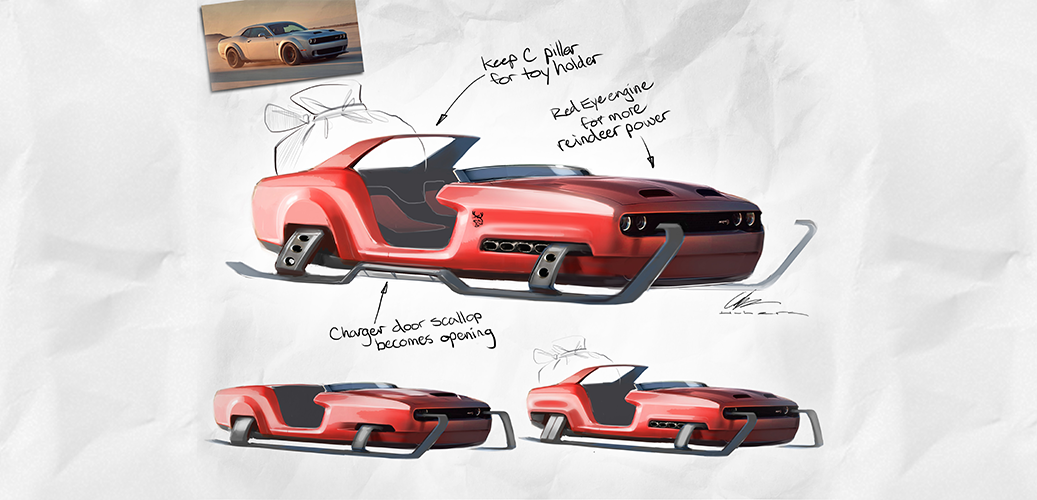 Up first, let's talk about the vehicle. It's officially named the Redeye Express and Mike says that the car itself was an engineering mule at the end of its life cycle (so no production Redeyes were harmed in the making of this!) "The project came out of nowhere. Dodge was getting ready to shoot the commercial and envisioned a sleigh." The FCA Product Design Team sent them a detailed rendering, and task of making it a reality began. If you're not familiar with the Metalcrafters name, you definitely know their handiwork: Metalcrafters has built some of the most famous concept cars in the world: the original Dodge Viper, the Plymouth Prowler and PT Cruiser, the Chrysler ME Four Twelve and many others. For that matter, Mike's dad (and Uncle Larry) were known as The Alexander Brothers who built the "Little Deuce Coupe" made famous on the Beach Boys album and the Dodge Deora that became one of the very first Hot Wheels cars back in the 60s. Santa's sleigh was in good hands. But, they didn't have much time. Mike told me that because of scheduling everything and everyone for the shoot, they HAD to have this project done in just two weeks. FOURTEEN DAYS to build a complete custom vehicle!
So the team got to work and made it happen. First off, the Redeye engine is still in there, all 797 glorious horsepower to get Santa where he needs to go. And it fires up and runs (Cristy says they did it a number of times on set!) The fender and door area is one molded piece of fiberglass (obviously one on each side.) The roof was cut off, the headliner was modified and then it was all wrapped in Sepia leather to match the rest of the interior. Mike got really excited when talking about the rear end because they were able to make the trunk opening hold lots of presents, while still keeping the spoiler and factory lights in place. That was important because Mike points out "the rear on this car is so sexy!" The original chassis is all there, the entire car sits on casters just a fraction of an inch off the ground, plus the ski supports are made to look like the Dodge rhombus logo and are removable for shipping. Finally, while it's tough to see against the Torred paint, the Redeye Express logo takes the SRT® Hellcat Redeye and adds a red nose, plus those fantastic antlers!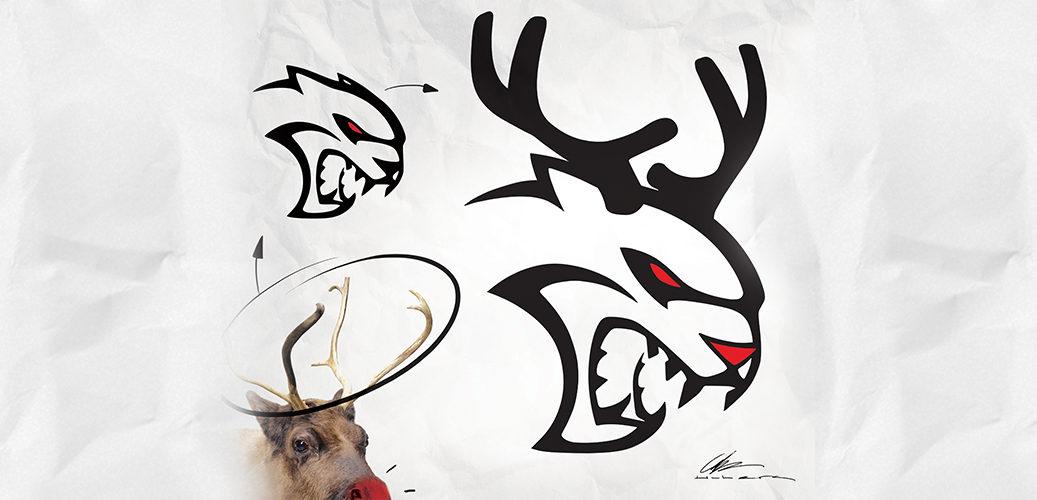 Once they got the Redeye Express on set, that's where Cristy Lee comes in.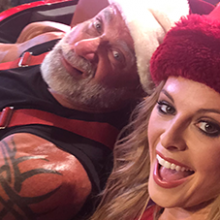 "I play Mrs. Claus and (former pro wrestler and big time car guy) Bill Goldberg plays Santa. The sleigh was covered up, but you could tell it was a Challenger. Goldberg and I were there with some of the crew and he said "Lemme see this thing" (which Cristy said in her best Goldberg voice). "Well, no one says no to him, so they pulled the cover back for us to check it out. I didn't know it had been turned into a sleigh until that moment…we were all REALLY impressed by it!"
It was a three day shoot. "We were in an old woodworking warehouse in nowhere Los Angeles, a hardcore industrial place. With that comes a boatload of sawdust to overcome, but instead of buying paper masks like you'd get from the hardware store, they brought back bandanas.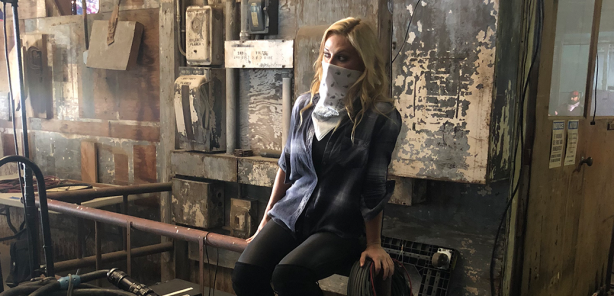 So, 30 minutes into the shoot, we all looked like train robbers!" Despite that, everyone was having a great time. The first day was all about wardrobe and they worked on getting everyone looking the part. "We wanted it to look Christmas-y, but not cheesy Christmas-y. They didn't want me to be a fuddy-duddy Mrs. Claus."
As for Goldberg as Saint Nick, notice the tattoos on his arms: right forearm says "Naughty" and the left says "Nice." Nice!
There's more to the Redeye Express and the shoot than just a TV commercial. There are seven shorts, each featuring different characters from the commercial. Trust me, you want to check those out on our YouTube channel.
And when your child asks how all those toys get delivered by one man in one night, now you can tell them: thanks to his Dodge, Santa is a Jolly Fast Man!
Comments
Comments