Snow Shoes
4 years ago Showcase
Winter is upon us, and I'd like to preach a little automotive-enthusiast gospel this week from the Book of Tires. Today's sermon is titled "The Right Rubber".
Whether you're behind the wheel of an all-wheel-drive Dodge Charger, a 4×4 Jeep® Wrangler or a 717-horsepower rear-wheel-drive Dodge Challenger SRT® Hellcat, cold, ice and snow have a huge impact on driving conditions. Your vehicle's only direct point of contact to the road – the tire – is the single most important factor in maintaining control of it. Even with anti-lock braking and advanced all-wheel-drive systems, if your tire's grip sucks, you are out of luck. This is true whether GOD or DOG is your co-pilot. I'm a firm believer that with faith in the right rubber, you too can tackle nearly any condition with any car. Can I get an "Amen"?
Keep your place in the Book of Tires and dust off the apocryphal volume next to it dedicated to boring cars. In the Midwest, we have a segment of transportation called "The Winter Beaters". They're usually cheap, used, front-wheel-drive compact cars or ratty 4×4 trucks, and for at least one-third of every calendar year, otherwise intelligent folks park their fun rides and put up with daily driving the beaters. They think their performance car or truck is too powerful for the slick cold conditions or it's too nice to expose to the salt a state like Michigan uses for de-icing the roads.
The second reason makes a lot of sense. Salt is corrosive; it's very hard on paint and parts. I get it, but don't really adhere to it. Personally, I buy my cars to drive, and putting something I enjoy under a cover for four months every winter is sacrilegious.
Maybe it's because I grew up in a family of believers driving a 1988 full-size, extended, 350-horsepower Chevy van with a V8 engine through the Michigan winters of my youth, but to me, rear-wheel drive + big motor + snow = good times. Plus, if you're already used to winter driving on all-season tires, you'll be an expert with the right rubber. You don't need to put your Dodge Challenger Scat Pack or SRT Hellcat into hibernation, you just need to buy another set of tires built for the cold. You'll be drifting through January like Saint Ken Block.
Now, back to the placeholder in the good book. I haven't always known the power of winter tires; I too was ignorant to their power. Close to 20 years ago, I had a 1994 Z28 Camaro and usually I parked it from November to March while I drove a 1992 Dodge Dakota or a 1986 Ford Escort during the winter. One year, neither of the beaters were an option, so I tried to drive the Camaro through the winter in Detroit. At the start, it wasn't fun. I even put about 200 pounds of salt and dirt in the back to add weight over the rear axle; an easy trick to gain a bit of traction by keeping the drive wheels more planted. To be honest, I don't remember if the car was on all-season or summer tires, but it was a bit sketchy in the snow. One freezing night, on my ride home from work, I blew out a tire. I figured I would try something new, so I ordered four Bridgestone Blizzak tires. The difference in traction and grip was night and day. The Z28 was born again. I wasn't just getting through the snow on skill and experience, the Blizzaks were actually working with me and not against me. I was blown away by the change in the way the Camaro handled. The car became very predictable in slick conditions and I had complete control again.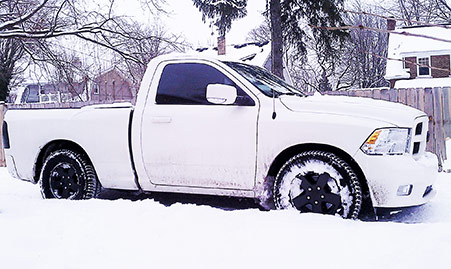 A few years later, my 2009 Dodge Ram came into the picture, one of the first Ram R/Ts built. The first winter, I kept an old front-wheel-drive Chrysler 300M for backup just in case, but my faith was still weak. With 400 horsepower, 4.10 gears, two-wheel drive and no weight in the bed, I figured the truck would be a handful, but I was wrong. On Michelin X-Ice tires during the cold season, the Ram didn't just get through the white stuff, it was a BLAST, so I sold the 300M.
One snowy, slushy evening, I was in the Ram cruising along Metro Parkway and the upcoming traffic light turned yellow. I was in the left lane, while other cars were behind me in the middle and right lanes. I hit the brakes and stopped cleanly before the intersection in the 4,700-pound truck. It was my "Road to Damascus". The skies opened wide and I "saw the light" as everyone else cheated death and slid through a clearly red traffic light in their little sedans. It wasn't skill and it wasn't braking technique, the difference was the tires. Cars, trucks, SUVs, it didn't matter the vehicle. This happened time and time again, causing my belief in winter tires to grow stronger.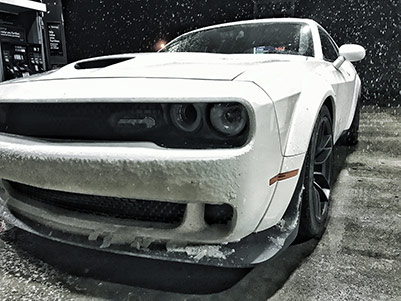 Recently, I put Pirelli Scorpion Snow & Ice tires on the Dodge Challenger Scat Pack Shaker. With a nearly 500-horsepower 392 HEMI® V8 engine, and a 6-speed transmission in the Challenger's rear-wheel-drive platform, I assumed the car would be too "tail happy", causing it to slip and slide, getting stuck in any amount of snow. Instead, it was a beast all winter long. It was fun and safer than most all-wheel-drive cars on all-season tires. I actually thought about putting studded tires on the Challenger and ice racing the car, but it was stolen the following year. (My steadfastness to the Gods of Hooning has been tested in many ways.)
Mrs. Welton, my mom, works as a nursing instructor in Lansing. Her daily commute from West Michigan is almost one hour each way. When weather turns bad, the already stressful drive (a mix of city, highway and country roads) becomes even more nerve-wracking. She was ready to trade in her car for a vehicle with all-wheel drive. My dad knew of my experiences with winter tires and before going to the extreme of buying a new vehicle, he slapped a set of Blizzaks onto the Impala. My parents were converted as my mom was beyond happy with the results. She said it was like driving a completely different vehicle. Hallelujah!
If you look on the other end of the spectrum toward the sacred Race Car for the Strip and Street text, you'll see the Kumho V720 ACR tires on the Dodge Viper and the Nitto NT05R drag radials on the Dodge Challenger SRT Demon. These tires are built for massive grip in warm race conditions, but in below freezing temperatures, they will get so brittle that the rubber itself can crack. Winter tires aren't just for snow. The rubber compound is formulated and the tread is shaped specifically for cold weather. This makes sense because even less extreme summer performance or all-season tires can become hard and have less stopping friction when temperatures reach below 40 degrees.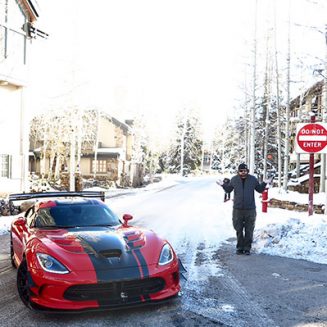 In the Midwestern, northern and mountain states, I believe a discount should be given on car insurance if you run Blizzak or X-Ice tires during the winter. Call the purchase an "indulgence".
Your four-wheel drive isn't helping much if you're on worn down all-season tires, especially when you apply the brakes. Nearly every car today has a four-wheel braking system and traction control. The great equalizer is the tire. This is truth.
Perception is finally changing. More people are realizing that having the correct tire for the season is perhaps the most important single factor to safe and successful driving in subpar conditions. Around Detroit, I'm seeing more SRT Hellcats driven year-round and I love it. Boring cars are the Devil.
"The Right Rubber" can truly transform your vehicle. It can change your driving disposition from sorrowful to joyful! Make America Grip Again.
Amen.
Comments
Comments