Why It's "Mopar® or No Car"! – Attitude
4 years ago Showcase
Fast, flashy and downright stunning! Could you ask for more from a performance car?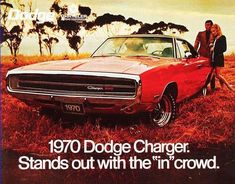 Dodge tells us you can, and delivers the goods when it comes to their brand loyalty and public image. Dodge has never been afraid to lead the charge, go against the grain or stand out from the crowd! Their devil-may-care attitude has ignited many historical moments in the automotive world that competitors wouldn't dare to attempt. As Dodge has spent the last half of a century accomplishing what others wouldn't, they continue to stand up for their fanbase and help cultivate the car community.
From the Rapid Transit Tour of 1970 to the Roadkill Nights of present day, the Chrysler brand has been the center of entertaining events for decades. Their brand presence has helped build the cruises, shows and swap meets that define hot-rodding culture.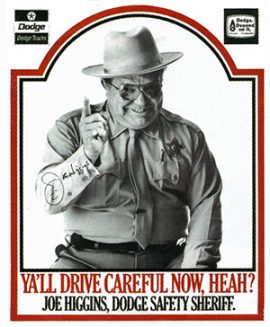 Plus, what other company is cool enough to host thrill rides in 707-horsepower street cars?
If you're wondering what the Rapid Transit Tour is, allow me to explain. In 1970, Plymouth commissioned the legendary shop Styline Customs to fabricate a brand-new 'Cuda, Duster and Road Runner into weird, wild street machines. The custom cars were toured around Plymouth dealerships nationwide in an effort to embrace the youthful hot-rodding and drag-racing scene.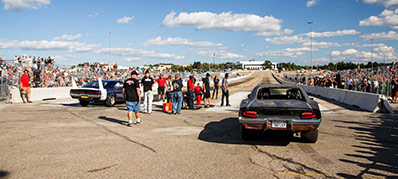 Likewise, Dodge sponsors "Roadkill Nights", where a portion of Woodward Ave. is shut down for drag racing. With Dodge at the center of these events, they build up the car community and ensure the hobby lives on for generations to come.
Dodge's wild style isn't restricted to their community presence; it bleeds into their adventurous advertising, as well.
From the "Safety Sheriff" to "Yeah…It's Got a HEMI®" campaigns, Dodge is always out to amuse. As their approach ranges from comedic to conniving, it's clear Dodge strives to stay in touch with their fanbase.
Aside from being the first to accomplish many performance feats and flaunt out-of-the-box designs, Dodge isn't afraid to push the limits when it comes to their brand image either. Unveiling a series of colors known as High Impact Dodge shook up the cautious culture of the early '70s and unleashed a world of excitement.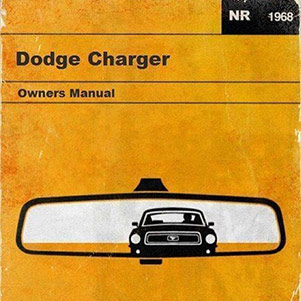 As if they hadn't offended enough old-timers with crazy colors like pink and purple, they even caused controversy with hilarious names like "Sassy Grass" and "Top Banana". The fun didn't stop there, Dodge has been rowdy enough to even produce models with names like Swinger, Demon and Warlock. Evidently, their approach was not appreciated by some of the more goody-goodies of the '70s (no biggie, types like that couldn't handle driving a Dodge anyways).
Pushing the public isn't all Mopar® has been up to for the last half a century. They push competition, as well. Just check out this jab they took at Ford when they printed the Dodge Charger owner's manual for 1968. While the Chevy and Ford guys may not appreciate our obvious hilarity, imagine how much harder they've tried just to keep up with the littlest of the big three.
While the phrase "Mopar or No Car" continues to upset the impartial, there is no doubt in my mind that Dodge's rich history has proven them to be the baddest brand around. As they continue to evolve in performance, style and attitude, the camaraderie and enthusiasm grows along with it. Rugged, rowdy and widely respected, some people just can't handle that kind of image. So, really, it's up for you to decide, are you Dodge material?

Comments
Comments
Previous