On the Road Again – Part 1
4 years ago Showcase
A six-pack of Red Bull, a fat wad of cash and 50 hours to spare, what else could you possibly need for a 3,000-mile road trip?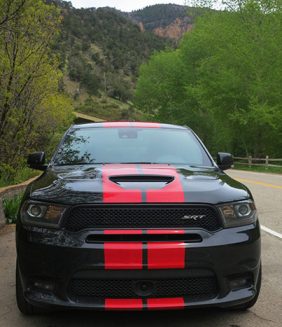 A destination, I suppose, and I can't think of a better one than the purple mountain majesty of the Rocky Mountains. From Motown to the Mile High city, I was determined to drive out to the Utah-Colorado border to pick up a 1969 Plymouth GTX for my cousin Will. The car in question appeared to be a good running vehicle that was on the cheap, something Will has been on the hunt for since he flew over from England to visit my family and me here in Michigan (that's how he caught the Mopar® vehicle bug; hang around me too long and you'll catch it too). From the photos online, the GTX seemed like a once-in-a-lifetime deal, so much so that Will even considered buying the car sight unseen and having it shipped across the pond! Despite how good a car may seem over the internet, I advised him to NEVER trust a seller's depiction and offered to run over to Colorado to inspect the car myself. Preparing for a journey like this one, it's important you account for every detail. Car trailer? Check! Toothbrush? Check! Copious amounts of beef jerky? Check! A tow-rig? Ehhh… My usual car hauler, a 1989 Dodge Power Ram, has got everything a muscle truck needs: style, power and attitude, but reliability or consistency? Not so much. I'd give her til about South Bend, Indiana, before something goes horribly wrong and I'm broken down on the side of the road. So what do you do when your 30-plus-year-old homemade muscle machines leave you stranded? You get yourself into a modern Dodge!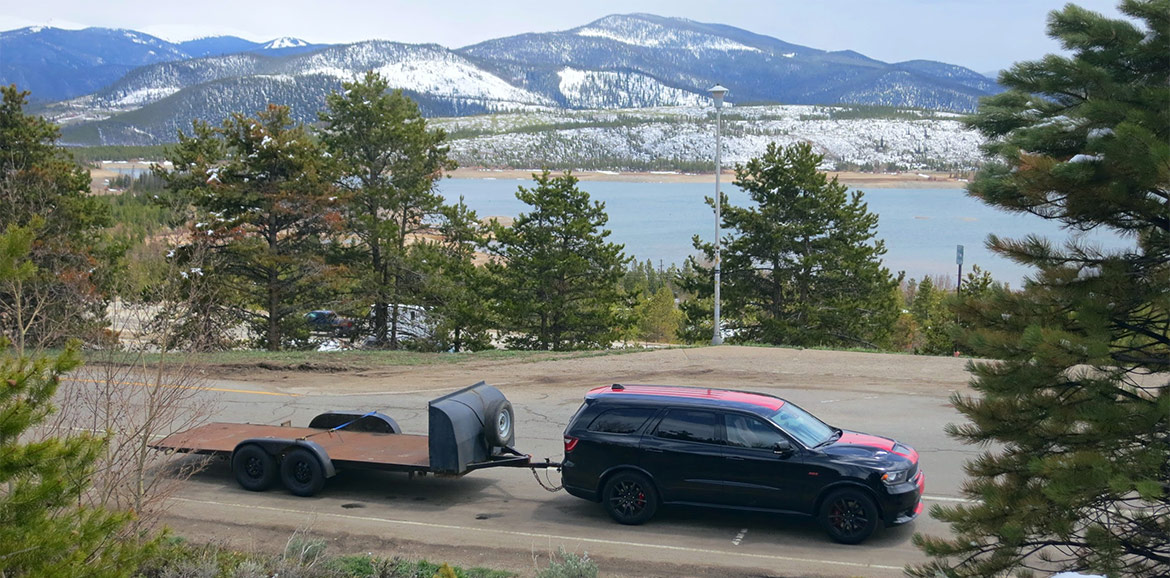 Now I'm not sure if the good people over at Dodge are innocent, crazy or just straight-up cool, but they keep handing over the keys to these high-powered performance cars that most people my age can't even pay to get into! In this case, Dodge hooked me up with this beastly 2019 Durango SRT® to conquer my cross-country adventure.
Until the idea was suggested, I had never really thought of a Durango SRT as much of a car hauler.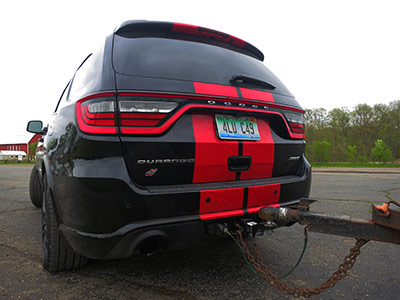 A cool daily with a dad-vibe? Definitely! A weekend track car? It could compete. But a tow-pig? Don't let the minivan passenger capacity fool you, this people mover has got all the attitude of a pickup truck! Across the grassy bluffs of Omaha, up the snow-capped peaks of Denver, there was seemingly no climate, condition or situation that could stop this bad-ass Dodge! Producing 475 horsepower and 470 lb.-ft. of torque with its howling HEMI®-powered engine, the Durango turned cumbersome tow duties into a cake walk! Even with weight on the trailer, I found the acceleration remained swift, smooth and tempting enough to get me into trouble. To counter all that power, Dodge paired its 392 with the massive Brembo brakes that are typically found on their high-end muscle cars. These babies could stop on a dime and leave you change, she laughed at the steep slopes of the Rocky Mountains. Top all that off with 50/50 all-wheel drive and the "SRT D'ango" proved itself to be unstoppable in any climate or road condition. Additional features like her thick sway bars, tow mode and the standard Trailer Sway Control (which automatically applied brake pressure and adjusted throttle to keep my car trailer rolling straight) made this performance SUV an unexpectedly impressive tow-pig that I would dare to say even rivals full-size pickups!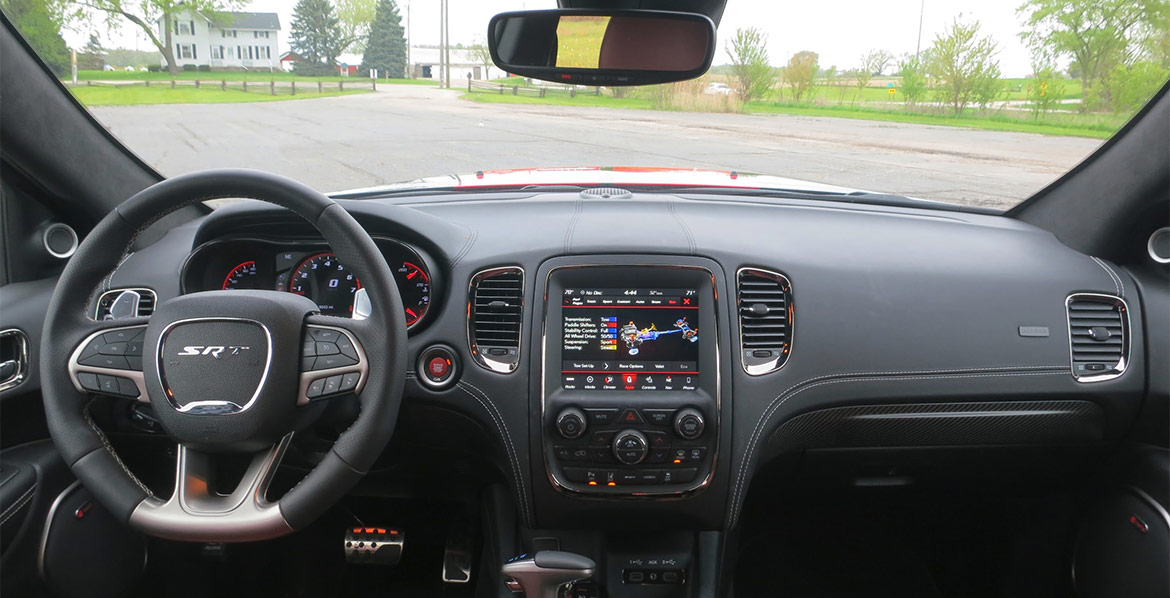 Not only did the Durango make for a capable car hauler, but she did it all while providing the comfort and passenger capacity of a luxury SUV. A common issue that emerges in my household's fleet of muscle cars and classic trucks is a lack of seating. Whether we're traveling cross country for a car show or dragging home another project car, nothing makes for better family time than a road trip. Of course, none of our old Dodge pickups seats more than three people and they all make for a terribly rough ride. Not only does the Durango seat up to 7 passengers (while still leaving ample room in the back for luggage, a cooler, couple of bodies, etc.), but the seats were like La-Z-Boy recliners! Whether you're sitting in the lumbar adjustable front buckets (which have memory settings, so if you're switching between drivers on a long trip, you can easily set the seat back to your preferred adjustments with just the touch of a button) or the back row with its heated/vented buckets and dual TVs, you are riding in total relaxation. There aren't a lot of vehicles I could spend nearly 48 hours straight in, but with Ozzy blasting through the Beats® audio system and the hammer calling my name, I barely wanted to stop to stretch my legs.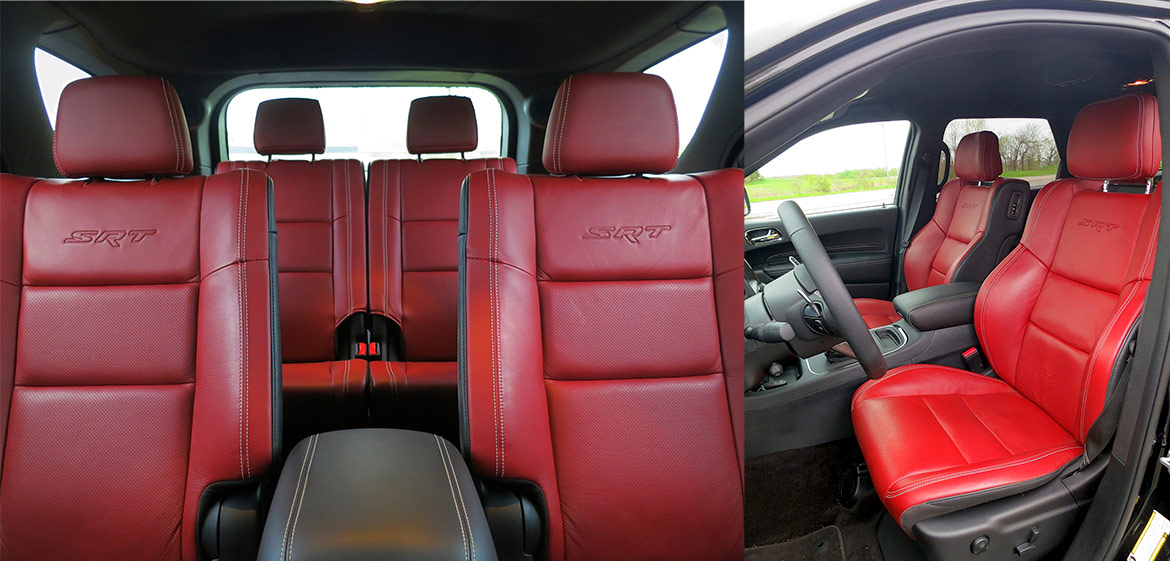 Seating aside, the entire ride felt like it had been refined specifically for road-tripping. The Uconnect® navigation system has to be the first GPS I've ever encountered that doesn't make me want to tear my hair out. Its clear and concise instructions made for an easy drive and the nav system's ability to display your ETA, miles til arrival, and even the nearest rest stops, gas stations and burger joints made pulling over for pit stops quick and simple! The Uconnect GPS feature even made highway exits and merging a breeze as it displayed your exit information right on the dash cluster, that way, you never have to look away from the road. Pair the state-of-the-art GPS with the Durango's Blindspot Detection (which lights up a small indicator on your mirrors when someone is in your blindspot) and maneuvering hectic highways and city traffic was stress-free!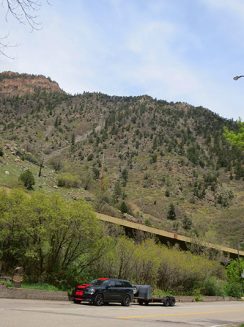 While the Durango SRT never before struck me as a tow-pig, a quick cross country road trip with a 20-ft. car trailer definitely changed my mind! With an 8,700-lb. towing capacity, the SRT makes for a perfect beach-bum boat rig, junkyard parts mover or even a great drag-car hauler (plus, when you break your racecar at the track, you can just drop the trailer, throw the Durango in track mode and click off 12s with your bone-stock tow vehicle). Impressive power, comfort and, most importantly, reliability allowed us to make a straight shot 1,500 miles there and back across every kind of weather and elevation imaginable. Fueled by energy drinks and '80s hair metal, we maintained a steady pace with the SRT and even left ourselves enough time to thoroughly inspect that 1969 Plymouth GTX we drove all the way out for. Remember earlier how I told you guys not to buy a car over the internet? Well, I'm glad money didn't change hands before we saw the car in person, because it didn't take much more than a quick walkaround and a test drive to realize the GTX's overall condition didn't reflect the asking price. With vehicle value completely up for interpretation, it's always important for you (or a trusted friend) to inspect a prospective purchase in person before any cash trades hands – a lesson I'm glad we didn't have to learn the hard way. And if it turns out to be BAD, no worries; just a lesson learned.
So 24 hours drive time and over 1,000 miles later, just to get catfished by a crusty overpriced car! Despite the inconvenience, there was still a plus side, we were in a Dodge/Plymouth hot-bed outside the rust belt, we had cash, a bad-ass tow vehicle and an empty car trailer; no way could we come home without a car (it's an addiction, I'm seeking help). Check back here on DodgeGarage.com for part #2 of On the Road Again to find out what we brought back home with us and why the tight-knit Mopar brand community is the best group of gearheads out there!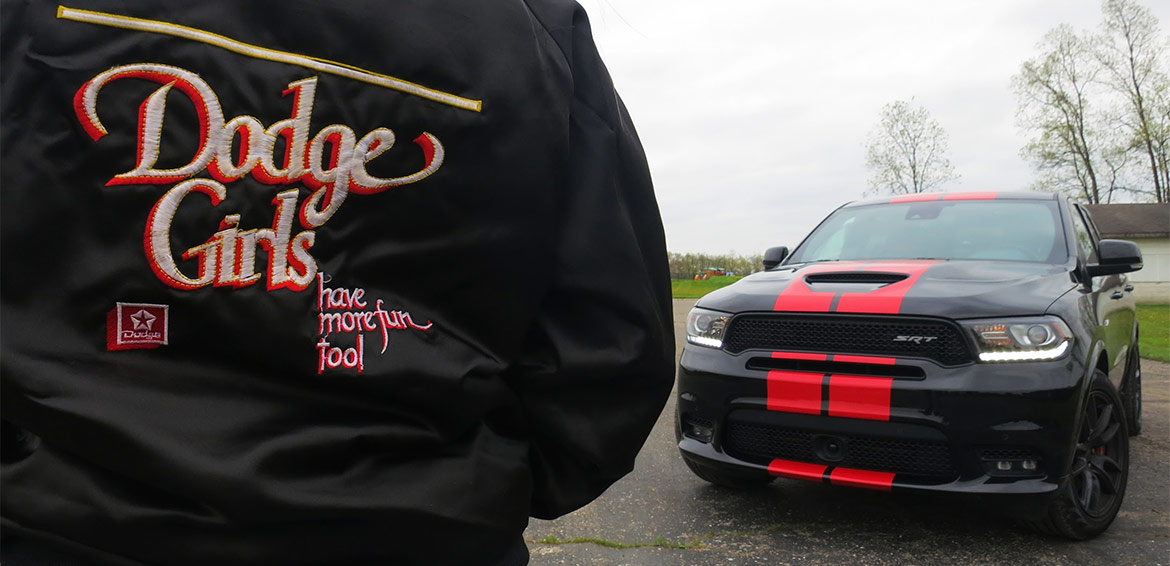 Comments
Comments