On The Road Again – Part 2
4 years ago Showcase
There are 1,500 miles to cover til we get home, we have a full tank of gas, it's dark and we're wearing sunglasses. Okay, maybe the last part wasn't quite true, but there is a Blues Brother's quote that might be a little more relevant, "We're on a mission from God". In the first part of On the Road Again, you heard all about my crazy cross country scheme to pick up a 1969 Plymouth GTX. Unfortunately, the car turned out to be a total dud! It's not always easy to walk away from a car after investing time to see it, but remember, you're better off wasting a day than wasting years on a basket-case project car. If it isn't what you're looking for, know when to walk.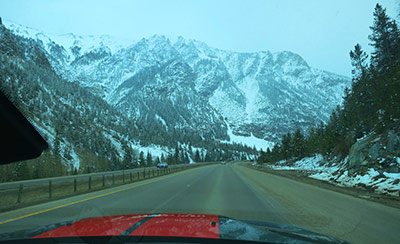 While in retrospect it's easy to put a positive construction on things, I'll admit I was little bummed. Wouldn't you be after coming all this way? Frustrated, tired and maybe a little hangry, I had to find us a restaurant where we could regroup and grab a quick bite. The five-star BBQ place I found on Google sounded great but I failed to realize the smokehouse had changed ownership a few years back and was actually more of a gritty biker bar. Walking into the bar felt like a scene straight out of an old gunslinger western, everyone went dead quiet, looked over at us and I think the music might have even stopped. Just as we prepared to turn around to make our escape, an older gentleman called us over to sit with him at the bar. Always looking for an opportunity to inquire about Mopar® vehicles hidden around town, my husband casually took up a barstool right beside him and before I knew it, the two were shooting the breeze about old Chryslers and racecars like old friends. As it turned out, the guy was actually pretty hardcore about drag racing and had a couple of really impressive track cars in his day. After bantering about racecars and exchanging pictures of cars for a while, this guy had us convinced that without a dedicated drag car, we were missing out big time, and he even gave us a few tips on where we might be able to find one! While we could have spent all night laughing and drinking with our newfound biker friends, we were still on a mission, and that mission just became to find ourselves a dedicated drag car.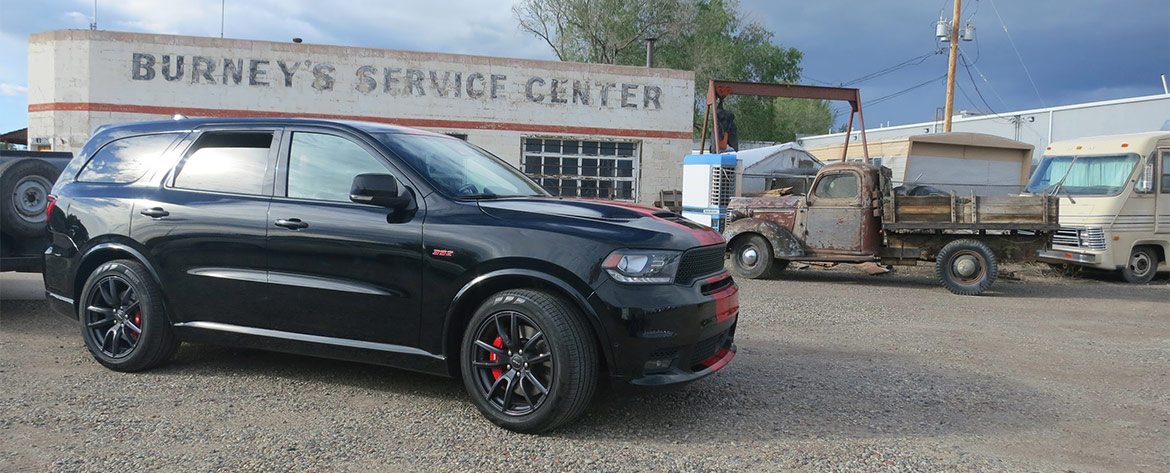 We chased countless leads, scoured through junkyards and asked every gas station clerk we met if they knew of any old Plymouth or Dodge vehicles in the area. Of course every trucker, biker and local on this side of the mountain told us the same thing, "All the 'ol Mopars have been bought up years ago, all we got left are them Chevys." No such claim could deter us, we were on a mission.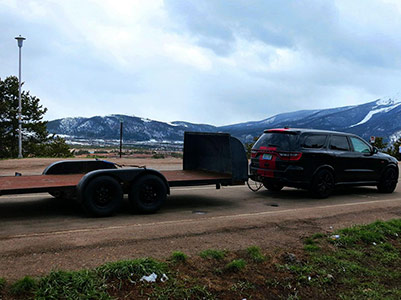 After hunting locally the rest of the evening, we were back on the highway for a long drive home, still determined to find our new drag car along the way. From the passenger seat, my husband scrolled through social media to kill the time and decided to post an update about our adventure in hopes that someone in the community would know of something for sale that would strike our fancy along the way. The response he got from one simple post was overwhelming, literally hundreds of people sent their condolences to the situation and forwarded us pictures of vehicles for sale. The support we received from the kickass Chrysler community is just another example of why these people are the best! Being the underdog of the big three, there is twice as many Ford people in the world and five times as many Chevy guys. With the Dodge community small and tight-knit, I've found my fellow Dodge brethren are always willing to help out. I can't thank you all enough!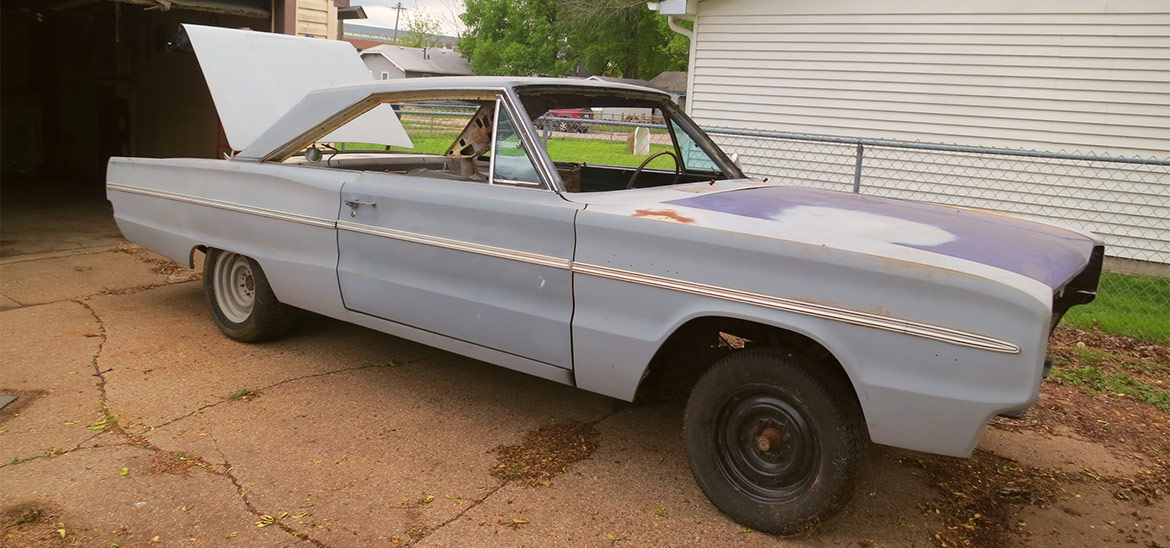 With messages pouring in, it was hard to keep up. We had over 200 hundred cars offered to us within a 2-hour span and deciding which ones to check out wasn't going to be easy, that is until I came across this photo. Cheap, clean and classic, this 1966 Dodge Coronet 440 was forwarded to us by a friend who said he'd had his eye on it for a while. I could see it now, this old-school B-body with a W/O hood scoop and fat drag slicks flying down the ¼-mile in 10 seconds flat; it was the perfect candidate for a racecar! Of course, when it comes to finding cars online, imagination can often get the best of you, so I quickly got the owner's contact information and called him up for the full details on the car's history. As the story goes, the owner's father began building this Coronet into a nice Sunday cruiser, but passed the project onto his son when he retired to Florida. The son was what I would call a motivated seller, he didn't really have the time or interest to build the Coronet, but he figured if he couldn't sell it as a roller, he would just LS swap it (*gag*). The thought of a clean old Dodge being hacked up in an attempt to install the trite Chevy smallblock was horrible, I just couldn't let that be the future of this bad-ass B-body. So just like that, we were eastbound and down on a new rescue mission.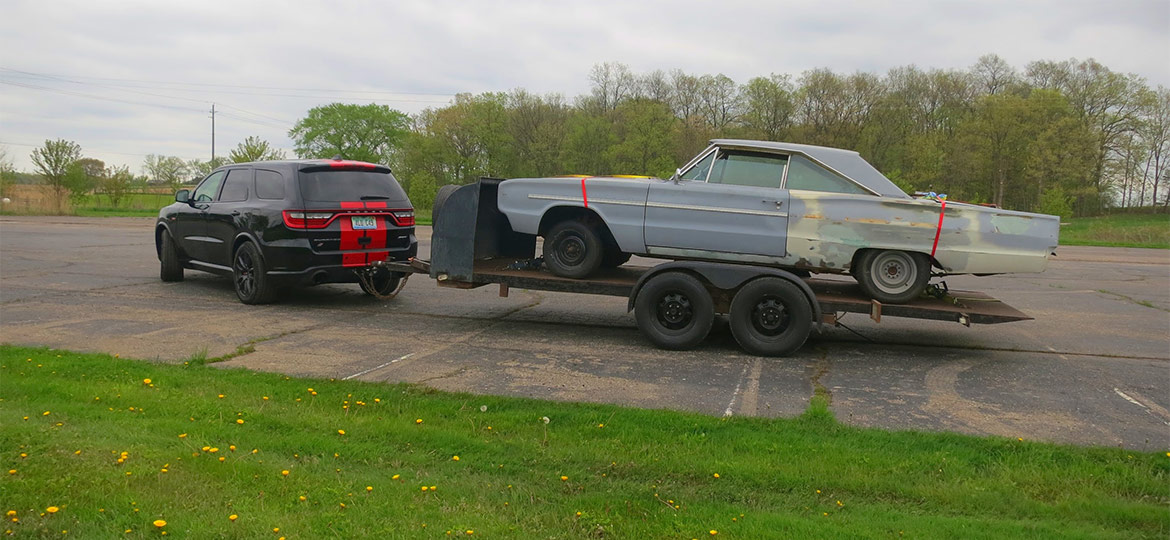 Everytime we go to look at an old car for sale, I have to be reminded to put on my poker face. I know I'm not the only one who just can't help but grin when they realize a car's potential, this tends to thwart negotiating tactics, so I tried my best to keep my excitement under wraps while scoping out this '66 Dodge. With rock solid frame rails, a rust-free body and a plethora of those hard-to-find parts stacked in the trunk, I knew this car would make for the perfect drag racer.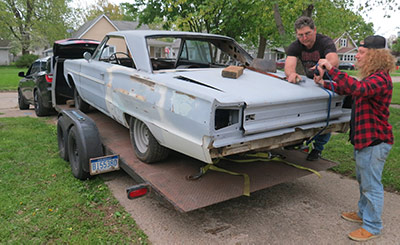 Kicking the tires and containing my glee, we arranged a sweetheart deal and had cash in his hand with the title in mine in just moments! Not only was this one of best deals I've gotten, but it was by far the simplest! Within just 30 minutes, we inspected, purchased and loaded up the car; and just like that, we were on the road again hooting, hollering and high-fiving over our latest score!
While it wasn't the car I traveled cross country for, this 1966 Dodge Coronet was undoubtedly meant to be. The drag-car-crazed biker inspired us, the community encouraged us and the Durango SRT® carried us to this unexpected adventure. Keep an eye out here on DodgeGarage.com for future updates on the build, and remember, don't be afraid to walk away from a bad deal, there will always be a better one out there just waiting to be had.

Comments
Comments
Previous