Crunching the Numbers
4 years ago Showcase
During the work week, Neichaun Tatum is an accountant at a real estate investment firm in Virginia. After looking at spreadsheets and PowerPoint presentations 40 hours a week, she's ready for some high-octane excitement. When the weekend rolls around, you'll find her at the drag strip ready to take on the quarter-mile and crunch numbers related to 60-foot times and ETs. After donning an SFI-approved Nomex driving suit, Neichaun climbs into her heavily modified 2013 Dodge Challenger R/T Classic, and takes it down the strip for some nine-second runs. That's when her "Ms. MOPAARR" personality takes over. For this mom of two, racing a very fast Challenger can be considered therapy from the daily grind of work stress and family duties. But Neichaun's passion for all things Mopar® isn't just something new to fill a void, her love of cool cars goes way back to over a decade ago.
"I started with Jeep® Wranglers; my first Mopar was a red 1991 Jeep YJ Renegade with red interior. Once the Chrysler 300C came back in 2005, I just couldn't resist," said Neichaun.
The 300C served Neichaun, but when the Challenger SRT8® came out in 2008 and then the R/T in 2009, it got her attention. By spring of 2013, Neichaun was serious about selling her 300C and getting either a new or used Challenger, "My 2005 Chrysler 300C was ready for a new owner. I had a couple private sale offers here and there. I had been checking out Challengers as Dodge could not have made a better-looking muscle car that really paid homage to the classics. I had my eye on a used 2009 B5 Blue with a six-speed manual trans that was listed on eBay in the neighborhood next to mine. I went and looked at the car and told myself that yes, it's time to pull the trigger. I responded to one of the offers on my 300C and committed to sell the vehicle, in less than 12 hours, the seller of the B5 Blue got an offer that he could not refuse and I was out of luck, but I had already committed to selling my Chrysler 300C the next day. Rather than pulling out of that deal, I hoped online and checked out the Dodge dealer by my work. I had been there many times and knew the sales team would take care of me. I found her, the perfect black blank slate that called to me, 'pick me pick me!' I emailed the sales manager and told him I would be in the next morning. On purchase day, I had the buyer meet me at my job, completed the sales transaction, and had him drop me off at the dealership on his way home."
Once Neichaun got the Challenger home, she began making modifications and personalizing it for her needs. At first, it was cosmetics such as an aftermarket Shaker hood, 'Cuda grille conversion and halo lights. Eventually, the mods got more serious and began to include suspension and chassis enhancements but it was under the hood where things began to get serious.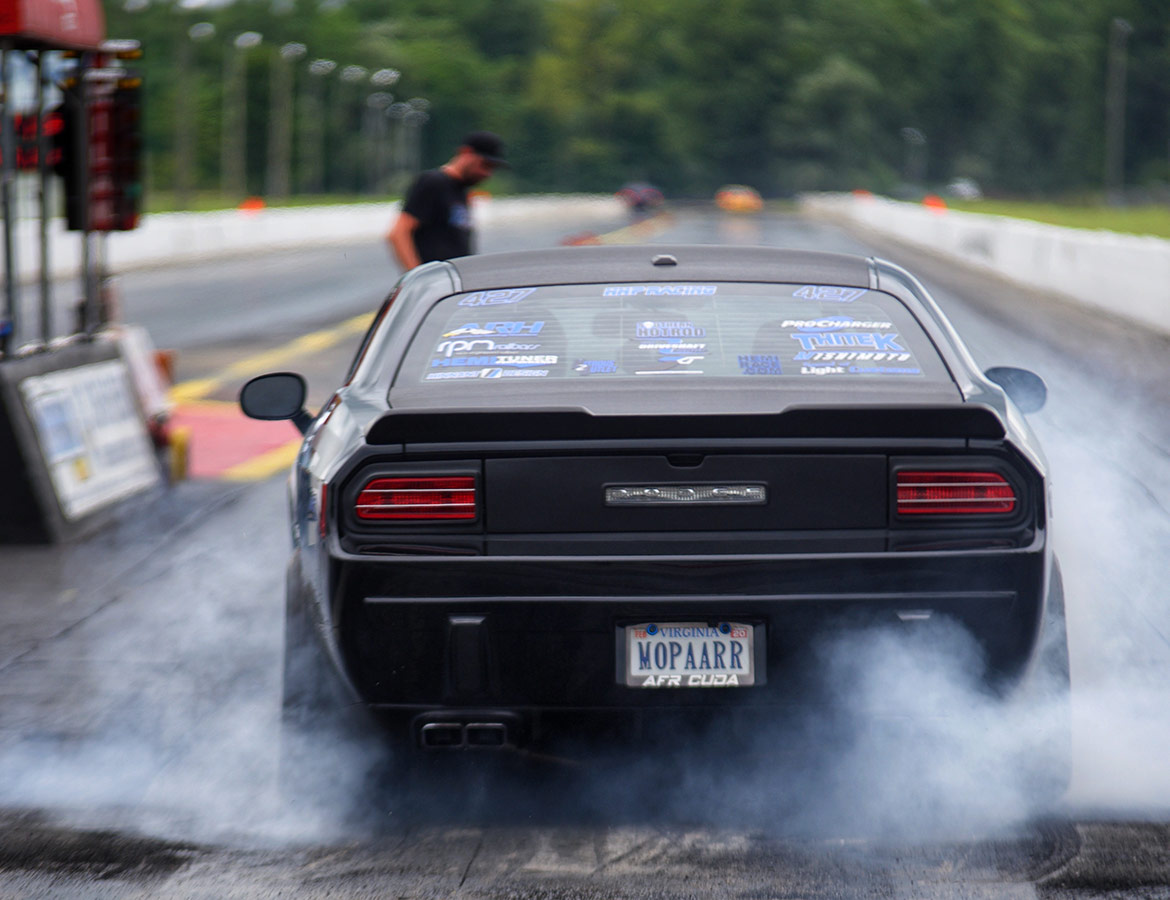 "I decided I needed a little more 'oomph' and through friends got into contact with High Horse Performance (HHP). I gave Josh my Wishlist and we decided upon doing a winter build with half done in year one and finish up the second half the following winter. Little did I know that I would love the performance of my Dodge Challenger so much that I would keep building every winter since then! I kept my Air Ride suspension on for several race seasons and did some shows along the way. My personal best on Air Ride with a fully built engine was 10.9 seconds in the quarter-mile, but I knew I wanted more. Doing car shows wasn't as appealing to me as going to the track, so in the winter of 2017-18, I decided to go all out and add a ProCharger F1A-94. I am finishing up the transformation into a full-on race car now. I have replaced my 6-point cage with a 10-point, replaced my custom Katzkin seats with Procar by Scat Racing seats, added a parachute as well as completed the 15" Wilwood brake conversion," said Neichaun.
Neichaun nicknamed her ride "Velvet" based off the 1970 Plymouth paint code "Black Velvet" (X9 for you resto freaks). Other engine mods on her super-fast Challenger include American Racing long-tube headers, Thitek heads and a custom ground camshaft. The original 5.7-liter displacement has been increased to 392 cubic inches thanks to a stroker kit that includes an aftermarket crank, rods and pistons. Neichaun's best pass was 9.92 seconds at 137 mph during a race in Atco, New Jersey, but she's still looking to go faster.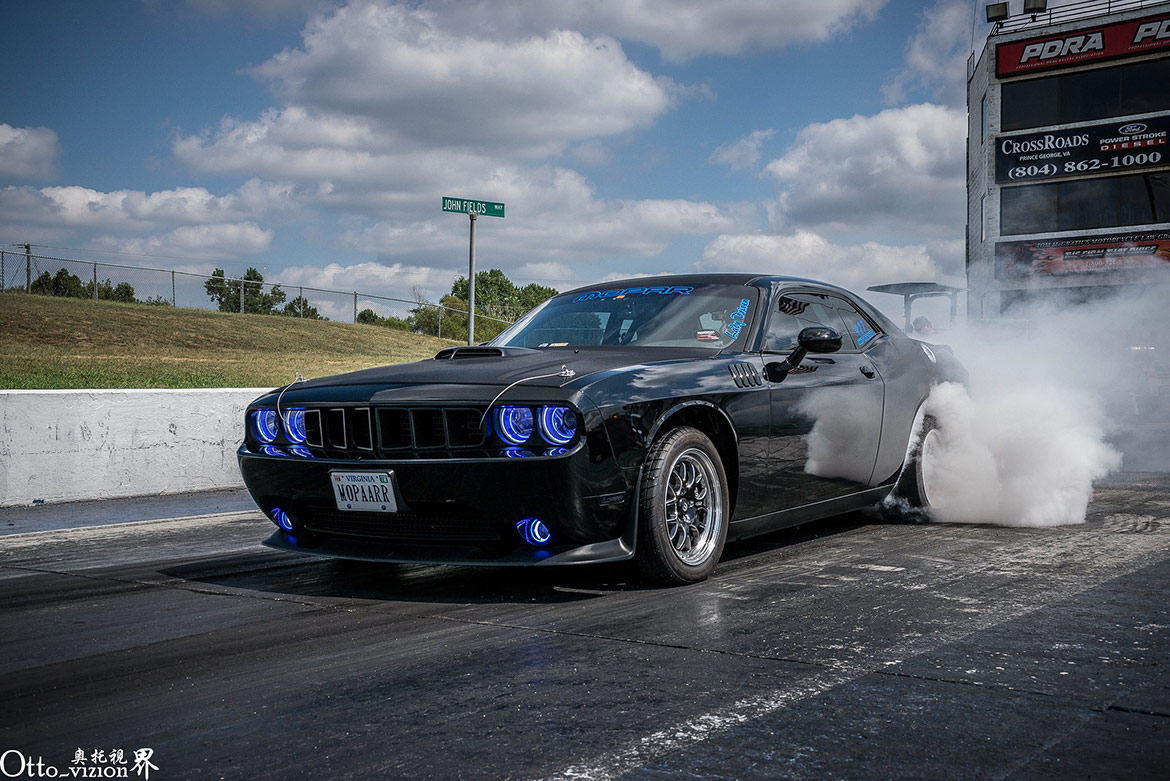 "Velvet still turns heads wherever she goes with her 'Cuda conversion, and at times, I miss the show stance, but nothing beats the sound and feeling of roaring down the track," smiled Neichaun. Drag racing is what she loves and she's become a regular in the Modern HEMI® Shootout Series (MSHS).
"The first event I ever raced in was at Virginia Motorsport Park with MSHS. I had just completed my first winter build and I made it to the finals of the Street Class (12.5 index). I ended up coming in 2nd because I broke out in the finals by .028! From then on, I was hooked on going faster and that's why I've been modifying my Challenger. Now, I race at least five to eight races per year. I also try to participate in other events whenever possible, such as the Cecil County Dragway Street Car Shootouts which are held monthly throughout the summer," said Neichaun.
No one could do this without friends to help along the way and it takes a community of like-minded enthusiasts to all pitch in and help. "I have several influencers that helped me shape my vision for my Challenger. Jon Sibal, Shawn Kaufman and Bryan Fuller solidified my need to add a Shaker hood and Air Ride suspension. Wendy Robertson took me under her wing early on to show me the ropes in drag racing. She explained so much of the lingo to me and helped guide me to where I am today in racing. I also recently joined the 1320 Club on DodgeGarage to see what everyone else is running with similar mods," exclaimed Neichaun.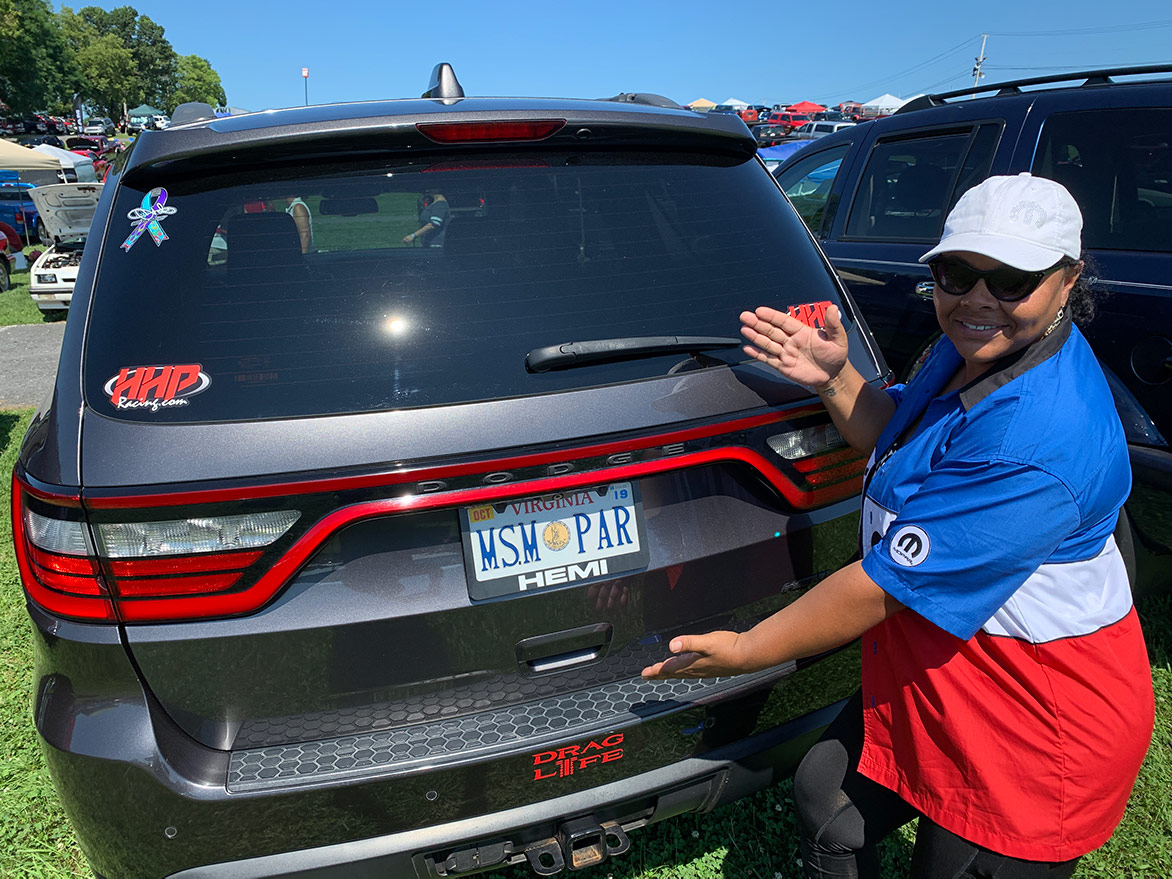 Now, while having a nine-second Challenger as a street car sounds cool, it's not what you'd call the best daily driver. For hauling the kids and getting groceries, Neichaun has a 2014 Dodge Durango Citadel with a 5.7-liter HEMI engine under the hood. Of course, Neichaun has added her own personal touches that include SRT® wheels. She also owns a 2018 Chrysler 300S for going out on the town that's also HEMI engine-powered.
If you're crunching the numbers among Neichaun's rides, that's well over 1,000 horsepower sitting on the driveway, and that's pretty cool!
Comments
Comments