When the Going Gets Tough, the Tough Get Going
4 years ago Showcase
Chomping on an unlit cigar and gently slapping the roof of an American automobile, Lee Iacocca was a tough-talking straight shooter who wasn't afraid to cut through the corporate BS. He was a born leader, confident enough to call out anyone he disagreed with – from competitors to foreign governments, and even Henry Ford himself! On July 2nd of 2019, we lost this American icon at the age of 94 to Parkinson's disease, but behind him, Iacocca left an unforgettable legacy, one centered around perseverance and ruthless determination.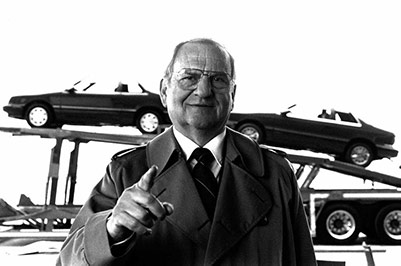 Now, when you think of Lee Iacocca, you might remember his successful career with Ford, where he is credited with creating classics such as the Mustang, Cougar and Mark III, but us folk over here at Dodge fondly recall the time he spent with us, where he became the sole savior of the Chrysler Corporation.
Iacocca had spent decades with Ford, working his way up into the marketing team. He received his first big break in 1956 with his hit slogan "$56 for a '56". His approach was authentic, his attitude unapologetic and his sales tactics second to none. Iacocca was a shining star at Ford Motor Company, but one that shone a little too bright for the liking of Henry Ford II. His accomplishments danced directly on the toes of "Hank the Deuce" and created a conflict rooted in competition. In 1979, Henry Ford II jumped at the first opportunity to fire Iacocca, abruptly ending his 32-year-long stint with Ford. So close to retirement, his sudden unemployment must have felt incredibly inconvenient; luckily for Chrysler Co., it was right on time.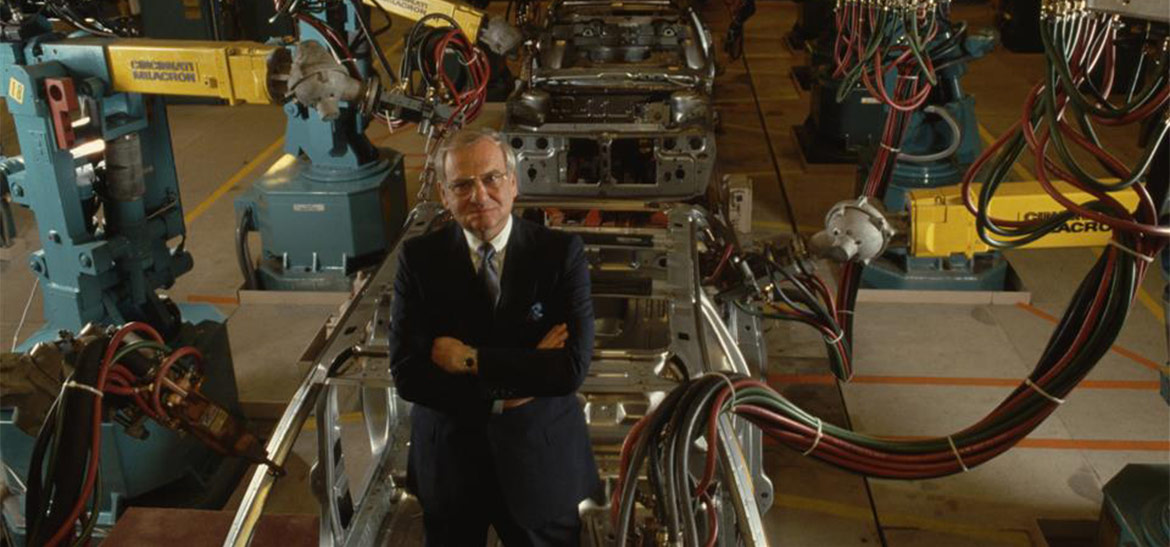 Chrysler's demise had been a long time coming and by 1979, we were just one nail away from a closed coffin. Being the underdog of the big three, Chrysler was hurt by the severe economic downturn, escalating gas crisis and cheap Japanese competition even worse than other domestic competitors. With a reported loss of over $260 million in the first half of 1979 alone, there was no doubt in anyone's mind that Chrysler was going to fail, except for perhaps in the mind of Lee Iacocca. Iacocca became president of Chrysler in the middle of 1979 and quickly rose to CEO by 1980. His no-nonsense approach and genuine faith in the Chrysler Corporation was undoubtedly the key to his success. Iacocca began his reign by gutting Chrysler's greedy management, which had spent the previous decade bleeding the company dry. He then recruited his own star-studded cast to lead Chrysler out of the brink, made massive cuts to executive positions and even dropped his own salary down to a measly $1 a year. With Iacocca's brazen leadership and brass-tacks policies, the Chrysler Corporation was soon back on the right track, but without funding to backup Iacocca's strategic projects, the company remained in dire straits.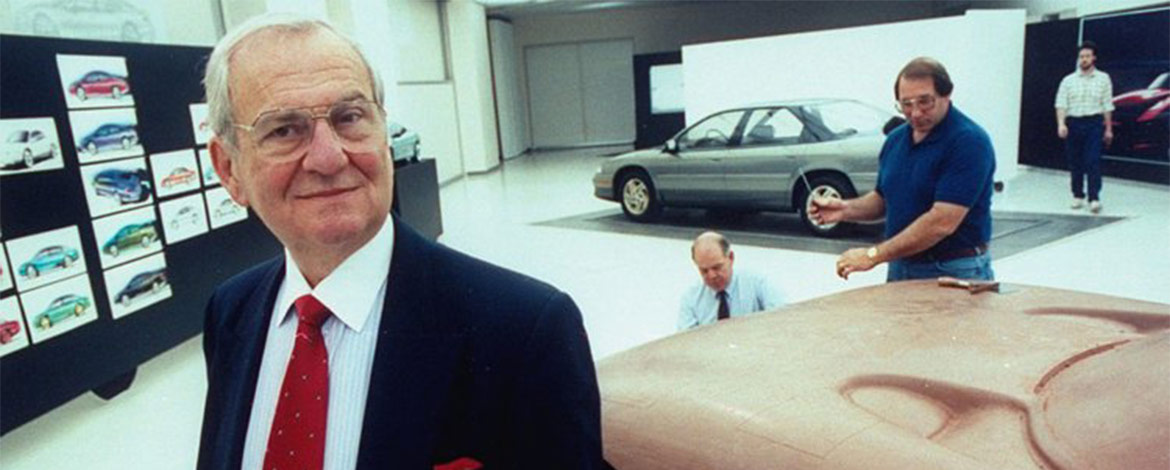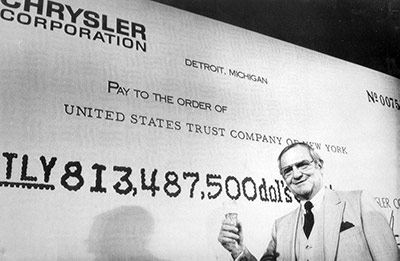 With the banks distrustful and our investors full of doubt, Chrysler would have flopped over and died right then and there, but Iacocca's claims were sincere; he truly did believe the household name of Chrysler Co. was far from finished. With an unwavering dedication to the company, Iacocca sought a new avenue to obtain funding for Chrysler. It was unprecedented and rather controversial when he requested the first-ever automaker bailout. At the time, a government-funded bailout was unheard of and convincing congress would be no easy feat, but if anyone could pull it off, it was the born salesman and natural leader, Lee Iacocca. Suddenly, he was all over the news, pleading with congress, issuing press releases and starring in Chrysler television commercials; he was showing his face to the American people and they liked what they saw. They saw a man with integrity, dedication and pride in this American car company, and soon congress saw it too. After Iacocca's persuasive arguments, Chrysler was issued the $1.5 billion dollar loan from the U.S. government. With funding secured and an A-team of executives, Iacocca was prepared to lead Chrysler into a new era. This redesign was serious business, a turning point. Would Chrysler make good on their promise to repay the loan, or self-implode into utter extinction? It was all on Iacocca.
The biggest factor crippling U.S. automakers was cheap foreign competitors like Honda and Toyota undercutting sales. Their cars were economical, both in price and fuel economy, and it was about time we beat them at their own game. At the beginning of the gas crisis, Iacocca pitched a compact American-made FWD design to Ford. Luckily for us, they turned down his intuitive idea (from our humble beginnings of 1914, Ford has a long history of turning down designs that later come to fruition under the Dodge brand) and under Chrysler, Iacocca built the iconic K-cars.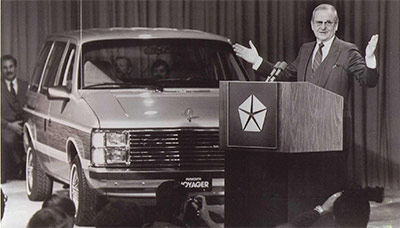 Beginning with models such as the Reliant and Aries, the K-car platform was fuel-efficient, low-cost and, best of all, an American car. These suckers sold like hotcakes and soon earned Iacocca the title of "Chrysler's comeback kid". Things were looking up as Iacocca continued to rebel against market projections and follow his own instincts. Pursuing hunches and throwing away statistics, Lee Iacocca led Chrysler to dominate in markets competing manufacturers never knew existed. After the huge success of the K-car, Ford and GM quickly realized small cars were in, and big cars were out. This got Iacocca thinking about the big family that needs a big car. Form, function and comfort can't be entirely sacrificed, so he revisited an idea from one of his colleagues, Hal Sperlich. Sperlich formerly worked with Iacocca at Ford, where they designed the first-ever minivan in 1974. Of course, much like Iacocca's K-car, their grand plans for the world's first family van were rejected by Henry Ford II (are you guys seeing a trend here?), so the two set forth to build the first minivan under the Chrysler name. Big, safe and spacious, Dodge's Caravan and Plymouth's Voyager were exactly what the American people needed, just when they needed it! These babies were flying off the showroom floors (well, "flying" with their entire 96 horsepower) and production could barely keep up! Say what you will about these old Caravans, maybe they make you think of soccer moms, maybe they won't win in a drag race, but these babies are one reason you can go buy a 797-horsepower Dodge Challenger today. No doubt, the huge success of the Dodge Caravan saved Chrysler!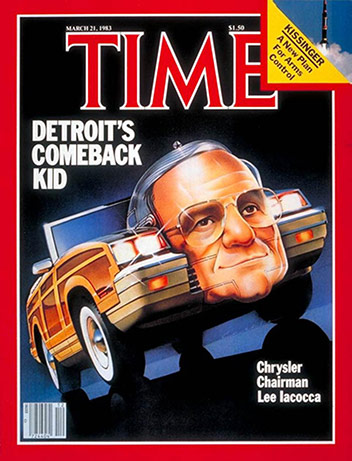 With a bright shining future and an abundance of play money, Chrysler fully repaid their government bailout seven years ahead of schedule. Under Iacocca, Chrysler wasn't just surviving, but finally thriving! He began taking on expensive but strategic projects, like building the much-needed Chrysler HQ in Auburn Hills, Michigan. This building became a mecca to Mopar® and brings a feeling of allegiance and pride as you approach the large glass pentastar-adorned tower. Additionally, in our post-crisis spending spree, Iacocca arranged the absorption of many other automotive brands, most notably American Motor Company. While the competing AMC brand was ultimately dissolved, the buy-out brought along the prized Jeep® brand, which flourished under Chrysler's leadership. Turning a profit of over $10 million dollars in 1980 alone, selling over 200,000 Caravans in their first production year and repaying their government loan ahead of schedule made it glaringly obvious: Chrysler was back, baby!
From bankruptcy bailouts to booming business, Chrysler's snappy rebound can be nearly entirely credited to the leadership of Iacocca. He was a man who refused to quit, refused to even think about quitting. He always said, "When the going gets tough, the tough get going." No doubt, Iacocca proved himself one of the toughest and truest in the industry. While the company's comeback was largely due to the introduction of low-powered FWD platforms, don't forget that if it wasn't for Iacocca's K-car or Caravan, you wouldn't have the opportunity to be driving a HEMI® engine-powered Challenger, a rowdy Ram truck or a rugged Jeep Wrangler. Iacocca's ceaseless commitment, determination and perseverance undoubtedly led the company out of the brink and allowed it to blossom into the prosperous automotive manufacturer that Fiat Chrysler Automobiles is today. Goodbye, Mr. Iacocca, and thank you for saving our brand.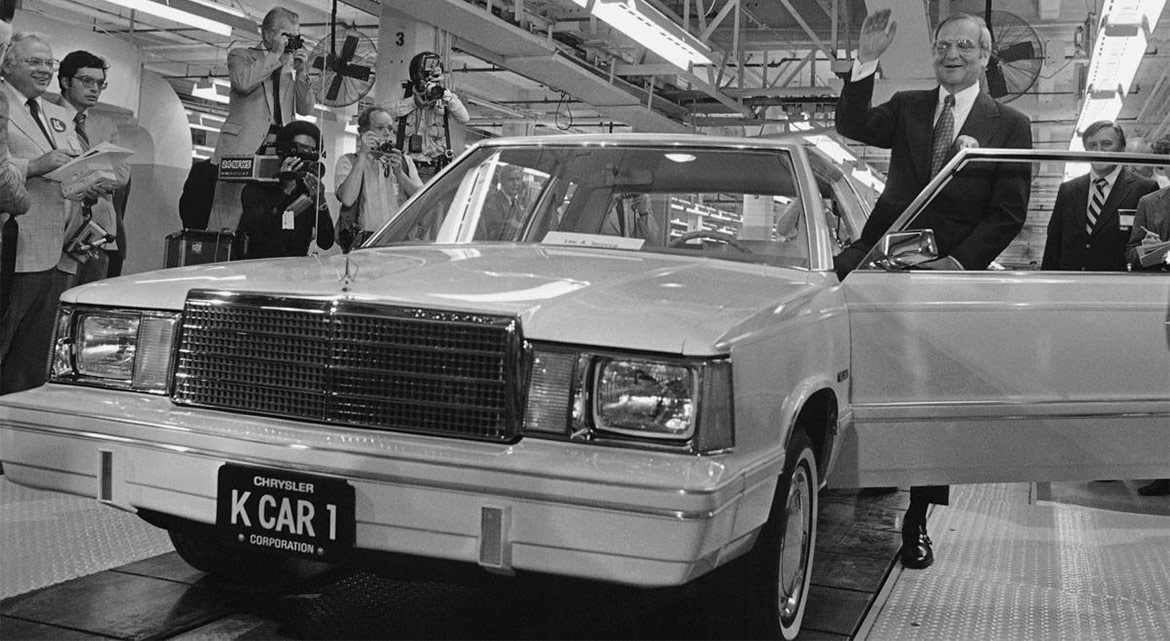 Comments
Comments