A12 vs. 1320
3 years ago Showcase
Ever since coming into the Mopar fold, I've had a soft spot for that odd car that was released in 1969. Well, to be accurate, 1969.5. It's the half-year A12 packaged cars. Both the Super Bee and Road Runner shared this amazing package. It's not an all-out race car, like the A990, and it's not the big dollar 426 HEMI® car. It was designed to be a daily driver that you'd bring to your local track and have some fun. Chrysler stuffed the car with a 440-V8, then topped it off with three, 2-barrel Holley carbs on a custom aluminum Edelbrock manifold. The fiberglass liftoff hood with giant air scoop was just screaming for attention, yet to grab just a little bit more, the words SIX PACK was emblazoned on both sides of the scoot. Six pack under the hood, and one in the trunk once the racing was over.
Fast Forward 50 years, and I truly feel the 2019 Dodge Challenger R/T Scat Pack 1320 is the modern version of the A12 cars. It's not the fastest car in the line up, but was built for the guy with a six pack in the trunk – Just getting off work, heading to the track for some bracket racing.

The 1320 is about budget fun. A car that can get you repeatable results (key for bracket racing) and not breaking the bank. It's also a car that can serve as your daily driver (one of the reasons it's rocking 20s and not 17s). For a comparison, I lined up the A12 package to the 1320. Let's hear what you think. Is the 1320 a worthy successor to the 1969.5 Super Bee and Road Runner?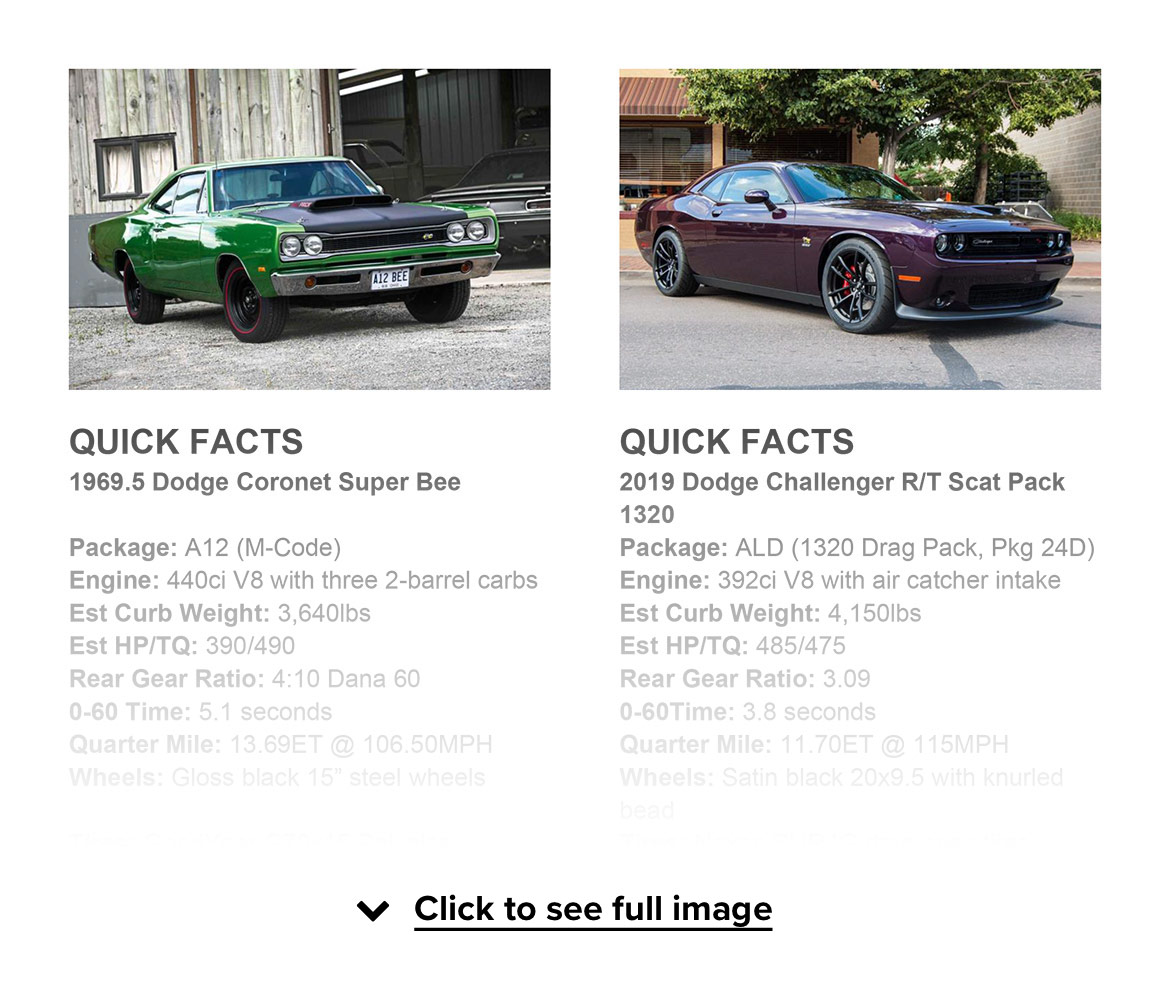 Comments
Comments