Reverence
3 years ago Showcase
9,000 hours. That's how much time the mad scientists at Cleveland Power & Performance put into Reverence, their beautiful '69 Dodge Charger. Or is it a '16 Dodge Challenger SRT® Hellcat?
To put that many hours into perspective, hop in a time machine with me and set the clock for November of 2002 when I began my life as a tradesman. This is when my four-year millwright apprenticeship started at Chrysler's Mack 2 engine plant. The four years is calculated by hours: If you were to work 40 hours a week for 50 weeks a year, you'd accumulate 2,000 hours. Multiply that by four, and you're at 8,000 hours. That's the experience most skilled trades organizations believe you need to go from a regular labor hand to a skilled journeyman. Now, as a millwright, I worked a lot of overtime. There were months strung together of 12-hour days, seven days a week. "7-12s" we call them. So I finished my apprenticeship in two years instead of four.
Two years of working at the factory nearly every day, 12 hours a day. And that still only adds up to 8,000 hours. The team at Cleveland P&P put that into this project and added another 1,000 on top just for good measure. And the work, skill, attention to detail … it's all on display here.
Recently, I was in Ohio so my friends at Stainless Works could conjure up their magic on my Ram. Longtube headers with a custom cat-back hooked up to a 5.7L HEMI® engine can make a glorious racket with the right people behind it! So while the truck was getting outpatient surgery, I headed up to Cleveland to hang out with the Power & Performance crew.
I'd already witnessed the "Strangler" green old Charger/new SRT Hellcat mashup up close at this year's Detroit Autorama, but shows like that are way too hectic to get personal with a build. It's easy to overlook details in that kind of setting. Plus, it's always cool to take in a vehicle where it was born, so to speak.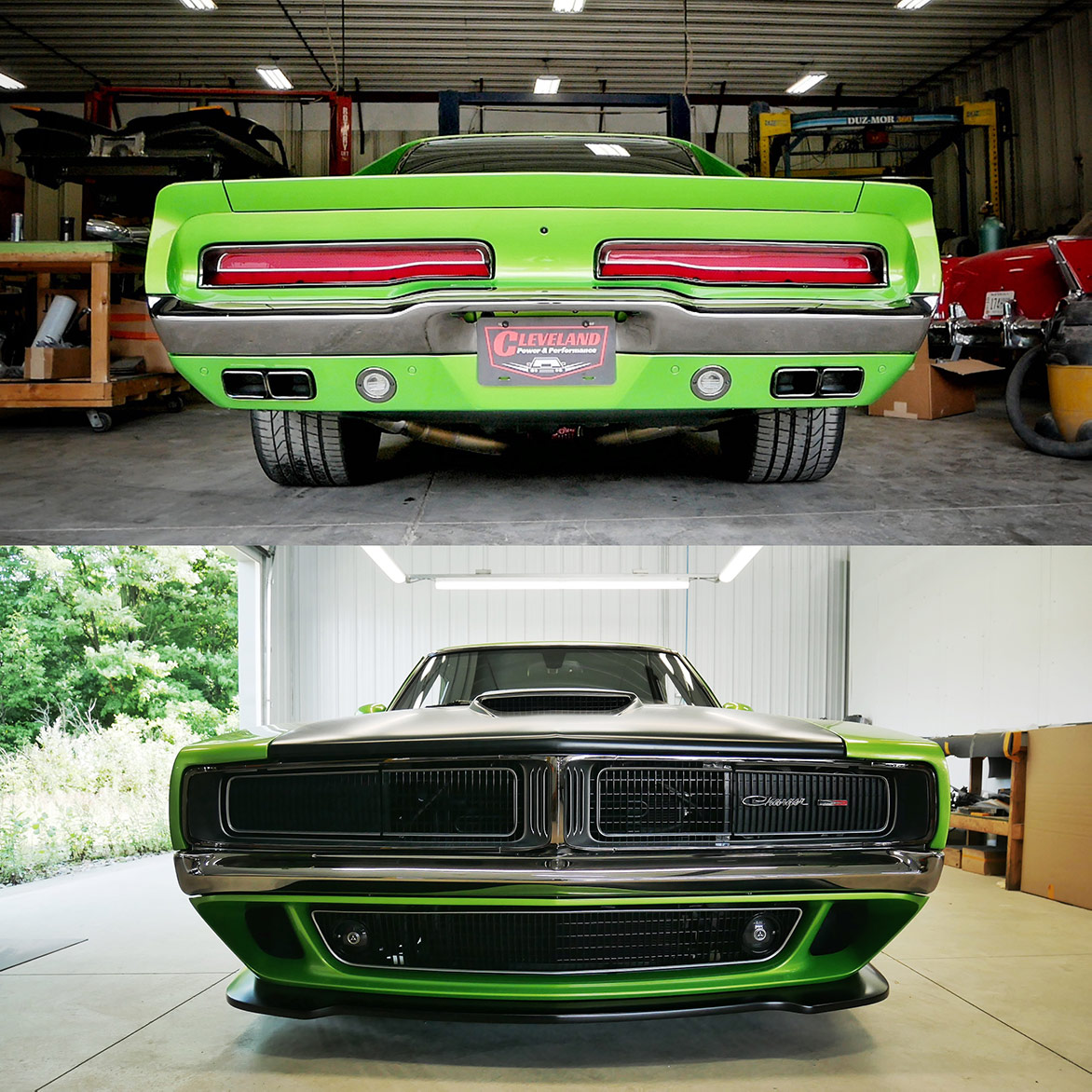 Cleveland Power & Performance is the current state of a family business's evolution. It's grown up and out of the crazy purchase of Cleveland Pick-A-Part into a late-model performance build and parts supplier. Around 30 years ago, Rick Fragnoli lost out on a union leadership position in a controversial vote, so the journeyman electrician quit that day, bought a junk yard on his way home, told his wife, then started updating it immediately. Long story short, they became one of the first "junk" yards to sell parts online. I put "junk" in quotations because the company focuses on quality parts and assemblies. Stuff that looks good and is certain to perform. Before long, Rick and his son Rick (with other son Brian focusing on the business side) started building their own hopped-up rides from the pieces picked from the wrecked vehicles they were salvaging. The name was changed to Cleveland Power & Performance to better represent their mission.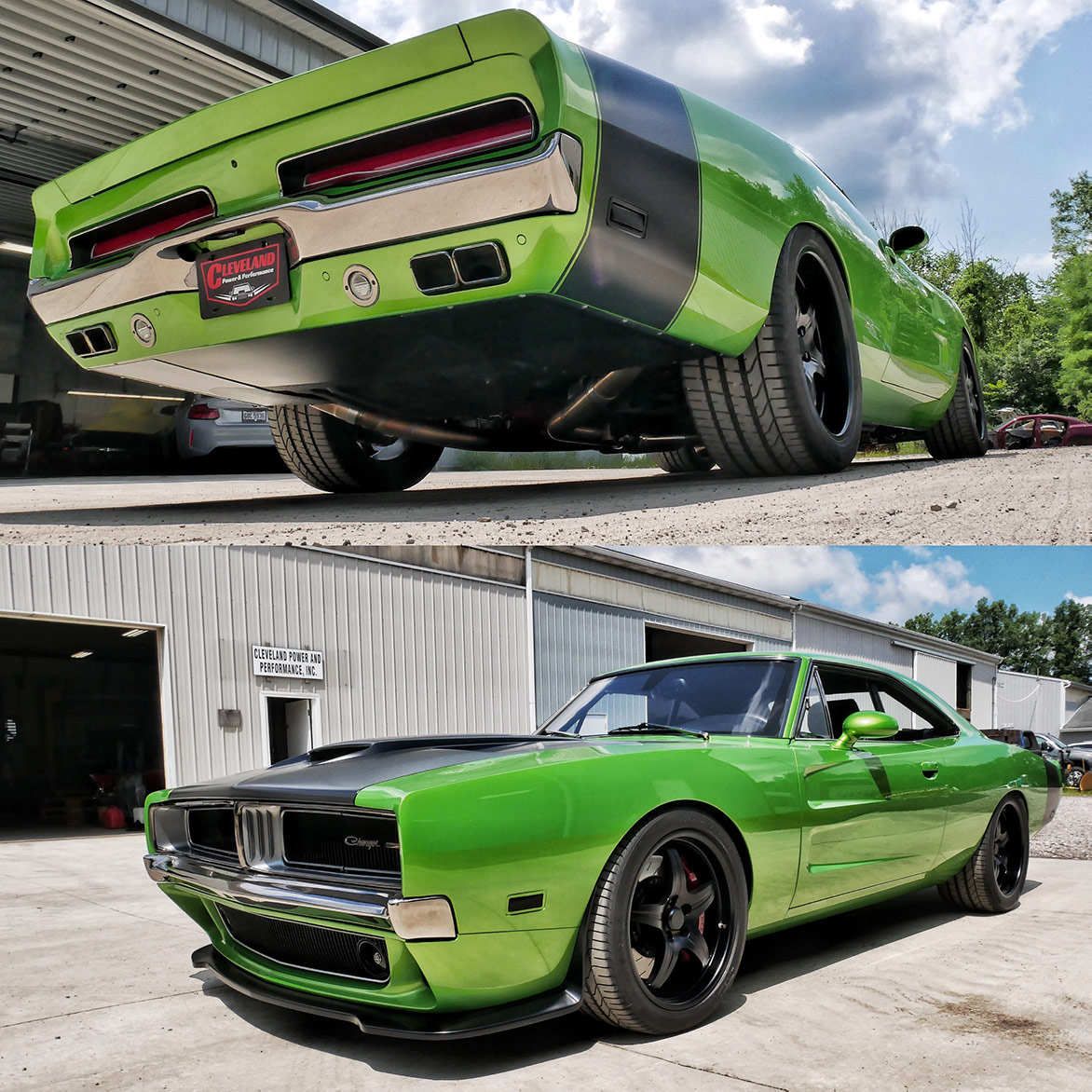 As the Dodge and SRT performance vehicles grow in numbers sold, the unfortunate other side of that is that more will get wrecked and stolen. It's math. Cleveland P&P witnessed how popular these platforms are and capitalized on it.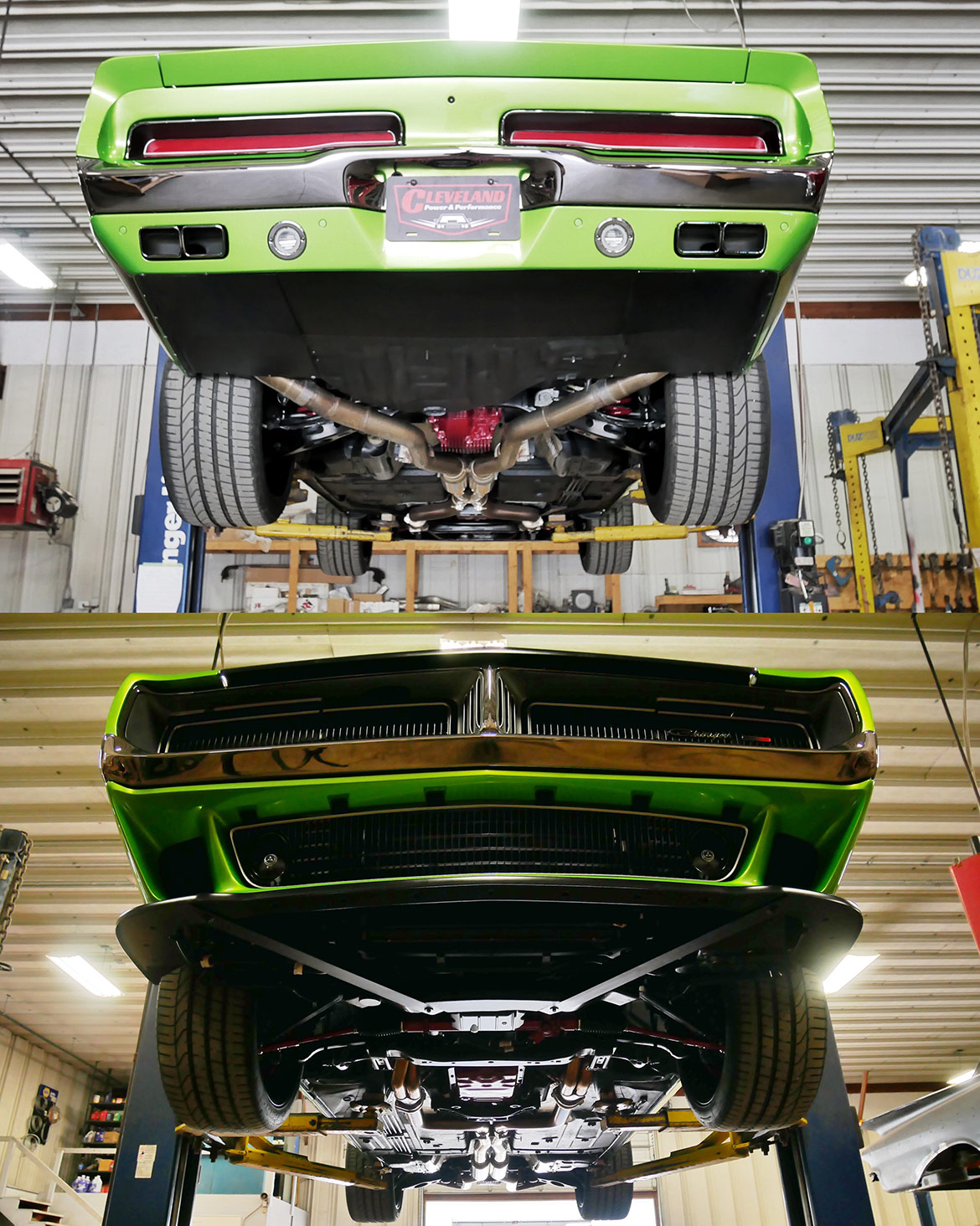 While the body, frame or both might be broken and twisted, oftentimes the engine, transmission and other driveline components are still in nice condition. And whether it's a base HEMI engine-powered car, or a, SRT Hellcat, or a Scat Pack, those parts are too good and too powerful to go to waste! They're destined to find life again in a new host. Cleveland P&P has the process for making this happen down to a science. They buy the totaled car at auction, strip it completely down while saving the good parts, clean the parts, repair them if necessary, and put them for sale online.
P&P takes a lot of pride in providing used parts that work. They even have a "secret" engine room to inspect, repair and refresh shortblocks and transmissions. Proving to potential clients that their packages work, P&P had to get creative.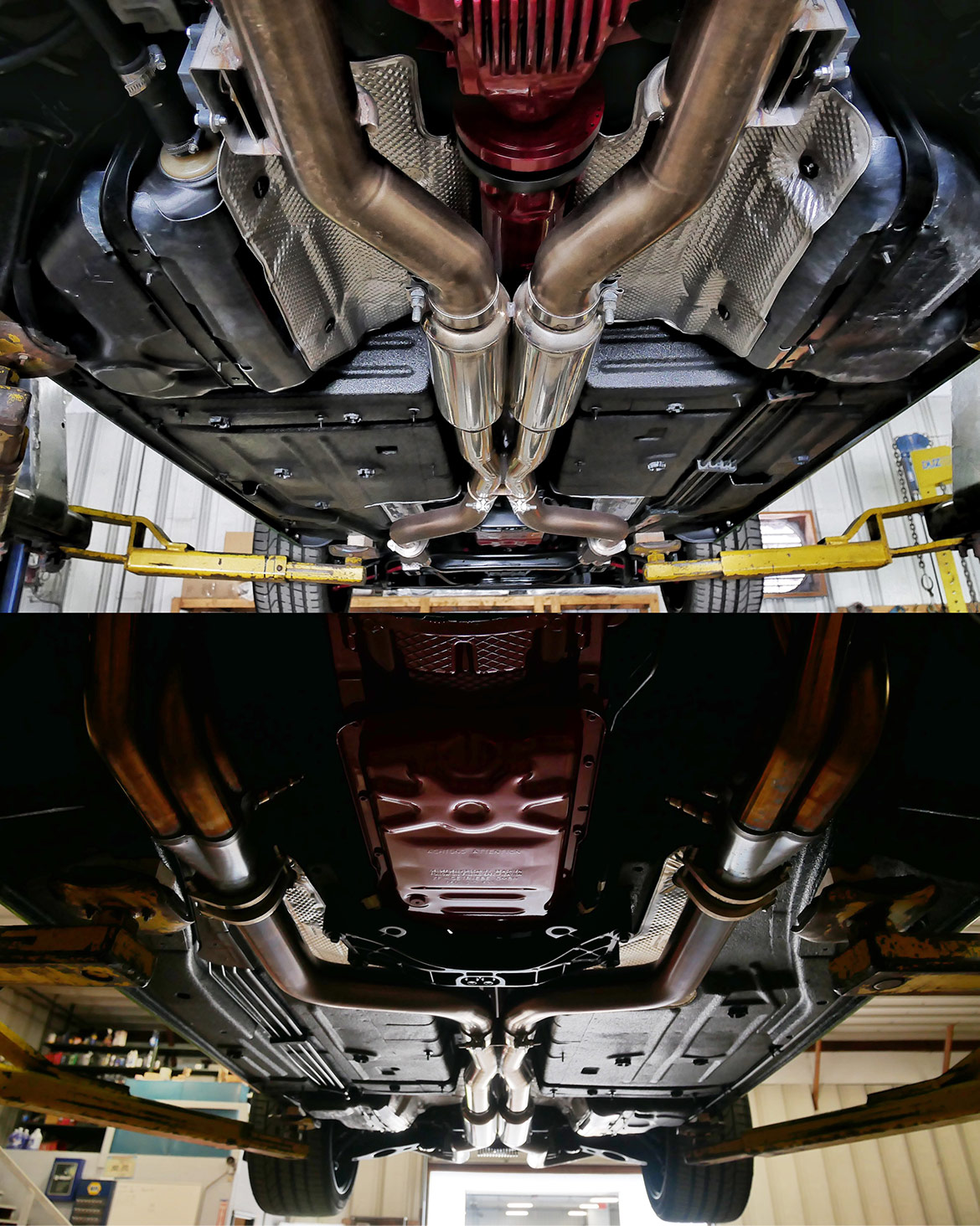 One of the things they've become "insta-famous" for is their driveline packages, especially those of the Dodge variety. For each one they build, there is an ingenious wooden crate to house the components, and not just for shipping. The crates double as a fixture that allows the setup to operate! It proves the ECU, fuel delivery system, transmission and engine actually work. The client can watch their powertrain run before buying; and when it arrives, they can test it before installation. Brilliant.
With all of these high-horsepower motors passing through their hands, they couldn't just watch them come and go without joining in on the fun. Reverence is the product of that fun.
Power is the easy part, thanks to Dodge. A low-mileage supercharged 6.2L HEMI engine straight out of an SRT Hellcat makes sure of that. It gulps air from a custom, functional hood vent and delivers power via an 8-speed TorqueFlite® automatic. With a one-off lower valance grill, the intercooler gets the fresh air it needs, as well. Kooks headers were utilized to feed a custom dual exhaust. The suspension is basically that of a 2016 Challenger.
They went to great lengths to make sure the car operates like a new SRT Hellcat, not only from a ride quality and performance standpoint, but in everyday functionality. Late-model proximity lock door handles were integrated, the backup camera works, and the wiring harnesses are routed and secured like it rolled out of Brampton. With custom ductwork and vents, the A/C works too. The seats were modified to fit, but look and feel like they're out of a late-model Mopar® vehicle.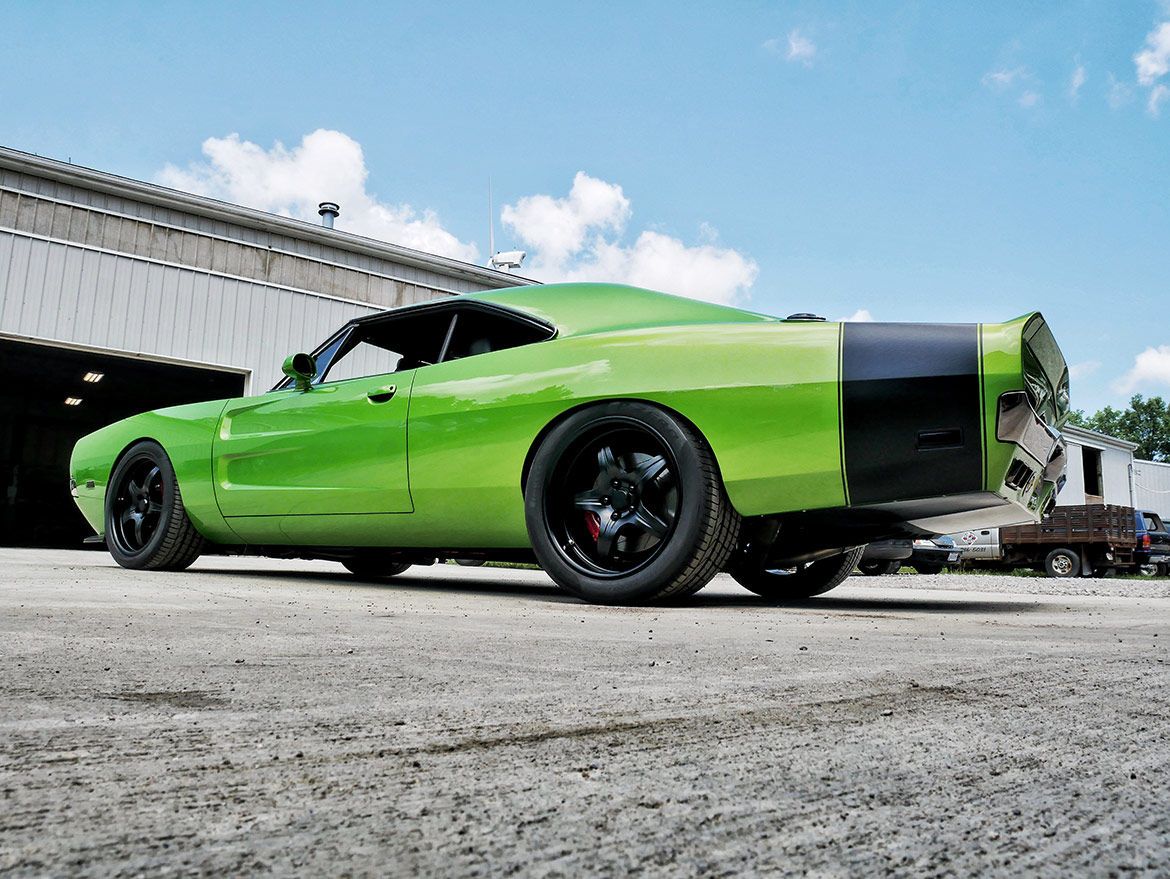 They nailed the overall proportions of the car, and subtle styling mods like the exaggerated Charger-esque door scoops add to the aggressive appearance. I could go on, but I think you'd much rather enjoy looking through my pictures of Reverance! Look closely and you'll find something new to marvel in each image.
The perception amongst some enthusiasts and industry figureheads has long been that Cleveland Power & Performance is still "just" a junkyard. It's a perception that lacks the respect Rick and his crew deserve as a high-level resto-mod and hot rod fabricators. They're trying to change that perception, and if Reverence is any indication, it's not a matter of if they will achieve that status, only the rest of the world will recognize it. I'm on board, are you?
Comments
Comments
Previous