2020 MOPAR® DODGE CHALLENGER DRAG PAK DEBUTS AT SEMA SHOW
4 years ago Showcase
Go big or go home, that's the saying, right? Well our friends at Dodge, Mopar® and SRT® have done just that with the release of the 2020 Challenger Drag Pak. Let's face it, if you're going to debut your latest weapon to take on the competition on the drag strips across the country, might as well do it during the SEMA Show. The packed audiences of ravenous and passionate gear heads that come to the annual event to get their high-octane fix were all over the Drag Pak. While the other OEMs and aftermarket companies pull out all the stops to outdo each other SEMA, the new Challenger Drag Pak was the buzz of the show.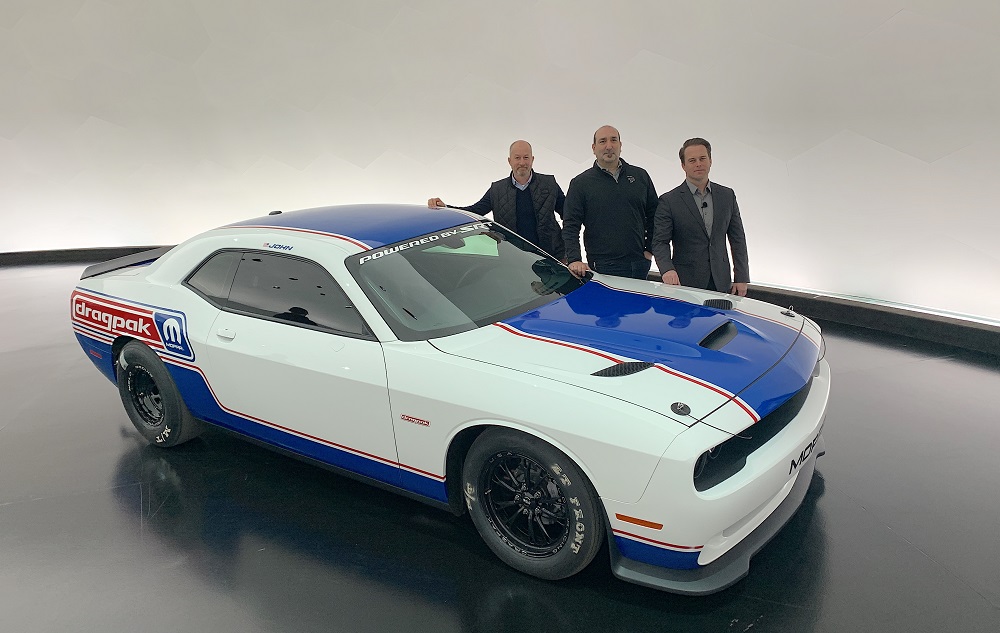 When it comes to heritage, the Dodge Boys have been building high performance hardware for over half a century, and that carries on today. The new 2020 Challenger Drag Pak will deliver quite a punch as it carries on their tradition of delivering factory "Package Cars" to racers, a tradition that began in the early 1960s. While they just unveiled the fourth generation Challenger Drag Pak, it's powered by the infamous and iconic HEMI® V8 engine. The modern version that will power the Drag Pak to high-seven second quarter-mile ETs is a far cry from the original engine's old school roots of dual Holley carbs and a cross-ram intake manifold. Today's engine, in its NHRA Factory Stock Showdown class configuration, displaces 354 cubic-inch and makes close to 1500 horsepower. This is due in part to the massive blower sitting on top producing tons of boost. The SRT Engineers are tight-lipped on the actual numbers the GEN IV Drag Pak will produce, but we'll eventually pry it out of them.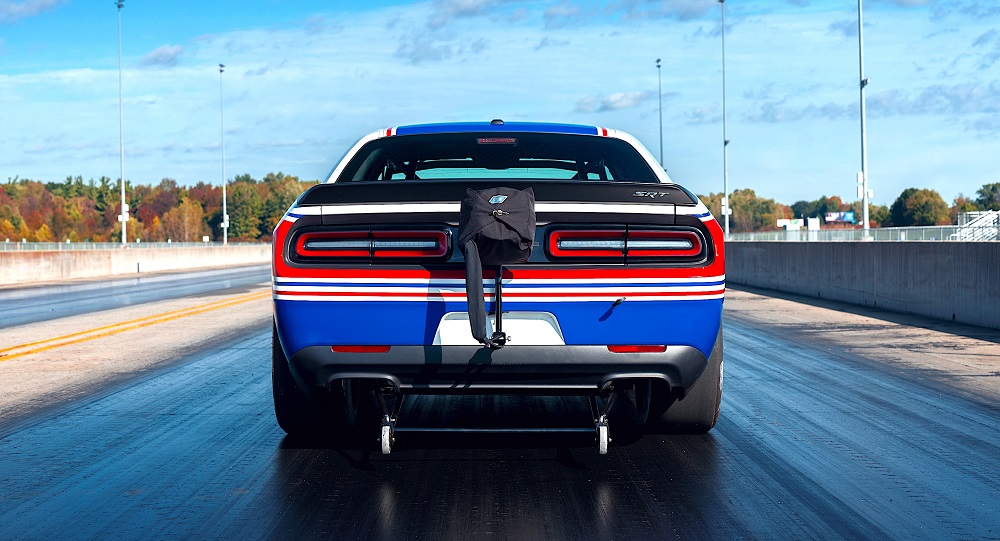 Like the three prior Mopar Dodge Challenger Drag Paks, these cars begin life as a Body-In-White (BIW) that comes right off the line at FCA's Brampton Plant in Brampton, Ontario. These shells get put on a truck and head west down the 401 Highway through Ontario and get brought across the border at the Detroit/Windsor Ambassador Bridge. A unique build shop in the Motor City begins the assembly of the Challenger Drag Pak that includes the installation of the supercharged 354-cubic-inch HEMI V8 engine, T400 three-speed transmission with Kwik-Shift manual shifter, Lightweight Driveshaft, Strange nine-inch rear axle assembly, Bilstein drag race specific double-adjustable struts, adjustable rear coil over shocks, four-link suspension, anti-roll bar and wheelie bars. To help the Challenger Drag Pak put all that power to the pavement are Mickey Thompson nine-inch wide slicks mounted on WELD Racing forged aluminum wheels.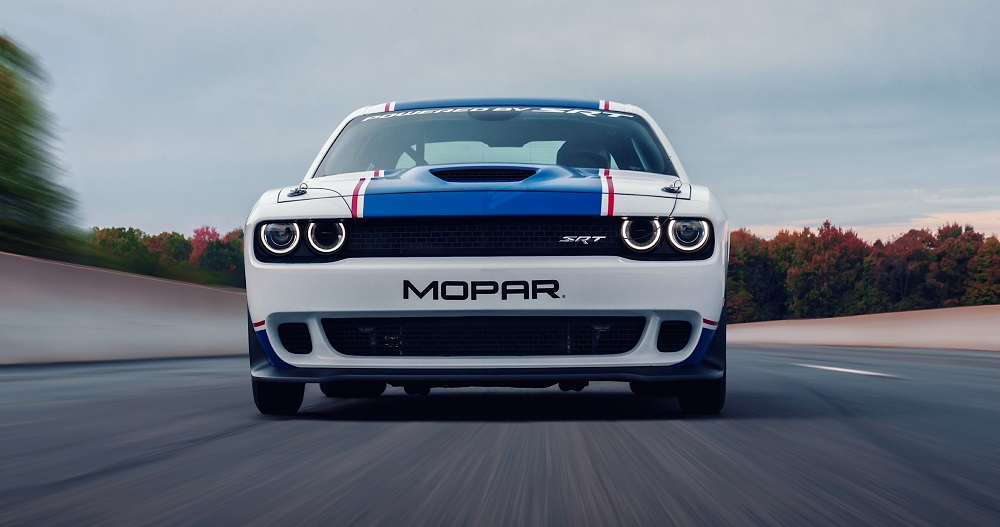 Those of you with a keen eye will notice the 2020 Mopar Dodge Challenger Drag Pak will use the current Challenger 1320 hood but the front grille, facia, and splitter all come from the Challenger Hellcat Redeye parts bin. Good thing too, those parts are needed to tame down the Challenger's inherent frontend lift and drag at high-speeds. There are other things inside the new Drag Pak that we can't share just yet. It's obvious the new race car is nothing like the prior generation Challenger Drag Paks which have been around for a decade. Over these years, the Drag Pak has racked up an impressive list of championships and world records with racers like Leah Pritchett, Geoff Turk, and others behind the wheel.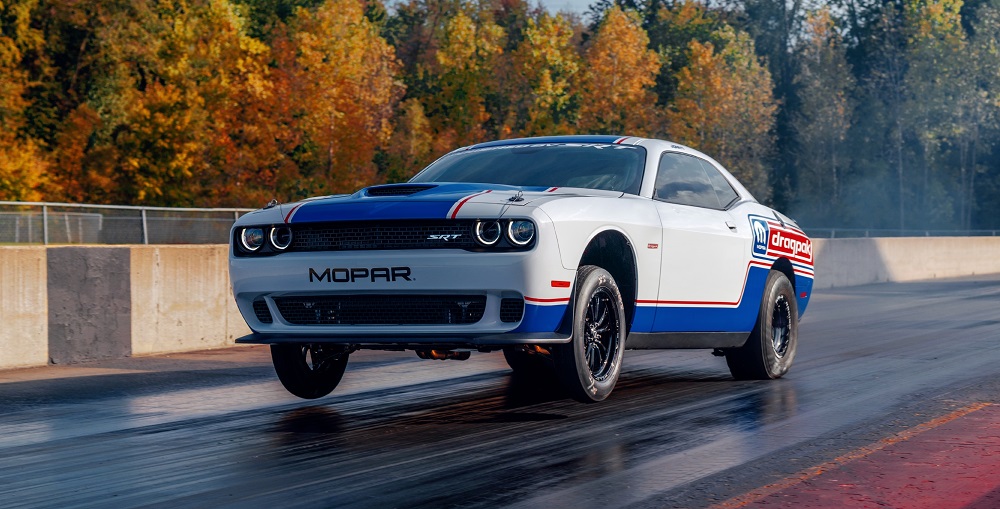 Soon the 2020 Mopar Dodge Challenger Drag Pak will be ready to play and go toe-to-toe with Cobra Jets and COPOs in dog-eat-dog NHRA and NMCA Factory Stock wars. For those of you thinking about buying one and driving it to your local cruise night, think again. The Mopar Dodge Challenger Drag Pak is not street legal. That's what its fellow Brotherhood of Muscle relatives the SRT Demon, SRT Hellcat, SRT Hellcat Redeye and Scat Pack are for. So, if you're ready to jump in with both feet and go racing, the new Challenger Drag Pak might just be your thing. You better hurry and get your name on the list as they'll go fast. With production limited to 50 units sold through Mopar, each will carry a unique serial number. Hang tight race fans, because once Dodge/Mopar/SRT release more details like pricing, part numbers, and other cool options on the 2020 Challenger Drag Pak, we'll be all over it.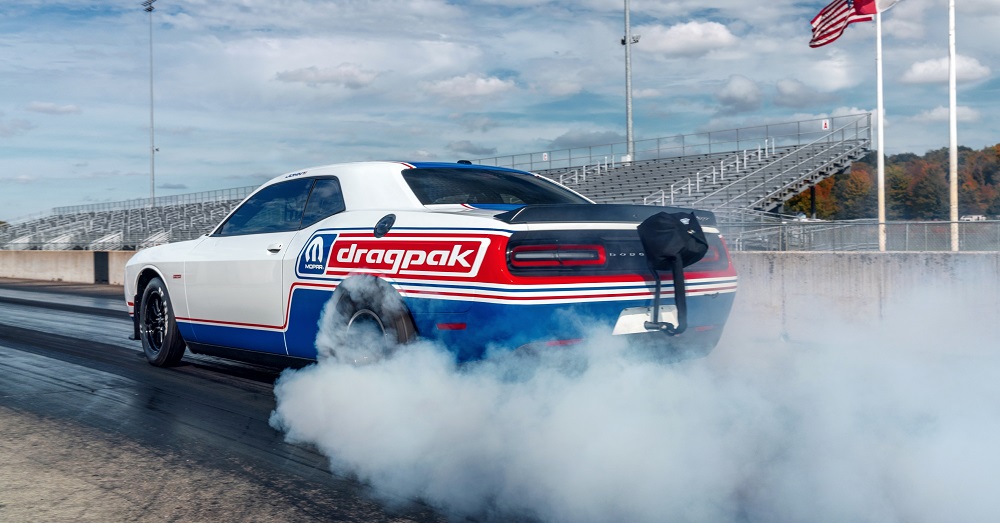 Comments
Comments