THE SCIENCE BEHIND HORSEPOWER, SPEED AND DISTANCE
3 years ago Showcase
The "Dodge Power Challenge" is in full swing as we head into week four of this five week challenge. Readers all over the globe have been racking their brains trying to answer one of the weekly multiple choice challenge questions correctly. What's at stake is a chance to take home a special-edition TorRed Dodge Challenger SRT® Hellcat Redeye Widebody. With the chance to win a machine producing almost 800 horsepower, you really need to test your wisdom on speed and distance. This isn't like when you took your SATs or even a driver's test – there's a lot riding on these questions. They really test one's knowledge of mechanical, mathematical, analytical and problem solving skills. There's no such thing as a free lunch and if you want a free SRT® Hellcat Redeye, you need to earn it.
With our own muscle gearhead and pro wrestler Bill Goldberg providing the questions for Dodge Power Challenge, we also enlisted some help from Jason Fenske, a graduated mechanical engineer from North Carolina State University. Jason's and avid car guy and takes an analytical approach to what makes them run and do all the things we want them to do. His YouTube channel "Engineering Explained" has 2.4 million subscribers, and has produced lessons on automotive engineering topics since 2011. Jason gets all geeked-out on the evolution of technology in the automotive industry, and shows his viewers how things work in a clear and concise manner. He's posted close to 800 videos with over 380 million views.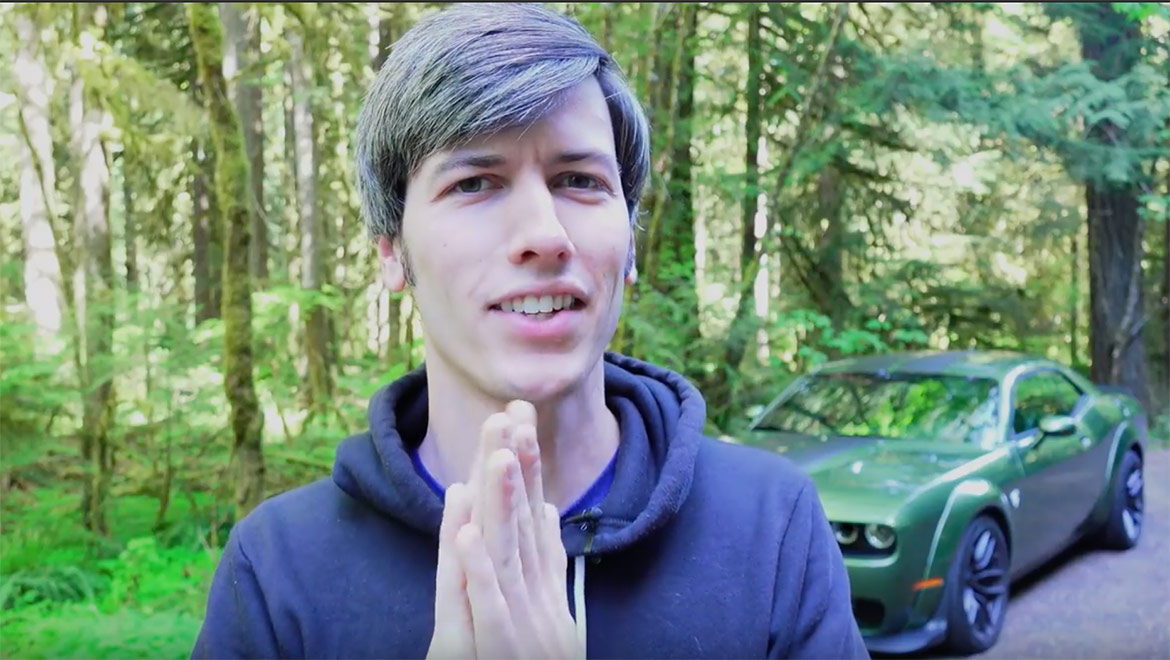 Jason got with the Dodge folks during the 2019 SEMA Show and offered to lend some mathematical expertise and help those who wanted to enter the challenge in solving the questions to win an SRT Hellcat Redeye. He's worked with many automotive clients on subject matters from tires, brakes, suspension, engines, to even electric cars.
"Since Dodge is giving away five Challenger SRT Hellcat Redeye Widebody cars over five weeks, you have to solve a math question that Dodge has come up with. For example, week one's question was, how long would it take an SRT Hellcat Redeye to climb Pikes Peak, if Pikes Peak were a straight line. That's where I come in to help out viewers, and give them hints and advice on how to solve the problem. Each week a new question is posted, and each week I provide tips on how to solve the problem, commented Jason.
While most of us struggled with math in school, Jason breezed right through it. When asked if he'd ever been stumped over a question or calculation regarding speed, distance and horsepower, he had this to say, "Math is hard! There are plenty of questions out there I don't know the answers to. For the horsepower challenge the idea is to provide enough assumptions that it makes the math approachable, so that people can enter in for a chance to win," smiled Jason.
So sharpen up you pencils and do some brain exercises. There's only two weeks left to win an SRT Hellcat Redeye and park it under your Christmas Tree!
Comments
Comments