A Rare Partnership
4 years ago Showcase Video
Ahhh the '80s! What a great time, am I right?! Spandex, perms, neon colored clothing…MULLETS! If you STILL rock a mullet, let me give you a high five! It was a great decade. I can't say that applies to the auto industry though. Honestly, it was a pretty depressing time. There were not a lot of great domestic cars in the '80s. If you jog your memory you might find some gems hidden here and there. Maybe something like the Delorean or the Grand National? I guess some might say an IROC-Z could be on the list (not me though).
The '80's wasn't exactly a decade of high performance for U.S. automakers. There are, however, a few little gems that got cranked out of Dodge that you might not know about. And they were part of an unlikely partnership.
When you hear the word Shelby, you think Carroll Shelby. And when you think Carroll Shelby, you think of the AC Cobra and Ford Mustang. It turns out that a lot of people have no idea that Shelby had a role in Dodge for some time during the 1980s, especially the younger crowd among us.
Carroll Shelby is one of the more iconic figures in the history of motorsports and in domestic automobile manufacturing. There are some great articles and books covering the life of Shelby and all of the amazing vehicles he was a part of. We aren't trying to do a biography on him in this little article but I definitely suggest reading up on this brilliant icon.
I don't want to keep rubbing-in the fact that the late '70s and early '80s weren't the most glamorous times for Dodge. Things could be better, to say the least. Lee Iococca, a former Ford executive left his position with Ford to become the head knocker at Chrysler/Dodge. Iococca and Shelby had a long-time relationship from the days of working together at Ford. So when Iococca made the move, he brought Shelby on as a performance consultant to try to put some pep into the products Dodge was manufacturing during that time. All of this led to the little-known Shelby-Dodge series of cars that came out during the 1980s.
Far from impressive compared to today's standards and performance coming out of Dodge, Shelby definitely put some magic dust on some projects for the brand. It was a time of front wheel drive, fuel economy and practicality for Dodge. None of those things usually add up to performance, especially not during that decade. However, Shelby worked with what he had and made some really cool little cars.
There were basically two types of Shelby cars; those using his designs and tech but manufactured and sold by Dodge, and some even more rare versions built at the Shelby facility in Whittier California. Cars were produced between 1983 and 2000, over a variety of models that were born from the Shelby-Dodge partnership.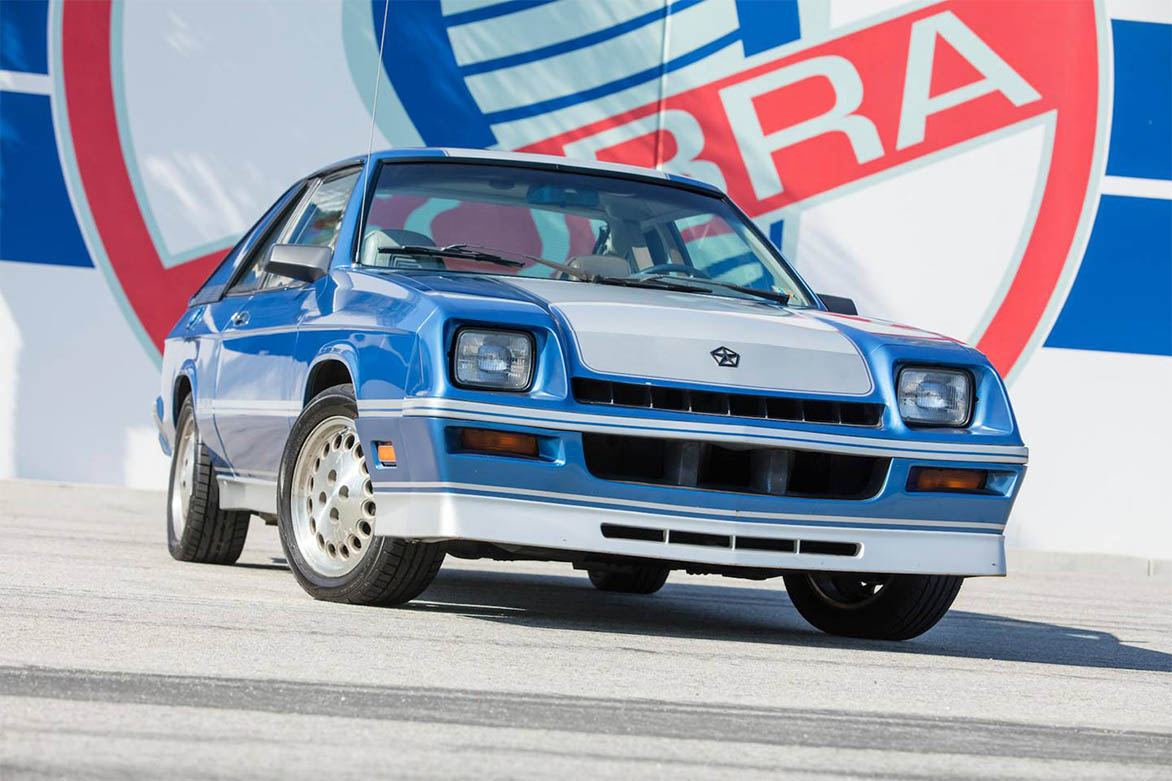 The Turbo Cars (1983-1984)
Dodge Shelby Charger built off of (you guessed it) the Dodge Charger, was the first Shelby vehicle under the Dodge partnership. You could call this one "the warm up" or "testing the waters". It featured a lightly pumped-up 2.2L 4 cylinder with a nice cam, custom front bumper and interior treatments.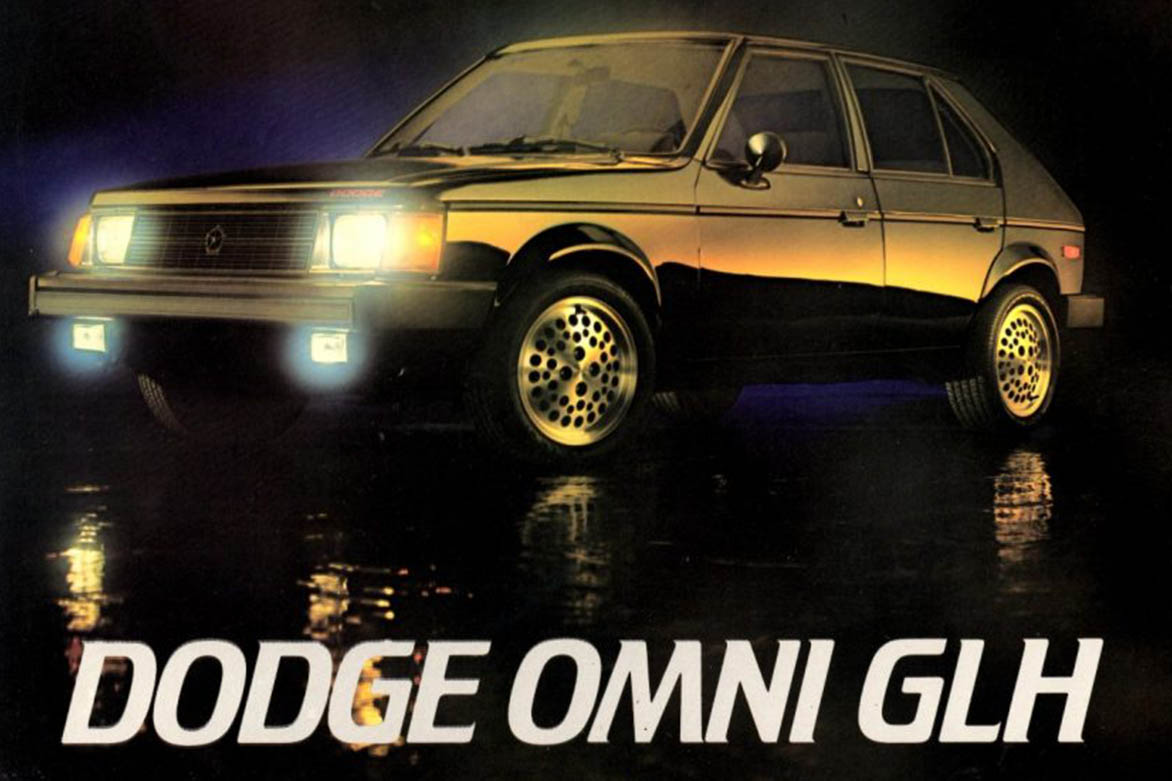 Dodge Omni GLH (1984-1986)
The Dodge Omni GLH had been in production for roughly six years when Shelby decided to work his magic on it. This package utilized the same 2.2L as the Charger, 5-speed manual, and some suspension tweaks. This bad boy topped out at 106mph. In 1985, they introduced the turbo version. For me this is when the car got major cool. It packed 145hp and a custom ground effects kit. This was one quick and nimble little rocket.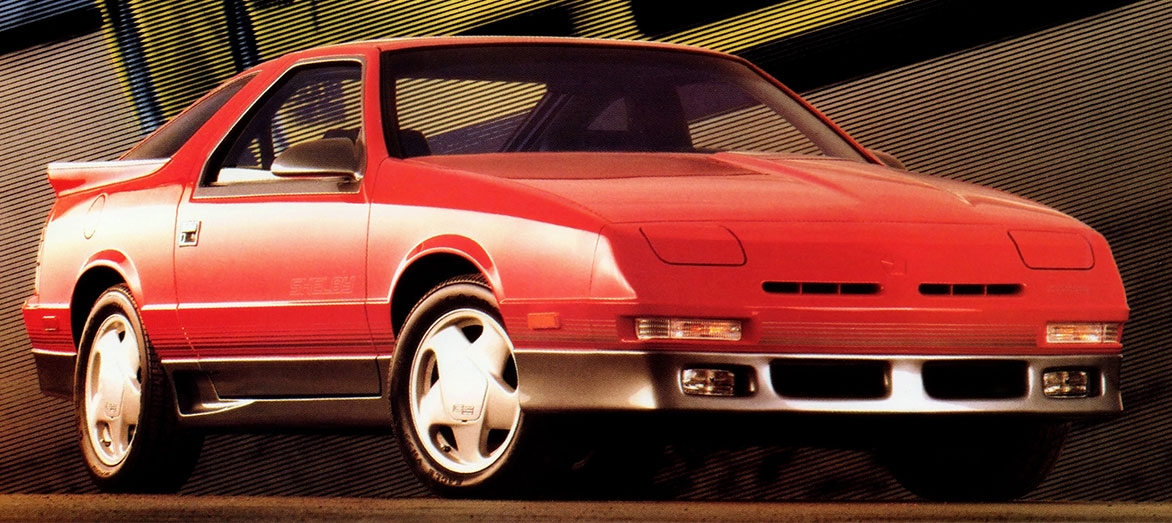 Shelby Charger (1985-1987)
Dodge Daytona Shelby Z (1987-1998)
This was Shelby's take on the Daytona. It continued to rock the 2.2L turbo motor, now cranking out 175hp. The car itself had a sleek design and a more modern interior. This guy is one of my favorites of the era as my best friend growing up had one of these. We had a heyday mod'ing it!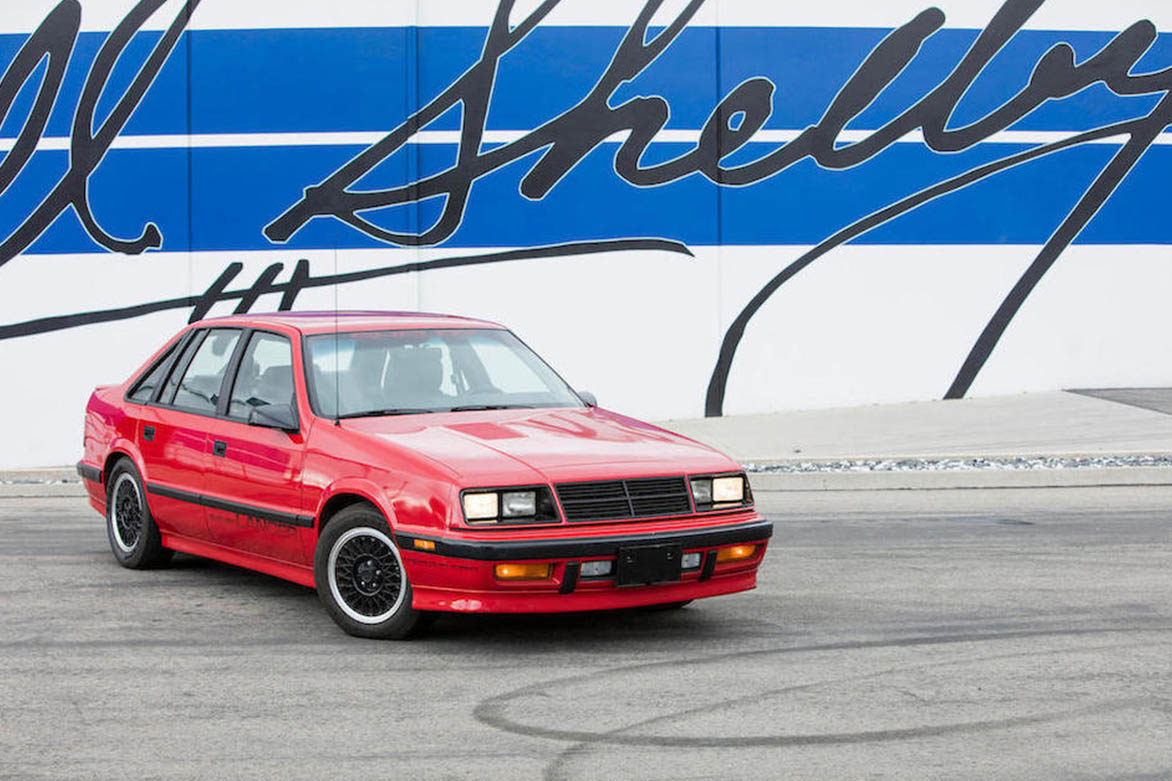 Lancer Shelby (1988-1989)
This car was the 4-door 4-banger hot rod of the decade. Loaded with mostly appearance and interior upgrades it continued on with the 175hp turbo 4-cylinder.
Dodge Daytona Shelby Turbo2 (1989-1990)
This is definitely another one of my faves here. Similar to the earlier Shelby Z, it had all the goodies. 4 wheel disc brakes, upgraded race suspension, ground effects kit, custom hood boasting the turbo intercooled motor, 174hp and 200lb-ft of torque. The 1989 model year had many upgrades over the previous year. A new turbo that decreased turbo lag, completely redesigned race inspired interior, and 210lb-ft of torque.
Dodge Shadow Competition (1989-1990)
This car was a package based on the Dodge Shadow. It utilized a variety of parts from the other Shelby cars but did not bear the Shelby name or badge.
Dodge Spirit RT (1991-1992)
Another vehicle using parts from the Shelby cars but did not actually receive a Shelby model designation. This little guy rocked a turbo 2.2L 4-cylinder with a Lotus cylinder head which cranked out 224hp and 217lb-ft! It did not receive any exterior Shelby treatments, making it a sleeper for sure.
1991 Dodge Daytona Shelby IROC (1991)
This one brought in a new powertrain configuration with a 2.5L 4-cylinder making slightly more torque but slightly less horsepower. Wrapped up in the signature Shelby ground effects kit she was a looker.
Dodge IROC RT (1992-1993)
This marked the final run of the beloved Daytona. It used a 2.2L Turbo III motor that came from the Spirit RT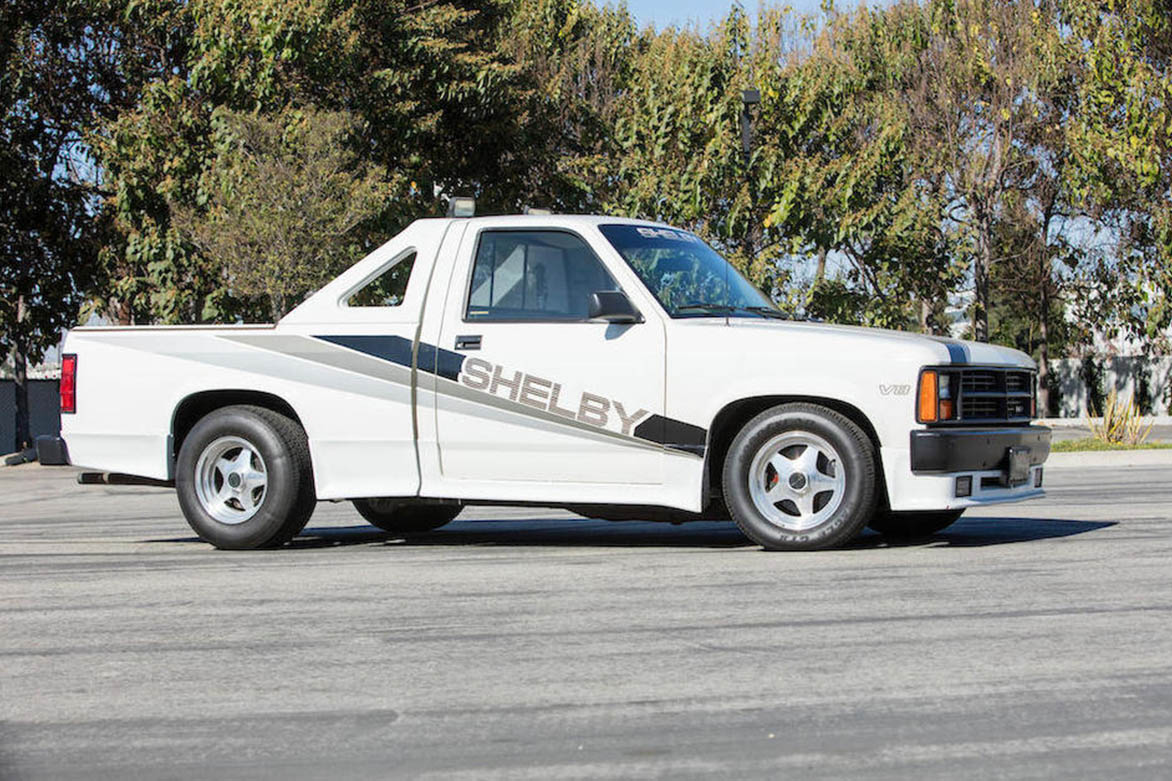 Shelby had his own special series of cars based on all the models listed above that he sold in limited quantities. Shelby purchased the vehicles from Dodge and modified them himself and sold them solely as Shelby vehicles. This allowed a little more freedom from living under the constraints OEMs sometimes have to work within. My favorite from these projects was the 1989 Shelby Dakota. The Dakota was offered from Dodge with the option of a 4-cylinder or 6-Cylinder. After all, it WAS the compact pickup truck. Shelby took the 318 CID V8 that was used in the full size trucks and crammed it into this tiny guy. Red or white, those were your color options. It featured a cool graphics package and fiberglass light bar mount in the bed.
Shelby was also involved in several prototype/concept cars that never made it to production. He had early involvement with the Dodge Viper, which did make it to production. He became ill shortly after the project started and had little involvement after that.
A man after my own heart, he took something that worked fine, and made it work 'finer'. Made it more fun, made it more exciting, and made it more enthusiast-geared. Carroll Shelby managed to make "economy" great again, turning out some really special gems during a decade where performance wasn't a big focus for most American cars. These cars probably won't ever be huge collectible cars like the muscle cars of the '70s. They are however, hard to find and not easy to bring back to life with so few parts available for them. Being born in '79, I'm too young to know the muscle cars, the Dodge-Shelby of the '80s are what originally sparked my interest and love for Dodge. They showed what you can do with an "everyday" car and make it sporty, quick, competitive, and turn it from a mode of transportation to a passion.
You can still find these cars out on the tracks today! They might be few and far between, but they are out there. Most of them even still have a tiny little 4-cylinder motor with a little turbo powering, but putting out impressive numbers on the track.
I absolutely love that guys are still messing with these cars 30 years later and taking people by surprise. I think it really shows how cool these cars actually were.
Check out this video below by my friend TalonTSi97 of some of these cars in action earlier this year. As you can tell by his channel name, he has an eye for the oddball gems of community and catches all sorts of cool cars at the drag strip. Maybe something to talk about soon: the '90s and the other partnerships that produced some even more cool cars?!
Comments
Comments