National Police Week: Young racer delivers donuts in a Dodge Challenger and celebrates with a few "donuts" of her own
3 years ago Showcase Video
Car donuts are not the only type of donuts we enjoy … and luckily, they're not the only type of donuts first responders enjoy either! There are tons of first responders working every day to keep our communities healthy and protected and they deserve a sweet treat. Check out these individuals delivering some donuts in their Dodge Challenger 392 HEMI® Scat Pack!
We all know the stereotype that portrays police as having an undying love for the humble donut. But the truth is, just about everybody loves to indulge in a tasty, diet-killing donut every once in a while. So, what better way to raise the spirits of local police, medical staff and residents during this time of crisis, than by delivering a fresh box of assorted treats from the Red Donut Shop in Lexington, NC?
Well, 15-year old professional driver, Gray Leadbetter added a racer's twist to the deliveries by performing a few "donuts" of the burning rubber variety in a bright blue Dodge Challenger.
After all, what could be more American than a V8-powered Dodge Challenger smoking its rear tires while it rotates in a tight circle? Absolutely nothing.
Delivering donuts with "donuts," was actually the brainchild of local film maker, Landon Grant. "I heard that the family who owns Red's was struggling financially due to the Coronavirus crisis," says Landon. "We decided we could help by delivering donuts for them." The idea worked. Landon even fashioned a 6-foot long spatula so deliveries to be made at a safe distance.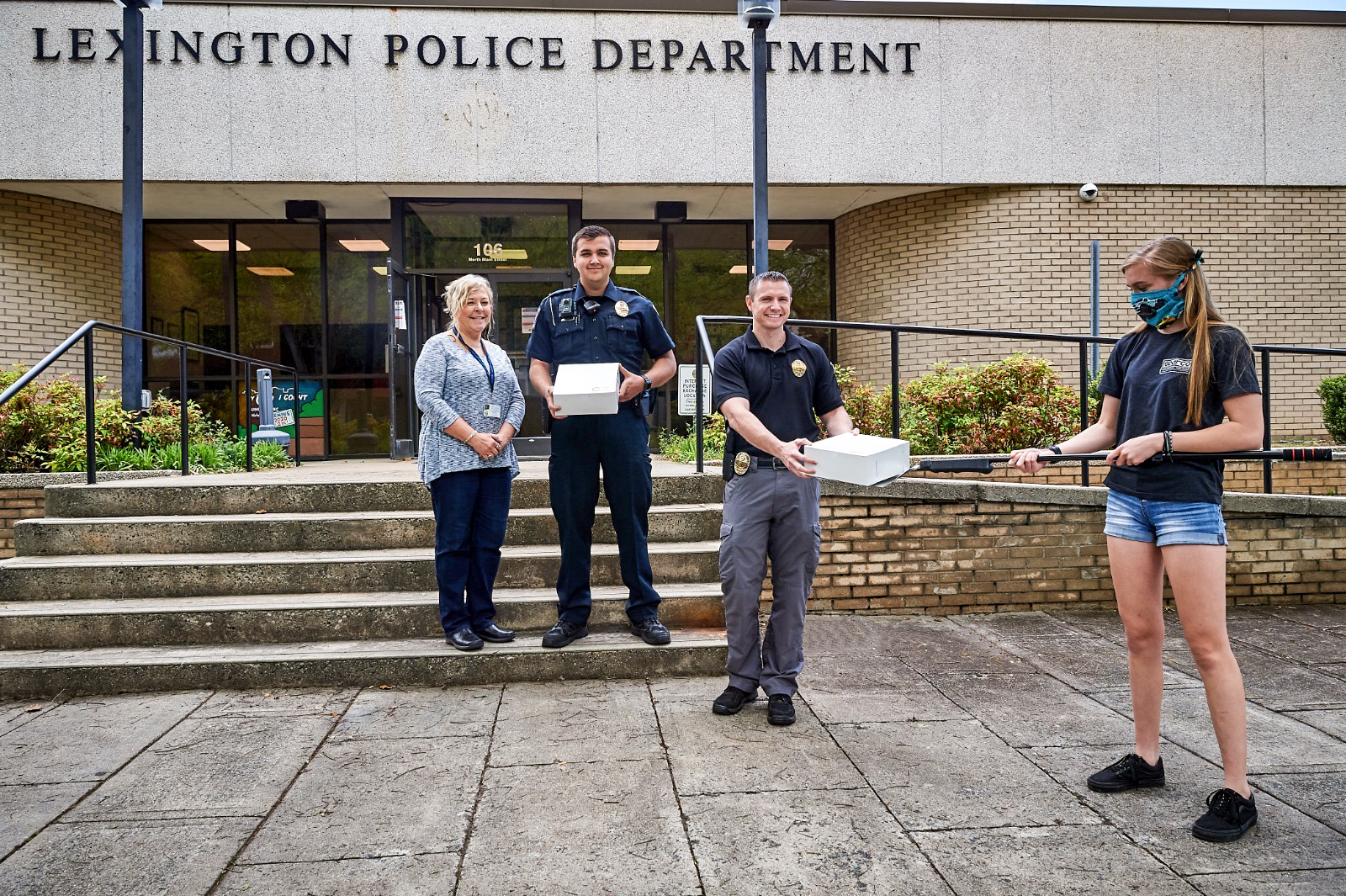 As a show of gratitude, Red's asked Landon and his crew deliver free boxes of donuts to local police, medical workers and homebound residents. The creative wheels in Landon's mind started turning and he quickly realized that it could be a story worth filming. He immediately thought of Gray and knew that her driving skills could put it over the top. "I've been filming Gray racing for years, so I know what she can do with a car," says Landon. When he proposed the idea to Gray, she was all over it and without a moment's hesitation, said "I'm in!"
The morning started with Landon filming Gray performing smoking, tire screeching "donuts" in the Dodge Challenger safely, in a private parking lot. "I can't say I've ever experienced anything like that before, tires screeching, smoke everywhere, the car moving sideways," says Landon, "Maybe I should have been, but I was never scared. Gray's car control is truly amazing."
From there they made deliveries that included stops at the Lexington Police Department, North Carolina State Highway Patrol, Davidson County Sheriff and Novant Health facility in Lexington.
Now, performing a "donut" or a burnout in front of police, especially with a 15-year old driving on her learner's permit, probably isn't the smartest idea. So, truth be told, that didn't happen. The tire smoking "donuts" were confined to the morning's filming. But, it is possible that some lucky private citizens might have been treated to a discrete burnout here or there. However, one law enforcement officer did mention that if Gray happened to do a burnout, he "Wouldn't see it."
"As tempting as that might have been, Gray didn't do it," says Landon. "Discretion won the day."
Gray, who has been racing since she was four-years old, gained national attention last year when she signed with Dreyer & Reinbold Racing of Indycar fame, to compete on its team in the American Rallycross Series. At just 14 years of age, she was the youngest competitor and the only woman in the series. But that didn't faze Gray, who didn't hesitate to mix it up with older, more experienced drivers in the rough and tumble sport of rallycross. Her impressive, first-year performance earned her fifth place overall in the championship standings. Gray also competes in Mini-Outlaws, Karts and UTVs, and trains in a 717-hp Dodge Challenger Hellcat at the Bondurant High Performance Driving School in Arizona. Her driving coach is former Indy 500 Champion Buddy Rice. To follow Gray's racing career visit: grayleadbetter.com
Comments
Comments