"Hellrango": Ordering The Beast
2 years ago Showcase
Car a-la-carte
Shopping for a new car can be fun and exciting. It can also be very trying and stressful locating one that is JUST the way YOU want it. Whether you are looking online or driving dealer to dealer, there can be challenges. You found the perfect car with all the options and packages you wanted, but it is the wrong color, or missing the electronics package, or has no sunroof. Why not make it easy? Just order one, it is easy!
Most people have never ordered a new car. Heck, I am sure there are a lot of people that don't know you can. Sometimes, you get lucky and you find a car just the way you want it already on the dealer lot, ready to be driven home that day. Ordering a car, made just for you, really is about as easy as walking up to a lot and driving off that day. That is, IF you can handle the wait.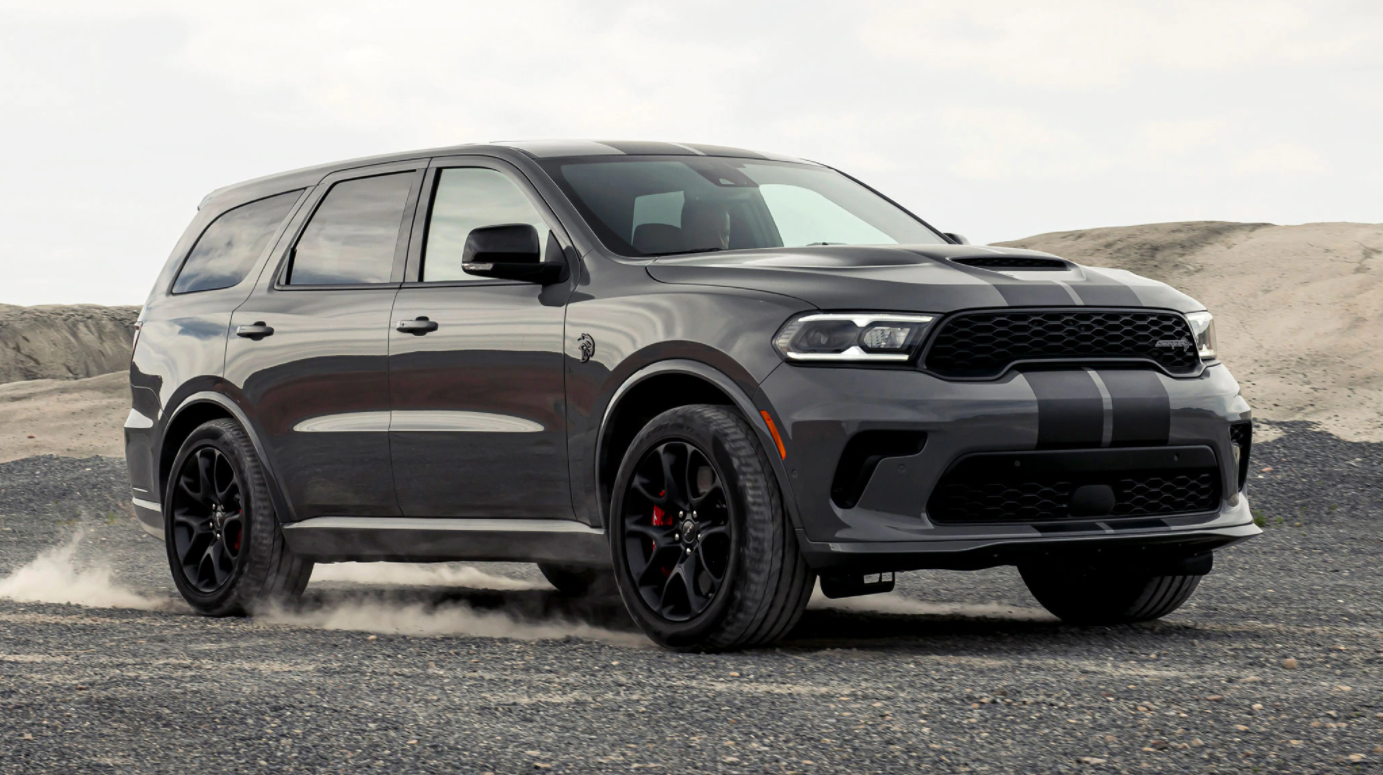 As soon as our beloved mad scientist Tim Kunsikis hit the stage for the COVID-friendly vehicle reveal of the 2021 Dodge Durango SRT® Hellcat, I knew that this was not a vehicle I was going to let slip by me. THIS is when the wait unofficially starts. Let me explain how it works.
For those of us wrapped up in the SRT product line, it goes a little something like this. A new model is announced in the spring. Before the days of COVID announcements, these announcements often happened at big auto shows. Somewhere between February and June, the new and hottest reinvention of our beloved HEMI® engine-powered beast is announced for the upcoming year. You see it, you hear it, you listen to the specs and if you are lucky enough to be a part of the press, you are able to experience it. Right now, we must settle for seeing it on our computer screens. You fall in love. You decide then and there that there is no way you are going to let this one slip by. You start scheming and crunching numbers. Most importantly, you figure out how to sell it to your spouse or significant other.
Unfortunately, it is a bit more involved to build a car than something like an iPhone®, so don't expect to hear something like "The new 2021 Durango, orders start tomorrow and shipping next week." Generally, ordering opens in mid to late summer. The brand will announce when ordering will open for that dream vehicle and you get to work convincing the significant other that "we" need this vehicle and how you plan to make it happen. During this time, you should contact your dealer or salesperson to let them know you plan to order one. If this new ride is a limited production car like the Durango SRT Hellcat or Challenger SRT Demon, you better lock down your dealer quickly. Maybe you just want to be one of the first in town to get yours. Make use of this time. Find your dealer. Stay in touch with the salesperson and make sure you are both on the same page.
Dodge puts a handful of pre-production versions of the vehicles out in the world for press and press events. You spend the next several months watching and re-watching all the videos you can while you wait for ordering to open. You sit there twitching, tapping your feet and building angst for that dorky auto vlogger ripping around in YOUR new car.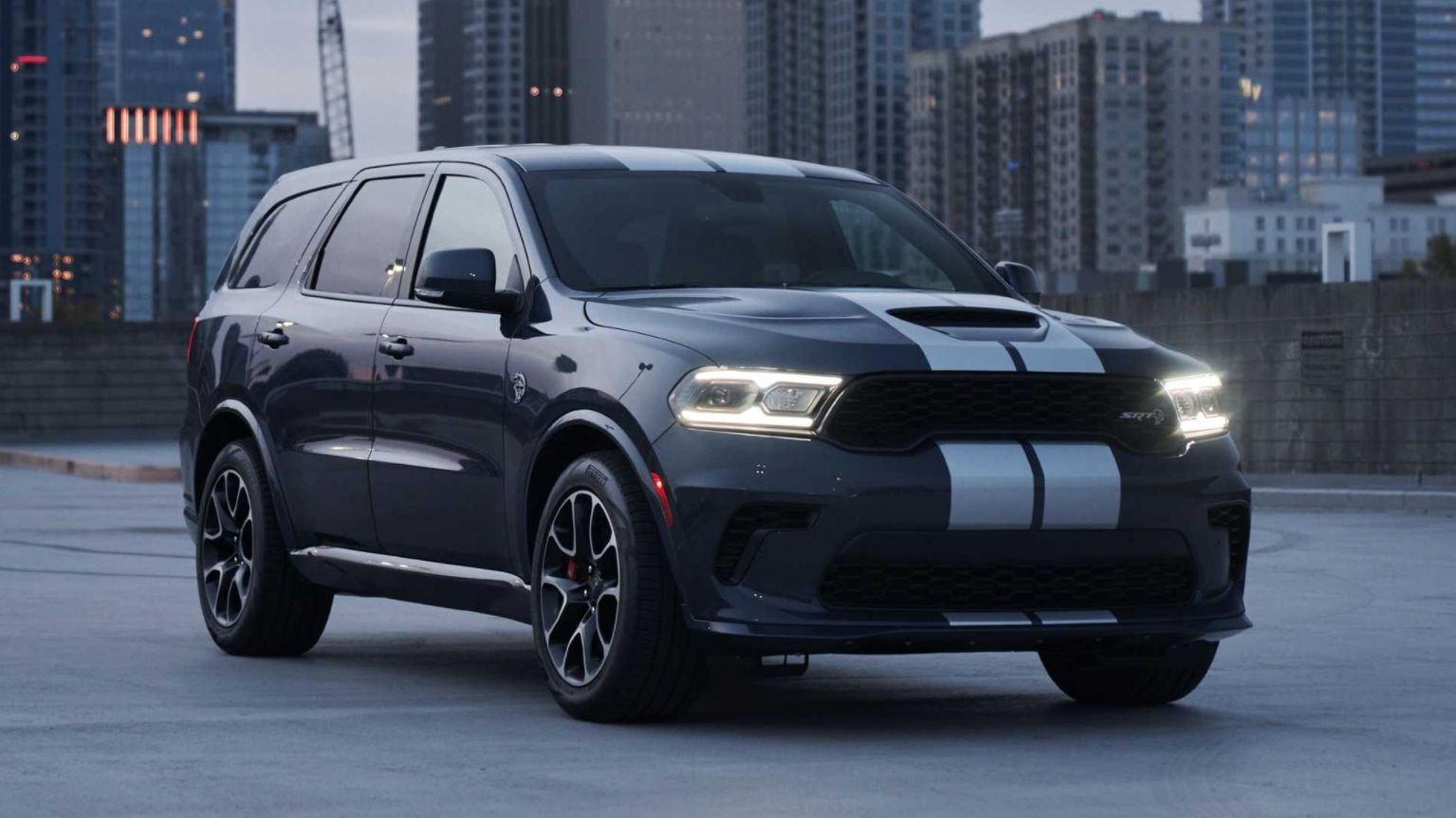 The day the order banks open up for the dealer to put the order in with Dodge, Dodge's website is updated with a configurator for the vehicle so you are able to build your own. You finally get a chance to start seeing how you want to option your specific car. While the dealer can also tell you what packages and options are available and what the costs are for those, it's nice to be able to see it with your own eyes in a neat little 3D rendered version of your dream build, especially with color options.
The 2021 Durango SRT Hellcat came with a moderately sized option list. It comes standard, packed to the gills with cool stuff. For those that don't know, the Durango SRT Hellcat is a single year model, made only in 2021 and never again. Our options were:
Paint: 10 color options all $0 with the exception of "Vice White – $595"
Stripes: depending on the stripe color. They are all $1,195 with the exception of RedlineRed/Black Dual stripes, which is $1,295
Wheels: 2 wheel options but the black wheel options only available with the "Black Package"
Tires: 2 tire options – all-season or 3 season (performance tires)
Spare tire: an optional spare tire is available for $395, otherwise you get the emergency tire service kit
For my Durango SRT Hellcat, I went with Black Pearl paint with Satin Silver stripes, standard wheel and all-season tires. I skipped the spare tire option. I was REALLY hoping something like B5 Blue or Hellraisin color options were available, but since they weren't, I went with black because it can double as sleek and crisp or menacing and evil.
The stripe color was a little harder to pick. I tried to think big picture and what my plans are with the car once I get it. I wanted a color that looked good but would also allow for some options to customize the car later. While picking something like red or blue stripes would look killer, it would also limit options for spicing it up myself later down the road. I skipped the Black Package, well, because I plan on replacing the wheels and exhaust later anyways.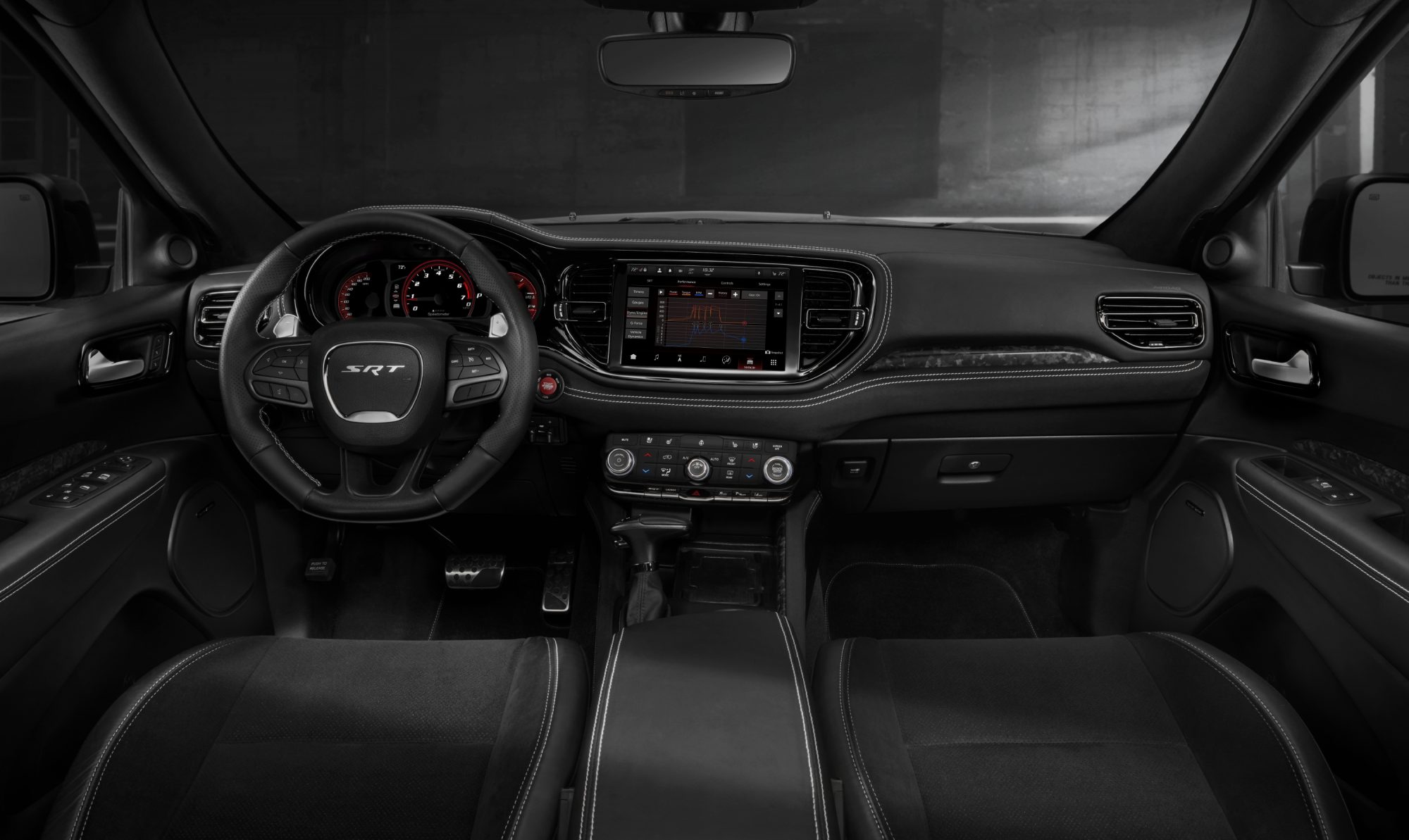 Next up is interior. The new redesigned interior is amazing! Luckily, it already comes standard with a boat-load of goodies, so the options list isn't huge for the interior.
Seating color: Black leather and Alcantara ($0) or Red Laguna ($1,595)
Audio: Standard or 19-speaker Harmon Kardon $995
Sunroof: $1,295
2nd Row Console Armrest: $595
Premium Interior Group: Suede headliner, leather-wrapped dash, forged carbon accents $2,495
Red Seat Belts: $95
Blind Spot and Cross Path Detection: $495
I opted for the red interior and Harmon Kardon audio packages. That red interior is really going to pop against the black exterior. The 19-speaker system is fantastic and pretty much leaves nothing to be improved on later, so for me it's a must have. I skipped the red seat belts as they would just blend in with the red seats. I also skipped the 2nd row console for ease of access to the 3rd row; and while I originally skipped the premium interior because of kids, I changed my mind and decided it was a must-have. I chose to not get the blind spot system because I made it this far in life without it.
As I briefly mentioned earlier, there is a Black Package for $1,495 that basically gets rid of anything chrome or silver. I skipped this package just based on my personal plans for the vehicle later. There is also a Lightweight Performance Package that sheds some weight by turning the 2nd row into a bench seat and removing the 3rd row all together. It's no charge but defeats the purpose of the vehicle for me. You can opt for the Technology Group which comes with adaptive cruise control, brake assist, collision warning and lane departure. I skipped this package as well, because I actually know how to drive.
If you have a car full of kiddos, the Rear DVD Entertainment package is killer. It runs $1,995 and has sleek screens built into the seats. It's a nice, clean, streamlined system for occupying kids in the back. Fortunately for me, the kids have moved past watching movies and stay glued to their tablets and phones.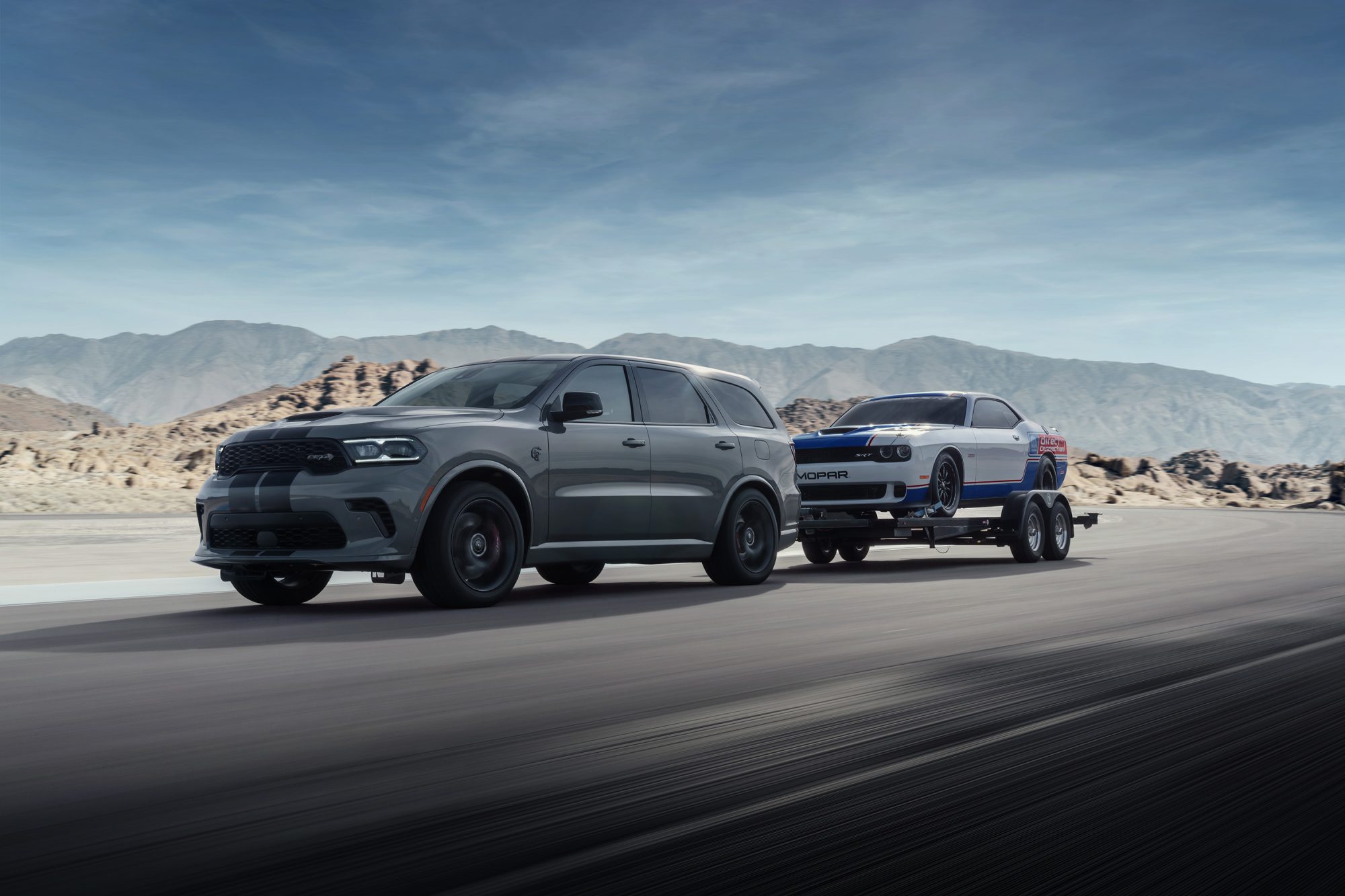 The final option/package is the Trailer and Tow Group. With an almost 9,000-lbs towing capacity, towing was a major MAJOR factor in getting this vehicle. I currently have a 2019 Ram 3500 Dually for my towing needs. This includes hauling our 30-ft camper and towing the ole SRT Demon to the track. The 3500 is a bit overkill for that work. The Durango will let me get away with my towing needs, and still ripping around in a muscle machine. You can add a hitch and wiring aftermarket for rather cheap, but the towing package comes in at $1,195 and for me it's worth it to have it all integrated and cleanly tucked away behind the bumper.
I ordered my Durango SRT Hellcat from a dealer that's about 3 hours from me, so I went over my options list over the phone with my salesman. It was simple! Of course, I already knew what options and packages were available, but he was more than willing and able to fill me in and educate me on them if I wasn't familiar with them. I gave him my full list of options and he emailed me a build sheet listing out the standard items and additional options. Most dealers will require a deposit of some sort to put your order in; this is standard practice. The amount of the deposit will vary from dealer to dealer. After all, if you bail out when the car comes in, they are stuck with a $90,000 machine they paid for and now have to find a home for. I paid my deposit over the phone with my debit card and off the order went.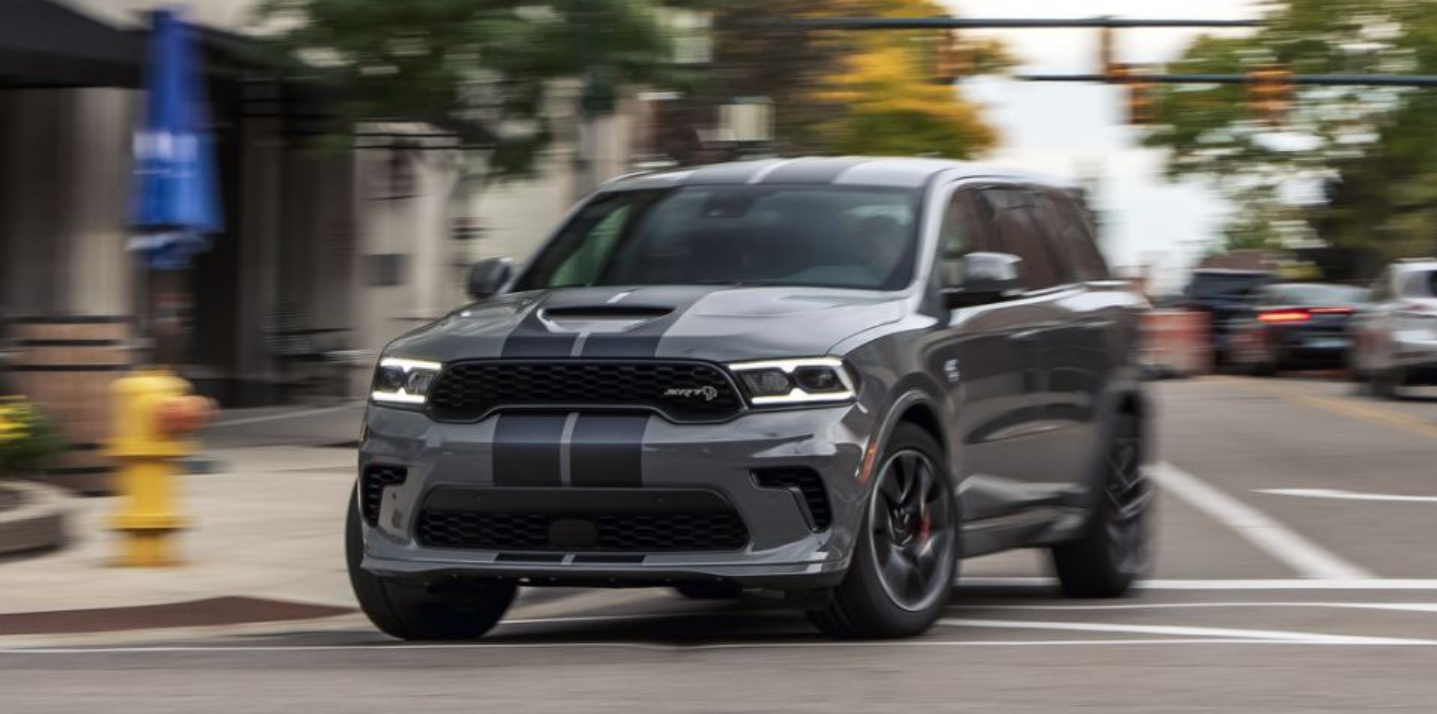 I have spent every day since November like it's Christmas eve. I will continue to spend every day until the delivery date just the same. It's odd, in a way. I know exactly what I am getting. So why the suspense? Why the anxiety? I can't explain it, it just is.
Ordering the car was easy as pie, but the wait is agonizing. If you can handle the wait of ordering a brand-new model, it's definitely the way to go. Mid-year turn-around time on less "limited" production vehicles, such as Charger or Challenger SRT Hellcats, are pretty quick; sometimes less than 2 months. However, for a new "limited" model, the wait doesn't start when you order, it starts when the announcement is made. Any official Dodge dealer can order a vehicle exactly to your spec (within the offered specs and packages) at any time. So if you don't see your dream car configured exactly how you want sitting on a dealer lot, just stop into the dealer, flag down a sales guy and put in an order! It's worth the wait to get it just how you want. Stay tuned for continued coverage of the Durango SRT Hellcat, or as I'm calling it, the "Hellrango". We are going to have some fun with it!
Comments
Comments
Previous