Pages From The Past: Full of Spirit – 1955 Dodge Custom Royal Lancer
2 years ago Showcase
Virgil Exner's Styling and Power-Packed HEMI® Engines Double Dodge Sales in 1955!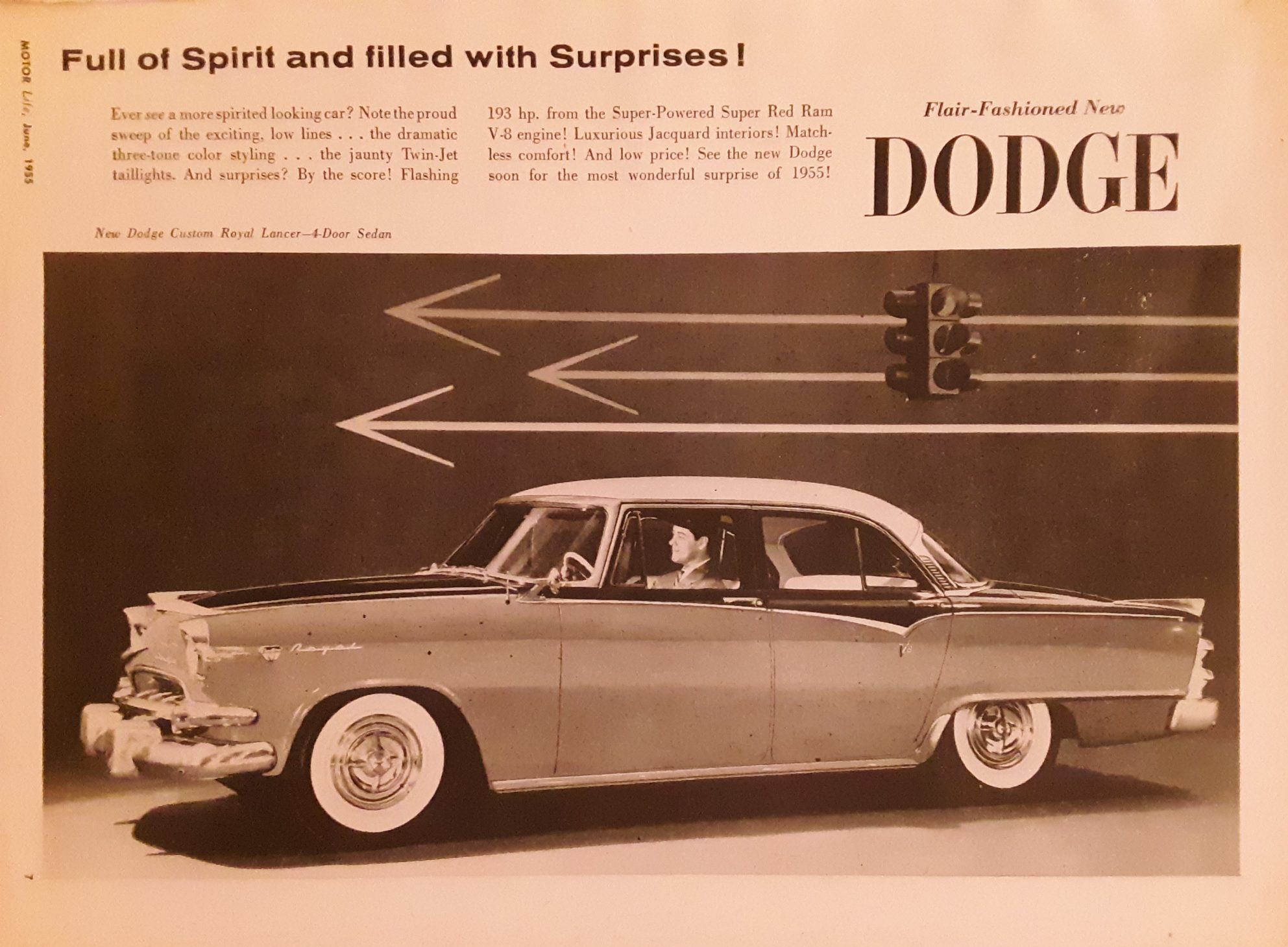 This full-page ad for the 1955 Dodge Custom Royal Lancer may not have the sheer excitement of the Scat Pack ads of the late sixties, but for its time, the ad's focus on power – in the form of the "Super-Powered Super Red Ram V-8 engine" – was a major departure from Dodge ads of just a few years earlier. You see, 1955 was only Dodge's third model year with a V8 engine. Before 1953, post-WWII Dodge vehicles were all motivated by the same sleepy 230-cubic-inch flathead inline six cylinder engine with a meagre 103 horsepower. There were no alternate engine options, power wasn't a marketing tool … yet.
But the 1953 arrival of the Red Ram HEMI® V8 engine marked Dodge's first volley in the great Detroit horsepower race. Though initially sized at a tiny 241 cubic inches, the Red Ram featured the same hemispherical combustion chambers and double rocker arm shafts as its big brother, the 276-cubic-inch DeSoto Fire Dome HEMI engine (which debuted in 1952) and its even bigger brother, the 331-cubic-inch Chrysler Fire Power HEMI engine (which debuted first, in 1951).
By the time this ad appeared in support of the 1955 model year cars, the expense of the double rocker shaft HEMI V8 triggered a less costly single rocker variant with polyspherical combustion chambers. Though all 1955 Dodge V8 engines displaced the same 270 cubic inches (thanks to a 0.188-inch bore increase from the 241's 3.437 to 3.625 inches, the 3.25 inch stroke remained the same), engines equipped with polyspherical heads assumed the Red Ram name (previously used on the all-HEMI 1953 and '54 Dodge V8s) while the HEMI headed engines were re-named Super Red Rams.
Though the base polyspherical Red Ram delivered a respectable 175 horsepower with a single Stromberg two barrel carburetor, the greater breathing capability of the Super Red Ram's hemispherical combustion chambers helped it deliver an additional eight horsepower (183 horsepower) with a similar single Stromberg two barrel carburetor.
But the real news was the optional "power pack", which included a Carter WCFB four barrel carburetor on a cast iron intake manifold and dual exhaust for 193 horsepower. Priced at a mere $48 (the radio option cost $110), the Super Red Ram power pack was Dodge's first four barrel induction offering (excluding the 1954 Dodge Royal 500 Indy pace car edition, which used an aftermarket aluminum four barrel intake manifold supplied by Offenhauser, and as such doesn't qualify as an in-house engine assembly). With it, Dodge was a true stop light contender – the inclusion of one in the ad was no mistake.
Another significant first for 1955 was the totally restyled body. The work of legendary stylist Virgil Exner, every Dodge now sat 4 inches lower than the tall and boxy 1954s, which critics said, "Won't knock your eyes out, but also won't knock the hat off the top of your head," a reference to previous Dodge styling honcho KT Keller's mandate that all Chrysler Corporation vehicles must be able to accommodate passengers wearing hats.
Though Exner arrived at Chrysler in the fall of 1949, it naturally took him time to establish authority and make his sense of design felt throughout the styling department. The 1955s were a first step in an evolution that would soon bring the fabulous finned "Forward Look" cars of 1957. Along the way, this '55 shows off the thin roof pillars, wraparound windshield, hooded headlamps, tail fins and sweeping horizontal chrome trim that would become Exner's hallmarks. The ad reads: "Ever see a more spirited looking car? Note the proud sweep of the exciting, low lines…the dramatic three-tone color styling…the jaunty Twin-Jet taillights." Again, this '55 was just the beginning of the Exner era, which lasted through the 1963 model run.
Getting back to our study of this ad, the use of a four-door model in place of a more sporty and exciting two-door or convertible is unusual, especially considering the ad ran in Motor Life magazine, a so-called "enthusiast publication". Generally speaking, family-oriented four-doors and station wagons were showcased in general interest magazines like Life, National Geographic, Newsweek, Time, etc., where non-automotive readers might be attracted by the utility of these body types. Perhaps the four-door was chosen to showcase how effectively Exner's use of sweeping horizontal lines allowed the rear doors to hide in plain sight.
The hood is another noteworthy detail. A full eight years before the 1963 426 Max Wedge, every one of the 313,038 Dodge vehicles built for 1955 had a functional hood scoop. And unlike the Ramcharger and Shaker hood scoops of 1969-71 – which could be closed in foul weather – these '55 hoods (as well as all '56s) directed cool outside air at the oil bath air cleaner housing constantly regardless of engine size or type. Yes, even the base 230 six enjoyed a breath of cool, outside air.
A final detail that attracted hot rodders and customizers at the time are the four bar wheel covers. Making their first appearance in 1955 for 15-inch rims and downsized to 14 inches in 1957, they were quickly adopted by hot rodders looking to give their "hoopties" a unique look. Standard on upscale Custom Royal Lancers, many a Hot Rod magazine cover and feature car was adorned with these shiny wheel covers in the days before the ready availability of mag wheels.
So was this ad successful in helping to boost 1955 Dodge sales? We'd say so. Total 1954 passenger car sales totaled 151,766 units. As previously stated, 1955 saw 313,038 sales, that's over twice as many! It was true then and it's true today … horsepower sells cars!
Until next time, Hasta Magnante.
PREVIOUS PAGES FROM THE PAST:
Swinger – The Dart Gets Serious
Ramrod – Dodge Launches The 1968 Charger R/T
Comments
Comments