Hot Deals Found at the WPC Swap Meet
10 months ago Gallery Showcase
Snow and sub-zero temps didn't stop thousands of car enthusiasts from attending last weekend's annual WPC Winter Swap Meet at the Macomb Community College Expo Center in Warren, Michigan. The event organizers and fine folks at the Great Lakes Region of Walter P. Chrysler Club were ready when the doors of the expo center swung open before sunrise and the masses came marching in.
The hordes of Mopar® gearheads were in search of deals on an assortment of rare parts for their restoration or racecar projects, or just cool memorabilia for their man cave. The variety of "stuff" at the swap meet included an array of hardcore parts, such as intake manifolds, carburetors, cylinder heads and engine blocks, to oddities like old dealership signs, vintage automotive diagnostic tools, shop uniforms and old race team crew shirts. There were even vintage plastic car models, slot car sets and other Mopar-themed toys that still conjure up childhood memories. With tables lined up and hundreds of rare items laid out, vendors came from all over the country to sell their goods. And once again, the art of haggling between seller and buyer, part of the swap meet mystique, keeps long-time attendees coming back to this winter tradition of the Mopar faithful.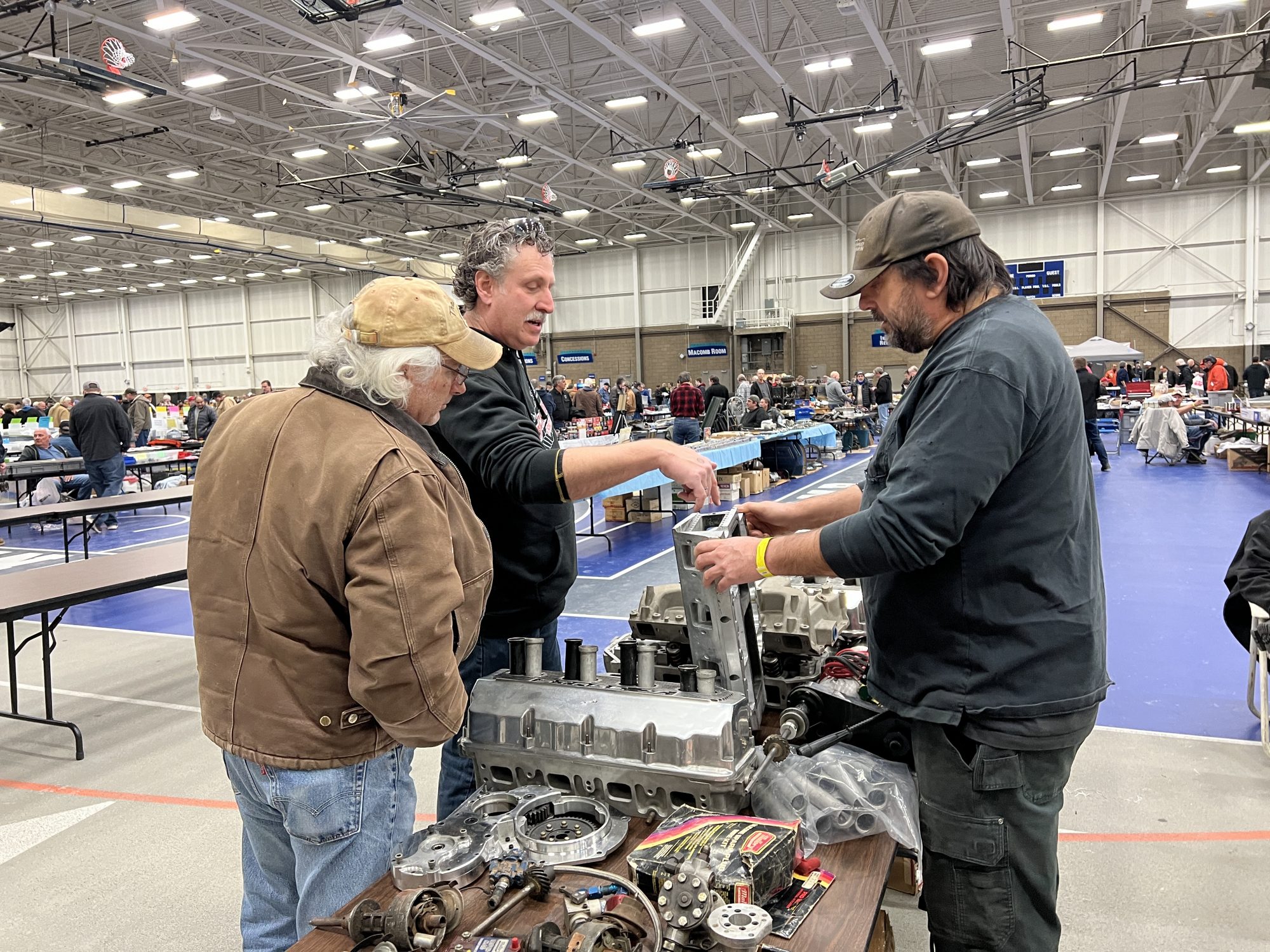 A WPC Winter Swap Meet regular, Mike Delahanty, has been making the annual trek to the event from his home in Novi, Michigan, for over a decade. He's armed with a short list of parts he needs for whatever project car he's working on. "I came to the WPC Winter Swap Meet searching for unmolested and virgin Max Wedge cylinder heads for my 1964 Plymouth Stock Eliminator racecar," said Delahanty. "I've been on a quest for these things for over three years and despite Max Wedge-powered Mopars being very popular in the '60s and '70s, these heads have dried-up and have become few and far between."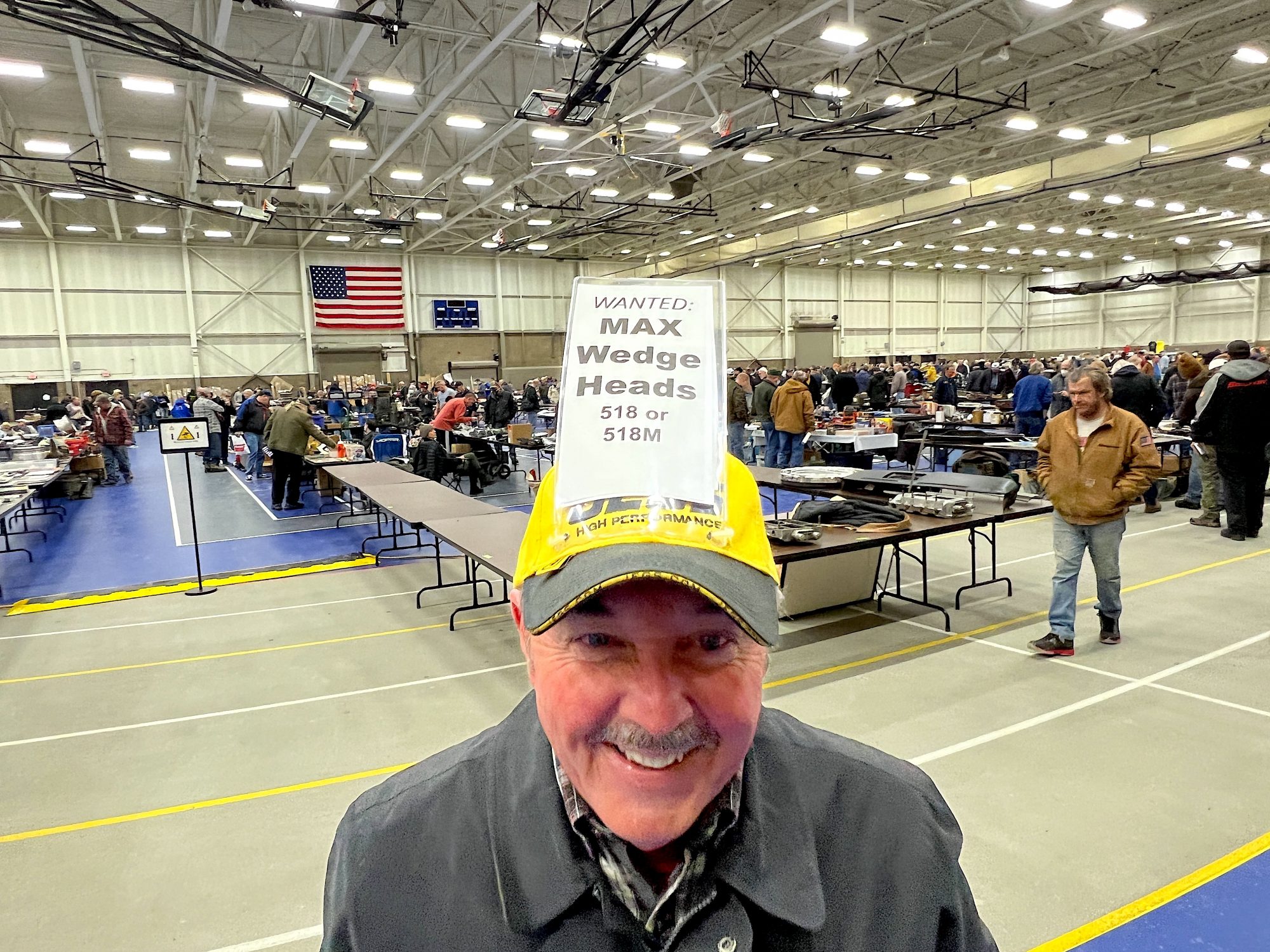 Mike was determined and successful in his hunt for these rare cylinder heads as a pair turned up at the swap meet. "A fellow Mopar enthusiast, Don Toth, had bought a 1964 Plymouth Fury back in 1977 to restore it with a 426 Max Wedge. Don had bought the Max Wedge heads over 40 years ago from fellow Cleveland area Mopar Enthusiast and current Challenger Drag Pak racer Mark Pawuk. When Don completed the restoration on the Plymouth, he chose not to go the Max Wedge route.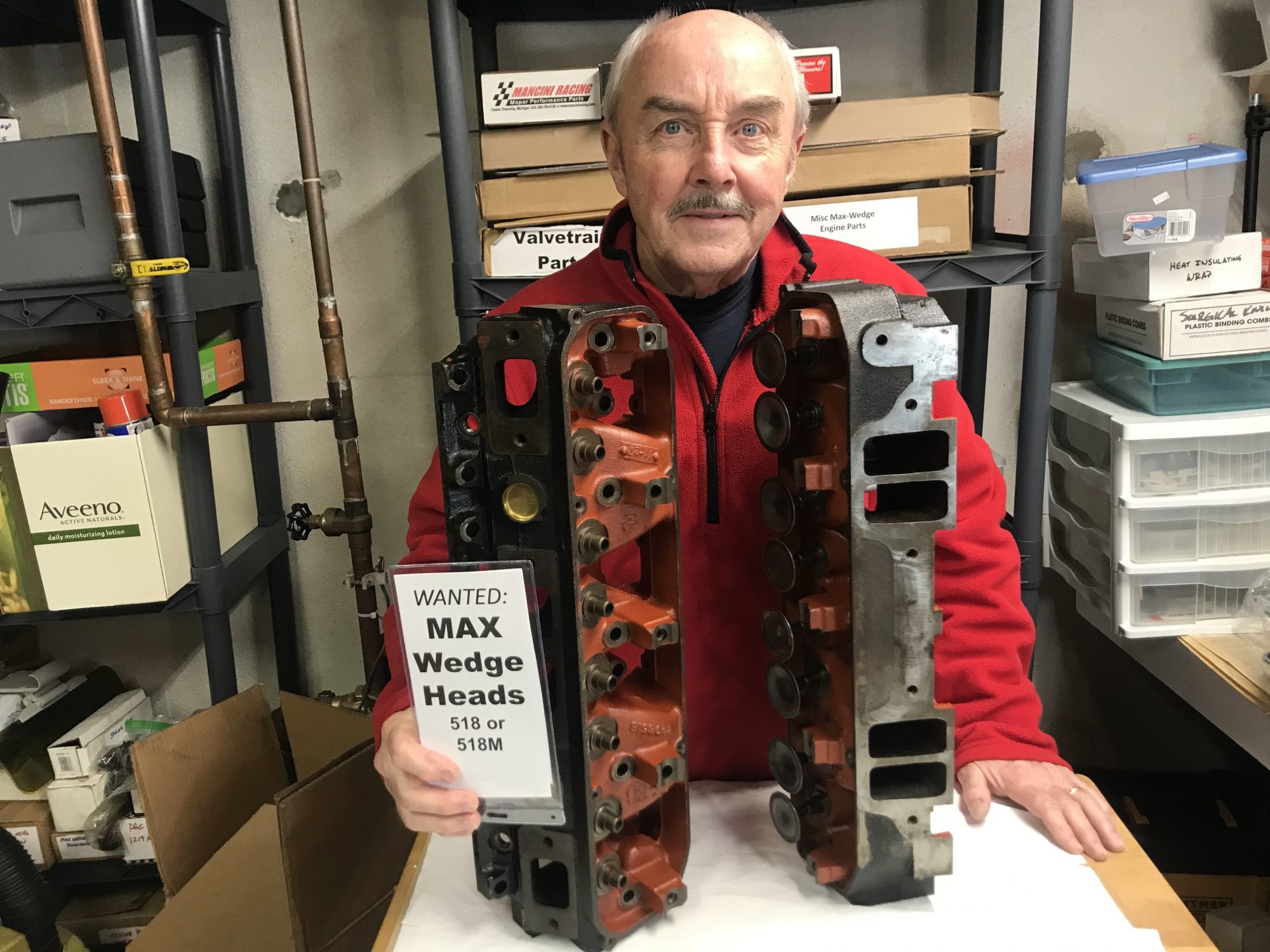 "It was time for him to clear out the leftover parts including the virgin '518 Casting' Max Wedge heads that had been in his storage and Don brought to the swap meet," exclaimed Delahanty. It was the find he hoped to score and once again, the WPC Winter Swap Meet did not disappoint. Delahanty plans on using those Max Wedge cylinder heads on his already-fast 1964 Plymouth Belvedere NHRA Stocker.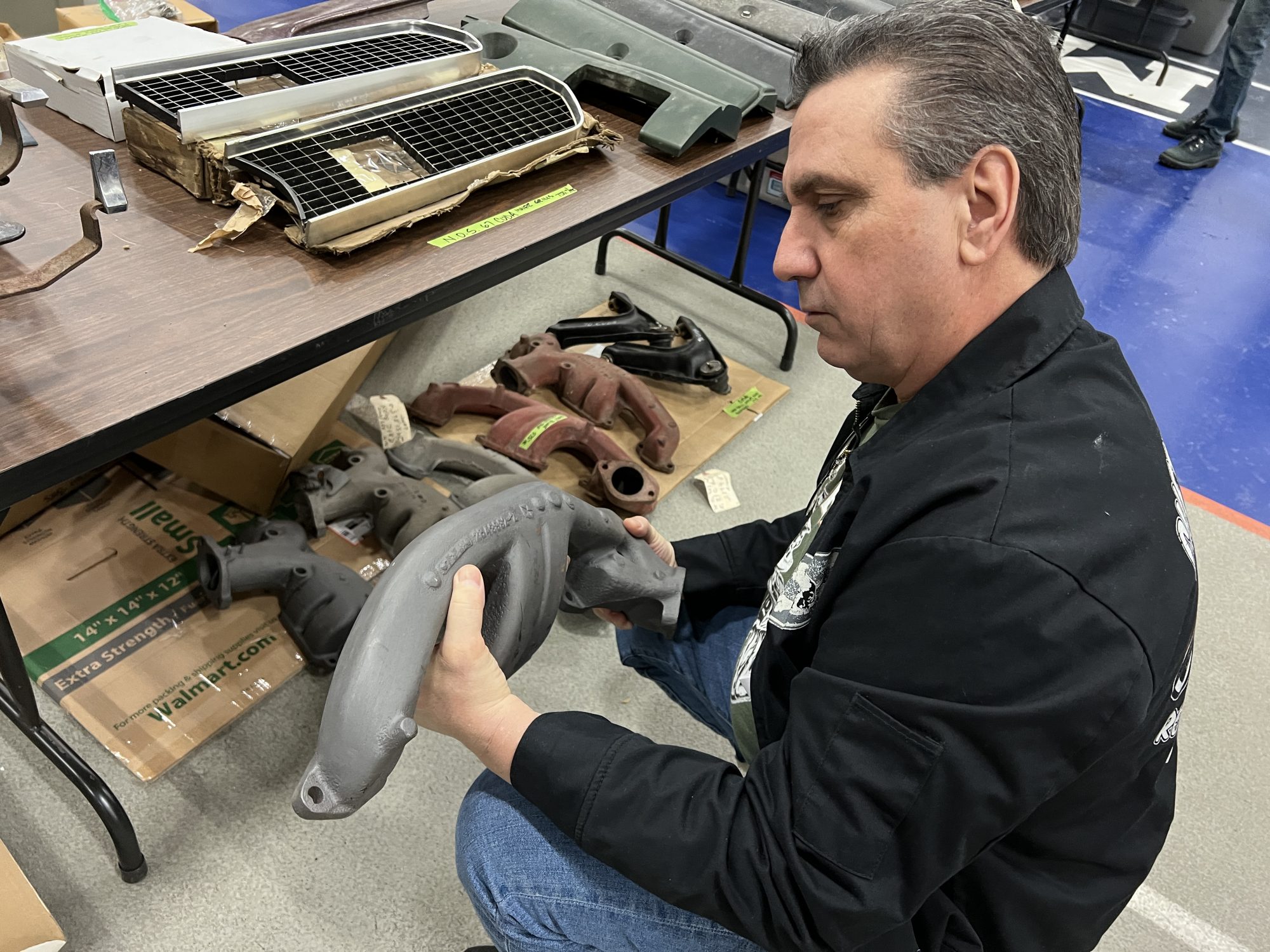 Another WPC Winter Swap Meet regular, Ed Salas from Macomb Township, Michigan, was also on the hunt for hard-to-find parts for his rare 1969 Plymouth Road Runner that's equipped with a 440 Six Barrel engine. These vintage muscle cars are well over a half-century old, and you just can't walk into an auto parts store or dealership to find what you're looking for. That's why this particular swap meet is an important event for Salas and others in the Mopar community.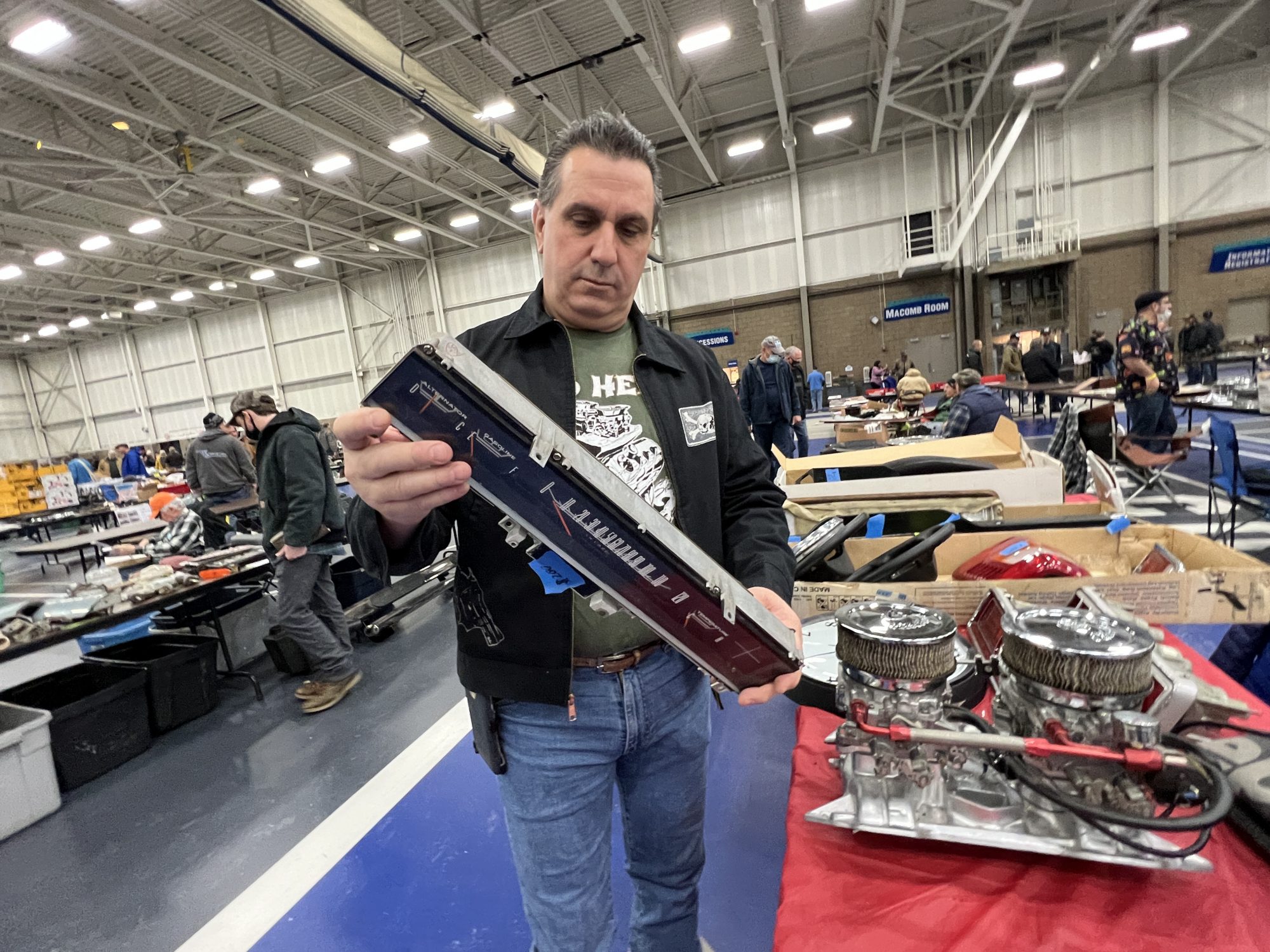 "I've been coming to the WPC Winter Swap Meet for years searching for parts for my various Mopars," said Salas. "Today, I'm looking for brake drums, exhaust manifolds, and just about anything else I may need restoring my Road Runner. Even though I might find an old part that I don't have a use for at the moment, if it looks decent and the deal is good, I'm buying it. Old parts for these cars are getting harder to come by and I don't want miss out and think 'I should've bought that when I had the chance' a year from now."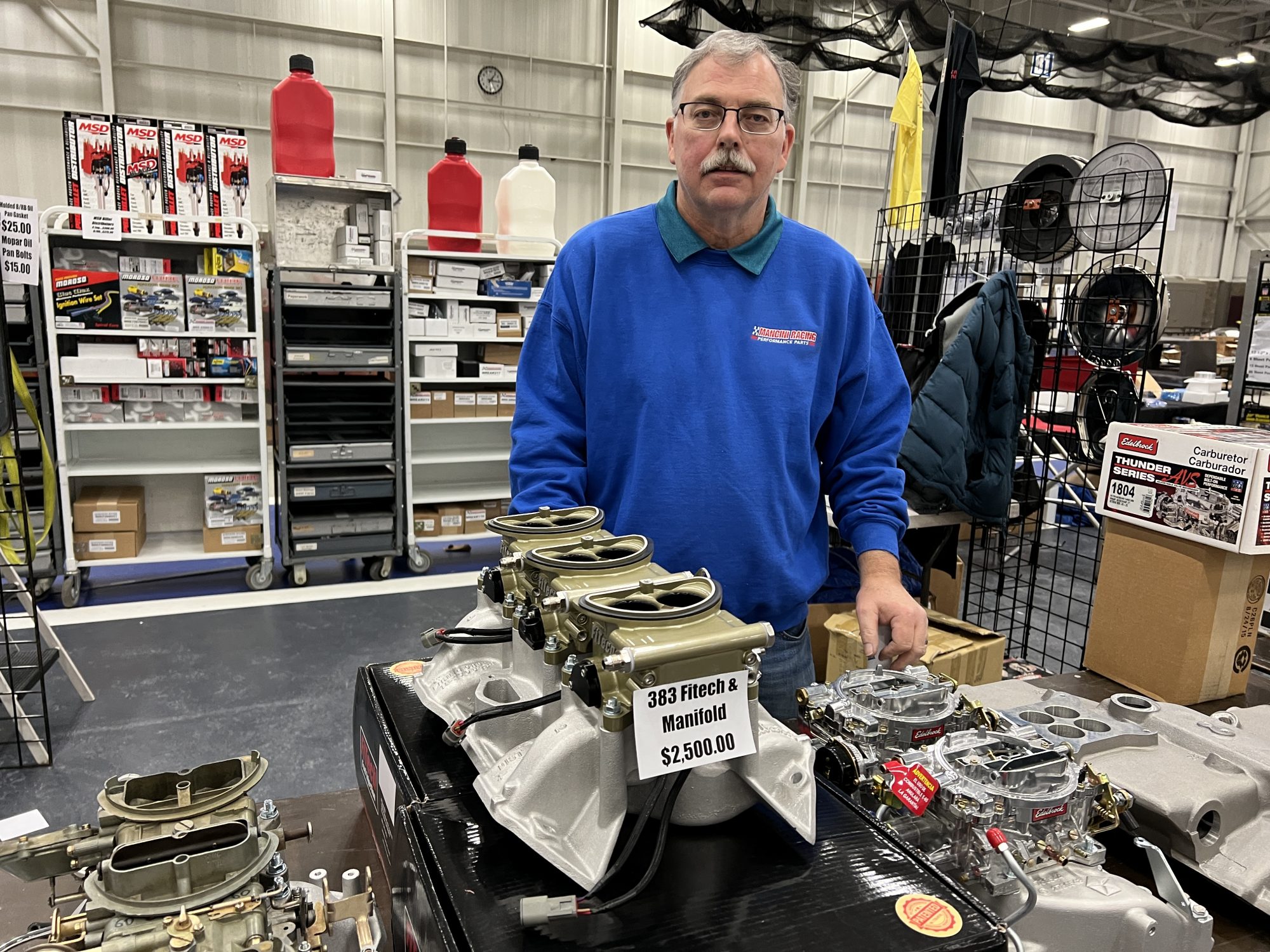 One of the many vendors at the event was Mancini Racing. A long-time Detroit-based Mopar Warehouse Distributor, they can trace their roots back to the launch of the original Direct Connection program in 1974. "After a two-year hiatus due to COVID, it's good to be back at the WPC Winter Swap Meet," said Rob Cunningham, General Manager for Mancini Racing. "Even though much of our business is mail order, we enjoy coming out to the events to see our customers face-to-face. This year's swap meet was our first time out in many months and based on the number of people that stopped by our display, it was a good event for us."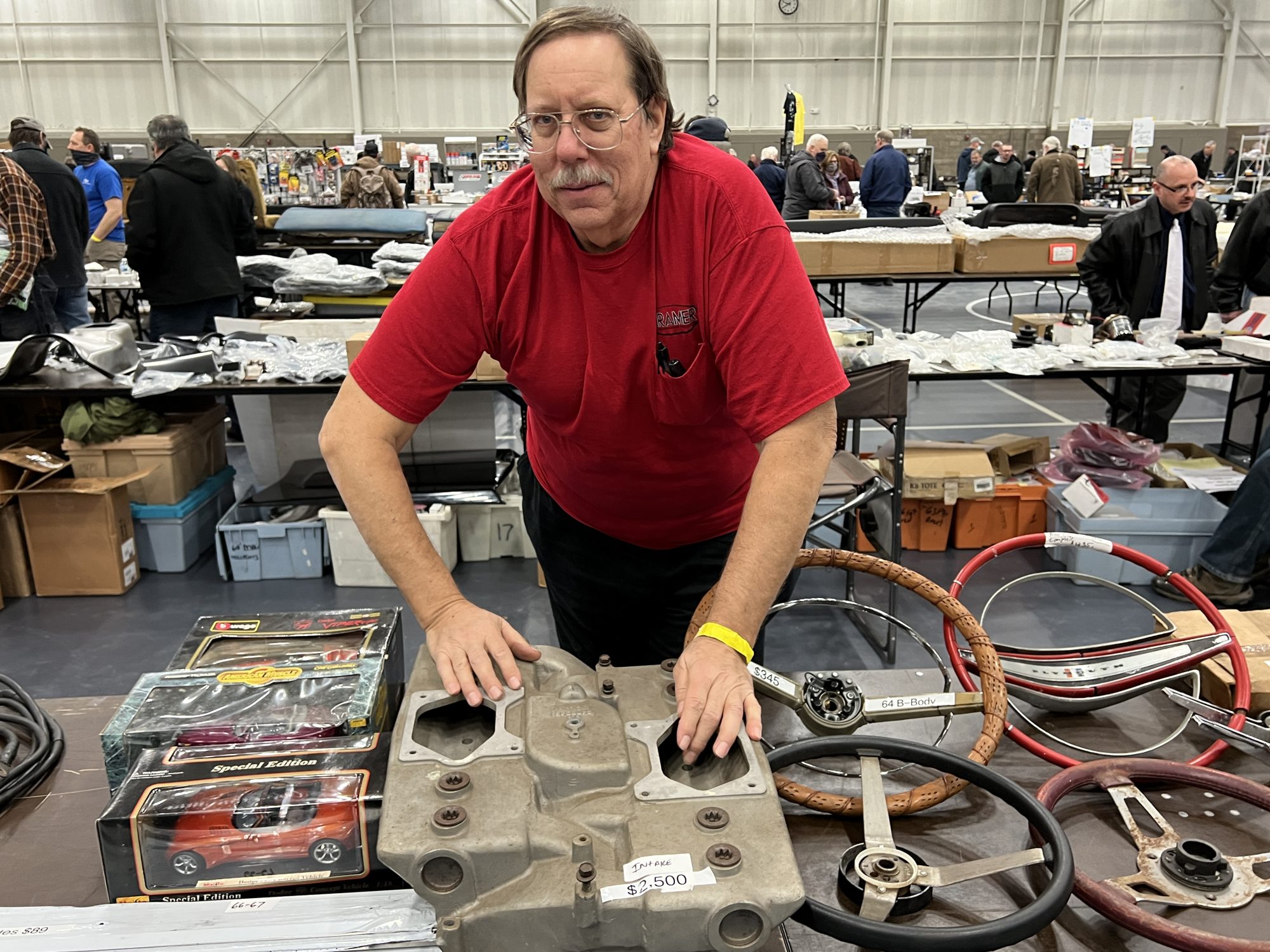 Another vendor at the WPC Winter Swap Meet who made the trek all the way from Butler, Pennsylvania, was Jim Kramer. His business, Kramer Automotive Specialties, sells restoration parts for vintage 1960s and early 1970s Mopar vehicles. He's been a swap meet regular for many years and loves coming to the shows. "Based on what I saw at the WPC Winter Swap Meet, the interest in old parts for Mopars continues to be strong," noted Kramer. "Many people are still dragging 50- to 60-year-old cars out of the barns and fixing them up and that creates a need for a variety of parts to get these cars back on the road and eventually restored."
If you didn't make it out to the WPC Winter Swap Meet, here's some of the rare and cool items we spotted at this year's event. If you're restoring a vintage Dodge or Plymouth muscle car or even a Dodge Ram pickup, you might just see some parts you need to get your beloved ride back on the road.
Comments
Comments