World's Fastest SRT® Hellcat – Blaze a Path Part 2
3 years ago Owners + Clubs Video
Last year, we covered the backstory and feats of the Epling family and their journey to be the world's fastest Dodge Challenger SRT® Hellcat.
Now, we are back with an update to their story. Leon Epling gave his word last year that the story wasn't over, and boy did he deliver. To this day, his car is still the world's fastest SRT Hellcat, but now it is so far ahead that it's likely no one will catch him. Let's dive in.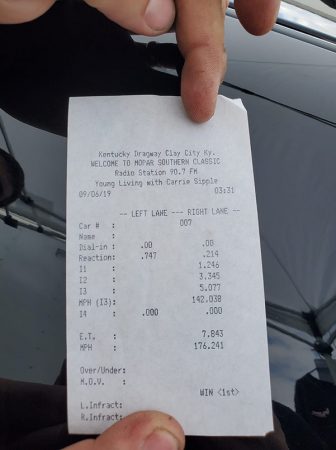 If you are too much of a bum to go read the original article, let me drop a few quick specs for you to get you up to speed. Epling's SRT Hellcat, dubbed "007" is a normal production SRT Hellcat purchased from a dealer. While it's far from stock, it is still a 100% street legal, insured, registered and street-driven car. Fitted with an Epling/Hensley 426 stroker based off a stock 6.2L SRT Hellcat block, it ditched the stock supercharger for a massive 4.9L Kenne Bell supercharger, and was tuned by Tim Barth. The team also runs a Liberty manual transmission, but last year switched to a setup from a Challenger Drag Pak due to continual part failures. As of the last article, the Epling crew had set a solid world record with an 8.536 @ 160 quarter-mile slip. There were a few others just a few tenths behind him, but Leon had enough with the cat-and-mouse game and went ahead and threw down the gloves.
So what is the number? What's this big record?
7.843 @ 176.241
SEVEN EIGHTY-FOUR!
Leon Epling took roughly ¾ of a second off his world record time slip. This is no small feat. In a 14-second car, shaving off 1 full second isn't too terribly hard. In the 8-second range, it's worlds apart. Even more impressive is that this run was done in the southern heat of September and roughly 2500 DA. Also, when you watch the video, you can see and hear them pedaling down the track (letting off the throttle) to keep the car on the ground. Needless to say, that car has a lot left in it.
So I linked up with Leon Epling to go over some of the secret sauce that took them from an already insane 8.5 to a ridiculous 7.8. By the way, he is officially running faster than most cars competing in the Factory Stock classes in NHRA and NMCA. Those are purpose-built drag cars that are not street-legal with hundreds of thousands of dollars into them.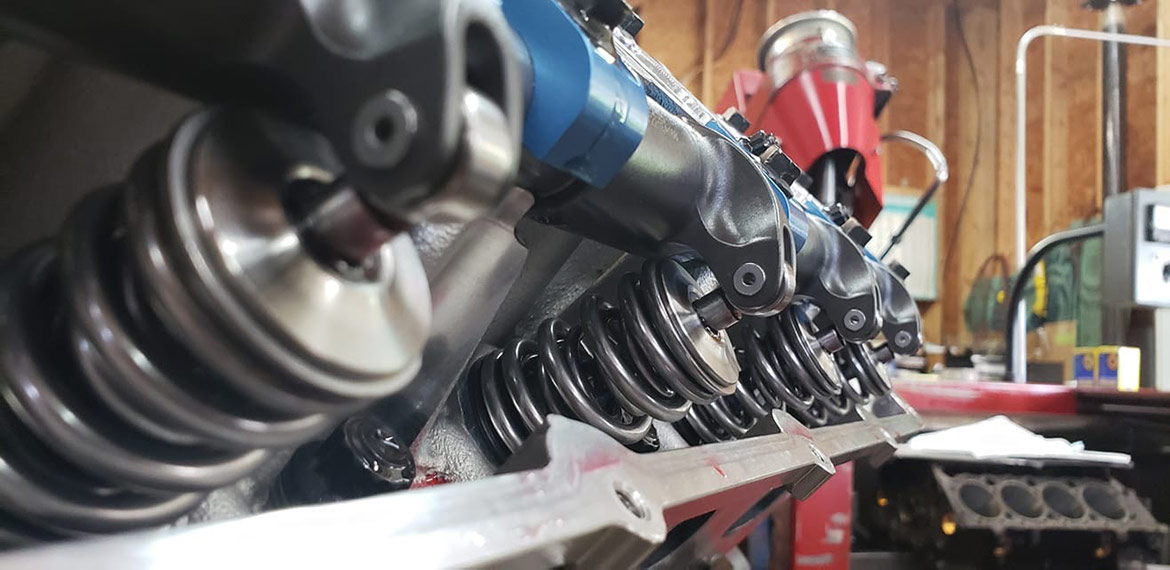 The wild Tennessee bunch does have the car on a heavy diet. It has a variety of parts and components removed from the car to reduce weight. Epling managed to find another 75 pounds to slice out of the car between now and then. While it's not revolutionary science, every little bit helps!
The car is running Thitek heads. The heads were re-tested and flowed to get very detailed data on what sort of air could flow through them. They then paired up with a company to custom spec a cam to take full advantage of all that data and make sure the cam was perfectly paired to what the heads could do. Epling claims this made a big difference in how the car performed and the power it makes. It makes sense, no point in over- or under-sizing a camshaft by not matching it to what the heads can flow in and out! Unfortunately for you, we cannot give out those specs.
For those who don't know, we are all continually surprised by the power curve on these 6.2L motors. It seems as though they never stop making power. The more you run out the RPM, the more power it keeps making.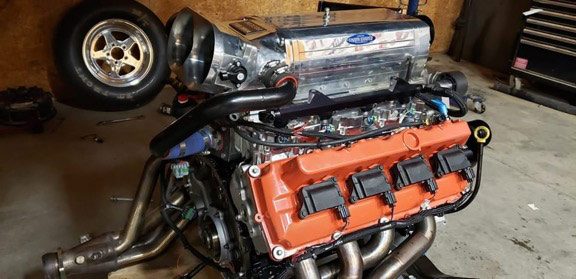 Suspension is proving to be a massive player in this car. Outfitted with a custom suspension, a lot of time was spent dialing in the suspension at the track. There really is only one way to do this for us racers on a normal budget: make an adjustment, run it down the track, see how it did and repeat as necessary. The car still gets way too high up in the air and requires getting off the throttle to keep it under control. Leon adds that although they have made great progress with getting the suspension set up better, they still have a ways to go in getting it exactly where they need it. Suspension tricks are one of those close-kept secrets that other shops/racers/builders don't like to share, so the Eplings have been on their own to sort that out the hard way.
The other major change to the car was in the valvetrain. If you know, you know, these 6.2L cars will keep making power as far as you can rev them. Generally speaking, a 426 is a pretty huge motor and spinning them much beyond 6,500-7,000 RPM is no easy feat with that much mass turning inside of them. Most of the people racing 6.2L HEMI® engine-powered cars are shifting in the 6,500-6,800 range, which is already a big push from where they shift stock. The Epling gang consulted with Jesel to come up with a set of rockers that allows this insane bunch to run this car up to over 8,000 RPM! Needless to say, between 6,500 and 8,000 RPM, the motor is picking up a huge amount of power.
The Epling team will be at the Modern Street HEMI Shootout November 2, 2019, at Atco Raceway with hopes to pushing the envelope even further with more boost, more nitrous and more suspension tweaks in the making. Epling has also teamed up with Geoff Turk and his "Blackbird" Factory Stock car for a special cancer charity grudge race in the spring of 2020. More details on that event coming soon. If you know the Epling gang, you know this story is far from over.
Keep your eyes open for updates on 007 in the near future.
Comments
Comments