SRT® Autoworks – The Power and Performance Playground
4 years ago Gallery Owners + Clubs Video
Right off the showroom floor, an SRT® Hellcat engine offers power to a muscle car like no other. For some, hitting the pavement with over 700 horsepower is the thrill of a lifetime. For others, it's just the perfect amount of power. But every so often, there are those drivers who can never have enough. Tommy Peters and his team at SRT Autoworks serve those drivers.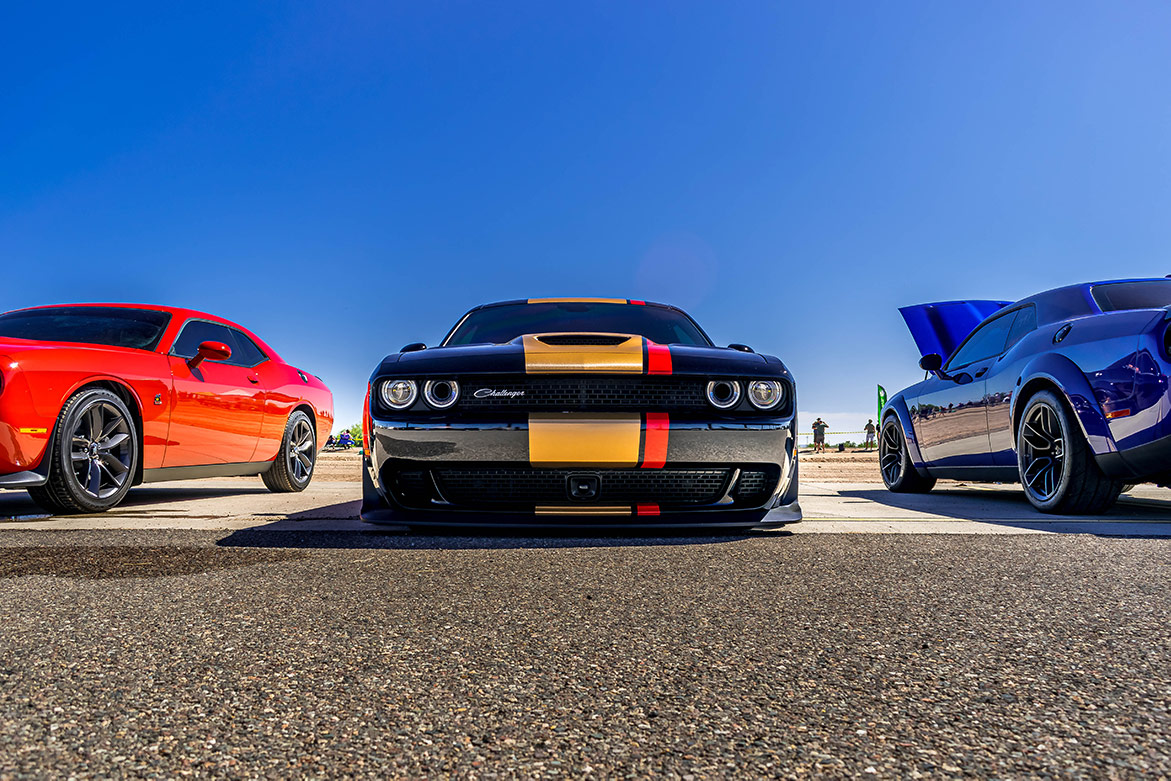 Tommy's love for SRT vehicles started in high school with a Craigslist trade that landed him an SRT-4 Neon. He taught himself how to work on it and built it on his own. Then, he raced it through Georgia. Most competitors were V8 muscle cars, and race by race, they were defeated by Tommy's bolt-on 4-cylinder turbo SRT. After high school, Peters spent the next two years pursuing an education in automotive technology. His career in the automotive industry officially started at 20 years old in a used car lot as a technician.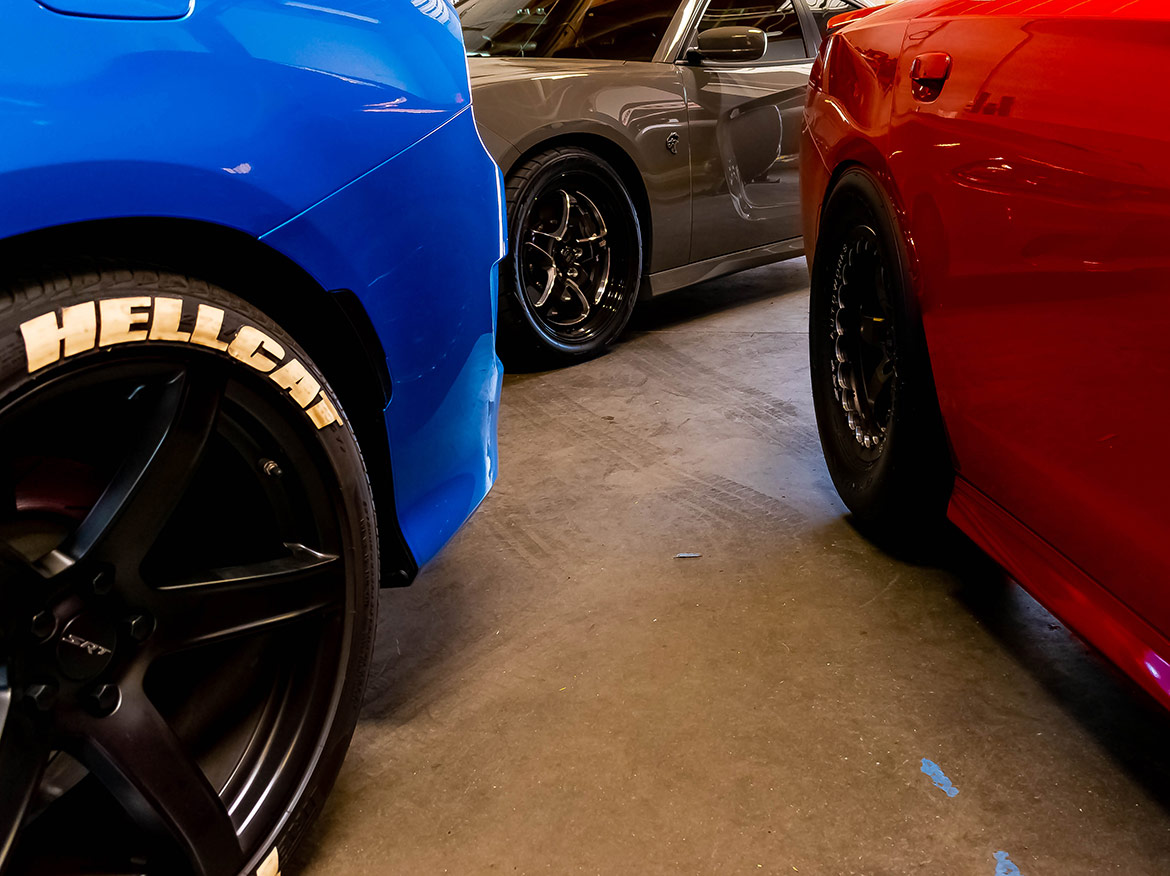 He remained at that lot in Monticello, Georgia, for one year, but because of limited opportunities for growth, at the age of 21, Tommy sold his motorcycle, loaded up his SRT-4 with tools and clothes, then drove across the country to Phoenix, Arizona.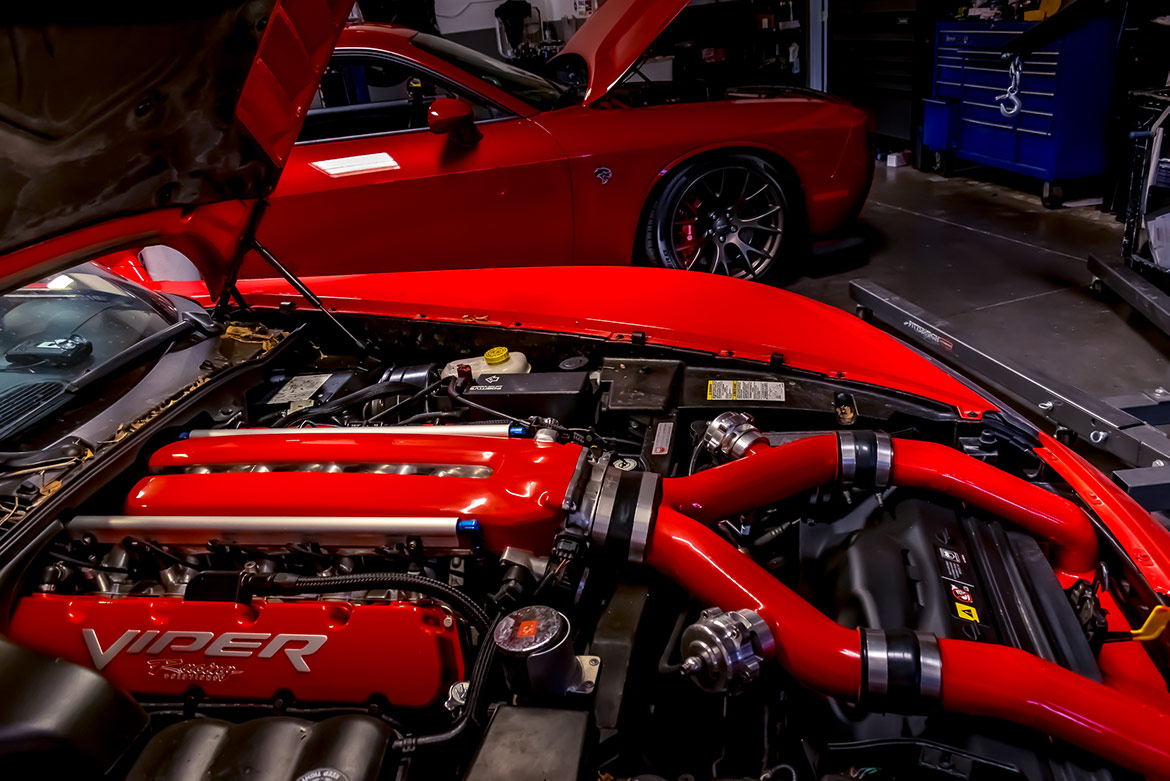 With no plan, Tommy took advantage of an interview his new neighbor arranged for him in another used car lot. He stayed in that lot for three years; this is where most of his hands-on experience came from. It was competitive. A tally was kept regarding how many cars could be fixed and put out on the lot each month. Peters won month after month, and was the only technician allowed to work on the owner's supercharged SRT8.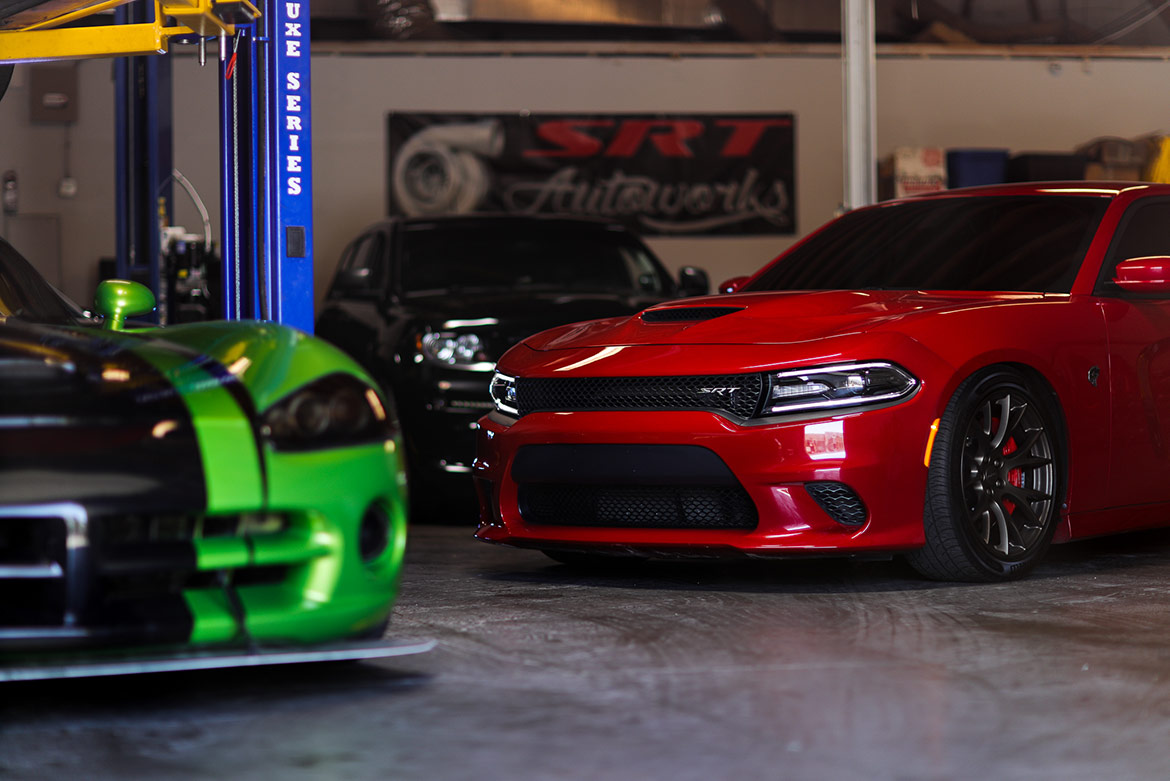 Working there, Tommy started to realize he could do this on his own – run his own shop. Before he would do that, though, Tommy took one last job at a diesel performance shop.
Two doors down from that shop, in the same plaza, was a shop that had been vacant for years. In order to get the money, Tommy sold one of his prized cars, and, against the advice of a neighboring shop who told him the business wasn't "worth it", Tommy opened up SRT Autoworks. That little bit of doubt was the motivation Tommy needed to prove everyone wrong.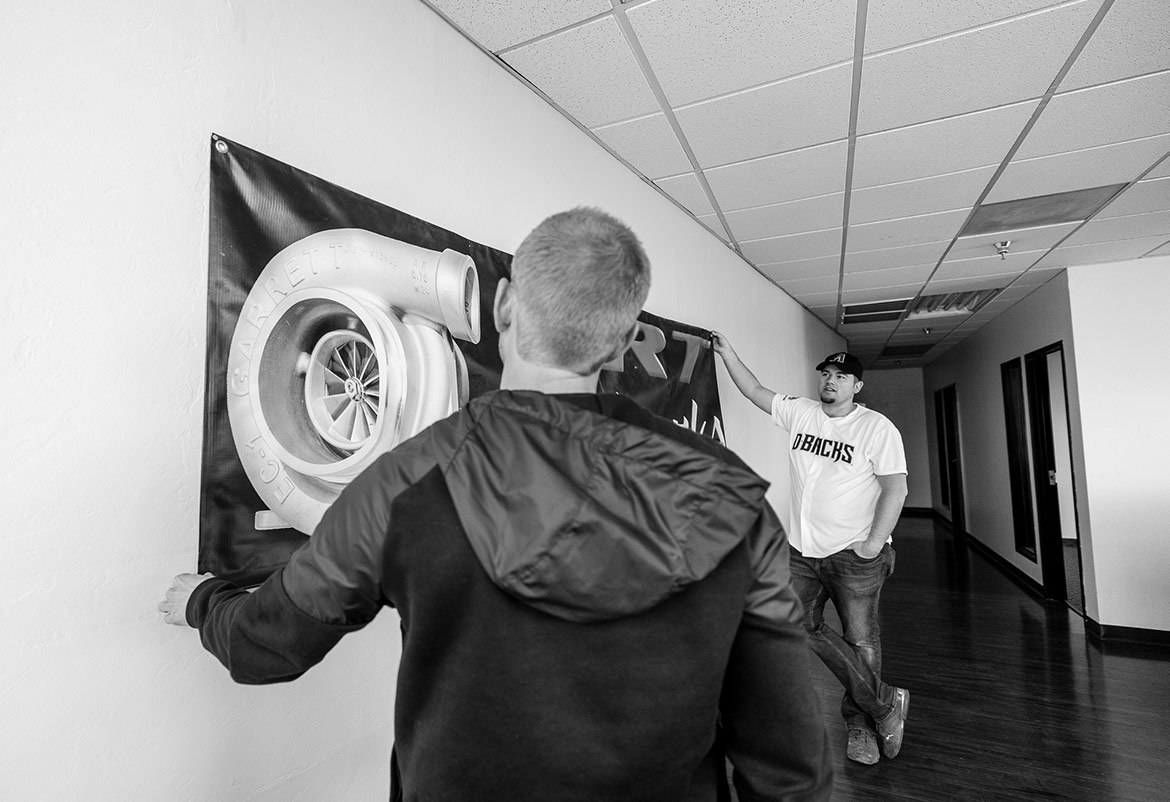 Tommy already had a strong reputation with fixing cars, and an even stronger reputation for his fast cars; with his following, he was one step ahead of most people who look to open their own shop.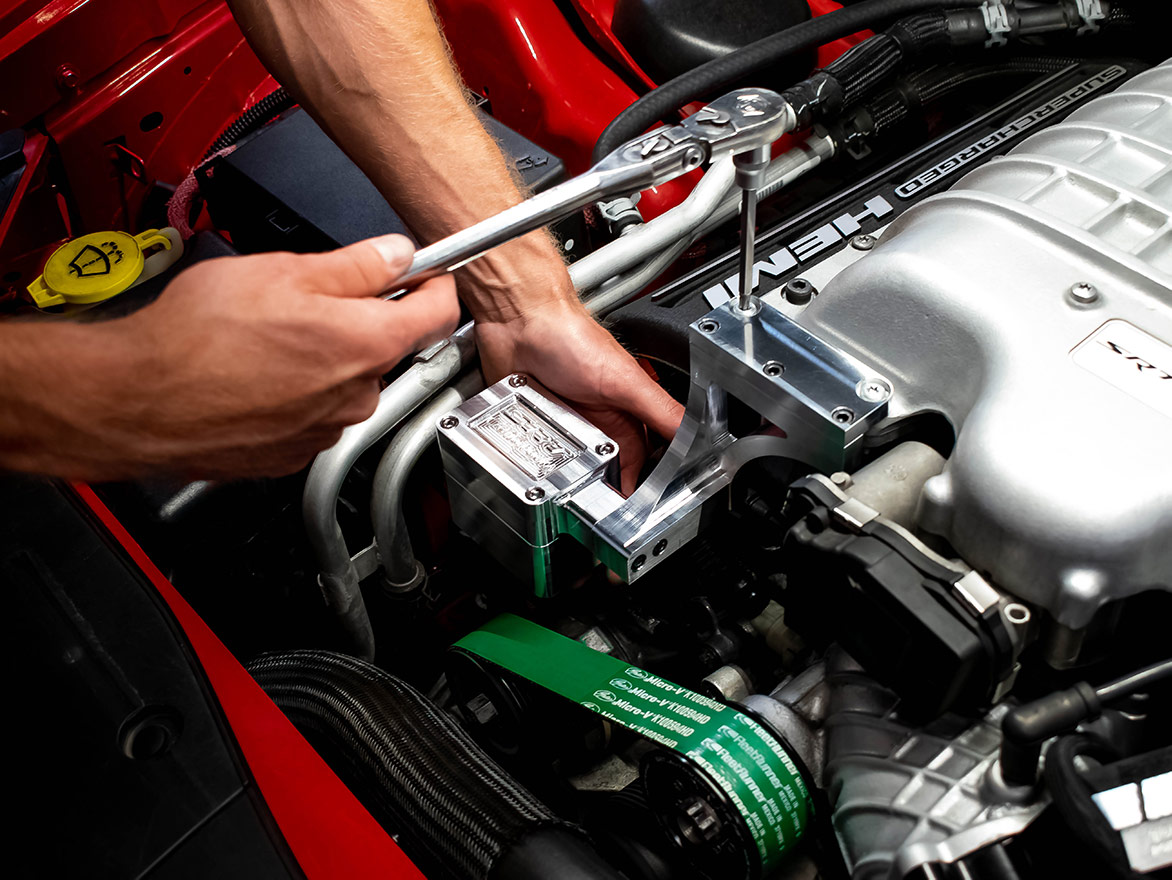 SRT Autoworks tackles all makes and models with performance upgrades, service and specialty diagnostics, and prides themselves on customer service. He established a strong relationship with a customer who often worked overseas, leaving his SRT Hellcat either in the garage, with his wife or with Tommy, so he did best by the car and handed Tommy the keys to his brand-new SRT Hellcat for upgrades and modification. This cat was crucial for the development of the shop. He built the car in levels and it offered Peters a chance to try a variety of combinations and determine what gave the best results.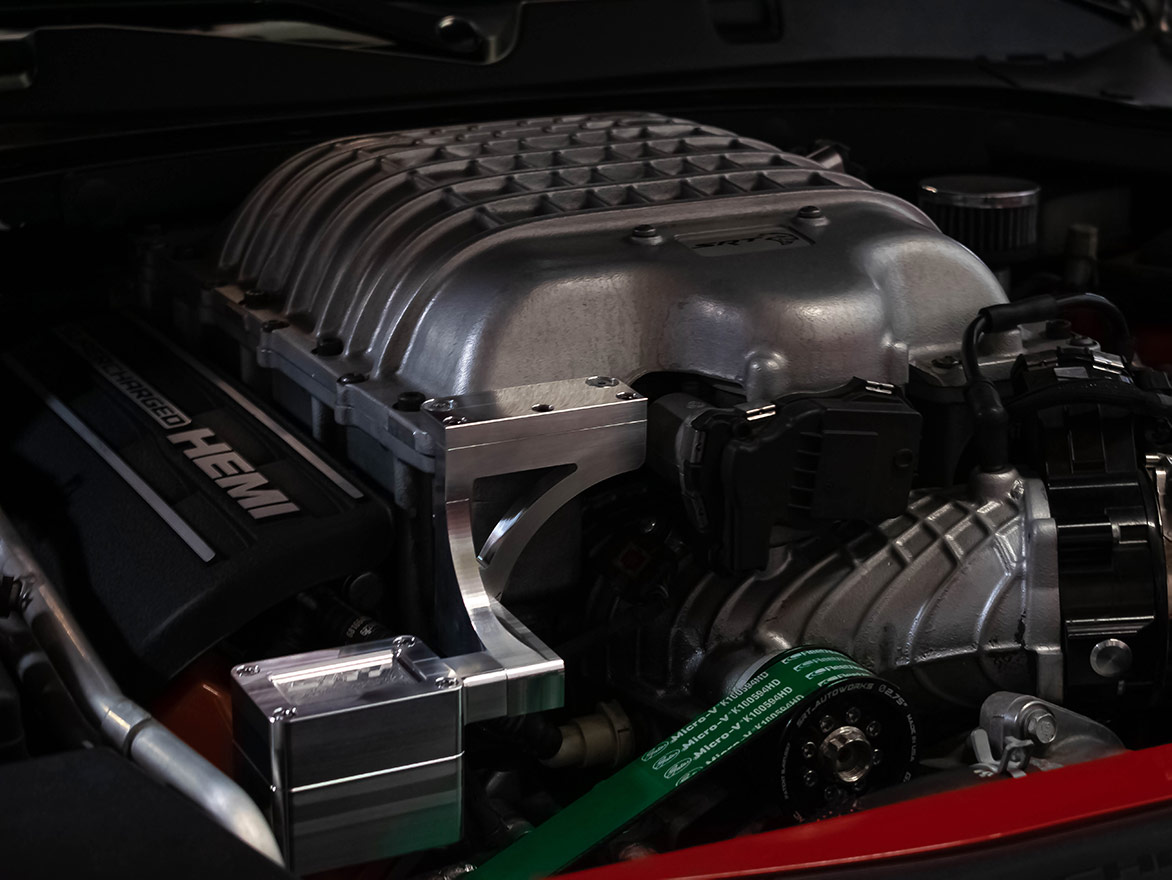 Two years after their premiere, SRT Autoworks moved into a larger facility with a more accessible location. During this time, Theo Beach also joined the team, expanding the operations.

As one of the only Mopar shops on the West Coast, it didn't take long before SRT Autoworks limited its work to Mopar vehicles. Now, they are almost all but exclusive to SRT Hellcats, with customers shipping cars from all over the country.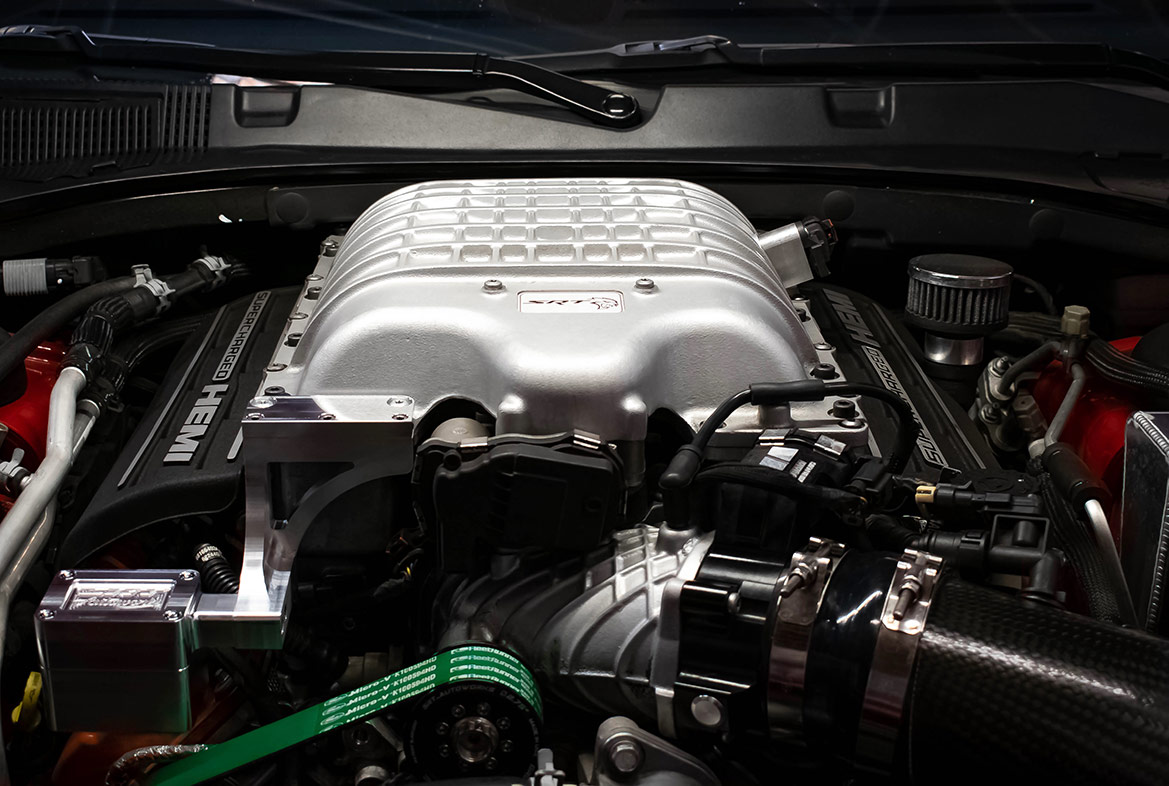 One of the most popular builds that Tommy has perfected is the Exotic Killer Package, which makes 900+whp on E-85 and is also on their shop SRT Hellcat. The Exotic Killer Package kit is available for around $11,000 and includes parts, labor and a tune from Barth tuning. With a 300whp increase, it transforms SRT Hellcats to take on some of the fastest exotics in the world; it is by far the most bang for your buck if you're looking to get a large gain in horsepower.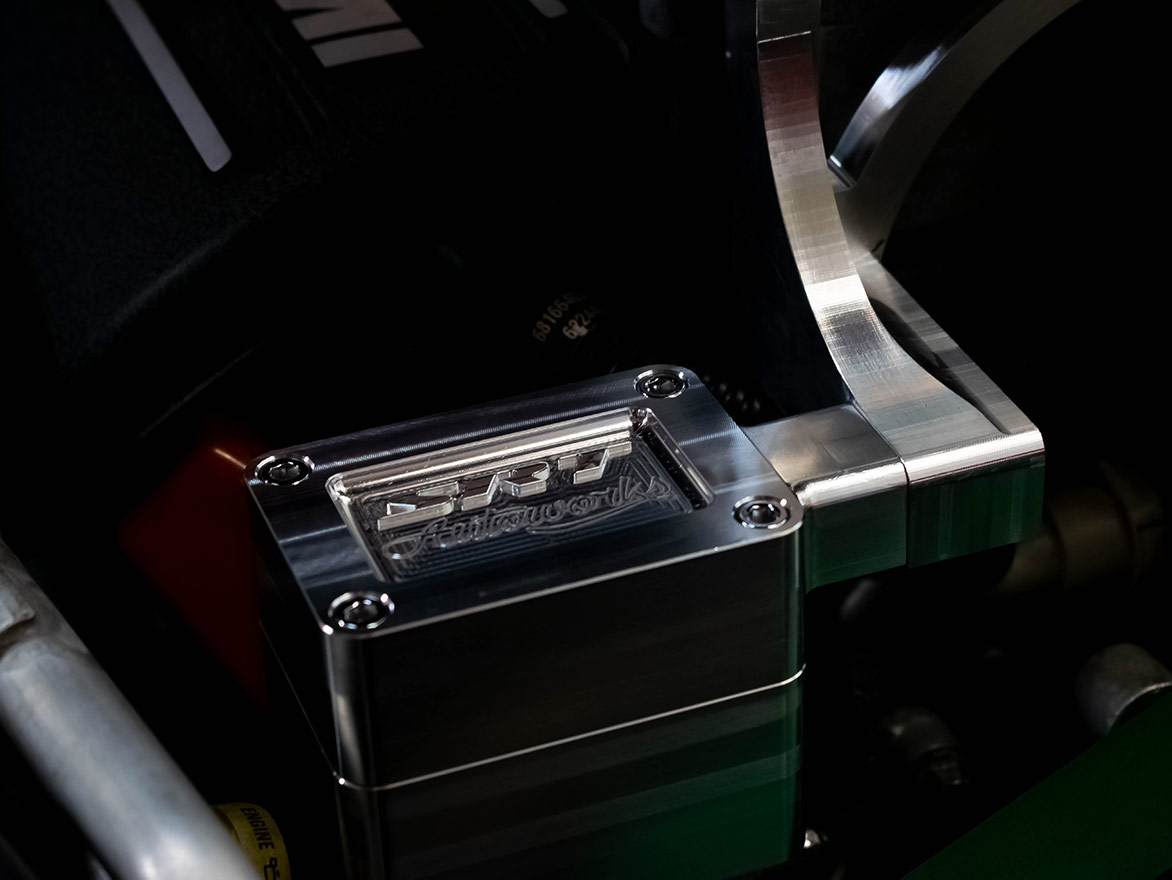 The Exotic Killer Package is customizable, too. Tommy and Theo can kick the package up a notch with power adders and additional performance options. For example, they recently finished a 1,200whp SRT Hellcat with a 4.5 Whipple. Currently, they're in the process of a 4.9 Kenne Bell and another with a 426 Stroker with a Magnuson 2650. Once each of them is built, they plan to put each build to the test and see how they do against one another.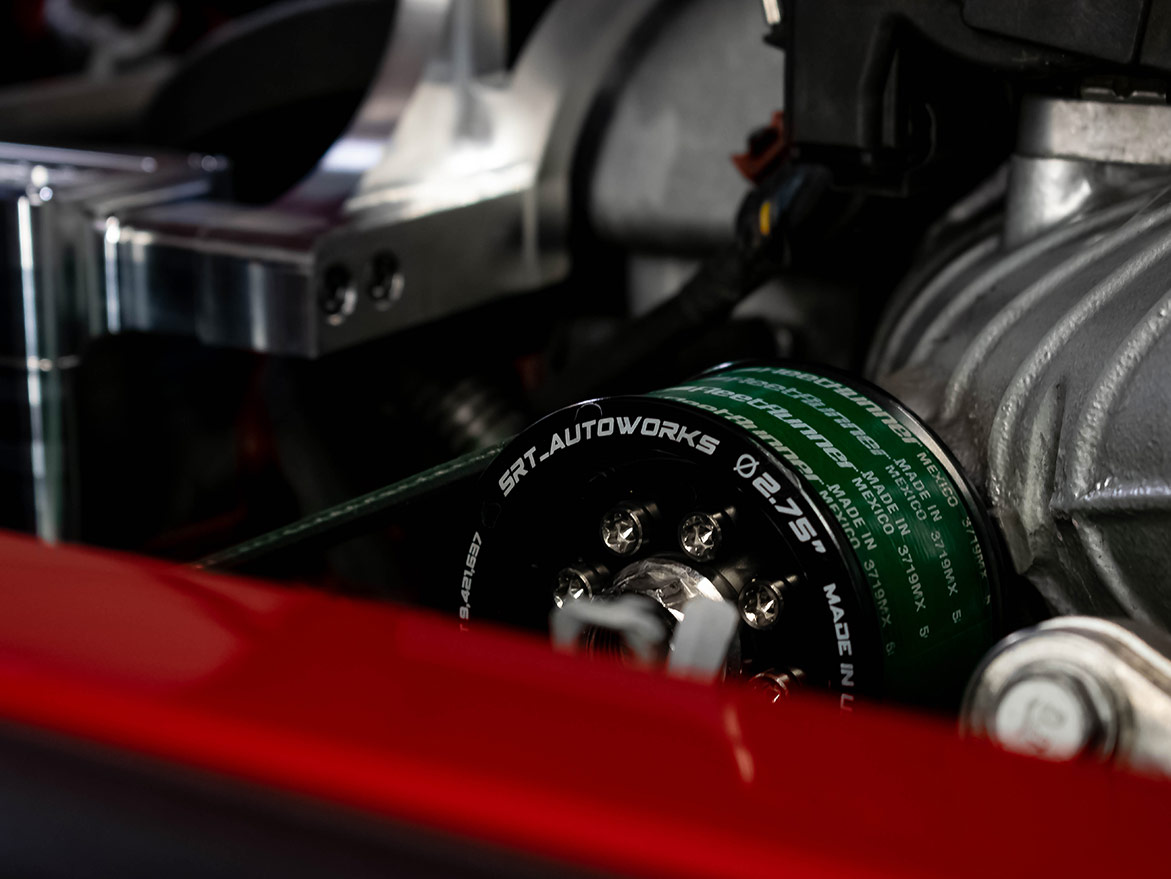 In their most recent venture, SRT Autoworks started manufacturing their own brand of universal catch cans, adding to their ever-evolving list of contributions to the Mopar community.


The end of the build at SRT Autoworks is just the start of the relationship with Tommy and Theo, who pride themselves on keeping close with their customers through the years. Some may say that a build by SRT Autoworks gets you into the club of the fastest Mopar vehicles in Phoenix.
If you're interested in finding him, Tommy is often at 1/2-mile racing events as both a sponsor and a participant. Tommy and the SRT Autoworks family love nothing more than a day filled with new clients and old friends spent racing their new and improved 'Cats, while simultaneously setting and breaking world records.
Photographer Credit:
Alika Fernandez
Instagram @gr8.808_
SRT Autoworks:
@SRT_Autoworks
@Turbo_Tommy
Comments
Comments