World's Fastest Dodge Challenger Hellcat SRT® Redeye
1 year ago Owners + Clubs Video
Have you ever known someone that just sort of accidentally broke some records or gotten first place at something? Yea, same for me. It isn't something that happens often. You know what else doesn't happen often? Buying a brand-new expensive streetcar/sports car and making it faster than most racecars. Just a few weeks ago, we talked about Kevin Helmick's GRMPYCAT, one of the fastest Dodge Challenger SRT® Hellcats in the world. He purchased the car with one goal in mind …building the world's fastest SRT Hellcat. The world's fastest Challenger SRT Hellcat Redeye though, does not start the same.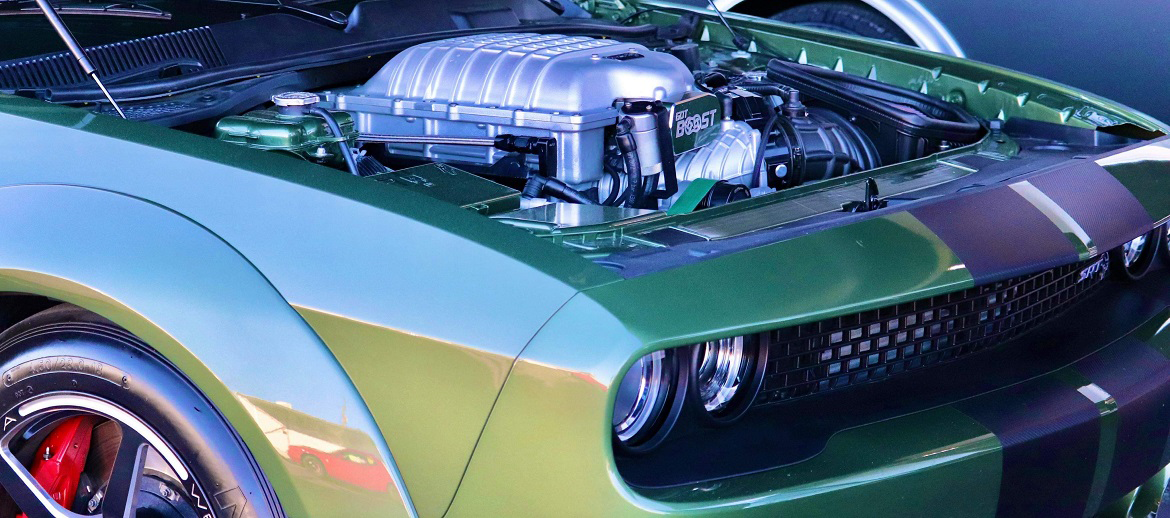 His journey in motorsports started at the age of 18 when he made the decision to attend the Skip Barber Racing School, which lead him down the path to many years of participating in SCCA-style racing. James recalls going a time or two to the drag strip with his classic Camaro and not really catching the vibe. Wait around for an hour in staging to drive your car for 12 seconds, and then sit around for another hour or two, race 12 seconds, and spend less than a minute racing over the course of a day. Compared to a weekend of road course racing, where you spend all day, all weekend racing, it just didn't click for him.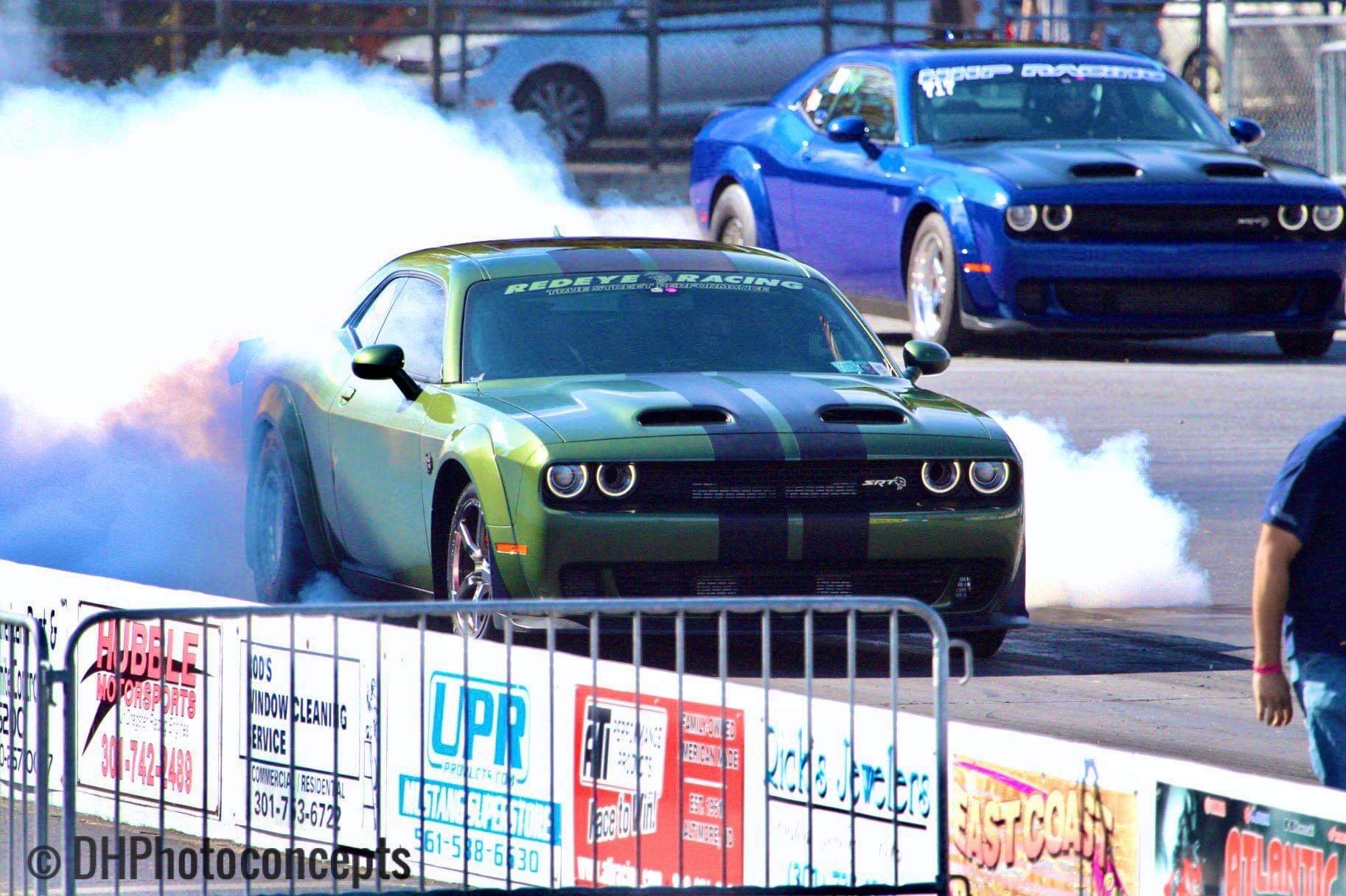 Out of East Hampton, New York, comes one interesting story of what would be become the world's fastest Dodge Challenger SRT Hellcat Redeye. James Golden plays in auto sales during the day and lays down some serious rubber on the weekends. As a younger fella, James spent a big chunk of time doing autocross and road racing.
Eventually, James took a job in retail auto sales, which burned up a significant amount of his hours each week, and racing quickly took a back seat to the career. Fast forward roughly 25 years and James found himself in a new company in the auto sales business, but with more normal hours. He felt the pieces falling back into place to get back into racing. The only problem is that he had no clue what he wanted to be or what he wanted to drive.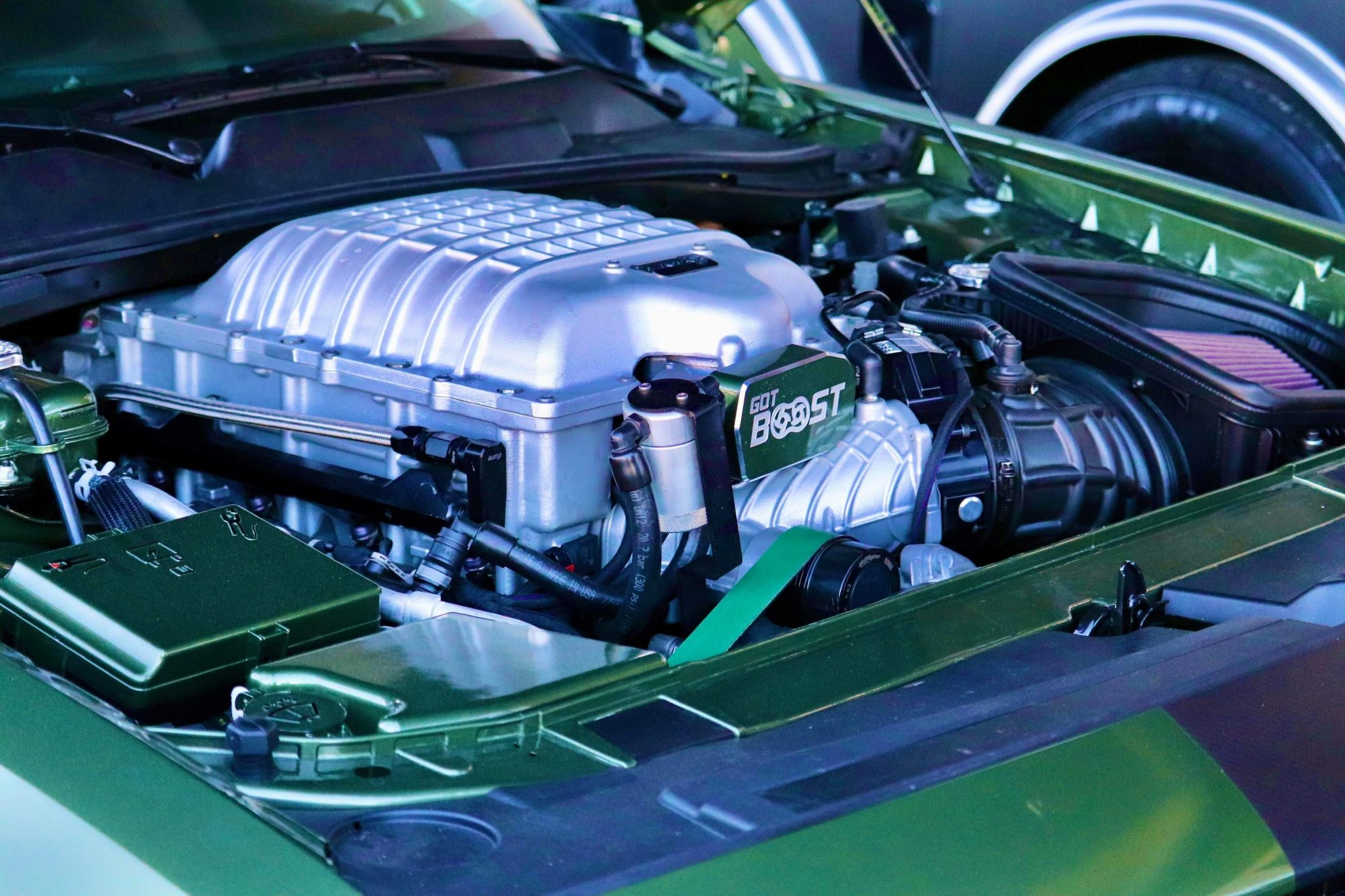 Enter the Dodge Challenger SRT Hellcat Redeye! James recounts an episode of Jay Leno's Garage showcasing his personal Redeye. Leno cited some great bulletpoints about why it was one of his favorite vehicles. James had very little knowledge on the SRT Hellcat platform or modern muscle and drag racing with the latest muscle cars, but that video was enough to send him straight to the dealer to put an order in for a brand-new F8 Green SRT Hellcat Redeye. He was shocked to find that there were none at the dealership for him to test drive. The dealer let him test drive a 392 Scat Pack just to get a feel for the car in general. Send the order in! Mr. Leno, if you read this, we owe you!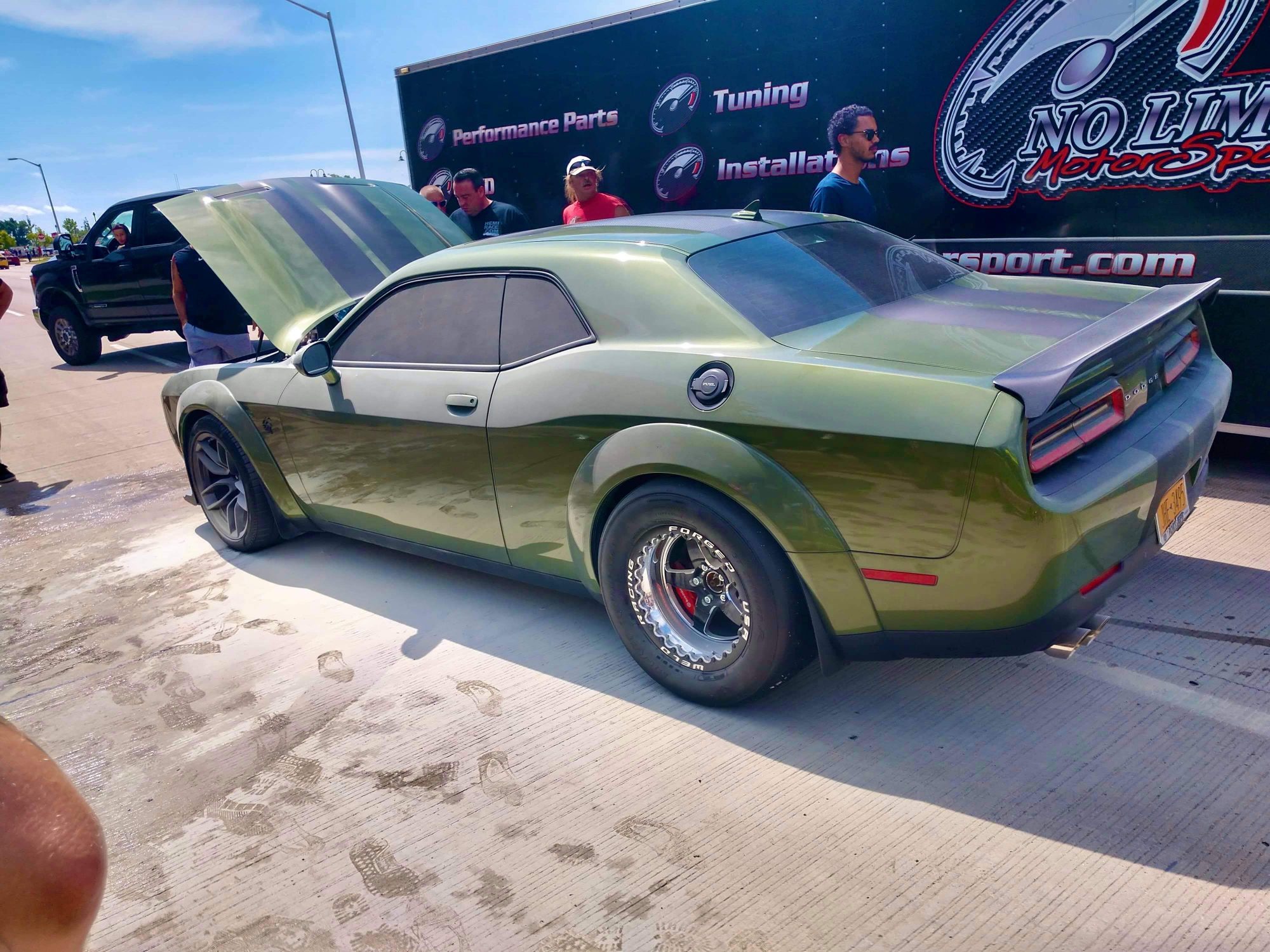 After the car was ordered, James started digging around online for SRT Hellcat, Demon and Redeye videos to get some ideas and knowledge before his car arrived. He knew he wanted to hot rod it just a little when it arrived, but had no idea of where to start. He told his wife that his main goal was to just cruise, go to car shows and some occasional local racing on the weekends, just for fun. The car arrived, James ordered some parts from the web, had a friend install them, and started digging for someone that could tune it. Little did he know, a knowledgeable and reputable tuner wasn't something he could find at just any shop. The car ended up at a local shop that "claimed" they could tune it, where it ended up with a garbage tune that never did run right. A setup with some simple bolt-ons – which included upper pulley, headers, exhaust, injectors and fuel pumps – would be a simple task for an experienced HEMI® engine specialist. James got referred to AJ Berge from HemiTuner Performance. Berge was handling tuning out of a shop called True Street Performance, owned by Jimmy Koutsoubis. To say AJ knows his stuff is an understatement. He joined DSR in 2021 to head up tuning duties for the Drag Pak cars running FSS class in the NHRA. AJ ironed out the tune in no time and had the car on the road.
Armed with almost no experience in drag racing, James took his car to the track. Built to easily run mid-9s, James wasn't prepared for how much work it would take to run that. He spent the entire track day trying to figure the car out, on street tires, barely scraping out mid-11s. "Even though I wasn't any good, and my times were terrible, and I was smoking the tires for 1,000 feet, I was having the time of my life and knew that THIS is what I wanted to be doing!" said James.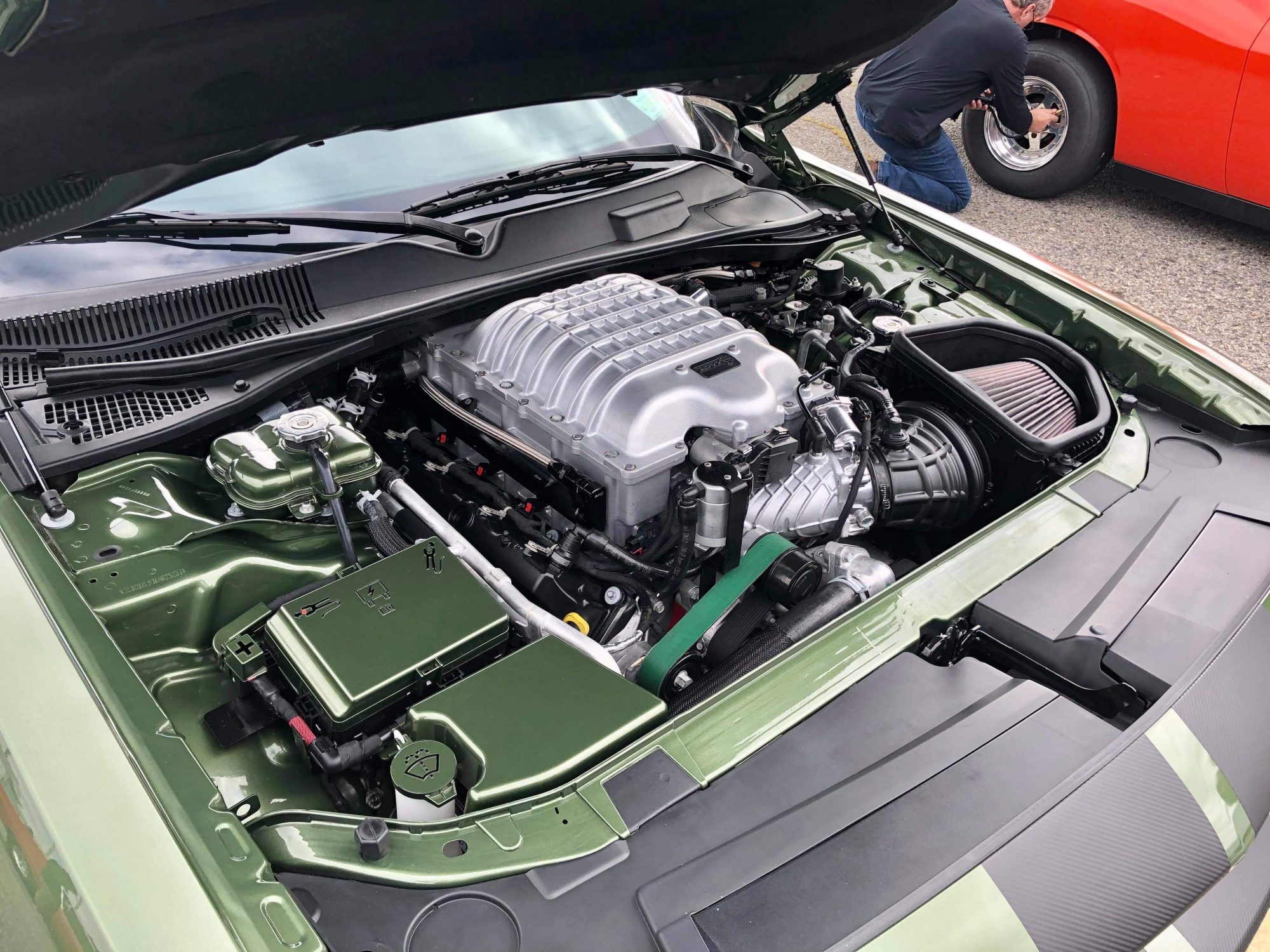 After his first-ever track day, albeit terrible, James had the time of his life! He brought AJ back in to go over the car and mop up some of the mess the previous less-experienced installers performed. He hauled the car up to the Woodward Dream Cruise shortly after to attend the Modern Street HEMI Shootout race and ran a 9.53 right off the trailer. The car seemed to be tip-top, and more than James had ever expected. At the end of the day, after running MSHS, James told AJ, "That's it, we are sending this thing to the 8s!" Going from a 9.5 to an 8.9 is no easy task, but James had no idea, nor did he care. Game on. Or … wait! Game over? The day after the MSHS race was the famous Woodward event where thousands of cars line and drive the streets of historic Woodward Ave. Huge burnouts in the street are a common sight for those familiar with the happenings of Woodward. James decided to participate and show all the punk kids standing around, what real power was all about. James put the car in manual shifting mode and smashed the go-pedal. It only took a few seconds for the motor to blow past redline and bang off the rev limiter. He smacked the paddle shift up to 2nd gear and the motor revved right up to redline again almost instantly. James never let off the throttle, unaware of that impending destruction brewing. With a loud pop and a cloud of smoke, the motor blew. It blew gloriously. In a matter of just a few seconds. Pistons, rods, rings, bearings, softball-sized holes in the block and all the fluids came flying out, igniting on fire. Up in flames it went. James jumped out of the car, helpless to stop the fire. Fortunately, spectators ran to the rescue and started dumping anything they could on the car to extinguish the fire. Luckily, most of it was contained to the engine bay and although it made for a hefty repair bill, Golden's pride and ego took the bigger hit. This would send a lesser man to delete his social media and file an insurance claim and pretend he never entered the hobby. But I've told you before, the Dodge community is a persevering bunch that won't go out without a fight, and James ain't no punk!
Just minutes after the fire, while pieces of rubber and plastic still smoldered, and tears still wet, AJ Berge leaned over and said, "I know this sucks, stuff happens, and I have a fully built motor at the shop we can throw in this thing if you want to keep going. And it will be bigger, badder, stronger and faster than before." Only a few track days into his drag racing career, James had ran an impressive 9.5 quarter-mile, had a crash course in the struggles of building and racing an SRT Hellcat, met the perfect team to work with, decided he wanted to run 8s, and blew his motor and caught the car on fire. A rough entry into the party is an understatement.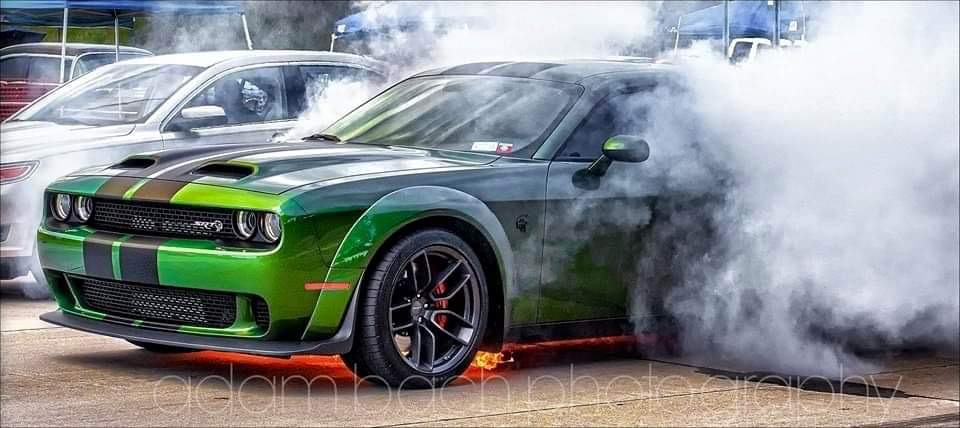 Back to New York, with a bruised ego and the toasted car, they brought the car back to True Street Performance/HemiTuner Performance to start the recovery. The new motor was dropped in. Back to some testing and James was having trouble trying to get the car and power off the line. So the Big Apple bunch set out to work over the back of the car to try to get it off the line with less drama and less spinning. They swapped over all the bushings in the rear end and cradle and upgraded all the suspension arms to more heavy-duty billet AAD Performance bits. Next time out at the track, the car was consistently ripping out 9.13-9.15 all day long. The car was still relatively stock weight at this point. The 9.0 line is a tough one to get across. Trust me! But James had picked up almost another half second this go around and that's a big gain in racing. The only way to get a few more fractions off that time slip was with power or weight. They had ironed out the suspension and launching, they had the stock blower running at its limit and they didn't want to lose weight due to some class rules in MSHS. They needed power. Not a little, but not a lot. The car had become the world's fastest SRT Hellcat Redeye.
On to the next phase, the team dropped in a 4.5L Whipple supercharger to make up some of that extra power needed to get past that infamous 9.0 barrier. As with any major component change, there were hurdles, struggles, breakages, tears, and trial and error. The Whipple just wasn't doing the trick. Weighing 4,400 pounds, things started to snowball trying to get into the 8s. They added some nitrous to try to overcome some of the issues with the new supercharger. It still just wasn't the right combo. Now that they had a huge blower, they needed a "mo-huge" motor. By this point, the build had really started to escalate well beyond just a local car show/weekend track car. True Street had a built 426 HEMI engine sitting at the shop for Koutsoubis' personal racecar and James was able to convince him to sell the motor to toss in the Redeye to keep the project moving forward. On to motor #3 (blower number 2, and nitrous), the crew decided to swap transmissions. They had a beast of a supercharger, a beast of a HEMI engine and were worried that it was all going to be too much for the stock transmission. AJ and team tried to convince James to go with the tried-and-true Turbo 400. James fought the team on the 400 transmission, because in his mind, he was still dealing with a streetcar that he was going to be driving on the street and taking to car shows. The Turbo 400 transmission is a 3-speed automatic transmission with no overdrive. It doesn't make for great solution for a vehicle like the Hellcat Redeye for street use. They compromised and put in a custom 4L80E transmission to handle the power the car was making and have an overdrive for ALL the street use James was planning. The village elders warned James that the rear differential was about a bad joke away from taking a dump. The team at True Street/HemiTuner ditched the stock rear differential for a more robust 9" Strange Engineering rear end to hold up to the power and weight. Motor 3, transmission 2, blower 2, rear end 2 and nitrous, they finally made the goal. The combo was able to pull off a blazing 8.74 @ 158 mph at Cecil Co in November 2020. Just in time to finish out the season.
This was great! Remember though, I said it earlier, James ain't no punk! James now wanted to go 7.5. Surely this is a reasonable request, right? AJ and the guys at True Street had just a few months in the off-season to get the car ready to come into 2021 ready to crush some skulls. It was going to take some significant changes to get where James was aiming to land. Having already changed 100% of the powertrain, the only options were to lose weight off the car or add more power. Fortunately, the powertrain was built to handle more than they were throwing at it, but they needed a bigger power-adder. With the weight of the vehicle being 4,400 lbs, over 1,000 lbs heavier than typical "racecars", and needing to stay in its weight class, the only way to get enough power was going to require switching to turbos instead of a supercharger. The team discussed the possibility of having to go away from independent rear suspension soon but decided to leave that alone for now. So the team at True Street created a beautiful twin turbo package from scratch starting in late 2020. Utilizing a custom Hogan intake manifold, MASSIVE front mount intercooler, dual (dueling) Garrett turbochargers mounted behind the front bumper, custom-made exhaust/turbo manifolds that exit through the top of the front fenders, and more custom-fabricated parts than you can shake a stick at. Some safety components such as the fire system, drag spoiler, parachute and roll cage were outfitted to the car now that the car was clearly past the streetcar stage. James seems to think it is still a streetcar that he will take to car shows. I think his wife, who is still patiently waiting for a car show, would strongly disagree.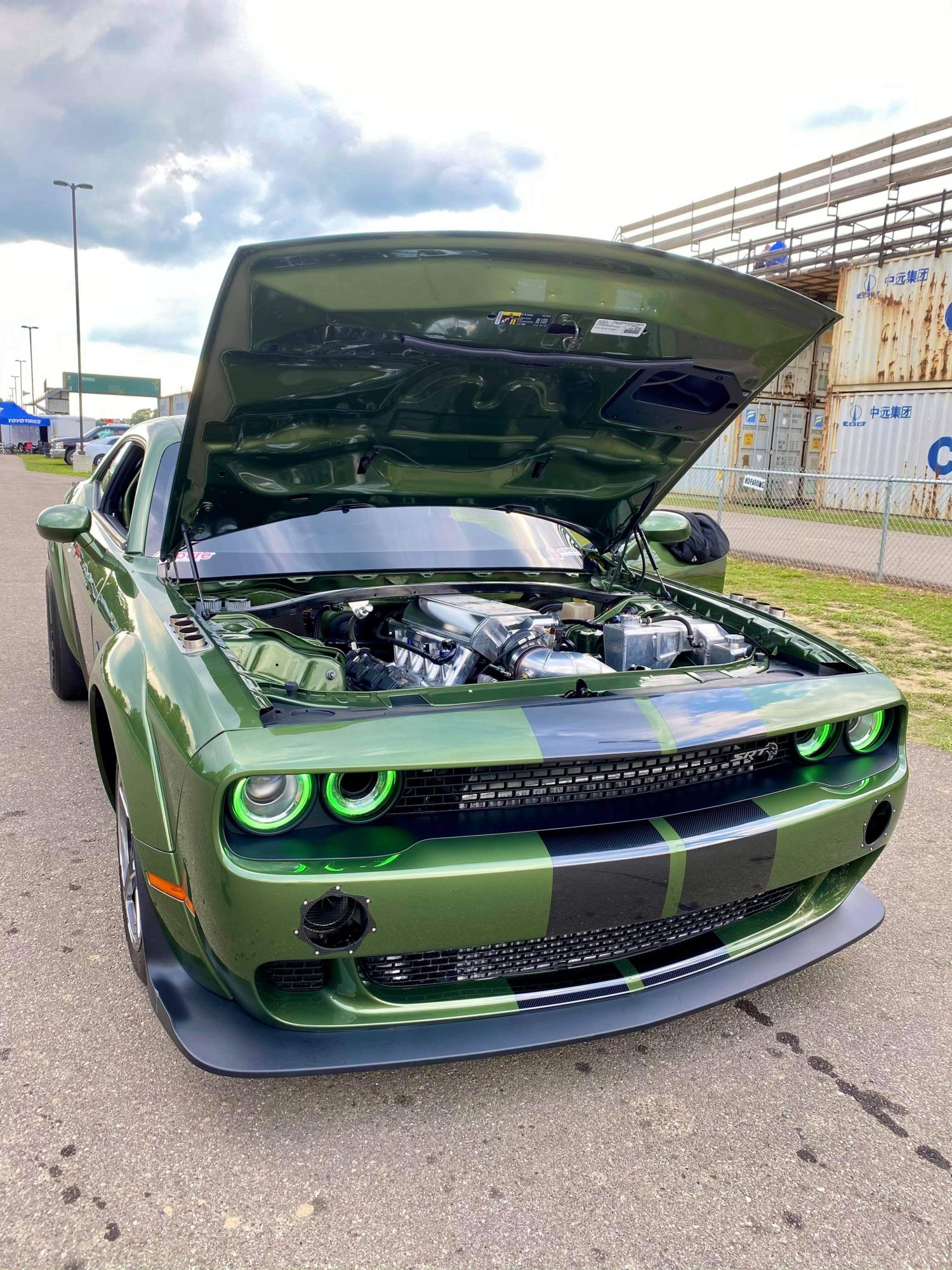 With the new snails in place, AJ fired it up as low as it would go to throw it on the dyno so he could start tuning. On just a tiny 11psi, the car cranked out 1,600 horsepower to the rear wheels. I'm sorry, what? The team got the car done in time to start up the season racing the MSHS series for 2021. The first few races saw a host of problems with torque converter selection and performance with the 4L80E transmission/motor combo. They pulled out an 8.42 while battling the torque converter issues but knew the setup wasn't going to work. James finally caved in and agreed to let the team change it to a Turbo 400 transmission. I think they said "I told you so" a few times. Koutsoubis also had a custom-built TH400 sitting in the shop that was also slated to go in his personal drag racecar. James pointed out that Koutsoubis had already sold him his motor, surely, he has no need for the transmission since he no longer has a moto. James was able to convince him to sell the TH400 so they could drop it in the Redeye. They pulled the car back into the shop again to convert it over to the TH400 transmission. While the car was down for putting the new transmission in, James sent the car to the body shop to have some carbon fiber parts installed to reduce some weight from all the added safety equipment. Anderson Composites carbon fiber doors, roof and deck lid were installed to drop some weight. They got the car put back together, outfitted with the new transmission, and headed back to the track and headed to Detroit to make the MSHS event the week after Roadkill Nights. With blistering hot weather and fresh off the workbench with the new transmission, they were able to pull off an 8.33 @ 164mph. This wasn't a huge improvement over the last personal best, but with the wick turned way down just to get things rolling with the new transmission. The team is certain that with one or two more outings in its currently configuration that they will crack the 8.0 barrier and make it to the 7s. I'd like to point out again that there are only three production SRT Hellcat/Demon/Redeye cars that have made it past that 8.0 mark. Getting this Redeye into the 7s will be a major accomplishment.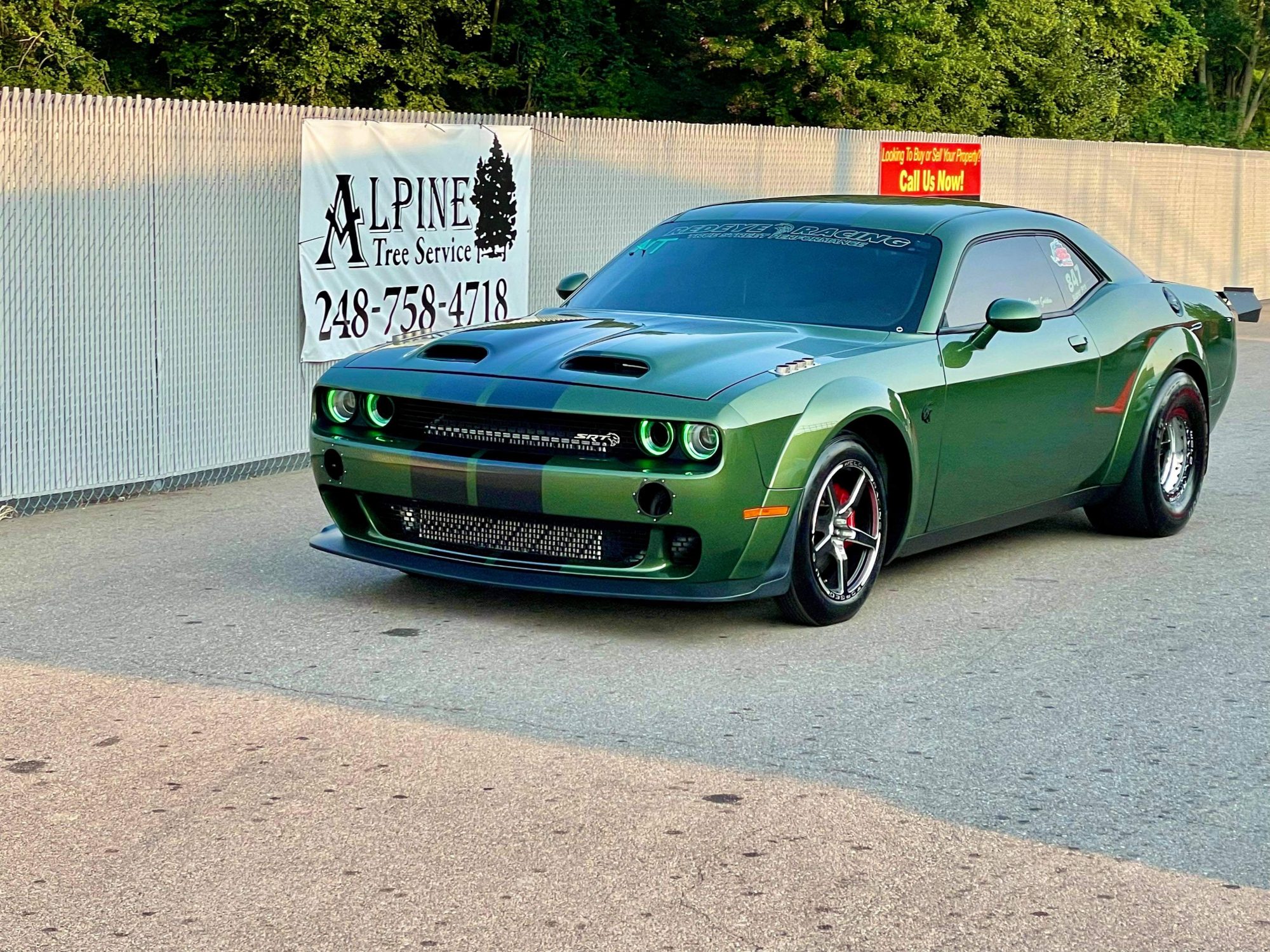 James plans to be at Moparty in September to finally crack off something faster than an 8.3 now that they have what they believe is the winning combo. The goal is 7.5 before the season ends. I think the weather might be a bit more than people are hoping for at Moparty, but I will be there in person to hand out high fives if they can fight off the southern heat and humidity!
Since James ended up becoming the world's fastest Redeye, almost on accident, and by a terrible chain of events, he is adamant about remaining the world's fastest. Next year, they plan to make mid-7s some children's game. Can. Not. Wait!
Comments
Comments