The Great Texas Mopar® Auction: Part XVII
1 year ago Heritage Video
Three weeks away! That's all the time left before the 250-plus mostly Mopar® vintage and special interest cars, pickups and light trucks of the late John Haynie will be sold during the October 13th Great Texas Mopar Hoard Auction Event.
This all-online, no-reserve auction is being conducted solely online by Spanky Assiter of Spanky's Freedom Car Auctions. The reason for the online-only nature of the sale – instead of a grand affair with bidders and cars together in the same place – is due to the fact these cars are located in a massive outdoor setting located many miles from the closest major town. Attempting to gather bidders in comfort and safety in this rattlesnake-infested (really!) region of sun-parched prairie would have been a massive task. And did we mention that the modest residential home situated on the property only has one restroom?
So instead, let's use the power of the Internet – and numerous high-resolution pictures and walk-around videos – to let the cars sell themselves in this no-reserve online auction. Bidder registration information can be found at the FreedomCarAuctions.com website.
Until then, here's another preview of more tasty morsels from the event.
This 1965 Plymouth Fury I Police Pursuit four-door sedan is a very special offering in more than one way. First up, the 1965 model year marked the return of the full-size C-body platform after a three-year absence during which time Plymouth dealers offered only the compact A-body Valiant and mid-size Savoy/Belvedere B-body, neither of which was large enough to satisfy the needs of police agencies seeking traditional squad cars (though police versions of both were offered). The extra size of the Fury's 119-inch wheelbase (and overall dimensions) appealed to local and state police departments who ordered squad cars like this for use on the highways and byways of America.
While Plymouth's city-oriented Patroller police package was offered with the 225 Slant Six or 318 polyspherical head V8 for economical surveillance of alleys and side streets, the Pursuit police package (as the name implies) was meant for higher speed and came standard with the 383 big block. Oddly, the 360-horsepower 413 big block offered in its corporate cousin, the Dodge Polara Pursuit, wasn't offered by Plymouth, which stuck with 383 power. Offered with 270 horsepower (two-barrel carburetor and single exhaust) or 330 horsepower (four-barrel carburetor, hotter cam and dual exhaust), this very clean survivor has the 270-horsepower edition, backed by a heavy-duty 727 TorqueFlite® automatic transmission.
The biggest news here is the presence of the mid-year front disc brakes. Released in December of 1964 only on 1965 C-bodies, the Budd four-piston disc brakes were the very first application of disc brakes on any full-size Plymouth passenger car and they're still present on this mean cop machine. Other "cop stuff" includes a massive 60-amp Leece-Neville alternator with double drive belts, seven-blade aluminum "Hemi" fan with metal shroud, unsilenced air cleaner, 11×2.5-inch rear drum brakes, factory radio delete block off plate on the instrument panel, a certified 140 mph speedometer, a driver-side articulated spotlight, heavy-duty suspension with a front sway bar and from the "less is more" department, 15×5.5-inch "fleet/taxi/police" rims with the snap-on hub caps Chrysler Corporation designed to stay put even when jumping curbs.
Aside from some localized dent repair work on the passenger side rear quarter panel (see video), the body appears to be in very original condition with minimal rust or corrosion, a detail supported by the Texas license plates. Look past the hastily applied gray primer, there's a four-door muscle car here with Plymouth's first-ever factory disc brake option. Though once part of a fairly large police fleet order, there can't be more than a handful of surviving examples this nice.
The 1960 model year brought unitized body construction to all Chrysler Corporation cars (except Imperial) and this 1960 Dodge Dart Phoenix four-door sedan is a fine example that retains its original black paint and space-age red interior with silver accents, dash-top-mounted rearview mirror and asymmetrical front bench with extra tall driver side vertical cushion for a sporty driver-centric feel.
Minor rust bubbles have formed on the passenger side rear wheel opening, but like many vehicles in the Great Texas Mopar Hoard Auction Event, nobody has attempted to "fix" it with plastic filler. Any car collector will tell you, it's better to see flaws than somebody's attempt to hide them. Power comes from a 318-cubic-inch polyspherical head V8 with a two-barrel carburetor and options include power steering ($77), three-speed TorqueFlite automatic transmission ($211) and something that was undoubtedly most useful in this Texas-based black car, factory-installed Airtemp air conditioning ($446).
Other nifty details include the original delta-shaped aluminum keys which bear the "Dart" logo and a state inspection windshield sticker from Texas dated 1982. Yes, it seems this sanitary 1960 Dart has been off the road for the past 39 years (1982-2021), nearly twice as many years as the 20 years it was in service (1960-1982). The 1960 model year was a good one for Dodge Division with 565,919 vehicles sold, up nearly 6 percent versus 1959 and putting Dodge solidly in the number six position among U.S. carmakers.
But while the space-age design of these machines initially triggered demand, the public quickly soured on the "forward look" and with sleeker designs taking over yearly, few folks felt a need to preserve them. By the 1980s – when this one was parked – 1960 Darts were a rare and quirky sight. Today, that same bizarre styling is what makes people want them like never before. This is a great opportunity!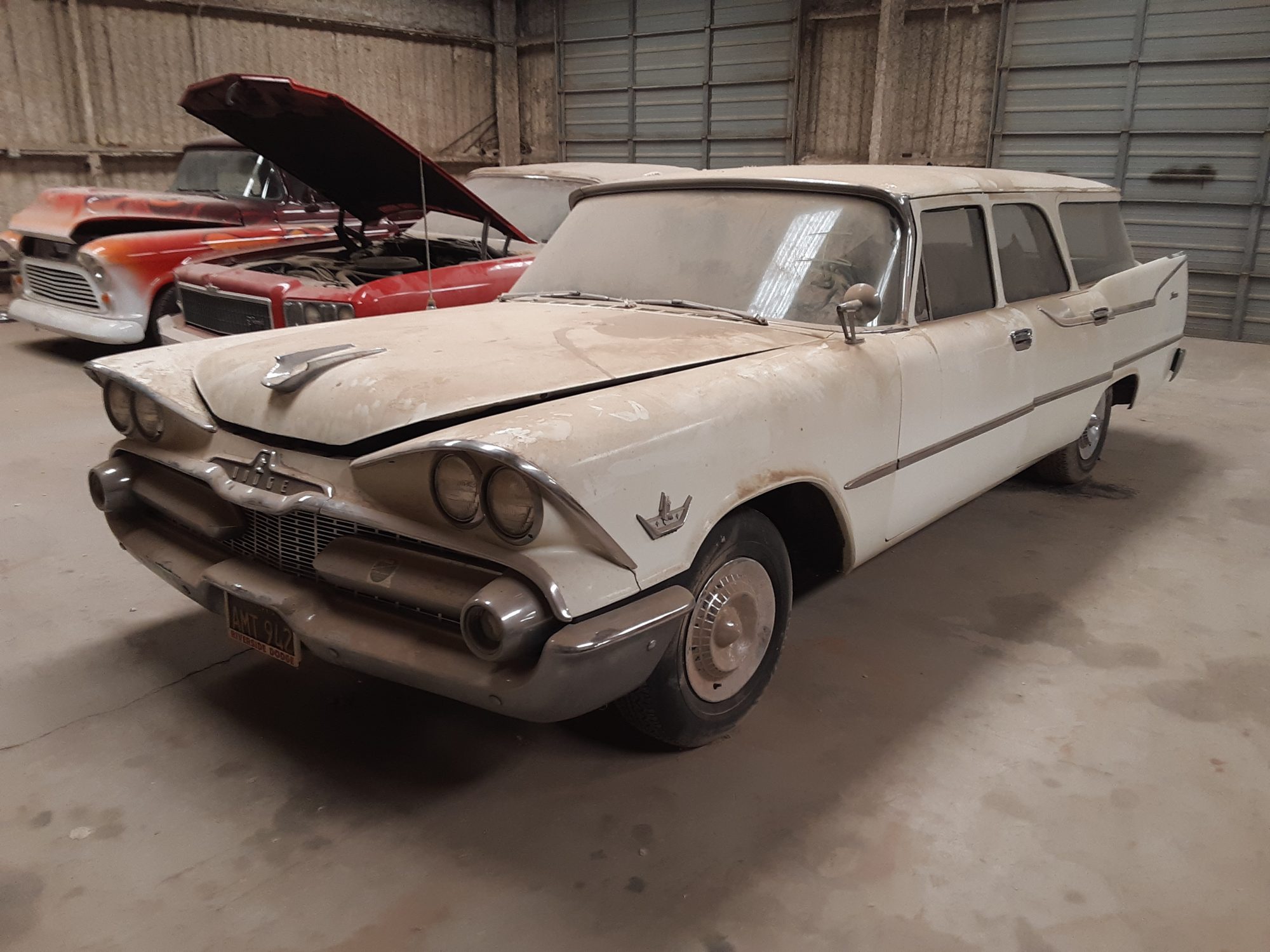 The late John Haynie had an eye for low-mileage, unmolested and unrestored vehicles like this 1959 Dodge Sierra station wagon. The final year for body-on-frame construction before unitized body shells arrived for 1960, this '59 is also from the first year that Dodge stopped building two-door station wagons. That said, Plymouth still offered two-door wagons through 1961. If you need a two-door station wagon today, see Lot Number 127, a sweet 1959 Plymouth Suburban two-door wagon.
Speaking of station wagons, no other body configuration of the 1950s enjoyed the same skyrocketing sales figures as post-WWII "baby boom" families transitioned from traditional four-door sedans to wagons to make room for the kids plus a pet dog or two. Dodge's first metal-bodied station wagon arrived in 1950 when just 3.3 percent of all new U.S. cars wore steel wagon bodies. By 1959, when this Sierra was built, 16.9 percent of all new cars were steel body station wagons as suburbia – and wagons – took root until the Chrysler minivan (and its many Brand X copycats) arrived in 1984.
Stored indoors and away from sunlight, the Polar White finish and exterior chrome are in very presentable condition, as are the original interior seating surfaces and upholstery. The shiny as-delivered feel extends to the metal brackets and hinges supporting the fold-down back seat. Options include the $226.90 three-speed TorqueFlite automatic transmission with exotic (but simple and durable) push-button shift controls, $93.55 heater with defroster, $86.50 AM push button radio, $92.15 power steering and $11.80 windshield washer bag.
Behind the menacing hooded quad headlamps, chrome hoop front bumper and outer tunnel pods of this Sierra's grille lies a 361-cubic-inch big block V8 with a two-barrel carburetor and single exhaust making 295 horsepower. A California "black plate" (very likely original to this car) reading "AMT942" is still bolted to the mighty front bumper. Though parked for years and in need of a complete systems review before returning to duty, this pristine Sierra is one of 23,590 Dodge station wagons built in 1959. Though visions of a hot-rodded rework of this time capsule are appealing, why not simply dust it off and enjoy it as the time machine it is?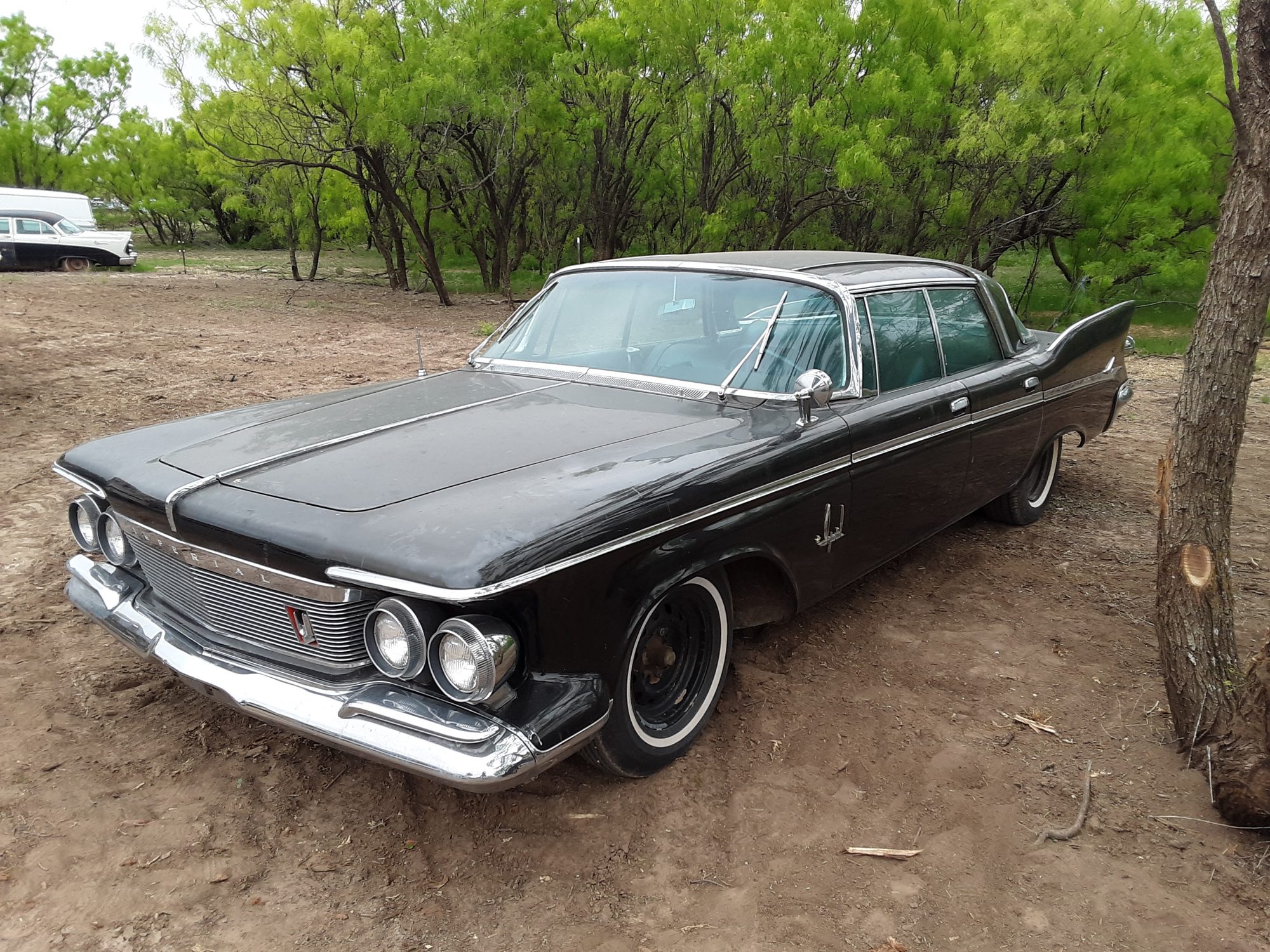 Last call for tailfins … first call for floating headlamps! This pristine 1961 Imperial Crown four-door hardtop wears its original black paint (or a very crisp re-spray) and shows no visible body rust. Inside, the blue leather interior begs the question: Where do blue cows come from? As a Crown series, standard issue power windows and front seat are present and the push-button AM radio added an extra $168.80 to the $5,649 base price.
While lesser Chrysler, Dodge and Plymouth models charged extra for power steering and brakes, these convenient items were standard on all 1961 Imperials. That said, air conditioning was still a $590.20 option, its presence on this jet-black cruiser being a "must" for maximum comfort.
Up front, twin chrome-plated headlamp pods perched atop the front bumper. Seen on all 1961-1963 Imperials, they're part of legendary Chrysler chief stylist Virgil Exner's interest in the massive Chryslers of the 1920s and 1930s and give the Imperial a stately elegance no Lincoln or Cadillac can match. The tasteful pancaked hood shelters an all-original 413 four-barrel big block. A much civilized version of the big block that made Super Stock drag racing history just a year later in the 1962 Max Wedge package cars, it delivers 340 horsepower and feeds a standard issue push-button TorqueFlite automatic transmission – the last three-speed manual transmission was offered in 1953.
At the tail, Virgil Exner's pet tailfins make their final appearance with the most exaggerated altitude of the finned era. Rising majestically on each side of the sloping decklid, chromed gunsight brake lamps add the finishing touch. On a lesser example, this astonishing piece of automotive sculpture might become a "truncated" automotive-themed couch frame. But here, the overall rust-free nature and highly original condition beg a proper restoration.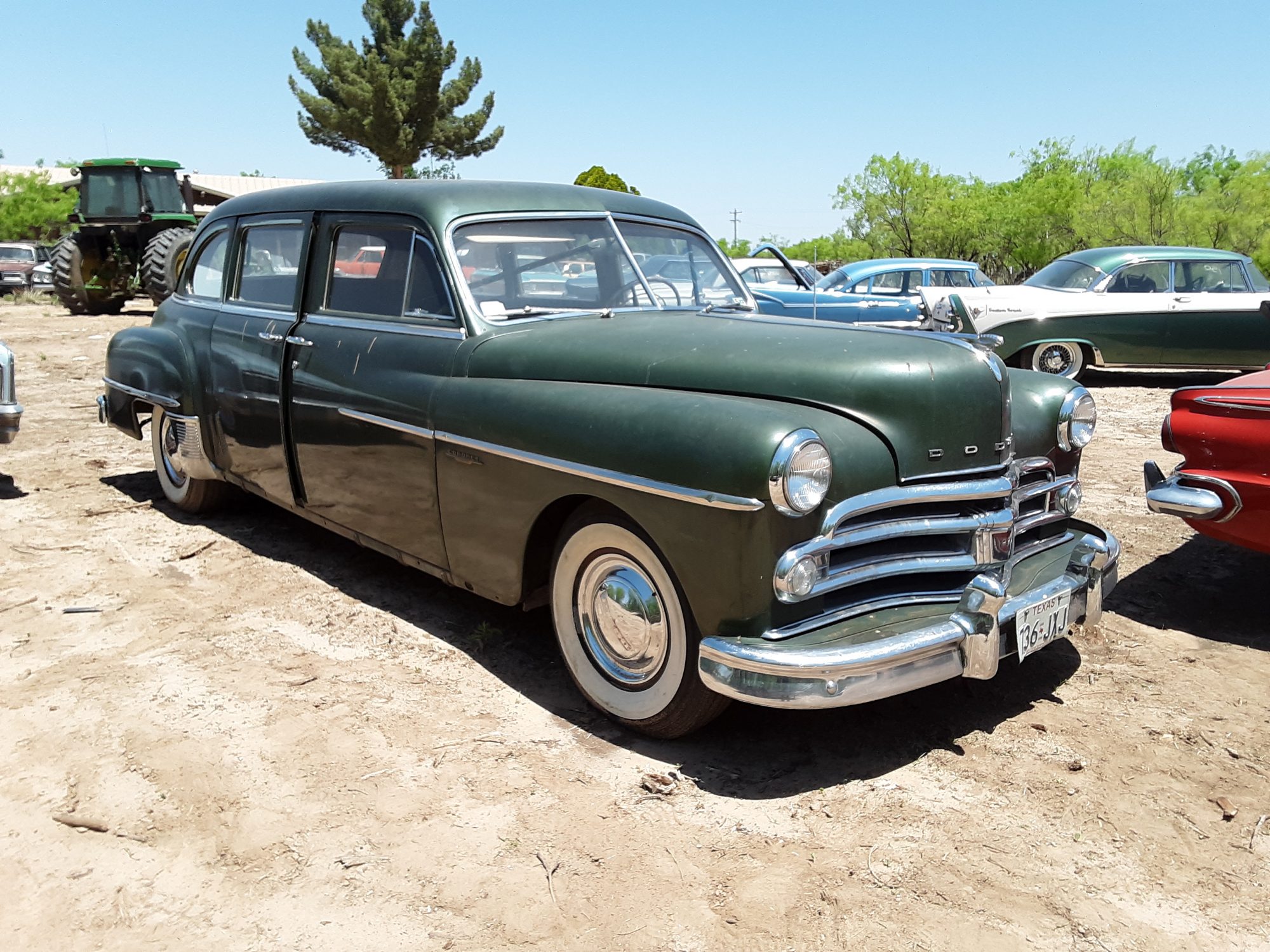 Today, we think of long wheelbase sedans as being custom-built limos for the rich and elite. It wasn't always that way. For many years ending in 1952, Dodge offered long wheelbase eight-passenger sedans that were built right alongside other Dodge passenger models at the factory. This 1950 Dodge Coronet eight-passenger sedan rides on an amazing 137.5-inch wheelbase that's a full 14 inches longer than a more conventional Coronet of the same year.
These super-size eight-passenger cars featured "suicide style" rear doors to make entry and exit easier. Records show that 1,300 of these extra-length sedans were built in 1950 (versus 1,800 conventional Coronet convertibles and a mere 700 Coronet station wagons that year), so they were maybe more common than we'd imagine. That was then.
Today, it's a rare opportunity to see one, especially one with this extreme level of originality. The medium green paint appears to be the factory stuff with an "OK" inspection mark still clearly present on the firewall. Since the last of these super-size Coronets was built in 1952 – the year before Dodge totally redesigned its cars and added the available Red Ram HEMI® V8 engine – this one is powered by the same 230-cubic-inch flathead six that powered every Dodge since 1934 (sized at 217 cubic inches until 1941).
Backing the workhorse six is the Dodge Gyro-Matic semi-automatic transmission, a $94.60 option that made city driving easier by eliminating the need to depress the clutch pedal while stopping and starting in traffic. The clutch pedal was still required when shifting from gear to gear, but if one isn't concerned with rapid acceleration, the unit can be left in Drive all day long without using the clutch at stop lights. Other factory-installed options include an electric clock, turn signals, heater and push-button AM radio.
Thanks to its Texas origins, only a mechanical refresh and good scrubbing will be needed before this regal airport limo is ready for use. We can see an enterprising type putting it to good use as a wedding car. What do you see?
That's it for this week's preview of the Great Texas Mopar Hoard Auction Event. We'll be back next week with yet more pictures and descriptions of great old Mopar vehicles you just might end up owning and driving!
Meanwhile check out these other cool Mopar vehicles up for grabs:
The Great Texas Mopar Auction: Preview
The Great Texas Mopar Auction: Part II
The Great Texas Mopar Auction: Part III
The Great Texas Mopar Auction: Part IV
The Great Texas Mopar Auction: Part V
The Great Texas Mopar Auction: Part VI
The Great Texas Mopar Auction: Part VII
The Great Texas Mopar Auction: Part VIII
The Great Texas Mopar Auction: Part IX
The Great Texas Mopar Auction: Part X
The Great Texas Mopar Auction: Part XI
The Great Texas Mopar Auction: Part XII
The Great Texas Mopar Auction: Part XIII
The Great Texas Mopar Auction: Part XIV
The Great Texas Mopar Auction: Part XVI
Comments
Comments