Over the past few years, the world record for the quickest quarter-mile time for a Dodge Charger SRT® Hellcat was held by Zdung Ho, but on May 6th, U.S. Army veteran Colby Davis set and reset the record during the course of competition at the Street Car Braggin Rights at Carolina Dragway. Davis piloted his SRT Hellcat sedan to the win in the Heavyweight class with a stunning 7.536 at 181 miles per hour, after running a 7.61 earlier in the evening – leaving no question that this is the new world's quickest Dodge Charger SRT Hellcat.
The New World's Quickest SRT Hellcat Charger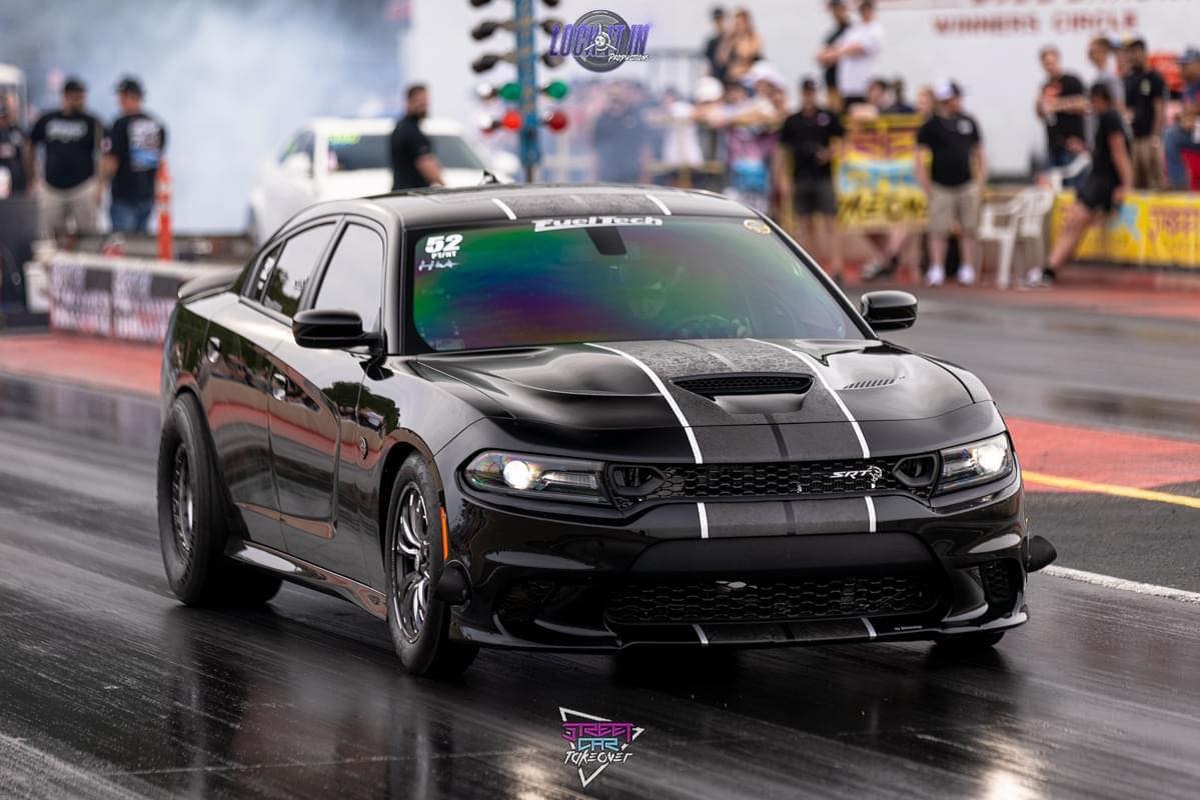 The process of building Colby Davis' 2019 Dodge Charger SRT Hellcat took about 18 months, with the first dyno session on a "real conservative tune" yielding 1,838 rear wheel horsepower. Around this time, FuelTech suggested that Davis talk to Nicolas Performance to prepare the car for track time, including onsite tuning and track support. Working with Nicolas Performance, Davis spent around six weeks testing and fine tuning before entering the Heavyweight class at the Streetcar Braggin Rights event at Carolina Dragway, otherwise known as "The House of Hook".
Testing on Friday before the event did not go well, with Davis' Dodge Charger SRT Hellcat spinning the tires hard twice on three tries, with the best pass of the day resulting in a qualifying time of 11.52 before the day was ended by the rain. That time put Davis 18th out of the 20 cars in the field, with only 16 making it into the actual heads-up racing portion of the program. Fortunately, he had two more changes to turn in a stronger qualifying run on Saturday and on his first, the team loaded what Davis called a "baby tune", but it still spun the tires on launch, resulting in no improvement in his qualifying number.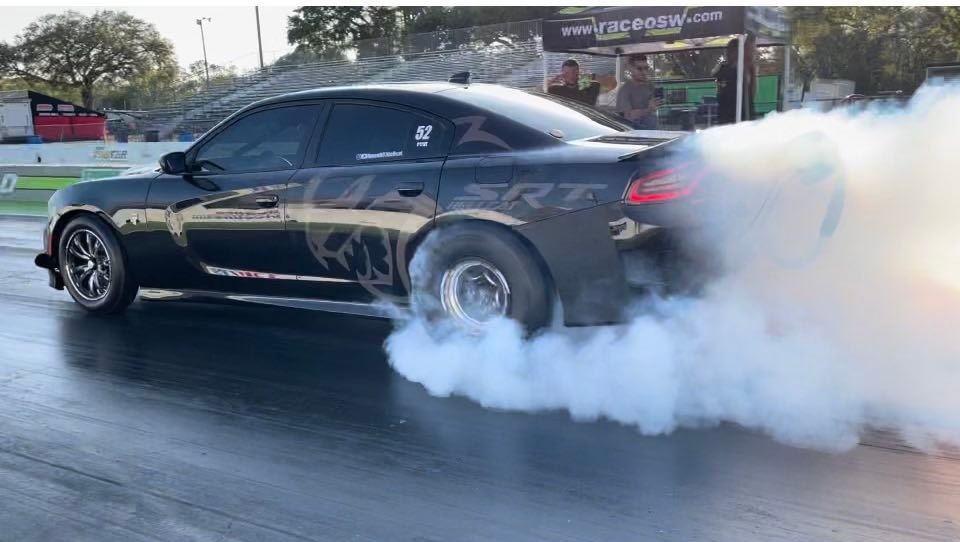 "We go back to the pits. Make shock adjustments and lower tire pressure. It's truly scramble mode time. I call it panic mode. My tuner, cool as a cucumber. Nothing phases him. Last qualifying pass, car hooks, we're off, feels great … ran 7.74 at 165 mph. I didn't know where the finish line was and got out of the gas too soon and threw the parachute. Who knows if we would have broken the world record on that pass," said Davis.
"Then the announcer comes over the PA. Everyone gets one more qualifying pass. What do we do, turn up the boost and more timing … we blew the tires off, spun. Now I'm not confident in the track holding any more power. Nicolas Performance says, 'Just wait, the track will come around. Just wait.' Now we're #2 qualifier behind the #1 qualifier, George Benson, 7.73 to our 7.74. We're just one hundredth of a second apart. George has been dominating the Heavyweight division for the past year."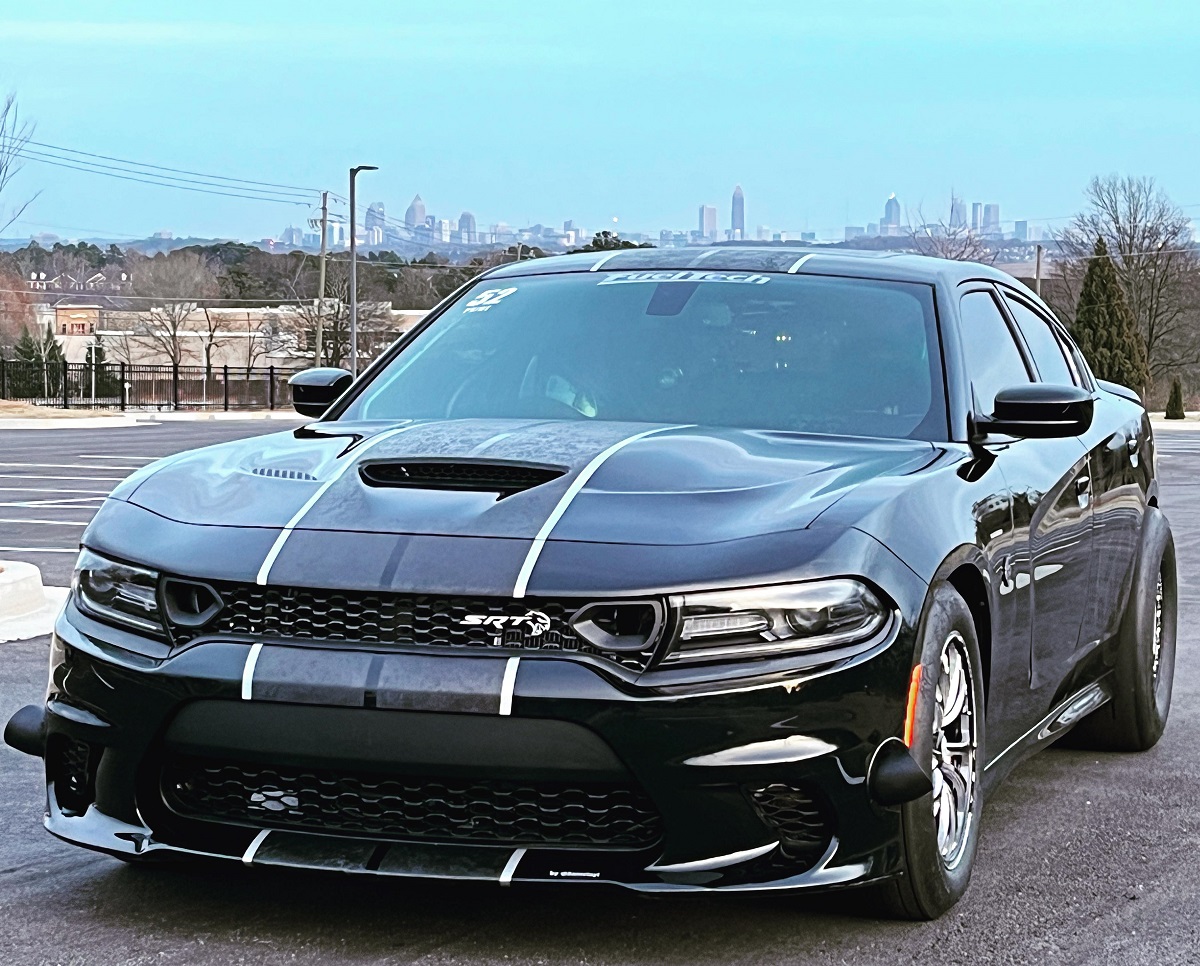 In the first round of competition, Colby Davis got a single pass when his competitor couldn't make the lane call, so they turned up the boost and "swung for the world record". On his 7.74 pass, Davis was just over a tenth of a second behind Zdung Ho's record of 7.62, so with a little extra power and enough launch grip, that world record was within reach. On that first elimination round run at Streetcar Braggin Rights, Davis and his Charger ran a 7.61 at 180 miles per hour – claiming the quarter-mile world record for a Dodge Charger SRT Hellcat.
"We get back to the pits and everyone's yelling … your front bumper! The turbos crushed in the front bumper due to air pressure/vacuum of the turbos behind the front bumper. We've got to take off the front bumper and back to racing. Then, in the second and third rounds, we turned the car down. But the car runs a 7.70 flat both times. How are we faster? The turbos are getting the proper amount of air now."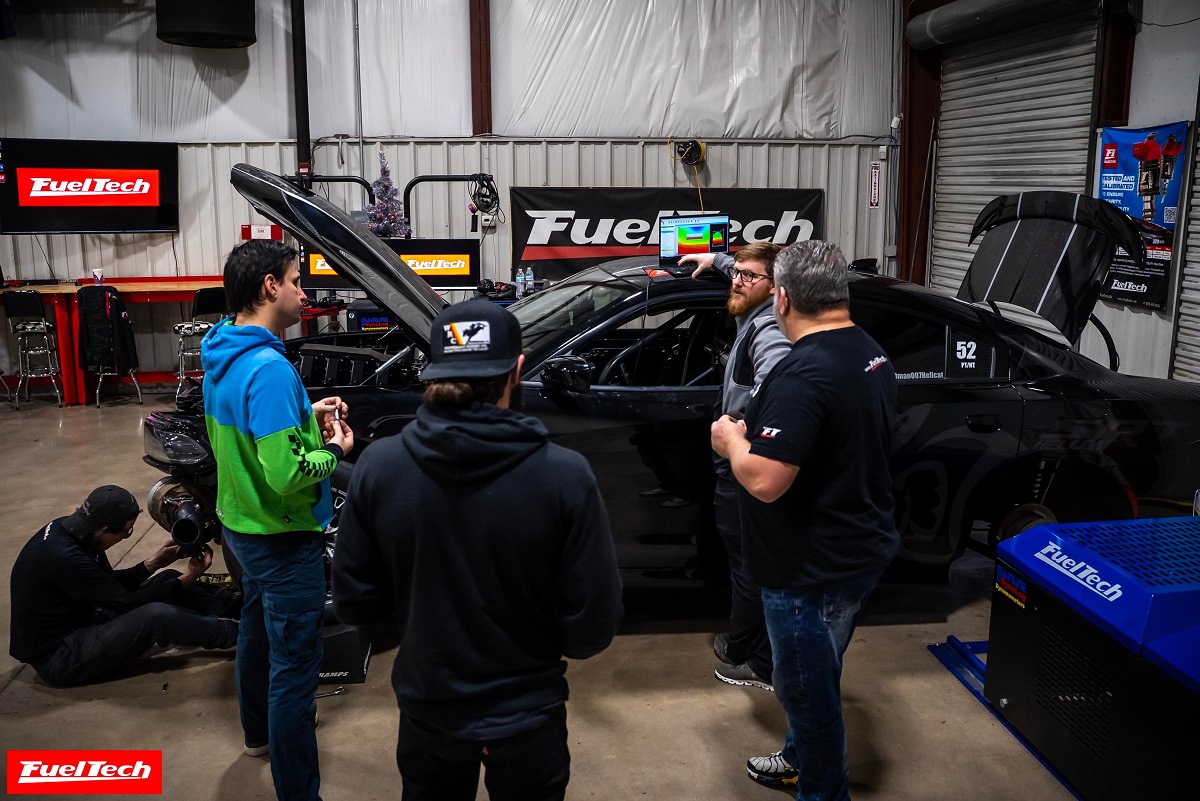 When the Heavyweight finals came around, Davis was set to race against George Benson, who pilots the world's quickest Cadillac CTS-V and who has won a great many Heavyweight drag racing shootouts over the past few years. Davis says that he was panicking a bit, but Nicolas Performance assured him that "we got this". He was right, too.
In the final round, Colby Davis pulled a better reaction time, grabbing an early lead over Benson's Cadillac and never looked back. Not only did Davis win the Heavyweight class with that final round run, but he also reset the Dodge Charger SRT Hellcat quarter-mile record, running a 7.536 at 181 miles per hour. You can watch that exciting final round action in the video below.
Making this run even more impressive is the fact that this record-setting number was run at 1,400 feet of density altitude in the course of competition on a warm night. Many world records are set on cool winter days with negative density altitude, often at private track rentals or non-competition settings where the driver can focus purely on running a big number. Davis didn't have as much time as he wanted between runs to let the car cool down and he had to worry more about winning the race than launching at the perfect instant in the staging process. Also, it should be noted that this Dodge Charger SRT Hellcat has a track weight of 4,220 lbs.
The Drivetrain Details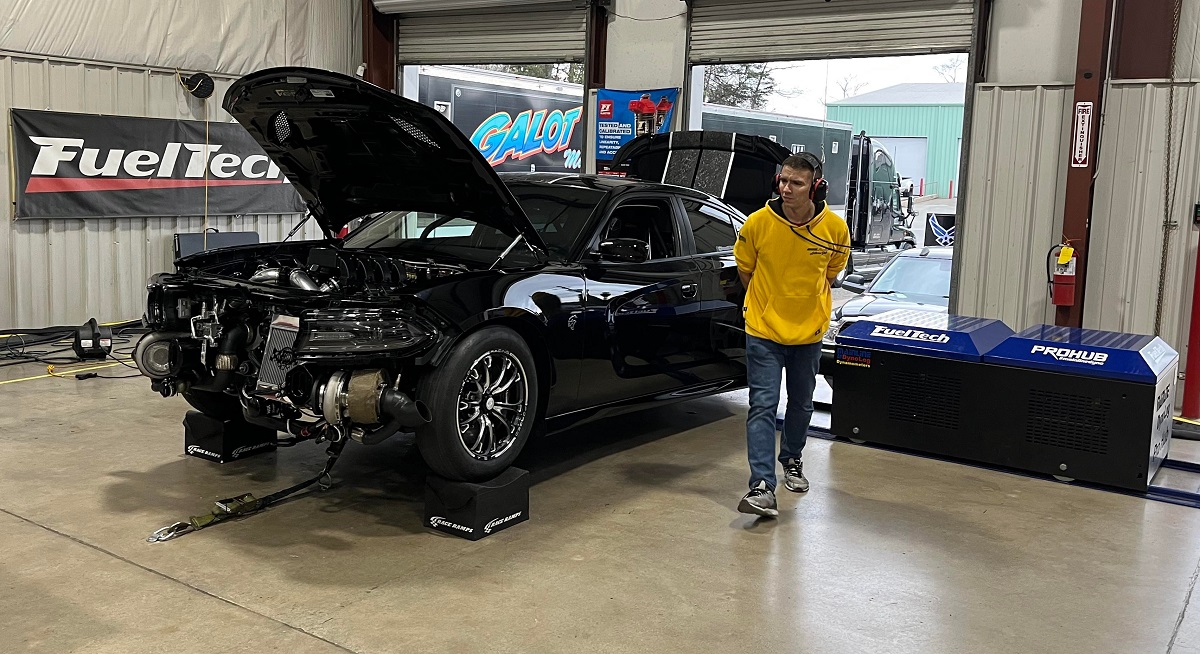 A stock 2019 Dodge Charger SRT Hellcat makes around 630-650 wheel horsepower, and with both a good set of drag radial tires and a good driver, the supercharged sedan cran run in the mid-to-high-10-second quarter-mile range. Colby Davis' Charger makes almost three times as much horsepower at the wheels and covers the quarter-mile almost as quickly as an NHRA Pro Stock car. Making the jump from 630 to 1,830 horsepower at the wheels and getting from mid-10s to mid-7s takes a tremendous amount of work, so it should come as little surprise that this SRT Hellcat Charger is heavily modified.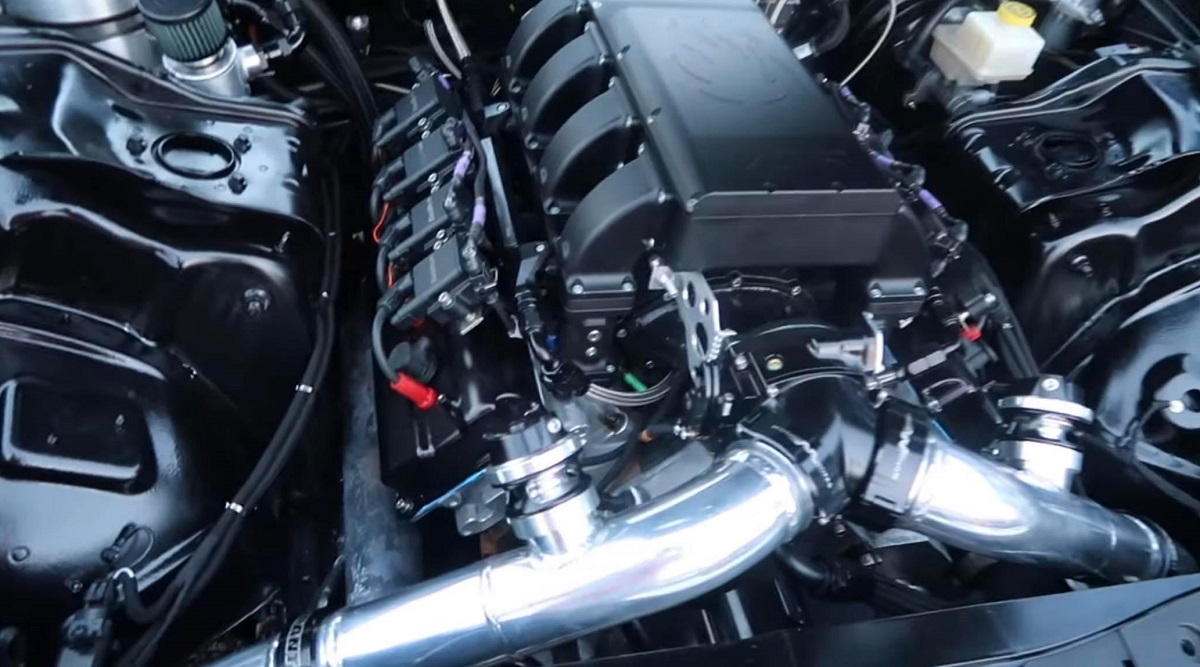 The heart of this beast is a 411-cubic-inch SRT Hellcat HEMI® engine, fitted with the best internal parts that money can buy and built by award-winning builder Jake Sampson of Sampson Racing. The factory supercharger has been removed and in its place is an intake manifold, fed by a pair of huge turbochargers, while a FuelTech ECU handles all of the engine tuning parameters. The power needed to run in the 7-second quarter mile range is sent to the rear wheels by means of a Rossler TH400 transmission and an IMS billet differential, with help from a complete AAD Performance suspension upgrade. Mickey Thompson ET Street Pro rubber provides the traction needed to move a heavyweight Dodge Charger from a stop to 181 mph in 7.5 seconds.
Frankly, the list of high-performance components in Colby Davis' car is so extensive that it is easier to take it all in as a list, which you can find below.
411 Stroker built by Sampson Racing – Jake Sampson
Half Filled Block
Fire Ring
Billet Main Caps
Winberg Crankshaft
Callies Ultra Enforcer Connecting rods
MAHLE Forged Pistons
Johnson Short Travel Lifters
THITEK G3H Bear HEMI Heads
Full Manton Valve Train
Stanke Collars
Bill Dailey Dry Sump
Demon Performance Intake
Harts 76/75 twin turbos
TurboSmart Blow-Off Valves
FuelTech FT600 ECU with every sensor from Driveshaft, Ride Height, Turbo Speed, Wheel Speed
FIC 2150 Injectors
Aeromotive 10 gpm Fuel Pump
16-Volt Battery System
Clamps and other items by Motion Raceworks
Rossler TH400 Three-Speed Transmission
PST Fiber Driveshaft
IMS Billet Diff (soon switching to an IMC 9" differential)
G-Force Renegade Axles
Precision Shifter
Fire Suppression by Safecraft
Stroud Parachute and Launcher
Menscer Coilovers
Weld S79 Wheels
Mickey Thompson ET Street Pro 315/60/15
Built by Nicolas Performance
Tuned by Nicolas Performance
Other companies and people that helped with the build: Travis Tucker and Chris Bailey of Bailey's Hyperformance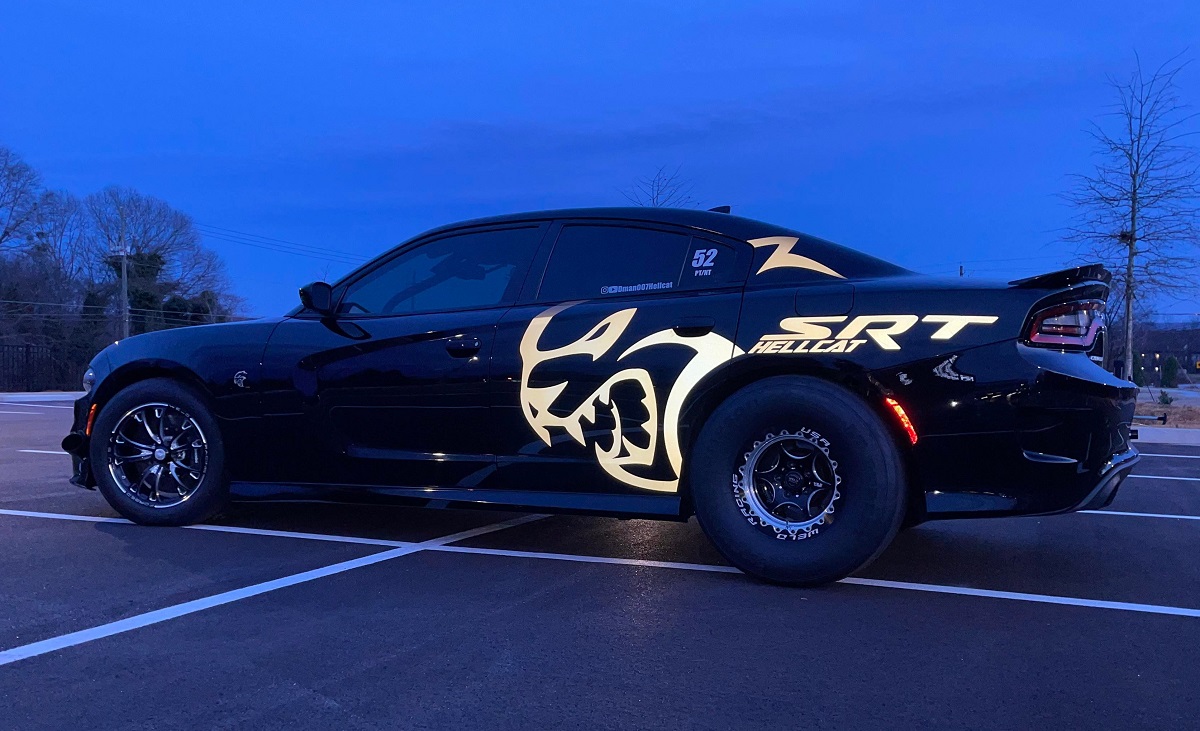 We expect to see Colby Davis and his 2019 Dodge Charger SRT Hellcat running even quicker times once we get into the cool winter air later this season, leading to the negative density altitude numbers that often lead to record times.