During Dodge Speed Week back in August 2022, Tim Kuniskis introduced the world to the 2023 Dodge Challenger Convertible, which is being offered for the first time in the modern era of the nameplate. Prior to 2023, there hasn't been a convertible Challenger ordered from the factory since the 1970s, but to end the current generation, Kuniskis and his team have created a soft-top option for the legendary muscle car. To do so, Dodge has teamed up with Drop Top Customs, and after each new Challenger is built at the Brampton Assembly Plant as a traditional hardtop, it is shipped to Drop Top Customs where it is converted into a convertible.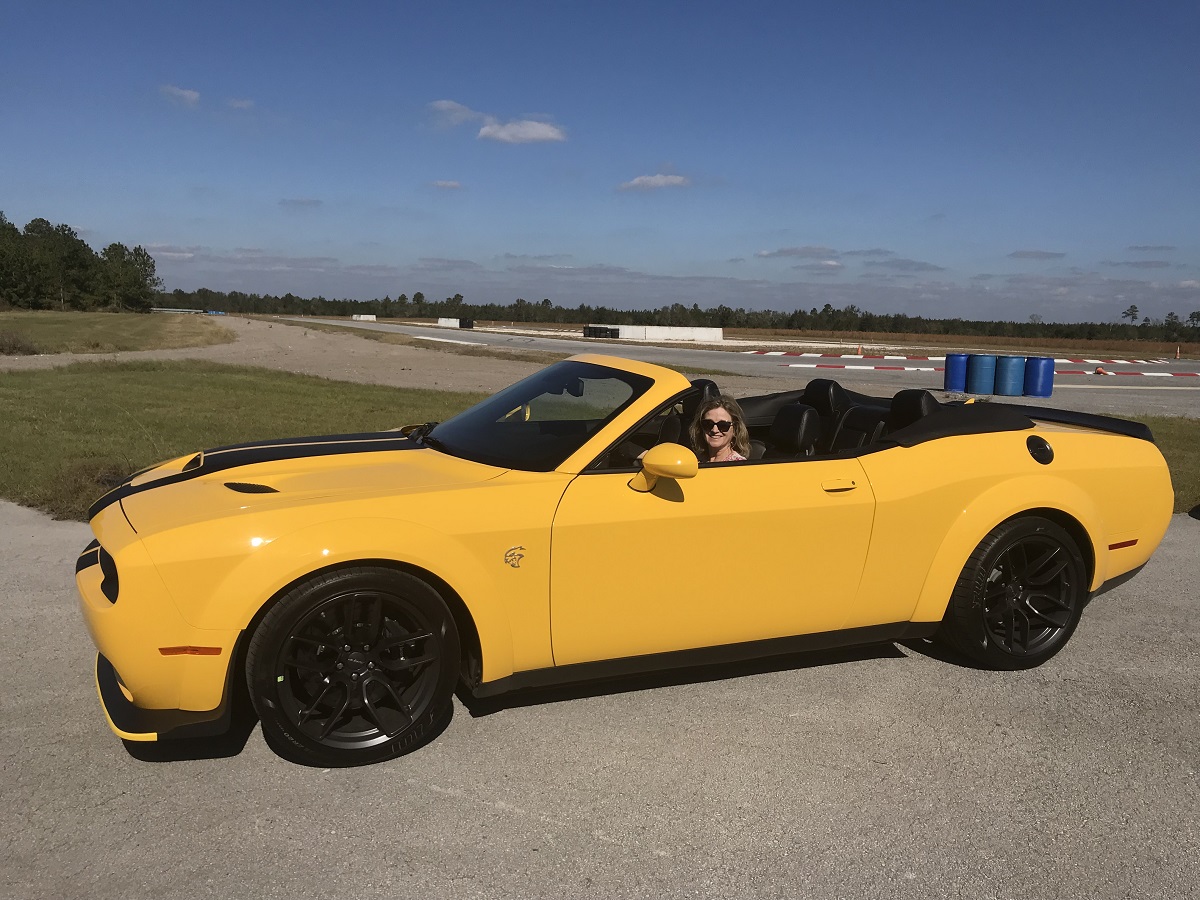 Based on the title of this piece and the fact that 2023 is the first modern era model year in which you can order a Dodge Challenger Convertible from your local dealership, you might expect this piece to be about someone who ordered and received a 2023 model, but that is not the case. The yellow Dodge Challenger SRT® Hellcat Widebody Convertible shown here is owned by Brian Harlow and it was the first SRT Hellcat Widebody model to be built by Drop Top Customs when the package was first introduced. You see, while Drop Top Customs has just started working with the Dodge brand to offer a factory-ordered option, the Florida-based company has been building convertible Challengers since the modern era was introduced for the 2008 model year.
In fact, the first modern Dodge Challenger Convertible built by Drop Top Customs – known as Coachbuilders Ltd back then – made its grand debut at the 2008 SEMA Show in Las Vegas. It is the green-and-black car shown below, and I was there to witness that debut almost 15 years ago. Since then, Drop Top Customs has built scores of topless Challengers for private owners before connecting with Dodge to offer a convertible through the factory ordering system for the final model year of the legendary Dodge muscle car.
While the process to get a Dodge Challenger Convertible is a bit different for those who ordered a 2023 model year car from their local dealership, we spoke with Brian Harlow about his experience of having his 2018 Challenger SRT Hellcat Widebody transformed into a convertible. Before getting into his story, we should point out that Brian Harlow is not just any Challenger owner. He retired from FCA in 2019, where he served as the Head of Manufacturing for North America, and that played a key role in his Challenger being the first SRT Hellcat Widebody to be converted by Drop Top Customs. However, there is more to this story than just a former executive having his Challenger turned into a convertible.
An Incredible Retirement Gift
After 41 years with the company, Brian Harlow was planning to retire from his role as FCA North America's Head of Manufacturing and to celebrate his retirement, his wife, Rachelle, had ordered him a 2018 Dodge Challenger SRT Hellcat Widebody. His first car was a 1970 Challenger, so after a successful career with the company, retiring with a Dodge Challenger seemed fitting.
While attending a social event a short time later, Harlow was speaking with longtime coworker and friend Ralph Gilles, who is the well-known global design boss for Stellantis (as he was with FCA). When Harlow mentioned that he had a new Challenger SRT Hellcat Widebody on order, Gilles suggested that he look into Drop Top Customs with regard to having his car transformed into a convertible. Harlow made it clear that he was interested in that idea, so Gilles initiated the contact between Rachelle and the company, and the retirement gift went from being a Dodge Challenger SRT Hellcat Widebody to the very first-ever Dodge Challenger SRT Hellcat Widebody Convertible in the world.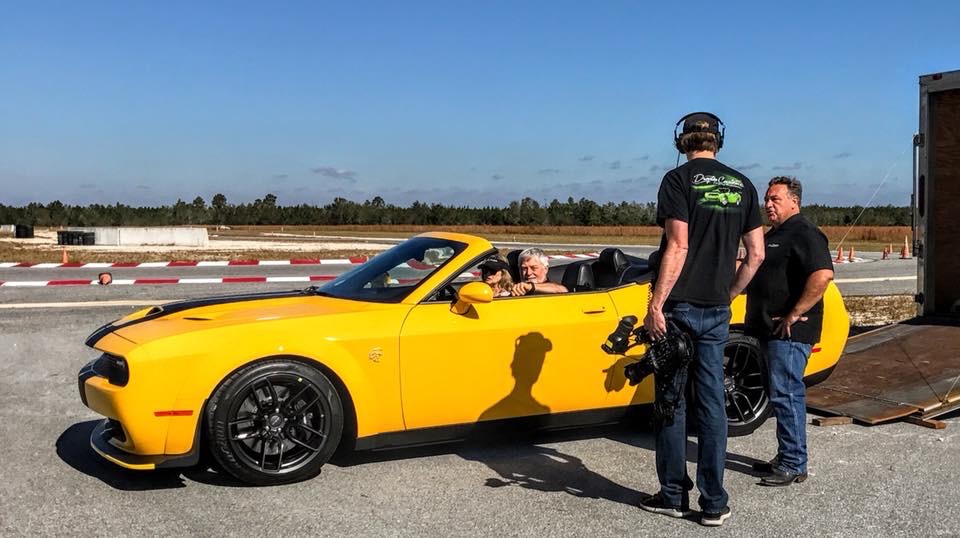 As the Head of Manufacturing, Harlow was able to get one of the first SRT Hellcat Widebody models to roll off of the Brampton Assembly line in late 2017 when production began. That yellow Challenger with black stripes was immediately shipped to Jacksonville, Florida, where it was picked up by Drop Top Customs owner Jeff Moran and taken to his shop. While there, it was transformed into the drop-top muscle car shown here, with a black power-folding soft top to match the black interior and striping.
When the build was complete, Moran himself delivered the car to Brian and Rachelle Harlow at Florida International Motorsport Park, where the two had some side-by-side fun with the then-new Challenger SRT Hellcat Widebody Convertible and a Corvette. As you can see in the image below, that race didn't go very well for the Chevy.
More Details on the Drop Top Conversion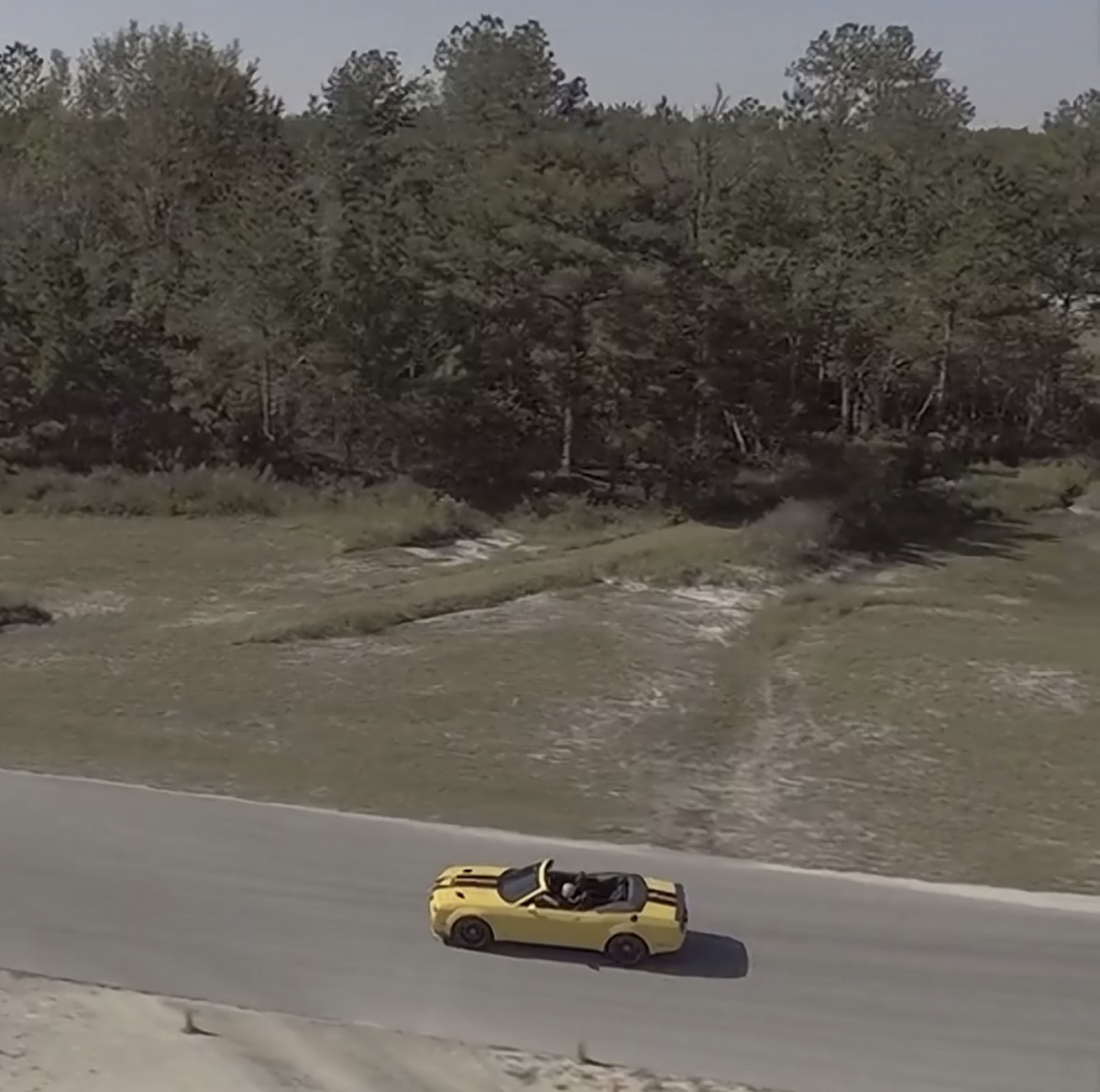 After getting the interesting story of how Brian Harlow came to own the first Dodge Challenger SRT Hellcat Widebody Convertible in the world, I had some general questions about the ownership experience. First, I asked him whether he would have ordered a Challenger Convertible if it had been offered for the 2018 year, and he said that he would have, since he and his wife planned to retire to South Florida. Next, I asked if he has owned any factory-built convertibles to compare to his Drop Top Customs-build SRT Hellcat Convertible, and he had. He had a Chrysler Sebring Convertible years ago and he explained that his aftermarket convertible top looks and functions just as smoothly as that factory-built car.
Finally, I asked Harlow if he had driven a car similar to his, but without the convertible conversion, to provide some insight on whether the two differed much on the open road. He pointed out that Drop Top Customs does a "great job reinforcing the structure to give equal performance in all aspects" and that the only real difference from the driver's seat is road noise – but that should be expected from a car with no top.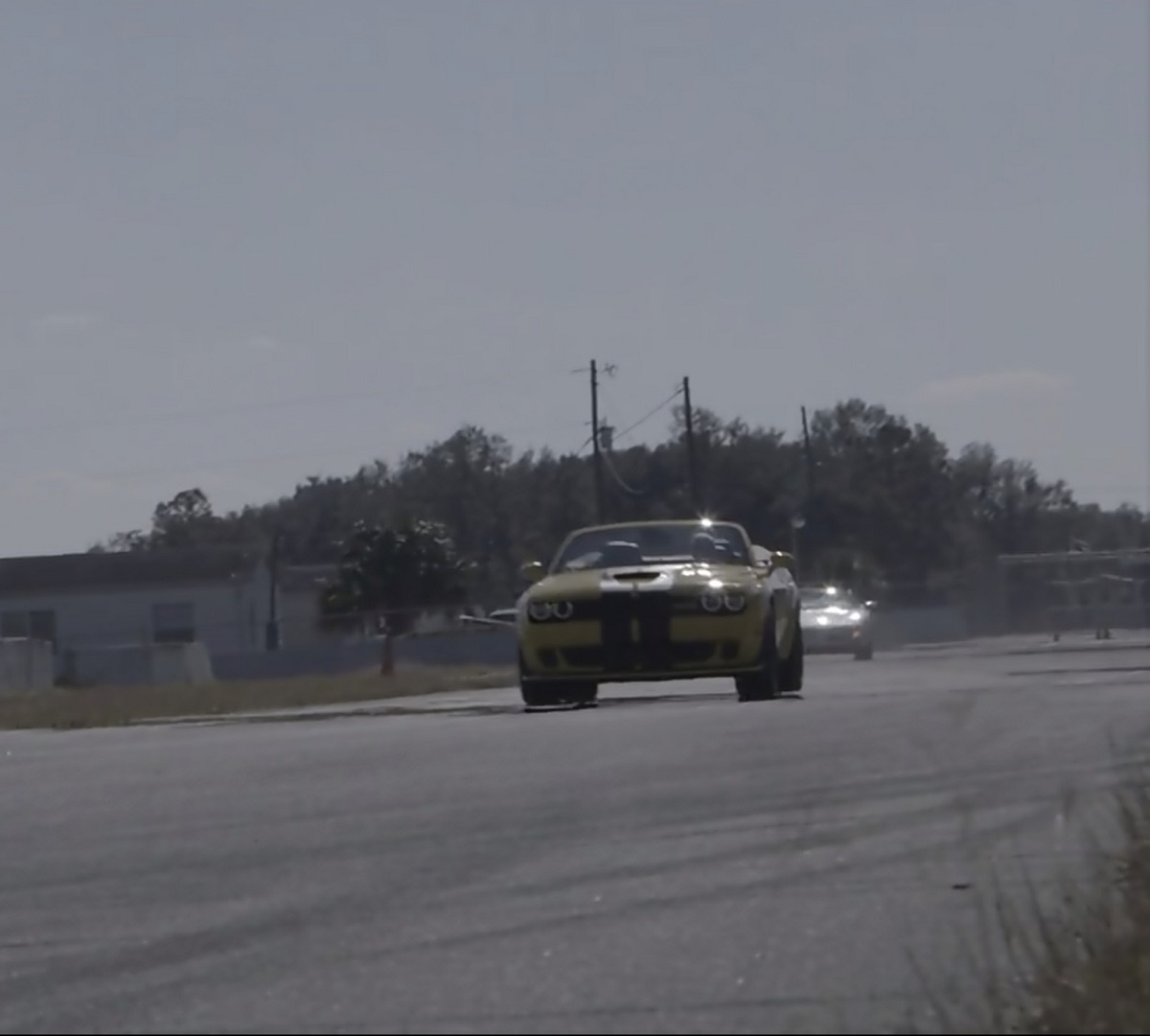 My conversation with Brian Harlow ended with this statement on his experience of working with the company that is building the 2023 Challenger Convertibles for the Dodge brand.
"Drop Top Customs provides outstanding results when completing a conversion on a standard hard top vehicle. Design, speed of execution, attention to detail and overall performance are truly top notch. Jeff is a genius for designing and executing a conversion on just about any hard top vehicle and with the support of his dad, Larry, they provide an unparalleled service for this type of product."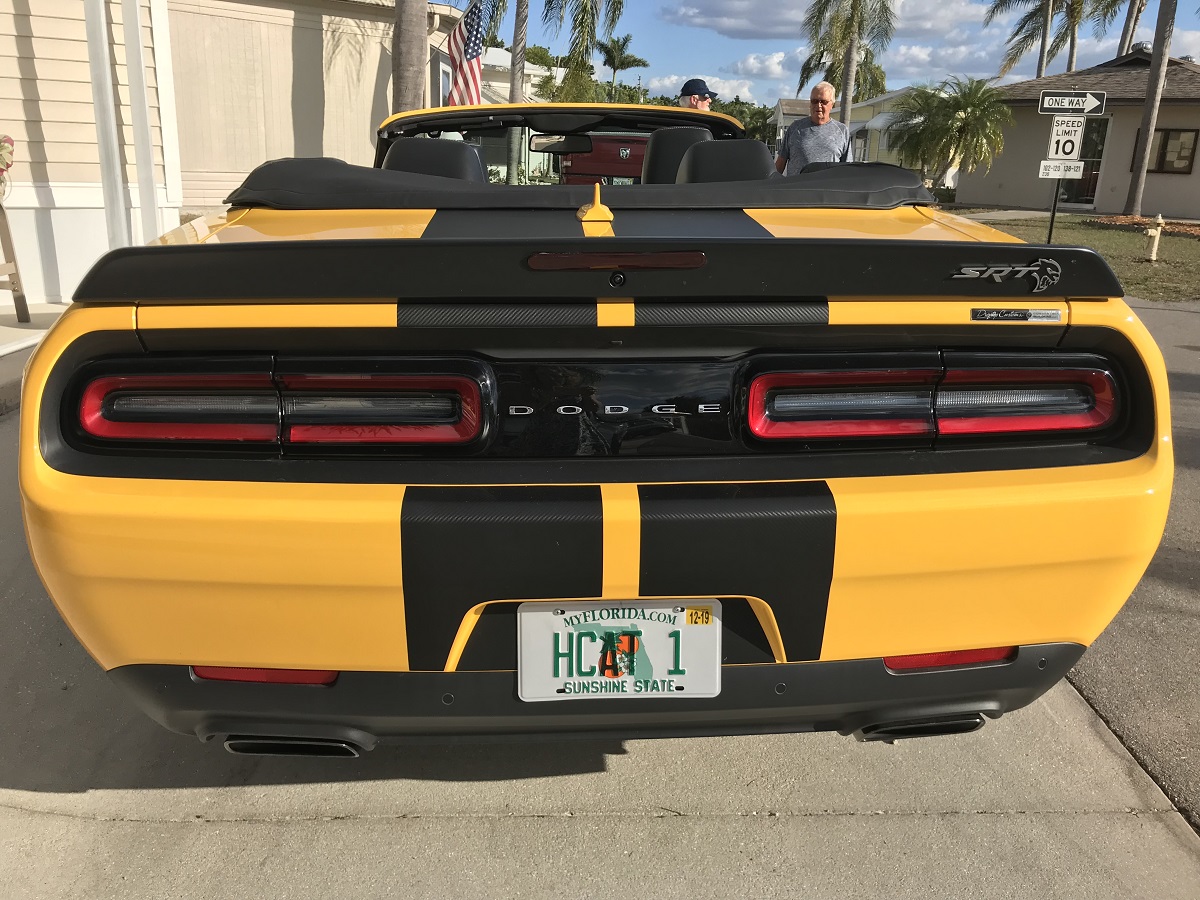 Harlow also pointed out that even after five years with his Drop Top Challenger, he still gets comments and questions from random people pretty much wherever he goes – whether he is parked or sitting in traffic.
For those folks who ordered a 2023 Dodge Challenger Convertible, this input from a happy customer who has had his drop-top muscle car a few years should serve to intensify the anticipation of the waiting game – but that wait will be well worth it when you first hear the SRT Hellcat HEMI® engine roar with the top down.