Stephanie Spor of Clinton, Utah, was born into a family of automotive enthusiasts and early in her life, her dad competed at the famous Bonneville Salt Flats. Sadly, her dad was killed in a car accident when Stephanie was very young, so while her love of the car culture continued, she was always afraid to get into racing herself. She would watch friends race and cheer from trackside and she participated in the car show scene, but she never spent any time on the track in the driver's seat. However, thanks in part to the Dodge Challenger SRT® Hellcat Redeye, Stephanie Spor began drag racing when she was 52 and she never plans to stop, going so far as to vow that she will be the "90-year-old lady at the track still racing!"
Today, for our latest entry in the Sisterhood of Muscle series, we bring you a look at how Stephanie Spor got into racing in her 50s – and how Dodge performance led her down her current automotive path.
It Started with a Dodge Neon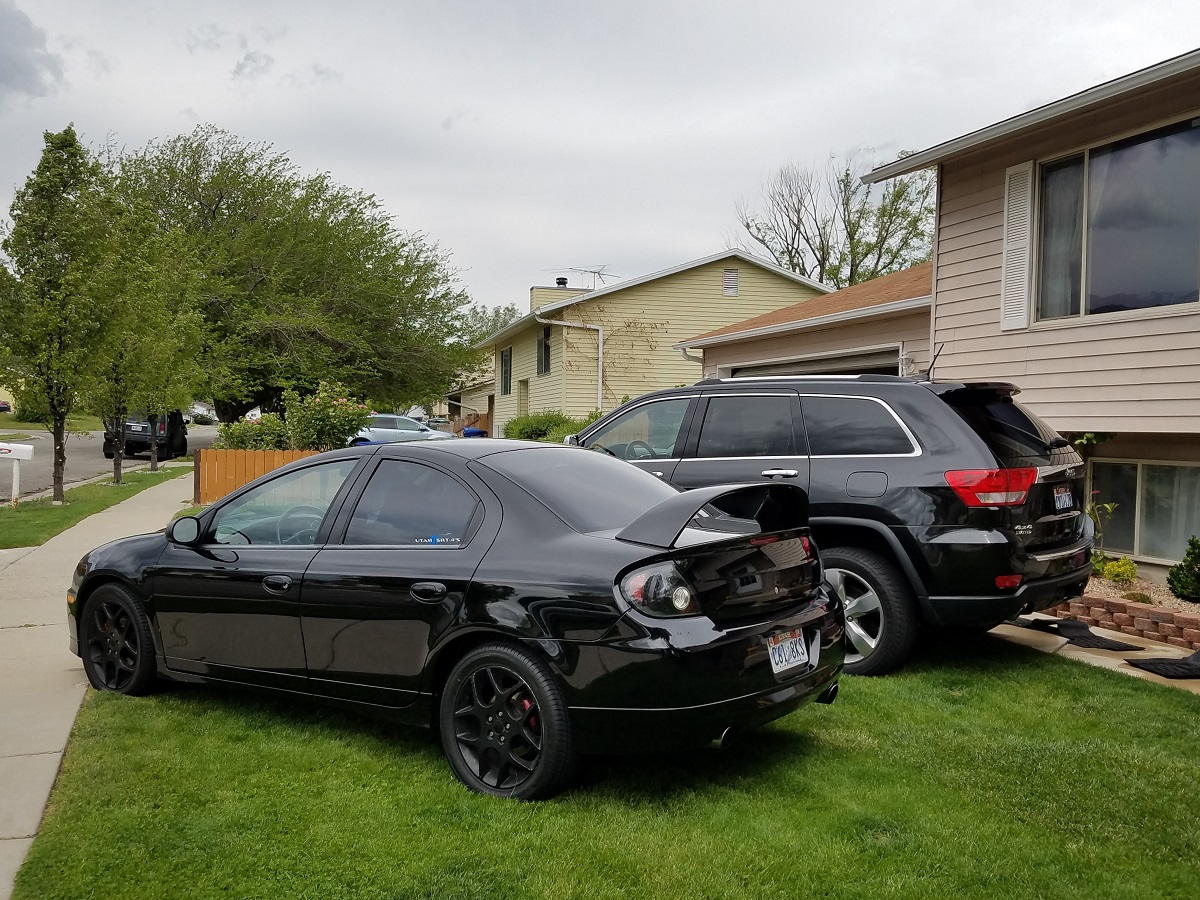 Stephanie Spor's passion for the Dodge brand began when her son purchased a Dodge Neon SRT-4 in 2005. After driving his SRT-4, she enjoyed it so much that she had to get one of her own. While she enjoyed her turbocharged Neon, her son got a Charger R/T Scat Pack and she thought that car was a rocket, until he came home with his then-new Dodge Charger SRT Hellcat. After experiencing that supercharged HEMI® engine-powered vehicle, she knew that she had to have one of her own – but this time, she and her husband went for even more power. They purchased her white 2019 Dodge Challenger SRT Hellcat Redeye Widebody and she has fallen in love with her supercharged muscle car.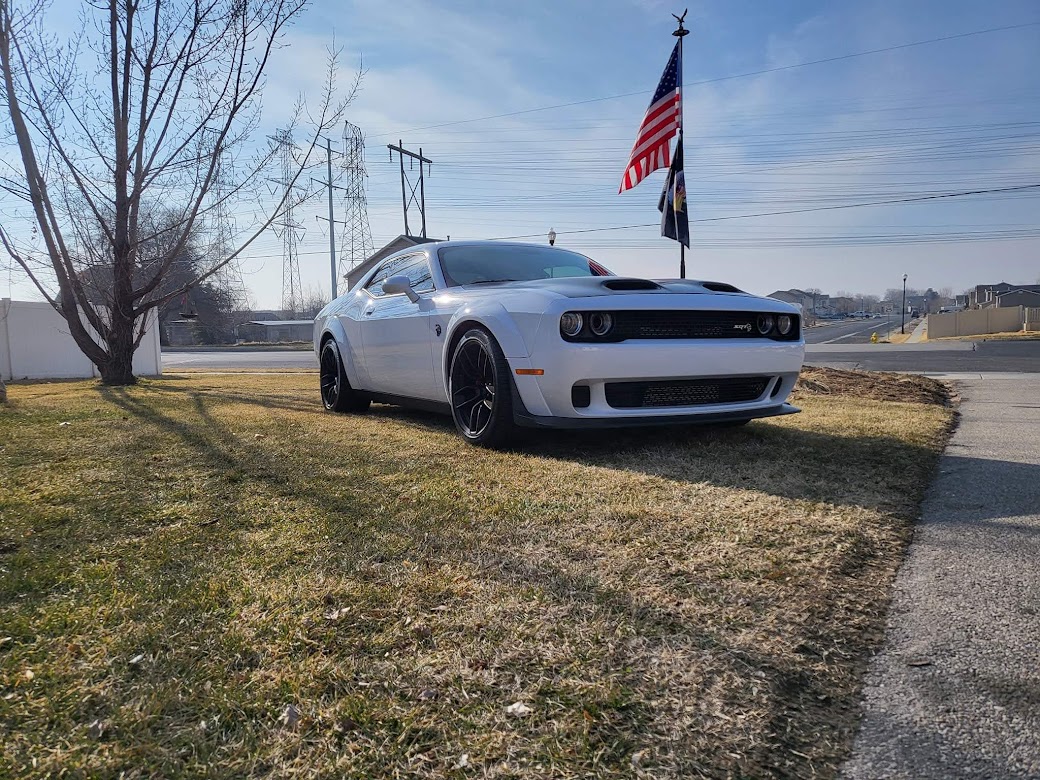 "I love the mean look of this car," said Spor. "It is intimidating. The growl, the wine, oh boy!"
First Time on the Track
Shortly after getting her 2019 Dodge Challenger SRT Hellcat Redeye Widebody, she headed to Jackpot, Nevada, for Mopar® Day at the local airstrip. That was the day that Spor says "it all turned around for me." After watching some racing action early in the day, her husband told her that she was going to do some racing that day. With the encouragement of the track staff, who offered to let her make a test run with her son in the passenger seat, Stephanie Spor made her first quarter-mile run in her 797-horsepower Challenger.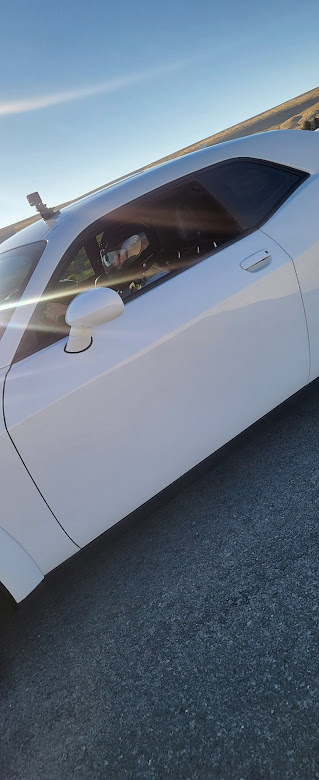 "It has been all gas ever since. That first quarter-mile was the most exciting and scary thing I had ever done, but that adrenaline rush is like no other. After that, another gal told her hubby that she wanted to try it, so the race was on. The girls behind the wheel. I was hooked! What woman starts racing at 52 years old? This gal! You only die once, but you live every day. From here on out, I am living. What the hell have I been missing out on?
"I am an all-American girl with the toughest car out there, and the smiles I get from everyone as I am driving is worth it all!" continued Spor. "There is no guarantee of tomorrow. This car is truly an investment that has made life so much more fun."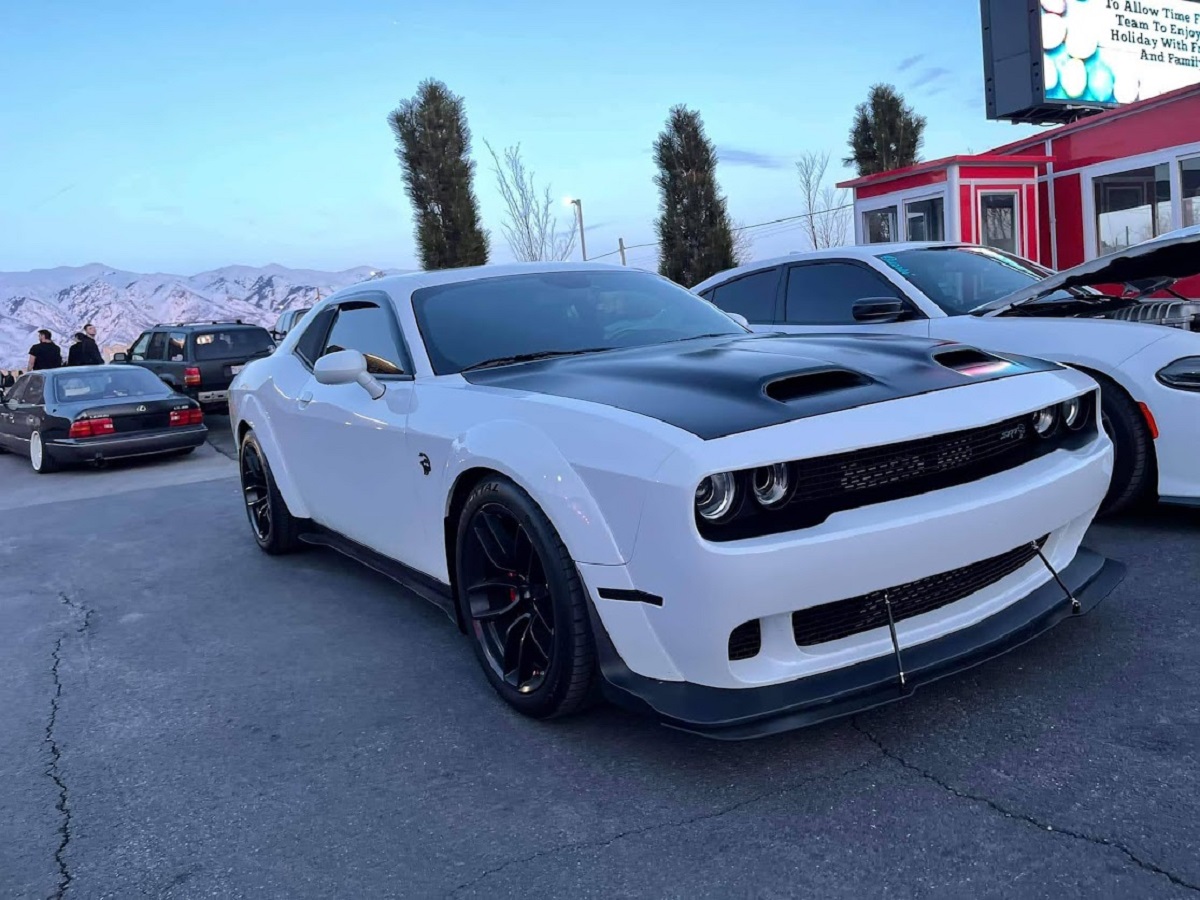 In addition to racing her 2019 Dodge Challenger SRT Hellcat Redeye Widebody, Spor also takes it to car shows and enjoys it as a daily driver. While she obviously enjoys driving it, the people she has met through her passion for the Dodge brand is a key component of how much she and her family enjoy the community.
"This car is all smiles per gallon. Every time I get in, I get butterflies. The funnest part is the drive to the track and to the shows. No trailer queen here. Once I am at the track, it is red key, track mode and 'let 'er rip, tater chip'! The 'Woo Hoos' all the way down the track," said Spor.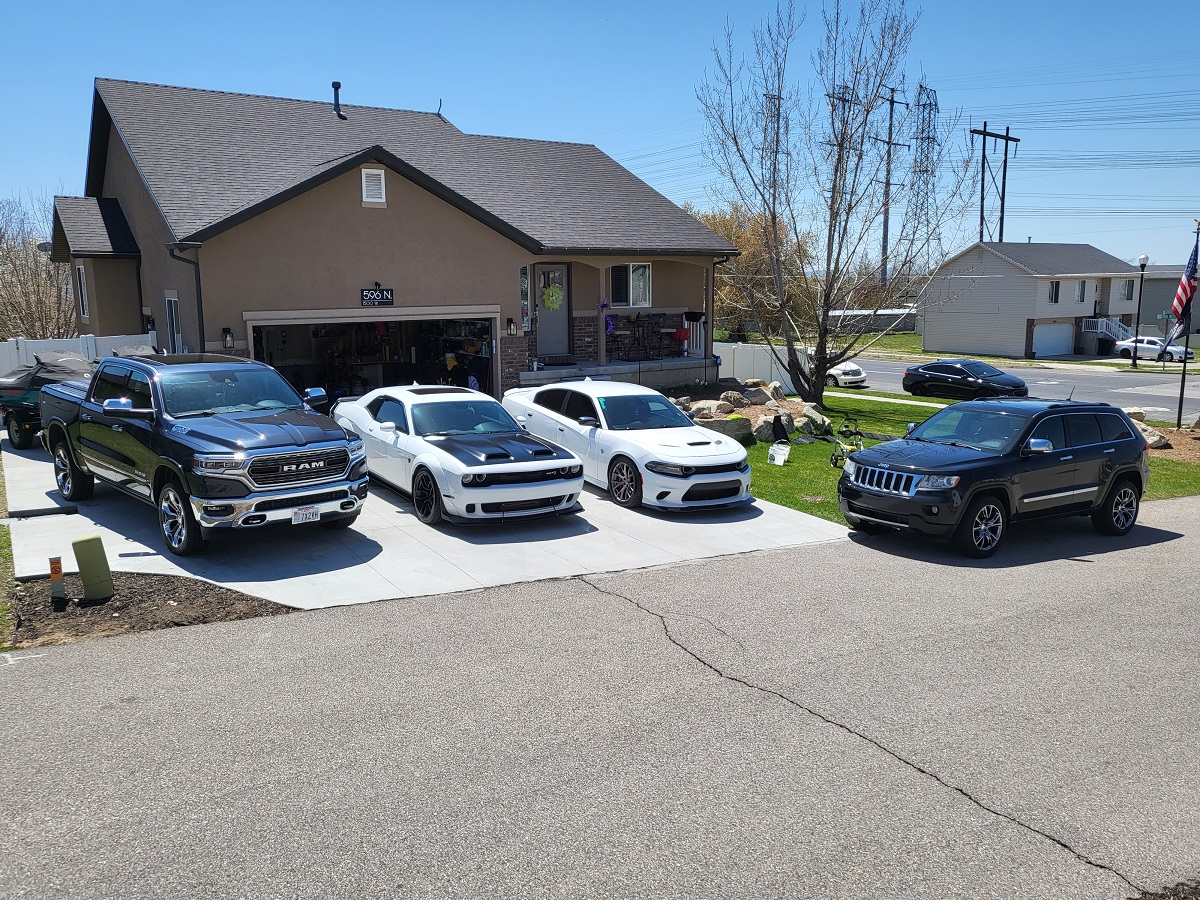 My son, hubby and I belong to a couple of car families here out of Northern Utah. We are part of the PolyFam Mopars and Salt City Mopars. Our PolyFam is family just as the name implies. I have met so many awesome people since owning this car. The Mopar life truly brings people together. I live out here by the Air Force base, so there are a lot of soldiers in my area, and the love of muscle is real. We do a lot of events together, from Cars and Coffee on the weekends, to cruises, photo shoots, runs for lotto tickets, fundraisers, roll racing, burnout contests, and of course traveling to the track for a day of racing. I truly feel the love and support!"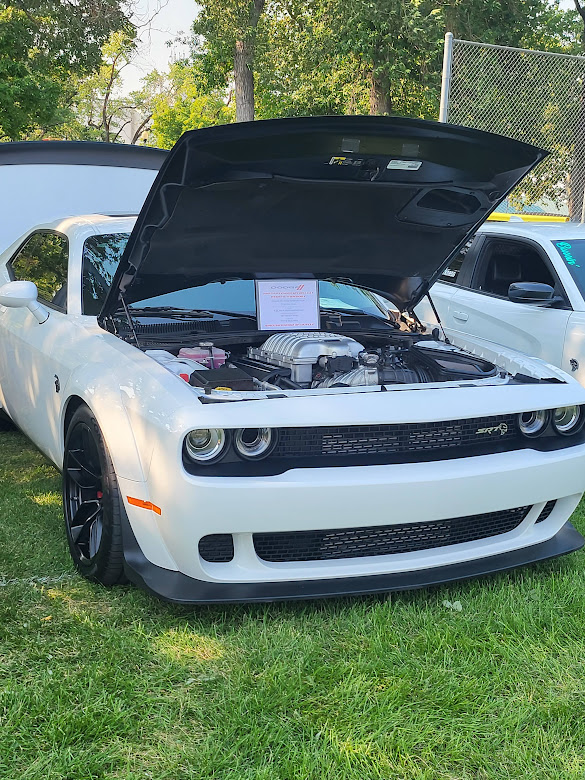 Stephanie Spor's Challenger SRT Hellcat Redeye Widebody is running on stock power right now, but the goal is to be packing upwards of a thousand horsepower for the 2024 racing season. The only changes so far have been cosmetic, including the tail band graphics that Spor created, made and applied herself. The other vehicles in her current garage include a 2019 Dodge Charger SRT Hellcat, a 2020 Ram 1500 Limited and a 2013 Jeep® Grand Cherokee Limited. The Ram and Jeep Brand vehicles are each powered by a 5.7-liter HEMI engine, so Spor's household has a quartet of HEMI V8 engines delivering a combined figure of 2,259 horsepower. That is some serious muscle.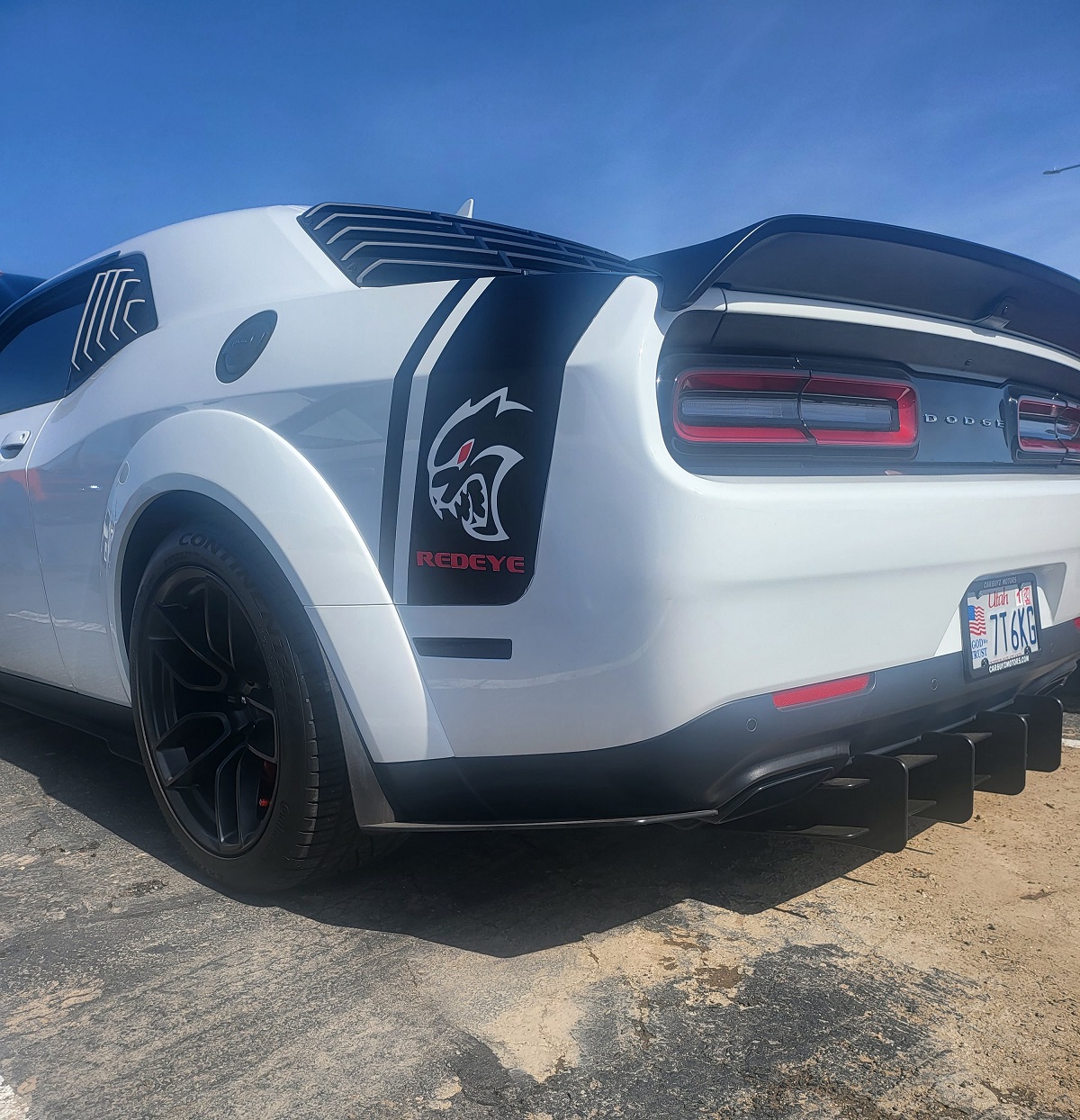 "I would love to see more women participating at the drag strip. As my old 8-year-old me used to say – 'anything boys can do, girls can do better'," said Spor. "Mopar or no car! It is not just a car, but a way of life. It's like the mafia, once you are in, you can't – nor do you want to – get out."