— 1971 NHRA Winternationals saw Big Daddy change the world of Top Fuel racing forever!
— Garlits wins 1985 and 1986 NHRA World championships with Super Shops backing
–2003 saw Big Daddy run a personal best speed of 323.04 mph with support of Summit Racing Equipment
In part one, we talked about the early days of racing for "Big Daddy" Don Garlits. He was the first drag racer to officially surpass the 170, 180, 200, 240, 250 and 270 mile per hour marks in the 1/4-mile. His most important contribution to drag racing was his creation of a successful rear-engine Top Fuel car. To many, he is considered the all-time patriarch of Top Fuel drag racing.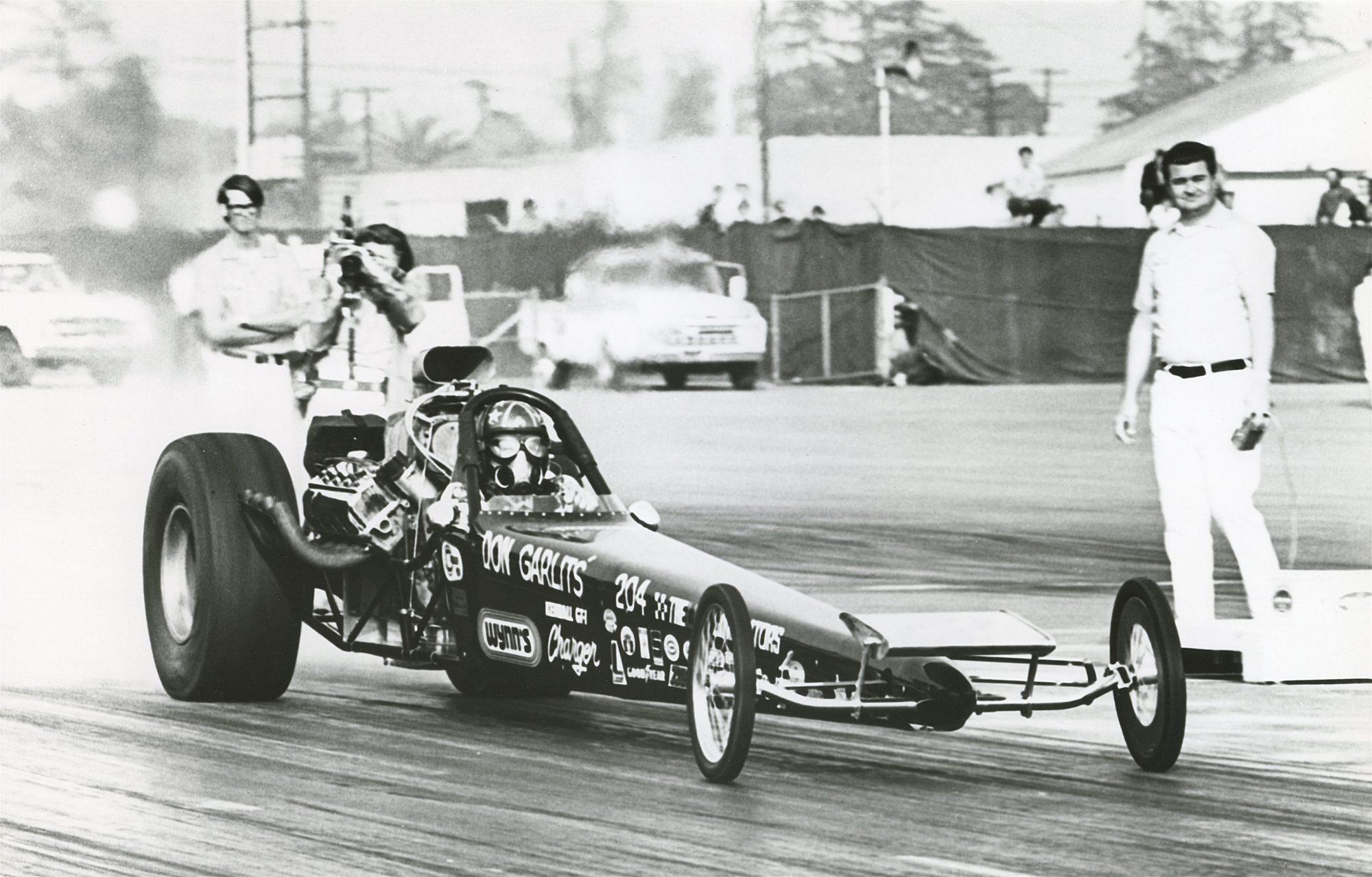 This is the car that truly revolutionized the sport of drag racing in the Top Fuel class, as seen at the 1971 NHRA Winternationals, which he won. Don remembered it well: "We were actually assembling the rear-engined car in the pits, and in comes the Snake, and he looked at that thing, and he laughed! He said, 'Well, I'll give you credit for one thing, it's one way to get ink.'" It wasn't too long before Prudhomme switched over to the rear-engine dragster himself.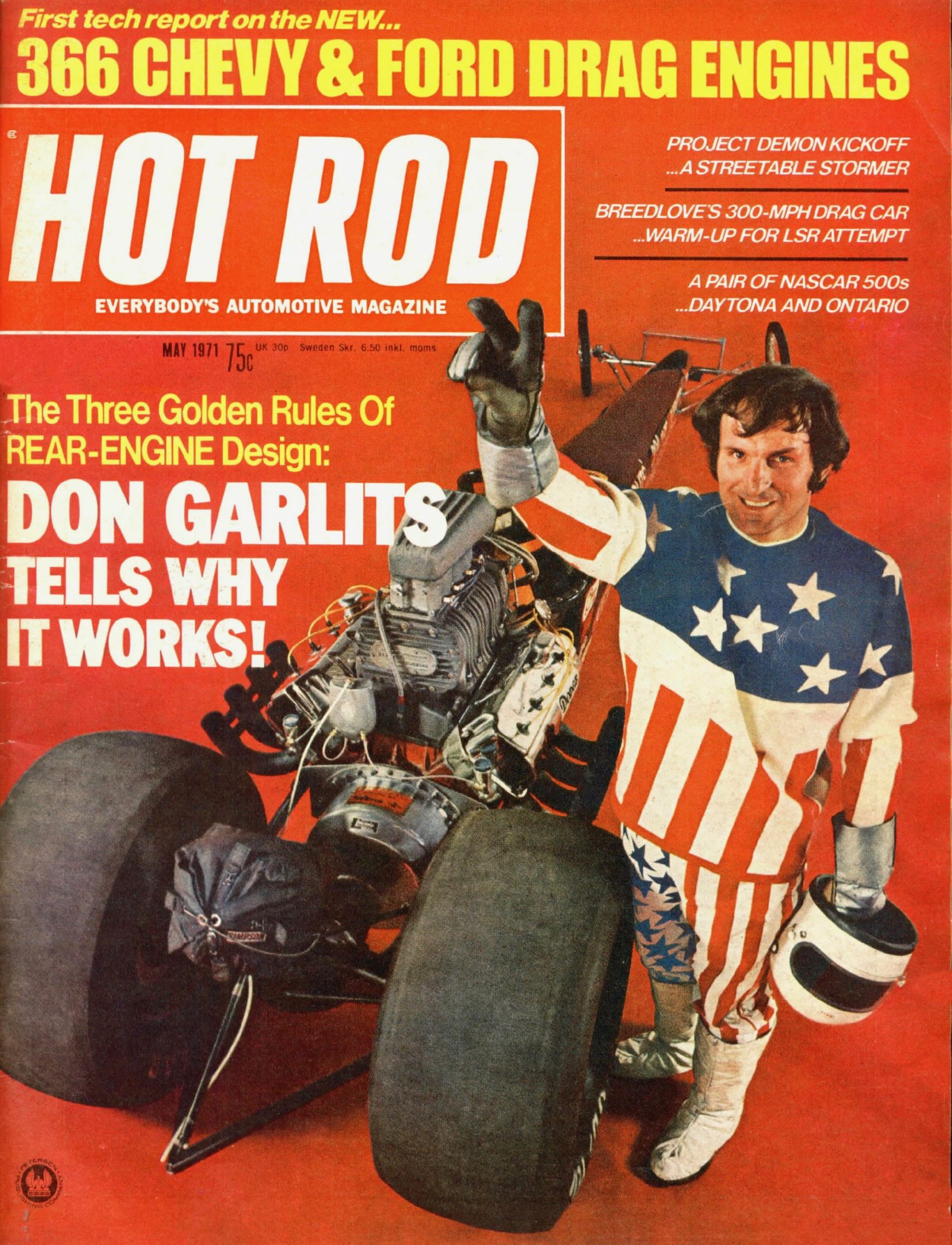 It was the cover image of the May 1971 Hot Rod and inside the pages all the details of the car were exposed, and one of the big advantages of the new design, with 217 inches of wheelbase and the driver sitting out front – besides the obvious safety advantage – was forward vision. In the text, he told of telling ace wrench Tommy "T.C." Lemons that while driving it he "saw a big ol' 3/8th-inch bolt layin' down there in the lights" and when he replied, "Oh, yeah?" Garlits said, 'Yeah, fine thread.'" Also in the story, he explained a rule when building a rear-engined Top Fuel car is to slow up the steering ratio by about 20 percent as compared to a conventional slingshot.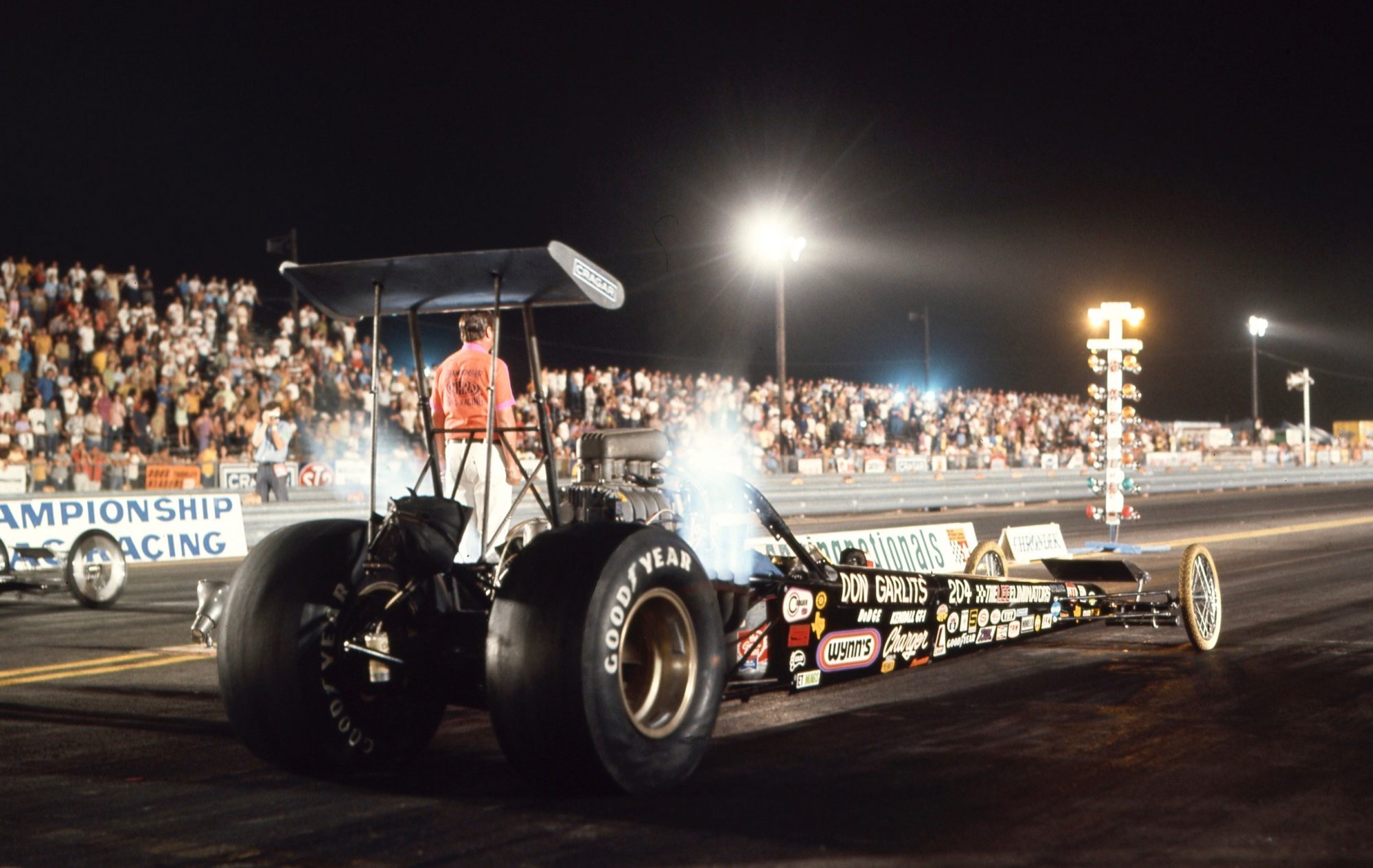 During the qualifying runs at the 1971 NHRA SpringNationals race, competitor John Wiebe had run low E.T. with a 6.47-second run after Garlits had already put his Swamp Rat XIV in the trailer. "I pulled my dragster back out and on this run took low E.T. honors with a 6.44-second run," recalled Big Daddy.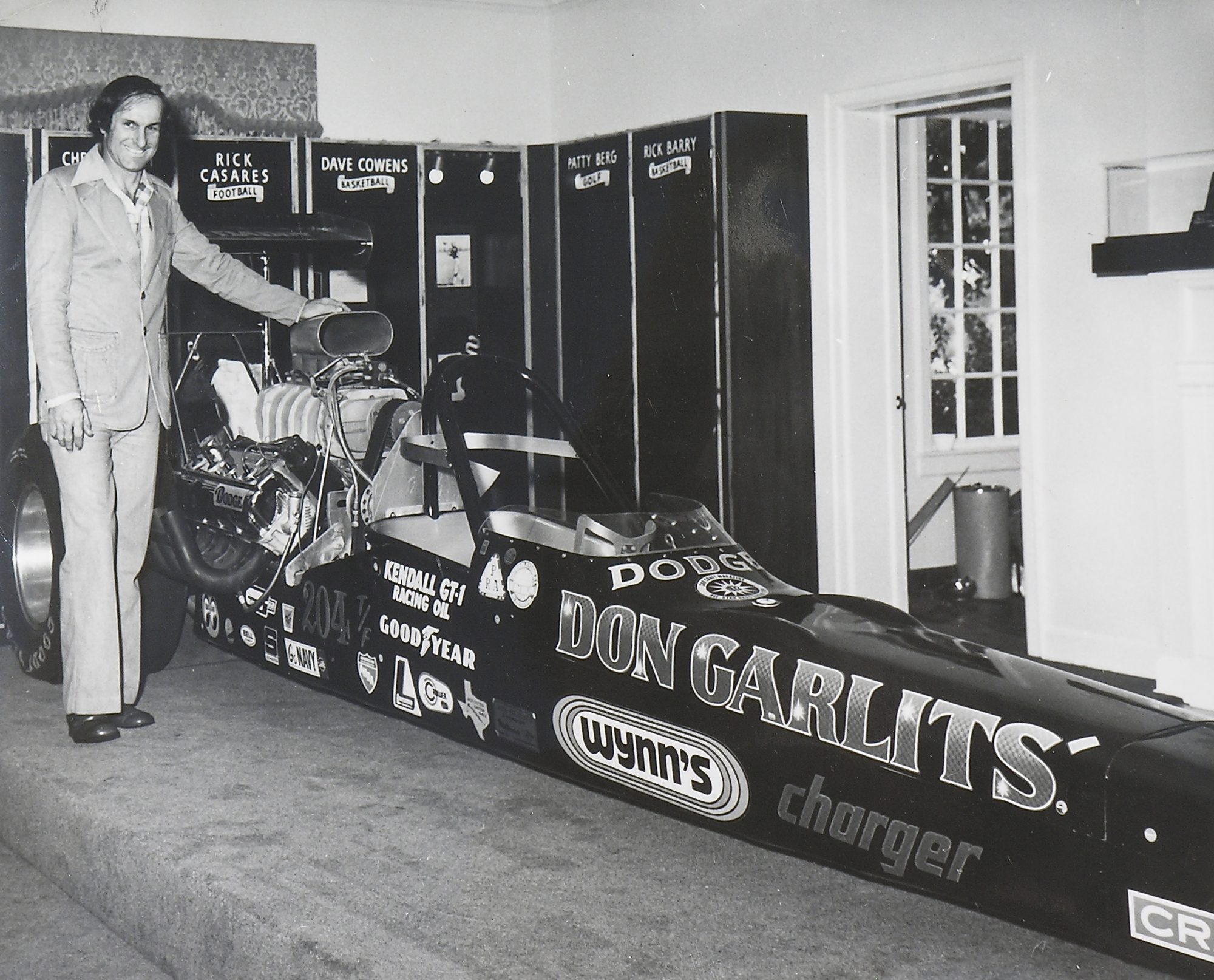 Mid-'70s shot of Don at a press event, the top bodywork on this Swamp Rat #16 featured twin "humps" for his knees when positioned in the car; in this era, there was a lot of body development going on each racing season.
FIRE BURNOUTS
Talented artist John Joduga had Garlits as a client and here's the cover of a press kit folder, depicting Swamp Rat 19 performing a fire burnout. Just the right amount of RFI traction compound and methanol was used by Garlits' long-time crew member Tommy "T.C." Lemons to make it all explode … and in a hellacious manner, it wasn't long before the fire burnout was outlawed by the NHRA!
In this April 1973 Popular Hot Rodding Magazine (Swamp Rat 16 cover shot), Garlits told the readers: "Last year, 1972, I grossed $192,000 from my racing ventures, and it cost me $100,000 to do it. Counting all my travel and sustenance expenses, that averages out to about $500.00 a run. I have a good deal of sponsorship money that helps defray my expenses."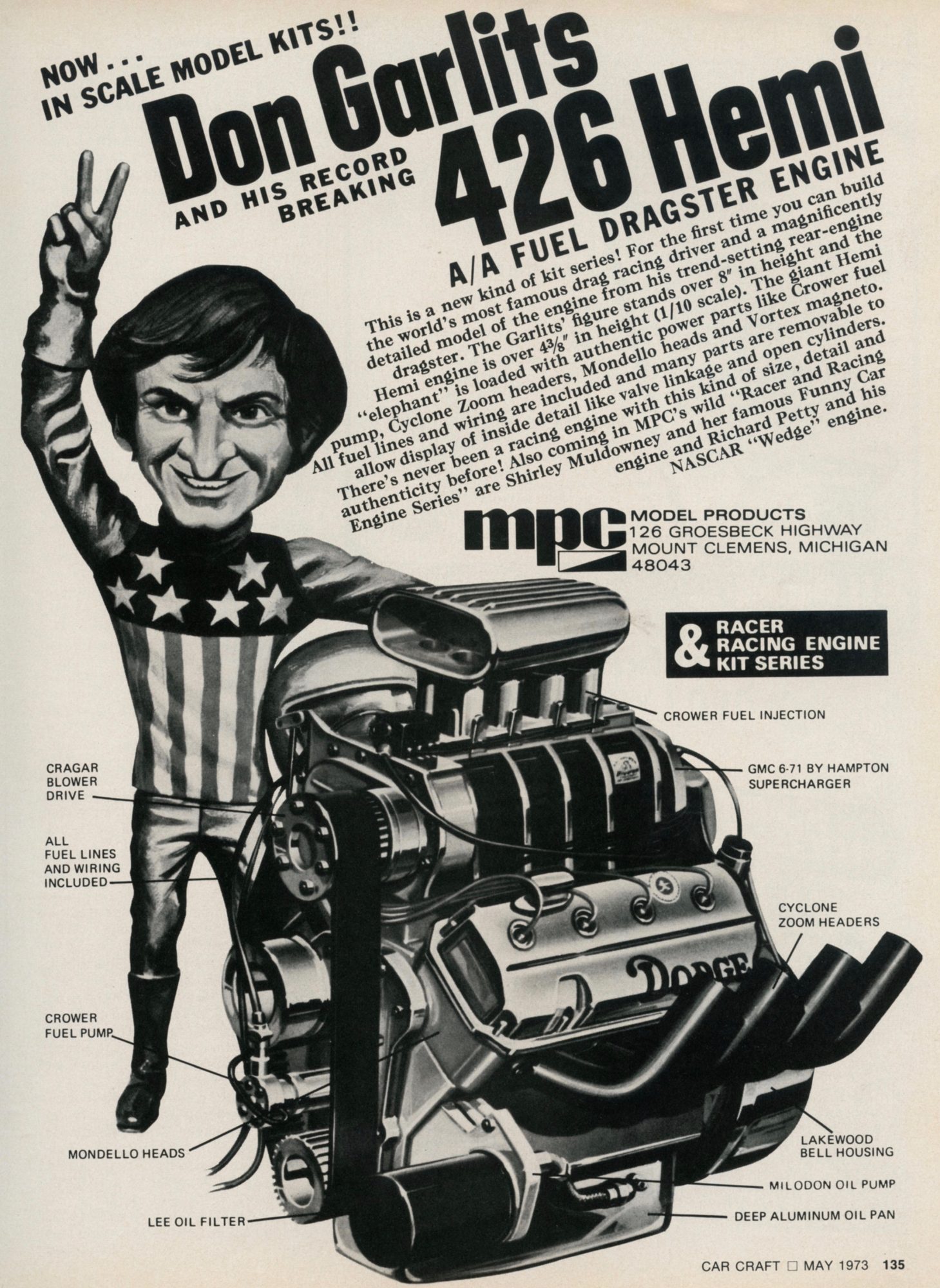 For 1973, an 8-inch tall plastic Don Garlits figure with 1/10th scale supercharged HEMI® engine (4 3/8th-inch tall) model was part of the Model Products Corporation product line, for young model builders, Big Daddy was the rage!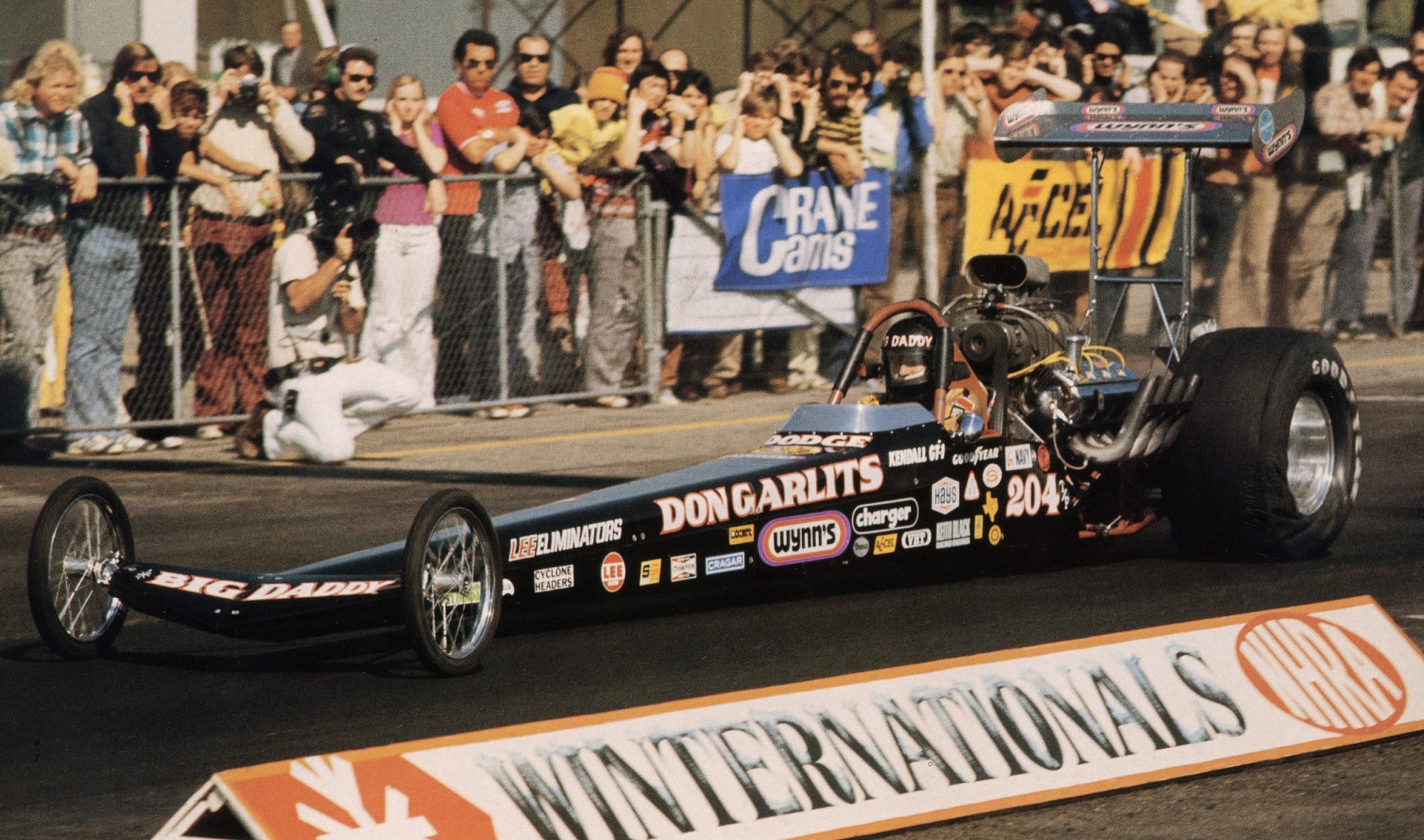 Swamp Rat 18 was a consistent runner for 1973 and '74, it ran a 5.78-second run at 247.25 mph that year at the NHRA SpringNationals, setting both ends of the Top Fuel record. Then, the next January, on an AHRA track, it again ran 5.78 / 247.25 mph setting the E.T. and speed record with that racing association.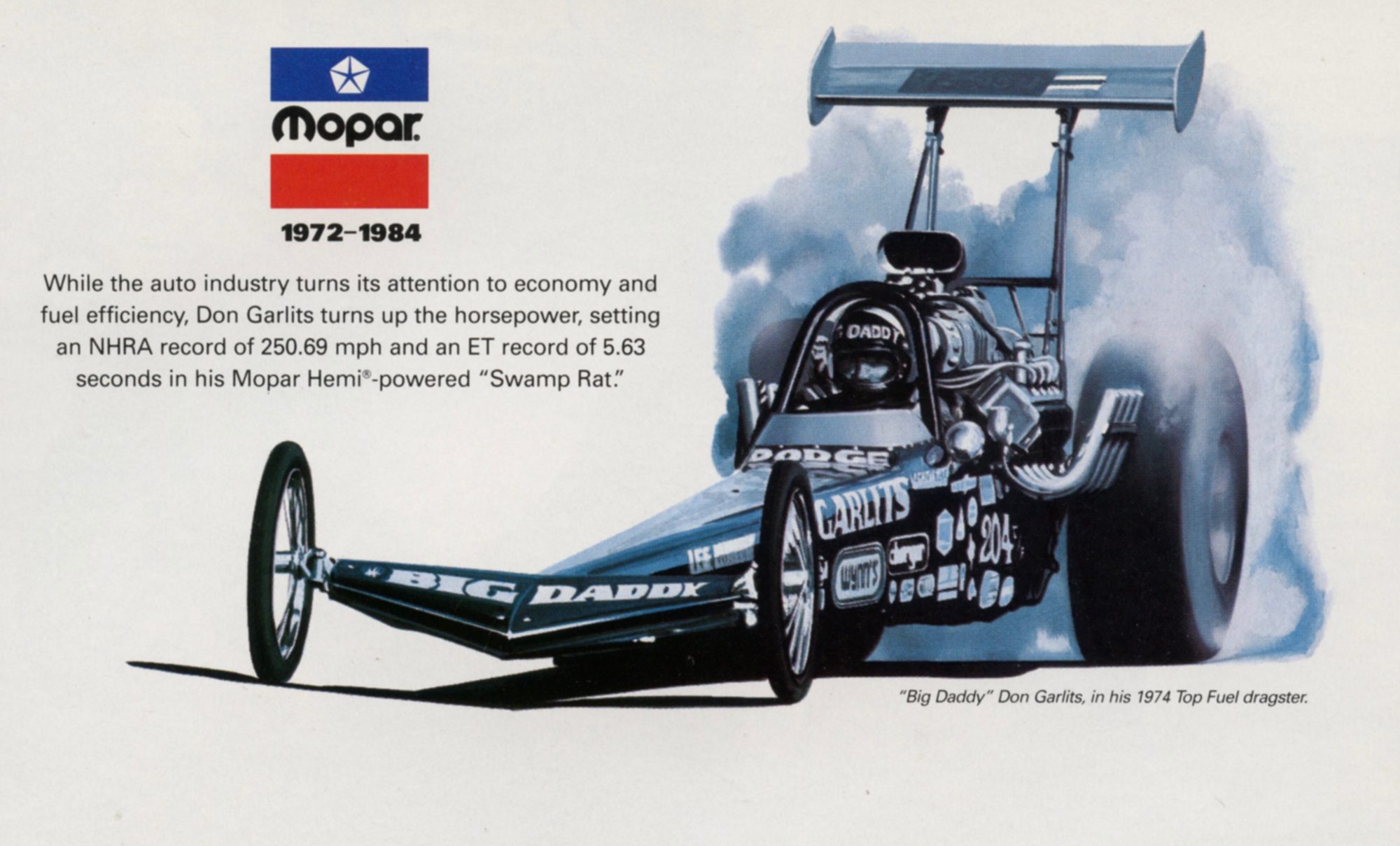 An image of his 1974 Swamp Rat as pictured as part of the Mopar® Parts history advertisement. Garlits has always been loyal to Mopar!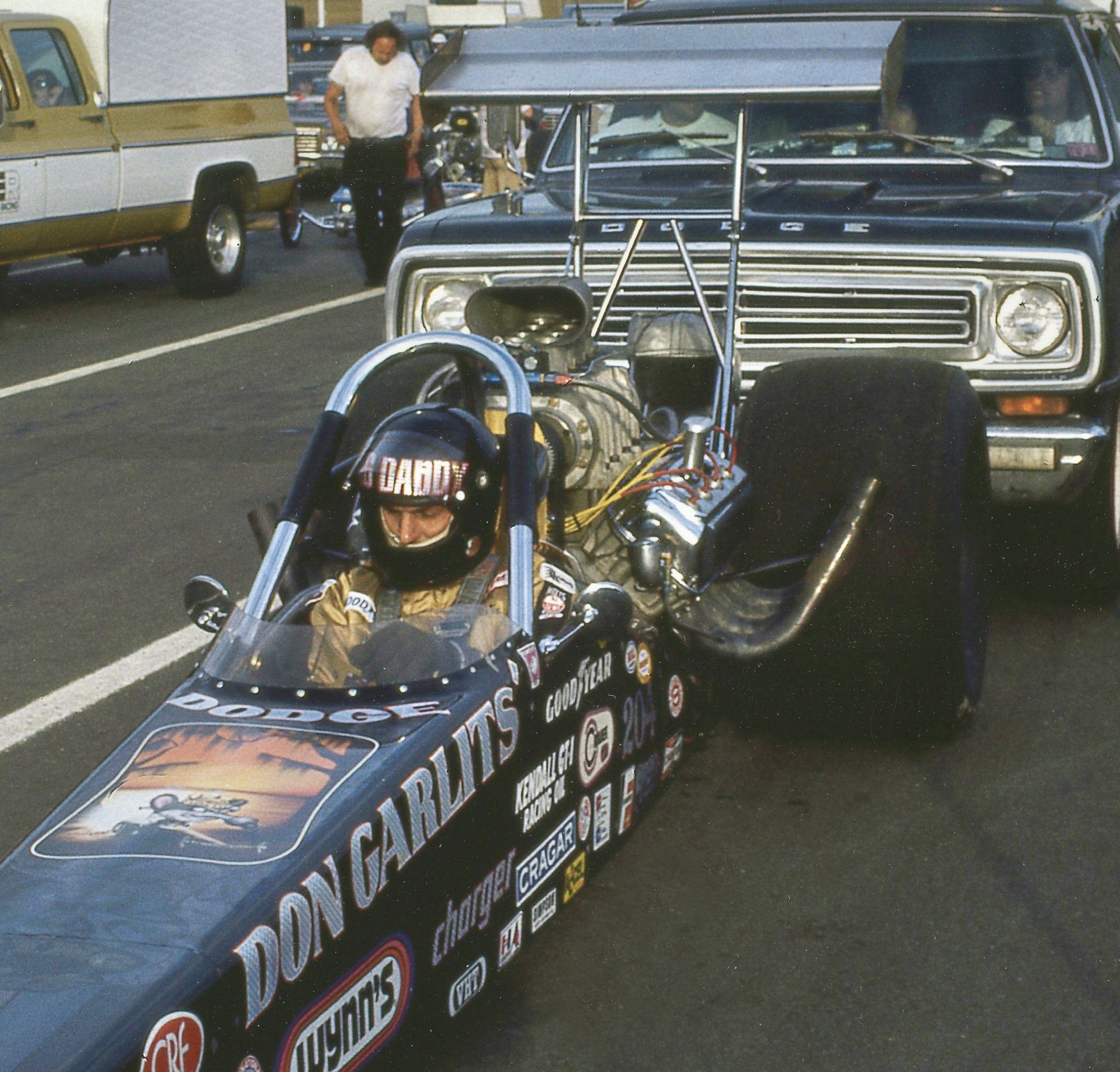 Rear-view mirrors were added for Garlits to monitor the activities behind him, be it header flames and/or tire smoke! Pictured is Swamp Rat 22.
BIG WIN 1975 NHRA INDY US NATIONALS!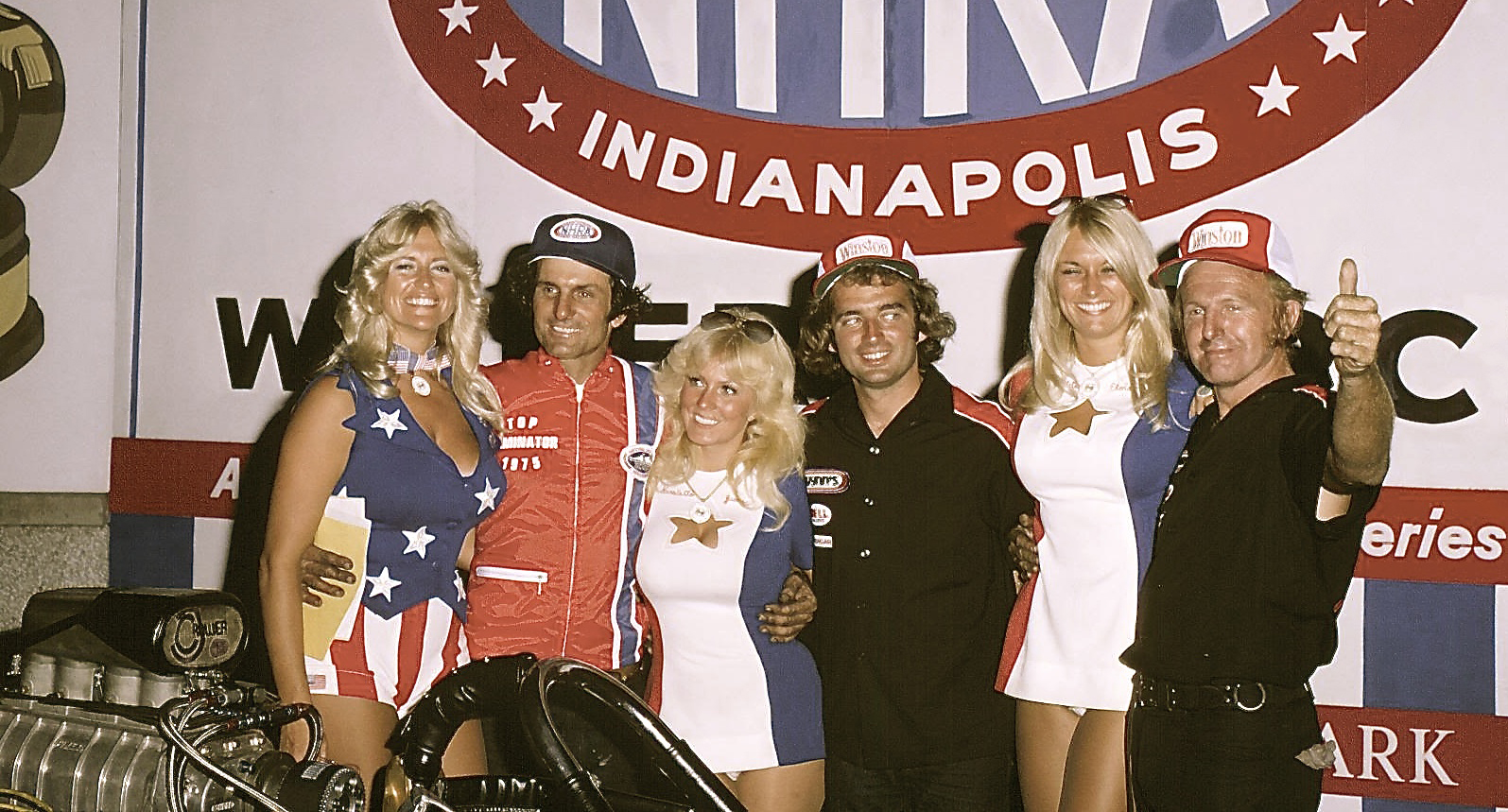 Here's the celebration at the 1975 running of the NHRA US Nationals at Indianapolis where 43-year-old Garlits beat "Cha Cha" Muldowney for the T/F crown! Linda Vaughn and June Cochran from Hurst, crew chief Ron Barrow and crew member Bob Taaffe, along with another Hurstette enjoy the moment. Winning E.T. was 5.93 seconds at 242.58 miles per hour. Big Daddy was thinking of retiring at this point in time: "I've been in racing 25 years, I've made a lot of money, had a lot of friends, a lot of good times. It's hard to keep going if you get the pressure from home, I'm really going to think about it."
A RECORD MOMENT IN TIME
At noontime on October 11, 1975, at the Ontario Motor Speedway in Southern California, what could be the most famous run in Top Fuel of all-time took place when Don Garlits drove his dragster the length of the quarter-mile in 5.63 seconds at a speed of 250.69 mph! It was a record that took some seven years to eclipse. There was no question that Garlits was the king of Top Fuel, he just needed some outside backing from sponsors to provided all the required parts and pieces to run hard season after season.
May 1981 issue of Super Stock & Drag Illustrated, cover photo Garlits front and center! Sitting in Swamp Rat 26, he won two AHRA events, as he opted to sit out the 1981 NHRA season as a protest to changing rules, namely the mandatory use of a reverser and self starter for Top Fuel cars. SR26 was campaigned through the end of 1984 before being retired.
MAJOR SPONSORSHIP: SUPER SHOPS
Harry Eberlin, owner of the nationwide Super Shops speed shop chain, was at the 1985 NHRA Winternationals in Pomona as he had given Don Garlits a partial sponsorship. After watching him perform, Harry had faith that with some proper funding, Big Daddy could fly! He and Joe Hrudka (Mr. Gasket) talked and the mutual decision was made to give Garlits some real help. Major backing soon came from Eberlin (Super Shops, Erson Cams and Mallory Ignition) plus associate backing from Mr. Gasket. It turned out to be a huge success, as Big Daddy delivered the 1985 and 1986 NHRA Top Fuel Championships, plus the car itself (with its performance and innovative, aerodynamic front pod design) generated massive amounts of media attention. Smart decision to support Big Daddy!
INDUCTION INTO THE SMITHSONIAN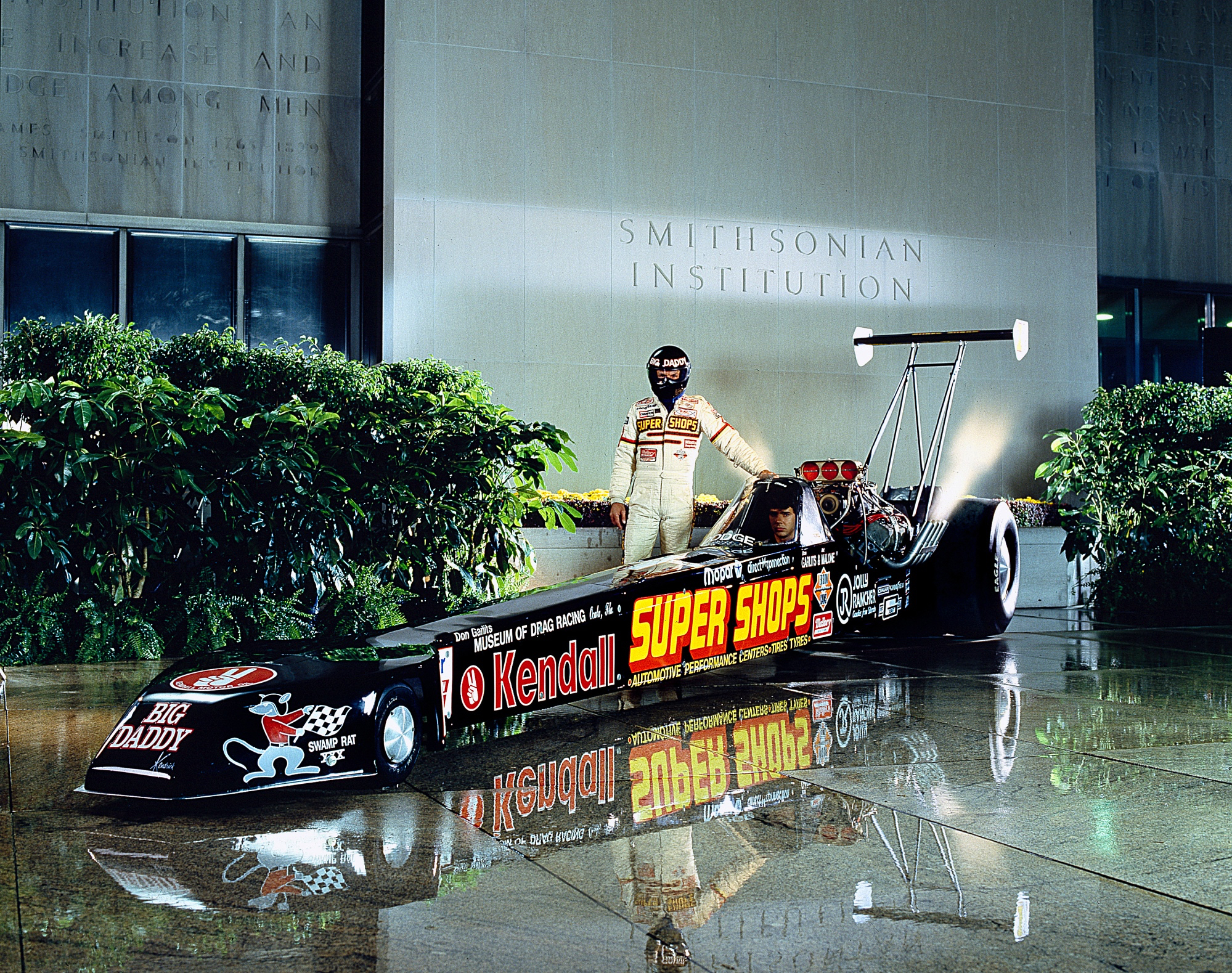 Without question, one of the most famous of all the Swamp Rats was the XXX car, the 30th one to wear the name and it now is in the Smithsonian Museum. It was on June 12, 1986, while at the Summernationals event in New Jersey when Big Daddy's Super Shops-sponsored machine took off "in flight" and experienced a blowover wheelstand, which was spectacular as the car went up into the air, twisted around and landed on all four wheels, then started to head back to the starting line with a stuck throttle! Don was able to shut off the fuel and bring the car to a stop, and the crowd went absolutely berserk when he climbed up and out of the car.
Voted NHRA's #1 Driver of all time, Big Daddy won a total of 35 NHRA national events and three world championships (seventeen total championships across three major hot rod associations). In 1992, the driving career of Big Daddy came to a halt when he suffered damage to his eyes from driving, detached retinas, as a result of the violent jolt when both parachutes deploy, and he put experienced Funny Car driver Bruce Larson behind the butterfly of Swamp Rat 32, followed by Richard Langson. By the time the year 2000 rolled around, Garlits had some corrective eye surgery and got the green light to drive again. Good friend Gary Clapshaw wanted Don to drive his Top Fuel car to help make his comeback competitive, and in 2001, Big Daddy recorded a 4.720 E.T. with it at 303.37 mph, breaking the 300-mph barrier, something that Garlits had long wanted to do! At 71 years old, in 2003, Big Daddy ran a 4.76 E.T. in Summit Racing-sponsored Swamp Rat 34, but with the even more impressive top end speed of 323.04 mph. He said he actually drove the car an extra 150 feet past the finish line as he wanted to see how stable the mono strut rear wing was, and according to the computer on the car, it went 340 mph. Even at that age, Garlits was still very hot behind the wheel of a Top Fuel dragster!
OPENED MUSEUM OF DRAG RACING
1976 marked the opening of the Don Garlits Museum of Drag Racing. "Let me tell you something," Big Daddy shared. "Running this place, finding the cars, restoring the cars, going around promoting it, is darn near as exciting as actually racing! And it's got one really good thing about it, you don't tear anything up. When you build it, and you restore it, you've got it. And everything that we've ever found or restored, is still here for future generations to enjoy." He still builds HEMI engines and has collected a massive amount of HEMI race and OEM components in the shop.
Beside toying with the electric dragster, Big Daddy is still working at his drag racing museum, which has nearly 300 cars total and two huge buildings with one display featuring all his famous cars, as well as a few that were not victorious on the race track! Examples being the Garlits sidewinder car, SR-27, was anodized blue in color and featured an engine that sat transverse mounted with power put to the ground via a set of complex gears (the weak-link initially then beefed up to the point be robbing 21 percent of the power) which was not a success. Then there's the Garlits turbine car, which simply didn't have enough power to run competitive numbers, plus the Garlits streamliner (known as the Wynn's-Liner), with a body built by Jocko, was not stable at high speeds and was retired almost after the first run (driven by Butch Maas).
"MONOSTRUT" SWAMP RAT 32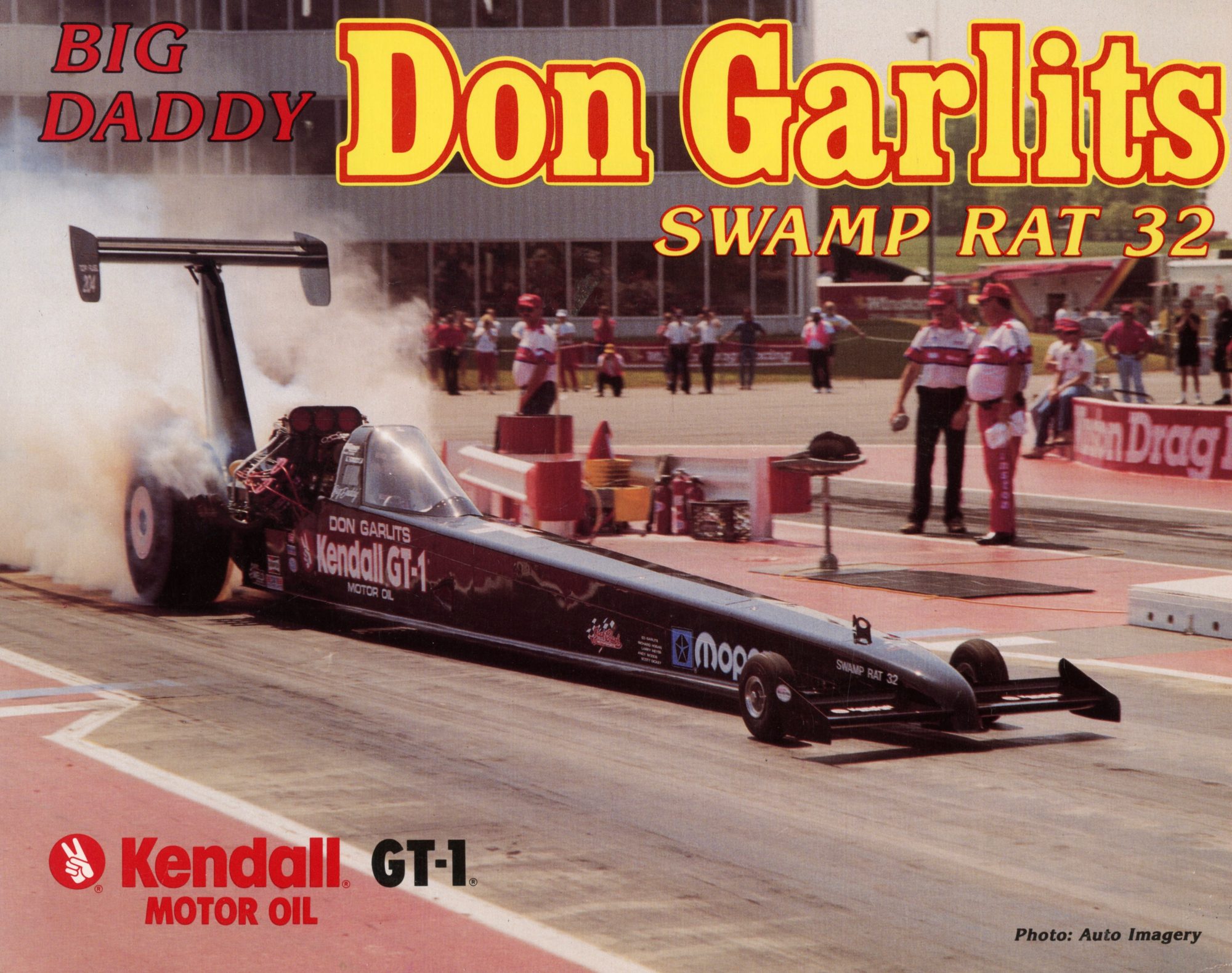 Swamp Rat 32 came in 1992, a Murf McKinney chassis with one-of-a-kind center upright wing design, called "mono strut." In this car, Garlits suffered a detached retina in his right eye (after a two-parachute shut-off pass) with Bruce Larson stepping in as the driver, and it went 299 mph.
RETRO 392 WYNN'S CHARGER FRONT ENGINE CAR
It was in 2006 during the retirement party at the Walter P. Chrysler Museum of longtime Chrysler exec Joe Higler, which Garlits attended, that the conversation, as it always did, went to "Big Daddy." The question was asked to him if he'd ever consider running one of the (then) new 392 HEMI crate engines in one one of his old Swamp Rat front-engine dragsters. Well, it happened! Garlits pulled out the old 1968 car, Swamp Rat XII, and once the factory crate engine showed up to his Florida shop, he built it with a vintage 6-71 supercharger (with rare Reath Automotive rear plate to drive the fuel injection pump, vintage front snout), and a Vertex magneto to fire the 80-percent nitro fuel mix. A Crane nitro-spec camshaft was slipped in and zoomie headers bolted on. With his nitromethane engine experience, this retro Swamp Rat has the old school "cackle" and exhaust flames just like the glory days!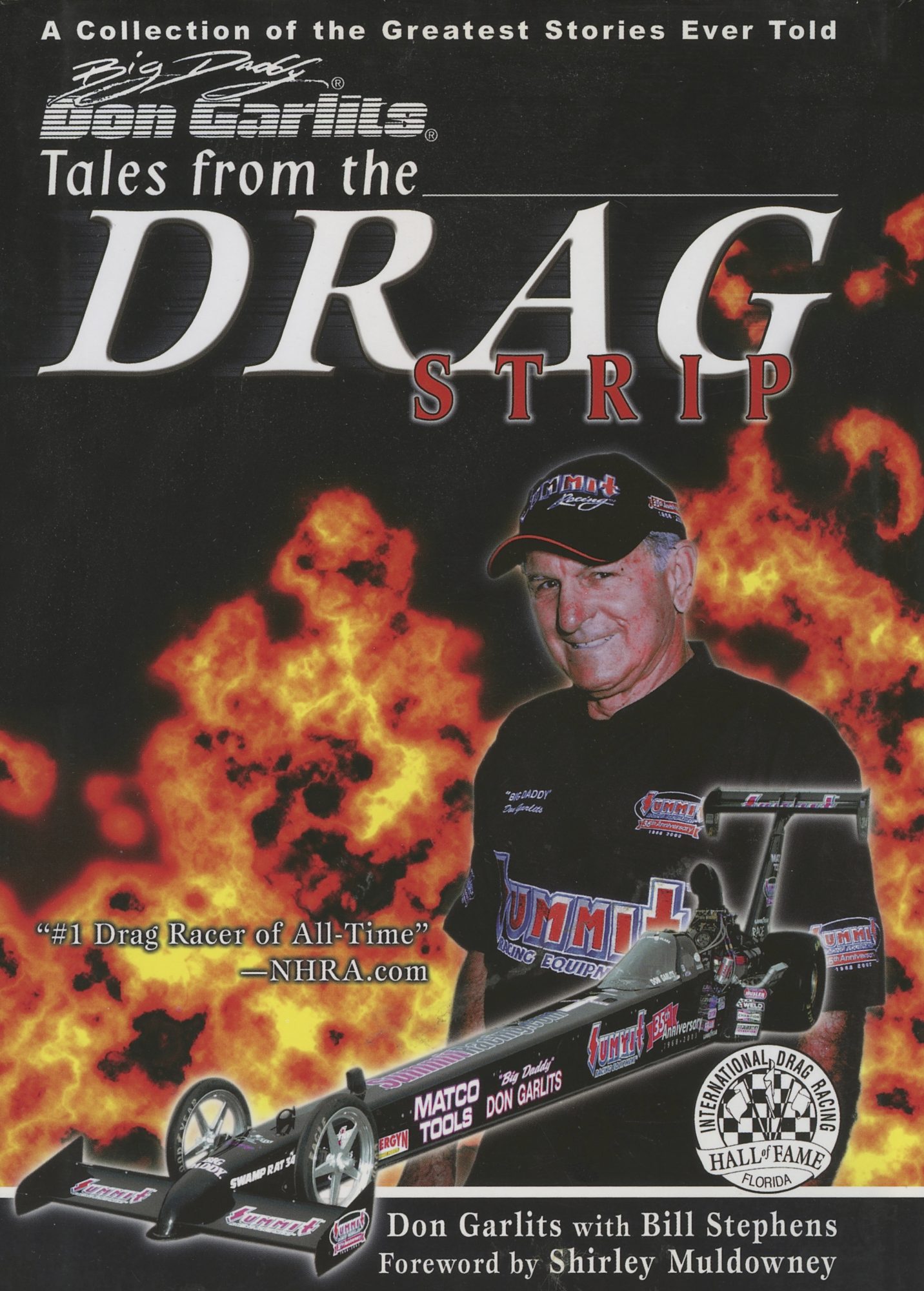 Over the years, there's been several books from Don Garlits and "Tales from the Drag Strip" (208 pages, published 2013) is a first-person account from numerous memorable experiences on and around Don's drag racing exploits. His remembrances are highly detailed and insightful! ISBN# 10: 1613213492 is available directly from Don Garlits website (gift shop): www.garlits.com
EMBRACING ELECTRIC!
In 2015, then 82-year-old Don Garlits decided to experiment with electric! Swamp Rat 37 was built, featuring a high-tech electric powertrain with a reported 2,000 horsepower rating. With six electric motors run in tandem, using chain drive, it worked its way up to a speed of 184.01 mph with a 7.258 elapsed time, 1/4-mile. "I'm doing something different, experimental, I'm having fun," said Big Daddy on his electric dragster program. "I'm in an area that nobody's been before, and that's what excites me!" More recently, Garlits has built a lighter EV version, Swamp Rat 38, incorporating an S&W Racecars chassis.
THROWBACK GRAPHICS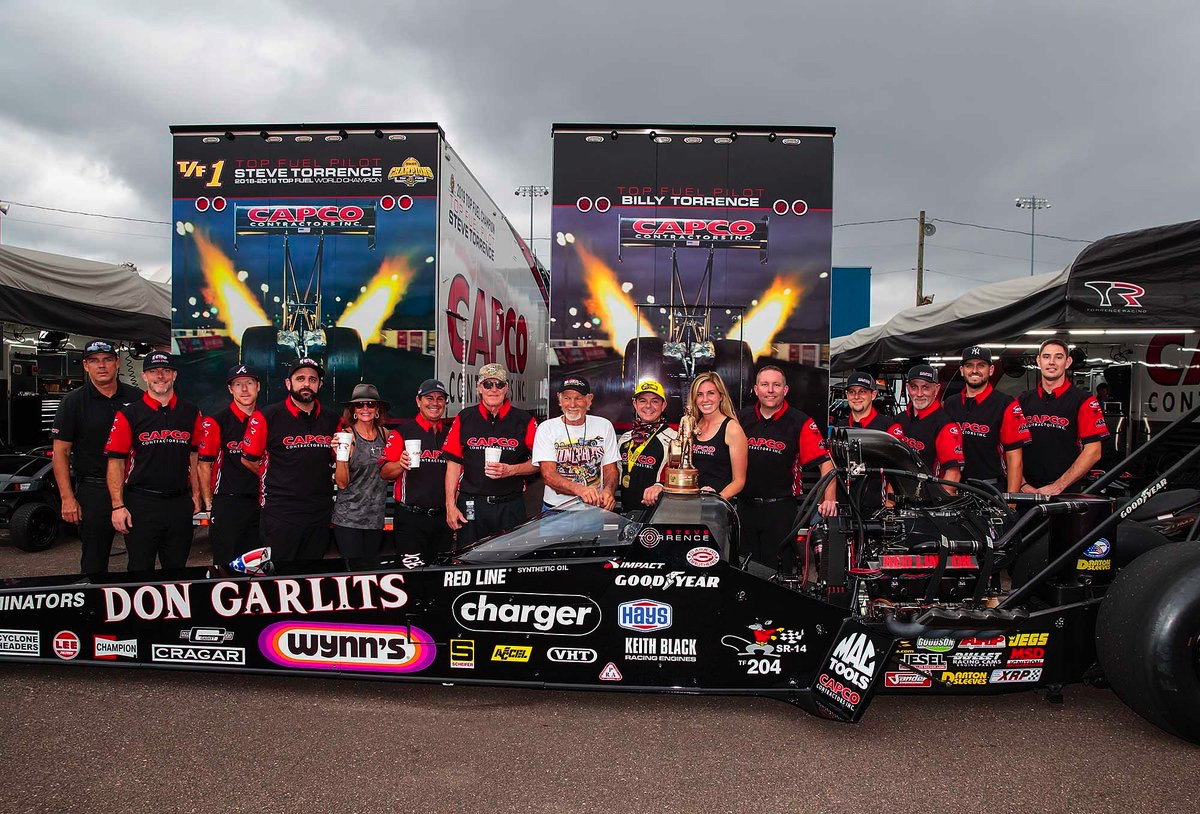 Modeled after Garlits' famed Swamp Rat 14, Steve Torrence did up a special retro "throwback" wrap on his CapCo Top Fueler in 2020 and it was previewed to Don Garlits prior to the running of the NHRA Gatornationals. "It looked exactly like Swamp Rat 14," said Big Daddy. "The layout of the decals were exactly right. The tachometer on the cowl was really cool, I used to use that to monitor the engine on the burnout."
Watch this video of 91-year-old Big Daddy firing up his 392 HEMI engine-powered Wynn's Charger at the 2023 Wally Parks Nostalgia Nationals.
Author: James Maxwell