A Radford Racing School High Performance Driving program can be fun for the whole family, so long as everyone in that family is old enough to drive, but what does a family of driving enthusiasts do if they have younger kids who would like to get behind the wheel? They go to Radford Racing School and participate in the Karting program, complete with Dodge-branded "Hell KRTs".
As you might have guessed, the Radford Hell KRTs aren't actually made by Dodge, but some of the karts are decorated with a Dodge Brand livery with the name Hell KRT on the side and Hellcat logos on the front. They look pretty badass, and while they don't pack Dodge powerplants, the 270cc gasoline engines make them a ton of fun on Radford's dedicated kart track. These karts also feature a pressure-equalizing hydraulic braking system, providing better braking control and offering a more engaging high-performance driving experience than the average go karts at other facilities.
Hell KRT Racer Requirements
The Radford Racing School Karting program is open to anyone 12 or older, provided that they are at least 48 inches tall and less than 300 pounds. That low age limit makes the Karting program a great option for basic family outings, larger family reunions or team-building fun for youth sports teams, but it also presents an interesting opportunity for adults who are attending one of the other Radford Racing School programs.
Say that you and your spouse are heading to Phoenix for the Radford High Performance Driving Two-Day course along with visiting family in the area. You want to bring your kids, ages 12 and 14, to visit the family, but you would also like them to be able to take in some high-performance driving fun of their own. Your whole family could schedule a Karting session on one of the days after your HPD program; so after getting world-class track instruction in Dodge Challenger SRT® Hellcats, you can go out and show off your skills against your family in a Radford Hell KRT.
Karting Program Options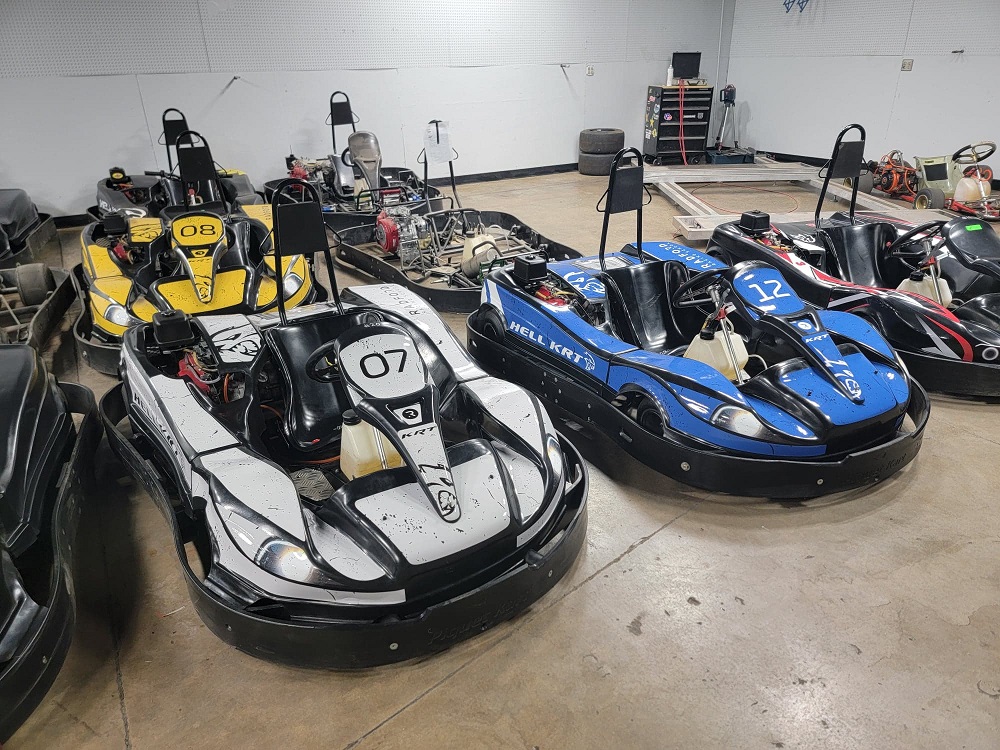 Radford Racing School has three basic options for their Karting group program – Just Race, Race & Eat and Elevated.
As the name suggests, the Radford Karting Just Race program focuses on track time, including an hour of racing action under the watch of the dedicated event team. There is also unlimited soda, coffee, lemonade and water for every program, as the school likes to make sure that everyone in attendance stays properly hydrated. It is usually very hot and very dry in Chandler, Arizona, so the folks from Radford do their best to make sure that everyone has something to drink as often as possible.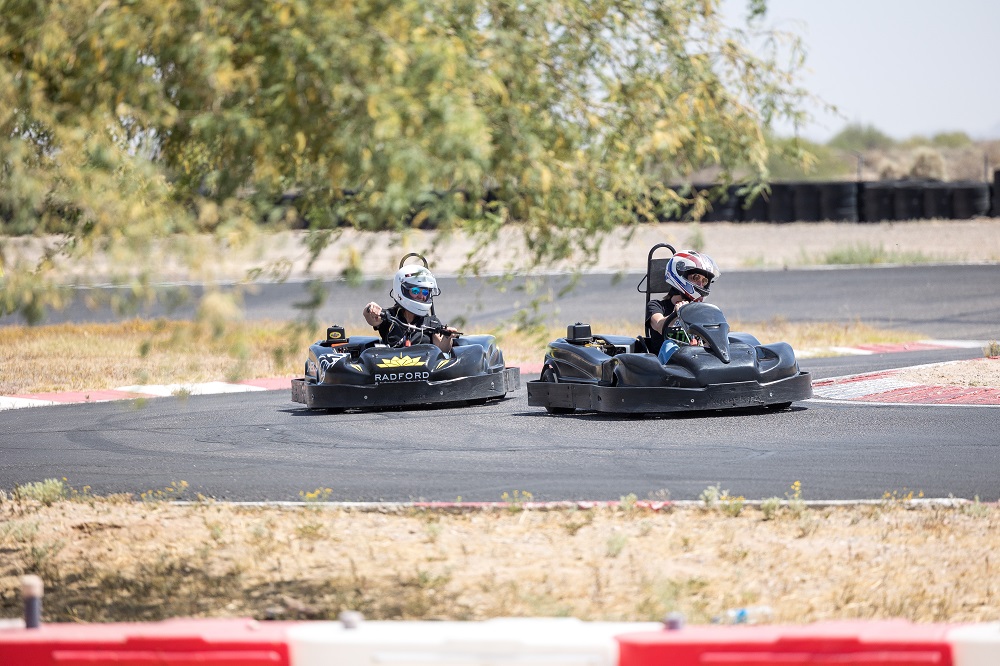 If you want your experience at Radford to be a bit more of an event rather than just track time, the Race & Eat program comes with an hour of track time and a half hour to eat a light meal. This is ideal if you are looking to quickly feed everyone in your group during breaks at the track.
Finally, the Elevated Radford Karting program is the ideal option for someone looking to throw a fun birthday or office party at the track. In addition to an hour of track time with the dedicated event team, drivers will enjoy gourmet pizza and dessert, as well as a Radford Racing School "swag bag".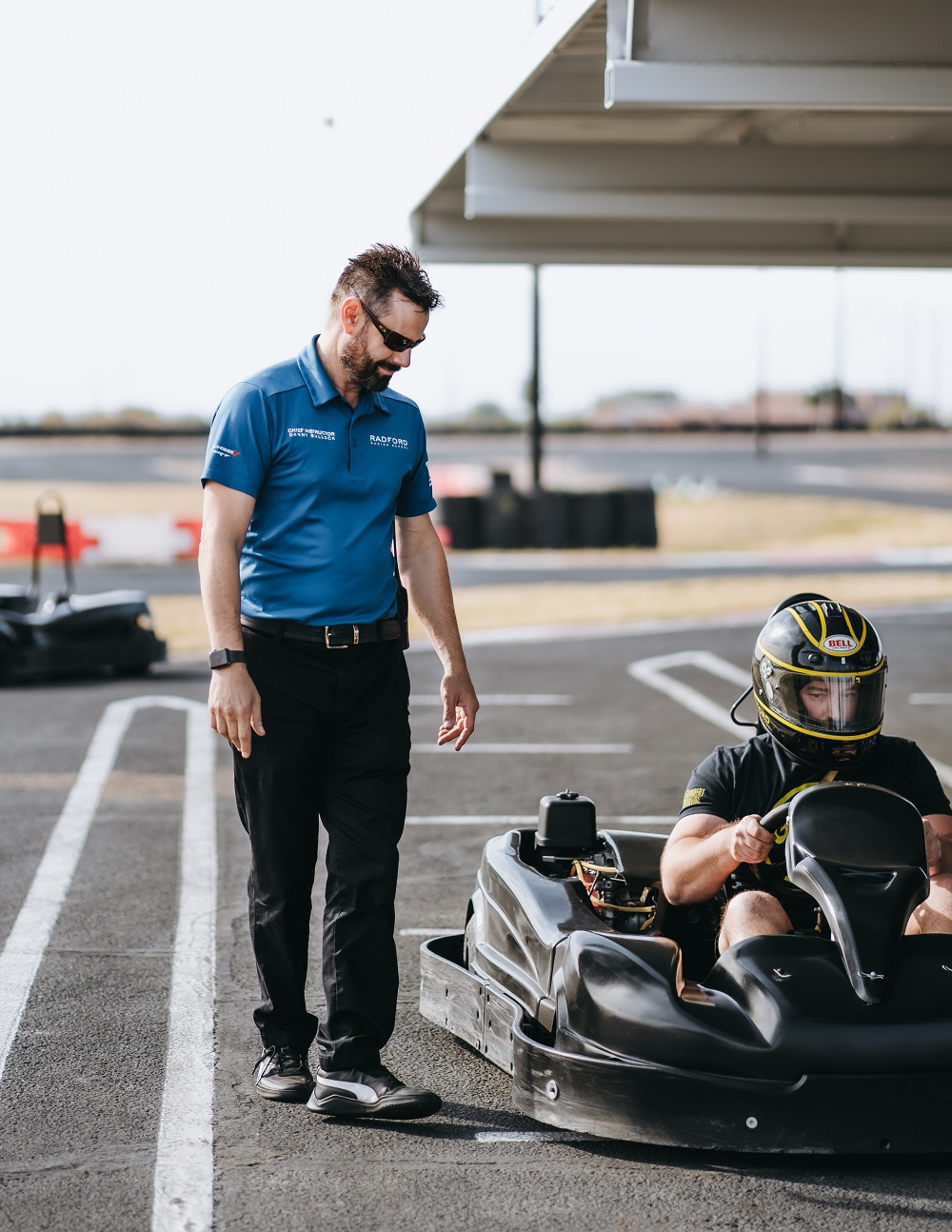 Of course, the Radford Karting program isn't just intended for families or groups with younger drivers. The Hell KRTs are designed to carry adults weighing up to 300 lbs, so one of the Karting programs makes a great option for an office party or just a unique way to spend an afternoon with your friends.
Radford Racing School asks that anyone interested in booking time in the Hell KRTs does so two weeks in advance of their intended date, but if you need a cool activity in a pinch with less than two weeks notice, contact the school to see if they have availability for the desired date.
Finally, if everyone in your karting group is interested in some basic driving instruction, you can add to your Hell KRT experience with time in Dodge Challenger SRT Hellcats for an additional fee.