There will be many unique vehicles at the Barrett-Jackson Las Vegas Auction being held on June 22-24, but the odds are good that few will bring as high of a hammer price as the 2023 Dodge Challenger SRT® Demon 170 that is being sold to benefit the children's charity Kristi House. The SRT Demon 170 is the hottest car on the market today, serving as the final high-performance package for the modern Dodge Challenger while delivering performance numbers that have never before been offered by an American road car. Being the quickest and most powerful American production car ever, coupled with the fact that this Dodge muscle car is limited to just 3,000 units in the United States, would make this a hot item at the Barrett-Jackson Las Vegas Auction, but this SRT Demon 170 will be unique from every other unit produced.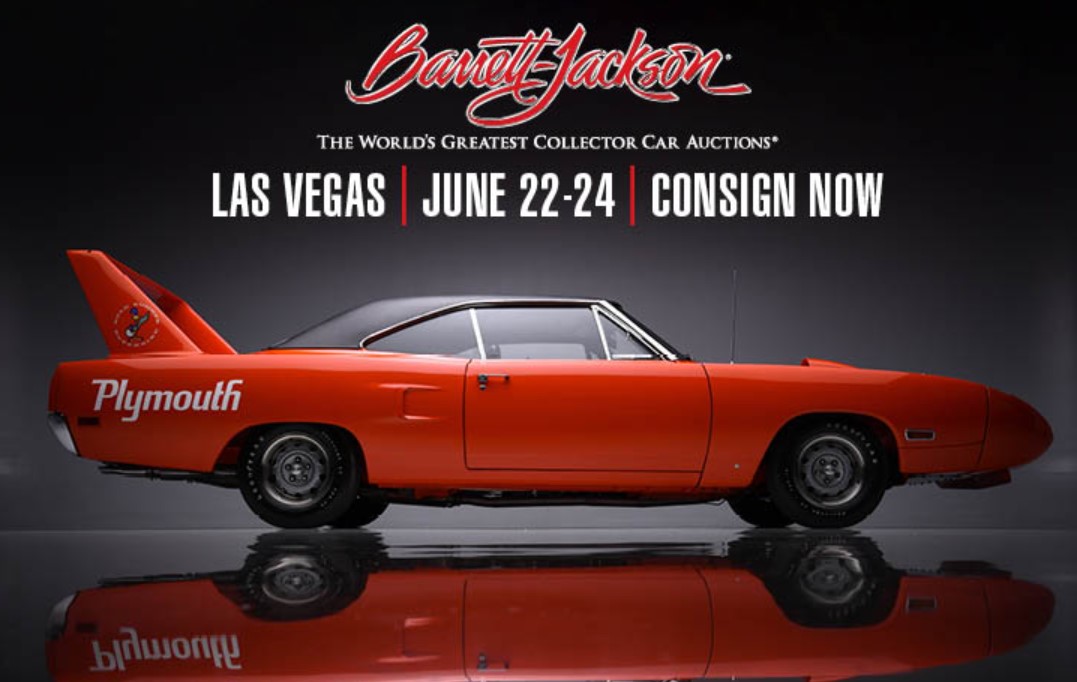 The 2023 Dodge Challenger SRT Demon 170 being auctioned off to benefit the Kristi House children's charity will be painted in a custom exterior color, making it a true 1-of-1 muscle car and allowing it to stand out from its 1,025-horsepower siblings.
This unique SRT Demon 170 is being donated by Alan Potamkin. Potamkin is the President of the Kristi House board, along with being the Co-Chairman of Potamkin Automotive Group – which includes Planet Dodge in Miami, where this SRT Demon 170 was allocated and ordered.
"We are grateful to play a small role in all of this. Someone will have the chance to own a 1-of-1 Demon 170 while helping support the amazing work that Kristi House does," said Scott Ritter, General Manager of Planet Dodge Chrysler Jeep Ram. "It's been amazing to see everyone's willingness and enthusiasm at Dodge, Barrett-Jackson, as well as our owner, Alan Potamkin. My family has been partners with the Potamkins for over 50 years! It's wonderful knowing this will go a long way to help individuals and families."
The SRT Demon 170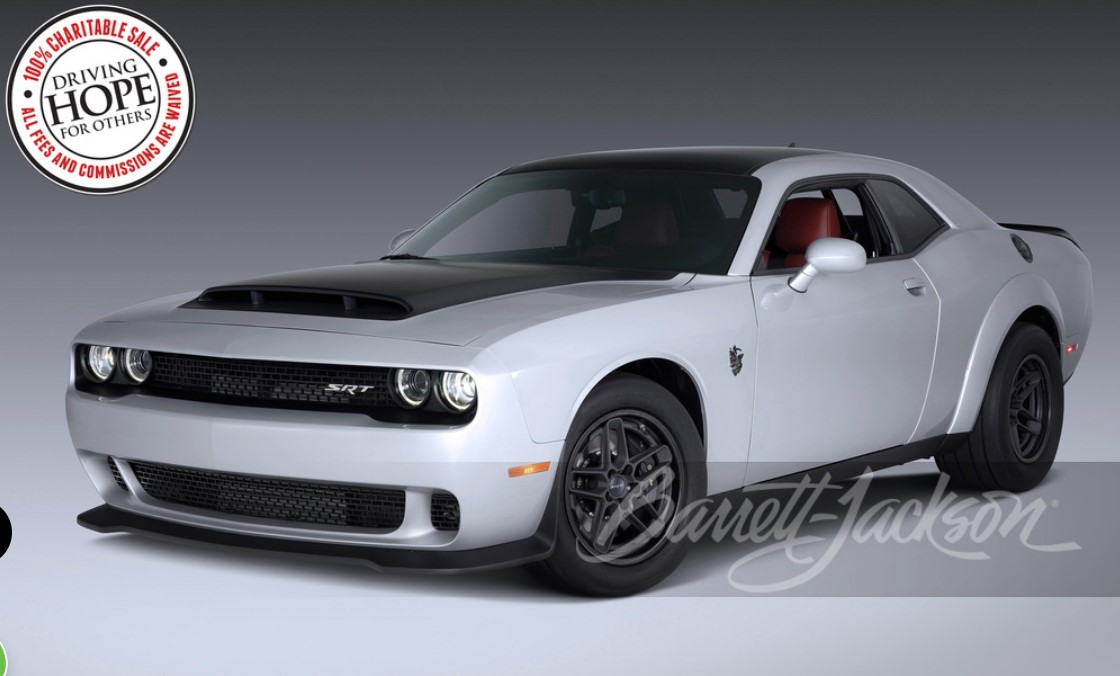 Since you are reading about this on DodgeGarage, the odds are good that you are a fan of the brand and you are familiar with the 2023 Challenger SRT Demon 170. Really, it is hard to be an enthusiast of any car brand in the United States and not be familiar with the SRT Demon 170, as it has reset the bar for American performance vehicles.
The supercharged 6.2-liter HEMI® engine is topped by a 3.0-liter IHI supercharger and tuned to run on E85 ethanol blend, leading to an output of 1,025 horsepower and 945 lb-ft of torque. No American production road car has offered that much power. All of that horsepower and torque is sent through a revised 8-speed automatic transmission, a stronger driveshaft, a stronger rear differential and a stronger set of axles to carbon fiber wheels wrapped in Mickey Thompson ET Street R drag radials.
All of that power with those sticky tires allows the Challenger SRT Demon 170 to rocket from a stop to 60 miles-per-hour in just 1.66 seconds, leading to a quarter-mile time of 8.91 seconds at 151.7 miles per hour. No production road car in the world is capable of a quicker 0-60 time or a quicker quarter-mile time. On a hard launch, the SRT Demon 170 creates a stunning measure of 2.004 Gs – another number unrivaled by any production road car.
Literally no production car in the world can compete with the Dodge Challenger SRT Demon 170 in the quarter-mile, making this car the best at what American muscle cars have always done best. As the industry shifts away from rear-drive vehicles with supercharged V8s, the odds are good that the SRT Demon 170's numbers will never be rivaled by any gasoline-powered, rear-wheel-drive vehicle. The SRT Demon 170 was created as a proper send-off to the modern Dodge Challenger, which will likely lead to good things for the charity group that is benefiting from the upcoming auction.
"This final 'Last Call' special-edition Challenger is truly an iconic muscle car and the opportunity to make this a 1-of-1 within the limited production of these vehicles is something that serious collectors are surely to get excited about," said Craig Jackson, Chairman and CEO of Barrett-Jackson. "The winning bidder at our Las Vegas Auction will not only take ownership of a piece of automotive history, but they'll do so while also making an extraordinary impact on the lives of children that have experienced unimaginable trauma. We're proud to provide a platform to help raise funds as well as significant awareness into the mission of Kristi House in front of tens of thousands in attendance and the millions watching on The History Channel. To date, we've helped raise more than $153 million for charitable initiatives across the globe and we look forward to what will be another monumental auction moment in Barrett-Jackson's history."
Big Potential Benefits for an Amazing Charity
The 2023 Dodge Challenger SRT Demon 170 is the quickest production road car in the world and the most powerful American factory road car ever – a combination which makes it a popular choice for hardcore enthusiasts and collectors. With planned North American production of just 3,300 units, the SRT Demon 170 has proven to be the hottest car of the year for collectors with deep pockets, but we all know how high the prices can climb at a high-profile auction with proceeds going to charity.
For example, the very first Dodge Challenger SRT Hellcat sold for $1.65 million and a package-pair including the last Dodge Viper built and the last 2018 Dodge Challenger SRT Demon built sold for a million dollars. This 2023 SRT Demon 170 isn't the first or the last unit being built, but it will be one of the 3,300 examples of the very last modern HEMI engine-powered super muscle car from Dodge and it will be the only one in a custom color.
The winner of the charity auction will be able to have their SRT Demon 170 painted any PPG OEM Factory Finish color. To get a look at the color options, the customer will be able to visit any local PPG location or independent retailer to look at the automotive finish colors and pick which one they want for their 1-of-1 Dodge Challenger. A list of those outlets is available on the PPGPaints.com website.
A conservative estimate for the price at which this 2023 Dodge Challenger SRT Demon 170 could sell would be around $500,000, but it is not unrealistic to expect the hammer price to top a million dollars. After all, with the production of the current Dodge Challenger coming to an end this year, we know for sure that there will never be a hotter Mopar® muscle car than the SRT Demon 170. There will only be one SRT Demon 170 offered in this custom color and that will surely lead to a bidding war that will benefit a great charity in a big way.
That charity is Kristi House, based on Miami, which provides services to help prevent child abuse and child trafficking, while also providing support for victims and their families.
Kristi House
Kristi House is an incredible Miami-based charity that provides services of every possible kind to victims of child abuse and trafficking, along with supporting programs that help to eradicate child trafficking in the future. From many forms of medical help and court preparation for victims to working with local and state authorities, all while providing transportation for the kids in need, the Kristi House program helps victims of child abuse while working to reduce cases of abuse in the future.
"Kristi House was founded 28 years ago to be the agency coordinating services and advocating on behalf of children who were victims of sexual abuse. Today, our Children's Advocacy Center sees approximately 2,000 children and their families a year, and Kristi House ensures that their medical, legal and emotional needs, among many others, are met," said Amanda G. Altman, Chief Executive Officer of Kristi House. "Children coming to Kristi House receive the best evidence-based therapeutic treatment from highly skilled and trained therapists, and families can take advantage of our case management and advocacy services to help meet their needs, whether it's housing, food or even assistance finding employment. In addition, we have a specialized program, the first of its kind in the state of Florida, to help young women who are survivors of sex trafficking. And, we have an education and outreach team that is out in the community teaching anyone who will listen how to keep our kids safe. All of these services come at no cost to our families, which makes support such as this from Dodge and Barrett-Jackson critical to our success."
Over the past 28 years, Kristi House has trained over 157,000 people to work with victims, with nearly 25,000 kids treated over that span of time. When you consider the preventive work that the charity group performs with local and state authorities, Kristi House is a leader in the effort to address and eradicate child abuse and child trafficking.
The money raised from the sale of the 2023 Dodge Challenger SRT Demon 170 at the Barrett-Jackson Las Vegas auction will surely go a long way in continuing their efforts to protect children and to help those who have been harmed.