When Max Nichols bought his pristine 2006 Dodge Magnum SRT8 in 2016 with just 19,000 miles on the odometer, it was simply a cool daily driver that was used for family tasks like taking the kids to school or soccer practice. There is surely a joke to be made about getting groceries, and with 425 stock horsepower, this Magnum was a fun family car for Nichols. However, around a year later, he got the urge to build his daily-driven wagon into a hot rod and from there, this black SRT8 has been transformed into the quickest Dodge Magnum in the world – while still being legally driven on the street.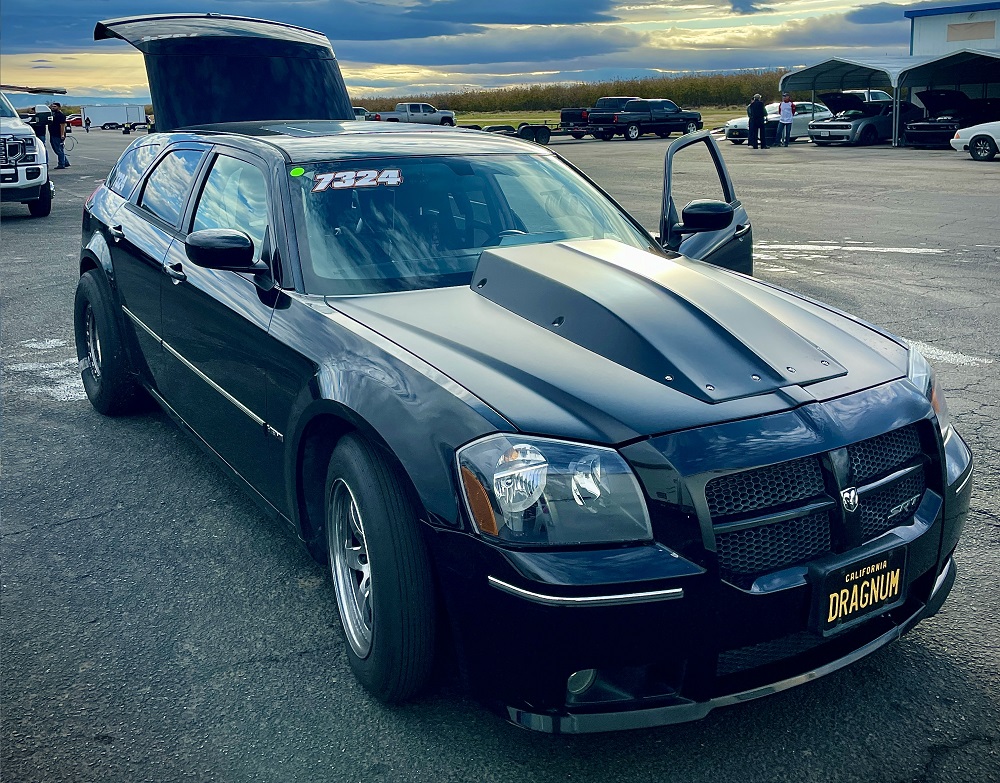 When Nichols began the journey of modifying his 2006 Dodge Magnum SRT8, he met with Adam Montague of SpankinTime Motorsports – a shop which has produced many quick modern Mopar® vehicles. The two discussed Nichols' goals and they decided on a build that included increasing the engine displacement from 345 to 392 cubic inches along with adding a 2.9-liter Whipple supercharger. First time out with that setup, Nichols ran in the low-11s, but it didn't take him long to work his way down into the 10-second range, racing at Famoso Dragstrip and Irwindale Dragstrip. While running in the 11s and 10s, this Magnum was still a daily-driven family hauler, but as he got near the 9-second range, safety became a concern. To address that issue, Carlin Fabrications in Redlands, California, installed an 8.50-certified cage. At that point, this Magnum was no longer used for daily driving duties with the kids in the back seat, but it was and still is licensed, insured and driven on the street today.
In 2021, Max Nichols broke into the 9s for the first time, getting into the 9.80s at Famoso. He then drove this Magnum over a thousand miles during the Race Week Drag and Drive event, stopping at Thunder Valley, Texas Motorplex, Tulsa Raceway Park and Mid-America Dragway to compete among many of the quickest street cars in the country. It was around this time that Nichols decided that after four years of tuning, tweaking and perfecting the first build to get into the 9s, it was time for a new build.
When Max Nichols was planning the new build, he wanted his Magnum to be "a monster at the strip, but still street-capable". Inspired by the Dodge Challenger Drag Pak, he calls this current iteration of his Dodge wagon the Dragnum and while still being street legal, Nichols has reset the world record for the quickest quarter-mile time by a Magnum – laying down a stunning 8.344 at 164.69 miles per hour – but as was the case with the 392, getting the best numbers from the 431-cubic-inch Gen 3 HEMI® engine took a bit of work.
After starting the build in 2021, Montague and the team at SpankinTime Motorsports finished Max Nichols' Dodge Magnum SRT8 earlier this year. On his first trip out with the current build, he ran a 9.15 at 150 and after some tuning changes, the Dragnum ran a 5.60 at 128 at Irwindale's 8th-mile track. For those of you who aren't familiar with how 8th-mile times compare to quarter-mile times, a time of 5.60 in the 8th would likely lead to a quarter-mile time in the 8s, so after that outing to Irwindale, Nichols was feeling good about running in the 8s on the longer track.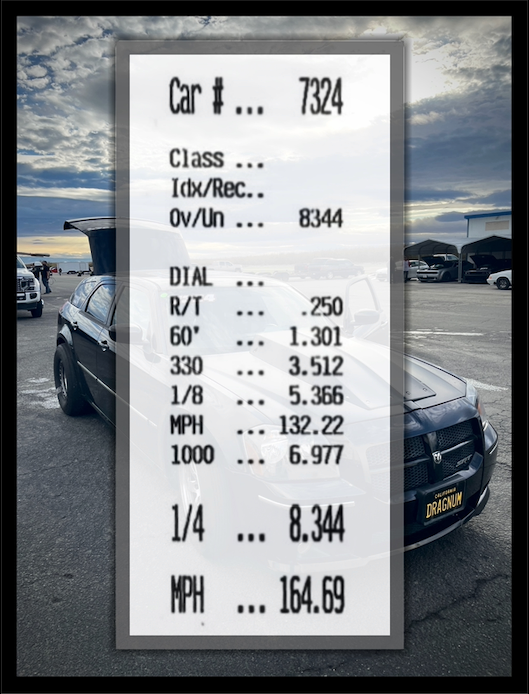 On December 9, Max Nichols and his Dodge Magnum headed to Famoso for some testing in the cool winter air. His first run off of the trailer was an 8.60. For reference, at that point in time, the world record quarter-mile time for a Dodge Magnum was held by Gary Rhudy/Nate Jenkins with an 8.439 at 160.33, so in running an 8.60, Nichols had the record in sight. He made some tuning changes and hit the track with about an hour left of track time and he ran an 8.48 with enough time left for one more pass. To get a little more power, he swapped the supercharger pulley to add more boost and headed out for one final run for the day.
On that final pass of the day on December 9, 2022, Max Nichols' monster Dodge Magnum broke the water pump belt shortly after launch, but that didn't stop him from storming down the track in just 8.344 seconds with a speed of 164.69 miles per hour – making his Dragnum the quickest Dodge Magnum in the world. He could not have made another pass that day, but it didn't matter, as he had reset the record from back in 2018 and he did so on his birthday. The next day, Nichols had the car back up and running at the Red List Series race event. You can watch the record-setting pass in the video below.
The Build Details
Max Nichols' 2006 Dodge Magnum SRT8 in its current Dragnum form is powered by a 431-cubic-inch HEMI engine, based on a 392 "big gas engine" block. The rotating assembly consists of a Callies billet crankshaft, custom Manley Pro Series I-Beam connecting rods, ARP hardware and custom SpankinTime/Manley Turbo Tuff pistons, all working together to yield a 9-to-1 compression ratio. The top end of the engine features Demon cylinder heads that have been CNC-ported by ThiTek, a custom Comp Cams camshaft, A-1 Technologies cylinder head studs, custom Manton push rods and, of course, the Whipple 3.0-liter Drag Pak supercharger. The engine also wears a Moroso Drag Pak oil pan, which required the K-member to be modified for proper fitment.
The engine was built and tuned by Adam Montague from SpankinTime Motorsports in Hurricane, Utah, with the machining work having been done by Steve Anderson of Riverside, California.
The power from this 431-cubic-inch, Whipple-blower HEMI engine is sent toward the rear of the Magnum through a Turbo 400 transmission built by Jon Baker of Lake Havasu with a custom TCS billet bolt-together torque convertor that stalls to 4,800 RPM. Out back, a Paramount Performance 8.8-inch rear differential with an Eaton TrueTrac differential and a 3.23 gear set send the power out to the Weld Racing S71 wheels. At the track, Nichols runs Mickey Thompson ET Street Radial Pro measuring 315/60/15 out back with 17×5 M&H Racemaster front runners, also on Weld Racing S71 wheels.
While the drivetrain of Max Nichols' Dodge Magnum has changed a great deal from when the car rolled off of the assembly line, the exterior has not changed much at all. He still has all of the original metal body panels and all of the original window glass, with working power windows and full functioning exterior lights (headlights, taillights, turn signals). In short, it still looks just like it did when it was brand new, but now it covers the quarter-mile several seconds quicker than it did when new. The only real exterior modification is that the sunroof assembly was removed and the opening filled in, but that is the only change from stock in terms of the body.
Finally, the cabin of this Magnum is very different from when it was new. All of the factory seats have been removed and with them, the factory dashboard and most of the factory interior panels. In addition to the elaborate safety cage, this Magnum has a pair of Kirkey race seats up front, the factory front door panels, the factory carpeting (to help manage heat) and a custom aluminum dashboard that was built by Jason Carlin of Carlin Fabrication. With this relatively bare-bones interior, this Magnum still weighs around 3,800 pounds, so by no means is this a lightweight car.
And now, for the most important question going forward – can it go faster?
"It could take some more boost. And should be able to leave harder if the track can hold it," said Nichols of the prospect of turning quicker elapsed times. The plan is to take it to January's Legion of Demons event in Houston, where conditions should be optimal for fast runs."
Even with the same boost and power levels, if Nichols can get his Dodge Dragnum off of the line harder and shave time on the short end, that will lead to quicker times on the top end. Of course, with a combination of more boost, more power and a harder launch, this 2006 SRT8 could continue to cut deeper into the low-8s, but for the time being, Nichols has claimed the world record as the quickest Dodge Magnum in the world.