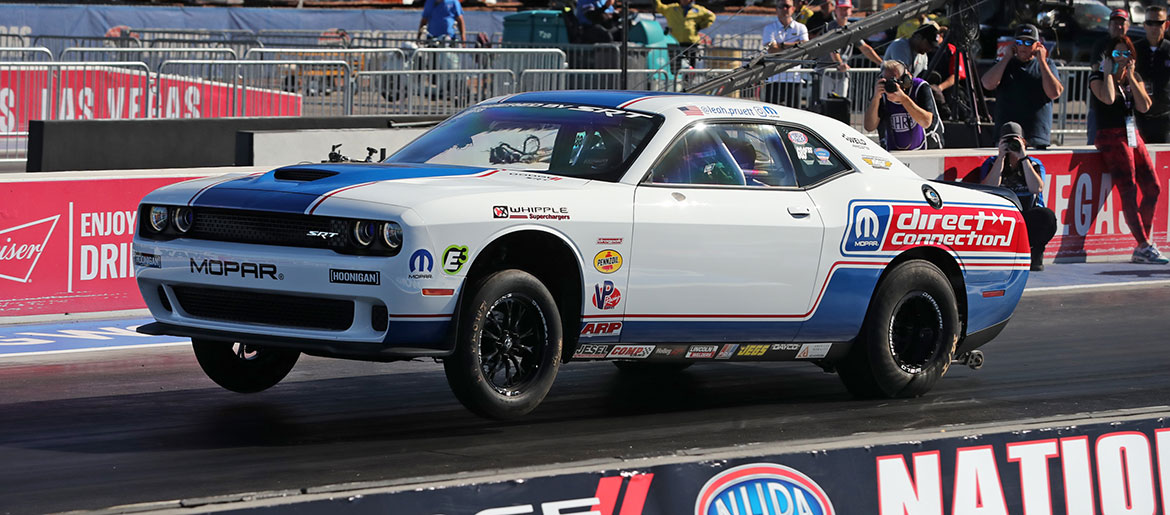 Stock + Super Stock Overview
There are many classes based on production cars or trucks that utilize much of the vehicle's production components, but have been modified to varying degrees specifically for drag racing. The most popular are the NHRA Stock Eliminator and Super Stock classes. This is where many iconic Dodge and Plymouth muscle cars compete along with the Mopar Dodge Challenger Drag Pak. The NHRA Stock and Super classes race off a full, five-tenths tree and there are numerous categories within these classes that have individual indexes based on shipping weight and horsepower, by which the racers qualify. Some classes don't allow driver aids such as delay boxes or trans brakes, while others are more open.
In other stock bodied classes, the cars may or may not incorporate a variety of lightweight body panels and stripped down interiors. Most racing sanctioning bodies require race seats/belts, roll cages (with complexity appropriate to the ET and MPH the car will run) safety nets, master electrical disconnect switch, fuel cells, and other safety equipment mandated by the race track and/or sanctioning body. Chassis may be modified to fit larger rear tires while the front and rear suspensions are drag- race specific and may be modified from the stock setup.
Every stock sub-class has its own rules for engine, drivetrain and chassis modifications, tire size, weight and horsepower. Classes exist for cars from import 4-cylinder, front wheel drive hatchbacks all the way up to HEMI® V-8 powered American muscle sedans.
Factory Stock

Reserved for 2008 or newer Mopar/Dodge Challenger Drag Paks and other OEM produced "Package Cars" with a minimum of 50 units being available to the general public
Minimum weight varies between 3,275 lbs. to 3,575 lbs. based on make, model and engine combination
Engine must be the same make as the car being raced.
NHRA approved aftermarket parts allowed with slight modifications
Street tires or drag slicks allowed. Drag slicks cannot exceed 9-inches in width and 30-inches in diameter
Stock Eliminator

Similar to Super Stockers
Rules regarding engine modifications and body alterations are much stricter
Cars are handicapped using an index system, and the breakout rule is enforced unless during a heads-up or class run-off eliminations
Tires are limited to 9-inch-wide rear slicks
As fast as 8.10 seconds @160 mph
Super Stock

Based on production passenger vehicles
Are highly modified back-half race cars in many cases
Cars are handicapped using an index system, and the breakout rule is enforced unless during a heads-up or class run-off eliminations
As fast as 7.80 seconds @170 mph