First thing's first, Darla and I pointed the Durango SRT® towards Beale Street as soon as we hit Memphis on Friday. The day was young, a bit early yet for the street performers, grifters, live musicians and drunk tourists to flood the four blocks downtown between Front and 4th Street. We took advantage of the early afternoon lull and parked on the street between the FedEx Forum (home of the NBA's Memphis Grizzlies) and the Gibson Guitar factory.
It can get pretty dang hot and humid in Memphis, but Mother Nature smiled down on us with some very pleasant, occasionally flirting with hot, weather. The sun fought through in slivers of light between tree branches and buildings to bounce off the Durango's Octane Red, and the SUV was getting neck twists and nods even as we pulled up, parked and jumped out.
Around the corner from us now was Dyer's Burgers, and we were hungry. Dyer's claim to fame is the grease their grillmasters use to cook the cow. The diner has been around since 1912 and, while they've changed physical locations, they have not changed the grill's grease. Ever. 105 years of hamburgers past now flavored the two we were about to eat. That, with fries and a Coke ice cream float, made for a spot-on lunch.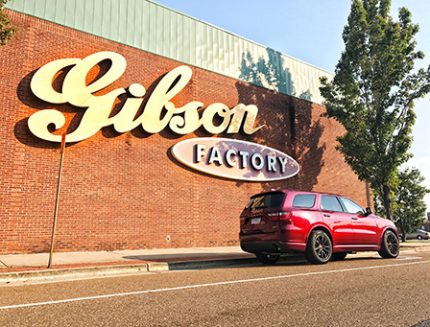 Being a factory rat, I jump at any chance to see the inside of different manufacturing plants or shops. Bonus if they make something cool…like a guitar! Gibson does tours of their Memphis facility, where they build mostly semi-hollow electric guitars. They don't allow photos during the tour, so I'd recommend taking it in person next time you're in the vicinity. Humidity is controlled by misters that put out fine puffs of water far above your head, as it can't be too dry when working the wood, less it splits or cracks. You observe creation, from a blank piece of wood to a fully built, painted and packaged guitar, in a 45-minute tour. Then, of course, you can exit through the gift shop; my self-control was tested. I seem to have an expensive taste in guitars and don't play since the surgeries anyways, so there was no new axe for the collection this day. It didn't stop me from dreaming. Nor did it stop the wannabe or could-of-been rock stars as they take the electric guitars for test drives, fingering their chord progressions through amps for the entire factory store to hear. Darla and I chuckle at the cliche of middle-aged guy getting super serious while playing Stairway in a guitar shop, but we tune it out and marvel at the craftsmanship and beauty of the instruments on display.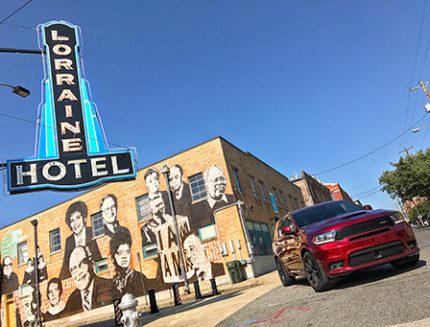 Next stop was check-in, and the hotel's valet was in love with our ride. "That color is SEXY!" She and Darla then started talking about shades of red wines and I mentally checked out.
We'd gotten up early to make the 6(ish)-hour drive from Louisville to Memphis, so we trudged up to our room to clean up, and chilled out for a bit before walking to Beale Street that evening. Beale Street is nutty, in a good way. It's a party like Bourbon Street mixed with the live music of Nashville and the soul of Motown. Street hustlers work up the crowd and push back the tourists to perform a ridiculous string of running double and triple backflips on the downward incline of the street's asphalt, rock and roll and blues burst out from every opening on either side, and booze is served right through windows on the sidewalk so you don't even have to fight the club crowds to get a drink. There are bands playing in the bars, on the corners, in the parks, and in hidden grottos. If you're not careful, you might end up in an impromptu group dance. Fortunately for me, I'm careful.
Friday night, we found ourselves at the end of the road, literally, but chased a sound coming through a cove behind a bar. Playing to just a couple of obnoxious sports fans was a small outfit playing rock and jazz and blues seemingly right off the cuff. Lesser musicians were playing to larger crowds in more visible venues, but these dudes were killing it outside, behind Lew's Blue Note Bar & Grill. Maybe a little less refined than some of the other acts, but so much more soul…rough around the edges in the perfect kind of way. Darla and I stuck around for an hour and made sure to hit their donation bucket, gotta respect the hustle. The Professor and the Eclectic with special guest Chris Pitts on lead vocals and guitar was a thing to behold. Look them up when you're in their town.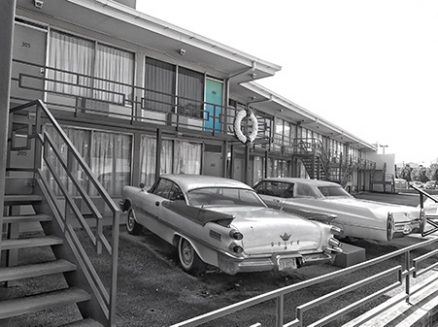 Saturday morning, we grabbed the Durango and cut through the city headed towards the National Civil Rights Museum at the Lorraine Hotel. In 1968, Martin Luther King, Jr. was standing on the balcony outside of the Lorraine's room 306, where he was staying while in town to support the town's striking sanitation workers, when he was assassinated. The museum is very sleek, modern, morbid, fascinating, agitating and enlightening. Considering the current political climate, it was particularly interesting. It's been 400 years since African slaves were first brought to the States and 50 years since Dr. King was killed. The timeline of the fight for civil rights in this country has been centuries long. No real change in the world comes without sacrifice, protests, demonstrations, civil disobedience and violence. All of that was clearly put on display at the museum. Even so, change has a long fuse with a slow burn.
"Injustice anywhere is a threat to justice everywhere. We are caught in an inescapable network of mutuality, tied in a single garment of destiny. Whatever affects one directly, affects all indirectly." – MLK, Jr.
On a less heavy note, although literally a very heavy note, is a museum that I had somehow never even heard of prior to making our way down south. The National Ornamental Metal Museum, or just the Metal Museum, sits in Memphis on the banks of the Mississippi River. The view from the back of the property and across the water is of the state of Arkansas.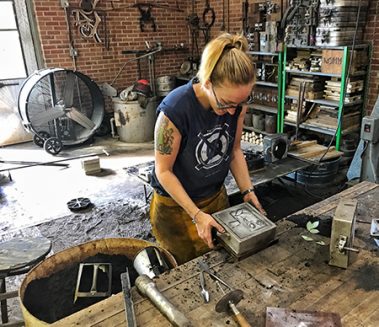 The shops on-site are working shops; they do anything from small repairs up to large architectural installations. A blacksmith named Kevin gave us a quick run-through of smashing a small, decorative hook into existence. It's incredible what you can make with fire, a hammer and a piece of bar stock. Over in the foundry, a second-year apprentice named Sarah was making an aluminum light switch cover. She made a pattern cut into sand, melted up some metal ingots and poured the molten aluminum into the hollowed-out sand mold. The metal cooled and the sand was wiped away, leaving a one-of-a-kind aluminum plate. If you like metal, fire and art, this is not a stop you want to miss. The Metal Museum alone is worth the trip to Memphis.
We had one more night in town before heading north. We don't exactly party like rock stars but still find a way to have a good time! Part 3 will have our farewell to Memphis, a Night at the Museum, and we'll find out how many barrels of Kentucky bourbon fit into an SRT Durango!