We start today's story with a game of word association. I say "Mom of three" and you say…
I won't fault you for thinking "minivan" or "soccermobile," I would have done the same. But then, you've not met Rose Chadwick yet. Rose is the force behind "Save It 4 The Track," an organization that's getting folks with the need for speed off the street and on the track.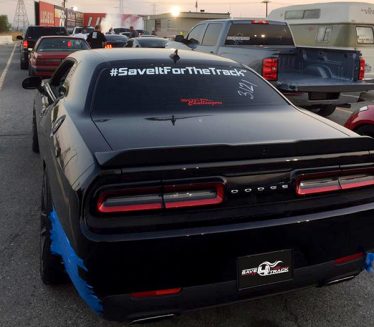 "It started because a person from my club was street racing," she says. That ended tragically when the racer caused a crash, killing three innocent people. From that sobering moment on, Rose knew she had to do something. She'd been taking her Challenger Scat Pack (a 392 Shaker!) to the track for quite some time and with her outgoing personality, it wasn't tough to get folks to come with her. Rose says, "The people at Irwindale Speedway pulled me aside and said 'We see you bring a crowd every week, let's work together.'" So she started hosting themed events: Challenger Night, Girls Night, Imports vs. America and so on…they were really fun and very successful.
"It's about education," Rose says. Changing perceptions is difficult when you see Hollywood putting out movies that glorify dangerous behavior. TV shows like Street Outlaws anger her. "It's not reality, don't buy into it. It is illegal, simple as that," she points out. I can hear the frustration in her voice as we talk. She's so passionate about getting folks off the streets and on the track. "I hate hearing these young guys complain that they don't have a few extra bucks to go to the track…but they've got a PlayStation." So how does she plan on changing that mindset? "I'd love to have a national presence," she tells me. "I want to get in the schools and teach them (about the dangers of street racing). I want to do for street racing what the anti-smoking campaign did for cigarettes and make it 'uncool'. I have my work cut out."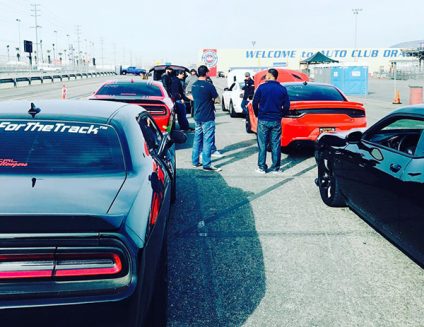 As I pointed out, she's not your ordinary mom of three. "I'm a girl with a fetish for designer purses and fast cars!" she says laughing loudly. And to that end, she recently took delivery of her new Dodge Challenger SRT® Demon, #1169. "I'm not going to lie, it still scares me," she says. She admits that when someone pulls up next to her and tries to egg her on, it's a challenge to NOT throw the hammer down. Then she looks up at the SaveIt4TheTrack decal in her mirror…a reminder of what she preaches. She's big on personal responsibility if you're going to own a performance car: "Laws have not caught up to the horsepower. Street cars are MUCH faster than they were back 20, 30, 40 years ago."
Even someone as deeply rooted in the safe exploration of speed can find it biting back: "I was filming a segment for a documentary, launching my car at the drag strip…and it fishtailed on me." But on a closed course, the danger was minimal and a great demonstration of how quickly things can turn. "I use that video on our website to show how things can go wrong fast and why it's so important to SaveIt4TheTrack."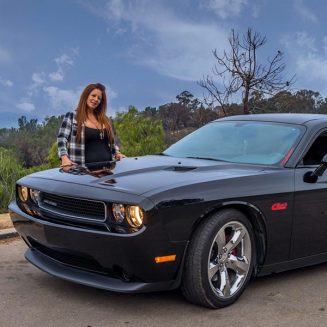 We applaud what Rose is doing and encourage you to respect the vehicles and the people around you. Street racing is dangerous and illegal, but thanks to folks like Rose, it's easier than ever to get on track and safely explore the capabilities of your car. To find out more about SaveIt4TheTrack, check out www.SaveIt4TheTrack.com.