The 35th annual One Lap of America has once again gathered speed junkies from around the globe to take part in an annual road trip that will run over 3,500 miles, covering 12 states and eight racetracks. Sounds like fun, right? Maybe so, but for the newbies looking to recreate the famous Cannonball Baker Sea-to-Shining-Sea Memorial race that the late Car and Driver editor Brock Yates initiated, there are a few things you need to know.
First, it's much more legal and less of an underground, subversive movement of rebellious drivers protesting the once federally mandated 55 mph national speed limit. With the One Lap of America being the offspring of the Cannonball, it has morphed into a somewhat extreme road trip with bits of high-speed driving thrown in on some of the nation's most challenging road courses and racetracks.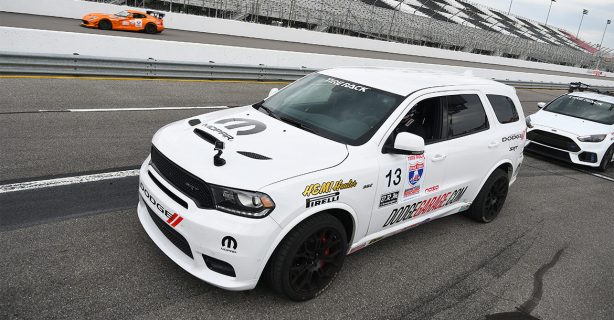 You basically drive five to seven hours between racetracks, unload, do time trials or eliminations, and drive to the next track. Forget about getting any sleep and stock up on energy drinks and power bars. This is not some wine tour, the One Lap tests your on-track driving skills and on-road endurance. Both the transits and tracks are tough. You're allowed one co-driver, so make sure you shower, use deodorant, and enjoy the same music and politics. If not, it can quickly become a high-speed prison cell. BTW, you're only allowed one set of tires and spare for emergency use only during the whole week of One Lap. That's to keep participants from going crazy while trying to get the top speed and lowest lap time.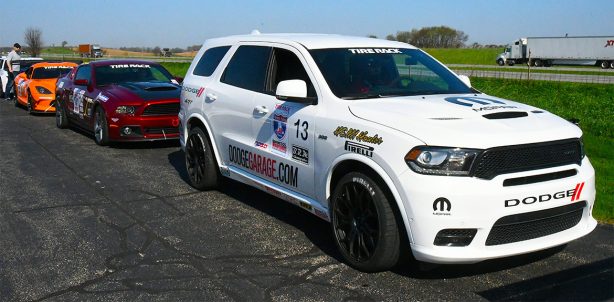 Over the years, our high-performance friends over at SRT® have fielded an assortment of Vipers, Challengers and other vehicles in the One Lap to showcase their handling, acceleration, braking and overall capabilities. But this year, we wanted to try something fun and be different and chose to compete in a new Durango SRT.
Now, before you wonder if Dodge and SRT lost their minds going up against exotic and hyper super-cars costing almost a quarter-million dollars, the One Lap has numerous classes for everything, including a SUV/Truck class.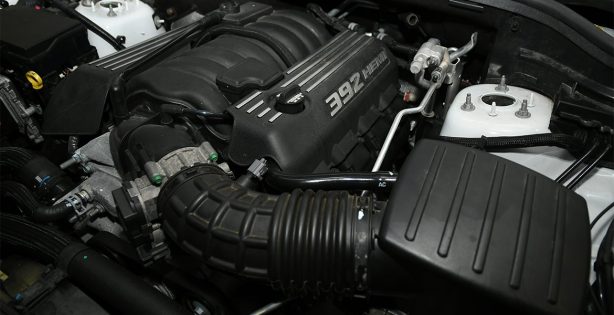 With its 475-horsepower, 392 HEMI® under the hood, massive Brembo brakes, numerous suspension modes that include Track, Sport, Snow, Tow and even custom, the Durango SRT is worthy of being put through its paces.
Driving the White Knuckle Durango SRT nicknamed "HEMI Hauler" and "DuranGO!" on this year's One Lap is 30-year-old SRT engineer David Carr, with some co-driving from yours truly, me. Carr is the Vehicle Performance Dynamics engineer on both the Durango SRT and Jeep® Grand Cherokee SRT.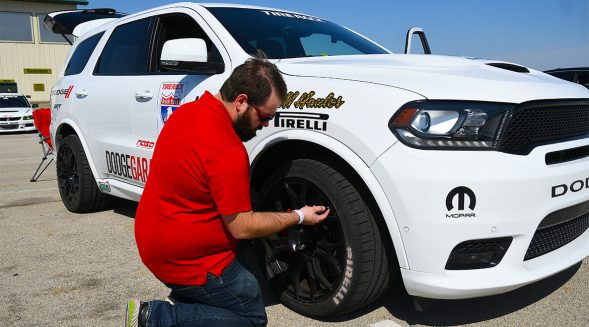 He'll be using this week-long odyssey to collect even more real-world data on the mighty mid-sized SUV and how it performs and stacks up with other competitors. Dodge is going to show the enthusiast community just what the Durango SRT can do and has enough grunt to pull this mighty SUV.
With the One Lap kicking off at Tire Racks headquarters in South Bend, Indiana, this past Saturday, our team already has four events under their massive Pirelli tread. Currently, our Durango SRT driven by a pair of One Lap newbies is running 21st overall in a field of 71 die-hard competitors. Pretty good for a basically stock Durango SRT that can haul the kids, groceries and other things.
It's a long week and there's still plenty of racing left on the 2018 One Lap. Check back on DodgeGarage.com for updates on our hauling HEMI Durango.