My favorite Mopar® event of the year is Mopars in the Park. This great event is hosted by Midwest Mopars and was the 34th annual gathering of Mopars from around the country. I've been religiously attending for the last 10 years, and sporadically before that. I've owned a Mopar-family vehicle my entire life. It's not that I don't appreciate cars from other makes, but there's something about Dodge that's always spoke to me. Not sure if it's the styling, performance or the underdog mentality that makes me keep coming back, or maybe it's a combination of all of that. As a certified Dodge nut, this event is one I look forward to every year.
As I've discussed in previous posts, Minnesota weather is always a wildcard. This year proved once again that mother nature was in control. This year was the first where Friday was an official show day, and the weather was pleasant. However, most of the action takes place on Saturday, and it was pretty rough with bursts of rain throughout the day. This is why one of those pop canopies comes in handy; you've got a place to escape when it starts to pour! Sunday, the rain stopped, but it was much cooler and very windy. I actually broke down and bought a hoodie at the show!
Now, you're not reading this to hear about the three-day weather report from the event, you want to read about the cars! Sunday brought out the most cars and, man, there were some beauties in attendance.

Being a sucker for the unusual, the one show car that grabbed my attention the most was this beautiful 1933 Dodge. It's been built in a '50s hot rod style, with an original HEMI® engine; a Red Ram 241cu from a 1954 Dodge. The tires are a bit wider, the spare wheel carriers have been deleted, and it's got cruise control and A/C! The guy who owned it acquired it back in 2014 from an owner who had is since the '60s and was going to return it to stock. So really, in the end, it's returned to its previous state, a glorious '50s-era hot rod!
If you've been on the internet long, you've likely seen the crazy craftsmanship of this twin-turbo 1961 Plymouth Belvedere. The best part of this crazy machine is it's DRIVEN! This is no trailer queen, there's video of him doing donuts in a snow covered lot. You also can't miss the #goDRIVEit sticker on the back either.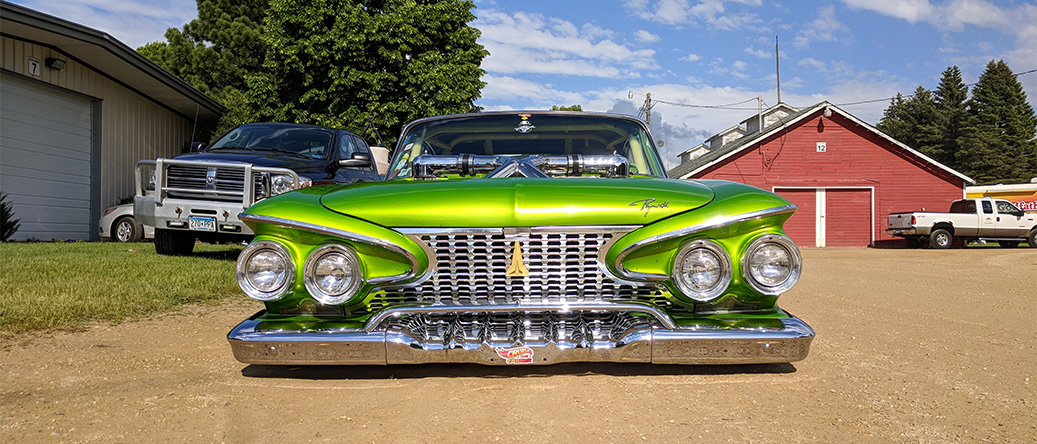 I absolutely love the look and I photograph it every time I see it.
Now to round out my weirdness when it comes to cars. Seeing this Dodge Caravan ES Turbo brought a huge smile to my face. I doubt the Carroll Shelby wheels were standard, but this minivan is packing a turbocharged 2.5L four cylinder with a 5-speed, factory-installed, MANUAL transmission. I've talked so many times about how Dodge likes to take risks, and how could you get riskier than making a turbo'd minivan? (Well, stuffing a 6.4L HEMI in a Durango SRT® is close).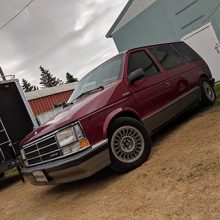 Being this is almost 30 years old, it was in remarkable condition. I can't think of the last time I've seen any K-car platform this well maintained. The hot rodder in me would want to build this thing up, crank up the boost and terrorize the local drag strip.
OK, enough with the oddball stuff, Mopars in the Park is built around the muscle cars of the '60s and '70s, and it never disappoints when it comes to the stuff that really put Dodge on the map. I'm talking Chargers, Charger Daytonas, Challengers, etc. This show brings them all out. There's something about seeing an original aero car that makes me smile. Considered muscle car royalty now, the Daytonas and Superbirds were odd ducks when they came out. They were built to bring wins in NASCAR, and everything on the car was designed to make it faster on a track, so commuter considerations were thrown out the window. Those big noses block a lot of the grill opening, making sitting in traffic in a winged warrior not much fun.
They shined at the track, and now they're the stars of any car show they attend, no matter the condition.
Speaking of winged warriors, in another 40-50 years, people will look back at the Vipers and wonder how anyone ever drove them. This 2010 Viper ACR-X really is deserving of its Road Runner on the wing! The Viper ACR was the crazy example of the Viper (if the Viper wasn't already crazy enough). It added more aero to really make the car stick to the road at high speeds. You got free-flowing headers and less restricted exhaust to up the HP from the standard ACR, and finally, fully adjustable suspension to round out this track monster.
The Viper ACR-X truly was a racecar with license plates.
This year, I also found a Dodge I knew nothing about; the 1975 Dodge Dart "Hang 10" edition, created to get the ever-popular youth market at a time when the surf life was blowing up. This was a real package offered by Dodge, and not just some stickers added on by some dealer or owner. Duuuude, this car is far out!
Finally, being this is the largest all-Mopar show in the Midwest, Dodge and Mopar bring out the toys.
There was a Dodge Challenger SRT Demon for people to get up close and personal with. They were letting people climb in and take a closer look. I'm sure the owners of the 5 or 6 SRT Demons that were at the show appreciated that; the crowds weren't trying to climb into theirs! It's been about 9 months since I got to sit in Tim Kuniskis's personal SRT Demon back at Roadkill Nights, so it was fun to do it again and imagine launching the car and lifting the front tires. How can you spot a pre-production SRT Demon from a customer's SRT Demon? It's the passenger customized name plate. This one was #0000, especially built for John Dodge. Wonder what color Horace Dodge got for his SRT Demon?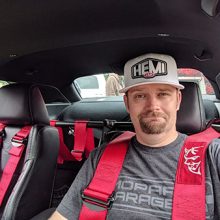 Dodge also brought with them a T/A Challenger, a white Scat Pack (I tried to swap them for my Charger, but it didn't work), and a striking Indigo Blue Challenger Widebody with orange 6-piston calipers. It was an odd color combo, but I loved it!
Mopar didn't disappoint in the toys they brought either. From the amazing Pennzoil Dodge truck with the crate 5.7 HEMI providing the power, to the amazing '71 Challenger Shakedown edition. It's got the guts from the new 392 Challenger SRT, along with the lights, grill, taillights and spoiler. It fooled a lot of people that thought it was a brand-new Challenger!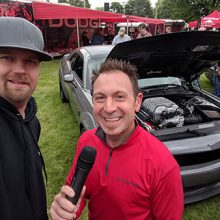 Now, when Dodge and Mopar team up together at one of the largest Mopar shows around, you need an MC who knows their stuff, and is passionate about cars. Who could they have possibly brought in, besides John Hammer! When John isn't touring the country preaching the gospel of Dodge, he's busy racing his own cars, running his weekly radio show or commentating on races. John does it all, and always does it well!
On a personal note, I again showed my 2013 Dodge Charger R/T, now with 130,000 miles on the clock. Even with all those miles, the car still shines up nice and I was able to take best-in-class for this year. This really is an event you should plan on attending at least once if you're outside the Minnesota area. You won't be disappointed (as long as you bring the proper attire for any type of weather event…)