It's been over a month since Spanky Assiter's Freedom Car Auctions hosted the Great Texas Mopar® Auction Event, a two-day online-only auction of vintage and special interest Mopar vehicles and parts conducted on October 13 and 14, 2021. One detail that potentially complicated the sale process was the fact that few – if any – of the late John Haynie's 280 vehicles were in running condition. None could be driven away, let alone started.
As such, there was serious talk of disposing of the 280 vehicles on-site with the help of a mobile car crusher. Industrial scrappers started bidding against each other with some promising as much as $200 per vehicle; and for a while, the offer seemed enticing to the family. The possibility of transforming the gigantic outdoor collection into $56,000 worth of scrap metal was one possible solution to the matter of clearing the Haynie ranch.
Happily, practical thinking prevailed. Instead of permanently consigning this once-in-a-lifetime collection of American industrial and commercial art to memory (vintage cars are NOT junk), the Haynie estate reached out to Freedom Car Auctions which – after several months of pre-auction publicity to attract plenty of buyers – sold it all for $810,127.30, nearly fifteen times higher than the scrappers' high estimate.
The resulting win-win situation gave all 280 cars, vans and light trucks new homes with caring owners, the Haynie ranch was cleared for sale and the Haynie estate grew by over three-quarters of a million dollars. Most importantly, the crusher was dormant that week.
In this recap story, let's examine the police cars. As most know, vehicles built for law enforcement duty often stand taller than more pedestrian family haulers. In fact, most police models are muscle cars with four-door body shells. Their brakes are bigger, their suspensions firmer, their charging systems stronger, their seats are stiffer and their speedometers are calibrated for admissibility in the court of law. Cop cars are cool.
John Haynie knew this and snapped up a nifty little stash of them. Though we may never know the exact circumstances of each sale, know that John Haynie had a good eye. Most folks don't give police models a second look – other than a furtive glance in the rearview mirror. But John knew the score and saved several truly rare and bizarre law enforcement machines from obscurity.
Now with his passing, it's time for others to carry the ball. Let's take a look at the police cars from the Great Texas Mopar Auction and see how much they sold for. This story is gonna be a bit long, but let's hit all of these mighty cop cars in one binge. Think of it as a high-speed chase, something these cars perhaps did more than once.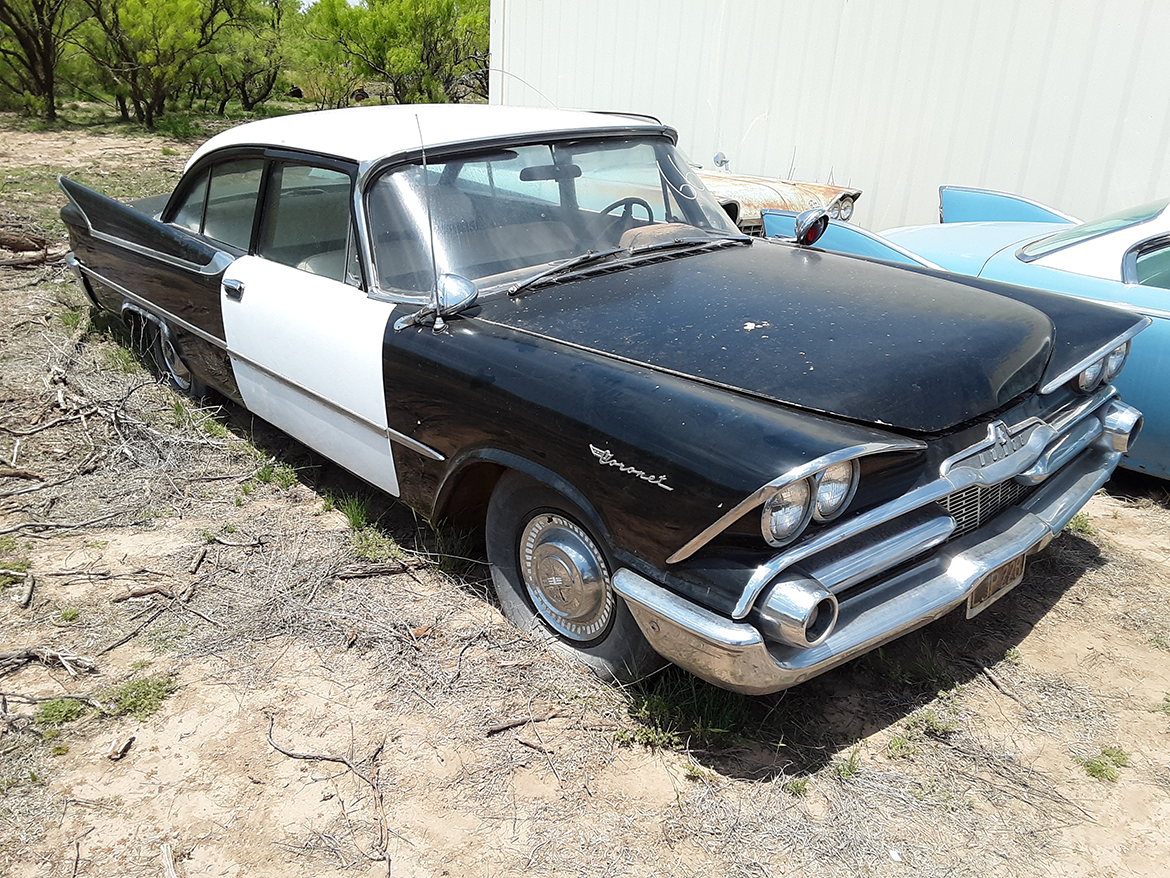 The chrome emblem on the front fender reads Coronet. But in the third spot of the VIN, normal 1959 Dodge Coronets have a "0" (six cylinder), "1" (V8), "7" (station wagon), "6" (six-cylinder taxi) or "8" (V8 taxi). This one has a "9", proof of its special status as a factory-built police pursuit model (Lot Number 66). And what's wild and very uncommon is the two-door body shell. This one wasn't built to apprehend stick-up artists or arrest hardened criminals, rather it was made to enforce traffic laws and speed limits on the burgeoning Los Angeles freeway system where quick access to the back seat wasn't a priority. Thus, the two-door sedan body style.
To go along with the black-and-white livery, it's got police-specification 12-inch drum brakes, front anti-roll bar, heavy-duty suspension, mechanical oil pressure gauge, certified 120 mph speedometer, first-year 383 wedge with four-barrel induction (the only thing hotter was the optional D500 dual quad 383), high-upshift TorqueFlite® push-button automatic transmission and all the original police lights in place.
The shocker is that just $9,430 was the winning bid for this extremely solid, very complete, former Los Angeles Police Department (L.A.P.D.) freeway interceptor. We can only imagine a single day of its service life those many years ago, but cars don't talk. It'll be up to the lucky new owner to listen to the past and write the next chapter of this extremely significant Dodge.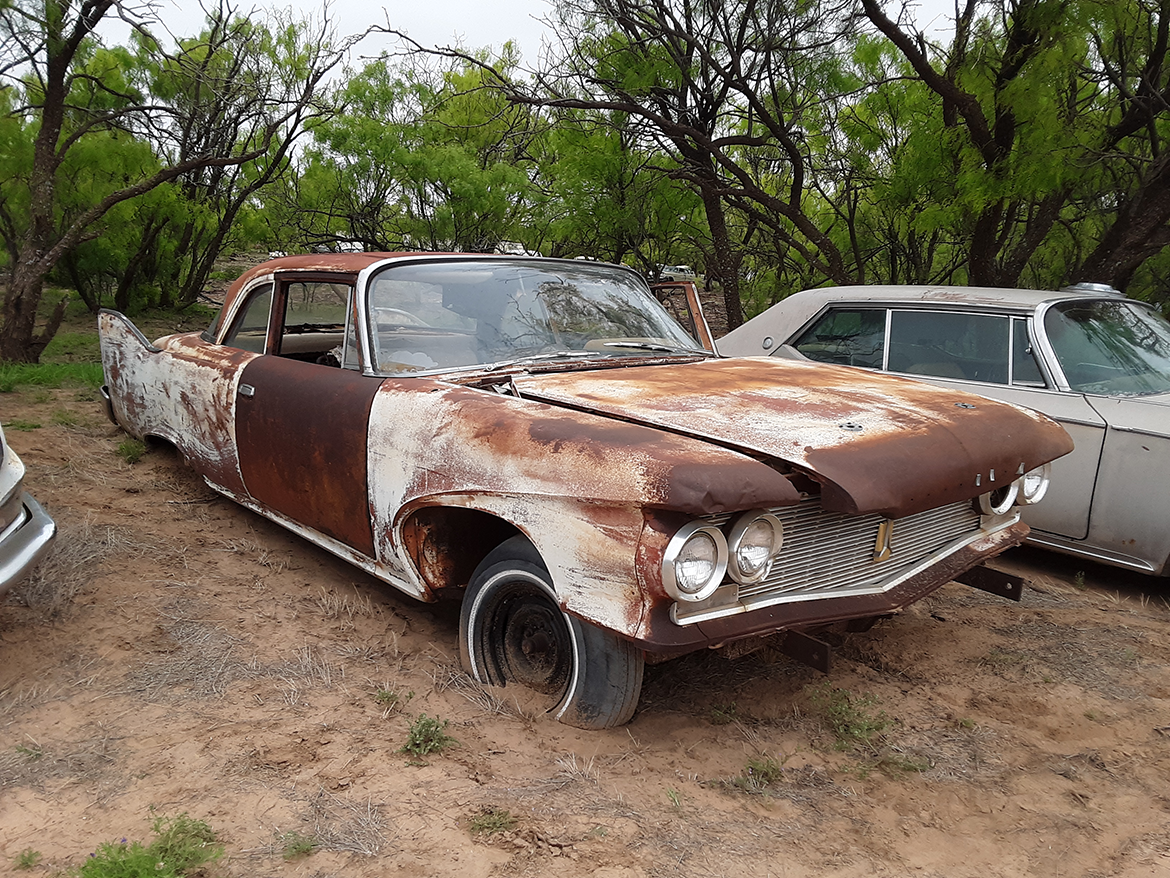 What use is a two-door taxicab? This 1960 Plymouth Savoy two-door sedan (Lot Number 138) seems confusing because it has a VIN plate that reads 390 in the first three positions, and that "9" in the second is Plymouth's 1960 code for a taxicab. It must have been awkward for the driver to have to get out of the car to admit and release paying fares, right?
Not so fast. When we learn that Plymouth's 1960 series codes (in the second spot of the VIN) were as follows: 1 = Savoy, 2 = Belvedere, 3 = Fury, 5 = Savoy station wagon, 6 = Belvedere station wagon, 7 = Fury station wagon, 9 = Taxicab and 0 = Fleet. This changed in 1961 when the code "9" was changed to reflect a Special or Police vehicle. So by deductive reasoning, we see here that this 1960 Plymouth Savoy two-door sedan is a police car, NOT a taxicab.
As if that wasn't enough, there's the simple matter that taxicabs were rarely built with the big, thirsty but powerful 383 four-barrel V8! Taxi fleet operators went for the fuel-sipping 225 Slant Six (new for 1960). Even wilder, there's a three-speed manual transmission under the floor and it's shifted by a steering column-mounted lever! And it's all factory original stuff.
When we remember that Plymouth charged an extra $211 for the TorqueFlite automatic transmission, we can see why many police departments let their officers do the shifting. We were shocked at this ultra-rare unit's miniscule $287.50 selling price. Happily, the record shows the buyer is from Tucson, Arizona, so we can rest assured it wasn't bought by one of the local Big Spring, Texas, scrappers for on-site crushing into scrap metal.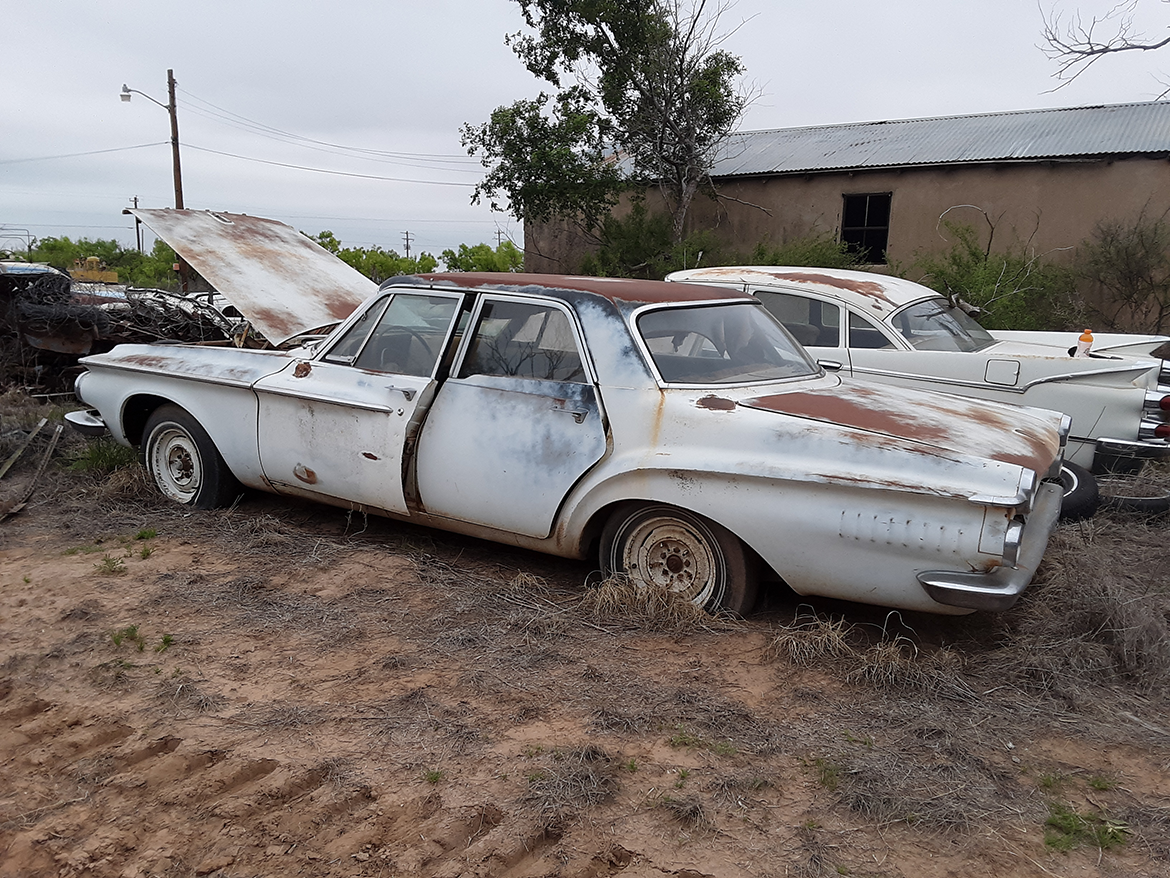 Did you hear the one about the writer and the police car? That's the story of this 1962 Dodge Dart Police Pursuit (Lot Number 142). Truth be told, that writer is yours truly and this car was not sold as part of the live, online-only auction on October 13th. The fact is, I "fell in love" with this car three months before the auction date and offered the Haynie estate a flat $5,000 to pull it from the auction catalog.
My offer wasn't based on any sort of inside information. I just wanted to make sure I got the car and didn't want to insult the Haynie estate with a low ball offer. Looking back, a bid of $2,000 probably would have won the car during the October 13th live auction, but why cry over spilled oil?
I love the car and plan to revive it with a 513-cubic-inch Max Wedge clone engine. Yes, Dodge did build a handful of four-door Max Wedges in 1962. But this Dart is not one of them. So why is it so special to me? Again, we go to the VIN and (again) we see the number "9" in the second spot. As indicated in the write-up on Lot 138, after 1960, the "9" stood for a Police Pursuit build. Sure enough, this "9"-code four-door Dart has the 11-inch drum brakes, front anti-roll bar, six leaf rear springs, thick front torsion bars, extra-thick bench seat padding, rubber floor mat instead of carpet, radio delete plate, certified 120 mph speedometer and all the other Police Pursuit equipment found on a "9"-code.
The only soft spot is the 318 two-barrel polyspherical V8. The hottest police engine was the 305-horsepower 361 big block, but we can't have it all. Stay tuned to DodgeGarage this coming year as the saga of this car's evolution appears in a series of articles.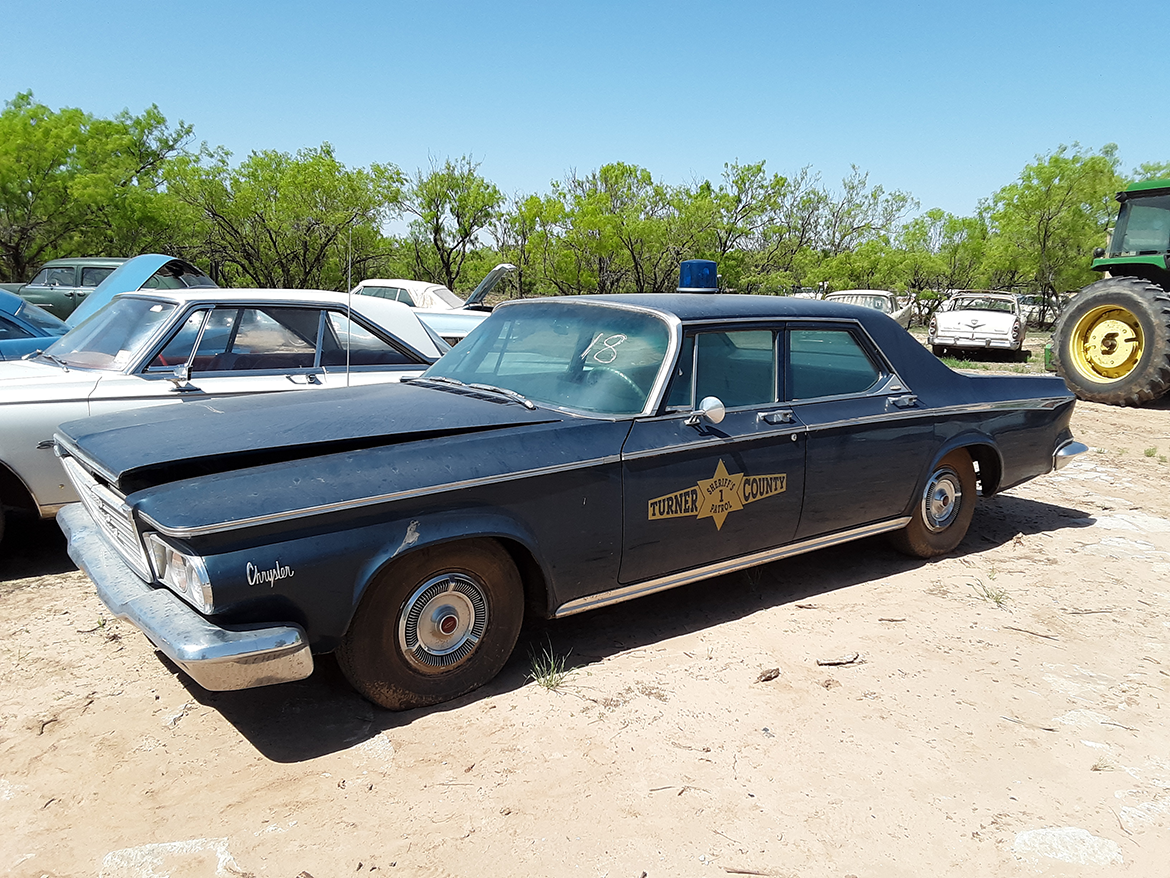 Looks can be deceiving. This 1964 Chrysler Newport (Lot 18) wears a blue roof light and Turner County Sheriff's Patrol door seals, but lacks the "9"-code of a true 1964 Newport Enforcer, as well as the 360-horsepower 413 big block used in the Enforcer. Instead, the second digit of this Newport's VIN reads "1", the symbol for a basic Newport family sedan.
Under the hood, the base 361 two-barrel big block feeds a push button 727 TorqueFlite automatic. So what we have here is either a replica police car (perhaps a TV or movie car?) or a standard Chrysler that was pressed into service by a Turner County sheriff's officer. This wasn't an uncommon practice. Regardless, the $3,450 bid was very reasonable and when it arrives in Lubbock, Texas (the buyer's location), heads will turn – and drivers will instinctively hit their brakes – when it hits the road.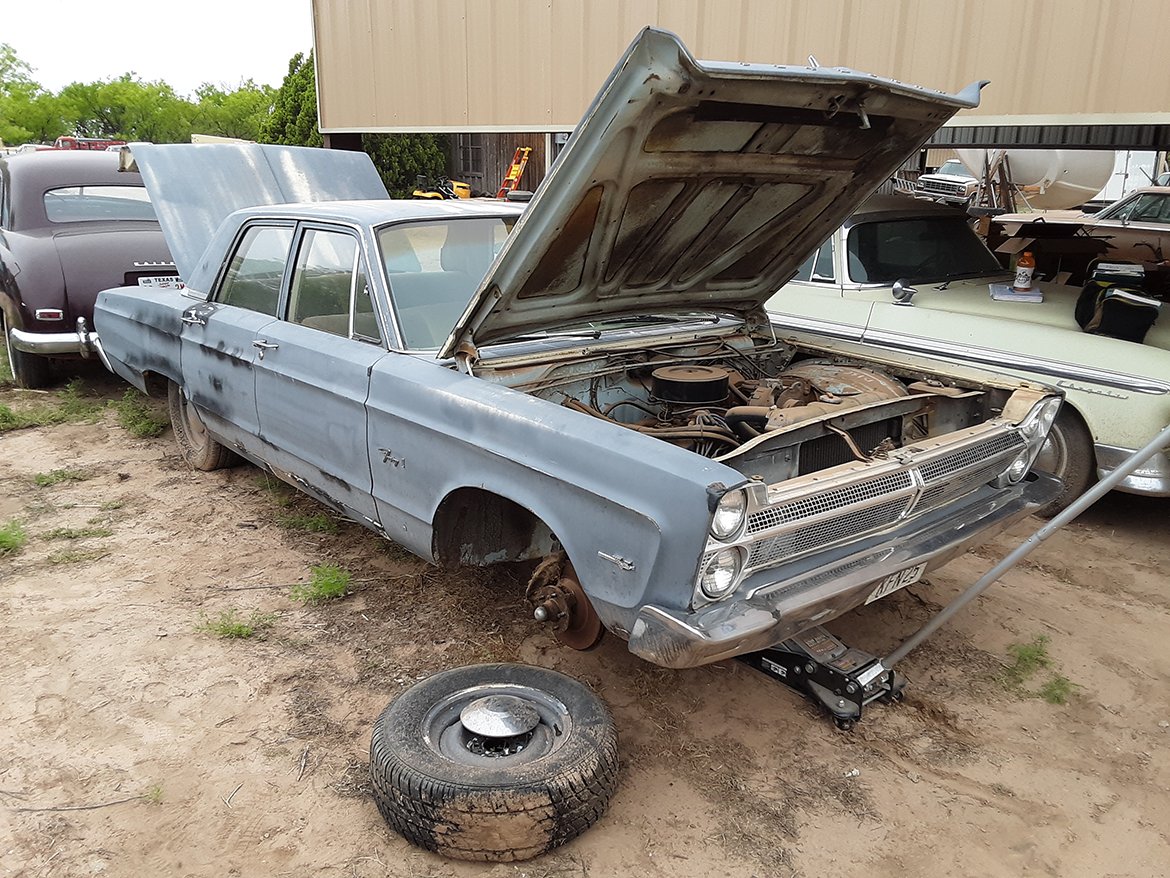 This 1965 Plymouth Fury I Police Pursuit (Lot Number 28) also went to Lubbock, Texas (where Lot 18 went), and while it's not certain the same buyer purchased it, it is certain the $2,750 sale price was an incredible bargain. Yes, it's a former police unit complete with the ground-breaking front disc brake option that arrived in December of 1964 and was Chrysler Corporation's first caliper-type disc brake offering (the 1949-54 Ausco-Lambert "Safety Brake" Chrysler and Imperial four-wheel disc brake option used enclosed discs, ramps and balls to make friction).
Powered by the two-barrel 383 big block, this "9"-code Fury I has the certified 120 mph speedometer, front anti-roll bar, upsized torsion bars, six leaf rear springs, Spartan bench seat interior, massive 60-amp Leece-Neville alternator, three-row radiator with metal fan shroud and heavy-duty 15×6-inch steel wheels with fleet hub caps. Yep, it's a rarity and hopefully it'll be restored rather than hot rodded.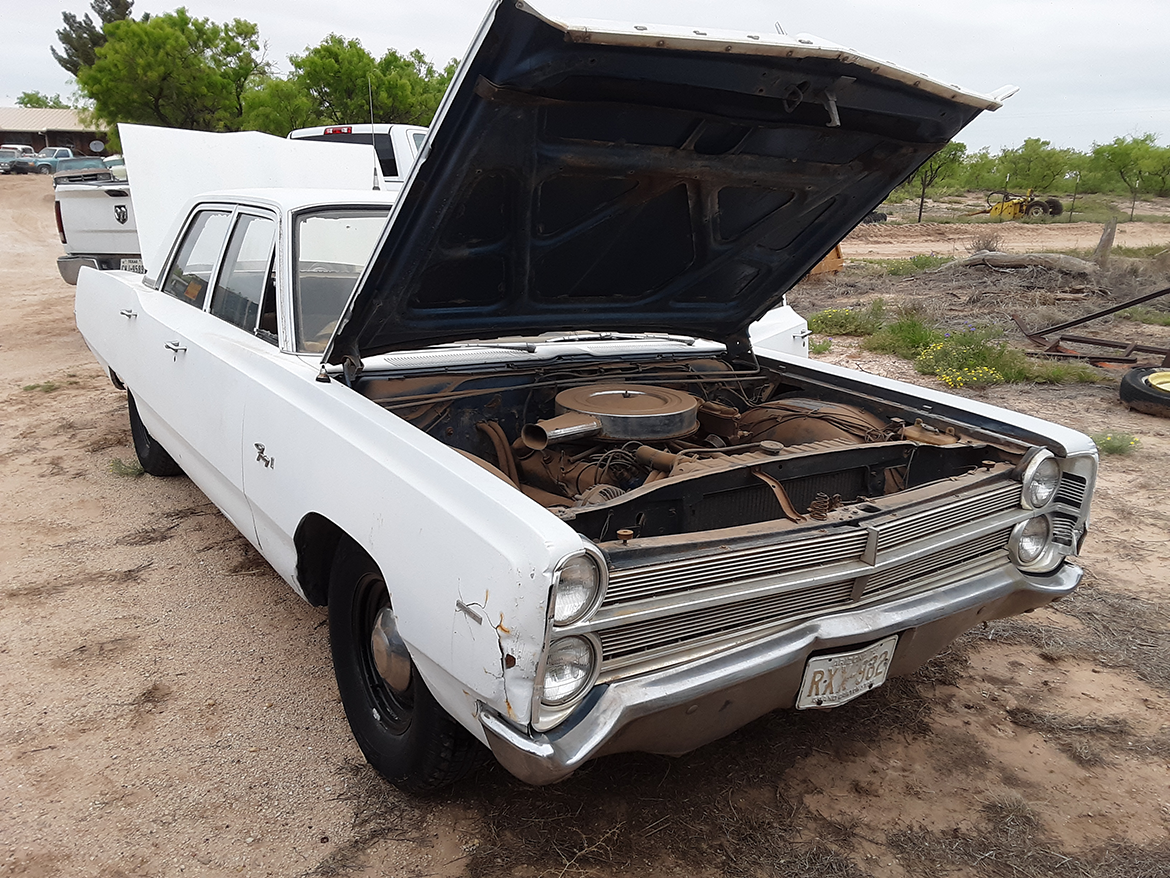 A Louisville, Colorado, bidder won this brutally subtle 1967 Plymouth Fury I Police Pursuit (Lot 86) for a mere $833.75. Yes, for little more than the cost of a tank of home heating oil, this 383-powered freeway flier found a new home. Better yet, in 1966, Chrysler Corporation simplified its VIN system, changing the "9" police code to the letter "K" in the second spot. On this 1967 Fury, the VIN reads PK41G74235810 and happily tells us all we need to know.
Better still, from 1966 onward, the fifth digit of the VIN identifies the engine size and type. So the "G" seen on this 1967 tells us the 383 two-barrel is on board (as do the discrete "Commando V8" front fender emblems). Yes, it has the expected heavy-duty suspension, brakes, 15×6 wheels and Spartan vinyl interior, but an extra cherry-on-top is a second fender tag that reads "special order". Fender tag fanatics (like us) swoon over oddball tags and this car's Colorado buyer will surely enjoy this former police car for years after the home heating oil tank runs dry!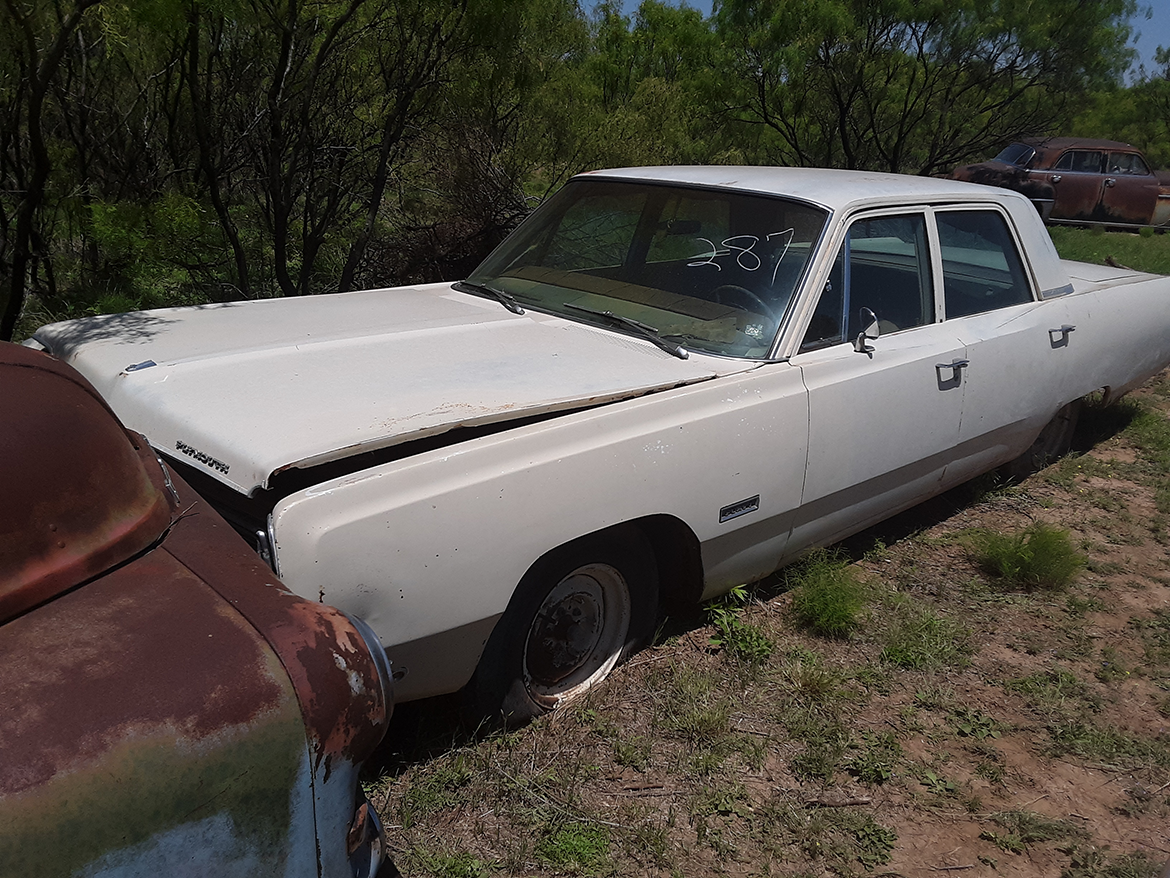 This 1968 Plymouth Fury I Police Pursuit (Lot Number 287) sold for just $1,610 and proves the point that not all Police Pursuit cars were powered by hot dog V8 engines. Here, the VIN begins with PK41F. The letter F in the fifth spot of the VIN tells of the mild 318 small block with 230 horsepower. But, the magical letter "K" in the second spot proves the law enforcement origins (the 41 represents the four-door sedan body style).
As a "K"-code, there's a front anti-roll bar, six leaf rear springs, calibrated 120 mph speedometer, thicker seat foam and all the other expected fortifications. As for the brakes, there's a surprise. While smaller B-body Plymouth Police Pursuit vehicle got an upgrade from 10-inch to 11-inch brake drums, the full-size C-bodies came standard with 11-inch drum brakes all around. But for police use, special fade-resistant brake linings helped maintain function under stress.
And those wheels … again we see the extra cost 15×6-inch fleet wheels with their unique riveted hub cap clips. The small dome shaped chrome hub caps are missing (could they be in the trunk?) but they're part of this Fury's DNA and hopefully its new owner will recognize the fact and get a set soon.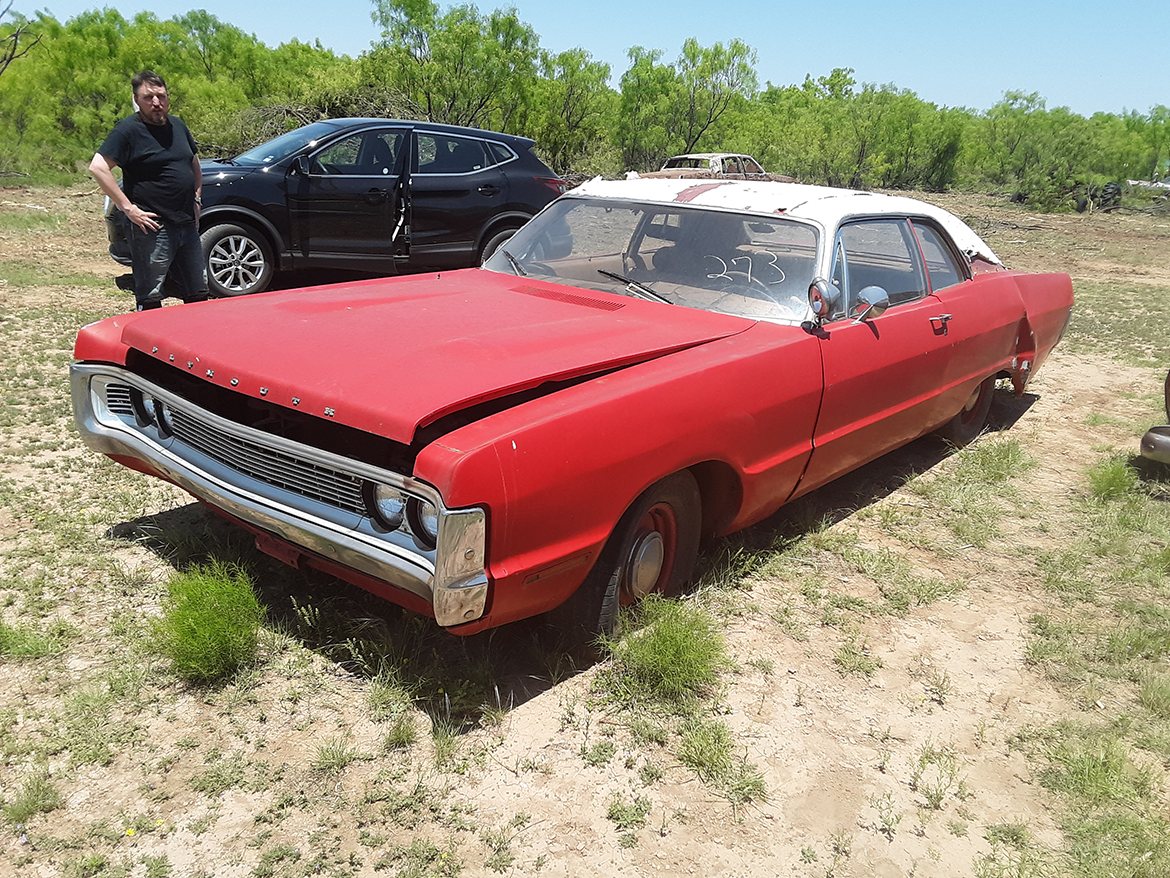 This red 1970 Plymouth Fury I two-door sedan (Lot Number 273) sold for just $603.75. The VIN reads PK21G0D and as we know by now, the "K" tells us it's a police model, and it's a two-door! Of course it has the heavy-duty suspension, big brakes, certified 140 mph speedometer (20 mph higher than the 120 mph speedometers seen in the preceding police vehicles in this story) and heavy-duty vinyl bench seat interior. That's the good news.
The bad news is the rust. Though the late John Haynie preferred solid cars, trucks and vans sourced from western states, the 1973 Michigan license plates on this one tell of rust belt origins. It must have been something very special to attract his attention. And it is, but the driver-side rear quarter panel – dented from an impact – reveals extreme rust repair performed long ago. It does need help, but is far from a total write-off.
Under the hood, while the U-code 440 Super Commando was on the menu for law enforcement use (the V-code 440 Six Barrel was not), this one packs the G-code 318 small block with single exhaust and a two-barrel carburetor and the extra cost 75-amp Leece-Neville alternator. The 318 is backed by a heavy-duty 727 TorqueFlite and power steering and brakes round out the package.
Nifty details are a second trim tag screwed to the radiator wall that reads "special order" and that unique two-door sedan body style with full window frames. The roof, doors and rear window glass are all unique to this body type and do not interchange with the more common Fury III two-door hardtop coupe. Only 2,353 of these were built in the Fury I series.
The red wheels are part of the "special order" trim tag and likely identify this unit as a former fire department vehicle, perhaps the chief's car. Note the basic "dog dish" hub caps. New for 1968, they are smaller in diameter than the hub caps used before 1967 and can be seen (with minor variations) on 1968-1980 vans and trucks, as well as Dusters, Belvederes, Barracudas, Volares and other base-level models. These "poverty caps" replaced the larger fleet hub caps that were last seen on 1969 full-size Plymouth and Dodge fleet, taxi and police vehicles.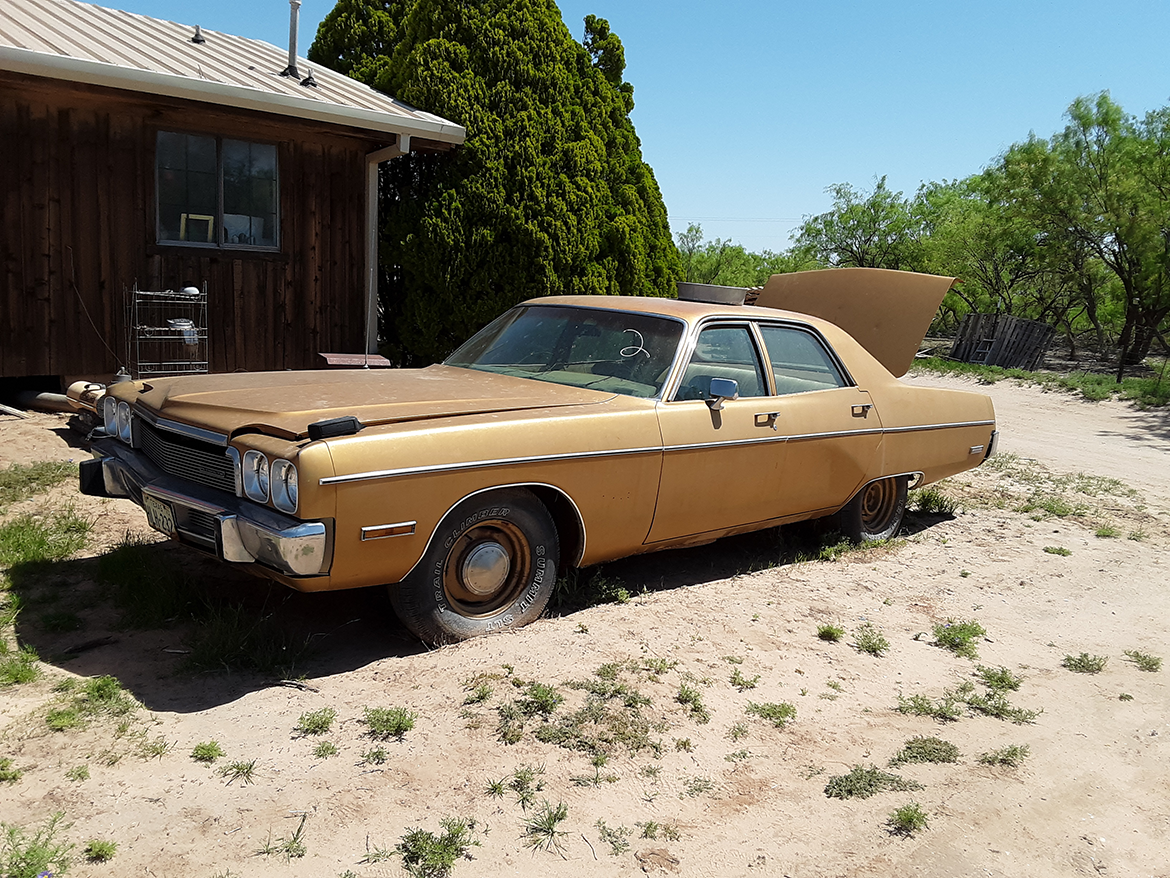 Again, the small "poverty caps" and body-color steel wheels help identify this 1973 Plymouth Fury I as a Police Pursuit (Lot Number 2). A buyer in Ballston Spa, New York, saw the rarity and paid $2,300 for the privilege of ownership despite the added cost of shipping this non-running whale of a car across the country to get it home.
Once again, the "K" in the PK41 VIN sequence denotes police car status and the 41 spells out the four-door sedan body shell (the "P" stands for the Fury model line). In the all-important fifth engine spot, this car wears the letter "P" denoting the 260-horsepower 400 big block with a four-barrel carburetor and high-flowing dual exhaust system.
Though this "P"-code 400 was just 20 horsepower shy of the top dog 440 big block's 280 horsepower, the 440's longer 3.75-inch stroke (0.37 inches greater than the 400's 3.38-inch stroke) pumped out an extra 45 ft/lbs of all-important torque – which gave 440 powered Furys a distinct acceleration advantage.
Other engine possibilities for 1973 Fury police models included the "C"-code 225 Slant Six (yes, you could get a six banger in the police Fury), "G"-code 318 two-barrel small block, "K"-code 360 two-barrel small block, "M"-code 400 big block with a two-barrel and single exhaust, "U"-code 440 big block with a four-barrel and dual exhaust, and the "Z"-code special order V8 (a sibling to the "E"-code special order six cylinder).
Big news for 1973 police models was the addition of standard issue power front disc brakes. Previously an extra cost option (since mid-1965), these massive front disc brakes (plus 11×2-1/2 inch rear drums) gave police officers across the nation some of the best brakes in the industry.
Still wearing its original gold metallic paint and 1973 Texas license plates (reading HLH-232), this wonderful survivor is headed to rural New York state where it'll help spread the word, "buy Texas cars"!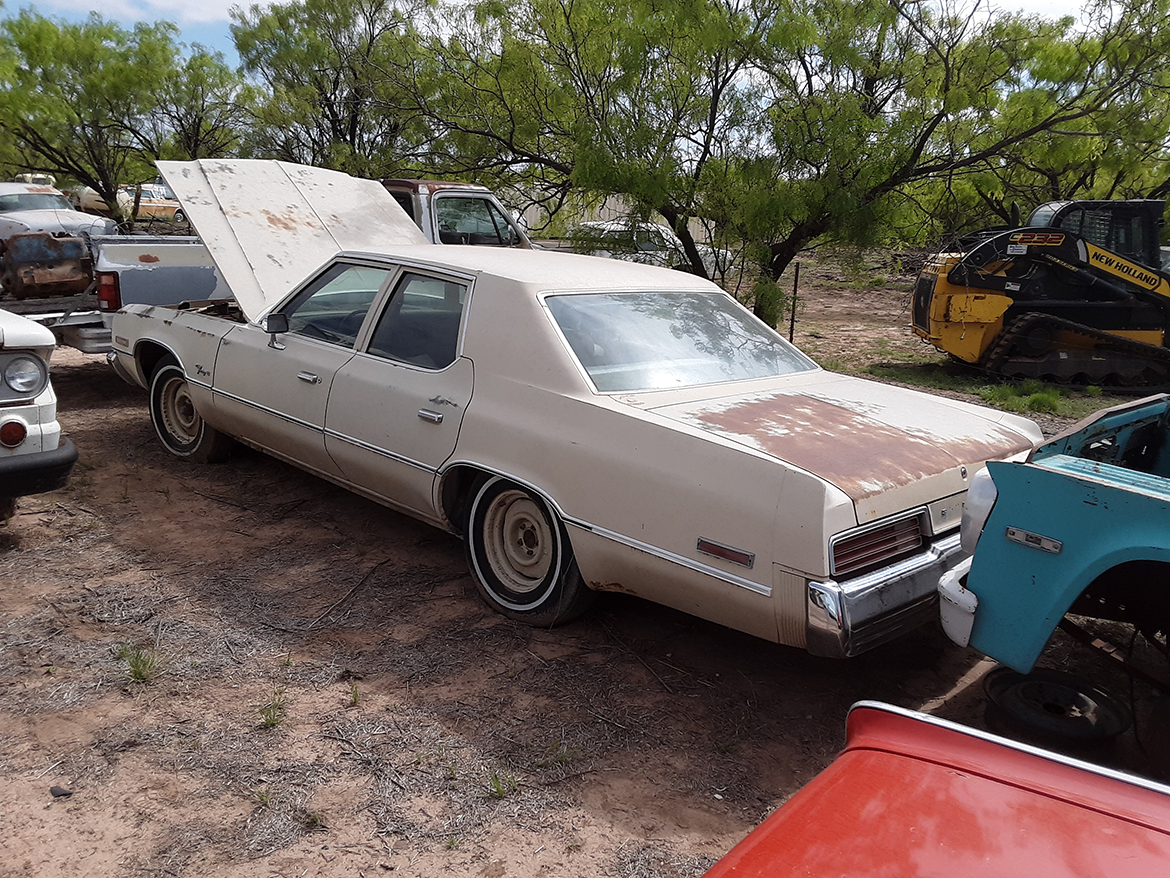 It's plain alright, and yes, this 1974 Plymouth Fury III (Lot Number 49) is a former law enforcement unit. But unlike typical Police Pursuit Furys in 1974, it lacks the usual PK41 VIN beginning sequence. Rather, this one reads "PH41P4D" and that "H" in the second spot tells us it's a "high feature" car, like a regular family-style Fury III.
None of these troubled bidders who worked it up to $2,875, a very modest sum for such a complete and solid example of this rare breed of law enforcement mobility. Heck, if it was a Dodge, it'd make a great Blues Mobile clone (Jake and Elwood used a Dodge Monaco).
Though the 440 was available, this one packs the "P"-code high-performance 400 big block with 250 horsepower, just 25 ponies fewer than the top dog 440. Other police goodies include the calibrated 140 mph speedometer, double-pulley alternator drive, battery heat shield, power disc brakes, heavy-duty suspension with sway bars and those nifty 15×6.5-inch steel wheels, painted to match the subtle body color.
Let's remember, 1974 was the final year before catalytic converters arrived on the scene. As such, this massive mover has Chrysler's excellent full-length dual exhaust system, including the slick up-swept iron exhaust manifolds seen on same-year Plymouth Road Runners and GTXs. Lesser 400 two-barrel engines got more restrictive log-type exhaust manifolds feeding a single under-car system. This thing is a real deal four-door muscle car. Best of all, next to the all-important trim tag screwed atop the radiator wall is a second tag stamped "special order". How cool is that?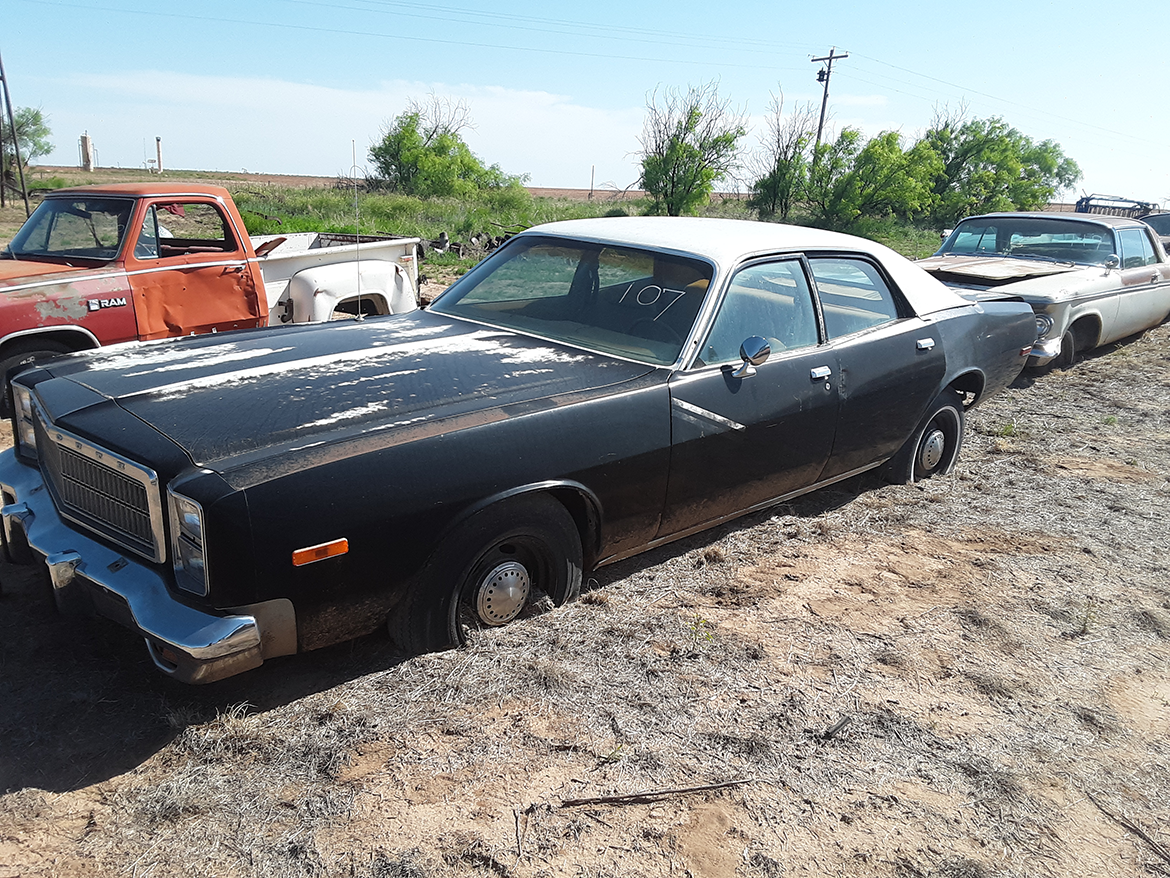 This 1978 Plymouth Fury A38 Police Pursuit (Lot Number 107) sold for a mere $1,265. The 1978 Plymouth Fury (and its Dodge Coronet cousin) offer the strongest proof that police cars can be "muscle cars with four doors". That's because from 1972 through 1978, these mid-sized B-body four-doors could be had with Chrysler's massive 440 big block.
Before 1972, the top gun 440 was only available in two-door muscle cars like the Charger, Coronet R/T and Super Bee. The less exciting four-door models were limited to the 383- and 400-cube big blocks through 1971. Another thing that makes the 1978 model year important is the fact it was the final year for any 400 or 440 big block V8. For 1979, the 360 small block was the largest V8 offered.
Getting back to this vehicle, from this angle, it appears solid and complete. But a peek at the right rear corner reveals major accident damage. But that black-and-white paint scheme and those cool six slot 15×7-inch wheels and tiny hub caps with 18 holes tell the tale, it's an A38 Police Pursuit. We couldn't open the hood, but the VIN plate visible through the windshield reads RL41P8A. The "P"-code in the fifth spot tells us the high-performance 400 sits between the fenders. It's not a 440, but the 400 is the next best thing. And again, this '78 is the last of the big block breed.
And while the typical "K"-code (police) in the second spot is missing here (the "L"-code identifies the "low" price class), starting in 1974 an alternate way of obtaining a police model was to specify option code A38 on a regular model. Naturally, this A38 package included the big brakes, stiff suspension, certified speedometer and other goodies required for law enforcement. Despite the accident damage, the $1,265 selling price was a major value. Let's hope the buyer restores it rather than parts it out.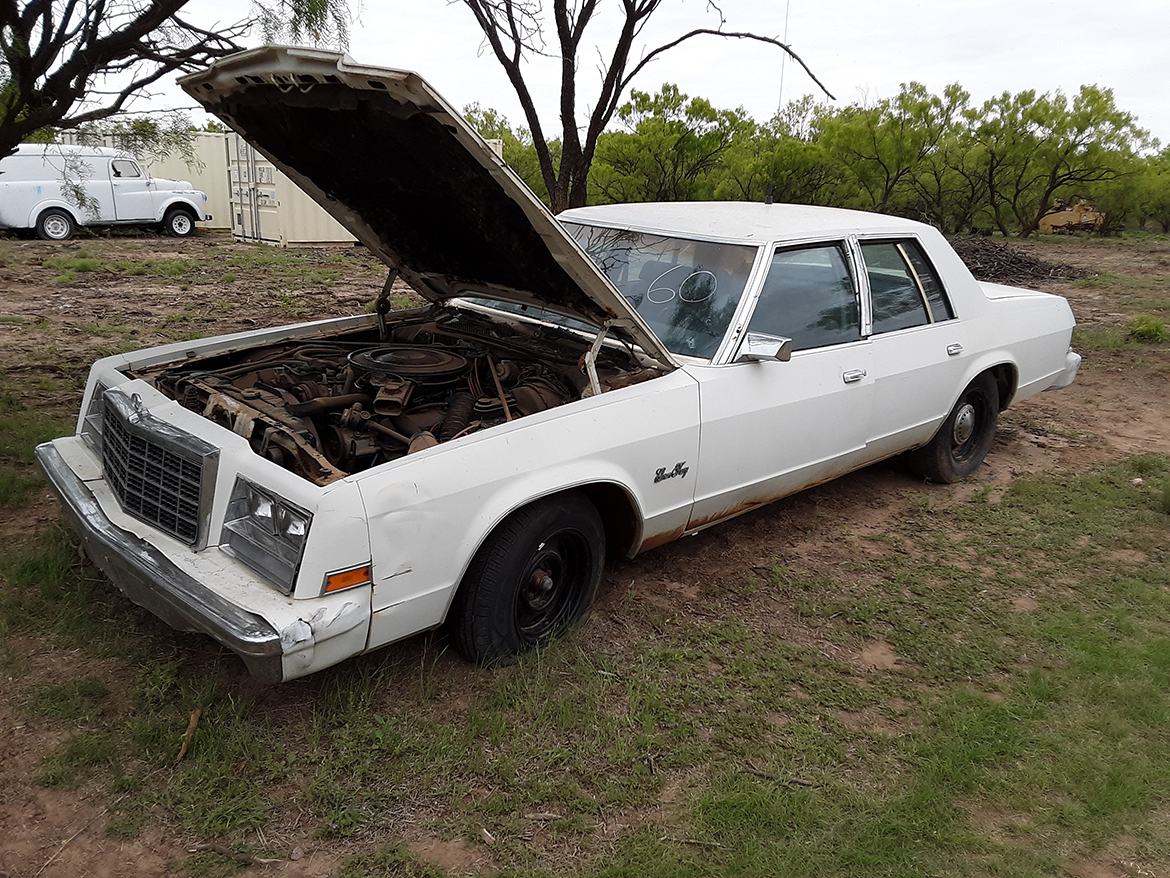 Again, the 15×7-inch six-slot steel wheels, 18-hole hub cap (seen on the rear wheel) and austere white paint tell us this 1981 Plymouth Gran Fury (Lot Number 60) is a police model and not Aunt Charlotte's go-to-bingo ride. Selling for just $1,150 to a lucky bidder from Amarillo, Texas, it represents a significant first and a significant last in Mopar police car history.
1981 was the final year for this full-size R-body platform with longitudinally mounted front torsion bars and comfortable 118.5-inch wheelbase. And it's the first year the 318 small block V8 was the largest engine offering. The 360 was retired for passenger car use after 1980 (the big block 400 and 440 V8s vanished after 1978 as Chrysler properly refocused on small cars and front wheel drive in those oh-so-dark days of gasoline shortages).
Despite some lower fender, door and rocker panel rust, this one is otherwise solid and complete with the seldom seen bucket seat interior. That's right, this full-size Gran Fury luxury liner has austere front bucket seats and no center console. Oh yeah, it also has a rubber floor mat instead of the usual plush carpeting. On the instrument panel, the certified speedometer reads to 125 mph, not the 85 mph ceiling seen on all new cars sold since mid-1979. Let's remember that in 1974 the United States entered the days of the 55 mph speed limit on major roadways. But there was an exemption – for police cars – like this one.
To help the little 318 keep pace with its new role as the top cop, Chrysler engineers introduced the E48 version, which gained the 360's big port cylinder heads, a dual plane four-barrel intake manifold with a Rochester Quadrajet carburetor, double roller timing chain and other upgrades added up to 165 horsepower while the basic 318 two-barrel delivered just 130 horsepower. Testing confirmed that the hot new E48 318 gave Plymouth and Dodge Pursuit cars a full 115 mph capability, good enough to handle situations until the almighty Motorola police radio took over.
So that's the story of Lot Number 60. which will remain in Texas with its new owner. Thanks to the modest purchase price, there should be plenty of budget left to return it to its former glory.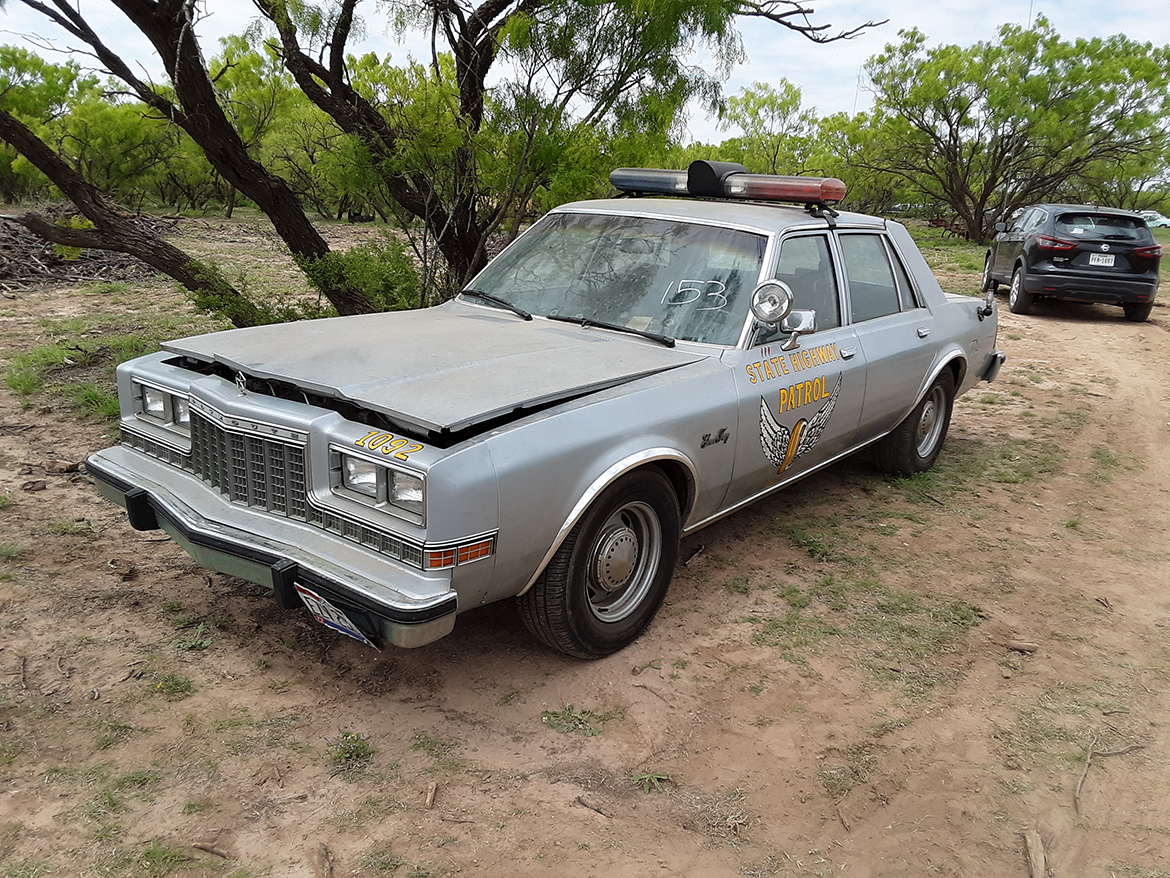 There is no doubting this 1988 Plymouth Gran Fury's police origins (Lot Number 153), those Ohio State Highway Patrol markings and emergency lights are the real thing. It sold for a solid $7,245 to a buyer from Lodi … not Lodi, Texas, but rather Lodi, Ohio. So in a sense, it's going back home again.
As with any Mopar police car built after 1980, there's no 360 under the hood, but the ELE 318 small block does the job with 175 horsepower thanks to its GM-sourced Quadrajet four-barrel carburetor and roller lifters that allowed hotter cam lobe profiles for improved breathing. The result was 0-60 mph in 11.6 seconds, 0-100 mph in 38.8 seconds and a top speed of 117 mph. In the age of the police radio, this was adequate.
Speaking of police radios, while the standard decommissioning procedure for used police cars includes the removal of all emergency lighting, radio and radar equipment, somehow this example escaped virtually complete. The Federal Signal Corporation "Interceptor" light bar and no fewer than three radios – each with its own antenna – remain in place. And those body markings … somehow they weren't peeled off or painted over prior to its sale to the late John Haynie way back when.
Happily, the car came with several magnetic-backed signs that read "not in service" which must be placed over the official markings every time the car is driven on public roads. We're glad this rare snapshot of Mopar police history has found a happy home.
That's it for this week's recap story. We'll be back next time with more from this history-making event.