My Mom bought a Dodge Colt. The year was 1974 and Mom needed to replace the 1967 Volvo 122-S station wagon she bought new years before. Its automatic transmission was troublesome, and Dad finally threw in the towel after failing to find a local mechanic who knew how to make it work again. Since Mom hadn't learned how to drive a manual transmission, the new Colt had to be an automatic, as well.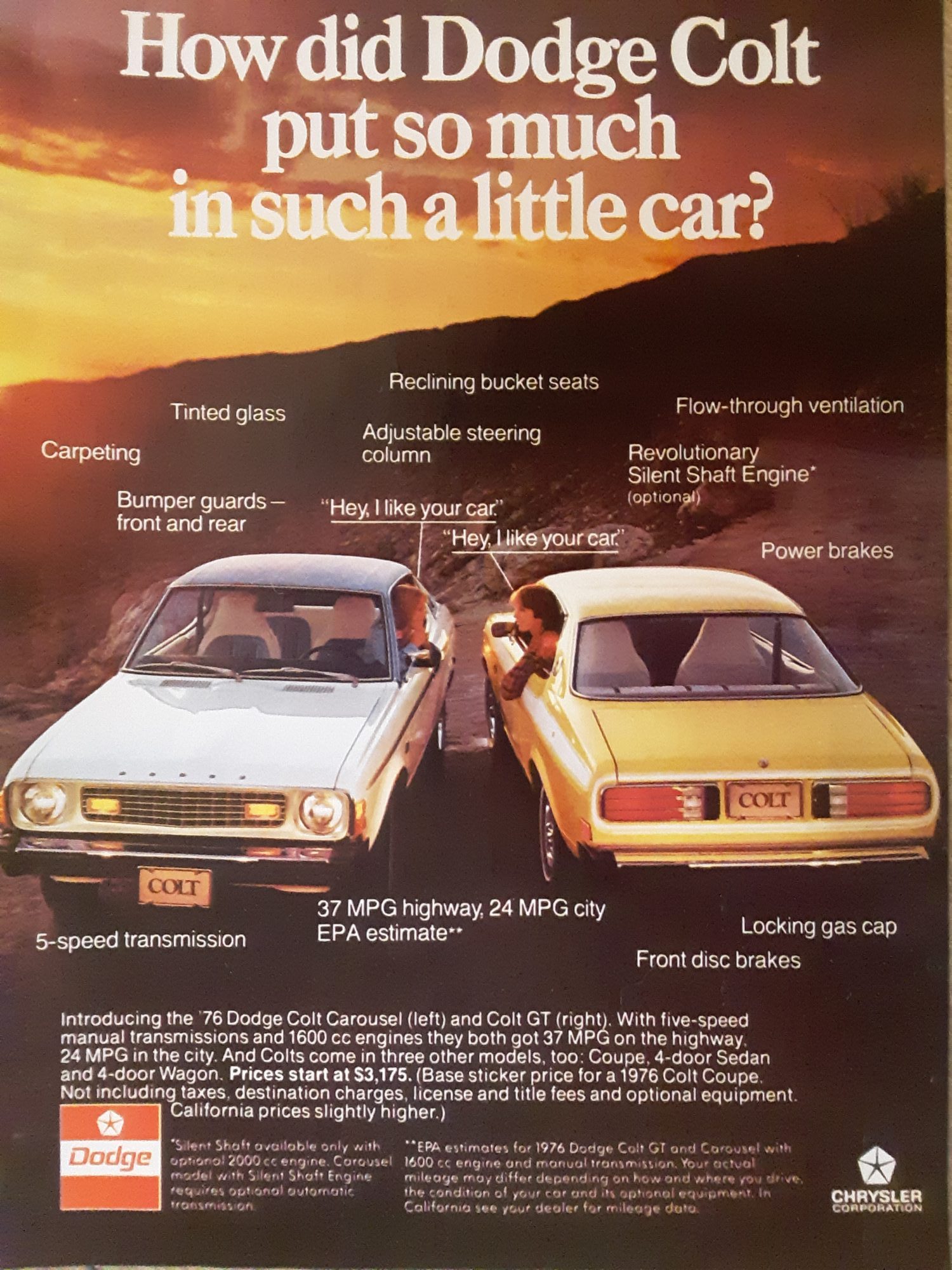 I clearly remember visiting Brookfield Motors Dodge (now defunct) with Mom and Dad in late 1974. I was 10 years old and had already discovered model cars and – in particular – 1/25 scale plastic kits like the Gene Snow "Snow Man" 1972 Dodge Charger funny car by Revell and the Roger Lindamood "Color Me Gone" '72 Challenger funny car kit by MPC. That's why I distinctly remember the brand new '74 Charger and '74 Challenger sitting on the same showroom floor as the bright yellow Colt 2-door coupe Mom was about to buy.
I'm sure Mom didn't want the Charger or Challenger because the Organization of the Petroleum Exporting Countries (infamously known as OPEC forever after) Fuel Crisis of 1973 was still simmering. Overnight, muscle cars and full-size models lost popularity. It was quite a shock to American motorists as OPEC fabricated a supply shortage that forced the price of a gallon of gasoline to double to nearly a dollar. But what was worse, as loaded oil tankers lingered off shore for weeks in the calculated stranglehold, gas stations began to ration gasoline – a desperate measure only previously seen during WWII.
At first, it was a 5-gallon limit per visit – which resulted in most folks driving around the block and returning moments later for another 5 gallons. Do this four times and the average Dodge Polara fuel tank was full. But as things got worse, many state governments worked out a system where you could only buy those 5 gallons based on whether the last digit of your vehicle license plate ended in an even or an odd number. Even-numbered plates could get gas one day, odd numbers the next. This system was meant to reduce the long lines at gas pumps. They were very dark days for this 10-year-old car fanatic.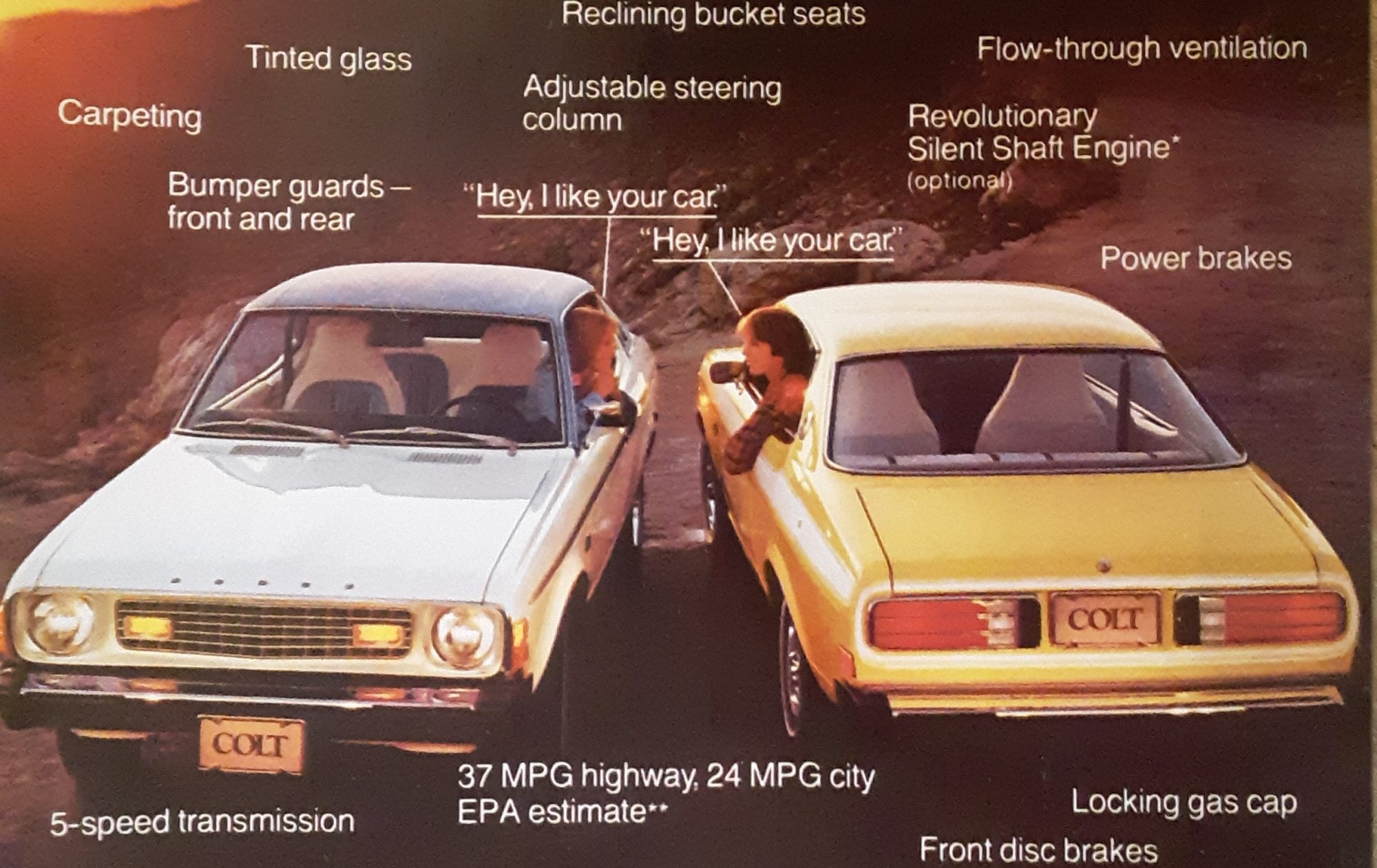 The aftermath of the 1973 OPEC oil embargo is still being felt today. It's also why this magazine ad for the 1976 Dodge Colt places major emphasis on fuel economy. Check it out, the ad says a Colt with the 1600 cc (a.k.a. 1.6 liters or 97.6 cubic inches, you choose) delivered an amazing 37 MPG on the highway and 24 MPG in the city. This is also why Mom was not interested in a larger, thirstier Charger or Challenger on that fall day in 1974. It's also why used car lots all over the country teemed with used Charger R/T's, Super Bees and other so-called "gas hogs". Again, they were very somber days for car enthusiasts.
I don't recall if the brand-new 1974 Charger and Challenger I saw on the showroom floor were high-performance Rallye models – with specific power bulge hoods and dual exhaust – or not. If so, the Challenger could have packed as much as 245 net horsepower with the available 360 four-barrel and the Charger might have had the 275 horsepower 440 Magnum. Little did I know that 1974 would be the final year for the Challenger, the third-generation Charger and the 440 Magnum.
What I did know was that Mom bought that bright yellow Colt 2-door coupe and we drove it home that day. It was a base model (not the snazzier GT) so its black steel wheels contrasted strongly with the yellow exterior. Mounted in the middle of each 13-inch wheel was a generic chrome hub cap with a recessed 2-inch black dot in the center. Amazingly, the tires were not radials but rather old-school belted bias-plies. At least the thin white-walls added a little appeal.
What many people didn't know at the time was the fact the Colt was not a true Dodge product. Unlike the original Plymouth Valiant and Dodge Lancer compact cars of 1960 and '61 (respectively), which were created entirely by Chrysler engineers, designers and stylists, the Colt was what the auto industry was calling a "captive import".
Essentially, that means an automaker perceives a market demand that cannot be filled by an existing model. Instead of starting from scratch on a vehicle to meet that need (a process that takes 36 months at the minimum), the automaker searches the world for a foreign-made vehicle that will fill the need and then arranges to import it with the agreement of exclusivity – the "captive" part of captive import. In other words, an American carmaker puts its nameplate on the imported car and the manufacturer of that imported car agrees not to sell it in America with its original nameplate.
In the case of the Dodge Colt, way back in 1970 Chrysler Corporation determined that the Japanese Mitsubishi Gallant would be an ideal weapon to fight the all-new Ford Pinto and Chevrolet Vega sub-compact models that were launching in 1971. Arrangements were made with Mitsubishi and the Colt arrived at Dodge dealerships beginning in 1971 with very little change aside from the application of Colt badges and some engine de-tuning to satisfy emissions regulations. Sales were respectable: 28,381 in 1971; 34,057 in 1972; and 35,523 in 1973.
For 1974, the Colt got a mild facelift with a change from quad to dual headlamps, squared wheel arches, larger impact-resistant bumpers and other subtle touches. But oddly, the new styling applied only to 2- and 4-door hardtops and coupes. The 4-door station wagon stuck with the quad headlamps and round wheel arches of the 1971 debut year, probably because its lower sales volume didn't warrant the investment in a new body shell with the revised sheet metal.
The 1974 styling refresh may – or may not – have "spurred" Colt sales (sorry, couldn't resist the equine pun) to 42,925 in 1974, 60,356 in 1975 and 48,542 in 1976. My Mom was one of those 1974 buyers and I can still remember her excitement while driving that bright yellow Colt home. I rode in the back seat, my 10-year-old legs cramped against the rear of the high-back bucket driver's seat. The console-mounted T-handle shifter controlled the optional automatic transmission, which added $250 to the $3,748 base price and brought with it the 96-horsepower 2.0-liter SOHC engine. The base 1.6-liter SOHC engine's 83 horses were mated only to the standard 4-speed manual transmission in '74 (a 5-speed manual arrived in '76).
Our 4-person family enjoyed the Colt for the next five years until a Renault LeCar caught Mom's eye and the Colt was traded in with somewhere around 90,000 reasonably trouble-free miles. Notable incidents include a minor rear bumper crunch in 1976 (caused by a tail-gating driver) that yielded a modest repair check from the insurance company. Rather than fix the bent rear bumper, Dad used the windfall to fund a week-long family vacation to the American southwest.
I also remember the Colt's appetite for engine oil. By 40,000 miles, the exhaust had that smelly tinge of failed rings and Mom began complaining about "a funny rattling sound". So each week, I learned to open the hood, set the prop-rod and add a quart via the round filler cap on the 2.0's cast aluminum cam cover. My first "hands on" mechanic work was performed on that car.
I didn't get my driver's license until 1981 so I didn't spend time behind the Colt's wheel. But as a passenger, I certainly recall how mild its acceleration was and how the baby TorqueFlite® automatic transmission often kicked down into Second gear just to keep up with regular traffic. But overall, the Colt was a decent vehicle for what Mom bought it for, getting from point A to point B on as little fuel as possible.
The Colt "captive import" program helped Dodge and Mitsubishi build a solid partnership that served each side well for decades to come. Though the original rear-wheel-drive platform was dropped after 1979, the Colt nameplate lived on aboard front-wheel-drive and even all-wheel-drive Vista minivans for many more years. Mitsubishi even provided the platforms for such notable rear-wheel-drive standouts as the second-generation Dodge Challenger and Starion-based Dodge conquest TSI. And let's not forget the 1976-1980 Plymouth Arrow, another Mitsu-based rear-drive offering that helped get Chrysler Corporation through the rough patch that was the late 1970s. Mom's bright yellow '74 Colt is long gone, but I think of it as being an important "brick in the chimney" that helped set the stage for Dodge's modern HEMI® engine Era. It's a fact that somehow, someway the roughly $4,000 Mom paid for it went into the corporate coffers that kept Dodge going long enough to regain its strength in the early 2000s to bring us the Shakers, Scat Packs, SRT® Hellcats and Demons we all worship today. Long live the Dodge Colt!