When Dodge fans remember the 1965 Coronet, chances are the candy-striped Ramchargers altered wheelbase factory experimental drag racer – with its sky-high Hilborn fuel injection stacks towering over the windshield – comes to mind. Or for those of the NASCAR persuasion, recollections of Cotton Owens' pristine fleet of bright white Grand National Superspeedway Coronets – replete with bright red racing numbers splashed on the doors and roof – echo loudly from the past (despite Chrysler Corporation's 1965 boycott of NASCAR superspeedway events, HEMI® engine-powered Dodge vehicles ran in races sanctioned by other series that year).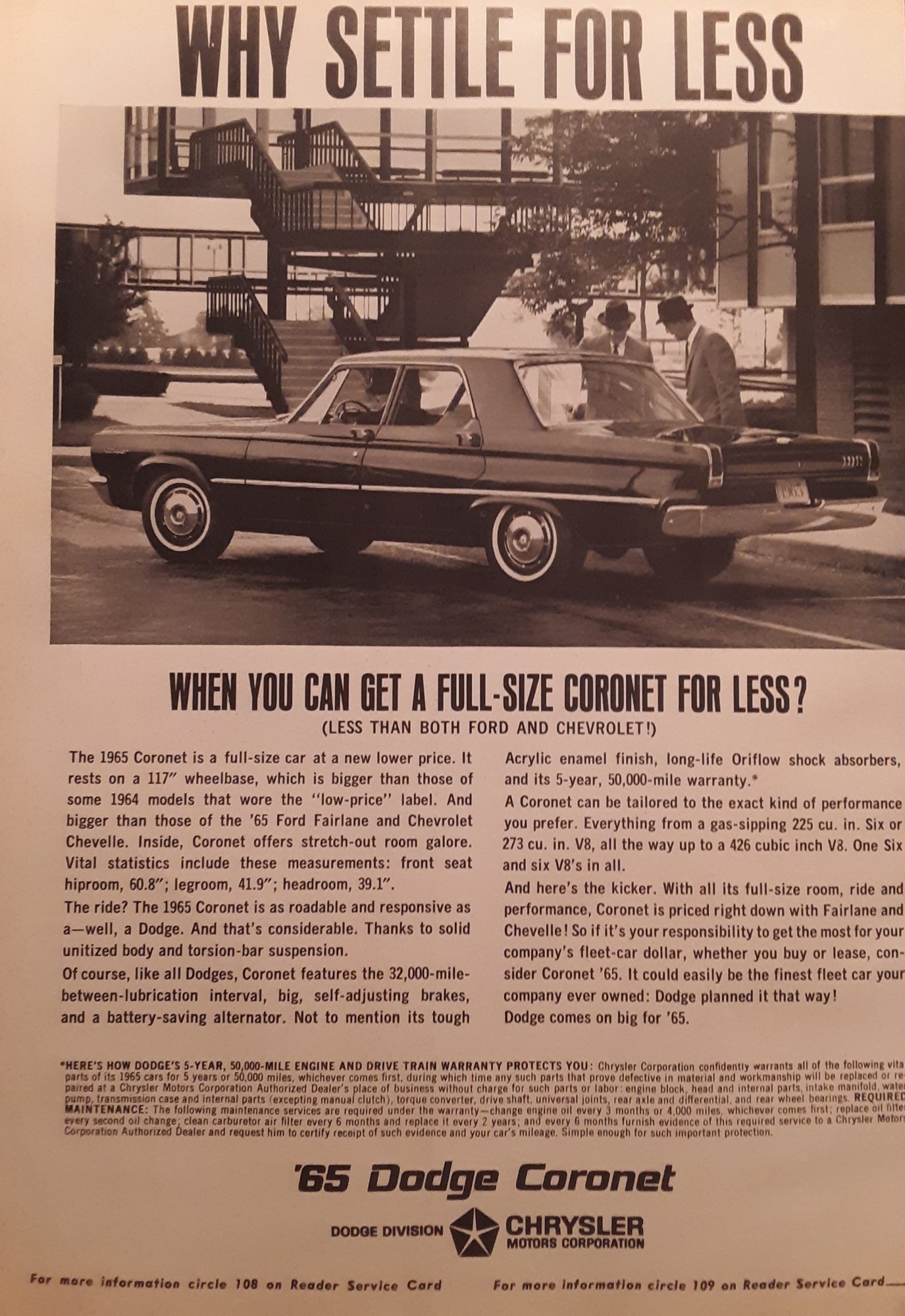 But as this month's Pages From The Past reveals, 1965 Coronets were also very popular with humble, salt-of-the-earth fleet buyers who prized their low cost and high reliability. This ad appeared in the November 1964 issue of Fleet Owner magazine and was meant to appeal to commercial buyers ranging from federal agencies in need of staff cars to local taxi services – or anything in between.
Since these fleet service Coronets were not bought for typical family transport, a certain level of austerity was baked in to keep the cost to build – and the price to purchase – as low as possible. Though nylon carpeting was offered, the floors of the more focused fleet Coronets were covered in molded rubber floor mats for easy cleanup and low maintenance.
Fleet-build Coronets also tended toward four-door body types for maximum utility and people-moving capacity. Radio delete plates often blocked the rectangular openings stamped into every Coronet instrument panel. No doubt fleet operators figured employees could listen to the radio in their own cars while driving to and from work. Seats were covered in heavy-duty vinyl rather than fabric for long wear, and more springs were built into seat cushions for all-day driving comfort.

Other details were given the "less is more" treatment. Glitzy chrome horn rings gave way to simplified half-rings or even central horn buttons on the molded plastic steering wheel. Front seat passengers squinted into the sun as only the driver was afforded a swing-down sun visor. Heck, even reverse/backup lights were eliminated in the mission to offer fleet buyers the lowest possible base price. In this mode, the rectangular opening at the base of each vertical tail light unit was plugged with a simple aluminum block-off plate instead of the frosted plastic lens and incandescent bulb assembly found in upscale Coronets.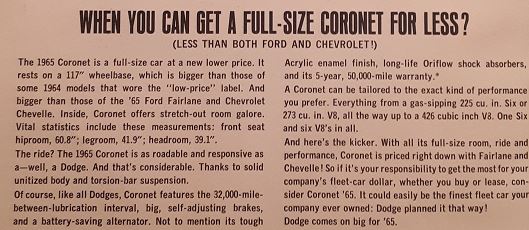 This last detail – the reverse lamp delete plug – was also shared with the mighty Coronet WO51/A990 Race HEMI package cars of the same year, which brings us under the hood. The ad copy discusses the possibilities: "A Coronet can be tailored to the exact kind of performance you prefer. Everything from a gas-sipping 225 cu. in. Six or 273 cu. in. V8, all the way up to a 426 cubic inch V8. One Six and six V8's in all." Wait, what? Did Dodge offer a "426" in its lowly Coronet fleet package? Yes, and no.
Dodge fans will remember that the legendary 426-cubic-inch engine displacement number came to be thanks to the 7-liter (a.k.a. 427-cubic-inch) displacement limit adhered to by the NHRA and NASCAR to give Detroit automakers a boundary limit on engine size. Ford and Chevrolet both took things to the limit with their respective 427 engine families, Pontiac (active in NASCAR until March 1963) clicked it off at 421 cubes and Dodge/Plymouth selected 426 cubes to set itself apart from the competition.
And since the NHRA and NASCAR mandated that each car maker had to offer its 7-liter V8 engines to the general public, Dodge came up with a smart strategy to do this in the most practical way possible. They offered two versions of the 426 in 1965. The one we all remember is the mighty A990 Race HEMI engine. An extension of the Daytona 500-conquering A864 426 Race HEMI engine of 1964, the 1965 A990 got lighter aluminum cylinder heads, a magnesium cross-ram intake manifold instead of 1964-spec aluminum, aluminum water and oil pumps and revised camshaft profiles. Oh, and the A990 had a sky-high 12.5:1 compression ratio. Clearly, the radical Race HEMI engine was not something meant to appeal to frugal fleet buyers. Records show just 360 426 Race HEMI engines were built in 1965 – 101 went into Dodge Coronet A990s, 101 went into Plymouth Belvedere I A990s and the rest were sold "loose" in crates.
Then there was the other 426 of 1965, the so-called Street Wedge. Like the A864 Race HEMI engine, the 426 Street Wedge also made its debut for the 1964 model year as a milder version of the Max Wedge 426. As its name implies, the Street Wedge lacked hemispherical combustion chambers and was – indeed – meant for the streets of America. A single Carter four-barrel carburetor sat atop a cast iron intake manifold in place of the Max Wedge's aluminum cross-ram, dual carburetor manifold, small port/small valve wedge-type cylinder heads from the garden-variety 383 V8 replaced the free-breathing Max Wedge heads, a mild hydraulic camshaft replaced the Max Wedge's aggressive solid lifter camshaft and forged steel adjustable rocker arms and numerous de-tuning measures resulted in a healthy – but not temperamental – 365 horsepower and 470 ft/lbs of torque.
Though many car magazines criticized the 1964 426 Street Wedge as being a "mere shadow" of the mighty 1962 – 1964 Max Wedge, that was exactly the point. The 426 Street Wedge gave Dodge the opportunity (or so they hoped) to satisfy the NASCAR mandate to sell 426 engines to the general public in order to legalize a "similar" 426 for sanctioned race duty.
But there was a hitch. NASCAR actually noticed the massive gap between the 426 Race HEMI engine and the 426 Street Wedge. Just offering up a 7-liter V8 to showroom buyers wasn't enough – especially after this new hemispherical-head 426 totally dominated the 1964 Daytona 500, triggering a firestorm of complaints from Ford. NASCAR held Chrysler Corp's feet to the fire and said, "Don't come back with that tool room special until anyone and everyone can buy one off the showroom floor." Dodge (and Plymouth) immediately got to work, which is what brought us the Street HEMI engine of 1966, a mass-produced HEMI engine NASCAR couldn't say "no" to.
Getting back to 1965, the year of this month's Pages From The Past, we have to remember that Chrysler only made a reported 271 Race HEMI engines in 1964. They elected to boycott "most" 1965 NASCAR races as they feverishly readied the 426 Street HEMI engine for its 1966 debut. But what about the 426 Street Wedge of 1964? It was continued again for 1965 and THAT is the "426 cubic inch V8" referenced in this ad. While Dodge and Plymouth each built 101 A990 Race HEMI engine-powered Coronets and Belvederes in 1965, those wild cross-rammed HEMI engines are not what was on offer here in this ad.
Rather, it was the reprised 426 Street Wedge that's referred to in this Fleet Owner magazine advertisement. Yes, it was certainly possible to purchase the 365-horsepower Street Wedge in any 2-door Coronet body style – no station wagons. Thus, Dodge buyers looking for peak street performance in 1965 – without going crazy with an A990 Race HEMI engine – sought sporty 2-door Coronets with Street Wedge power to battle the GTO, SS, 4-4-2 onslaught.
Records show that just 2,100 Dodge and 4,469 Plymouth 426 Street Wedges were built in 1965. Of the 2,100 Dodge Coronets, 1,945 were 2-door hardtops and sedans and just 155 were convertibles. Added to this tally, two documented 4-door Coronet sedans with 426 Street Wedge power have surfaced, proving the adage: "never say never." As exciting and mysterious as the 426 Street Wedge was – and continues to be – this ad from Fleet Buyer magazine serves to remind us all that of the roughly 209,500 Dodge Coronets sold in 1965, the vast majority were powered by smaller engines and served reliably as basic transportation – perhaps the most noble duty of all.