SUPERBIRD: A CARTOON CHARACTER?
This Richard Petty tribute Superbird is a street-legal car and with its extreme detailing, it pays proper respect and homage to the legendary NASCAR driver that ran one for the 1970 racing season. When out on the road or while attending a Cars and Coffee event, there's an interesting footnote that takes place: With the big wing, the bright color and the "43" markings, young kids especially take notice. Why? The reason being is that Richard Petty had a role in the Disney Pixar animated movies Cars and Cars 2, where his voice and '70 Superbird character had starring roles!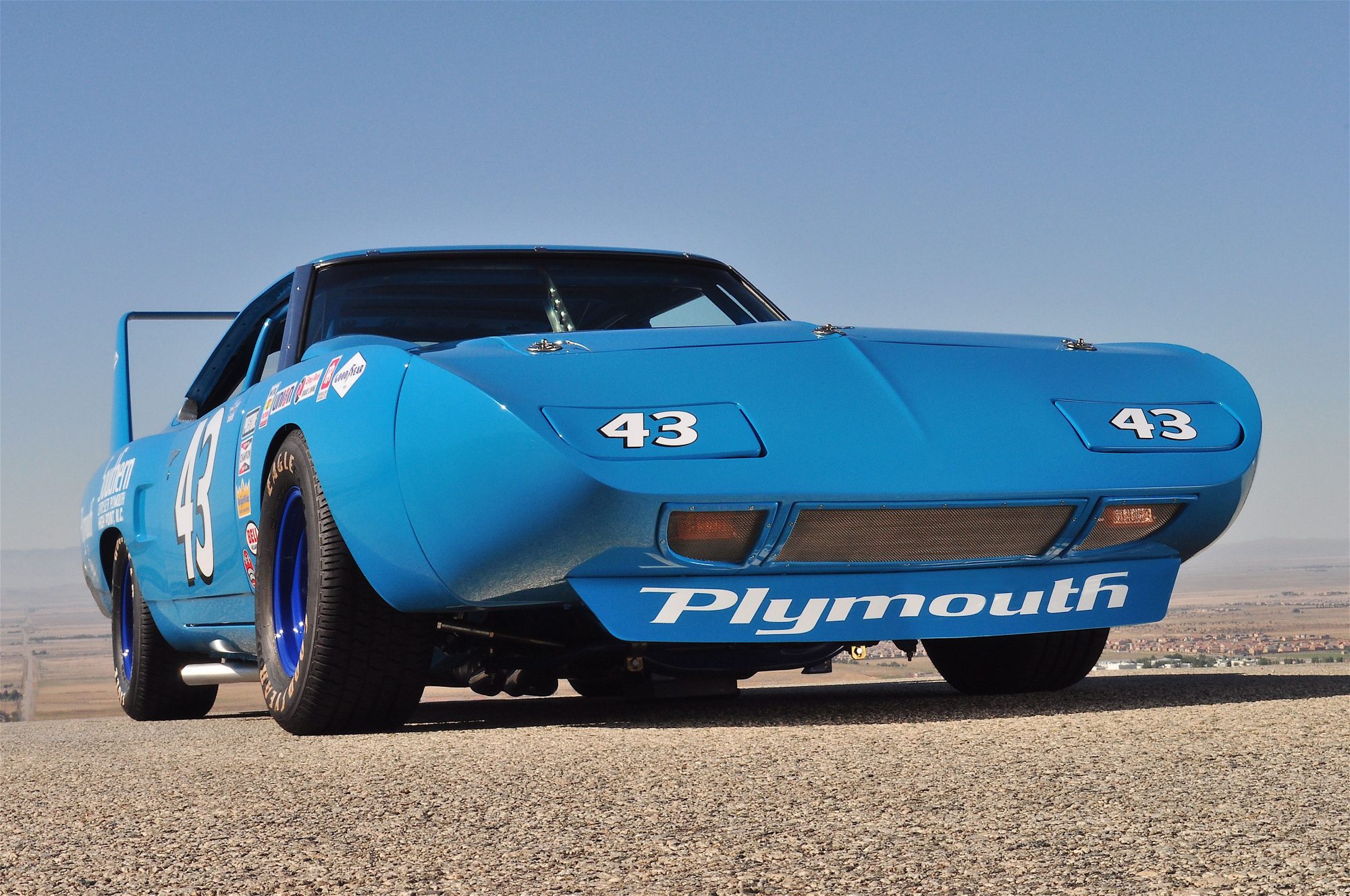 Accuracy was paramount in the building of this HEMI® engine-powered beast. Starting with a 1970 Belvedere hardtop as a donor car, it was carefully constructed to be as authentic in as many ways as possible to the real competition car that raced all those years back from Petty Enterprises. A visit to the Petty Museum in Randleman, NC, was included in documenting the original competition car for details.
SLIPPERY NOSE CONE FOR SUPERSPEEDWAYS
1970 front fenders from a production Dodge Coronet were part of the Superbird conversion package, with the front lower edges modified in order to line up with the steel nose. In addition, they received enlarged (rounded) wheel openings as per photographs of the real McCoy. The Superbird nose was modified with welded seams and the elimination of the front side market lights.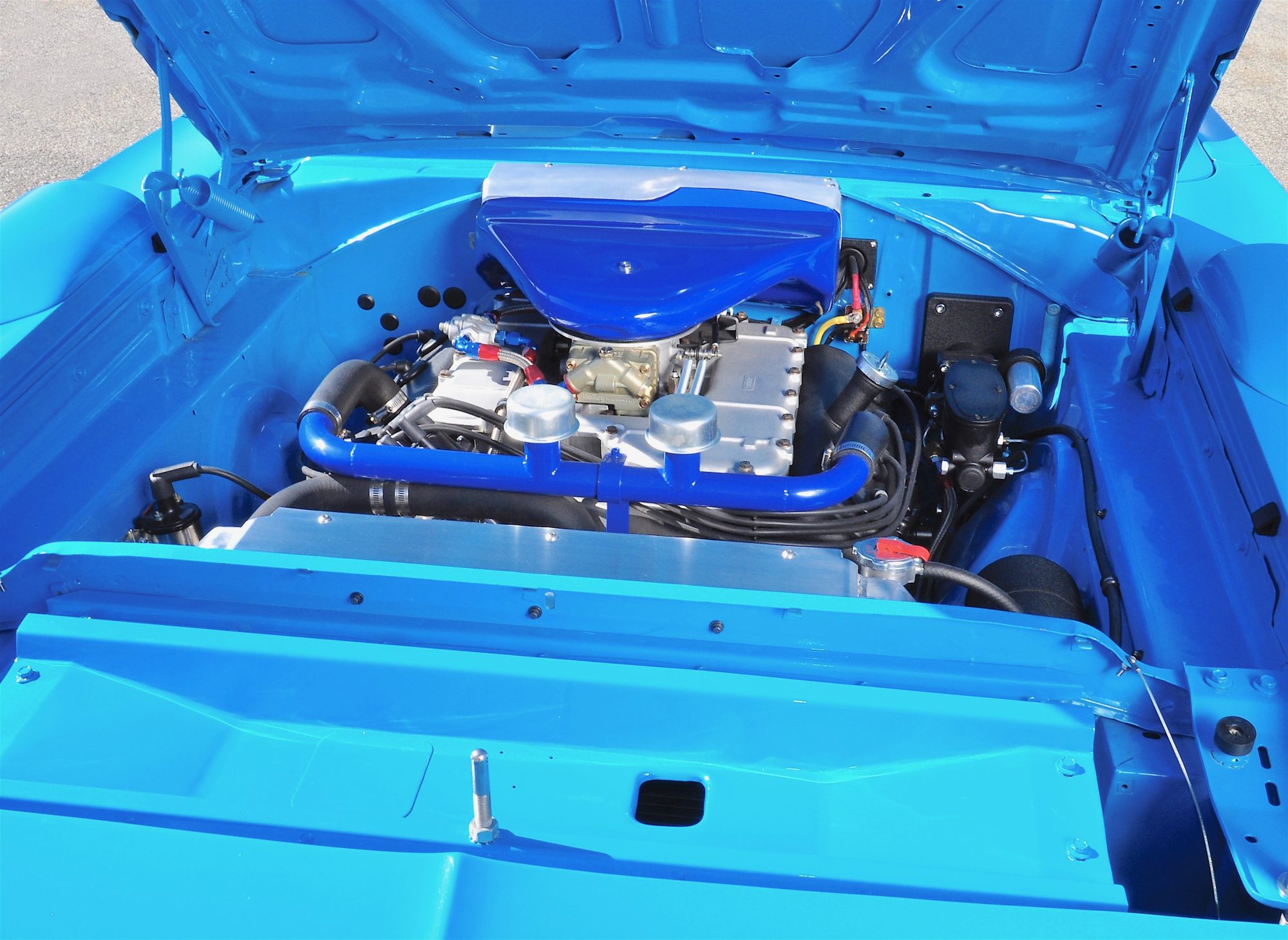 The 472-cid HEMI crate engine did receive a power increase with the fitting of higher compression pistons (now 9.67:1 as compared to standard 9.0:1 as delivered from Mopar® Performance) and a camshaft upgrade (mechanical .561 lift, 248/255-degree duration, measured at .050). A full-race induction system was added, as was and MSD ignition. The single four-barrel (Holley Dominator 1,050 cfm race carburetor) sits atop of what is known as the "bathtub" intake, which came out for the 1966 NASCAR season. The two-piece manifold features long runners inside hidden under a cover that mounted the carburetor (a brilliant design that performed well under full-throttle conditions).
DETAILS MATTER!
Locating all the correct race-spec components was extremely difficult, plus there were numerous fabrication challenges involved on the car in order to get everything "right." It had to really look the part of being a vintage racer; however, some new, modernized features (4-wheel disc braking, power rack and pinion steering and air suspension to deal with the low ground clearance on the nose) were in order as well. Every modification with a large degree of detail, which speaks volumes of his dedication and quality of work. Many of the unique touches done to the car required high degrees of craftsmanship to create, including the scratch-build rigidized aluminum interior panels, race-spec windshield brace with lightning holes, one-off racing seat brace, re-working the vacuum controls for headlight operation, hiding all the plumbing and electrical lines (air suspension and lighting system) and on and on throughout all facets of the final build.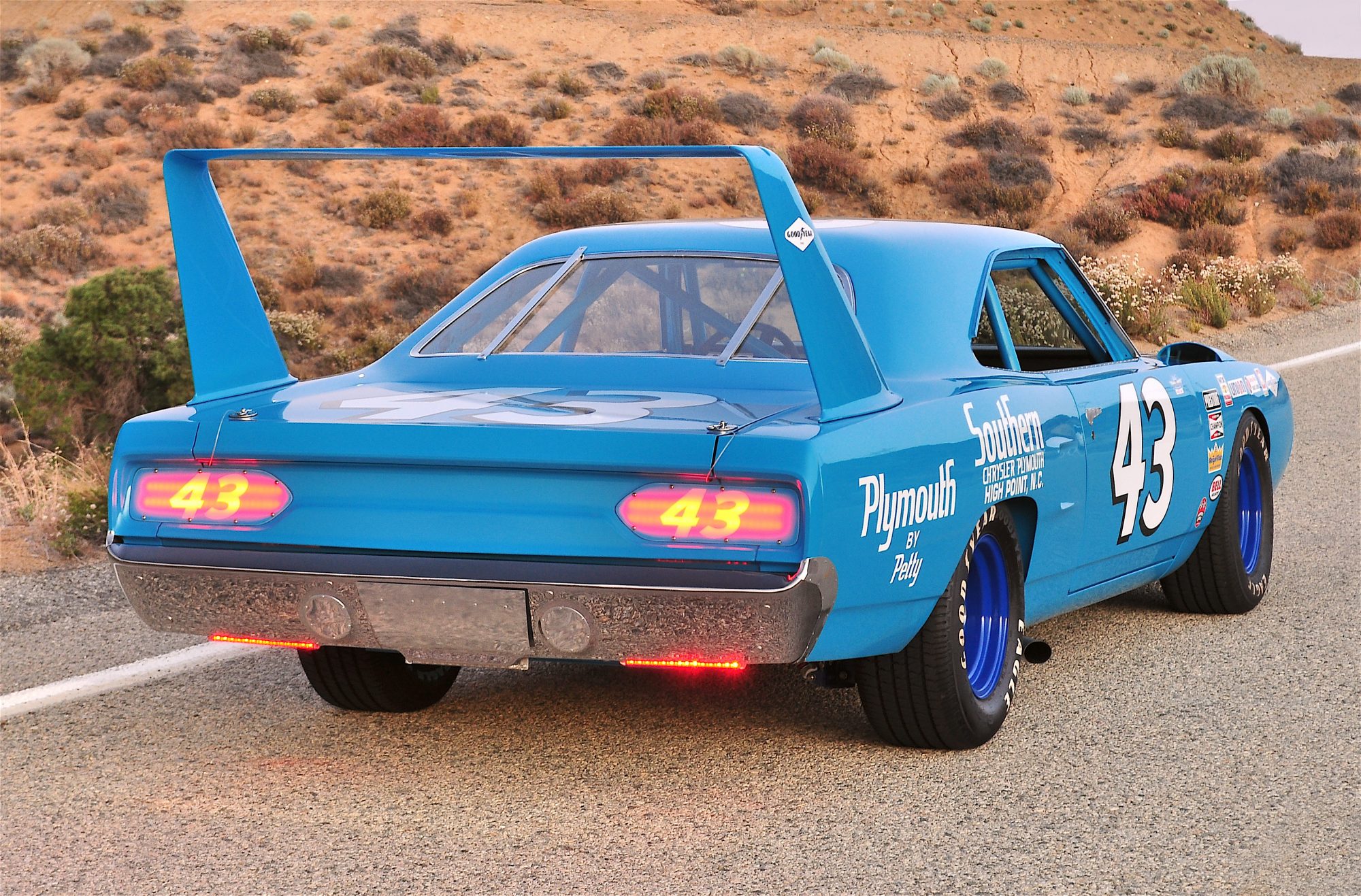 The rear wing is the obvious main focal point of the car, sitting up some 24 inches on the SuperBird. Why 24 inches? Because that's how tall it had to be to open up the trunk lid on the production cars! The wing element itself could be adjusted a total of 12 degrees (plus two to minus 10) and measures 7.5 inches wide. In order to give the car a realistic appearance of a Petty racecar, plus to make it road worthy with operating rear lights, unique tail lights were devised as a creative way of accomplishing both with the fitting of semi-translucent polymer covers over the rear light housings, which were fitted with LED bulbs for more brightness. Also, below the bumper are additional LED lights for extra safety that are nearly hidden from sight when not in use.
HOW MANY SUPERBIRDS WERE PRODUCED BY THE FACTORY?
For 1970, NASCAR changed the rules on any special car built from the factory specifically for stock car racing, with a new stipulation that an increased amount of production cars had to be produced to be legal for competition: one car for every two dealers of the car maker. So in the case of the Plymouth SuperBird, that amount equaled about 1,920 cars required to roll out of the factory. (Records indicate that total production was probably 1,935.) This car isn't one of the originals and for a reason, the thought of taking a street Superbird and cutting it all up to create a replica of the competition version, well, it would be better to do that to a base Belvedere hardtop.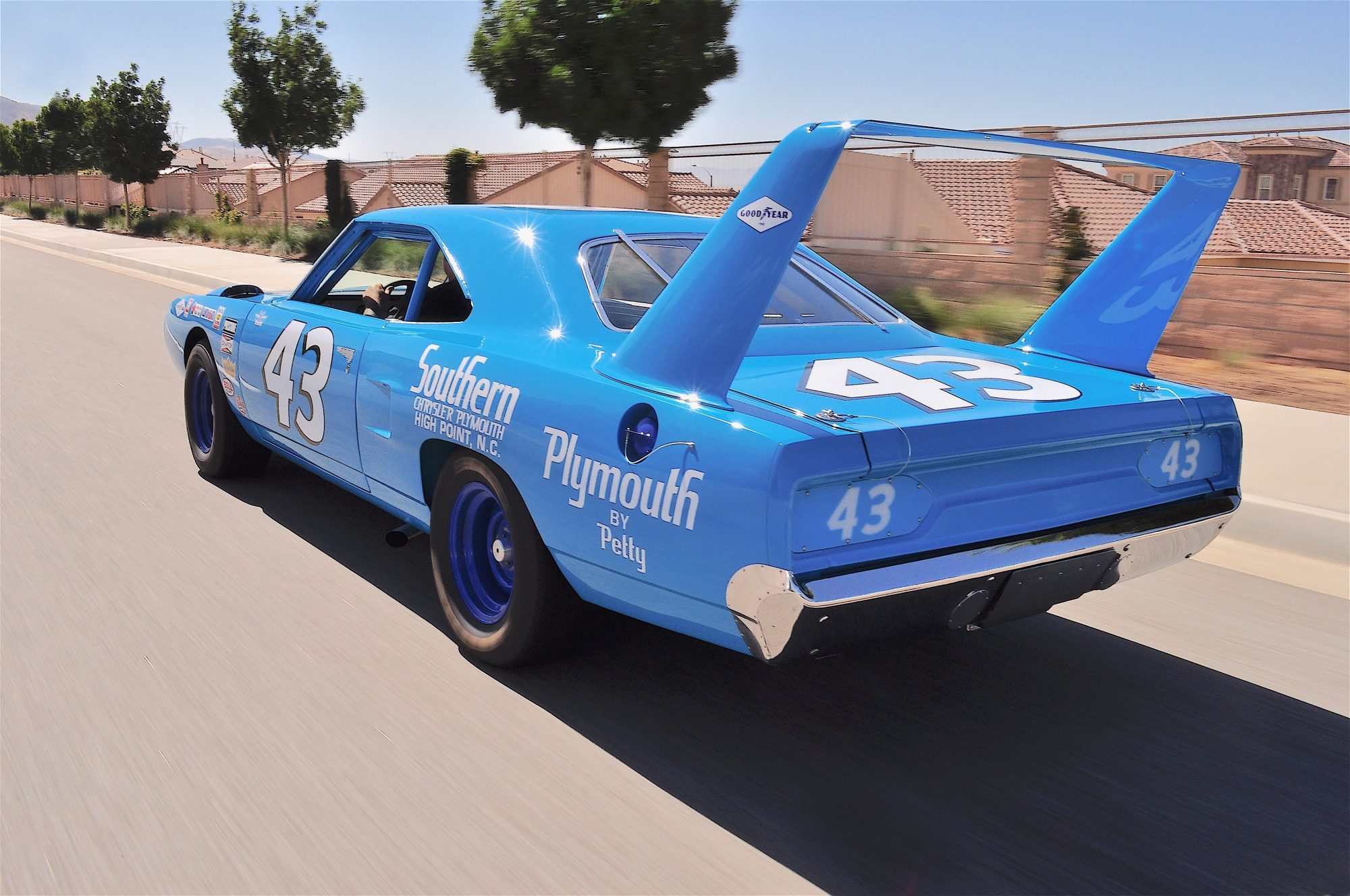 Chrysler wing cars were designed in part by in-house Chrysler aerospace engineers who had experience with missiles, the rear is actually an inverted "Clark Y" airfoil, which creates downforce while the twin vertical airfoils provide increased lateral stability, especially on the corners of the high-banked super speedways. Up front, Air Ride Technologies shocks are incorporated to allow a raise in ride height while driving on city streets.
SUPERBIRD: A WINNER ON THE TRACK
For that 1970 racing season, the Petty Enterprises shop was actually contracted to campaign two different Superbird racecars, one for Richard and one for a new fresh face on the scene, Pete Hamilton (car #40). This two-car assault for Plymouth turned out to be a grand idea as Hamilton did help the Petty team in getting exposure, with wins at three of the high-profile superspeedway events (Daytona 500, Alabama 500 and Talladega 500). Richard himself won 18 races. There's no question these winged Plymouths did a lot in terms of generating interest in the sport of stock car racing, and even today they are looked at as being perhaps the "ultimate" purpose-built cars ever produced for NASCAR competition.
Author: James Maxwell