– Three Holley Carburetors Fed by Air Grabber Scoop
– High Impact "In Violet" FC7 Factory Metallic Paint
– Considered the "Gentleman's Muscle Car"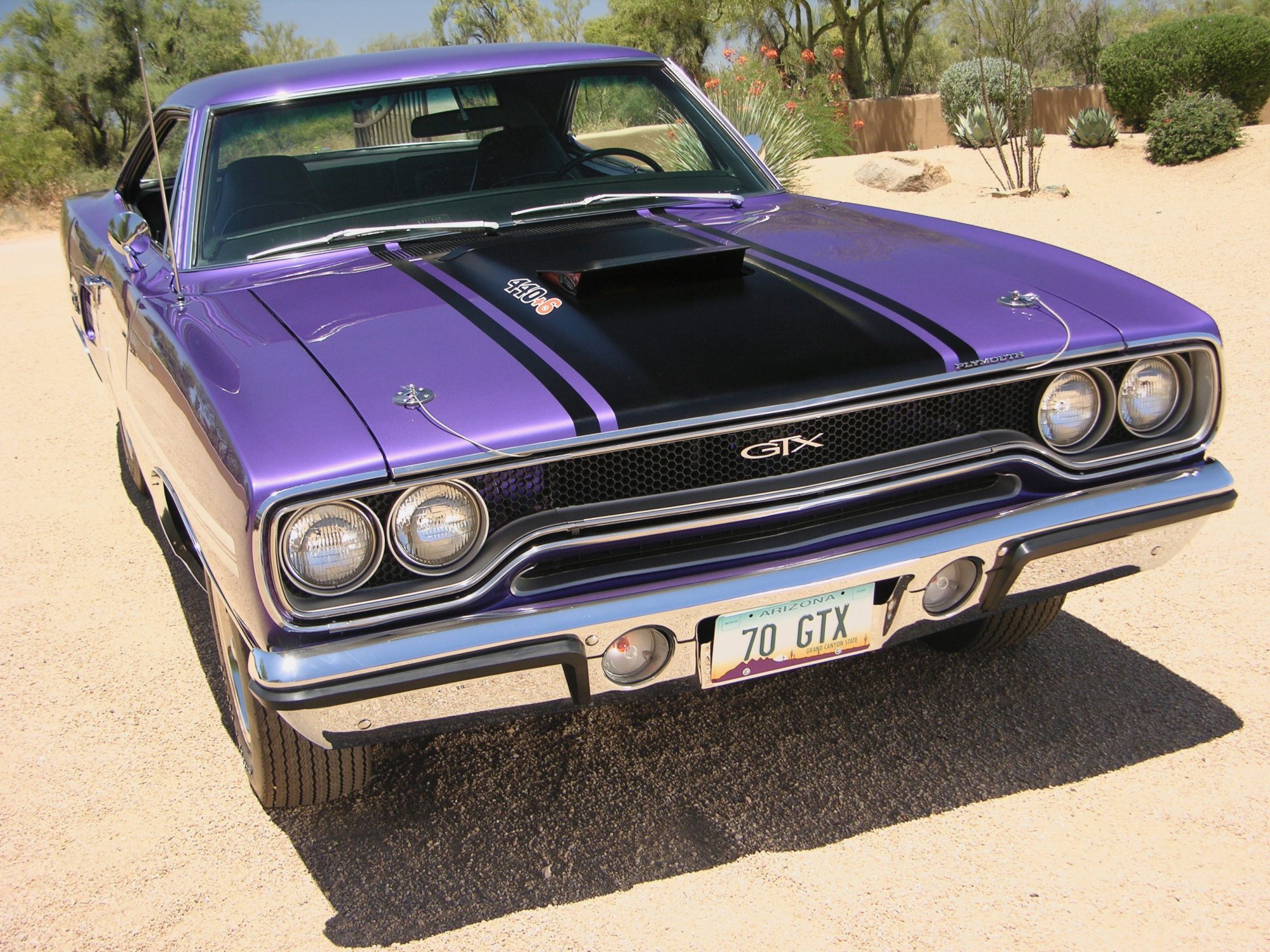 For 1970, the Plymouth GTX 2-door hardtop was restyled, offering clean side body panels along with revised front and rear ends. The grille had a unique "telephone receiver" style shape and the tail light treatment was changed, and the car was no longer available as a convertible. The GTX was a member of Plymouth's "Rapid Transit System" performance car program, and to add some visual excitement, these cars were available with "High Impact" hues, including Violet (Purple), Limelight (Green), Vitamin C (Orange), Tor-Red, Lemon Twist (Yellow) and Moulin Rouge (Pink).
Special "Supercar Clinics" were conducted at Chrysler-Plymouth dealerships across America by Sox & Martin and Don Grotheer to promote the GTX and the other R.T.S. vehicles (Road Runner, Duster 340, Sport Fury GT, 'Cuda and SuperBird).
The GTX was known as "RS23" models in the dealership showrooms and came standard with extra heavy-duty shocks and suspension, heavy-duty driveshaft and U-joints, heavy-duty rear axle, six-inch-wide wheels, heavy-duty battery, heavy-duty brakes, bucket seats and "Power Bulge" hood.
TOTAL CFM FLOW 1350
It's factory equipped with the 440/6 engine. Plymouth called their version of this potent mill the "440 Six Barrel" and "440+6", while Dodge called it the "440 Six Pack." Either way, it was rated at 390 horsepower at 4,700 rpm. High-performance Mopar® engines of this era came painted Orange in color. Cubic feet per minute was rated at 1350: 350 center, 500 each front and rear.
There were only three engines available: "Super Commando" 440-cid V8 with 375 horsepower (standard equipment), 440-cid "Six Barrel" V8 with 390 horsepower (optional) and 426-cid "Street HEMI®" V8 with 425 horsepower (optional). Transmission choices were either a high-upshift, competition-type TorqueFlite® automatic, or heavy-duty 4-speed manual transmission. The standard rear axle ratio was 3.55:1.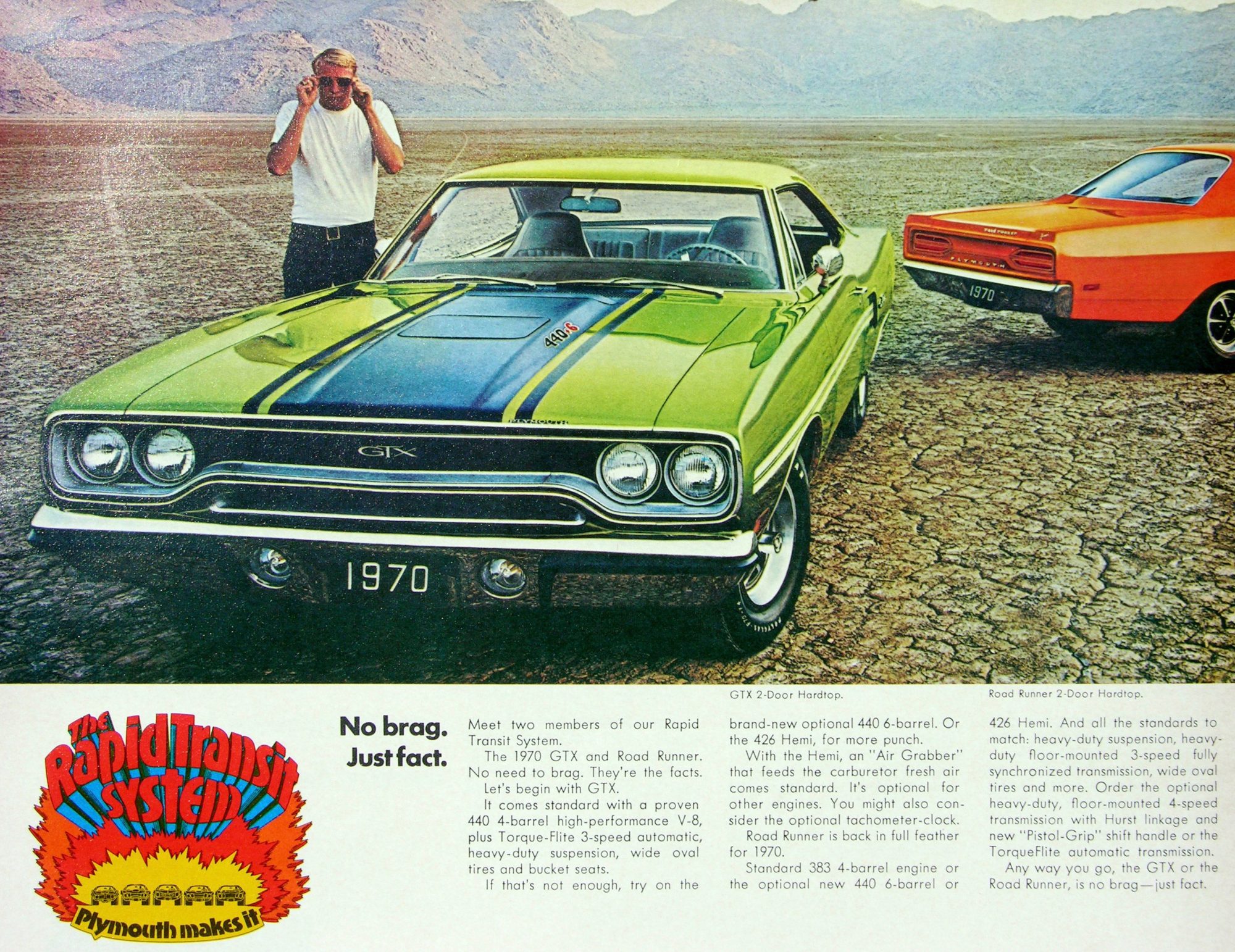 "No brag. Just fact." was how the GTX was presented in the factory brochures and there was little question that if you could afford one, owning a GTX was a way to show you appreciated the finer things in life! With a base price of $3,535.00, it was some $600.00 more than the lesser-equipped Road Runner, and that was the main reason that Road Runners sold in much higher numbers. (Over 40,000 Road Runners were produced in the 1970 model year run, while less than 8,000 GTX examples were produced.)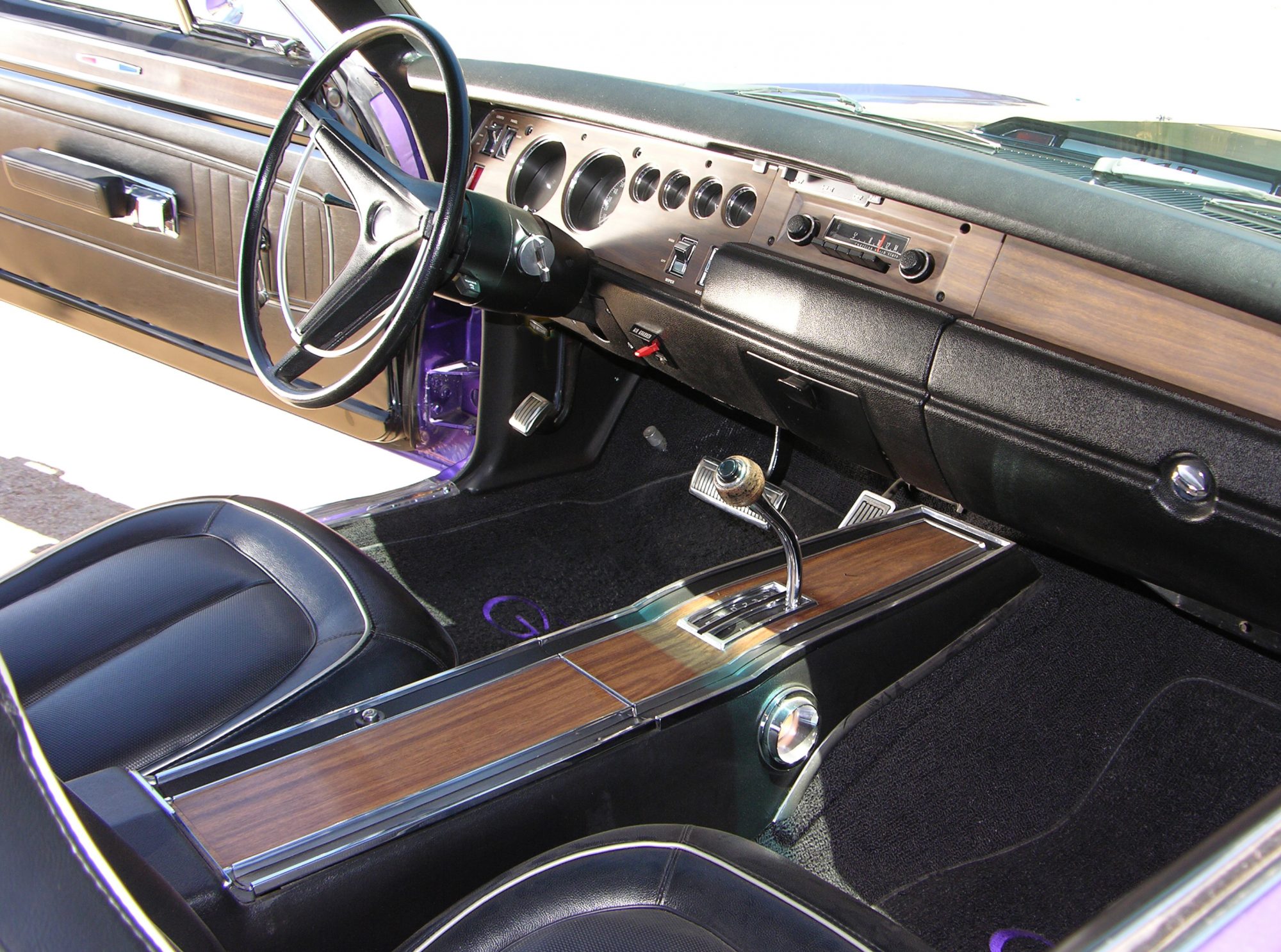 An automatic was the chosen transmission, as was the optional 15-inch wheels (with F60-15 Goodyear Polyglas rubber). Other options included power disc brakes, power steering and AM radio. The car had a retail price (including options and destination charge) of $4,193.70.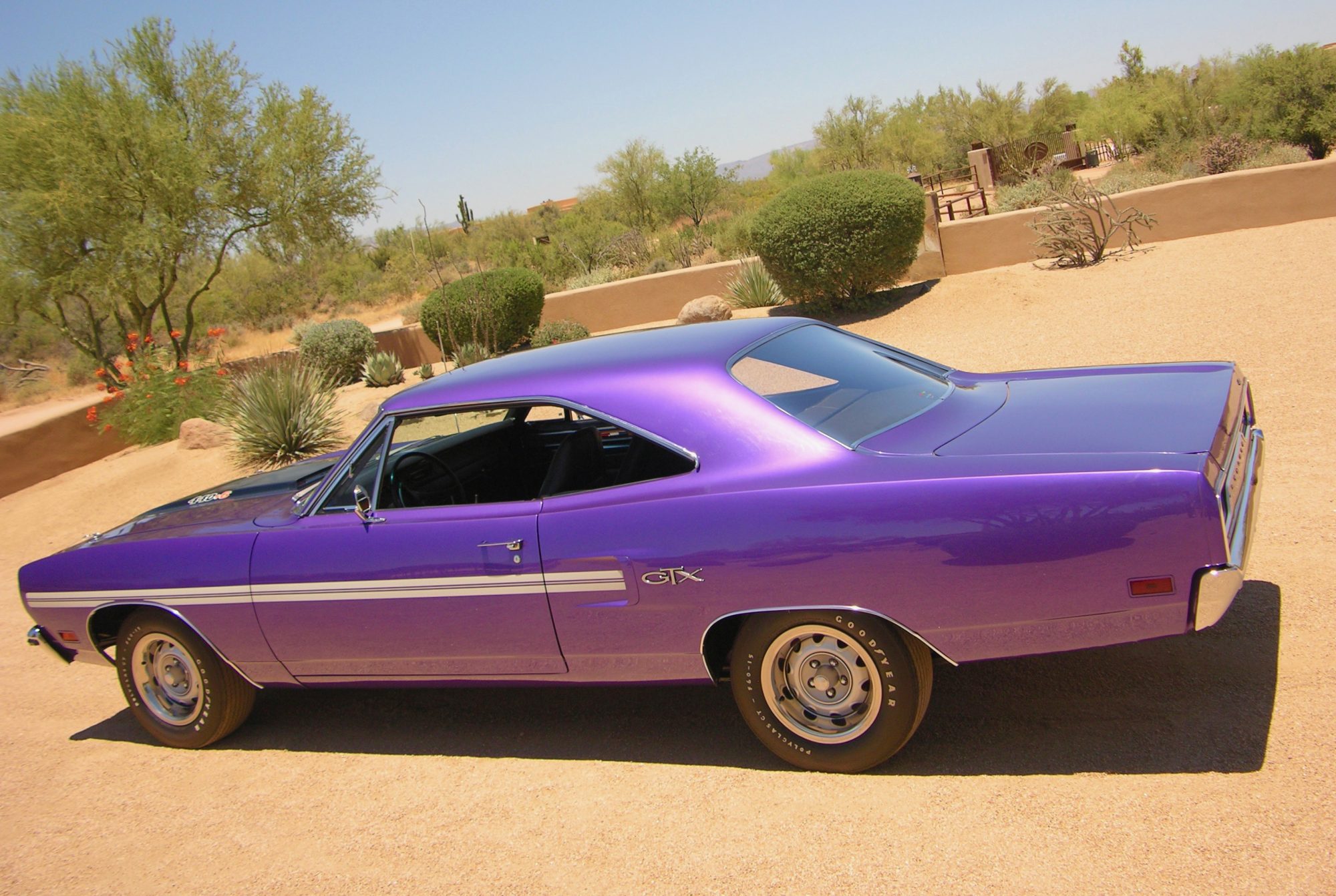 IT'S ALL ABOUT THE COLOR
This particular GTX pictured is a factory "FC7" car, which translates to mean it was painted "In Violet Metallic" color from the factory. Other desirable options include the "E87" 6V 440+6 engine and "N96" Air Grabber functional hood scoop (vacuum operated). This car also features white side stripes and black hood stripe (both factory options), along with a center console.
1 OF 328
A fully documented Mopar muscle car is a highly desirable machine to own these days, especially one that was painted with the High Impact color. This car is rare as only 328 1970 GTX models came through with the 440 six-barrel engine and TorqueFlite transmission. To take it out on the open road and let those three Holley carburetors open up all the way – and burn some rubber while doing it – that's what the Rapid Transit System was all about!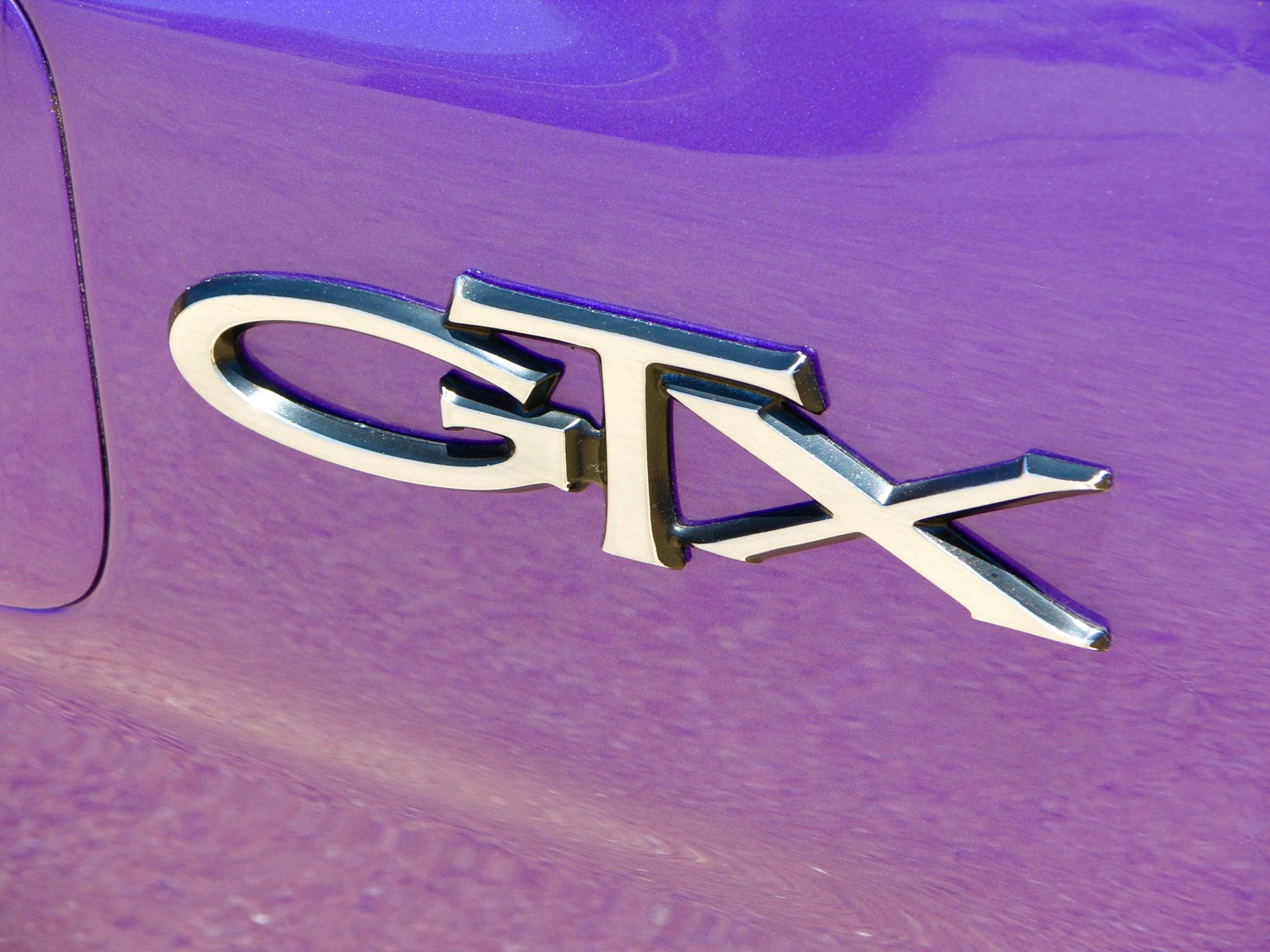 Large "GTX" emblems adorned the rear quarter panels and when you saw these markings, you knew the car was fitted with an engine, driveline and suspension that was potent!
Author: James Maxwell