— Factory fitted with A990 Race HEMI® engine
— Only 101 1965 Plymouth RO51 cars were built
— Original cost: $4,650.50 and NO WARRANTY!
FACTORY DRAG RACECAR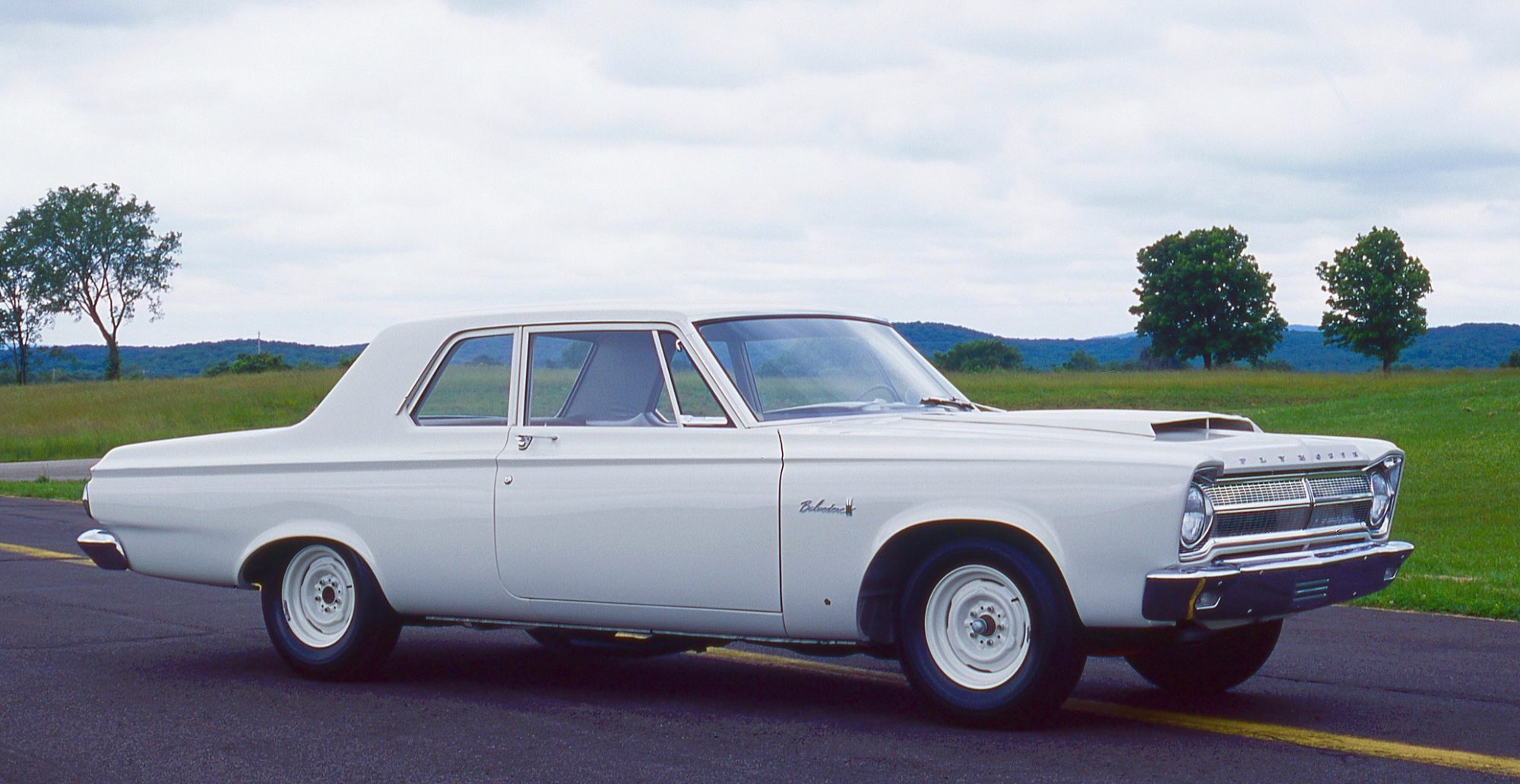 The pictured 1965 Plymouth Belvedere I with the "Super Commando 426" package is one of 101 originally built and surely is among the best remaining examples of these cars left in existence. Thanks to its flawless Roger Gibson restoration (Scott City, Missouri) and particular attention to detail, the machine is like a rolling time capsule back to the glory days of Super Stock racing.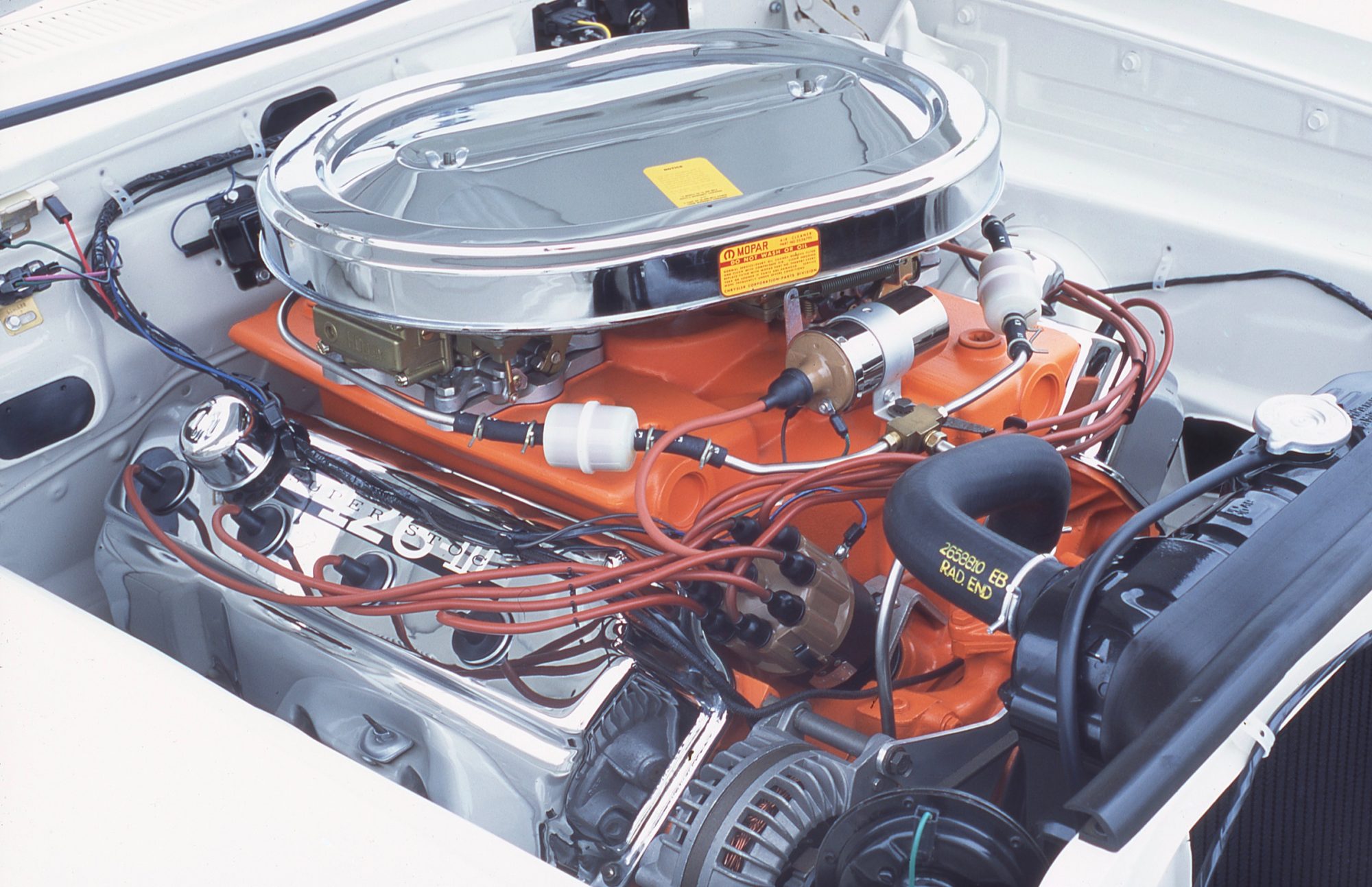 SUPER STOCK 426 III
The crown jewel of the '65 S/S Plymouth is what sat between the front fenders — the special "A990" version of the 426-cid Hemispherical-headed race engine. This engineering masterpiece was factory-fitted with all the good parts already, so all the racers really had to do was add a pair of racing slicks and head out to the drag strip.
Released in 1964 as a race-only engine, the 426 HEMI engine was not intended for rides to and from the grocery store or for those interested in achieving high fuel mileage in their travels. HEMI engines featured a 4.25" bore and 3.75" stroke and the blocks were factory-equipped with cross-bolted main bearing caps (#2, #3 and #4).
The drag race engines came with tough SAE 1046 carbon steel forged crankshafts (Tuftrided-treated with 8-bolt flywheel flange), forged connecting rods with beefed beam sections and 7/16" rod bolts, impact extruded 12.5:1 C/R forged pistons (with milled reliefs on the domes for valve clearance), .540" lift, 312-degree mechanical lifter camshaft and double roller timing set.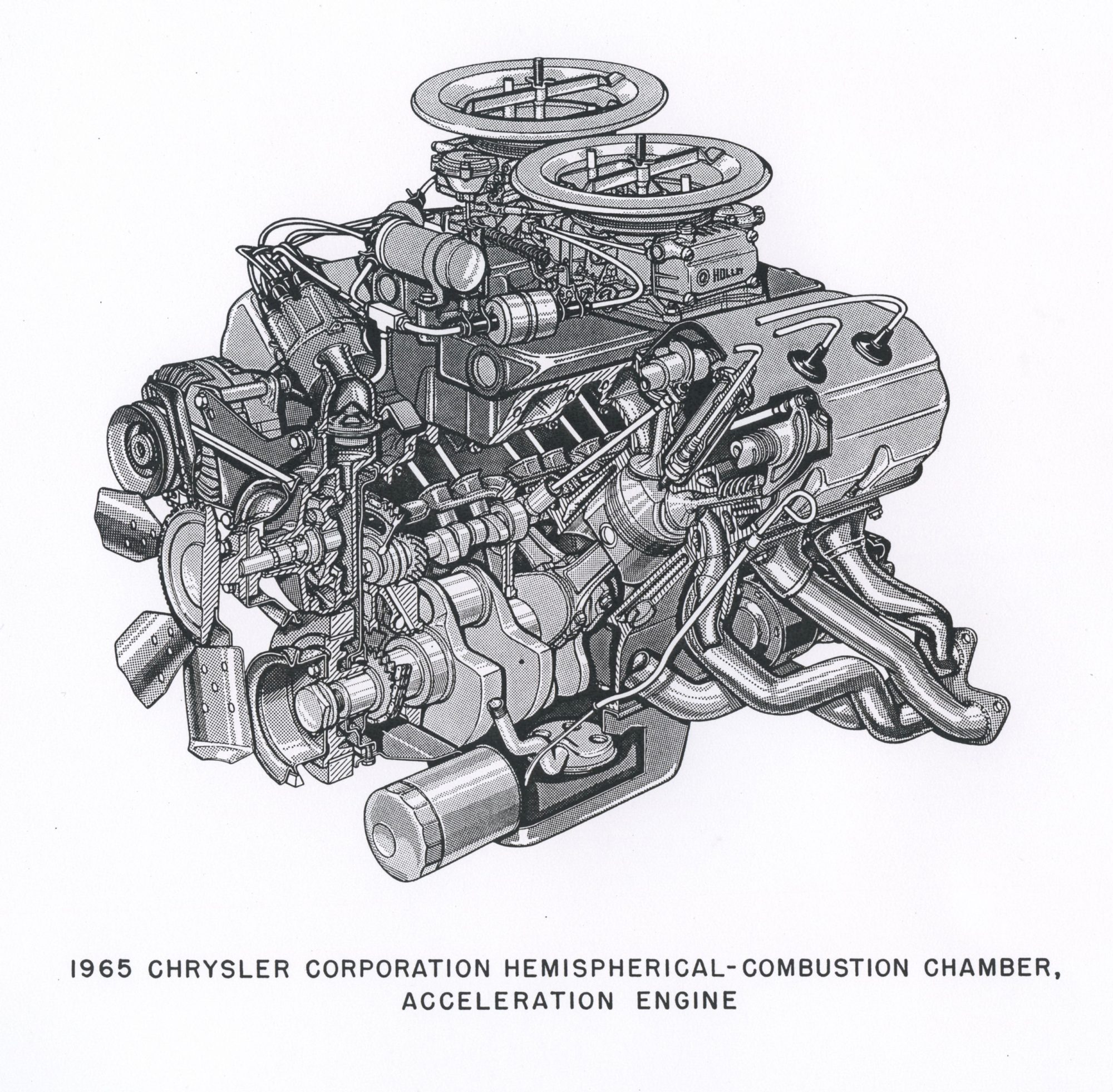 Cylinder heads were fitted with dual rocker shafts, forged steel rocker arms and mammoth 2.25" (intake) and 1.94" (exhaust) valves. The hemispherical design was all about improved breathing and because the Chrysler engineers designed large ports with unobstructed curvatures, the engine's breathing capacity was like nothing ever to roll out of Detroit!
When the first race HEMI engine was built in 1964, it came with cast iron cylinder heads, but for the '65 drag wars, the material was changed over to lightweight aluminum. The 426 drag race HEMI engine's intake system consisted of a two-four-barrel "cross ram" manifold that was rather exotic in design. HEMI engines in '64 had aluminum cross rams and for 1965, the material was changed to magnesium, which further reduced weight.
Carburetors were series 4160 Holleys (model # 3116A) with 1-11/16" venturi bores. These carbs featured center-hung floats and flowed 770-cfm (cubic feet per minute). There were no chokes utilized on these race carburetors and separate in-line fuel filters were mounted atop the assembly.
Ignition came from a dual-breaker distributor (mechanical advance) that was enhanced by a "transignitor" heat sink devise (Prestolite #201), designed to increase spark capacity. Champion N60Y spark plugs sparked the air/fuel mixture, via a set of solid-core ignition wires.
Exhaust was handled by a pair of specially built factory headers that were multi-piece in design and featured cast steel flanges that connected to the cylinder head ports. Construction details include 2" diameter tubular "tuned" primaries — measuring 41" in length — and the pipes were pressed and welded into the flanges. On both sides, the pipes were assembled in pairs, with the driver's side having all four pipes connecting to the exhaust system in a common cluster. The passenger side also incorporated a two-piece arrangement, but the system paired off in two separate flanges to mate with the rest of the exhaust. The exhaust system was a true work of art, and included dual cutouts and single (lightweight) muffler mounted rearward of the fuel tank. A very intricate system!
BIG HOOD SCOOP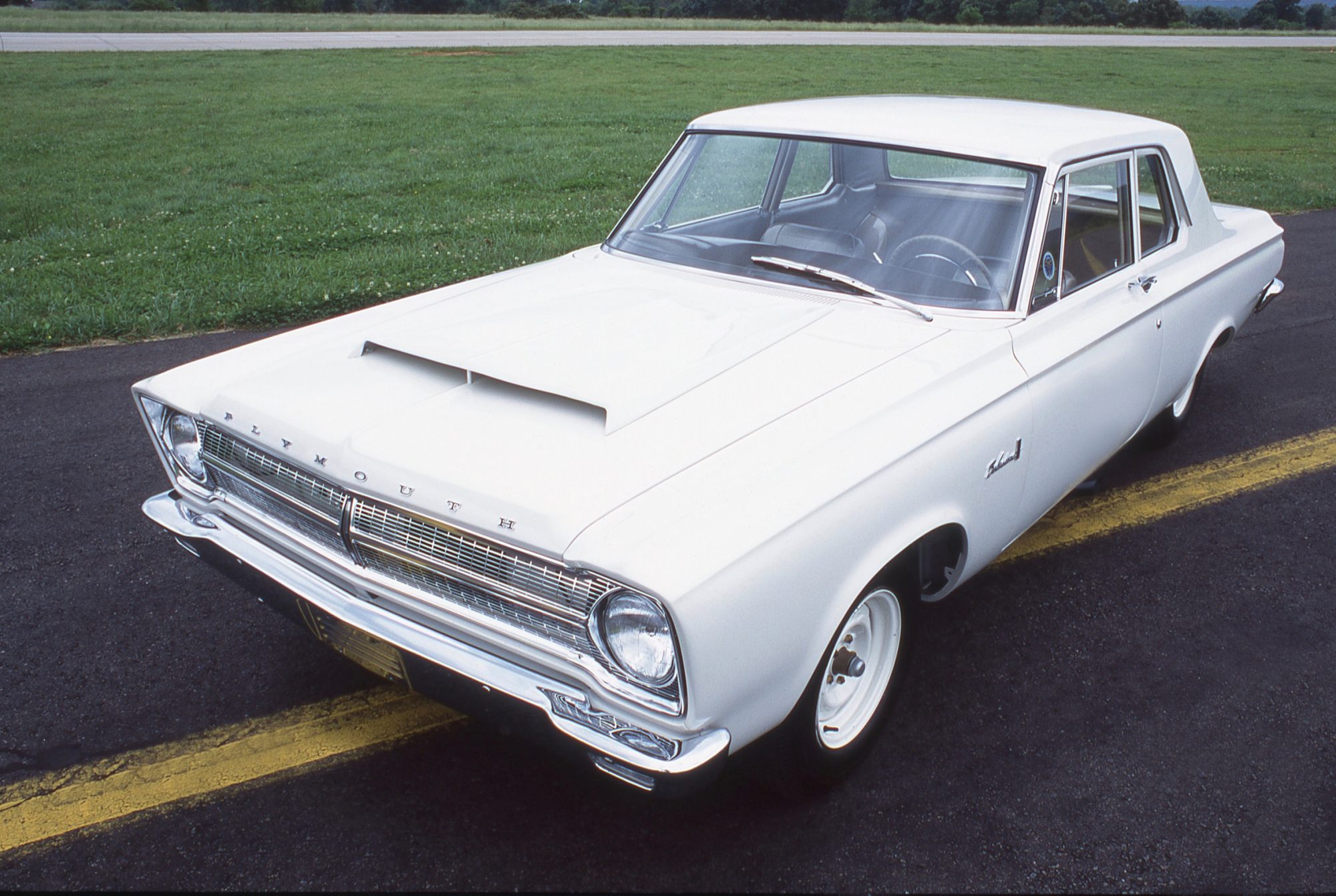 To feed fresh air to those big Holleys, a 33" wide, 34" long, hood scoop was added and it measured approximately 3" tall. The underside bracing on the hood needed to be trimmed away to accommodate the 22 ¼" round hole that was cut (to fit the special plate supplied with the car that mated to a pair of velocity stacks that came along for on-track use) and special lightweight springs were used on the hood hinges.
KEEP IT LIGHTWEIGHT!
"Lightweight" front fenders, hood, doors and front bumper were part of the diet process. The thinner metal in the stamping process was said to be 0.018-inch thickness metal. While they were at it, the front radiator support was slimmed down with lightweight steel, the door hinges were produced from aluminum material rather than the production steel, and a single driver's-side wiper arm was fitted instead of the normal twin wipers. When these special Super Stock cars rolled down the assembly line, the standard production fender and headlight splash shields were not added. And to save a few more pounds came the elimination of all undercoating, sealers, sound deadener and insulation.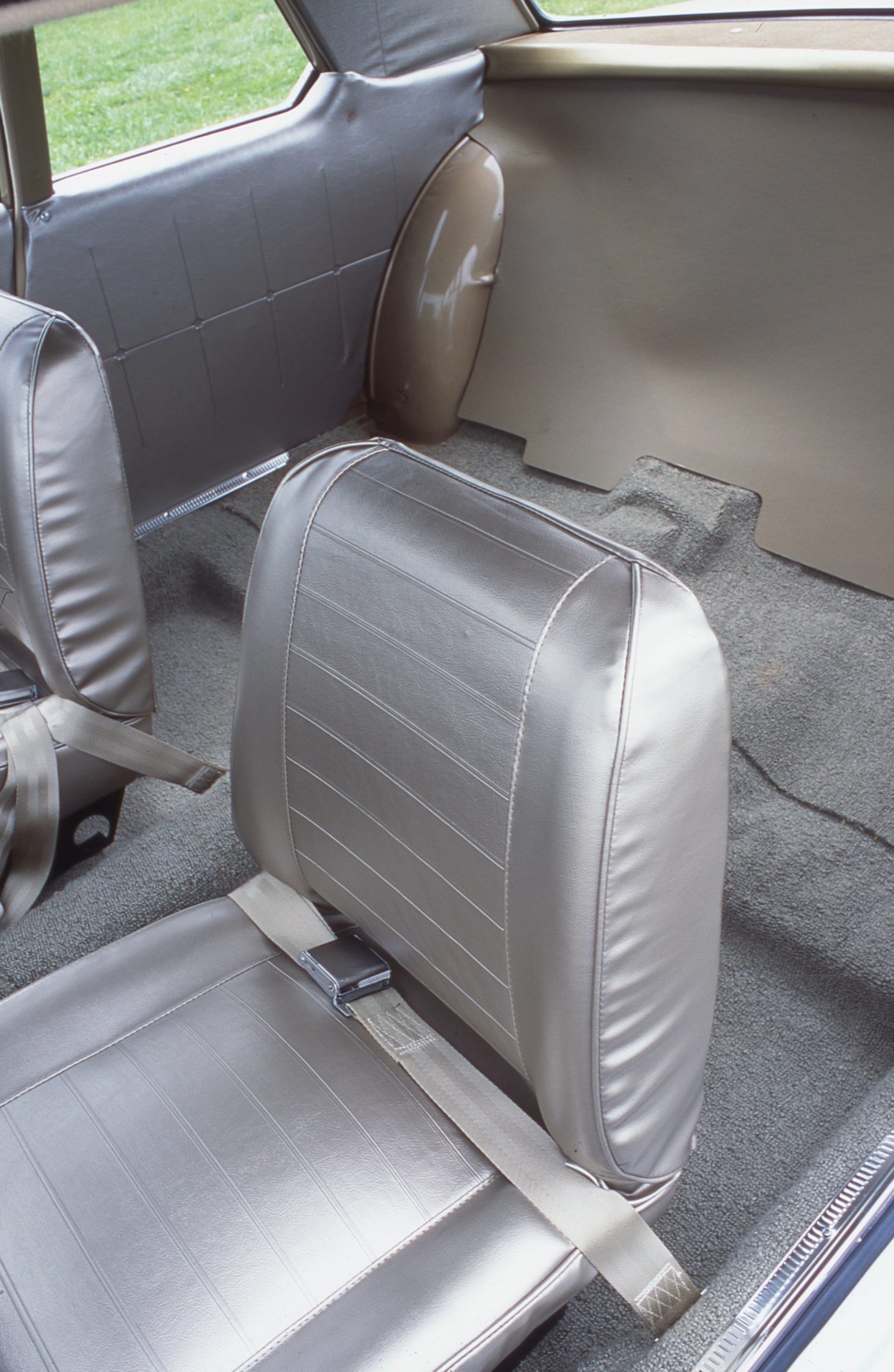 A pair of lightweight Bostrom bucket seats were used, along with (non-adjustable) aluminum brackets complete with lightning holes. The back seat was non-existent and the only thing separating the interior from the rear cargo area was a thin cardboard panel.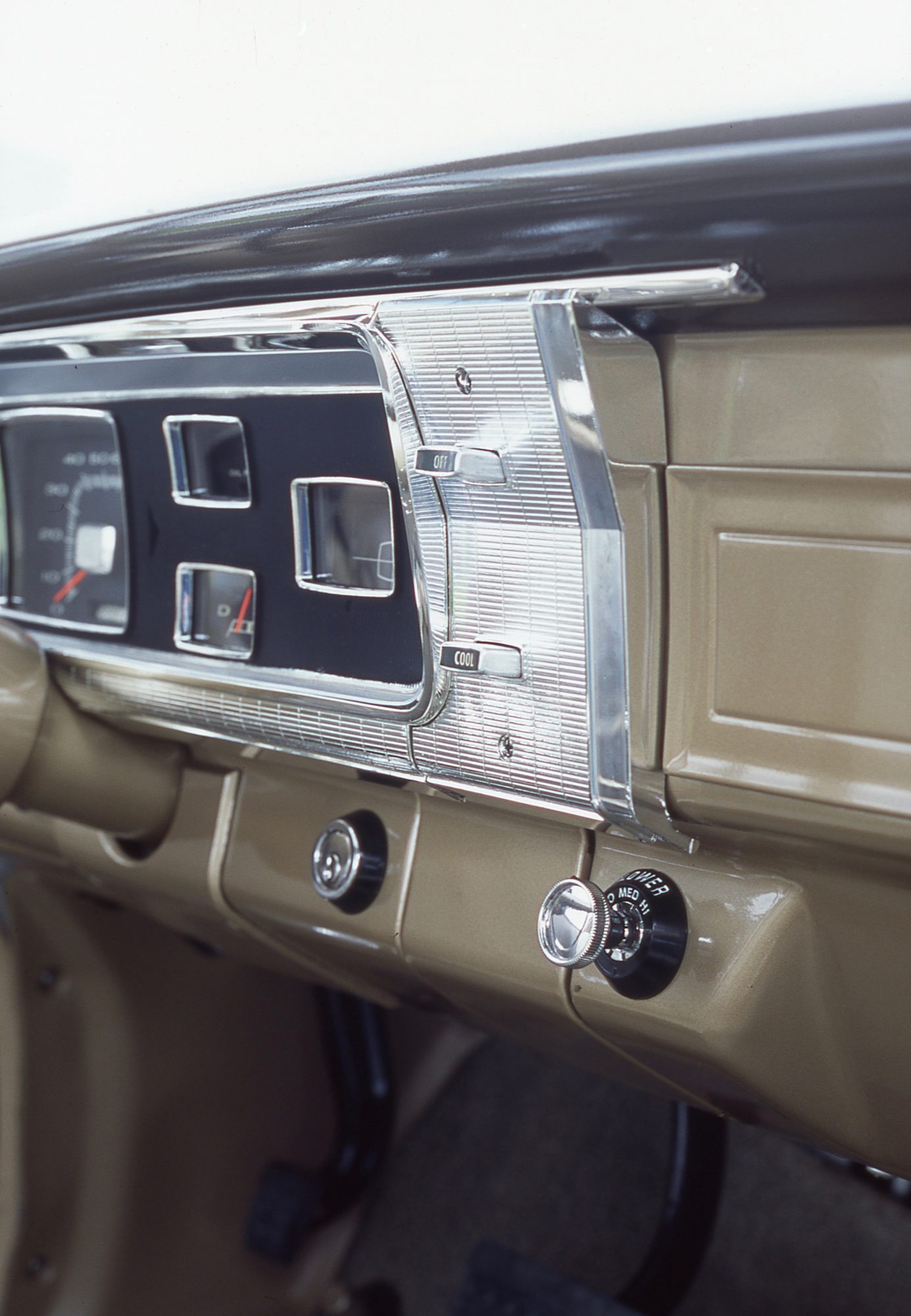 Spartan is a word that accurately describes this interior, and with the lack of arm rests on the door, no heater, no radio, no rear window cranks, no visors and minimal trim, you knew you were in a "special purpose" machine.
The final icing on the cake in terms of special modifications made to these Super Stock Plymouths was the use of lightweight .080" Corning chemically treated tempered glass on the side and rear windows.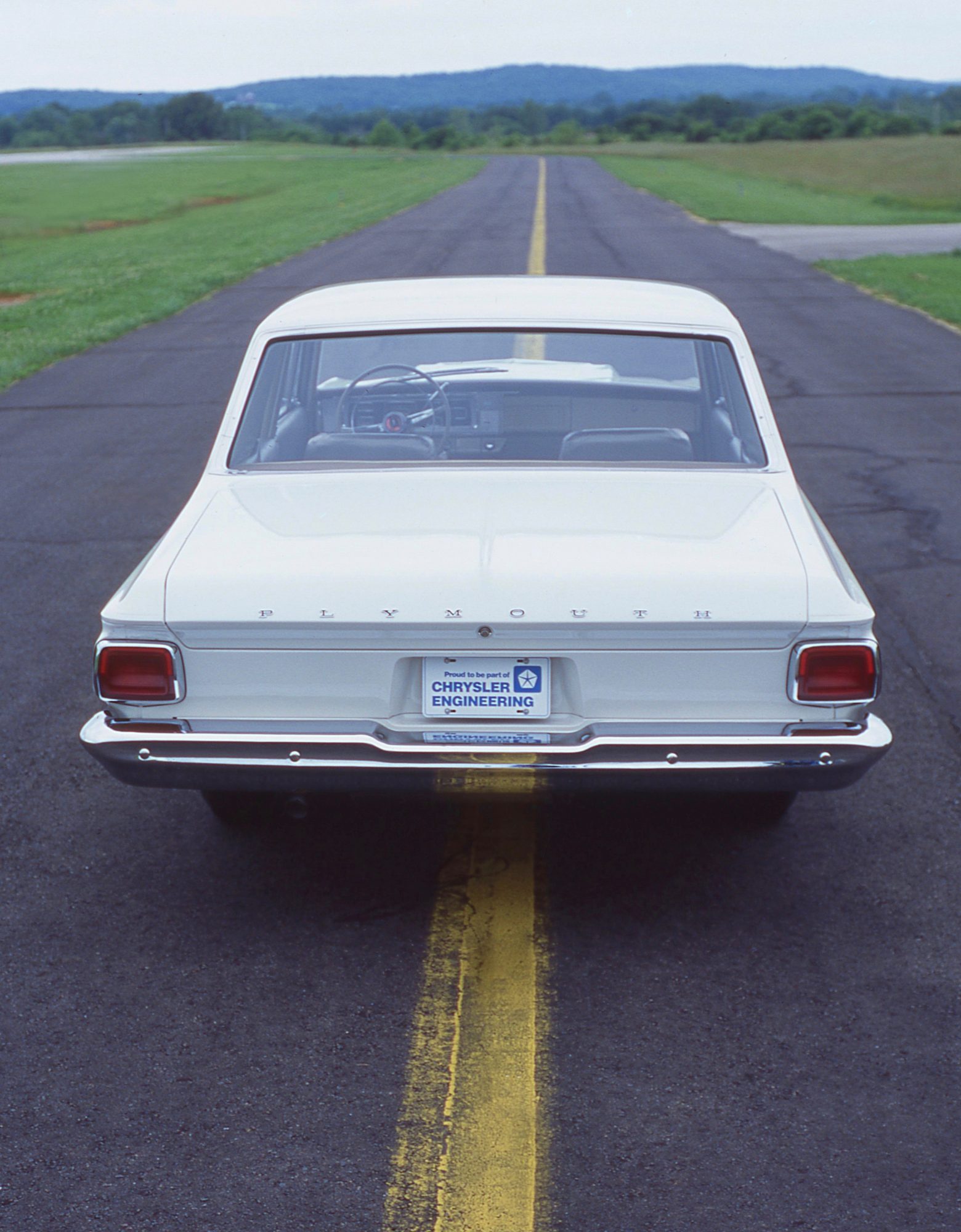 The results of all the weight-saving efforts paid off on these cars, as they tipped the scales at just 3,170 pounds, which required racers to actually add weight to meet the NHRA minimum! In the 1965 racing season, these S/S Plymouths ran as quickly as 11.18 in the quarter-mile with terminal speeds of 126 mph.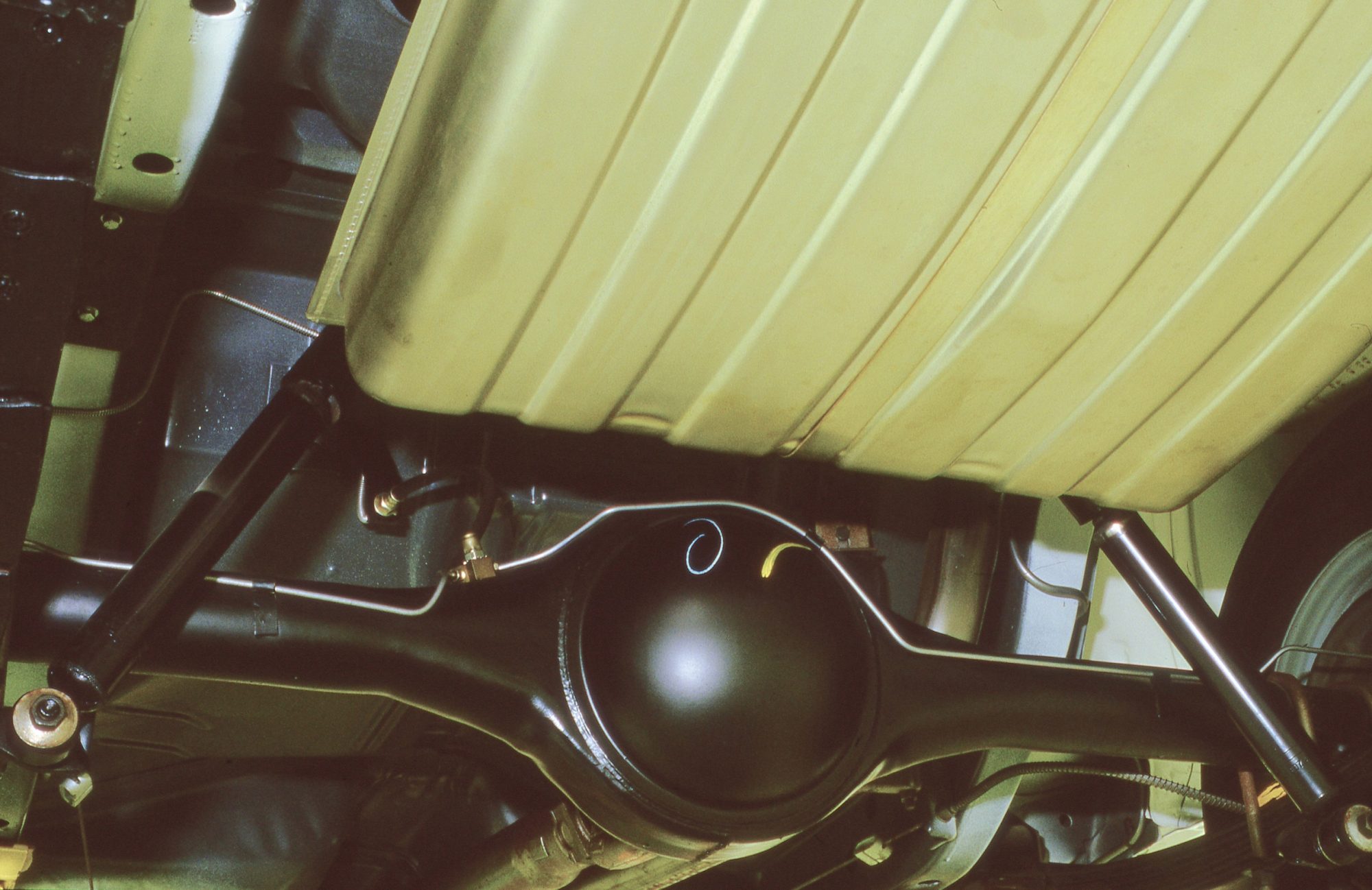 Transmission choices included a 4-speed A-833 "New Process" unit with Hurst Shifter, or a 3-speed A727B Maximum Performance TorqueFlite® automatic fitted with a manual valve body and high-stall-speed converter. In both cases, the rear end housing was the 8 ¾" assembly with Sure Grip differential, coupled to 4.56:1 gears. A heavy-duty (cast iron) pinion snubber was used and was adjustable for chassis tuning.
Special drag-race-specific rear leaf springs were fitted to these RO1 cars and both had a spring rating of 125 pounds, with the driver's side having six leaves and the passenger side featured eight leaves.
WARNING LABELS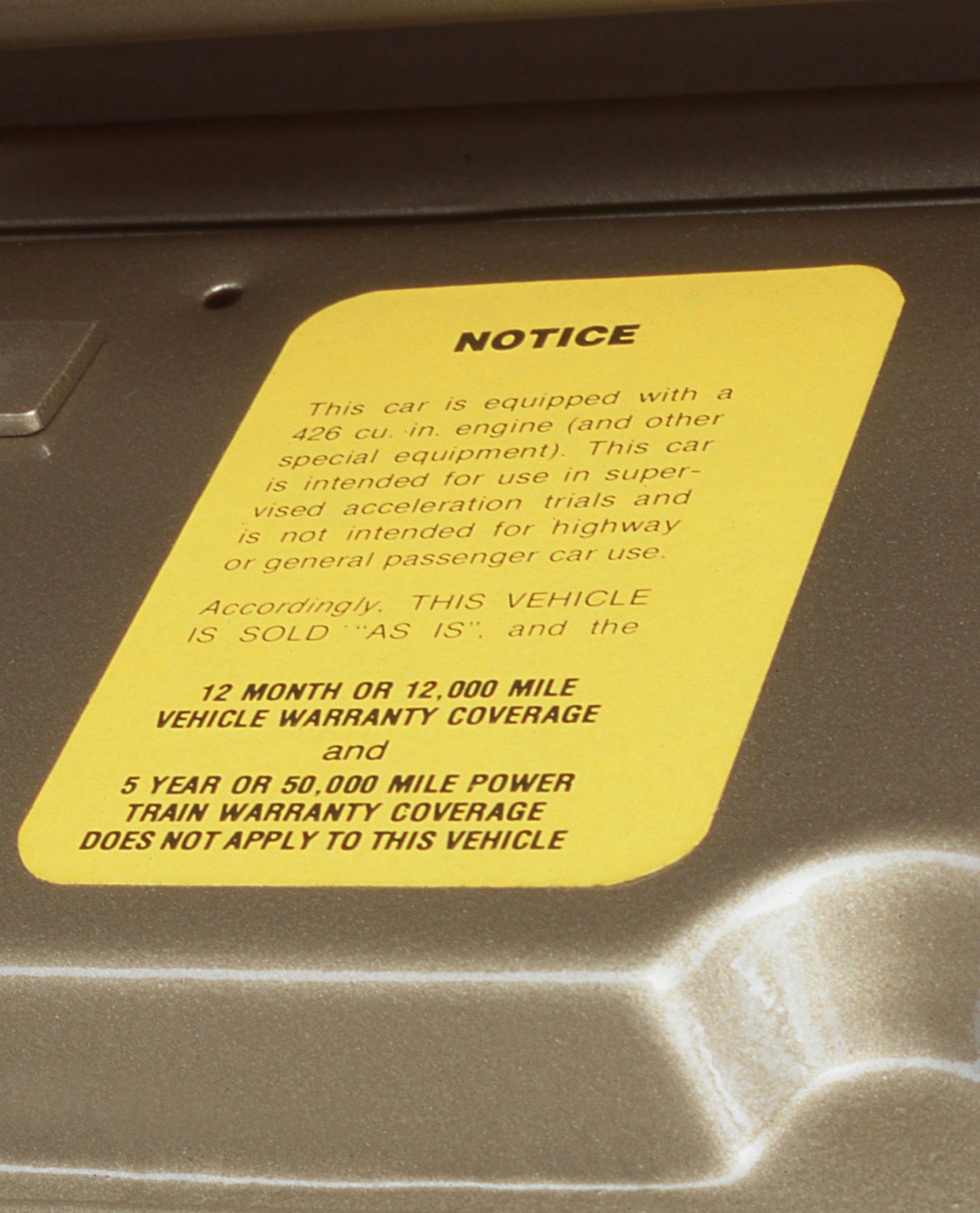 When these cars were being delivered to the dealership, there was a small sticker placed on the face of the speedometer that had this warning to the operator: "Do not operate this engine at wide open throttle for more than 15 second bursts."
Here's what was stated on the top of the chrome air cleaner plus inside the glove box door:
"THIS VEHICLE IS SOLD 'AS IS' , and the 12 MONTH OR 12,000 MILE VEHICLE WARRANTY COVERAGE and 5 YEAR OR 50,000 MILE POWER TRAIN WARRANTY COVERAGE DOES NOT APPLY TO THIS VEHICLE"
IT'S ALL ABOUT THE VIN!
Mopar® guru Galen V. Govier decoded this car, the first character "R" of the VIN (Vehicle Identification Number) signifies it's a Plymouth, the second is "O", which means "Super Stock." The next two digits related to what model year the car is "5" for 1965, and the fourth entry is "I" which in factory speak means the car was built at the Lynch Road Assembly Plant (Detroit). This particular car's fender tag revealed it had a scheduled production date of Tuesday, December 22, 1964, and that it came with the TorqueFlite automatic transmission (Selector: PR123). RO51 meant serious performance!
RACED BY THE BIG NAME DRIVERS
Ronnie Sox, Butch Leal, Shirley Shahan, Arlen Vanke, Ken Montgomery, Jack Werst, Herb McCandless, John Hagen and even Bill "Grumpy" Jenkins campaigned these RO51 racecars all across the country when new.
NEW RELEASE: RO51 "CALIFORNIA FLASH!"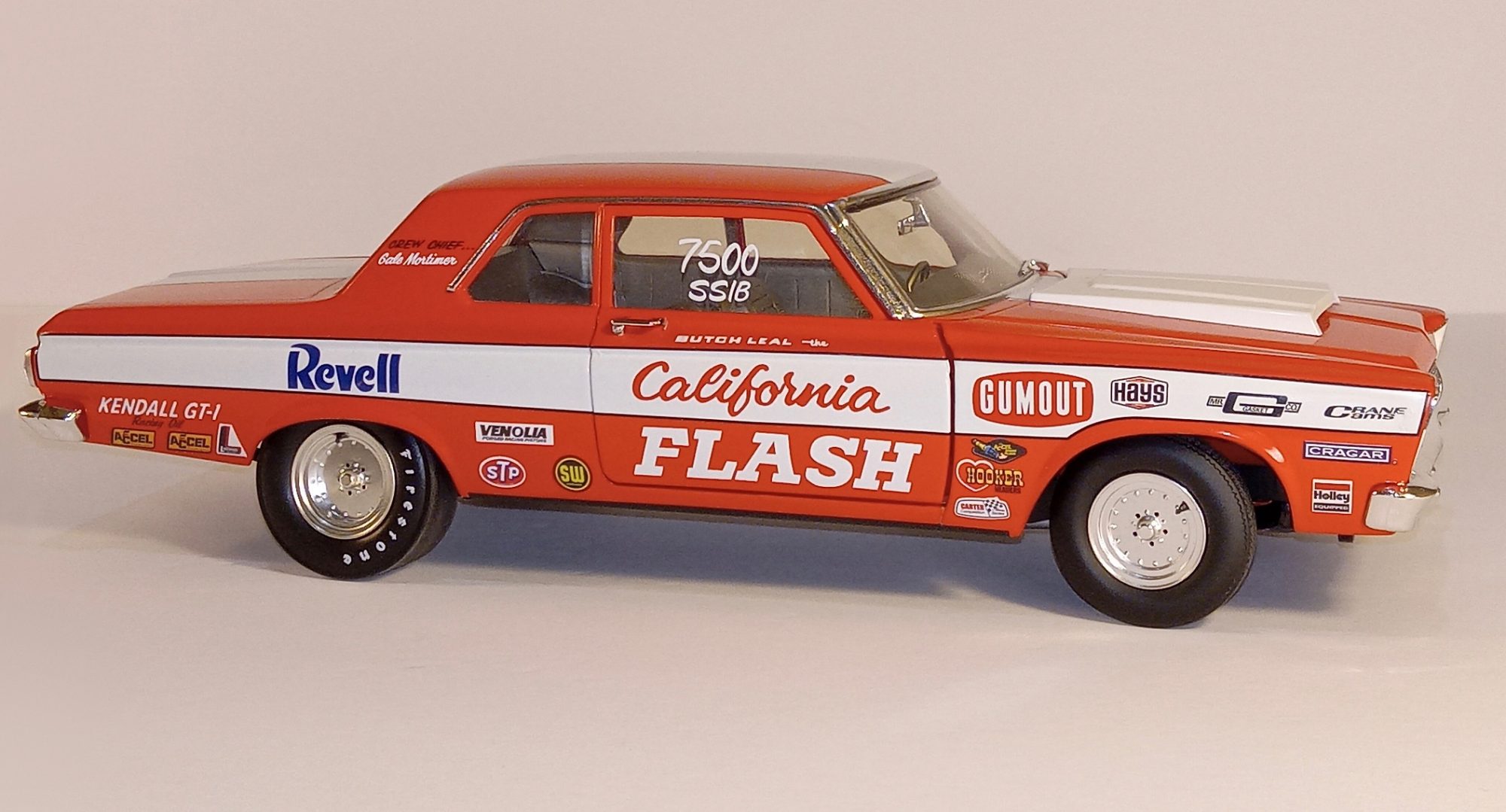 Desktop Muscle Cars just released a 1:18 die-cast of the 1965 Butch Leal "Revell" Super Stock racer, a model of the car that was campaigned in 1974. It was during the time frame where the Chrysler Corporation wasn't pleased with the weight breaks of the HEMI engine in Pro Stock so they put their racers in Super Stock classes. Butch Leal got a Ron Butler-built RO51 car.
Author: James Maxwell