— All-new styling popular with buyers inside the 1968 Dodge showrooms
— Restored with the look of a period street racer
— At first glance, the engine appears to be a factory stock 426 HEMI®
When the all-new for 1968 Dodge Charger was released to the public in late 1967, the fresh, beautiful lines of the body were very well received by customers, with resultant phenomenal sales that were six-fold over the '67 models they replaced. In total, some 96,100 Chargers were sold during the 1968 model year run, all the while the original projections by the product planners were only for some 20,000 units!
FIRST EXPRESSION OF NEW FUSELAGE STYLING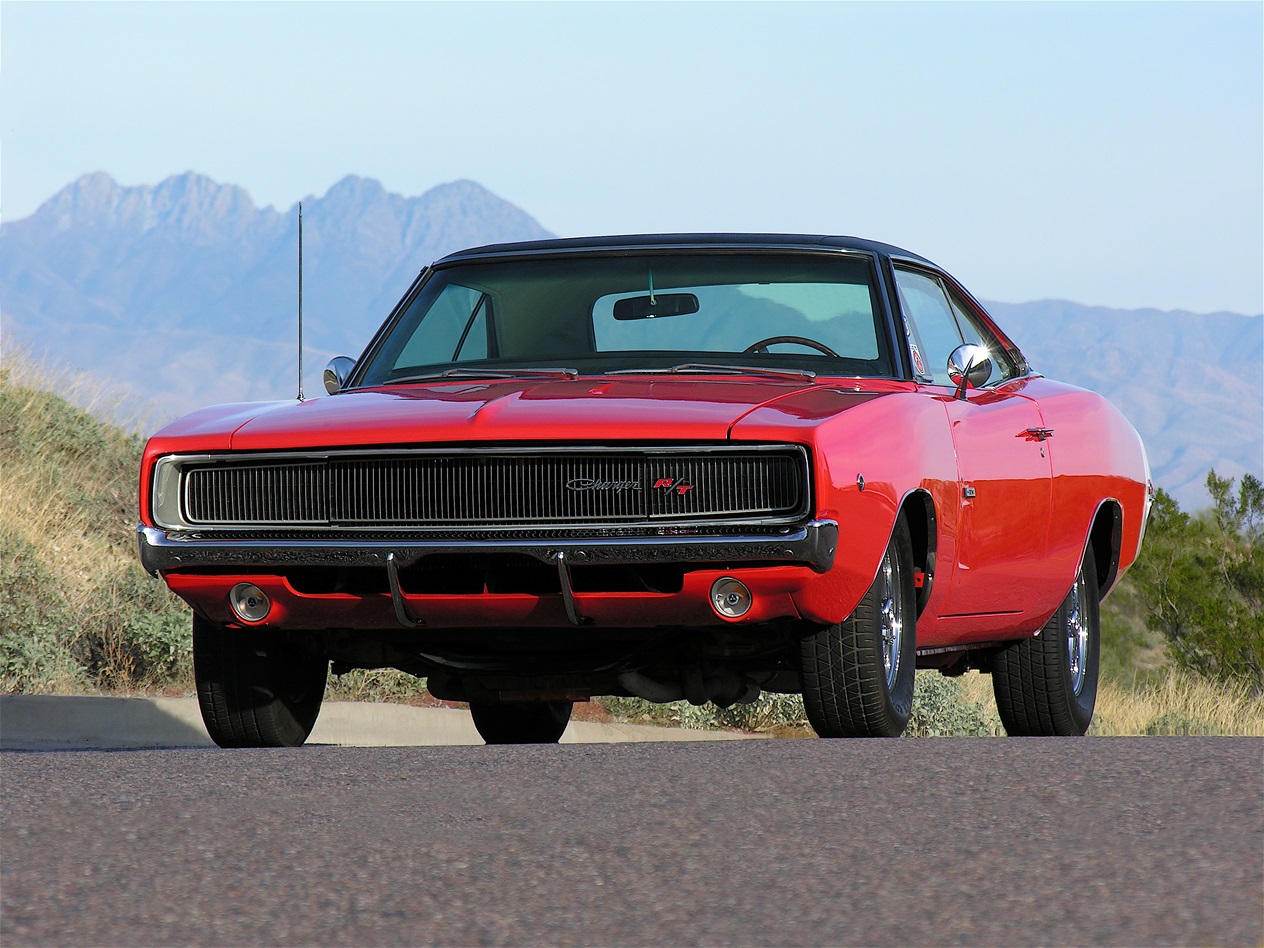 The Coke-bottle sides, full-width grille with hidden headlamps and unique "flying buttress" rear window design all blended together so well that these cars didn't look like anything ever to roll out of the Dodge factory prior to this introduction. The completely redesigned 1968 Charger was a "B-body", however it didn't look anything like a Coronet or Plymouth Belvedere, thanks to the iconic styling done by the men in the Dodge Exterior Studio.
426 HEMI ENGINE HEAD UNDER THE HOOD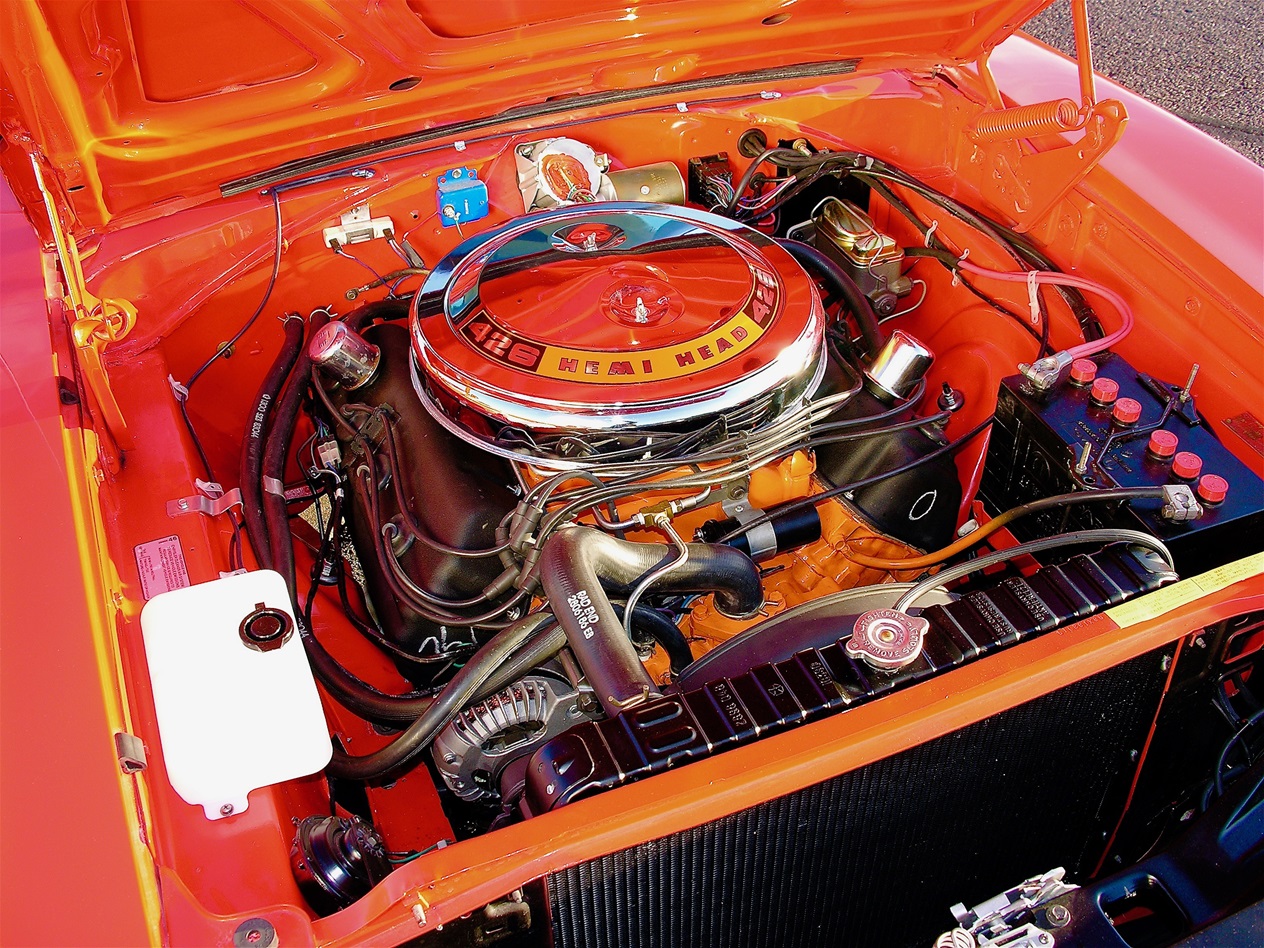 This is a factory HEMI engine-powered car, however the original engine was long gone when the restoration work started. A brand-new "Siamese bore" HEMI block was purchased from Chrysler (large bore, set up for 528-cid application) for this "resto-mod" project, as well as a Mopar® 4.15-inch stroker crankshaft. A pair of suitable 1968 heads were found for the car and sent to renowned racing specialist Ray Barton for a "full competition valve job", plus the heads were fully ported for all-out breathing capabilities.
A set of 11.0:1 compression ratio pistons were fitted as well as an Isky .610-lift, 256-degree duration solid-lifter camshaft. The intake manifold is a re-worked 2×4 inline OEM piece (by Dick Landy Performance) and a pair of re-worked Edelbrock carbs (750 cfm) were fitted. To upgrade the stock HEMI engine oiling system, a deep Milodon pan and extended pick-up was added. The exhaust consists of a pair of Hooker Competition headers with Street HEMI style mufflers.
After the 528 HEMI was assembled (and fully balanced), it was run on the dyno with a resultant 620 horsepower @ 6,000 rpm. These engines produce power beyond that rpm; however, in this particular case, it was decided not to rev this brand-new powerplant all the way to redline (closer to 7,000 rpm) as it was satisfied with that horsepower number!
MEANING OF THE EMBLEMS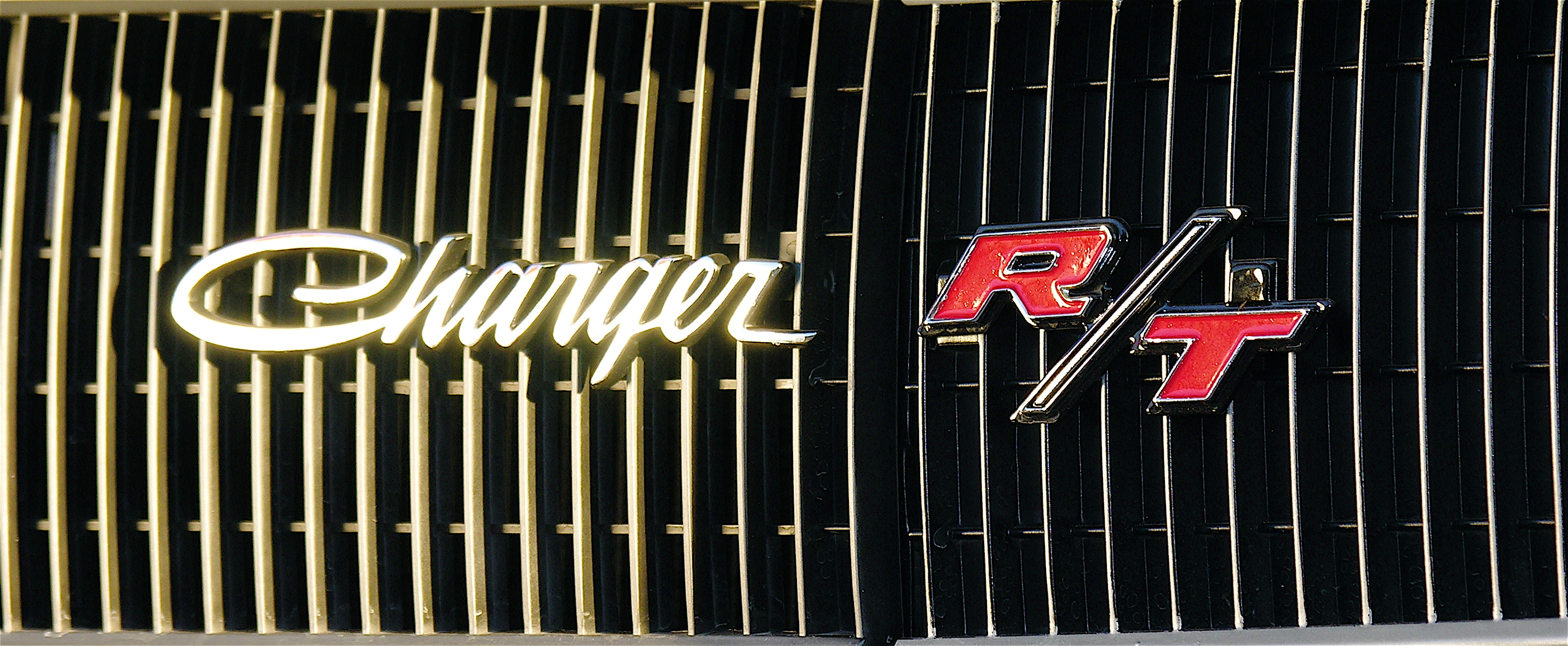 Charger R/T models had the "R/T" emblem added to the grille to distinguish itself from the lesser base Chargers. In order to know if the car featured the standard 440-cid 4bbl wedge engine for the almighty "King-Kong" 426 HEMI powerplant, you had to look to the sides and check out the forward part of the doors to see if there was a rectangular "HEMI" emblem (440 cars had no outside engine ID markings).
ONE WORD SAYS IT ALL
One glance at these door-mounted emblems and you know you're running up against a powerful machine. Add in the 528 cubic inches of this particular custom-built HEMI powerplant and you're talking about some serious street performance!
BUMBLEBEE STRIPE INTRODUCED FOR '68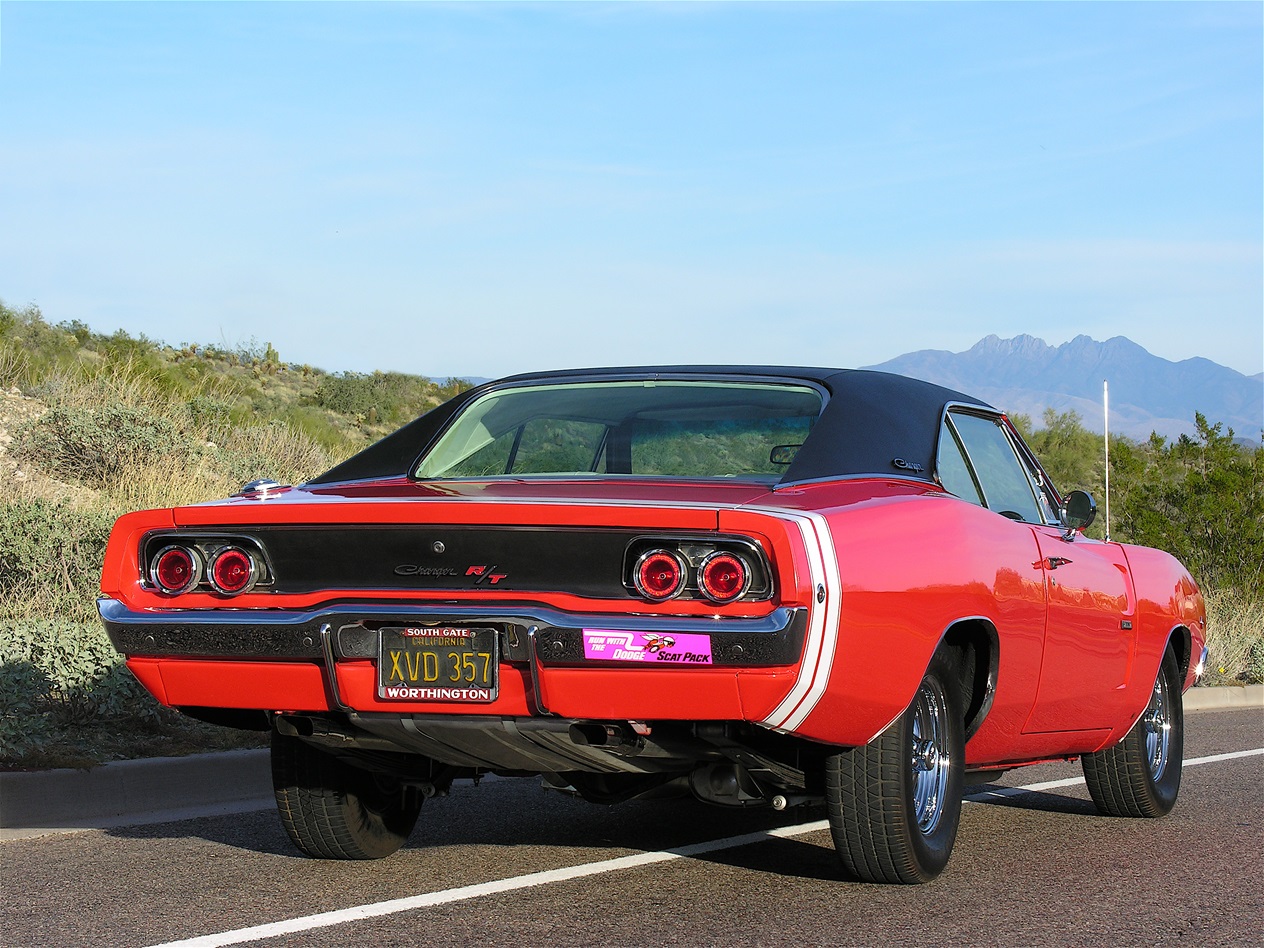 The reason these stripes were called "bumblebee stripes" in Dodge advertising and brochures in 1968 is because in 1966 a group of Dodge stylists were experimenting with different stripe accents and did a styling exercise on a full-scale clay model '68 Charger in bright yellow with a set of black stripes around the tail. Later on in the program, Product Planning adopted the availability of these unique stripes, ultimately available in three colors: black, red and white.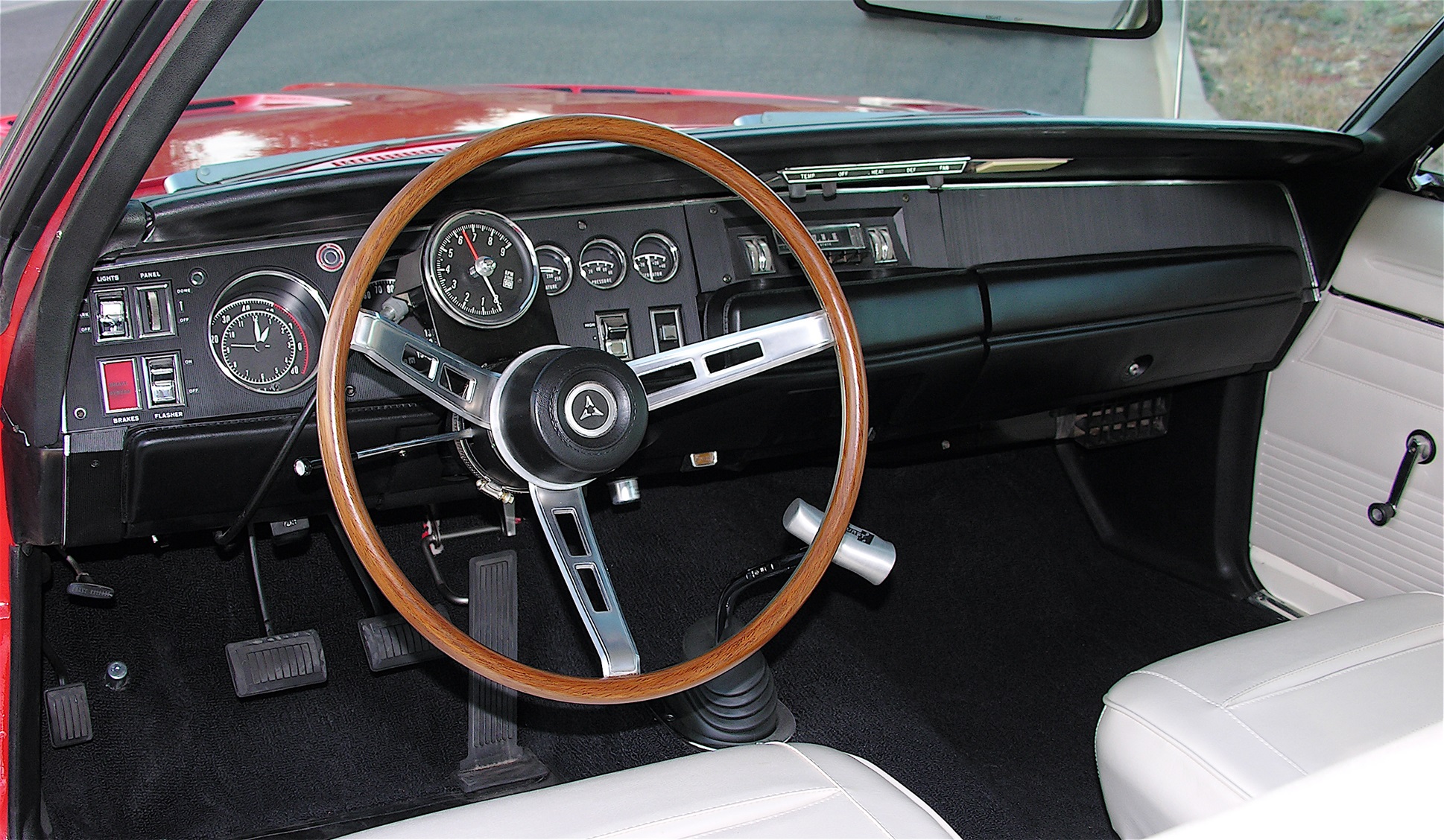 All 1968 Charger models featured full instrumentation (no idiot lights) and had a definite racy look! Bucket seats and three-spoke steering wheel were part of the optional R/T package, this car is a factory 4-speed and with that came a Hurst shifter from the factory. A Hurst "T-handle" was added to this car to provide the period-correct flavor, and this car has the factory-optional wood-rimmed Sport Steering Wheel fitted.
CLASSIC MAGS
A set of 15×6 Cragar S/S chrome five-spoke wheels were fitted on all four corners and the machine has a slight forward rake just like the drag race versions typical at the racetracks in the late 1960s.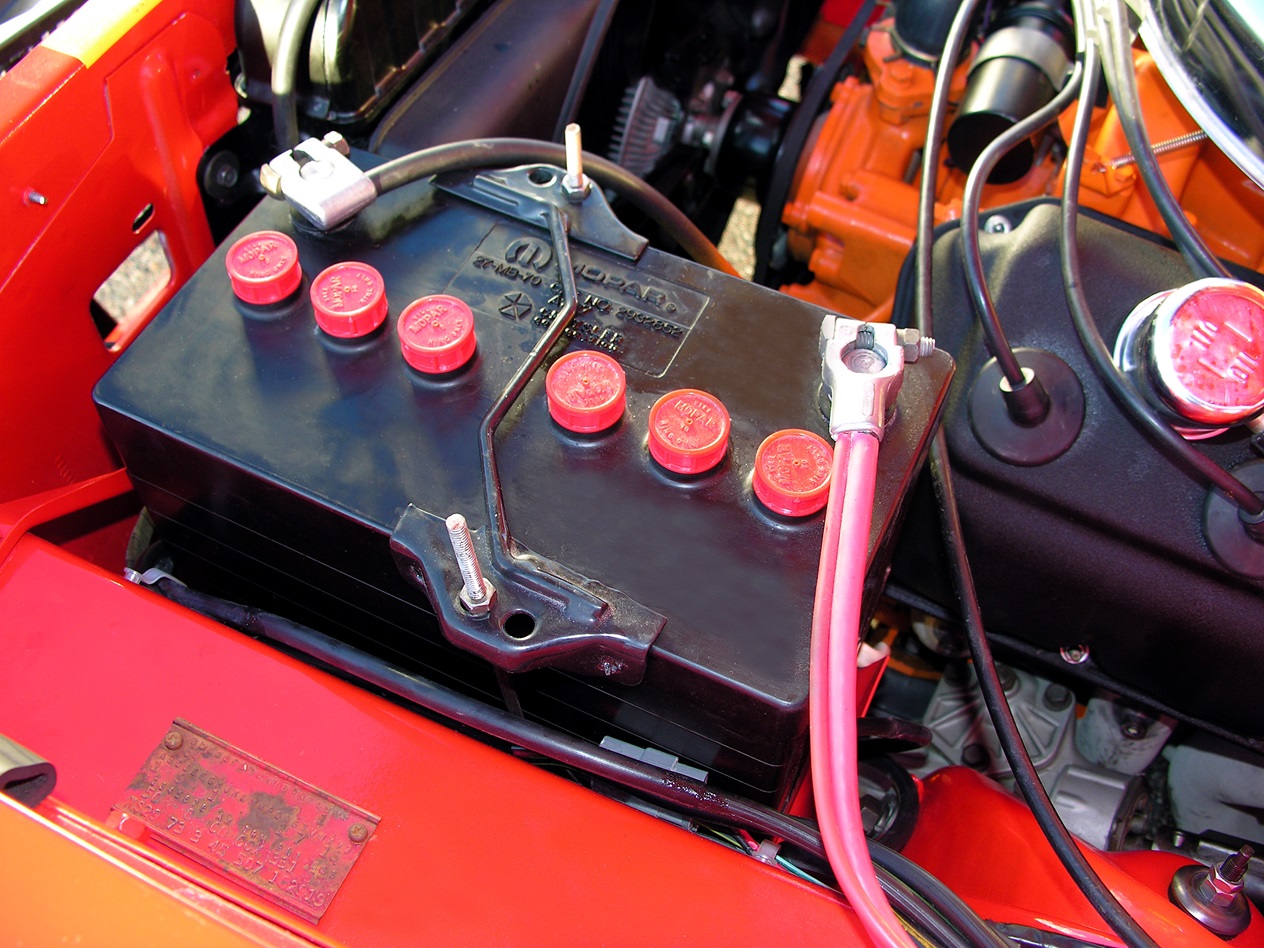 Hey, if you're going to give the underhood area of a classic Mopar vehicle a "stock" appearance, a correct 70-amp battery and the authentic battery cables are part of the process!
QUICK-FILL GAS CAP
To add a racecar appearance to the car, for 1968, the Dodge stylists incorporated this flip-open gas filler to add some flash to the driver's side upper quarter panel.
SIDE MARKER LIGHTS NEW FOR '68 TOO!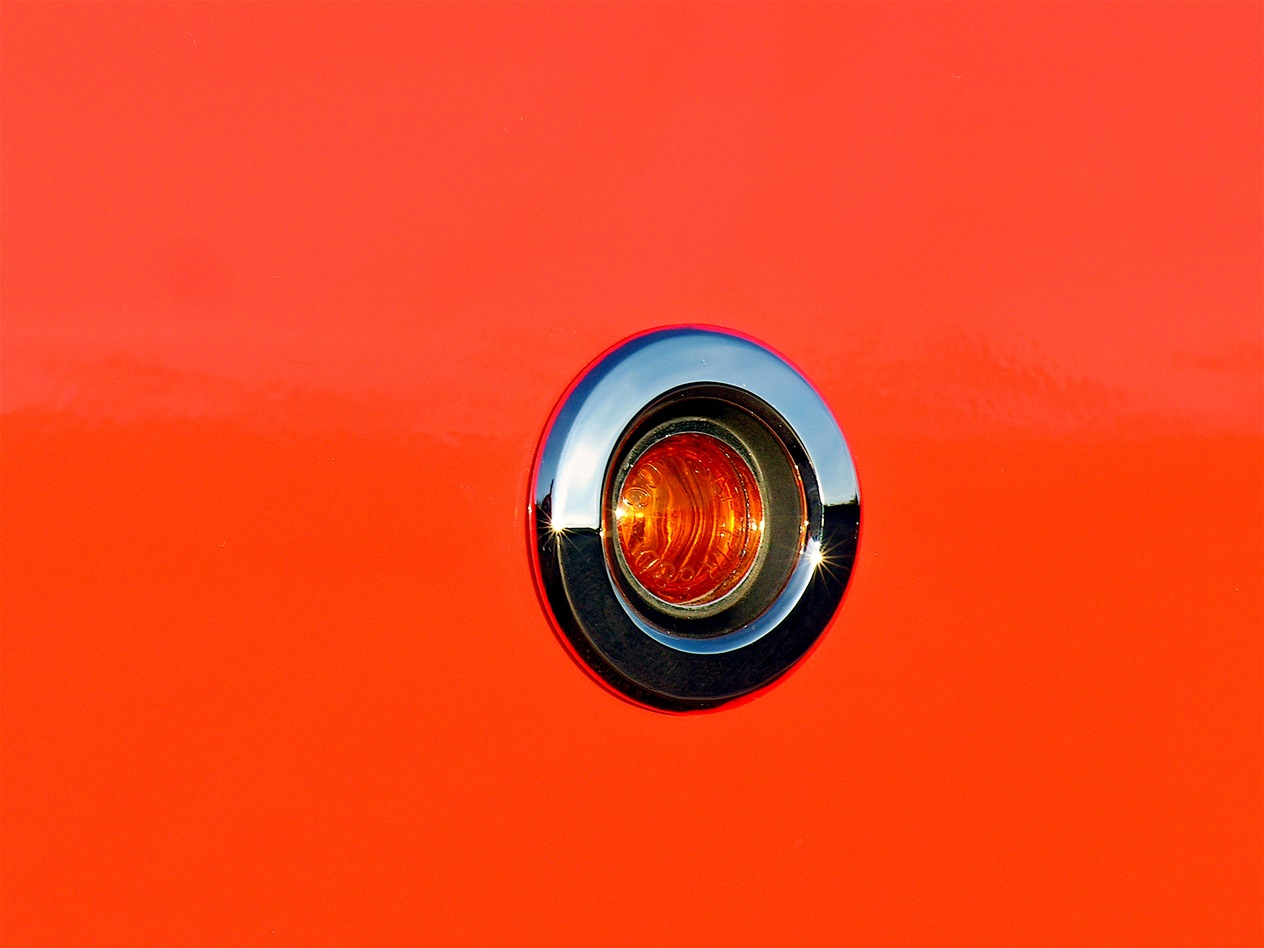 All 1968 Dodge vehicles came with these small round side marker lights, mandated by the federal government and said to provide added safety for motorists.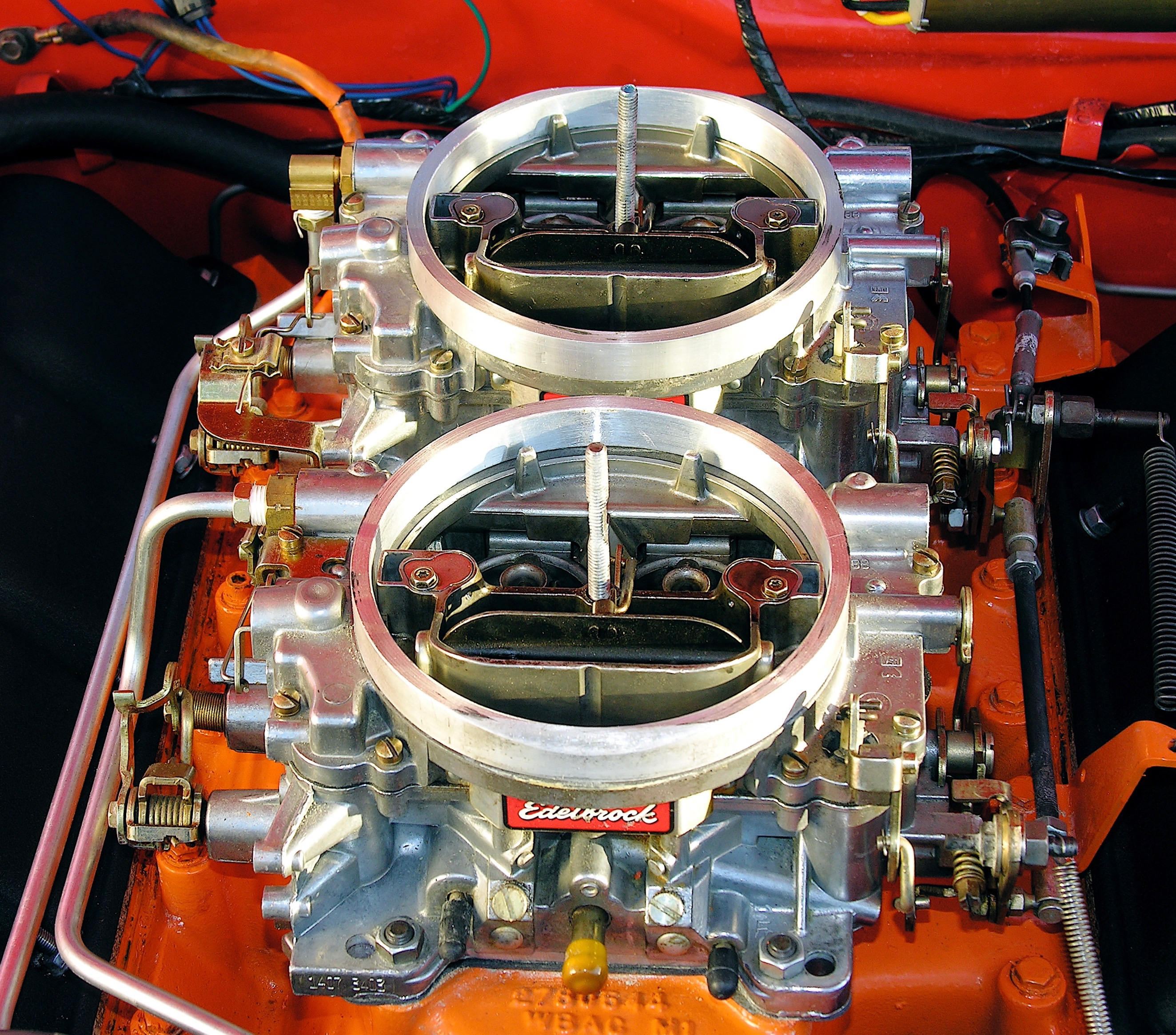 The small spacers atop these Edelbrock (formerly Carter) carburetors are not stock factory items but rather aftermarket pieces that help raise the factory style air cleaner to aid proper airflow.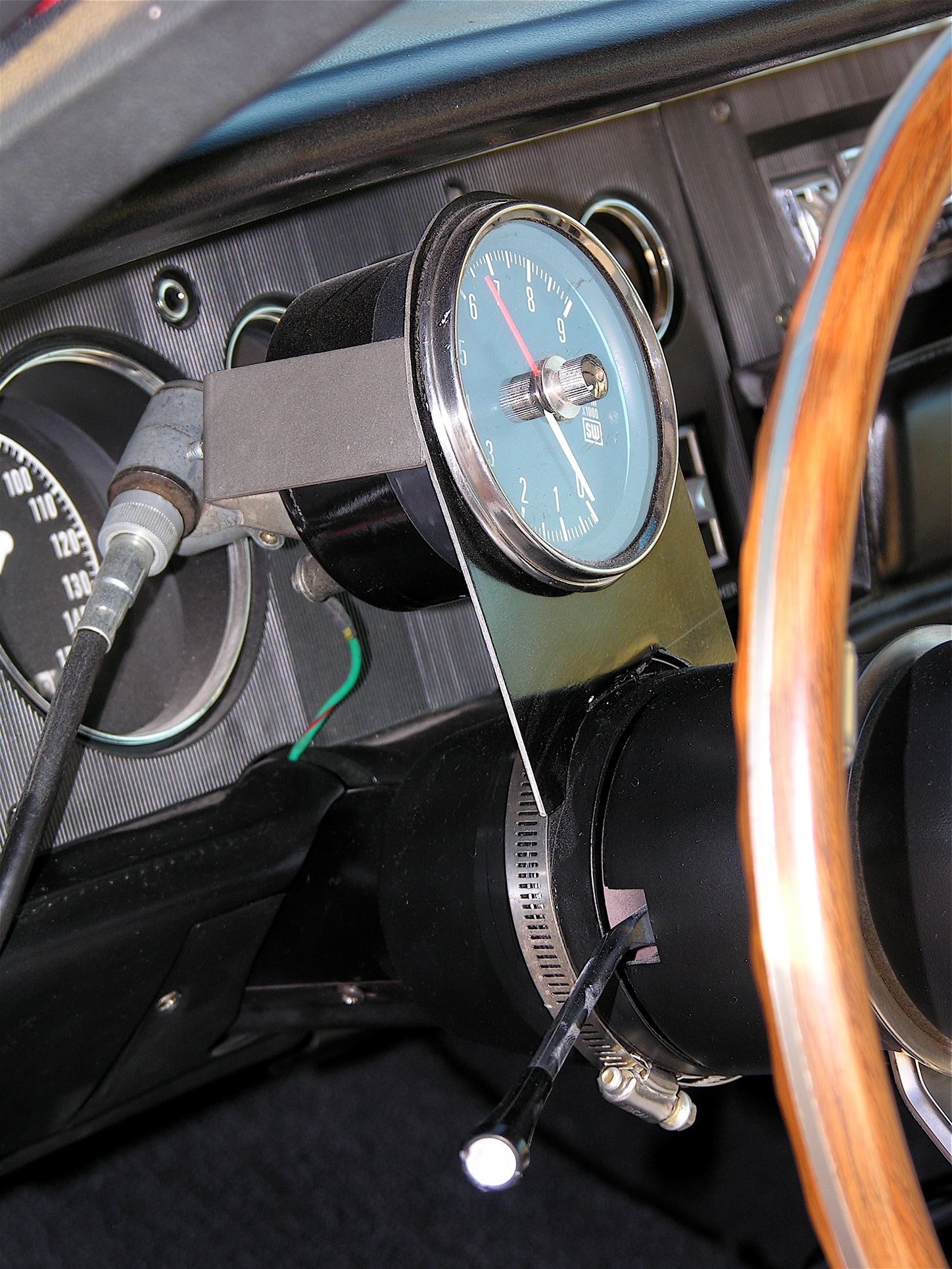 A rare mechanical cable-driven SW tachometer was found and installed on the steering column, adding a true nostalgia '60s feel to the interior of the car.
SPECIAL COLOR FROM THE FACTORY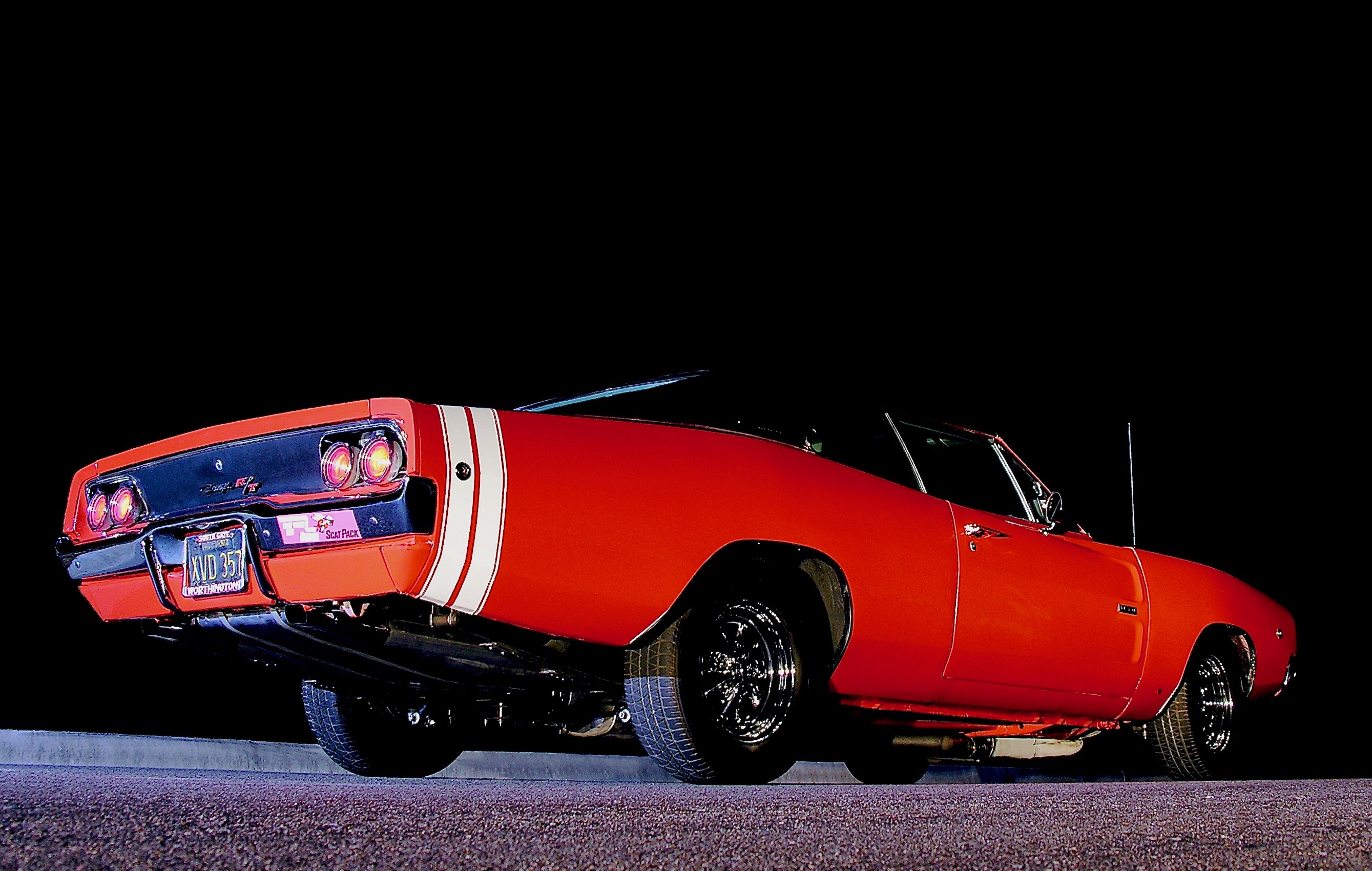 The color of this car really makes the curvy body come alive, in the bright sunshine or even after dark! "Special Paint Code 331" was the original color of this Charger (AKA Spring Special Red). After the bodywork was finished, it was applied by the owner and came from PPG.
EXTREME BODY PREP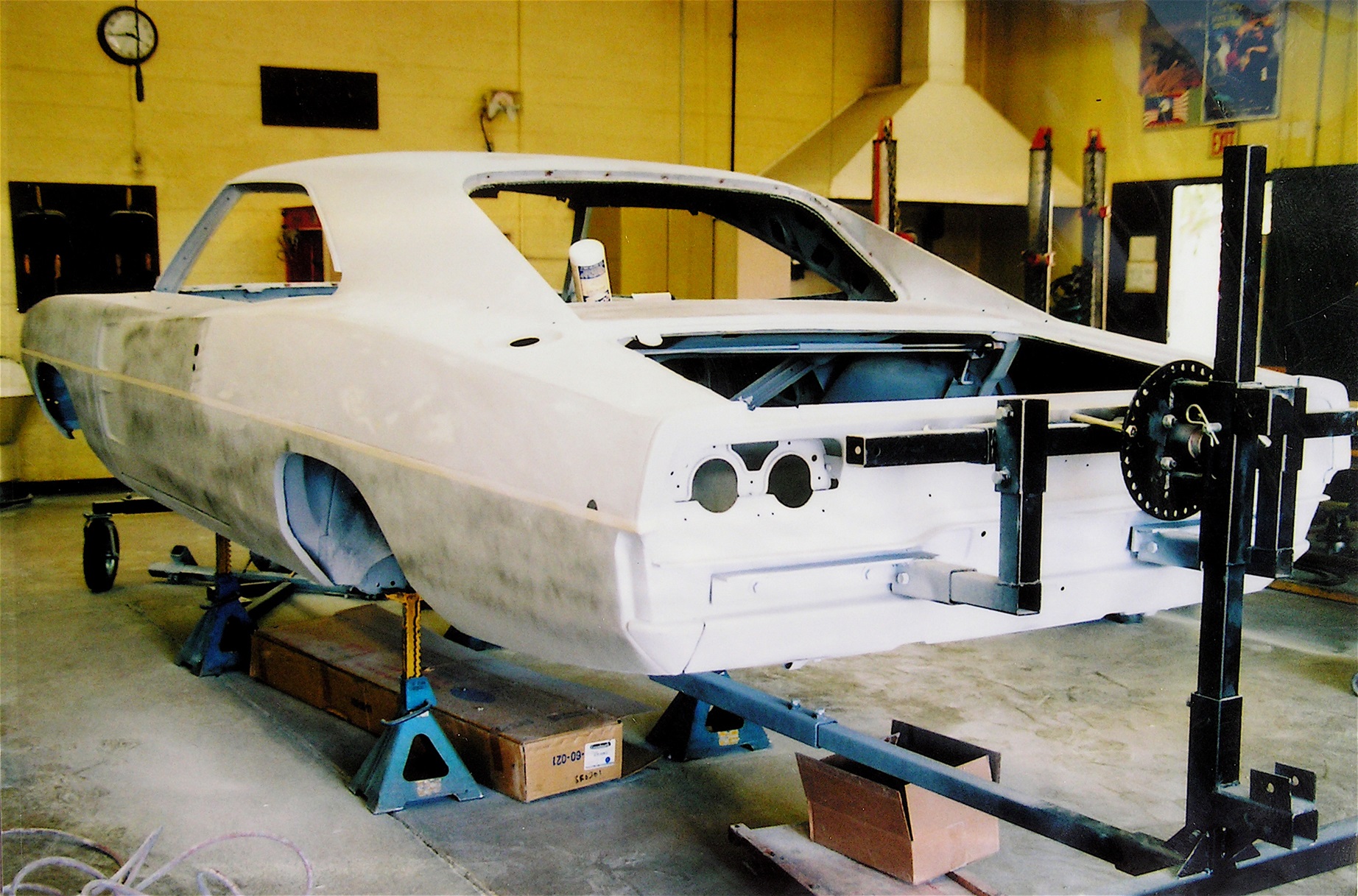 Great efforts were put forth with bodywork on this car and the result is a fantastic paint finish with smooth body panels with no ripples or flaws in the sheet metal. Tons of hard work was put into it but it paid off with a super-straight appearance!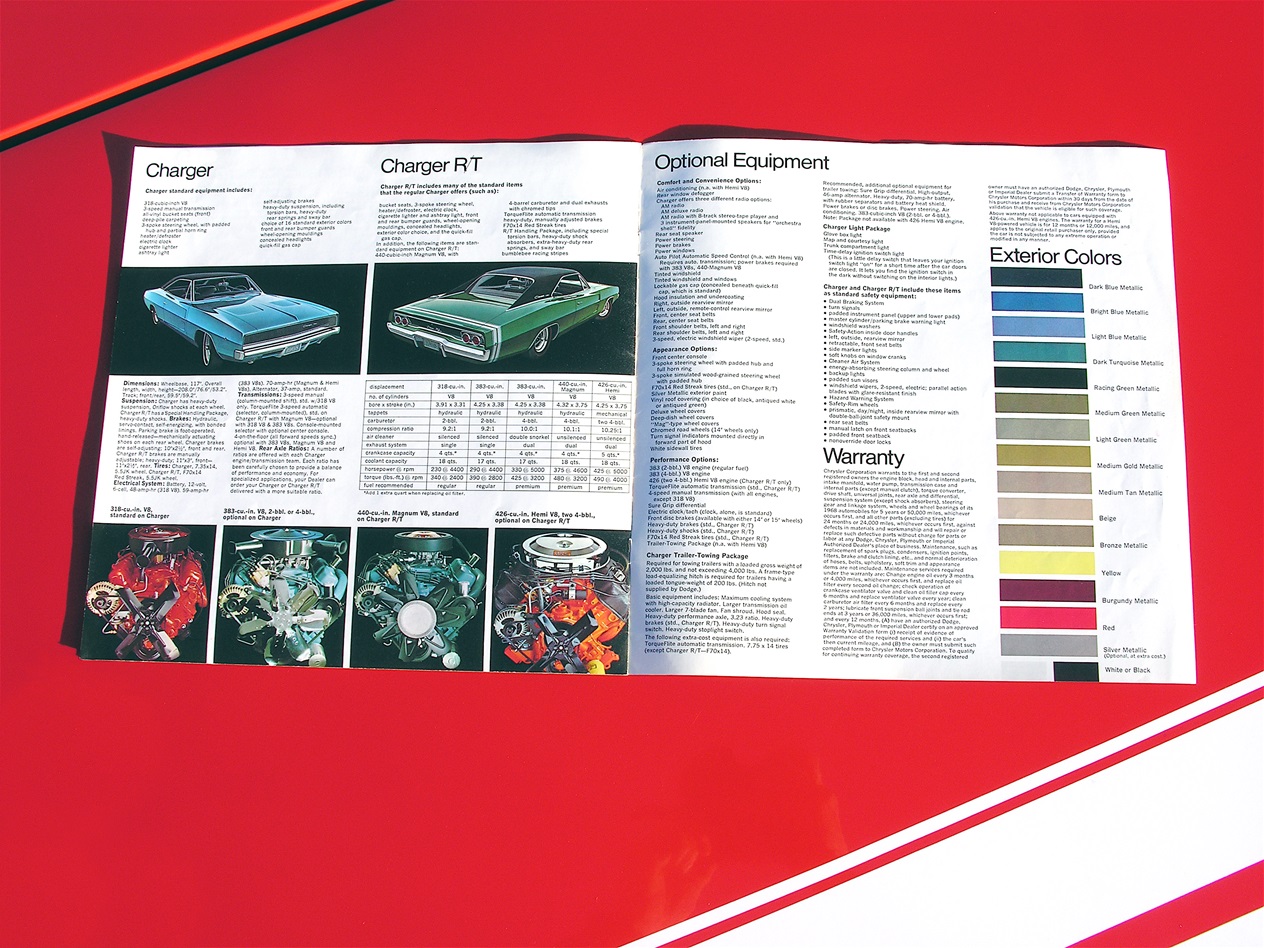 Part of the fun in having a vintage Mopar muscle car is to obtain the original dealer brochures, and with that comes the details of what these cars were all about when new!
CHARGERS IN PRINT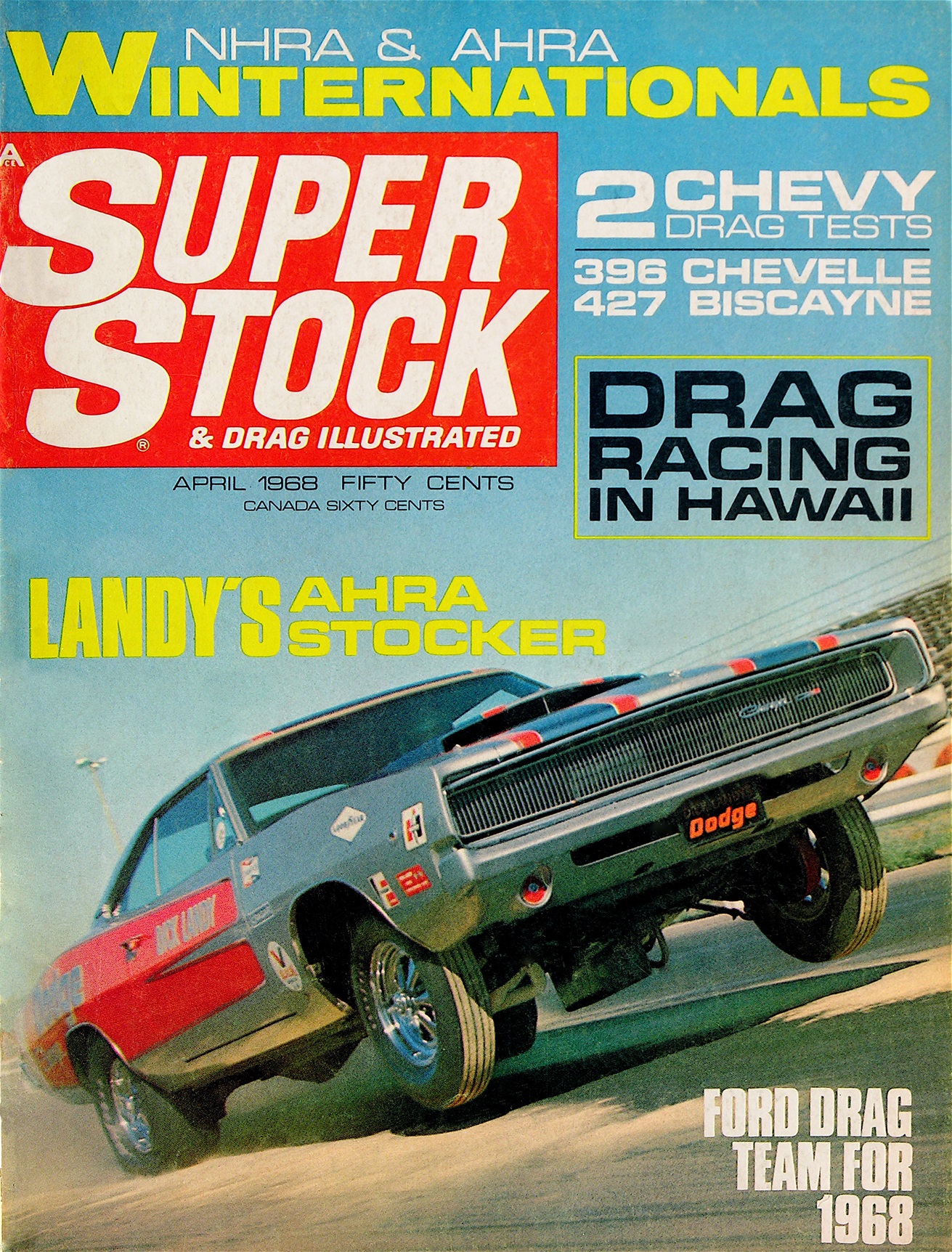 "Dandy" Dick Landy was a hero drag racer and a true inspiration to many, including the builder of this car! Landy toured all across the USA doing informative "Performance Clinics" three nights per week at Dodge dealerships in 45 cities. This promotional work helped the factory sell performance cars and build a loyal brand following. Automotive publications of the day gave Landy lots of media and it was done for a few reasons, he was a factory racer plus the fact that his Dodge Charger drag car was modified with many parts and pieces that could also be applied to potent street/strip versions that the readers owned.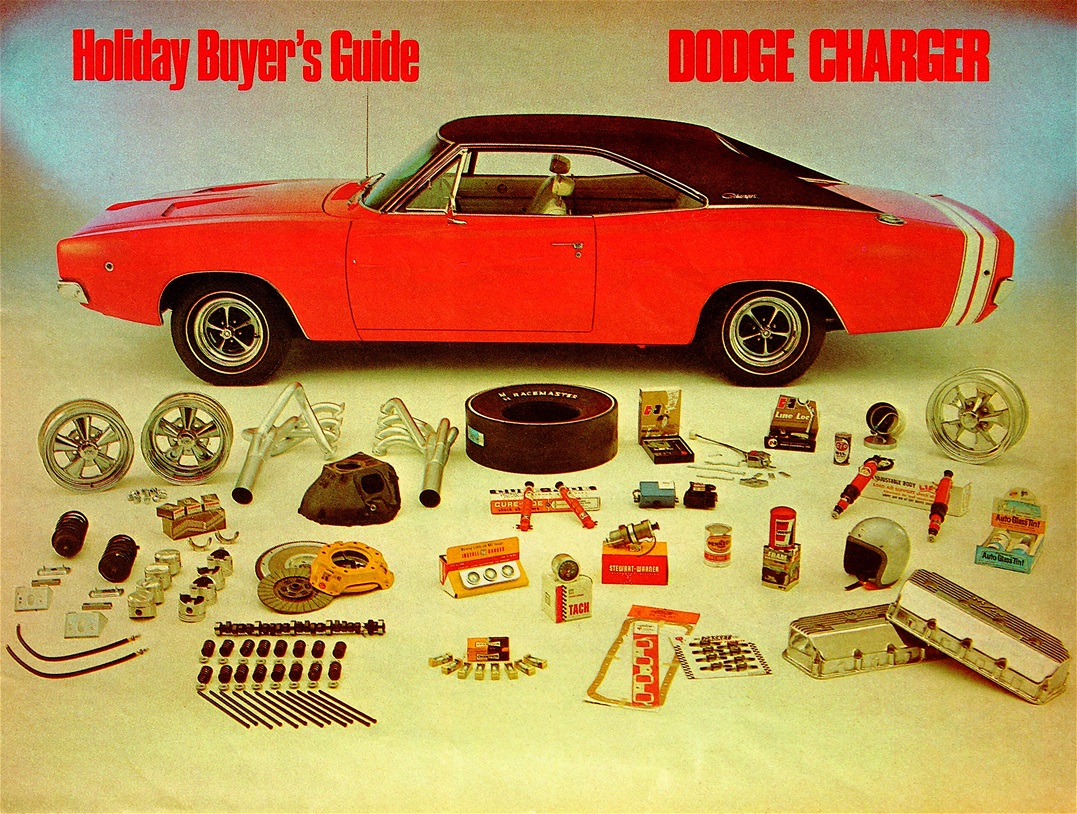 In the December 1967 issue of Super Stock & Drag Illustrated Magazine, the editors came up with the Holiday Buyer's Guide for the new 1968 Dodge Charger, and included numerous popular aftermarket equipment spread out with the car. The pictured car was listed as being a 426 HEMI with 4-speed transmission car, and the body color, interior color, vinyl roof color and bumblebee color are the same combination as the feature car!
RARE AND DESIRABLE
There were only 211 426-cid Chargers built during the 1968 model year and when one becomes available — in any condition — it's an opportunity that few are ever offered. And this car was not in pristine shape in any way, shape or form, it was "left for dead" and required plenty of attention to be sure! It was saved over a four-year time period and today, with its "enhanced" condition and Dick Landy theme, is a wonderful throw-back to what very well could have been cruising Van Nuys Blvd. back in 1968!
Check out this Dodge commercial showcasing the all-new 1968 Charger:
Author: James Maxwell