While many of her peers are happy spending their twilight years going to bingo night or just sitting in a rocking chair staring at the world from the comfort of their front porch, this golden girl from Lubbock, Texas, can be found shredding tires while drag racing her 2019 Dodge Challenger SRT® Hellcat at the local drag strip. Carolyn Batteas, a 75-year-old great grandmother, is a far cry from the typical posterchild of Dodge's Brotherhood of Muscle. One thing's for sure, this senior citizen has no problem whacking the loud pedal and letting her supercharged kitty eat. Carolyn, a retired nurse, is not afraid to go fast and mix it up with competitors half her age. Her recent escapades at the Bondurant High Performance Driving School have proven that. To fully appreciate Carolyn's adventures hammering 700- and 800-horsepower Challenger SRT Hellcats and Challenger SRT Demons, we have to look at her humble beginnings.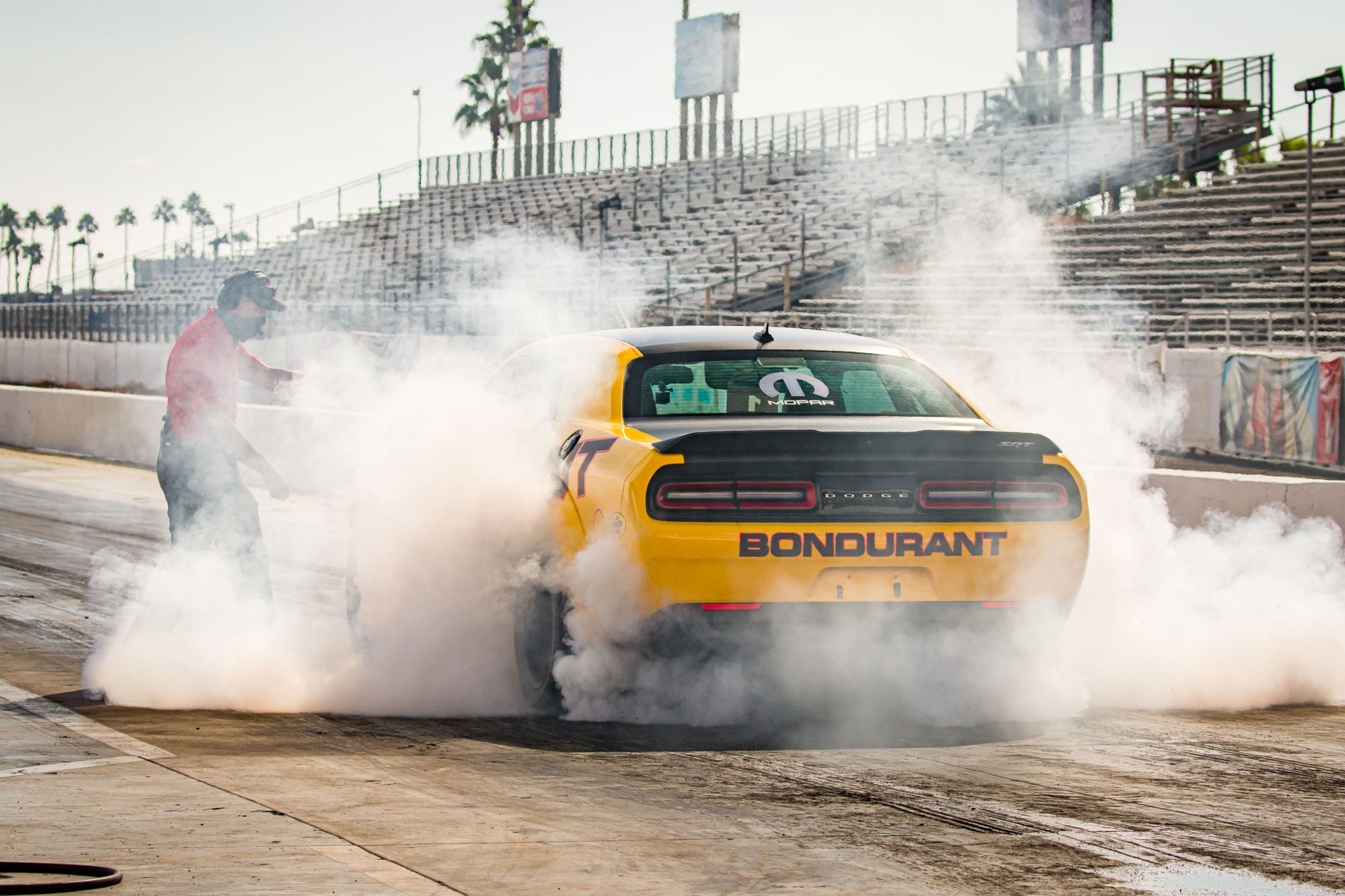 Carolyn grew up in Kansas and Missouri during the conservative 1950s and early 1960s. She was raised in a single parent household, and was asked to help out with many chores, including raising her younger siblings. While her brothers enjoyed participating in little league baseball, climbing trees and playing with BB guns, the traditional customs of the Midwest dictated what girls could and could not do. "Growing up during this era, girls were expected to act different than boys," reminisced Carolyn. "I could not play baseball, ride a bike or play on trees, it just wasn't what girls did – or so I was told. While my brothers played catch and shot BB guns, I had to stay inside and learn embroidery, but I was a bit of a tomboy." As Carolyn grew up, she began to drive, went to college, became a nurse, got married and raised a family, and eventually retired. Carolyn is not a native of Texas, and it was her daughter that brought her to Lubbock many years ago so she could be close to family. It was also relatives that would turn her on to the high-horsepower thrills at Bondurant.
"A few years back, I was noticing many Challengers driving around in my town and they're really beautiful cars. Since I was single and all my kids were grown and out of the house, I wanted a cool car. I went to my local dealer to see if yellow was still available but he said no, so I ended up buying a White Knuckle 2019 Challenger SRT Hellcat. I had so much fun driving and racing my new car, my kids and grandkids thought I was crazy," laughed Carolyn.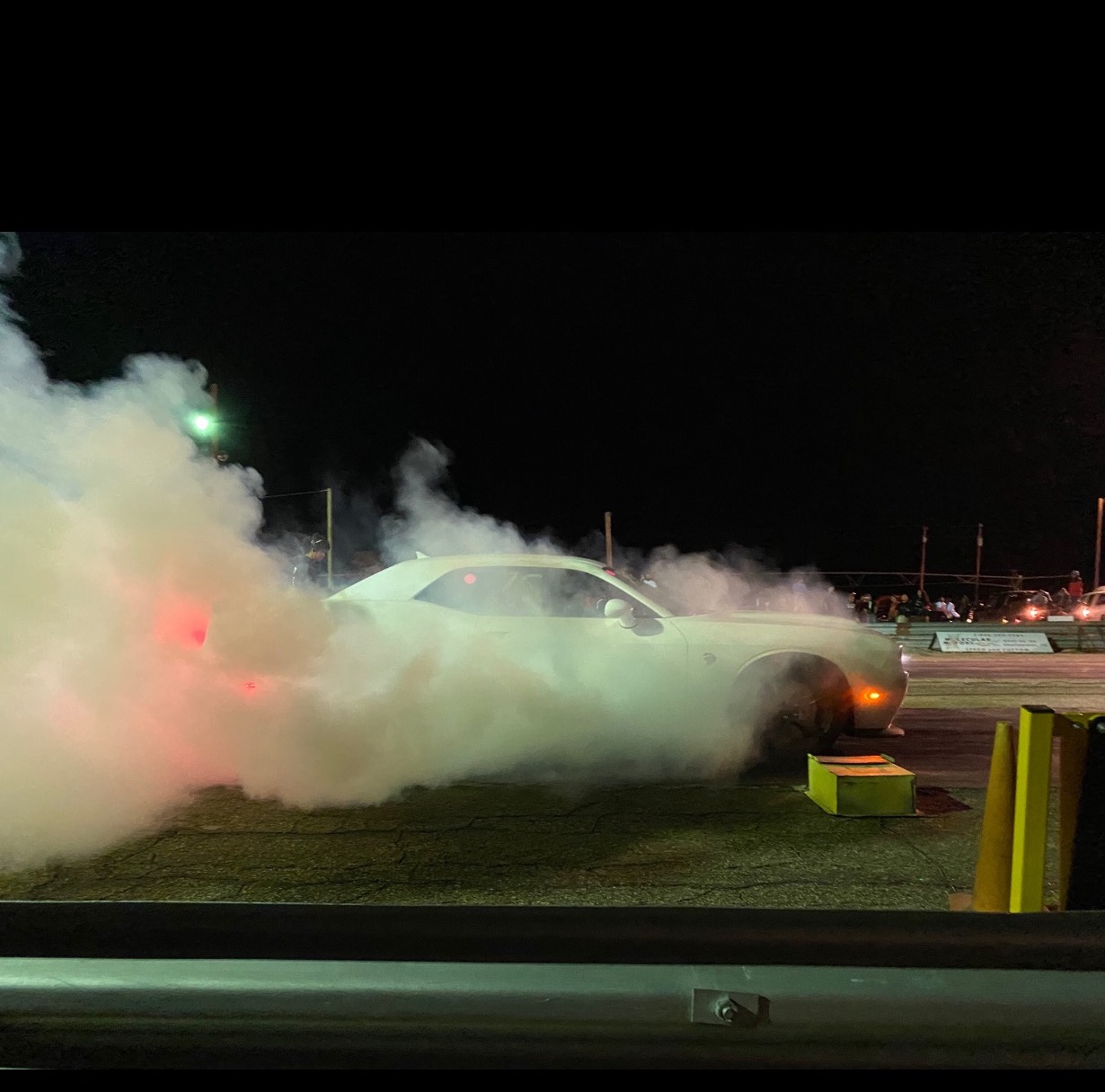 After a few trips to local drag strips in Lubbock and Odessa, Carolyn realized this was a serious machine. She always drove fast, but the Challenger SRT Hellcat was a totally different animal. "My first few trips to my local drag strips, I got all crossed-up and did everything wrong. The local racers and fans began calling me 'Ms. Hellcat'," Carolyn chuckled. "Then a relative of mine was on DodgeGarage and saw the info on the Bondurant High Performance Driving School and suggested I check it out," noted Carolyn.
Carolyn hopped in her motorhome and drove from Texas to Arizona by herself to attend the school. The first time the instructors took her around the race course, she was hooked. Soon, Carolyn would be driving both the race course and drag strip portions and became obsessed with the whole experience. "I remember when I was driving on the Bondurant road course, I came in too fast on the first turn and spun out. Dirt and dust was flying everywhere. I realized later I was pushing it too hard and the tires broke loose from the pavement. The next day, it was raining so we went on the skid pad and the track. Both were wet and that was really a blast, I learned a lot about understeer and oversteer with the instructor riding next to me in the Challenger," said Carolyn. Her fellow classmates were all impressed with Carolyn's prowess to fling the Challenger SRT Hellcat around the track. "She is not afraid to go fast, that is for sure," commented Bondurant instructor William Hawkins.
While most who attend the Bondurant are much younger than Carolyn, few have left such a memorable impact on the school's team of instructors. "I've had the pleasure of working with Carolyn a couple of times at the Bondurant High Performance Driving school," noted Bondurant driving instructor BJ Zacharias. "She may have 75 years under her belt, but I definitely wouldn't use the word old in any description of her. She always brings a fresh spirit to the classroom and continues to strive to improve upon one of her greatest passions… DRIVING. Through the school, Carolyn has learned to safely enjoy her collection of high-horsepower Dodge products to their fullest intent."
Carolyn also spent some time in a Challenger SRT Hellcat with none other than TV personality and auto celebrity Chris Jacobs as part of the Bondurant VIP Driving Experience. "I didn't know who Chris Jacobs was, I thought he was just another instructor," chuckled Carolyn. "He raced around the road course while I rode shotgun. When it came time to switch, I was driving and Chris was riding in the front passenger seat. I didn't want to push it too hard on the track for fear of killing a TV star," laughed Carolyn. Both Carolyn and Chris lived to race another day and for her efforts for not killing him, Carolyn received an autographed helmet from Chris Jacobs. "Having Carolyn in my VIP Driving Experience class was such a blast! She's got such a great personality which shows through her purple hair… And of course the fact that she owns two Challengers and a RAM truck makes her even cooler," said Chris Jacobs.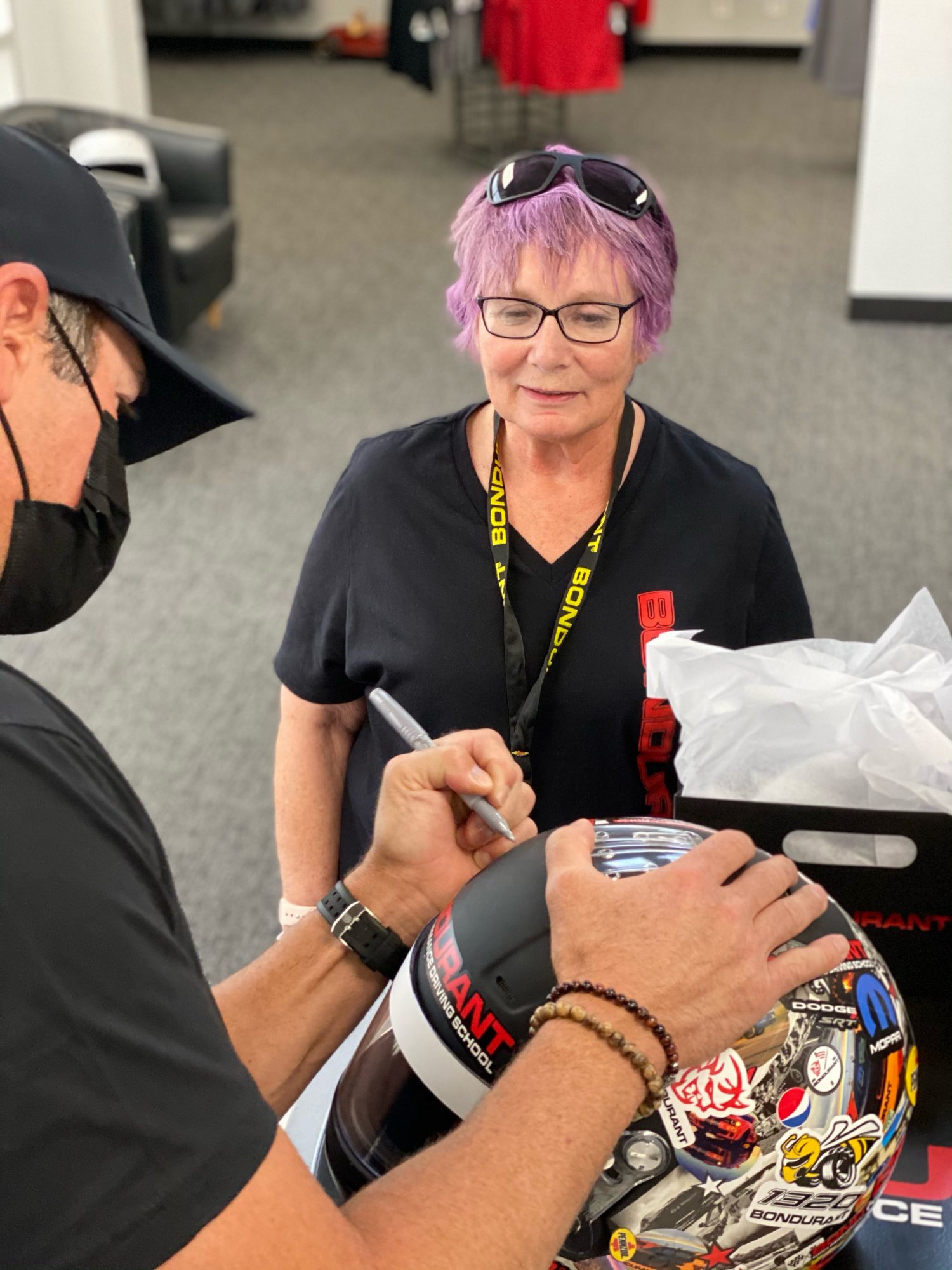 When it came to the drag racing portion at Bondurant, Carolyn was hellbent on getting her official NHRA Nine-Second License. Driving one of the school's Challenger SRT Demons, Carolyn planted her right foot on the accelerator and blasted down the drag strip once the Christmas Tree flashed green. "I made many passes in the Demon and ran over 135 mph in the quarter-mile, and got my NHRA license," beamed Carolyn, who is now part of an elite group of licensed racers and probably one the few who's 75 years old with five grandkids and eight great grandkids.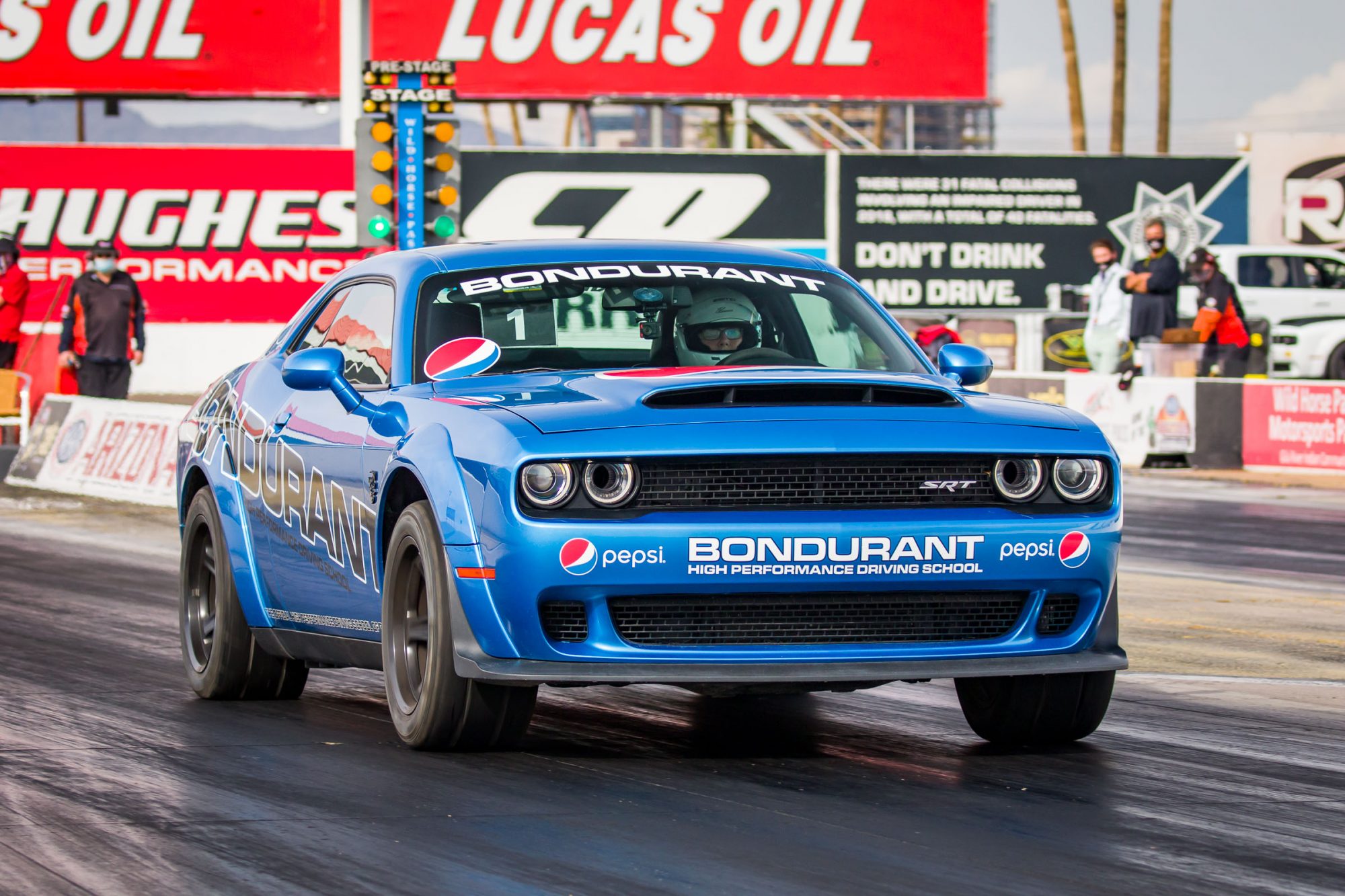 "All my family think I'm crazy, and I don't care," smiled Carolyn. One of her grandsons even races a Sprint Car and is blown away by his grandmother's need for speed. Carolyn admits she has no problem spending her kids' inheritance. Carolyn has already purchased a 2020 Go Mango Challenger 50th anniversary model and there's a 2018 Challenger SRT Demon heading her way that a local dealer had taken on trade-in. She's also on the list for a 2021 Ram TRX Launch Edition.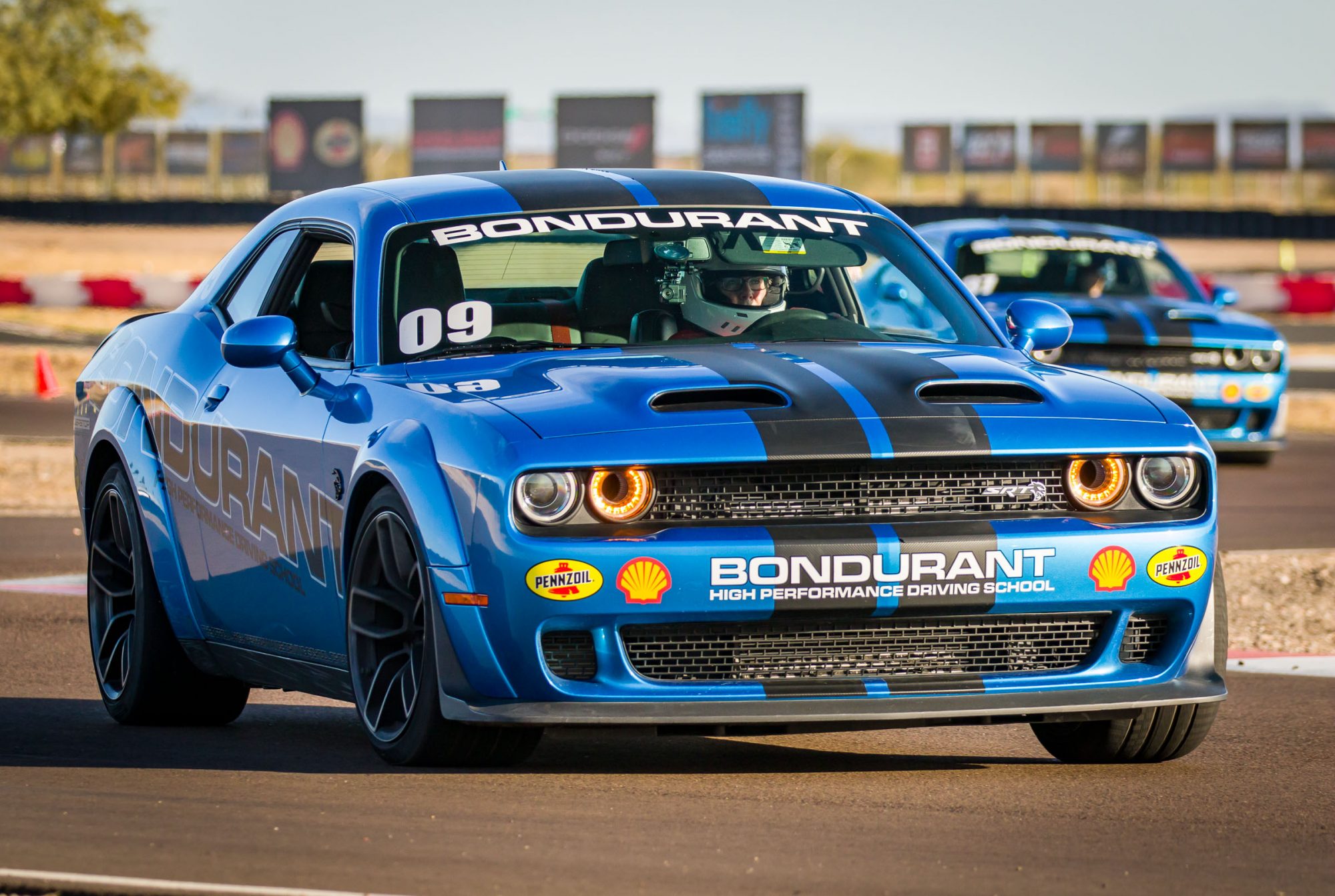 With three courses under her belt, Carolyn is ready for the advanced classes. "Carolyn is an amazing woman who brings a smile to all of our faces the second she walks through our door. She is the perfect blend of sweet and sassy and this lady loves to drive and is never afraid to push herself! She's simply amazing," said Christine Chapin of the Bondurant High Performance Driving School.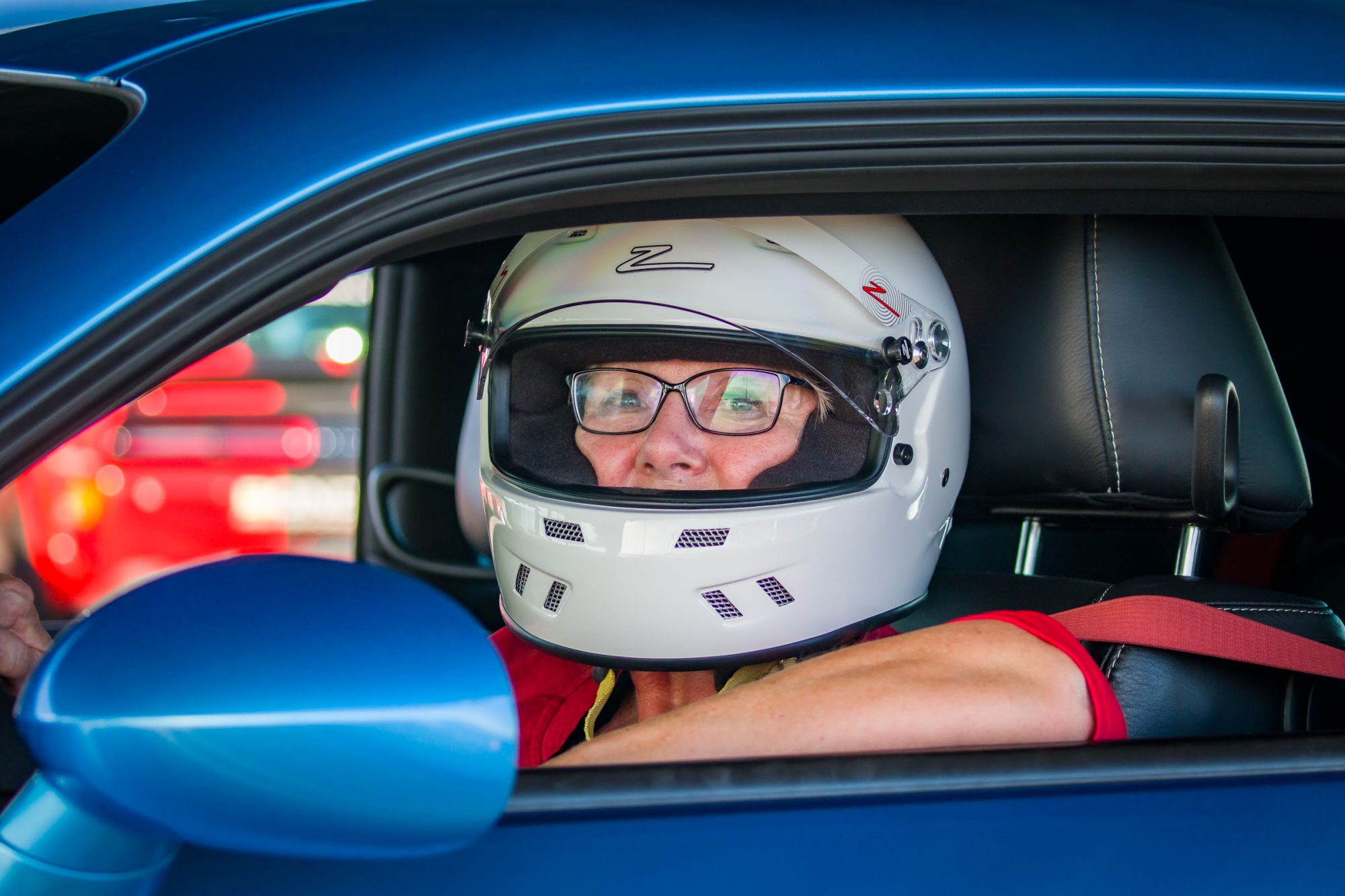 Jan & Dean may have sung about the fictitious "Little Old Lady from Pasadena" who terrorized Colorado Boulevard in her brand-new shiny red Super Stock Dodge, but Carolyn Batteas is the real deal. "She drives real fast and she drives real hard, she can't keep her foot off the accelerator" is the embodiment of both persons, real and fictional.
"Go Granny, Go Granny, Go Granny, Go"