The Direct Connection display at the 2022 Roadkill Nights event at the M1 Concourse road racing facility focused mostly on vehicles from the Dodge brand, but there was also a pair of classic Plymouth muscle cars that proved to be popular with attendees. This 1971 'Cuda and 1970 Roadrunner were on display to showcase some Direct Connection parts, and while they look incredible from afar, the big news is what is under the hood of these two stunning vintage Mopar® vehicles.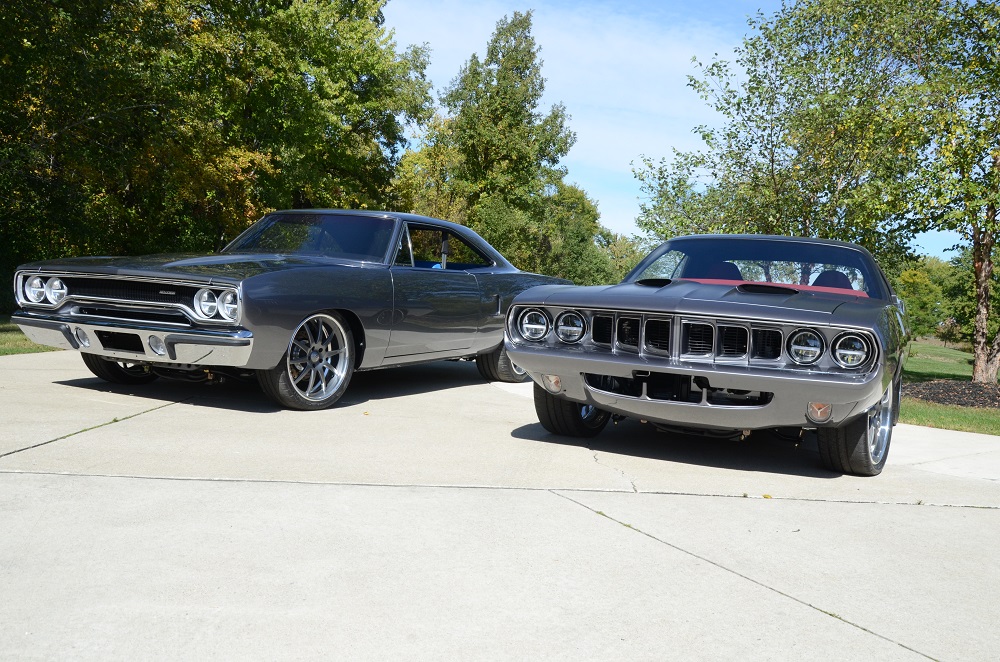 The 1971 Plymouth 'Cuda, owned by Kurt Schuster, is powered by the 1,000-horsepower Hellephant crate engine, while the 1970 Plymouth Roadrunner, owned by Brian Doxsie, is powered by a 707-horsepower SRT® Hellcat HEMI® engine. As you can see, these cars have been modified to resemble each other, leading to Schuster referring to these two beautiful machines as "Sisters from Different Misters".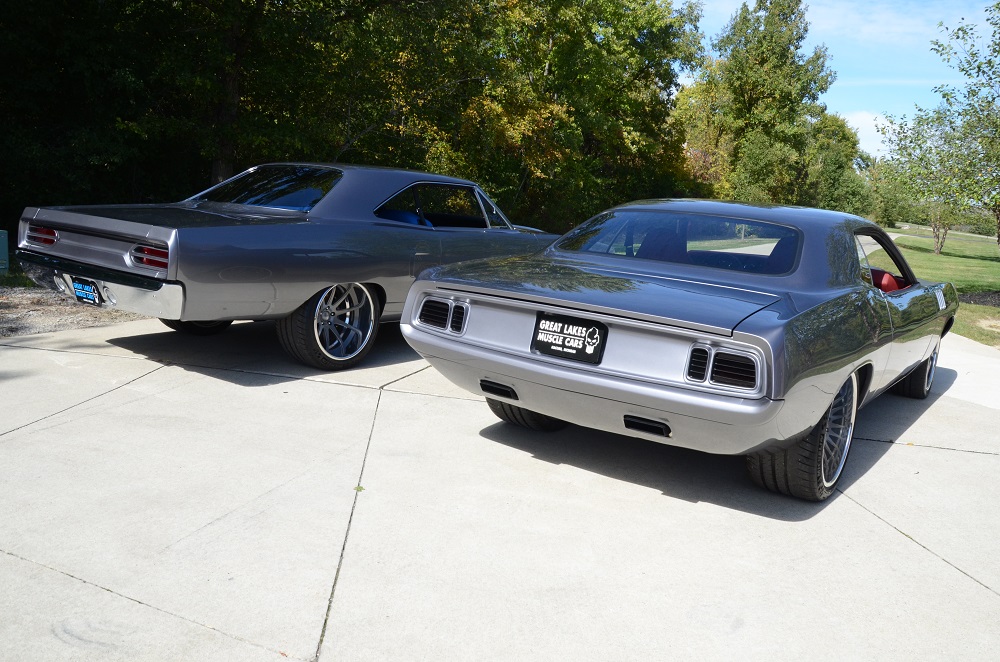 After falling in love with these two stunning Mopar muscle cars, we reached out to Schuster for more information on both of them. Today, we look at how these show-stopping Plymouth came to be.
The Hellephant Plan
This story begins back in 2019, when Brian Doxsie, owner of Great Lake Muscle Cars in Macomb, Michigan, built a 1970 Dodge Challenger restomod for Kurt Schuster. A few years later, Doxsie acquired Mopar Hellephant crate engine #34 from Mancini Racing, with the plans of putting it in his 1970 Roadrunner. However, Schuster suggested that the "holy grail of crate engines" should go in the "holy grail of Mopars", which in his opinion is a 1971 Plymouth 'Cuda. It just so happens that around this same time, Doxsie had found a 1971 'Cuda for sale in Indiana, Schuster bought it with the plan of Doxsie building it with the 1,000-horsepower Hellephant crate engine.
1971 Plymouth 'Cuda "Elee"
As mentioned above, this 1971 Plymouth 'Cuda is powered by the 426-cubic-inch Hellephant HEMI crate engine with a modified mid-sump oil pan and a Mopar Direct Connection wiring harness, delivering 1,000 horsepower with help from the 3.0-liter IHI supercharger. This monstrous engine is fitted with TTI 2-inch headers through 3-inch exhaust with QTP cutouts, with a triple-pass aluminum radiator keeping it cool.
The power from the Hellephant HEMI engine is sent to the rear of this 1971 'Cuda by means of a Silver Sport Transmission-built Tremec 6-speed manual gearbox with a bellhousing that is rated to handle 1,500 horsepower, with a shortened Mopar 8 ¾ rear differential with 3.91 gears putting the power to the wheels. A Riley Motorsports AlterKtion suspension system with RideTek 2-way adjustable coilovers front and rear keeps the car planted in the corners, while Wilwood 6-piston front brake calipers over 15-inch rotors provide world-class stopping power.
The final piece of the performance puzzle for this 'Cuda is a set of custom Boze wheels measuring 20×9 inches up front and 20×12.5 out back, all of which are wrapped in Michelin Pilot Sport rubber (245/30 front, 325/30 rear).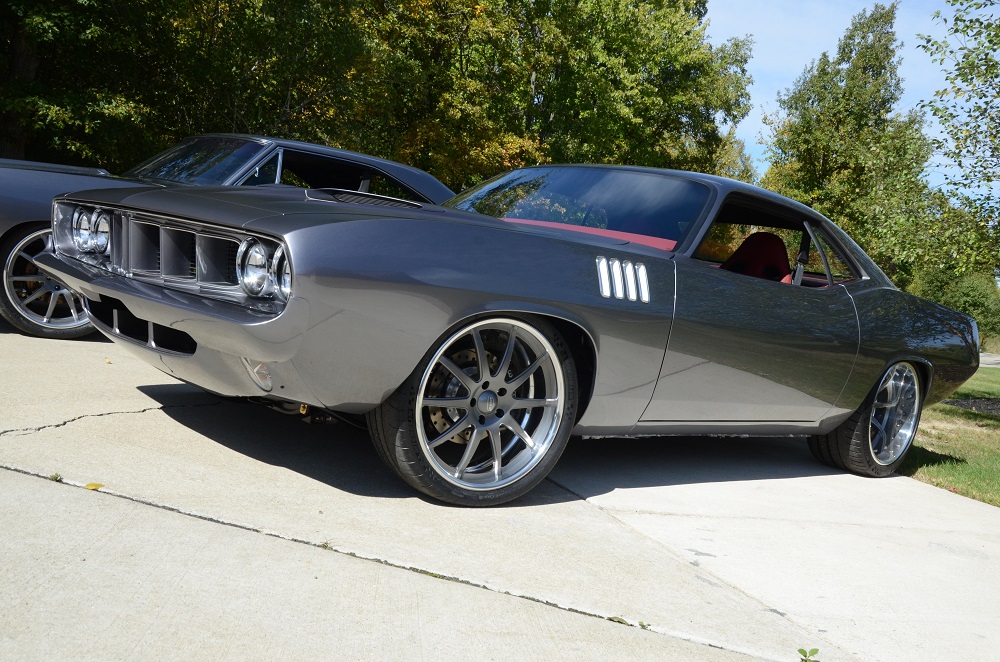 If Schuster and Doxsie had put this drivetrain in a stock-appearing 1971 Plymouth 'Cuda, it would have been incredible, but they made sure that this legendary Mopar muscle car had a look that is as special as the powerplant. This was achieved through a tremendous amount of metal work, starting with lots of "shaving". The side marker lights, door handles and locks, drip rail, window moldings, exterior mirrors and badges were all removed and the areas were all smoothed. Next, Doxsie flush-mounted the smoked glass windows from Auto City, followed by flush mounting the bumpers, including a custom front bumper made by Tommy Chryco. A smoothed taillight panel and a custom rear exhaust panel complete the exterior body work on 'Cuda, while Octane Lighting headlamps and Eiger Gray exterior paint complete the modernized package.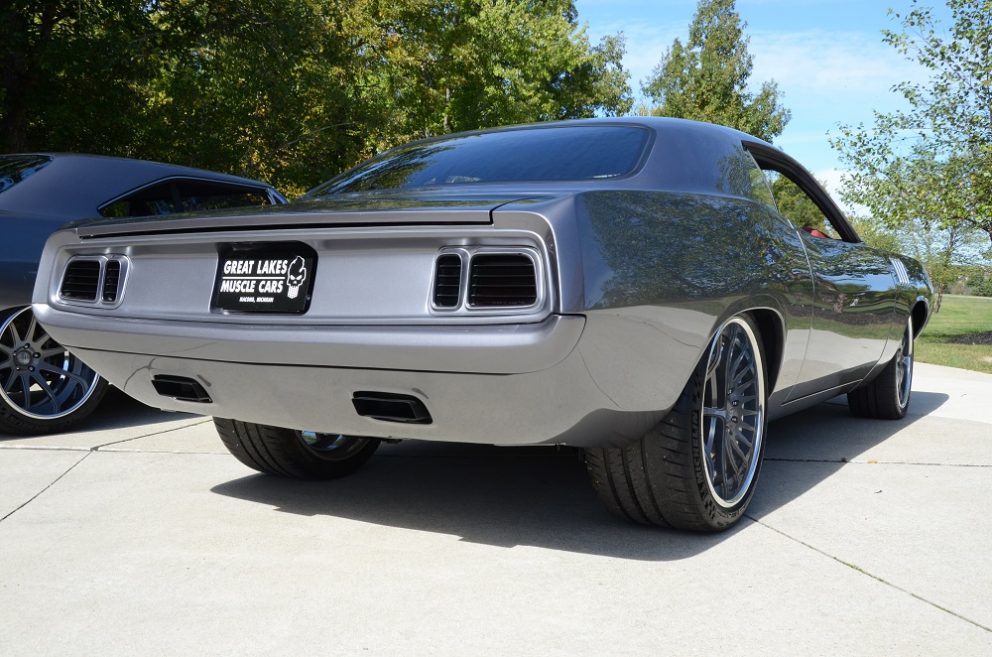 Finally, while we can't see this in passing, the firewall is smoothed, as are the inner fender wells. The rear fender wheels were enlarged via the minitub process, allowing plenty of room for the huge rear tires, and the transmission tunnel was enlarged to more comfortably house the 6-speed Tremec.
To finalize this stunning build, the interior of this Hellephant-powered 1971 'Cuda features custom "Catastrophe Red" leather-wrapped seats from a Nissan GTR with 12-way power control, center console and door panels, a black suede headliner, a Billet Specialties steering wheel on a tilt column, a Silver Sport pistol grip shifter, Dakota Digital gauges, a Vintage Air A/C system, a Kenwood Bluetooth® radio paired with Rockford Fosgate speakers and window cranks from Ring Brothers.
1970 Roadrunner "Hellenor"
Once Doxsie had agreed to install the Hellephant in Schuster's 'Cuda, he needed an engine for his 1970 Plymouth Roadrunner, opting for the popular 6.2-liter Hellcat HEMI engine. Like the 7.0-liter mill in the 'Cuda, this Roadrunner utilizes a Mopar Direct Connection wiring harness, along with the Silver Sport Transmission 6-speed Tremec manual, the modified 8 ¾ rear differential with 3.91 gears, cooling system components from Superior Radiator and TTI headers – 1 7/8-inch on this car – into 3-inch exhaust with QTP cutouts. This Roadrunner also has the same wheel-and-tire package as the 'Cuda, the same Riley Motorsports AlterKtion suspension system with RideTek 2-way adjustable coilovers, the same Wilwood braking system and the same US Car Tool frame stiffening kit.
Next, Doxsie modified the exterior of his Roadrunner to match Schuster's 'Cuda as closely as possible. This began by removing the marker lights, door handles, drip rail, the exterior side mirrors and the badging, installing Octane Lighting headlights and Auto City custom smoked glass and painting the body Eiger Gray. To complete the related exterior look and stance, this Roadrunner has been mini-tubbed, the firewall and inner fenders have been smoothed, the transmission tunnel has been enlarged and a unique front bumper, which houses the intercooler for the supercharger, has been installed.
Where the appearance of these two cars differ the most is through the interior, but only in color. The Roadrunner's interior is finished in "Trackhawk Cobalt Blue" leather with custom 12-way power seats from a Pontiac GTO, leather-wrapped door panels and console, Vintage Air, a Billet Specialties steering wheel and tilt column, the Silver Sport pistol grip shifter, Dakota Digital gauges, a Kenwood head unit with Rockford Fosgate speakers and Ring Bros window cranks.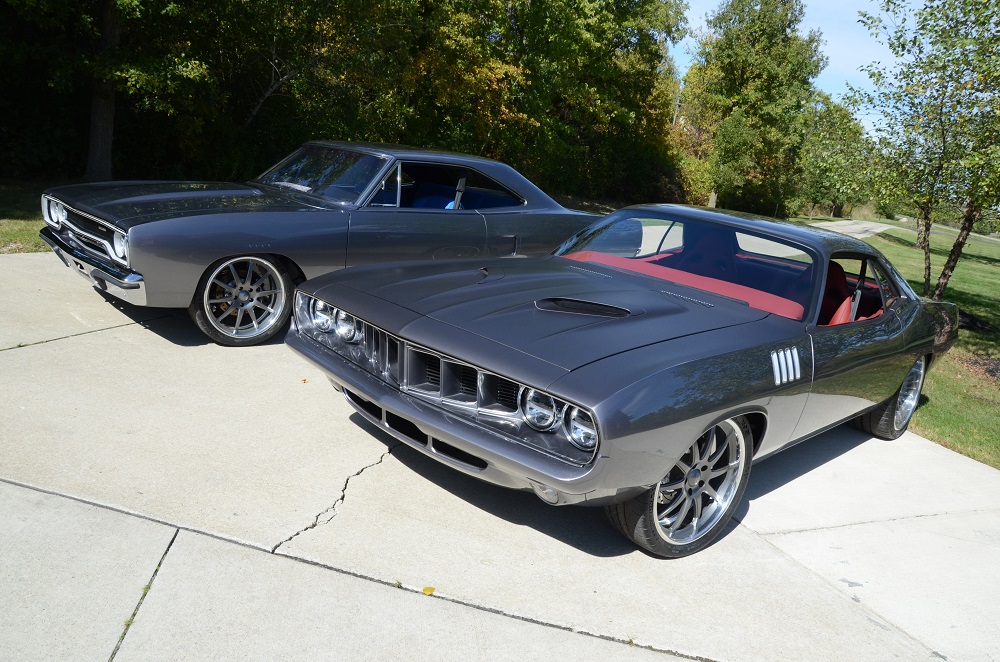 On their own, each of these classic Plymouth muscle cars would turn heads at any event, but when displayed side-by-side, they showcase the similarities and differences beautifully. Together, these modern HEMI engine-powered Mopar vehicles are nothing short of a high-performance work of art.